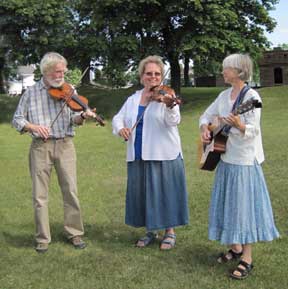 I don't remember when we first met Sharon Vierk as it seems like we've been comfortably playing together for a long time. Our paths first crossed at the Falling Rock Cafe in Munising where we converged for many years with other musicians most Wednesday nights for an old time open jam. Though we live about 75 miles apart, we enjoy playing together so we get together when we can. We share country homestead lifestyles as well as a love for a wide variety of traditional music. And since we also have in common the making of good homemade wild cherry wine, we had a ready made name! Then the ever adaptable and so talented Tom Caron joined us on his trademark fancy painted bass to our, and the audience's, delight.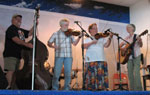 Annually 'Wild Cherry Wine' enjoys stage time at the Aura Jamboree in July as well as adding old-time music for the fun and always interesting Trenary Fur & Feather events. We've provided background dinner music for diners, and volunteered for non-profit fundraisers; roved the wonderful historic townsite of Fayette (with appropriate historic tunes, of course), and played with other musicians around and about. It's all a good time and we're always open to new adventures.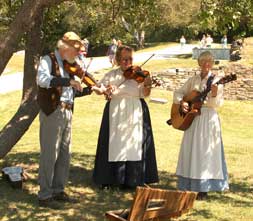 So check our schedule and come join us here or there for some good old time traditional (and some not so old) music. Meantime, check out the Audio page for some tunes from "Wild Cherry Wine".
---
December 7, 2019 -- Together Again Celebrating the Season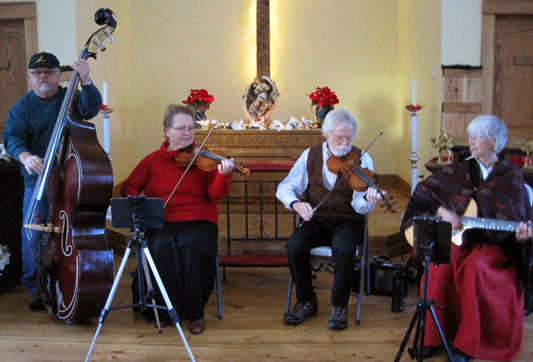 Yesterday we had a wonderful time playing with our friends Tom Caron and Sharon Vierk at the U.P. Steam & Gas annual "Christmas in the Village" in Escanaba. It was a chilly, snowy but storm-free evening, and a lot of people of all ages came out to wander around this old-time village in the corner of the U.P. State Fair grounds, checking out the many small shops and displays, riding the festively lighted wagon behind an appropriate nice old tractor. Steve and I were involved back in the late 80's when the "village" was a few rough built shops and a great old steam engine driven saw mill, a shingle mill, a large impressive steam tractor, blacksmith shop, and enthusiastic "old timers" (who mostly weren't all that old!). During their annual Labor Day event, and a few other times, folks would bring their old engines and tractors to display (which they still do). We built a woodworking shop, nailing up rough hemlock boards, hauled fresh fro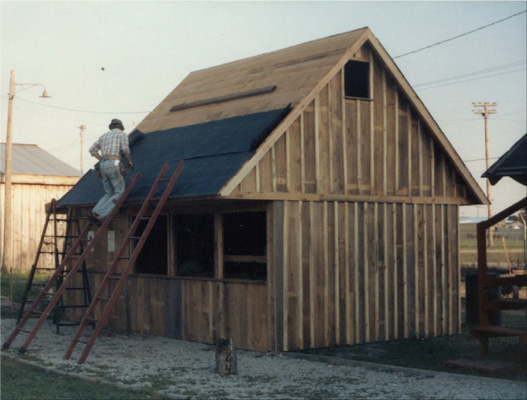 m the pile fresh from the working sawmill. The design included an attic where we could stay overnight. It was a fun time, making hand carved spoons, using the treadle lathe, talking to folks. But life was very full and we bowed out after some years, other folks taking over and using the shop.
So thirty years later bass player Tom said, "What do you think about playing at Christmas in the Village?" Well, we thought it would be fun, they were happy to have us, so play we did. The Village is now full of all sorts of shops, side streets, lights, electricity - quite a change! A few years ago they built a chapel with both heat and seating, something very appreciated by folks walking around outside in the cold. That's where we played, a bit chilly but definitely warmer than playing outside! We had a great group of folks of all ages, coming and going, singing along or not, listening, warming up. What a cheery way to spend the evening.
I recorded our set at the Village and have put some of the tunes on our Video & Audio page for your listening pleasure. Click HERE and go to the bottom of the page. Cheers from Wild Cherry Wine!
---