End August ripening medium-small apple, sweeter than most, tart-sweet but with flavor. Little to no insect damage, no disease. Large, healthy tree. Best, north-most, of two road-side trees near south end of cow pasture at north end of Fox Road.
---
---
2021 -- all vigorous, tied down a lot. Pruned out a lot around grafts.
August 12 mother tree up the road had already dropped a lot but I picked 1 1/2 pecks. Mixed maturity, soft to firm. Not real sweet this year but OK, rather Mac flavored, mixed shapes & sizes. White, rather course, browns quickly. Just the year (unusually hot summer)? Wonder now why I liked it enough to graft. But good to have an early apple. And with few apples on my own trees due to late May freeze I appreciate any apples!
---
2020 -- cut scions February, grafted on 3 nearby branches of Lilli, end May. All took fine. Original graft is vigorous, healthy, pulled down to get more horizontal.. Pruned out around grafts.
---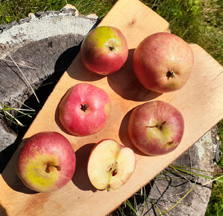 2019 -- Graft growing well. Tried cutting a piece and direct graft onto nearby branch end of May but it didn't take. Next year cut dormant scion late winter to graft onto more branches in area.
(original road tree) 8/22 Lunchbox size, ripe, healthy, tart but tasty. Nice "on the walk" snack.
8/29 Very ripe, ~half on ground, dropping as I picked (with pole picker). Got small basket full, made 2+ qts sauce. Needed sugar but good flavor, best of road apples. Nice early apple.
---
2018 - Good growth of scion.
---
2017 - Grafted end of May onto Lilli wild seedling tree south of shop, east side mid high. Scion cut late winter from tree along road south of main cow gate near se corner fence. Next one north from last apple in a group along road. Had eaten apple from tree last fall and liked it, tart-sweet, medium-small size, minimal defects, healthy tree.
---
---