The ManyTracks Orchard

Gooseberries
Wild or Tame, Prickly or Smooth
Sauce , Pie, Jam, Wine or Fresh Snack
An Interesting, Old-time addition to our Food Forest
---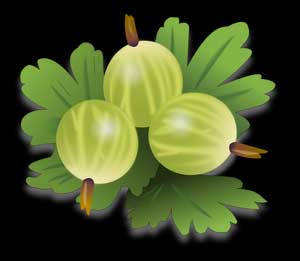 Four decades of Growing Good Food in the Northwoods of Michigan's Upper Peninsula
Down to Earth Information, Experiences, Thought
Hinnonmaki Red
Jeanne
Pixwell
Poorman
New Gooseberries Arrive - December 2, 2016


Planting is addictive, no doubt about it! And the inspiration seems to come in waves from so many different directions. Not surprising, of course--you get what you concentrate on! And the orchard has been my focus these last months. When I have a few minutes or more I usually wander through forums and websites devoted to growing fruit (mostly the current "Growing Fruit" forum and the older "Gardenweb" posts). Invariably I'll look something up, then a mention of something else will catch my eye and I start thinking about that, so off I go in that direction, etc. Then when it really catches me I find myself focusing in on that, though I hadn't even considered it a few months, or weeks, ago. It's a fun way to pick up ideas, though a bit distracting. Gooseberries were like that. We have wild gooseberries and I did manage to pick enough many years ago to make wine and mixed berry jam. Some of the best wine I've made, too! But they are scattered, don't ripen all at the same time, varied colored (even on the same plant) so it's hard to tell which ones are ripe, and the small furred creatures like them, too. And they're better at harvesting. So I've left them to it. I like the plants though, even if they are really very pickery.

But someone in the far north mentioned growing gooseberries and I started making notes on varieties. Yes, this might be a good something to plant. I've had my mind on encouraging diversity in the orchard and gathering ideas for interesting shrubs and plants I might add here and there between the fruit trees. I figured I'd add gooseberries to the list for the future. There are a number of white-pine-blister-rust resistent varieties that folks have recommended. Of course, one person says they really like Pixwell; another says it's the worst of their lot. Same for Poorman, another common variety. But the one that really caught my eye was Hinnonmaki. I hadn't heard of that variety but Maki is a very common name here in the U.P. and this variety must have hailed from Finland (it did). I really had to include a Hinnonmaki. Both the Red and Yellow were reported to be good.

This mild fall weather continues. The brief 6" of snow we had is gone. Ground is bare, daytime temps above freezing. Not too sunny but not much rain or snow right now. And, except for the crab apple project, my orchard and garden work is done for the year. I do wander around encouraging the trees and bushes and plants but really, they are ready for the winter break and I wonder that maybe they just want to get on with winter. But not yet; I'm greedy for a few more days of outdoor work/play. Gooseberries...mmmmm. It's not the time to order or plant trees or bushes, of course. But a nursery in Escanaba is closing the end of this year. Most everything is half off. Now, I know better. They don't take great care of their trees and plants (baking all summer in the sun in those black plastic pots). I bought some raspberries some years ago from them. They took many years to recover and are just now starting to thrive. I've wandered through their aisles. They all looked sad. I decided, no, I'll get good stock from a reliable mail-order nursery. It's worth it. Trouble was, I was in the mood to plant NOW. OK, I'll just look. We have to go over there to pick up one last holiday gift anyway...

So we went. Steve left me to it and went to nearby Menards to browse. Kind of cold, not much going on, plants looking sadder than ever. Actually, I was really looking for a small Siberian (Harbin) Pear for a rootstock to graft to. No luck. Hey, they have Hinnonmaki Red Gooseberries! And a Pixwell. And... OK, so they look a little old and worn. But I can give them TLC and a good home and I'm sure they'll do fine.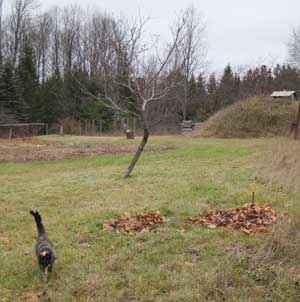 I planted them today. First I spent probably several hours deciding just where they were to go. The planning is half the fun! I chose two spots, between trios of apple trees. I think they'll be happy there. Yes, there were circling roots but they did look pretty good (the roots anyway). The above soil growth didn't, but it all got pruned down to 4-6". Each plant got a very big hole and I loosened and spread their roots out. Planted them several inches below the soil line to encourage new shoots. A pile of leaves to keep them cozy this winter and now they and I are ready for the coming snow. Well, maybe we'll get a few more days before that happens. Meantime, I'll add the latest addition to my orchard map and dream of gooseberry wine and gooseberry sauce and maybe even gooseberry jam (though I admit I'm not much of a jam maker). Mainly I'll just enjoy the growing plants. And I left room for more, one on either side of each of the just planted bushes. I really do have to get a Hinnonmaki Yellow, and I'm sure there are other varieties that will entice me.

Next day (Saturday) - Steve and I had the fun of playing music with friends Sharon and Larry at the annual Village Artisans/Garden Gallery Silent Auction Fund Raiser today. We've done it for many years and always enjoy it. The folks who put it on do a wonderful job and the folks who come to bid and buy and snack and visit are such a happy and cheery lot. And on a break Steve mentioned to someone that I'd planted some gooseberries and he said he has some nice ones, large red berries, good flavor, and I'm welcome to some plants/cuttings come spring. He got them from a friend. My gooseberry mini-patches are growing already!
---
---
2019 - The gooseberry family has grown these past years with many plants now growing here and there around the orchard. I finally got to taste some Hinnomaki Red fruit. There weren't many, and I think others sampled some, too, but enough to taste test now and then, which isn't the best way to judge the fruit. Mostly I started testing too early, too sour, and by the time they were ripe sweet there weren't any left. But I expect to get more fruit in coming years. The plant had a challenge with something eating its leaves but it hung in there and it made good growth. I've started pruning off lower branches. Last year I buried a low branch, which rooted so this year it was moved to the nursery row. It's small but healthy and has plans to go live with a friend as a companion to a Poorman I gave her last year.
Pixwell continues vigorous, and the few fruits I've gotten from it though small were nice and sweet. Unfortunately the voles really like it too, so though it does its best and regrows well I'm sure it would do much better without being nibbled on so much during the winter. The plant is too sprawling to adequately protect with a hardware cloth surround so I just hope the voles will find they'd rather eat brambles.
In 2017 I added a small Jeanne plant which is having some trouble getting going. But this year it had several inches of growth and is looking happier. It is supposed to be particularly resistant to mildew and white pine blister rust (which I haven't seen any of though we have many white pines and many wild gooseberries). Also large and sweet so I'm looking forward to this plant settling in, growing, and producing. I figure it has an extra incent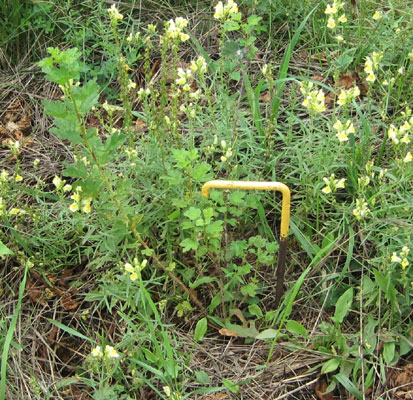 ive since my middle name, and the name of a favored aunt, is Jeanne.
Poorman is the newest addition to the family. Last year a GrowingFruit forum member kindly sent me a bunch of cuttings from his plant. Not being sure how they would root I stuck more than a dozen, using different methods, hoping a few would root. The variety comes with great recommendations. Well, if they produce fruit even half as well as they root I'll be raking in the Poorman gooseberries when they mature! I think every piece I stuck rooted. I really didn't need that many but I had a hard time tossing them out. I planted the best two out in the chosen spots, gave several away (not a big call for gooseberry bushes) and put the rest in the nursery. They all grew well and healthy. I did manage to pull and toss the smallest, but eventually I ended up planting the others here and there around the orchards. They continue to be the healthiest and vigorous of all my gooseberry plants. I'm really looking forward to fruit.
---