Folk Dancing with Sue and Steve
in the Upper Peninsula (of Michigan)
---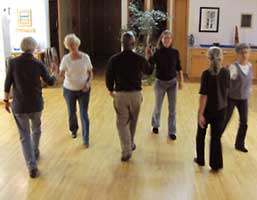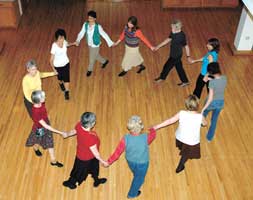 For Dance opportunities in the Upper Peninsula go the U.P. Dance Calendar page
---
Called Dances -

These can range from serious "modern" contra dances to one-night (or day) open-to-all, no experience needed "barndances". They can include circles, squares, lines, contra columns, couple dances, ethnic dances. They can be found at a regular dance or at a wedding reception; at a company picnic or a family party. The one thing they all have in common is great toe-tapping music, fun and interesting dancing, community feeling, friendly people, and a bit of good exercise, too. One doesn't need to "know how to dance" to participate. The caller teaches the dances, then 'leads' the dancers through the dance with her voice, keeping everyone on track and in tune with the music without them having to memorize the steps. The difficulty (or rather lack of difficulty) and length of the dances and dance depend on the dancers and the occasion. Most dances I call for are for those who have little to no experience dancing but want to have a good time -- and who love those driving, feet-lifting fiddle tunes! We also do the not quite so old-time waltzes, schottisches, polkas and two-steps.
---
Caller - I enjoy calling dances for both private and public events. This is a great way to add that special spark to your special day/evening. If you are interested in having me call a dance for your event, give me a call (of the telephone kind) and I'll be happy to talk to you about it and answer your questions.
---
Music! - These 'old-time' dances are so closely wedded to that toe-tapping 'old-time' music -- live and right there -- that one without the other is like pasta without sauce. Steve is our in-house fiddler and plays with various other musicians to provide just the right spice (and magic) for the dances. (When I'm not calling, I'm the guitarist at his side.) While I do call with other bands, I greatly prefer to work with my own. The fit is smooth and comfortable. Our repertoire includes waltzes, schottisches, polkas, two step and other couple dance music, in addition to songs and other tunes when appropriate. For more on our music life, click here -> Music (or click on the Music link in the menu bar above on any of the pages on our website).
---
These 'Old-Time' dances are as modern as our 'old-time' language that we speak every day. Just because they've been around a long time doesn't mean they are worn out or outdated. Just the opposite! Both the music and the dances are constantly infused with new energy, as well as new tunes and new dances, and very much alive. But 'old-time' seems a convenient label to use to distinguish this type of dance from 'modern' dance or 'country' dance or 'line' dancing. Not sure what this dancing is like? Come to one of our dances! That's the best, easiest, and most fun way to find out. But be prepared -- this dancing (and the music) is wonderfully addictive.
---
---
U.P. Dance Opportunities - Calendar
---
---
2015 by Sue Robishaw ~ ~ "Give yourself enough rope to live and learn and laugh and play."