Andy Van Herwynen's First Short Wheelbase Recumbent - 4/2007
Andy Van Herwynen sent in these photos of this, his first, recumbent and is fired up! Here is what he had to say about this bike...

"This is my first SWB build, first put on the road back in 2003. I welded it up from a scrapped Murray MTB and thrift shop Timberline hybrid bike. I got real lucky on this bike as it was not jigged at all. I laid it out on the garage floor, and after a LOT of careful spacer placements and MANY measurements I welded it up. HA! It actually tracks quite well."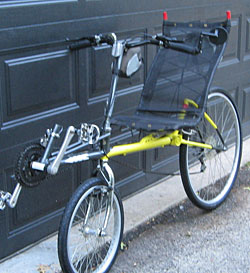 "Last year I updated the derailleur, shifters, handlebar and seat after riding the RAGBRAI and after attending the Recumbent Rally in Stevens Point, WI. It rides on 20" front and 700 rear, 100psi tires. I have maybe 300 miles on it, and maybe $200 in cost to build it. Now I'm building my next bike, modeled after a Volae Expedition, and welded up in a proper jig. The next bike will all scratch built, no scrap parts or frame pieces."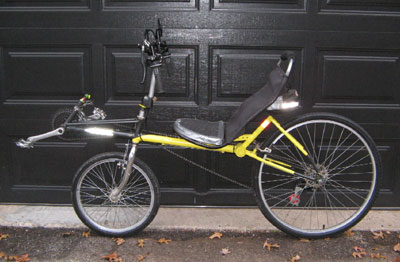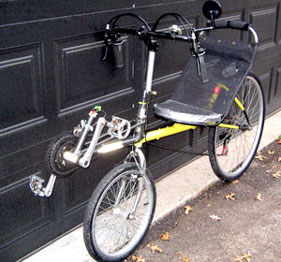 "I'd be happy to share any info on my bike and its development with other interested recumbenters.

I was really pleased at how well my bike did on the RAGBRAI last year and I got some good comments on it. This inspired me to build another bike from scratch, all new top end components, professionally welded and painted.
I'll be posting that one as I go."
---
June 2010 - Andy's second short wheelbase recumbent, "Raggi II"
This looks like a great bike ... and it has some tough miles on it to prove it!
Here's what Andy had to say about his latest creation:
"Now I am on my second season of riding my first scratch-built SWB (his first was built from a donor bike, ss), named Raggi II. I completed the bike only two days before RAGBRAI 2009. With only five test miles on it, I entered the first day of RAGBRAI with maybe seven miles of seat time before the big long climb out of Council Bluffs. Having a MUCH stiffer frame and seat mount made that long climb much easier, though the bike was up to it much more than I!

Three days, and 215 miles later my new build never missed a beat!

I'm getting ready for RAGBRAI in July. Here are a few detail pictures of the bike I built last year. The main tube is a flattened 2" OD Chromoly .045" wall, so the tube shape is 1.38" wide by 2.5" high, the chain stays are 1.125" Chromoly tube, rear drops are .187" flat-bar, hand cut with a hacksaw. The seat mount is a UHMB plastic. Seat frame is 1/2 EMT, covered in nylon mesh. Handlebar riser is an aluminum seat post, and the post mount is a seat post clamp welded to a standard wedge block handlebar mount. The mechanicals are mostly SRAM X9, Truvativ 52, 9-speed cassette 13 - 30, ABEC-5 disc/calipers, twist-grip shifters. 700cm rear and 520cm front on 100 psi tires. It rides great from a slow walking pace (also known as uphill) to 45 mph (downhill of course!). With a 52 tooth front max ring and 13 tooth small rear ring, on the flat I can easily manage 15mph.

2010 RAGBRAI this year is pretty flat, so I should be able to report almost 500 miles on this bike by the end of July. "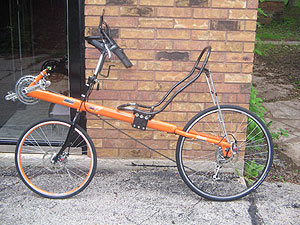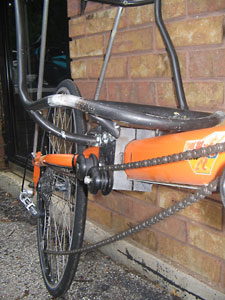 You can contact Andy at: andyvh1959@juno.com