---

January 13, 2021 -- Sunshine! Clear Skies! -- Bruno's Run 2
We awoke this morning to a rare day -- stars in the sky turning into clear dawn and the sun coming up into a beautiful cloudless blue. We've had a few partly sunny days these past weeks, usually later in the day and usually not too much of the sun part. Mostly it's been a real long stretch of mild gray. Particularly noted in the many times we've had to run the generator to charge up the batteries in lieu of the sun. Neither of us could remember when we last had a full day of clear sunshine but we knew it had been awhile. So this was a day to celebrate. While the sun quietly and efficiently charged the batteries and warmed the greenhouse, cheering the plants along, we would go outside and soak up as much of that sun as we could. The forecast was for mild and calm, as it has been. They also forecast 37 degrees but from experience we didn't put much store in that. Around 32 degrees would be fine (and indeed that was what we had). So we chose our destination and after an early lunch headed north to Bruno's Run to hike the south-west part of that trail, starting at Widewaters.
There had been enough snowmobile traffic into Widewaters campground (which isn't plowed in winter) to pack the snow so we were able to drive in to catch the trail there, heading south. They had a little more snow than we had but not much. This is a popular, and beautiful, spot in the Hiawatha Forest with snowmobile trails, cross country ski trails, hiking/biking, and in the summer camping, fishing, and boating. Widewaters is a lake-like wide section of the Indian River which runs into/through/out of it. Bruno's Run trail goes by the campground and along the Widewaters then along the "wild and scenic" I
ndian River. It was hard to keep ones eyes on the trail with that beautiful river flowing so near. Shallow and criss-crossed with blow-downs it was a peaceful companion. It was easy to imagine stepping into the water to cool your feet on a summer's hike. It was well worth the hours drive to get there. At Hwy 13 we climbed out of the river valley and crossed over at the scenic old bridge over the river, built in 1943 according to a plaque on the bridge.
Calm, sunny, 30 degrees - hiking heaven. The first 50 minutes to Hwy 13 was well trod and packed so, except for icy patches, was pretty easy walking. We crossed the highway and the river, leaving it behind as the trail headed off into the woods on the other side. We also left behind almost all of the tracks. Thankfully there were two people who had continued on this section and there hadn't been any new snow to cover their tracks. Without snow the well used trail would be obvious. But with snow the unmarked trail meandering through the woods would be at best a challenging guessing game without tracks to follow. We trusted that they knew where they were going, or even if not we were going to follow them (turned out they did). The trail curves and dips and dives through fairly thick woods. Our pace slowed walking in the soft, sifty snow but we enjoyed the peaceful surroundings with the sun slanting through the trees and across the path, warming us as we stepped into and out of the rays. We stopped to drink and snack in sunny spots to soak up all we could.
We had gotten a good start, and the days are a little longer now, especially on a sunny day, but we decided 3 hours hiking would be enough. Especially so since we'd gone for a fairly long walk at home yesterday. So as we neared the 1 1/2 hour mark we looked ahead for a suitable spot to stop for lunch then head back on the trail. We remarked that it would be nice to find a memorable landmark for the turn-around. A few more turns and ups and downs and we suddenly came upon a small opening in the woods with a
view of a small lake -- the north tip, or handle, of Dipper Lake, according to the map. Not only that, but there was a nice wooden bench there, too! What a great surprise treat for hikers and bikers. We certainly found our memorable landmark.
We gladly set down our backpacks and made full use of the bench, admiring the Lake, resting our legs, and enjoying our lunch. For Christmas we had bought ourselves small Thermous food containers - the 10 oz "Funtainer" (though we passed on the many fancy graphics versions and went for plain silver/black and teal). Last month we had taken warm food in a regular tupperware type container which was nice to have but it didn't stay warm very long, even buried in our packs. We thought we'd try the insulated container. This was our first trial and they worked well with our simple meal of rice and tuna. Though certainly heavier than a sandwich it was real nice to have warm food on a (mildly) cold day, and 10 oz was a good size - half now, half later. Based on our experience with our water bottles I plan to make
neoprene cozies for them which should keep the food even warmer, especially in colder weather. I had put mine in a simple wool blanket pouch and my food was a bit warmer than Steve's at lunch.
But it was too cold to sit long so we soon gathered our stuff, thanked and bid farewell to the Lake and the bench and headed back down the trail for a nice walk back to the car (the yellow section on the map). What a great way to spend a beautiful sunny January day.
---

January 10, 2021 -- Back to Days River
This time we knew where we were headed -- the short hike/snowshoe trail to the ORV/snowmobile trail where we turned south instead of north over the bridge as we'd done last week. Another mild cloudy day, no new snow, calm, about 32 degrees - like a film strip stuck in rewind/replay, same weather we'd been having for quite some time now. But we're fine with that, we'll let the PNW taking care of all the wild weather! We just keep hiking. And a nice one it was. The trail going south heads through some real nice woods, young growth but with a decent scattering of bearing age oak trees, left when the area was last logged. Though the trees in general blend in with the other growth one could see them easily by the churned up leaves spread all around underneath each tree as the deer dug through the snow and leaves for acorns. I don't know how the acorn harvest was but it appears there are plenty of deer and by the looks of things I doubt there are any acorns left. I'm sure the squirrels and chipmunks took care of their share, too.
There were snowmobile and ATV tracks, though there wasn't enough snow for the former and too much for the latter, but they flattened the trail nicely. Quite a bit of foot traffic and a few bicycles, along with the many deer and usual coyote/fox/dog. As usual it was quiet on most of the trail. The farther south we went there were more houses and we were walking near back yards. Not as "off-in-the-woods" feel as other trails, and the track was pretty rough with ruts and not very flat at this end. But we had a bicyclist come along who stopped to chat which was nice. He had a beautiful fat tired bike with studs and an electric assist to help him up the hills. It wasn't the best conditions for biking but he lives somewhere near the trail and said he goes out nearly every day for exercise. Just as we were parting along came another regular fat tired bike going at a pretty good speed considering the conditions, but he wasn't having any trouble. We quickly stepped off the trail and he nodded as he sped by. Two different styles but both enjoying the trail their own way, as were we. We didn't see anyone else on the trail.
We soon arrived at a "rough" area with piles of dirt, some dumped furniture -- the beginning of the industrial park. Quite a contrast to the beautiful woods we'd been walking through. Though we'd planned to walk longer we decided to turn around there, and had a very nice walk back. When we got to the cut off to go back to the snowshoe trail we decided we weren't ready for the hike to end so instead headed on north for a ways. So it was about 3 hours when we got back to the parking lot, sun heading down and starting to cool off, to find a fairly large group gathered and chatting, with fat tired bikes sticking out of pick-ups and SUV's. I don't know if they were heading out or had already been but it was good to see folks enjoying the day and each other's company. There is a separate bike trail at the Pathway which is apparently quite popular.
---

January 9, 2021 -- Is it a Hike or a Walk
The new year begins, and the hiking continues. No new snow so we're still in boots, the snowshoes left hanging on the wall, waiting. But it will come. Maybe. It's quite a change from the last two Januarys with 3-4 feet of snow! We enjoy it all, and this year are enjoying still walking on almost bare ground. We go out daily, together or separate, do a few chores, go to the mailbox, go for at least a short walk, sometimes longer. So I got to thinking - when is a walk a hike? Sometimes we'll head out for a short walk down the road but keep on going and end up coming home 2 hours later. But that's still a walk. It's from home, it's casual. We may or not have taken backpacks, or water. Certainly not snacks or sandwiches. But if we're going to the "big city" (Gladstone or Escanaba or Marquette) we usually plan to include a hike on one of the trails, so we head out with appropriate gear and clothing, water, snacks, sandwiches, for a 2 or 3 hour hike. Manistique is just "going to town", it doesn't get such planning though we often walk the boardwalk along the Lake. It's funny how we categorize things, and how we think of them. But hike or walk, we're enjoying this can-do-just-about-anywhere activity.
Though we haven't much snow there is just enough in this area for the skiiers, and the groomers, to get out on the ski trails so the cross-country ski trails are now off limits for hiking. But both Days River and Rapid River have short snowshoe trails so on a trip over that direction earlier in the week we decided to check out the Days River Pathway Snowshoe Track. It was a mild, barely freezing (so not slushy), calm day - beautiful weather for a hike. The ski trails did indeed have snow so no walking there. So we took to the designated 1.8 mile "snowshoe" trail which was definitely not appropriate for snowshoes! But they did make an effort to provide a track in an effort to keep walkers off the ski trails. It was lumpy, bumpy, stump and brush strewn and well beat down. But it was there and so were we so off we went, figuring we'd stop at Rapid River on the way home and check out their snowshoe trail. Between them getting in a little hike.
But to our surprise, halfway around the hiking/snowshoe trail, it crossed an ORV/snowmobile trail at the bridge. A wide, snow-covered, groomed, trail! A delightful place to walk and we could go as far and long as we wanted (ORV/snowmobile trails by nature cover a lot of ground). We weren't the first hikers to discover this windfall - the boot tracks were more numerous than the snowmobile tracks, though they petered out as we went on. We walked for an hour, sticking to the main route, no traffic, snaking through the vast pine plantation of this area. Then we turned around and backtracked to finish the rest of the official snowshoe trail back to the parking lot. A very nice walk. And it reminded us that the U.P. is covered with ORV and snowmobile trails, many of which are good for hiking, especially right now with the lack of snow. We have no lack of options that's for sure, near, far, or in-between. What a great abundance for fun.
---

Hiking - What a great way to keep fit and see the world. January 2021

A new year, and the hiking adventure continues.
---

12-22-2020 -- Longer Days!
The first of the longer days made a good reason to celebrate - with a hike! And the Days River Pathway seemed an appropriate destination (convenient since we we had to be in Gladstone today). I know we'll continue to have beautiful days but today was likely the last of this warm dry stretch and, depending on whether or not there is any real snow accumulation with the forecasted storm, may be the end of walking on the ski trails.
The day was calm, cloudy, and warmer (34 degrees) with a few inches of new snow on the trail, which made for good traction, nice for the steeper ski hills and fun tracking. We came across fox, coyote, rabbit, squirrel, mouse, deer and grouse tracks, in addition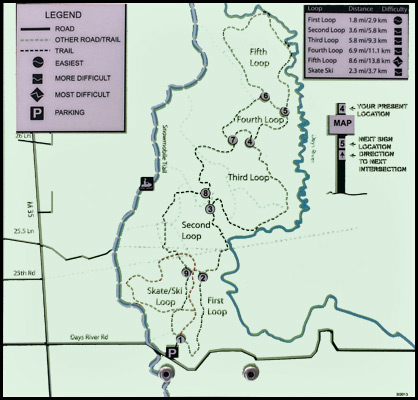 to a large variety of human, dog, and bicycle as the trail wound its way through the mostly young woods. The recent snow in the conifers added a special touch, and thankfully it didn't warm up enough to get them to the drop-wet-snow-on-the-humans state. In spite of all the traffic (which got lighter the farther away from the trailhead we got) we only came across people and dogs back at the parking lot.
Today we added the Fourth Loop to our last Three Loop trek (the trail loops are consecutive starting at the bottom at the south trailhead). With an added short diversion at the top we went about 7.2 miles, a bit more than 3 hrs, with lunch on the trail and necessary stops to admire the creeks, leaving the Fifth Loop for another time. A very good way to start Winter, with or without snow.
---

12-20-2020 -- Celebrating the Solstice!!
With great date numbers, + or - 32 deg outside, light snow cover, light wind, the promise of longer days to come -- we simply had to start our Solstice celebration with a hike.
When we were buying our shoes yesterday we talked with co-owner Keith about Bruno's Run which is about 35 mi north of us. We'd been on that trail now and then over the years for short walks but it had been awhile. When we read the weather forecast for the day we decided it was a perfect day to check it out. Mostly sunny and already heading for 32 deg so we gathered our gear, made some AB&J sandwiches, added a few logs to the woodstove, and with a last scritch and a "we won't be late" to LilliB (who knows enough not to hold us to the latter) we were in the car by 11:00 heading for Hwy 13. An hour later we were at Pete's Lake and on the trail.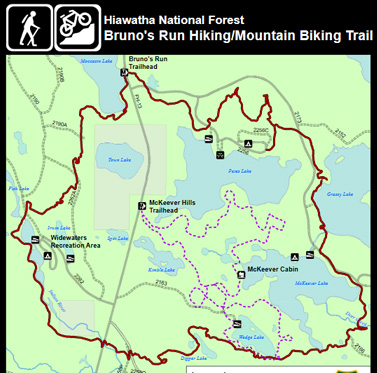 Bruno's Run is a long-time very popular, easily accessible, 11 mile mountain biking-hiking-running single-loop trail through the Hiawatha National Forest. With beautiful hilly terrain, lakes, creeks, woods, very well maintained, it's easy to understand its popularity though it's not near any population center. Today, when most trails we'd been on would be empty of people, we followed fresh tracks of 2 bicycles, 2 dogs, and 4 people. We ended up meeting and had a nice chat with 2 of the people. Later added tracks of 1 or 2 more humans and a dog (there are a number of access points on the trail). Then a runner with an energetic young dog came by, adding their prints. It was a great day to be on the trail. We also had the company of chickadees, a downy woodpecker and at least one squirrel. And several sections were peppered with the amazing snow flea.
We started out with the sun shining through the hardwoods, though clouds took over the sky as we went along, but the temperature stayed plus or minus 32, with little wind down in the woods. This is a wonderful single track, traversing the hills but with no steep ups and downs, just a gentle roller-coaster loopi
ng along the edges. We appreciated that with the slippery footing in the light but trail-packed snow. With no straight or flat sections (except the small bridges over creeks) it was continually interesting. It took me awhile to realize the difference from the ski trails we'd been hiking. This trail was built for bicycles and hiking, avoiding straight ups and downs that would wear and wash out readily with bike traffic. Skiiers, on the other hand, go for significant ups and downs (well, the downs anyway!). The first half of this section, starting at Pete's Lake, was through mixed hardwoods, unfortunately heavy with dead and fallen beech but with enough young regrowth and maples and others to keep it a nice woods. Later were areas of mostly hemlock woods. Though the trail goes down along the lakes - first Grass Lake then along McKeever Lake - we didn't run into any swamps or wetlands, just low woods. It's an amazing area, hilly woods full of lakes.
Two hours into our hike we turned around at the bridge over Deer Creek which runs rather swiftly out of McKeever. Having stopped earlier to sit on a downed tree (no lack of those) to eat our first sandwich, we did the same on the return trip. Two hours later we were back at the car having gone 8 or 9 miles (it's hard to guess mileage on a trail like this). But even though we still felt strong 4 hours was long enough. We got home in the daylight, ready for dinner, and happily satisfied with the wonderful hike.
We'll certainly go back to hike this trail again, hiking the rest of the main loop and maybe the McKeever Hills trail.
---

December 4, 2020 -- Enjoying Bare Ground
We continue to have dry and relatively mild weather. No snow on the ground and outdoor chores done (at least those that don't require warmer temperatures) so we've often been putting walking/hiking into our days. It's been great. Now that regular deer hunting season is over we're back to walking in the woods, especially nice when it's windy. We feel so fortunate to be able to just walk out our door and into the woods for as long as we want. But during deer season we simply took to the road, a'foot (and in requisite neon orange). We're enjoying doing what we talk so often of all summer but seldom take the time to do.
Trips to town gives us reason to hike different paths and makes the drive worthwhile. Without snow the cross-country ski trails make wonderful walking trails. Tuesday we stopped by Valley Spur near Munising. With a vast network of trails through wooded terrain it's interesting with a lot of options. However, you definitely want to print off and take maps with you! Their signage is marginal at best and geared strictly for the skiers who simply follow the groomed trails in one direction. In a 2 1/2 hr walk we mostly only really knew where we were when in the parking lot! And we're somewhat familiar with the place. Next time we'll take the maps. But we did make it back before dark and it was a nice side trip on the way home from Marquette.
We found the opposite, signage wise, two days later when we checked out the smaller DNR Days River Pathway, north of Gladstone-Rapid River. A very nice park it was easily navigatable whether skiing, biking, or walking, and they welcome all three. With seven well laid out loops it is accessible to most everyone no matter skill or time. Their signs at crossroads/trails were exceptional and easily understood. Just enough signage without overdoing it. Though the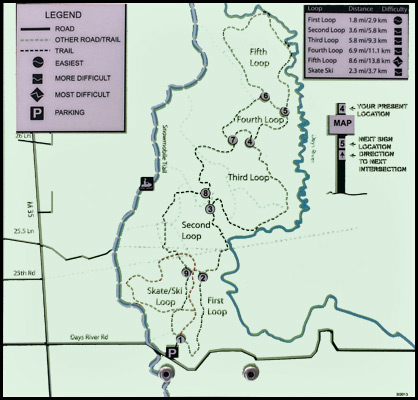 first loops were through recently logged and thoroughly trimmed Red Pine plantation, farther out was some very nice woods, appropriately hilly with the squiggly winding narrow Days River coming in and out of view as it followed its own unique path, often quite far below in cuts and valleys. It was easy to see why this is a very popular local destination, with or without snow. It was fun to see a number of people on the trail, with or without dogs, on a bike or afoot, together or single, each going their own speed, every one with smiles as we passed. We enjoyed our two hours there and look forward to returning.
---
---
* * * * * *
Copyright © 2021 by Susan Robishaw and Stephen Schmeck