---
November 7, 2021 -- Valley Spur and AuTrain Beach
Being November we never know if each day might be the last "nice" one before the weather changes. Nice this time of year means above freezing, no precipitation, and less than gale force winds. The day was moderate on all fronts and we wanted to take advantage of it. Plus we had just gotten a 'new' 2015 Subaru Impreza 'winter car' and wanted to take it on the road (the Prius is now stored for the winter). It was a bit too cold for bare feet beach walking in the water but we headed north anyway for a pleasing hike on the sand at AuTrain Beach. We did decline to wade across the river to continue on to the far end of the beach as we usually do, so it was shorter than normal. But we enjoyed it as we always do. With several hours of daylight still available we headed on over to Valley Spur to continue our hiking day.
The trees were getting pretty bare but it is still a beautiful area, and there was color in the lower branches and underbrush and on the ground, carpeted with aging fallen leaves. We picked out our route with an eye to the short daylight left -- down D, around the first half loop of G, up C and back to the parking lot in plenty of light. It was a nice moderate walk, with enough variety for interest and only a couple of confusing spots, which for the maze of trails at Valley Spur is pretty good. There appeared to be some new markers which was nice to see. The focus is mostly on skiing and biking here but it's such a great hiking place, too, and we sure appreciate it.
---
March 9, 2021 - Valley Spur and the North Country Trail
The second day of our first real Spring Melt, with temps in the 40's and a stretch of sunny days. The snow was soft and melting and especially in the southern half of the U.P. snow sports season was over (unless there comes a good snowfall, which could easily happen). Even up north things were getting iffy. But on a trip to Marquette we tossed in our snowshoes in case we might be able to get a walk in somewhere. We could have just walked in town but decided to stop at Valley Spur on our way home. Even at home we had enough snow (we had snowshoed all our home trails in the soft snow yesterday to flatten them and with our wide snowshoes it was good walking) so knew the snow-belt VS would have snow.
The parking lot was icy-mushy, there was but one car but there was indeed still snow. We were happy to discover a sign that indicated two snowshoe loops -- the common short Bunny Loop and a longer 2.6 mile long snowshoes-only Snowman Loop. We slushed across the lot, put on our snowshoes and thankfully found the snowpack to be quite walkable. Though the trail was well packed it was flat and not too icy. It was warm enough out to soften the top layer which helped a lot. The trail goes through a very nice mixed, not-logged (at least not for awhile) woods with plenty of elevation changes and a beautiful creek. Whoever laid out the track must have had a good time weaving in and out and around trees of all ages. The one thing that keeps this trail from a five star rating is a very steep downhill section with trees and a sharp curve at the bottom that even in better snow conditions would not, and was not, snowshoe friendly unless one has technical shoes with sturdy crampons and rails which not all snowshoes have. Our classic wood frame laced bearpaws definitely don't! There were a few other uncomfortable steeps downhills as well but the majority of the path was enjoyable to walk. Since much of the snowshoe trail is near to the road there is traffic noise but at some point one gets away from that and you can feel lost in the beauty of the woods. Then the trail heads down to wind along near the beautiful Valley Spur Creek. Steve remarked that "Next time we're going to have a creek on our property!". We wondered if we could dig one where we were, not being inclined to move.
Though hazy/cloudy there was occasional sun and it was an amazing upper 40's. A brisk wind stayed up in the top of the trees so we were plenty warm. We got back to the parking lot after a very nice hour long walk to find the other car's occupants changing footgear after their skiing. They were from downstate and had been making the most,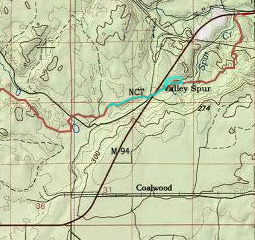 and maybe too much, of their days up here by skiing no matter the conditions. They said this morning was better but this afternoon was pretty sticky what with the soft snow and beech leaves on the tracks which they said act like little brakes. But they were obviously enjoying the trip and we had a nice chat. We mentioned the North Country Trail which runs through Valley Spur and on across the road and it turned out one of the men had volunteered on the NCT near where he lives. We shared similar experiences, told them how to get to the nearest auto parts store and hardware, wished them well then slogged on across the wet pavement, across the road, to check out the NCT. (continued on the NCT page).
---
---
December 4, 2020 -- Enjoying Bare Ground
We continue to have dry and relatively mild weather. No snow on the ground and outdoor chores done (at least those that don't require warmer temperatures) so we've often been putting walking/hiking into our days. It's been great. Now that regular deer hunting season is over we're back to walking in the woods, especially nice when it's windy. We feel so fortunate to be able to just walk out our door and into the woods for as long as we want.
Trips to town gives us reason to hike different paths and makes the drive worthwhile. Without snow the cross-country ski trails make wonderful walking trails. Tuesday we stopped by Valley Spur near Munising. With a vast network of trails through wooded terrain it's interesting with a lot of options. However, you definitely want to print off and take maps with you! Their signage is marginal at best and geared strictly for the skiers who simply follow the groomed trails in one direction. In a 2 1/2 hr walk we mostly only really knew where we were when in the parking lot! And we're somewhat familiar with the place. Next time we'll take the maps. But we did make it back before dark and it was a nice side trip on the way home from Marquette.
---
---
We've walked and enjoyed the trails at Valley Spur sporadically over the years. We worked on the North Country Trail in that area including through VS. It's often not very busy in the non-snow months, especially during the week. They don't push the hiking part of the multi-use trail; it's not even on the signs, which is both a blessing and a frustration as it's a wonderful place for hiking. We're fairly familiar with it but we've also gotten lost. Mostly we make use as a quick stretch-walk when on our way home in the car. The NCT north, across the road, from VS is good hiking as well and we're more likely to do that for a longer hike. If we were closer and more involved we'd volunteer to help sign the place (and make appropriate maps) for hikers but thus far our attention has been elsewhere. It's the way it is, hikers and walkers tend to be more independent and not so "gather in a group" oriented I think (well, maybe not, thinking of over-used Pictured Rocks). It would be nice to have a good map signs for the both-direction hiker but meantime, just be prepared, give yourself plenty of time, and enjoy the not-logged woods, beautiful creek and some pretty nice trails.
---
---
---
* * * * * *
Copyright © Susan Robishaw and Stephen Schmeck