---
November 10, 2021 - A New Trail for Us
No casual sauntering here! Surrounded by lakes and woods and hills and valleys, and the popular Bruno's Run Trail, is this amazing hilly trail. We were aware of the trail as we had snowshoed into the National Forest Service's McKeever Cabin many times to visit a friend who comes up annually to enjoy skiing amidst the calm and quiet of the northwoods. That route in is on a fairly flat old two track and we had only gone on the main trail a short ways, though we did remember it as hilly. And we'd seen the trail when on Bruno's Run where the two cross paths.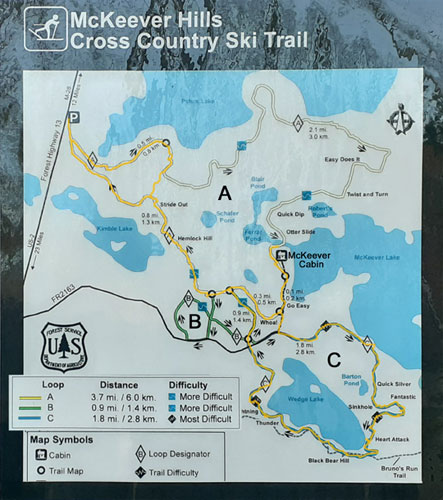 But this day we decided to check out the whole trail. The weather forecast was for a week of wet and cold and we wanted to get in at least one more hike in milder weather before all that began. Plus the trail was only a little over an hour away. Or would have been if we hadn't decided to take a back road or two. But that was part of the adventure. We figured we still had time for a good walk.
The map said Loop A was 3.7 miles, a nice distance for a few hours walk, and we could add B if there was enough daylight. It was mostly cloudy, a bit chilly and moderately windy, but we were in the woods and comfortable enough. We did notice the trail designation for skiiers as "More Difficult" for A and B, and "Most Difficult" for C. That was OK, we liked hills. We had no idea...
As is so often the case, the trail markers are for skiiers, not hikers, so a bit lacking in some places. We had to backtrack right away as we realized the track we were on wasn't heading in the right direction. We figured it out, began again, deciding to walk the trail the "right" way (for skiiers) so we could see the signs/markers head on. Very soon there was another Y option with no markers. Sigh... We chose to go right, continuing to enjoy the hilly terrain. Then we came to the back side of a sign -- we were going in the opposite direction from what we thought. There were a number of signed hills, with names such as "Whoa" and "Sinkhole", such as ski trails seem to have. But these weren't on our trail map so didn't help much, except to confirm what you were looking at -- a very steep hill (up or down). But we had a compass, a general idea of the area, and Steve's good sense of direction so weren't worried. We soon figured out where we were, walking the SW part of A and heading for McKeever Cabin (on, not surprising, McKeever Lake).
Other than the trail going more up and down rather than around, the surroundings were similar to the very enjoyable Bruno's Run. We soon came to the familiar path to the cabin but were dismayed to see the area all around the cabin had been "cleaned up", with the underbrush and branches piled in eerie short TPs topped with a piece of plastic. What a sad sight. The trail runs down below and around the cabin and I was anxious to get beyond that weird project. But we were stopped by the "bridge" that the trail crosses just beyond the cabin. Too bad whoever made the brush TPs hadn't spent their better time making a proper bridge. The logs laid across wet area were well down in the water and the only way across was to wade. We turned back.
Happily back on the trail we came to the intersection of B and C loops. C was only 1.8 miles long so we could easily do that, then the little B loop, returning on A. There was that warning sign, but we'd hiked Rapid River Ski Trail, we knew about steep hills. Off we went.
To say this is a delightful section of the trail doesn't give it full credit. The sign isn't kidding. It wasn't just the numerous roller coaster hills, all straight up and down (no going around on this
trail), but the curves. I think every climb or descent incorporated a curve, top, bottom or inbetween. I can't imagine doing this trail on ski's!! Not to mention downed trees to step over. I think there was only one, very short, straight, flat section on the whole loop. It was a great hike. But it was a great reminder that one can't get a feel for a trail, or how long it might take to walk it, based on mileage. This was not a fast walk but certainly a fun one.
When we came to the intersections of A, B, and C we decided (once we figured out which trail was which) to head back to the trailhead on the milder A loop, leaving B for another time. The days are definitely shorter now. We found the spot where we'd gotten off the clockwise track of A, at an unmarked cross trail. But we were glad we made the "error" as we really enjoyed the C loop and probably wouldn't have had time for it had we taken the longer northern A loop. So we still have unwalked parts of this trail to experience and look forward to on another day.
---
Date - Title
Description
---
---
---
* * * * * *
Copyright © 2021 by Susan Robishaw and Stephen Schmeck