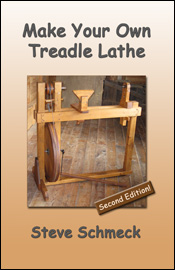 The Updated Second Edition is now available!

Here is a practical, step by step guide to building a foot-powered lathe for light duty wood turning. You can build your own treadle lathe by following the well illustrated steps presented in this compact book.

This book is available as a full-color paperback and as an eBook.
---
You can order this book directly from us for $12.95 + $4.00 shipping!
or ... it is also available from Amazon.
The E-Book is available from:
- Apple iTunes
- Barnes & Noble
- Amazon
- Smashwords
or your favorite e-book retailer.
for just $4.95!

---
In response to feedback from readers I have prepared a do-it-yourself "Treadle Lathe Hardware Kit". This list will give you an idea of what components you might need and sources for them. You can view the 'Kit' or download it as a PDF.
---
Thank you to everyone who purchased the First Edition! Your feedback was responsible for the new Second Edition content. If you already own the First Edition you can download those updates here.
---
Measured Drawing Download: Sorry this file has been so hard to find. Click here to download a PDF that shows my lathe's dimmensions.

Sale! For a limited time the First Edition paperback is available directly from us.
( Updates can be downloaded here.)
---
Full Color paperback: $10.00
Black & White paperback: $6.00
OR ...
Click on Order Form to order and pay by mail.

PLEASE NOTE: We can only ship within the USA. See ORDERING INFO for shipping charges and other information.