---
---
Socks - Wool Rules! At least it does in our sock drawers. I'm more passionate about wool socks maybe because I enjoy knitting them, all 100% wool, fancy (many) or plain (mostly Steve's). We've worn hand knitted wool socks for years and they're great. Mostly they are winter-wear but they aren't limited to that. I discovered the comfort of wool for padding and for soaking up sweat when I got into International Folk Dancing. The same attributes serve me well on the trail, too. If you are a knitter (or desire to become one) check out my SOCKS page.

Steve mostly wears wool-nylon socks hiking (or every-day) with the all-wools coming out in winter, with or without silk or synthetic liners. I have yet to come up with my pick for hot weather when I'd rather be barefoot or in sandals. My every-day summer work sock is cotton and for short hikes that suffices for me. Or my wools. I'm still experimenting. But for winter hiking I've gathered a collection of light, medium, and heavier sock liners - synthetic or wool mixes - to wear under my knitted wool socks. I like having a choice depending on how cold it is or whether I'm wearing boots or athletic shoes (my preference). My feet get hot easily and cold easily so I do my best to keep them happy.

For purchased socks the variety of brands and types is downright overwhelming. My only recommendation is to dive in, order a whole bunch of different kinds, different companies, different sizes. Try them on, send back those that don't suit you, wear the ones that do, then if you find one you really like go order more right away because individual models seem to disappear overnight. They all seem to be OK once you find one that feels good on your feet. Except for that CUFF issue...

I have to wonder if sock manufacturers ever look at how a leg is shaped, do they wear their own socks or do they all have very thin vertical legs with minimal calves?? I used to think I was an oddity because I found sock cuffs on purchased synthetic or synthetic-wool or synthetic-cotton blends to be almost universally constrictive and uncomfortably tight, unless they are just ankle height. But then I started reading reviews in my search for hiking sock alternatives and found no, I wasn't alone. It was an oft mentioned frustration. Now, hopefully, some sock manufacturer will get adventurous and start making a comfortable cuffed sock, and athletically oriented folk will hear about it, buy them, then other manufacturers will get on the band-wagon and we'll soon have a raft of good choices. Good cuffs can be done, it's just really rare. But complaining gets one nowhere so...

The CUFFS - My first solution was to simply cut the offending constricting cuff off. This was on a pair of older but unworn Smartwool socks that had been in the "just in case" bag in the car. One day after kayaking I put them on and decided either cut off that cuff or get rid of them. Nothing to lose. When I got home I got the scissors out and the job was done. I zigzagged around the top (though i don't know that it was necessary) and wha-lah! A previously unwearable sock was comfortably wearable. A little short, a little curled at the edge, but wonderfully wearable, just like that. They are now an oft-worn winter base layer sock (the center sock in the photo below).

So this winter, as my collection of OK though not really great hiking socks grew as my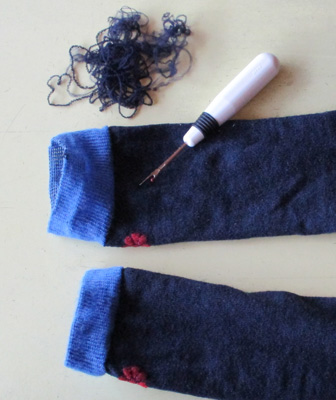 quest for some good sock liners and possibly all-wool alternative non-winter hiking socks grew, I decided it was time to fix them, one way or another. I was tired of folding the tops down off my calves to the ankle where they wouldn't be so tight. It was winter; I wanted taller socks. So I looked the first pair over and noticed the cuff was a double thickness; a band that was turned down and stitched. Mmmm, I wonder what would happen if I unstitched it? Being in the sewing mode the seam ripper came right to hand. It didn't take long; it was an easy job. As it turned out, this pair and a drawer full of others from various manufacturers and brands, were all done the same way -- a knitted cuff turned in and sewn down with a simple serge stitch of stretchy wooly nylon thread. When I was done I had a big pile of soft stretchy nylon thread and a stack of socks that all breathed a sigh of relief, as did my calves, to be free of that constricting thread. It worked. It wasn't the weave of the cuff that was the issue as I'd thought, but the hem thread, which was somewhat stretchy but not nearly as stretchy as the sock and cuff fabric.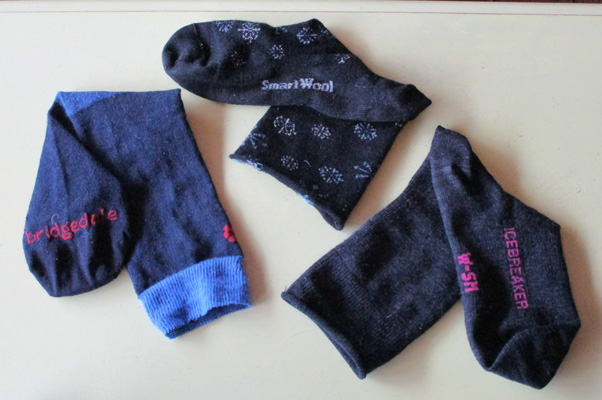 The cuffs unfolded make the socks taller but they don't seem to have a tendency to ravel any further. If they do I'll add a loose, stretchy zigzag around the top, or maybe sew on some light weight brushed elastic. And if I decide they are too tall I could ravel off the cuff though in almost all of the socks the cuffs are a bit sturdier than the main sock so I'll probably not. I've found I can simply fold them down to whatever height I want. Without that constricting wooly nylon hem thread they are comfortable and plenty tight enough to stay up (all these socks have some lycra in them). What a great relief, and a simple solution. So until sock manufacturers figure this out and come up with their solutions, a good seam ripper and a few minutes time will make those manufactured hiking socks fit like they should.
---
---
Shoes or Boots?

- It all depends, of course -- what shoes, what boots, what trail, what feet. But one option we found that surprised me was that the right shoe can be much more comfortable in cold, snowy weather than a supposed warmer, dryer boot. My winter boots are leather, fit fine, old enough to be broken in but still take my feet some time to get used to when winter comes. Steve wears boots more often but even he was reluctant to give up comfortable athletic shoes for hiking when it was that time of year. Now, when there is enough snow to require snowshoes the boots win, hands (or feet) down. Athletic shoes simply aren't sturdy enough and boots more comfortable, at least with our traditional laced snowshoes.

But that unusual fall/winter of 2020 when snowshoe snow simply didn't arrive until the middle of February we discovered winter walking in tennies. Mostly because our old shoes gave out about the same time and we went seriously shopping for good hiking shoes. It was fall and we finally had time to hike. We wanted good fitting (the big challenge), grippy soles, and subtle colors. We didn't need to glow in the woods! Besides, we weren't shoe collectors and these had to do double/triple duty in other areas of our lives. This turned out (another surprise) to be a challenge, too. Neon, crazy, wild was in. Made me feel like I was back in the 60's!

Local stores are limited here in the U.P. Actually, there was only one, but it was only 100 miles away. The owners were runners, very knowledgeable, and Steve had purchased a pair of shoes there some years ago, so we went back. Their policy was hard to beat -- try them out, walk, hike, whatever, outside -- if they didn't work out, you had 30 days to return. We did. Steve found his right away, Brooks Adrenaline, basic black. I tried on just about every shoe in their store. Sigh. I ended up with the same shoe as Steve. Oh well, I put gray laces in mine, just to be different. The footprint of the soles were wider than either of us like but that helped in the snow (but not climbing in rock), and the the fairly thick soles were good for warmth. They were sized for wearing thick warm socks.

And they turned out great for winter hiking. We donned wool socks and liners as it got colder. A few inches of snow, then more, we hiked on. We wished the tops weren't as airy but as long as the temps hovered around freezing or below (which wasn't a problem -- it was winter in the U.P.) our feet didn't get wet (well, unless one stepped in a not frozen enough puddle, then good wool socks were really important). The grip, the flexibility, the comfort -- the hiking was great. When snow finally came, measured in feet not inches, we switched to boots and snowshoes and that was fine. That year it was only for 6 weeks! What a winter. A rare one but we sure enjoyed it.

Of course, most winters aren't like that. Most winters we don snowshoes in November or December, and it can last into April. But if we get a thaw then a freeze, and the snowpack is dense enough, even with deep snow we can walk the trails in shoes. Or we walk on well packed groomed snowmobile trails. Or even in town with (more or less) shoveled sidewalks. In a long snowy winter it feels good to get off of the snowshoes once in awhile. The grippy soles of the athletic shoes and thick warm socks are essential.

When the snow melts we both choose to switch to a shoe with narrower sole, a different brand it turned out, and, of course, one that fits without heavy socks. But we'll be back to our snow-tennies next winter. And I keep an eye out for my ideal winter hiking shoe -- same sole as the Brooks, same wide toe room, but with a solid fabric upper and a soft high-top to keep the snow out.
---
Mittens -- When the temperatures drop the gloves are put away and the mittens come out (actually, the mittens are never really put away here in the U.P.!). It's a surprise to many folks how much warmer mittens are. There just is no comparison. Single, double, or triple - mittens rule in the winter. See my Sewing Mittens page for more information on making your own: mittens
---
---
---
* * * * * *
Copyright © 2021 by Susan Robishaw and Stephen Schmeck