---
December 15, 2020 -- A New Day, A New Trail
It just keeps happening - another good day to go for a hike. A little colder than the last one but not too much, 23 to begin with and calm, partly sunny (hurray!) and it warmed up a few degrees later on. No new snow. Might as well check out another ski trail. This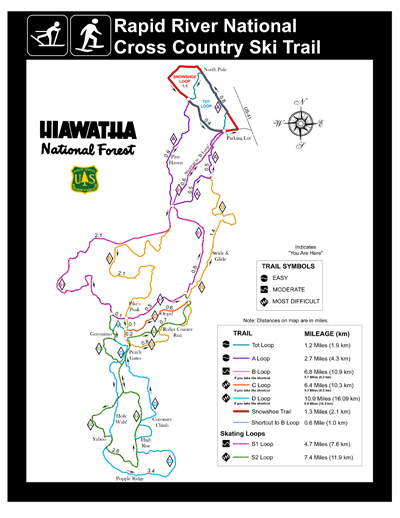 time the Rapid River National Cross Country Ski Trail. We don't know what makes it national but we know it's very popular with skiing friends. And we found it to be yet another great hiking destination, about 40 miles from home.
The Loop B we took (the gold one) is almost entirely in conifer forest - Red Pine, Balsam Fir, Hemlock, some Spruce, occasional Cedar. Designated "moderate difficulty" for skiing it makes its way, with appropriate ups and downs, along an surprisingly high, then very high, ridge. One certainly wouldn't want to accidentally ski off the trail down the sides (which isn't likely considering the generous number of trees). The trail does head on down to the low bogs/swamps now and then, but mostly it's high above on a beautifully maintained (by those ever busy volunteers) pine needle strewn trail, looking down on (now frozen) wetlands. There are sections along old and current two-tracks but that just makes for a nice change for side-by-side walking.
Most trail walking is single file so we change off about every half hour, with a quick (or longer) stop for drinks and snacks, and midway usually a longer one for more substantial food. We finished the loop and were back in the parking lot sooner than we thought. So still with energy left and daylight (we got on the trail earlier this time) we took in a second smaller "snowshoe" loop. Flatter and calmer (most of it is also the "Tot Loop" and follows partly straight along a pipeline clearing) this was a good way to end the hike. Seven miles and less than 3 hours we were back in the car finishing up our lunch (we find it hard to take very much time to eat on the trail when it's cold, no matter how scenic it is). This will be another good trail to return to in the future, with more loops to explore as well, as long as the snow holds off. But when it does arrive (making very happy skiers!) it will be there waiting for us hikers next year.
The one issue we're still challenged by is keeping our hands warm. We're still working on a good layering system. One that will keep those important fingers happy yet allow some dexterity. In cold temperatures one isn't very inclined to pull hands out of cozy cocoons for even quick chores. But with each trip we come back with ideas -- gives us something to work on during the non-hiking days! Fine-tuning the gear seems to be a big part of the fun.
---
---
---
* * * * * *
Copyright © 2021 by Susan Robishaw and Stephen Schmeck