---
December 15, 2020 -- A New Day, A New Trail
It just keeps happening - another good day to go for a hike. A little colder than the last one but not too much, 23 to begin with and calm, partly sunny (hurray!) and it warmed up a few degrees later on. No new snow. Might as well check out another ski trail. This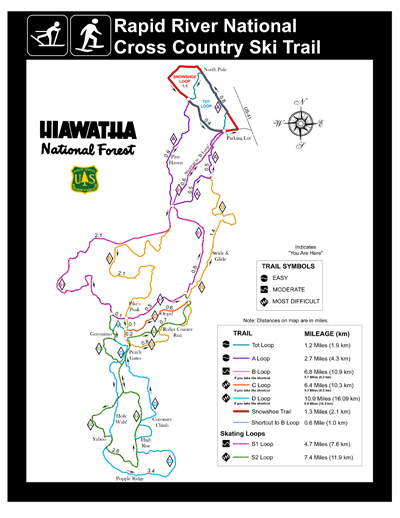 time the Rapid River National Cross Country Ski Trail. We don't know what makes it national but we know it's very popular with skiing friends. And we found it to be yet another great hiking destination, about 40 miles from home.
The Loop B we took (the gold one) is almost entirely in conifer forest - Red Pine, Balsam Fir, Hemlock, some Spruce, occasional Cedar. Designated "moderate difficulty" for skiing it makes its way, with appropriate ups and downs, along an surprisingly high, then very high, ridge. One certainly wouldn't want to accidentally ski off the trail down the sides (which isn't likely considering the generous number of trees). The trail does head on down to the low bogs/swamps now and then, but mostly it's high above on a beautifully maintained (by those ever busy volunteers) pine needle strewn trail, looking down on (now frozen) wetlands. There are sections along old and current two-tracks but that just makes for a nice change for side-by-side walking.
Most trail walking is single file so we change off about every half hour, with a quick (or longer) stop for drinks and snacks, and midway usually a longer one for more substantial food. We finished the loop and were back in the parking lot sooner than we thought. So still with energy left and daylight (we got on the trail earlier this time) we took in a second smaller "snowshoe" loop. Flatter and calmer (most of it is also the "Tot Loop" and follows partly straight along a pipeline clearing) this was a good way to end the hike. Seven miles and less than 3 hours we were back in the car finishing up our lunch (we find it hard to take very much time to eat on the trail when it's cold, no matter how scenic it is). This will be another good trail to return to in the future, with more loops to explore as well, as long as the snow holds off. But when it does arrive (making very happy skiers!) it will be there waiting for us hikers next year.
The one issue we're still challenged by is keeping our hands warm. We're still working on a good layering system. One that will keep those important fingers happy yet allow some dexterity. In cold temperatures one isn't very inclined to pull hands out of cozy cocoons for even quick chores. But with each trip we come back with ideas -- gives us something to work on during the non-hiking days! Fine-tuning the gear seems to be a big part of the fun.
---
April 25, 2020 -- Walking the Skating Loops
With a stretch of rain/snow/sleet days forecast (you have to love the diversity of spring weather!) today was the last day to get in a hike before those indoor days started. We'd had a number of decent outdoor homestead work days which felt good so were in the mood to take the day off for a hike. The whole Bruno's Run trail had been in our minds but when the day arrived with temps in the 30's and a very brisk north wind we decided to save that for a nicer more leisurely day. When we'd been on the Rapid River Ski Trail in December it had been well wooded with wind-blocking conifers, just right for this day, so back to that trail we would go. It was sunny but still cool in the morning so we did a bit of shopping in Escanaba while the day warmed up some. It wasn't exactly warm at about 40 degrees but that was a lot warmer than our previous trip here and we now had our clothing systems pretty well worked out. The trick is to wear enough to be warm at the start (or the end if you are still out when the sun and the temperatures go down) yet have enough room in your pack to stuff in jackets, mitten, hats when it warms up. We had both sun and hill climbs to warm us and gusty north wind to keep us cool. What more could one ask for!
We had done the very nice B Loop last time so decided to check out the Ski Skating Loops this time. We knew there would be some low spots but hoped the wider skating loops might allow for easier walk-arounds. Plus it would be side-by-side walking most of the way which we enjoy. We'd had a bit of snow on the ground at home and there was some here, too, but it was minor. So we headed out on purple Easy Loop A (a nice gentle way to start and end a hike) to get to red Skating Loop S1which was in the same central section as our previous walk. The terrain was similar with beautiful conifer woods and hilly sandy high ridges amongst the bright green wetlands swamps and lowlands. This section is designated "moderate" but they are not overstating the ups and down with their loopy symbol. One minute you'd be looking down, down at the low area below, then the next you are down there looking up. As the sun was mostly overhead and the trees mostly blocking the bulk of the wind we ended up with cold weather jackets in our packs and much modifying of other layers. It really was a beautiful day for a hike and a beautiful area. We did run across, or I should say "very carefully skirted" a few wet sections but got by with only minor wet feet. The bogs were wet and well thawed now.
At the junction area of the central S1-B (red and gold) and S2-D southern (green and blue) trails we headed into new territory onto Skating Loop 2. We were surprised to meet a bicyclist since this isn't much of a biking trail with the steep and very sandy hills. But she said she had skied the area so was familiar with it, and she walked the steepest grades. Even the central area isn't for casual walkers but this farthest section has a "most difficult" jaggy peaked up/down sign, and the various hills have names such as Yahoo!, Holy Wah!, High Rise, Coronary Climb. And they aren't exaggerating! The ridges are high and the wetlands low, and wet, and beautiful. We refrained from taking more photos of the bogs (see Days River hikes) but did try to take one looking down into the lowlands from a ridge, but it is hard to get the scale in a photo. The best thing is for you to walk it and see for yourself. Well worth it!
The bicyclist had gone on ahead of us but soon we met her coming back. She said there was a wet part up ahead that she didn't think she could ride her bike through but maybe we could find a way around. And sure enough, a short ways ahead we found ourselves at the top of a steep sandy slope down to a nice little pond at the bottom, with generous wet bogs on either side. Definitely a "wet" patch. Mmmm. Well, we'd traversed wetlands before so down we went, heels dug into the soft sand, to where the trail disappeared into the water. It didn't look too promising, wet bog moss as far as we could see, but maybe some of those hummocks and bumps in the bog were solid. I went first (Steve's big on sending the light-weight canary first). Nope, not solid. That one either. There's a tree mound - very slippery, and wet. So I continued, stepping carefully, looking for possible dry footing though my feet were definitely not dry by now, going for the shallowest wet, hanging on to the small conifers trying not to slip into something deeper. I made it to the other side to find Steve still at beginning, doing something. He was teetering on a high (relatively speaking) mound taking off his shoes and socks. Then he made his way around barefoot on (or rather, in) the squishy carpet of beautiful moss. This worked pretty good until the end when what looked like a shallow area almost to the dry trail turned out to be a calf deep bog moss covered little pond. Oh well. So he ended up with his dry shoes and socks that he was carrying but very wet pants and long-johns. I had wet shoes and socks but dry pants, being a bit luckier in my choices of foot-falls.
The trail went up from there on dry land so we laughed, I took off my shoes and socks and joined Steve walking barefoot for awhile, enjoying the warm soft sand and pine needle covered path as our feet dried. Then taking a break in the sun Steve put his shoes and socks back on and I went sockless in my wet shoes for awhile so the footbeds could dry a bit before putting on dry socks (we both carry dry socks in our packs), hanging my wet wool socks on the back of my pack. We were glad the weather was mild, and grateful neither of us had fallen full in the bog. We decided next time the time-honored solution for crossing creeks and streams of taking socks off, shoes on, pants rolled up would work better. And we appreciated quick drying synthetic hiking clothes and shoes. We were sorry we hadn't taken a photo of that scenic spot but we weren't going back to do so.
On around S2 we went, or rather up and down we went. It felt good to be out doing something we enjoy and feeling good physically. There came on one bog spot that the trail workers had dug the ground from beside the path, piling it on and raising the trail above water level and on top of a culvert. It was rough and messy yet but very much appreciated. It's not easy to turn a ski trail into a non-snow hiking path through this terrain and we're happy they are doing so. It's such a great place to walk.
After the steep hills of the southern part, then the moderate (relatively speaking) central section, we were back to the Easy A Loop, enjoying the wind-down walk. The sun was going lower and the temperature falling a bit but the wind had been wonderfully moderate on the ground amongst the trees. We especially noticed the plentiful Wintergreen ground cover here, seen throughout the entire area, the smooth leaves shining so bright among the dried pine needles and leaves. It was an eight and half mile walk, more vertical than horizontal, and a thoroughly enjoyable less than 4 hour hike. And we still have D Loop to look forward to, once it has dried out some.
One more thing that makes this a special ski and hiking trail system is the absence of logging. The area is full of impressive large conifers and the lack of logging has allowed the area to settle into a healthy and natural setting. I don't know the history of the area, when the Ski Trail was established or how long it has been since it was logged but it has been awhile. It sure would be nice if the DNR would follow this example at Days River. Meantime, we're happy for what is offered there but doubly impressed with the Forest Service leaving this area free to be while maintaining the trails.
---
---
---
* * * * * *
Copyright © 2021 by Susan Robishaw and Stephen Schmeck