There was great success with our first tart cherry tree, an Evans on Mazzard rootstock, planted in probably the "warmest" location in the orchard, in full sun but near the woods protected by the large trees. It was a moderate sized tree, had very nice tart cherries, good crops when spring frosts and freezes were kind. It was hard to leave them to really mature to the best flavor, worrying if the birds would leave me enough (which they always did), but it was worth it when I did. I thoroughly enjoyed the five years when I had moderate to heavy crops, making wonderful fruit sauce. It didn't take me long to go searching for a cherry pitter after that first good crop, which was pitted by hand.
Two events did the healthy, sturdy Evans tree in -- raccoons and a heavy crop. Both resulted in badly broken branches two different years. Cherries don't handle such treatment well. Canker set in and at twelve years the tree was done. I was bummed as I'd gotten a taste of fresh home grown cherries and definitely wanted them back. It was five years before we once again had a crop of tart cherries, though small it was much appreciated. This was on a quite different cherry -- a University of Saskatchewan bred dwarf bush cherry, Carmine Jewell. We were back in the cherry swing, weather permitting. But this lady is very hardy, on her own roots, not depending on the Mazzard rootstock, and no ladder needed. The cherry breeding program at U of S is quite a story, from the passion of Dr. Les Kerr 60 years ago to the commitment of his later successor Rick Sawatzky, and Bob Bors. What they've accomplished is pretty amazing, and so appreciated by those who are growing the results of their work, myself included. Information on their dwarf bush cherries at https://research-groups.usask.ca/fruit/Fruit%20crops/sour-cherries.php
When we lost the first Evans I figured we'd just graft more cherries. We had been successfully grafting apples, pears, plums so it was a logical step. The Evans rootstock didn't throw up but one sucker maybe five feet away but we grafted onto that. I did have another cherry, a Meteor purchased several years after the Evans. It was small, in a different location, only growing to about 6 feet though on the same rootstock as Evans (which I kept pruned to 14 ft). I did get some fruit from it, nice, slightly smaller than Evans. But the raccoons also got into this tree and tore out branches, bark split, canker set in and we lost this one, too. This rootstock regrew vigorously, sending out many suckers which I dug up and replanted to graft. Intrigued by the difference between the two trees, both from Fedco, both supposedly on the same rootstock, I contacted them to see if the Meteor had by mistake been on a dwarfing or different rootstock. But no, Mazzard was the only rootstock they were using then. Interesting, but trees are individuals just as people are.
But I was happy to have the supply of rootstocks. I got more scions, more varieties. And I bought another tree, Garfield Plantation, also on Mazzard, the standard commercial hardy cherry rootstock. We grafted, some grew, some didn't, either the rootstocks or the scions winterkilled or damaged, or both. Garfield winterkilled also. Rootstocks regrew. We regrafted, same results. Obviously this wasn't working. I planted another University of Saskatchewan bush cherry, Juliet, and another Evans, this time on its own roots. We're in a frost pocket (bottom of a valley) in a moderately c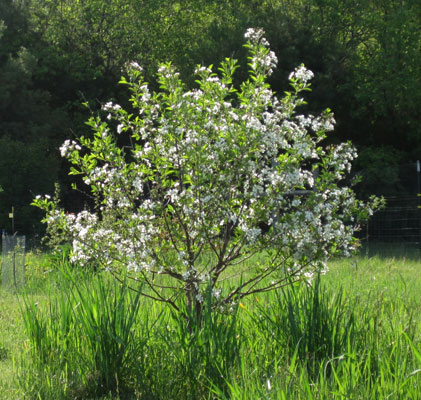 old zone, z4 they say. I figure our homestead is in z3. I'm learning to respect that.
Juliet and Evans were planted in 2017 so they are both in juvenile growth stage. Carmine Jewell was planted in 2015 and has turned into a beautiful ornamental shrub, giving a first small harvest in 2018, and more in 2019 though it is still young and growing. When they are all in production this will be plenty of cherries for my use, but I wasn't ready to give up on grafting and trying other varieties. It's possible the rootstock is our weak link, not the varieties.
I decided to graft onto the regrown old Evans rootstock sucker, even though it and its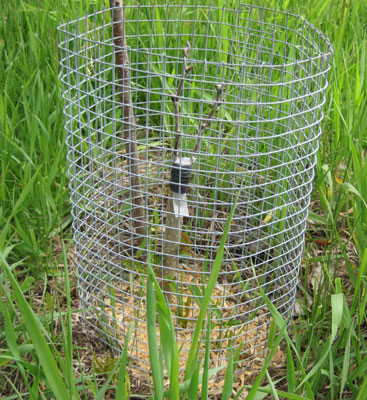 scion had winterkilled previously. I didn't want to dig it up and bury the graft as it had 3 years roots now. So we cut it off low, went on hands and knees and bark grafted two pieces onto the sawn off stub. Being low to the ground my hope is that the graft and short rootstock piece will be buried in the snow all winter protecting both. The grafts grew vigorously and so enthusiastic one of them blossomed! I nipped off all but one and let it set one cherry, so low to the ground ground so I was surprised it survived. But it did and mid August I got to taste my first Mesabi fruit. Very nice! I'm looking forward to many more (and on a taller tree!). Thankfully the snow came early and generously this year (December 1 we got two feet of the cold white insulation), and I can easily bank more around the little treelet should we get a significant mid-winter melt, so I'm hopeful for the success of this one.
ON THEIR OWN ROOTS
But it is "on their own roots" that I think is the way to go. I like that idea. Evans is available grown on its own roots from HoneyberryUSA (other sources usually graft it). This is where I got my new own root Evans (which is healthy and growing well). And the University of Saskatchewan bush cherries are naturally on their own roots. But other varieties are only to be had in the trade grafted onto other rootstocks. And it is very difficult to root plain cuttings.
So I dug up a Mazzard sucker, and we grafted Meteor onto it very low close to the roots. Then I replanted it deep, burying the graft and the bottom of the scion, leaving two buds above ground. It took and grew, small but healthy. The hope is that the buried part of the scion will put out its own roots thereby getting a Meteor tree growing on its own roots, using the Mazzard rootstock as a nurse root until it does. (I have several apples, apricots and a pear growing this way as well.) It's an exercise in patience but I hope it survives and grows. It will be interesting to see what this variety will do grown on its own roots. I may take a cutting from the newly grafted Mesabi and do the same with it.
Thus my cherry adventures continue. And since I now turn the electric fence on at the first hint of any ripening fruit we've had no raccoon raiders since.
---