A Sporadic Start: 2006 - 2014
Three years after planting Stacey I got another pear from Fedco that sounded promising - Summercrisp. Said to be very hardy, very resistent to fire blight, and good eaten fresh from the tree (many, if not most, pears need to be picked early and ripened off the tree for best results). The next growing season it had some blackened leaf edges but it got through OK, and continued growing slowly but healthy for many years. 2012 it had blossoms but no fruit. 2013 - one pear! Small but good. It fell and I ate it the end of August, a pretty fruit with dark red blush.
2014 - a tough winter. The tree started out slowly then in early July the leaves starting turning brown, the top and ends of branches first, continuing through the whole tree. Fireblight? I didn't know but I figured that was the end of this tree; it wasn't meant to be in my orchard. I didn't consider winter injury since I didn't know that a tree could leaf out then decline and die from damage done in winter. But that winter the young Canadian Strawberry apple tree had also died down to the snow line (thankfully we had plenty of snow that year and it had live branches beneath the snow to regrow the variety). Hard winters are especially hard on the young ones. I'm pretty sure now that was likely the cause.
I hadn't cut it down yet and to my surprise later in the summer I found new laterals growing low on the trunk but above the graft. Hope!

2015 - The laterals all came through the winter fine. I chose one good one to train up as the new trunk and cut the rest off. It grew well, healthy with no sign of disease or cold injury. By the end of 2016 the "new" tree was six feet tall, and in 2017 eight feet. No blooms but I'm sure I detected fruiting spurs forming. I spread some limbs with limb spreaders to encourage an open structure. It was turning into a beautiful healthy young tree.
---
---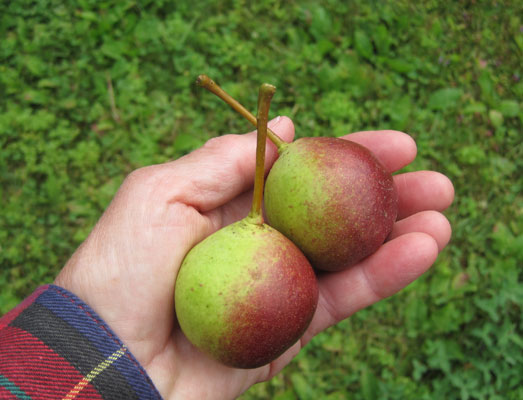 2019 - Fruit!
In June I spied 5 blossom sets, which turned into five little clumps of fruits which I thinned to one each. Mid August one fell, one came off when I touched it, both still quite hard and green. I set them on the counter and ate them two weeks later. Ok, some pear flavor, seeds brown, but obviously not prime. First of September I picked the other three, the largest of the group at about 1 3/4 inches across. I let them set for awhile on the counter, eating one now and then but all were rather so-so. I likely didn't pick them at the right time, plus the first fruits are often not up to the standards that the tree will produce when older. They were pretty though, a nice dark red blush on green. Summercrisp fruit gets good reviews from others so I certainly won't judge it yet. Hopefully there will be more pears next year. The tree itself continues to be vibrant, strong and healthy, a real nice shape. The grafts we put on last year also grew well and healthy.
---
2018 - Nursery Tree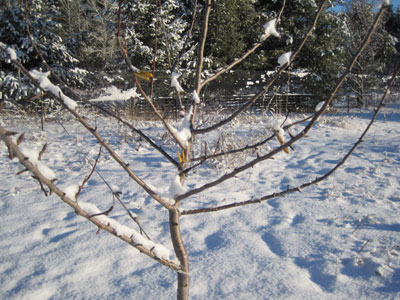 No blooms yet but very good growth with nice open form. We had extra scions left after grafting and the Summercrisp tree had some perfect young branches just the right size and location, so it became a foster parent to three hopefully someday foster siblings - Nova, Sierra, and Southworth (yellow clothespins in photo). Since these three are also grafted to Stacey and our venerable chokepear, as well as to their intended usseriensis rootstock, it will be very interesting to see how they do down the line and what if any difference there is in fruit. But I won't put any more on this hardy survivor as I'm anxious for its own first crop of fruit. Maybe next year!
---