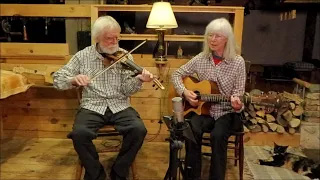 November 27, 2021 -- Happy Anniversary(s)!
Here is a special video for special people:
Happy 50th Anniversary Nancy and Jack!!
and (belated) Happy 60the Anniversary to Merry and Gary!!
Two wonderful sisters (Steve's and mine respectively) and brother-in-laws, both couples having married in November, but a few years apart. And still happily young at heart. With Love, LINK.
November 24, 2021 -- An Afternoon on the Escanaba Pathway
An appointment in Gladstone today meant a good excuse to head on over to the Escanaba Pathway to see if they had put up any more trail markers. It was 45 degrees, hazily sunny, a bit windy but no precipitation -- we just had to go for a walk somewhere. And this was a good choice with deer hunting season still on (no hunting within city limits). Besides, I realized we had few photos of the Escanaba trail, which didn't seem fair since some of the other trails we hiked often had plenty of photo PR. It was a good enough reason to go (not that we really needed any excuse). We had a very nice two hour walk, meeting several dogs and their humans, and even a woman without a dog. And we got our photos.
The Pathway has some real nice scenic sections up on the ridge; always a joy to walk:
And the big news of the Pathway this year was the 2000 feet of boardwalks put in this year and last, to enable easier accessibility to the area which is mostly part of a large wetlands. This most definitely upped the enjoyment of the trail and made it possible to walk sections that even in this dry season would have meant wet feet and churned up muddy trail (with subsequent damage to this fragile marshland). It will be interesting to see if the former rutted paths that the boardwalks bypass mend and recover. Though it's not clear if the maintenance vehicles might still run on them since they (ATVs) wouldn't be able to go on the narrower 2-board walkways.
Signage (see our October 21 report on the trail) -- well, there are indeed a few more signs and markers, which helped, more or less depending on where they were. It's still often hit and miss, with unmarked intersections and crossings, and new bypasses not on the map (which is hard to match to the trail anyway). But they are making progress and we applaud the effort. We did manage to go all around Loop 1 this time, thanks to the new boardwalks, with only a few short backtracks and wonderings where we were. We think we ended up doing Loop 2 twice, and still don't know if unmarked Loop 3 is there or not. We did see signs that possibly they are rerouting the snowshoe trail, which is very much needed and would be a big improvement. There is a lot happening here with, I'm guessing, few people doing it. But we'll be back, to enjoy the trail and appreciate the ongoing work to make this an inviting area to walk and ski and snowshoe.
November 24, 2021 -- the Days River Nature Trail
Since it was only mid afternoon when we left the Escanaba Pathway we decided this might be the day to check out the little Days River Nature Trail on the way home. We don't like to leave any trail within our area unexplored but this one was, like the Esky trail, on low ground so we'd passed it by many times. Maybe today would be its day.
Being right on the Kipling Road, which runs along the Lake between Gladstone to near Rapid River, it's an easily accessible stop. Built some many years ago by a cub scout troop, according to the well aged but nicely made sign in the small parking lot. There is little to no information about it online and no date on the sign.
But someone has fairly recently re-marked the trail with blue paint triangles on the trees which is especially nice on a narrow path through the woods, where one could easily walk off in any direction between other trees. And the trail has been used. Though muddy in places it was quite passable, going through a mixed forest from cedar and hemlock to white pine and hardwoods. The land is low, nestled between the Bay, the Days River, and the road. It is a small tract and one never gets away from the traffic noise of US-2, but it is very pleasant.
When the water of the Bay came in view we left the nice trail to stumble through and over the reeds and dead branches and shrubs of the shoreline to see if we could get to the water, more or less following a mix of animal trails. We got close but it was getting pretty wet so we admired this small stretch of natural area along the Bay between the populated sections on either end and returned to the trail. Walking on and around we came to where the trail nears the Days River as it heads on into the Bay. The other part of the Days River that we visit so often on the much larger Days River Pathway trail, seemed far away, though probably not so far as the crow flies. Here the River is fairly wide with houses and cabins lining the other side. There were several short paths from trail to waters edge, with trail signs and a nice bench at the intersection. When we got close to the River we were surprised by a black rooster on the other side loudly defending his territory. His alarms followed us back and on down the trail.
There are some beautiful trees in this un-logged woods, including this beautiful big hemlock. One simply has to stop and hug a tree like that.
We followed the River then turned in to rejoin the entrance trail back to the parking lot. This is a small but delightful little trail. It probably took me almost as long to write about it as walk it, but trails don't have to all be long and challenging. It's especially nice to find a hidden gem like this amidst a populated area. It will be fun to return and walk it again on snowshoes this winter.
November 19, 2021 -- Days River Loop 5 Beckons
Seven months almost to the day from the last complete hike around the Days River Loops and we were doing it again, in somewhat similar conditions. It was cooler today -- mid 30's instead of the mid 40's of April -- and only partly sunny, now and then, but the wind was light and we were comfortable. Much dryer this time as well, with no visible water in the bogs (but they were still beautiful green gems) and only slow and shallow action in creek and river. It's never the same, of course, no matter how many times one walks a trail. There's always new interest. We set out for a relaxing, calm walk. After the "watch your step concentration" hikes at McKeever Hills, Rapid River Ski Trail and the North Marquette NCT it was enjoyable to be able to look around while we walked.
There are some nice ups and downs but they seemed much more gentle after hiking those other trails recently.
We donned our orange vests (it being that time of year) and went the five loops, easy with the now familiar trail, again choosing to skip the Skate Loop (it's mostly a sandy rutted two-track), going the "ski way" (counter clockwise) except for Loop2 on the way back (we crossed back over to the east side as we think that's more scenic). Lunch (macaroni and tuna) was enjoyed when we started Loop4 but we didn't take any other long breaks, just the usual drink-and-snack pauses about every half hour or when a scenic view dictated. There are some nice large white and red pines on the trail, and equally large deep ravines down to the river.
On the way up the east side of Loop5 as we walked along the lowlands of the Days River we stopped at the sight of a fairly recently beaver chewed stump. Then another, and a few more. What a fine sight! We could imagine them out there, waiting for these interrupting people to go on by so they could get back to work. The smaller trees and the tops of the larger ones had been hauled off but one tree, successfully downed, had fallen into another and was hung up a ways off the ground with the top (the part they wanted) too high to reach. Undeterred, the beaver had carved its way partly through higher up on the now downed tree, getting half way through before being interrupted. I assume it will come back to finish the job, and hopefully get it down so they can nip off and use the parts they want. The impressive carving marks didn't show up very well in the photo but they were quite obvious, along with the chips. We just hope they are left to be in this world which is more theirs than ours. What amazing creatures they are.
Less than 4 hours later we were back in the car, having enjoyed the nine mile walk and happy to be in shape to do it. We had done numerous shorter walks on the Days River Pathway through the summer on our way home from Escanaba or Gladstone but it was nice to spend more time there. It's such a convenient, well maintained trail and easy to access. It's easy to see why it's popular. Today there were two cars in the parking lot when we left, and two different ones when we returned, though we didn't see anyone. We'll likely get in many more walks there before the snow turns the trail over to the skiers.
November 16, 2021 -- Bango's Tune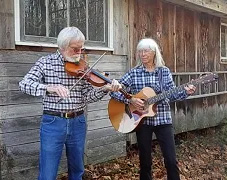 When we were playing regularly at the Falling Rock Cafe Old-Time Jam we were fortunate to have Marilyn (banjo and mandolin) and Barney (upright bass) to play with. They were part of the originals of the Jam. But in the winter they would head south for a time to enjoy some more outdoor time with fellow musicians, and, not incidentally, pick up some new tunes to bring back to us. This is one such tune but it came from Marilyn herself. She said she was noodling on her mandolin as they traveled south, trying to remember a new tune the jam had been working on, when she came up with something else that she liked. She continued on and it turned into, in time, what we know as "Bango's Tune".
I like tunes with interesting names which this one has (we like the tune, too, of course!). For Marilyn's birthday someone had ordered a birthday cake to be decorated musically and with "Banjo Lady" written on it. To their amusement it arrived miss-spelled as "Bango Lady". As Marilyn hadn't come up with a name for this tune yet their long time band mate and hammered dulcimer player, Chelle, christened it "Bango's Tune". Thus this nifty tune became official. Here's our rendition of it: LINK.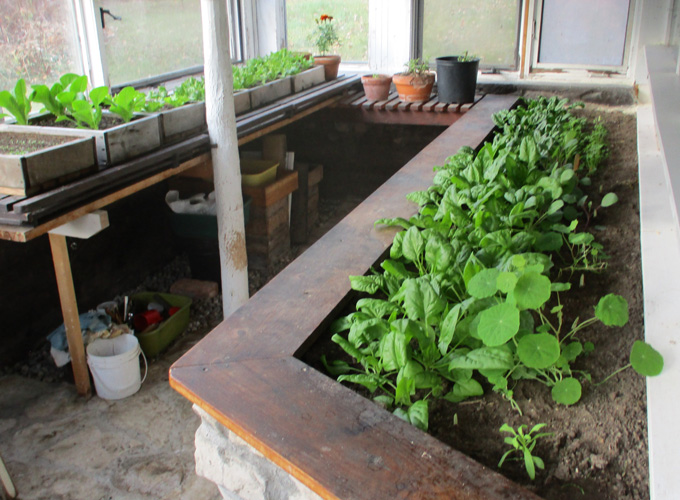 November 15, 2021 -- Happy Spinach
It is a beautiful tree-filled white outside this morning with a gentle start to snow season. This makes the green filled greenhouse especially pleasing. The usual array of growing lettuce takes up the space on the bench near the windows, enjoying easy access to the short but sweet sun. The bed along the house is also getting good sun -- it's just a little later to hit all of it. But the spinach growing there is doing better than ever. And with the colder nights now and then I will soon be moving my harvesting from the garden to the greenhouse, abandoning the lettuce and spinach still growing in cold frames.
I did something different this year for the spinach. In the past I've transplanted seedlings started in the garden into flats which are then moved into the greenhouse sometime in October. The lettuce is happy with this but the spinach hasn't been. So this year I got the greenhouse going early in September, watering the bed, opening all the windows (it's still very warm in the usually empty greenhouse at that time), and planted spinach seed directly in the bed. I also put in some carrots and cabbage just to see how they do (and a couple nasturtiums, and a volunteer alyssum, plus the usual daffodils) (it's hard for a gardener not to plant when confronted with bare ground, even in an inside bed). While there was plenty of warmth, the sun was still fairly high with no direct sunlight hitting the bed yet. The plants did OK with the LED light-bar on and the ambient light. But I could see that they were happier as the sun dropped lower in the sky and started touching the plants directly.
The spinach has grown very well, better than I expected, and looks like it will give us a lot more fresh greens than we usually have. I also didn't dig up and transplant plants directly from the garden as I have in the past (except for one healthy small marigold, and the Stevia who are in pots and will be going dormant soon for the winter). I'm hoping this will help in pest control, particularly aphids and cutworms. Some years there are plenty of ladybugs and I move some into the greenhouse in the fall, but this year they were scarce.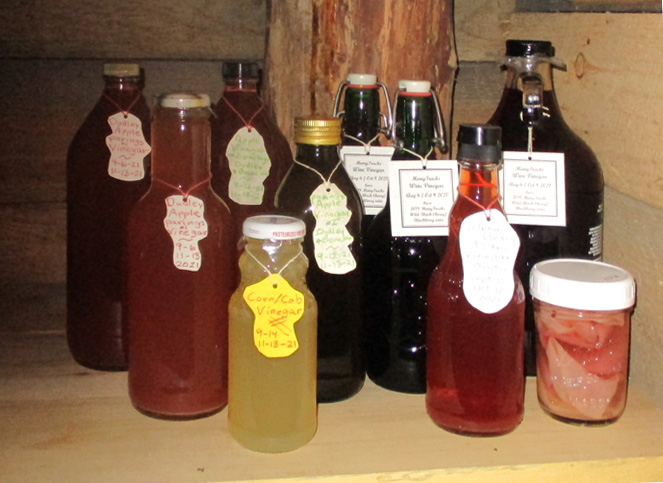 November 13, 2021 -- Aging Vinegar
The vinegar experiment (see September 13 below) is now on to the next stage -- hanging out to mellow and age. The wine vinegar was bottled earlier and is mild and tasty and ready for use, especially for salads. All the others tasted, well, like strong vinegar, which I guess is a good thing! Strawberry, two batches of apple parings, corn/cob and (not bottled yet) squash. The latter two are in the "mmm, well, we'll see..." category. I'm more confident of the fruit vinegars. It will be interesting to see how much, if any, change there is after aging for awhile. Meantime, they look nice gathered on a shelf in the root cellar. They all had good MOV (mother of vinegar) which I've saved to help start the next batch of vinegar.
November 12, 2021 -- Time for Hiking
Actually, we've been getting in some hikes since early October, and it's time to update our Hiking Log. I won't fill up the blog page with all the details of the six hikes but if interested you can go to our Hiking Main Page and click on the individual hikes. But we've been thoroughly enjoying getting out before it gets colder. It's fun to revisit places we hiked last season and to add a few new ones. Here's a brief list of this Fall's outings:
October 1 - AuTrain Beach - This is a walk we did many times this summer; one of our favorite places. On this warm October day we went up for possibly the last bare foot beach and water walk for the year, soaking up this special patch of Lake Superior.
October 21 - Escanaba Pathway - since we'd had a fairly dry season we decided to give the west end of the trail a second chance, and found some happy surprises.
October 29 - North Country Trail / Noquemanon Marquette Trails North - a wonderful trail with varied terrain, and far fewer mosquitoes and black flies that when we were last here (hurray!!).
November 1 - Rapid River Cross Country Ski Trail - The significant ups and downs of the Rapid River Trail was a perfect match to the significant ups and downs of November weather. A perfect start to the month revisiting these fun trails in a much dryer season than our last visit.
November 7 - AuTrain Beach / Valley Spur - Too cold for bare feet beach walking in the water but it was a pleasing walk along the beach; then we headed on over to Valley Spur to walk some trail in this beautiful woods as the trees continued their change over to bare branches. It was our 'new' Subaru Impreza's first road trip! It did great.
November 10 - McKeever Hills - no casual sauntering here! Surrounded by lakes and woods and hills and valleys, and the wonderful and popular Bruno's Run Trail is this amazing "for advanced skiiers only" trail. Whahoo!!! Be prepared. We'll for sure go back again.
November 8, 2021 -- Cold Frosty Morning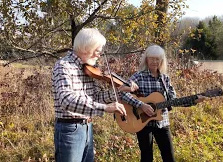 We've been enjoying another unseasonable stretch of mild sunny days; hoping for just one more to get in all we want to do before the weather changes. We thought our last video might be the last outdoor one for the season but here we are -- comfortably outdoors again! And since we've had many cold frosty mornings the last couple of weeks, helping to acclimate us to the cold to come, this crispy tune came to mind as a good one for November.
LINK.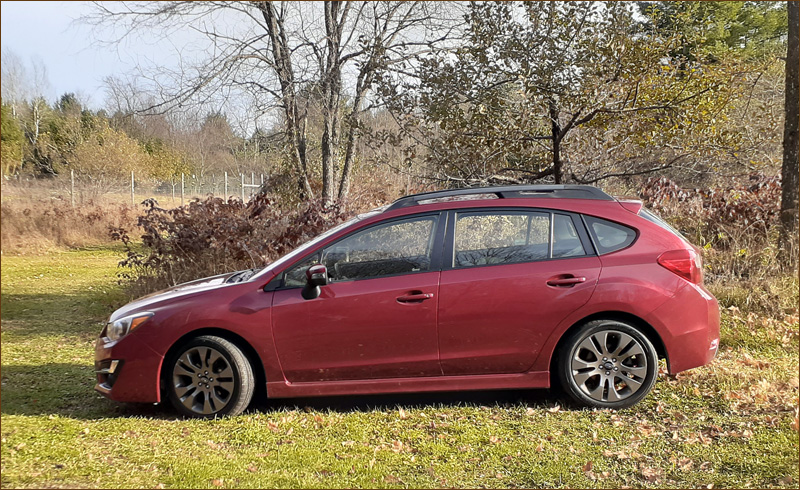 November 6, 2021 -- A New Arrival
It's the annual pre-winter dilemma -- do we buy new snow tires, or are last year's still good enough? Do we finally get a second set of rims, or just have the tires changed? Well, we avoided all that this year by buying a second car for winter! So a 2015 AWD Subaru Impreza hatchback came to live with us today. Red (our favorite car color, though it is a purplish red and not the gold red of the Prius -- for color conscious folks they look best not parked right next to each other), and the right size to fit in our small garage. Our venerable Prius will get to spend the winter cozy and comfortable in the hangar building, surrounded by boats and other homestead tools. When snowy weather is over the cars will change places. We figure this will add some years to our favorite Prius. But already we are liking the Impreza and look forward to easier driving on snow covered roads. We did have to do some serious down-sizing of stuff when moving over to the Impreza. We've always been impressed with, and appreciated, the ample and multiple storage nooks and crannies in the 2007 Prius but it was still a surprise at how little there is in the Impreza (or in newer Prius's). But it was a good exercise in deciding what was most wanted and we have now moved in to our winter car. But it's OK with us if the snowy roads hold off for another month.

October 22, 2021 -- New (Black) Batteries for our solar-powered homestead
As we were approaching winter it became evident that our old lead-acid deep cycle batteries (the red-topped ones in the photo) weren't going to have the ability to get us through those long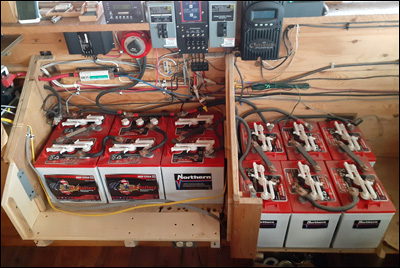 dark days and nights. Those 12 6-volt batteries were installed in December of 2015 so they gave us good service for over five years - which is about average for that type of battery in a system like ours. At a cost of about $1,200 that worked out to an 'electric bill' of less than $20 per month for the last 5+ years. After doing lots of research we decided it was time to upgrade our system to Lithium Iron Phospate (LiFePo4) batteries.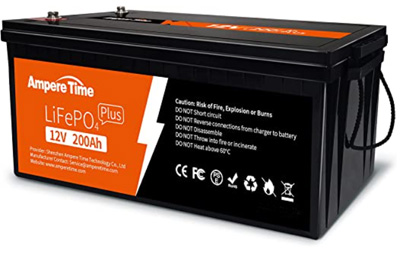 Although the new batteries cost significantly more than our old set they should have a longer lifespan than the lead-acid batteries and outperform them too. If we take care of them these new batteries should last at least 15 years and perhaps as long as 20 years. They will also provide almost three times the usable storage.

Another advantage of these batteries is that there are only six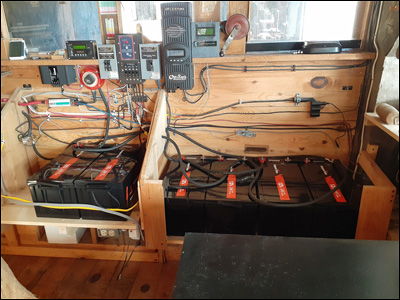 of them and they each weigh noticeably less than the old ones. The installation went well and the solar charge controller and inverter/charger settings have been updated. It has been fun watching the meters which have been confirming that the batteries are performing as expected.
October 20, 2021 -- The Blackest Crow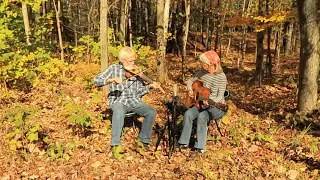 In keeping with last week's post on The Blackest Apple, here is a new video with the song "The Blackest Crow". It was the last day of a great stretch of beautiful, warm, sunny weather and we decided we wanted to get in at least one more outdoor video before the cold moves us inside. Plus the bright world of autumn leaves on ground and trees/bushes just begged to be the setting for a video. There is quite a contrast between the darker mood of title and lyrics of this old song to the incredible beauty of the day but it seemed to fit the many contrasts of October in the northwoods. And we like the song. Hope you enjoy it, too! LINK.
October 13, 2021 -- The Blackest Apple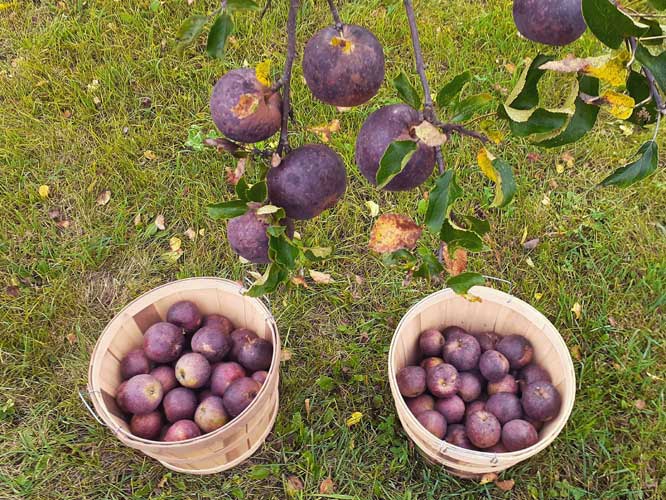 It may not be the blackest skinned apple but it must be close, and this year my Black Oxfords were darker than ever. They apparently loved the long hot summer. Not only dark and beautiful, it was tastier than ever right off the tree. In past years it has taken some time in storage to develop the sweet flavor this firm apple is known for. I was waiting for a frost (said to sweeten the flavor) but since we have not yet had a frost (mid October and no frost yet!) and the tree has been dropping a few good apples (immediately enjoyed by ground critters) I decided to harvest. That the there were any apples at all was a great surprise given the late May freezes that wiped out most of the apple blossoms this year.
Harvesting was a great treat. A beautiful day, beautiful apples, many more than expected, and almost all within reach from the ground. Only a few apples required climbing up into the tree to get (which was fun itself!) (my excuse was that there weren't enough to bother going to get the ladder). Many of the apples were also much larger than usual! On the tree the fruit has a slight "bloom" which helps give them that dark musky look, but a bit of quick polishing makes them glow like a gem. In the end I ended up with 33 pounds of wonderful sweet BlOx's for great fall/winter fresh eating and sauce. Wow. For a year that I thought would be sparse in the apple corner I look with surprise at a comfortable supply to please us through the coming year. We are apple happy.
September 29, 2021 -- Goodbye September Video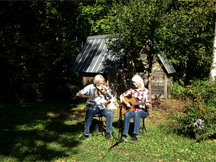 We've had such beautiful weather so we decided to celebrate the leaving month and welcome the coming October with a happy dance song and a cheery tune. The first, "There's a Dance Tonight", was written by David Tamulevich who we had the pleasure to listen to singing it many times back in the late 70's (before we moved north). It's a wonderful song and especially fitting since a few of the U.P. dances we used to attend before the shutdowns are starting back up again. So though there may not be a dance literally tonight, there are two coming up during October which we are looking forward to. Hope we remember how to dance!
The tune following the song, "Sara Armstrong's Tune", is one we've enjoyed for a number of years. I think we learned it from our musician friend Marilyn Ouellette back in the days when we were playing at the Munising Falling Rock Cafe weekly old-time jam. Though Sarah Armstrong was a fiddler this tune has become quite popular with banjo players, and Marilyn was playing the banjo back then, bringing the tune back from a winter down south.
September 28, 2021 -- Mushroom Fun
Since rain has been a bit sparse the last few weeks I decided I better water the mushroom patches. I've mentioned the generous WineCap bed around the apple tree, which still surprises me with a few mushrooms now and then though I think its fruiting season is about over. But I also planted spawn in the mulch on the north side of the raspberries. I didn't expect mushrooms yet. They say it fruits in the fall but it can take till next year to have mushrooms grow. I've kept the area moist all summer for them which I think the raspberries appreciated, too. They usually don't get a lot of attention.
The "raspberry" mushrooms are Wood Blewits which in photos look attractive (I hadn't seen one in real life) -- a bluish-lilac-peachy color when younger, less color when older, meaty and pleasant flavored. I'm not much of a mushroom connoisseur but I thought it would be nice to have a mushroom that fruits in the colder fall to follow the summer fruiting WineCap. Plus I liked the name -- Blewit. So I watered the mixed material of the mulch bed by the raspberries, enjoying a really beautiful warm feels-like-August day.
Then to my surprise I realized I'd just dumped water on a mushroom! It was past prime, flat starting to turn up at the edges, rather non-descript beige color, but a "new" mushroom none-the-less. Could it be? Then farther on down the bed was another of about the same age. I picked the better looking of the two and brought it in to compare to photos and descriptions.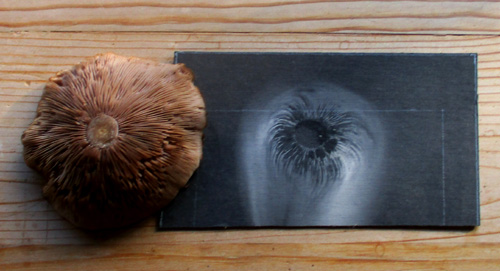 Though way past eating stage it certainly sounded correct. I wouldn't eat one yet anyway until I did a spore print to confirm. These mushrooms have a light colored spore so I cut off the stem and set the cap gills down on a black card figuring to leave it overnight.
But an hour later I came by and there it was, an attractive white/light colored spore print. Apparently the mushroom was at peak time to drop its spores. I find spore prints (all two of them that I've done) to be fascinating. It would be fun to compare the many wild mushrooms though I think I'd rather leave the fruit where it is to be admired.
Meantime I'll be checking regularly by the raspberries, on the look-out for fresh new Blewits to admire and to eat.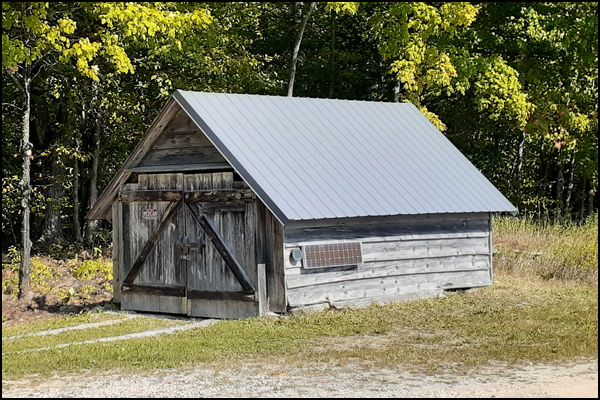 September 22, 2021 -- Garage Roof Update
A bit of history on our garage: It is located at the end of the county road about ½ mile south-west of the house, on our neighbor's property. We built it over 40 years ago on the edge of the snow-plow turnaround. The county road stops there because of a significant escarpment. About 30 years ago the paper company that owned adjacent land filled and graded beyond that cliff to create a viable logging road which gave us a nice, gated driveway. Nice in the summer, that is. The hill is steep enough that it is not passable once covered with snow and ice.
Having the garage up there at the top of the hill has been nice, especially in winter. We sized it for the smaller cars we were driving in our early years here on the homestead; Opel Kadetts, Toyota Corolla and Dodge Rampages. Our 2007 Prius fits in lengthwise but it is a bit tight getting in and out.
Originally the roof was covered with 30# tar paper, and then upgraded to roll roofing and eventually, 30 years ago, re-roofed with cedar shingles. The shingles did their job admirably for about 28 years. A couple of years ago we began to notice points of sunlight shining through those picturesque shingles. After two years of procrastinating we have finally replaced the shingles with boring, gray metal roofing – that does not leak.

Well, in truth, so far we have only done the south-facing side. This afternoon I'll go up and begin on the back side (that nobody sees, but still needs replacing). Here are some 'Before & After' photos of the project.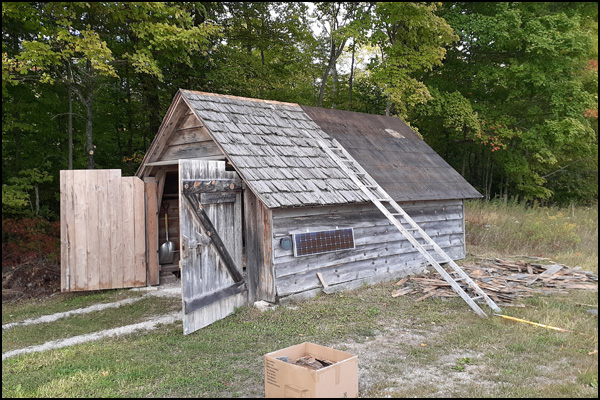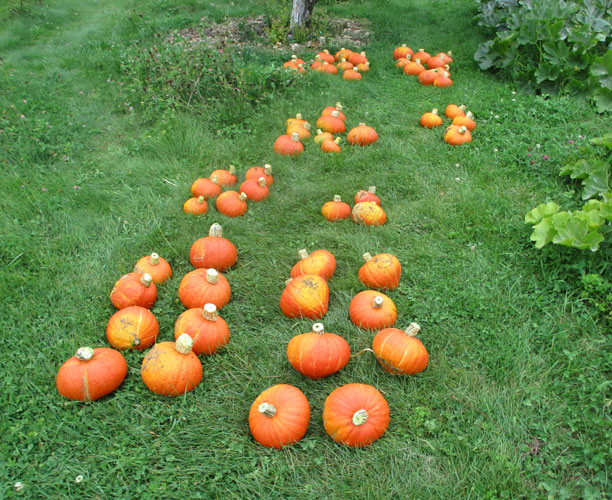 September 20, 2021 -- Harvest Moon and Harvest Squash
The moon was generously large this great Harvest Moon night and so was the squash harvest! I think this is the first year ever that I picked squash because it was mature and the plants dying because they were done not because of impending frost or freeze (which we haven't had yet). What a year! Unusually long hot mostly dry weather put the squash into overdrive and they had a great time. So now is the question of what does a family of two (LilliB declines to eat squash) do with 60 winter squash?? With an average of 5 lbs each that means about 300 lbs -- twice the harvest of last year's record number. Maybe I will name this open pollinated orange squash cross of mine "Harvest Squash" in honor of both the moon and the abundance.
I haven't yet figured out where in the house to lay them out to cure for two weeks, then room in the pantry to store them, but we're used to working our way around drying/curing/waiting vegetables and fruits. There will be plenty of sharing with others (how many do you want?), a good chance to try squash kraut, squash vinegar, squash wine? (maybe but I don't think so). Think I'll even can some to use in homestead cookies. And, of course, a lot of good baked squash eating. Can't wait. It'll be a month before they are at their best.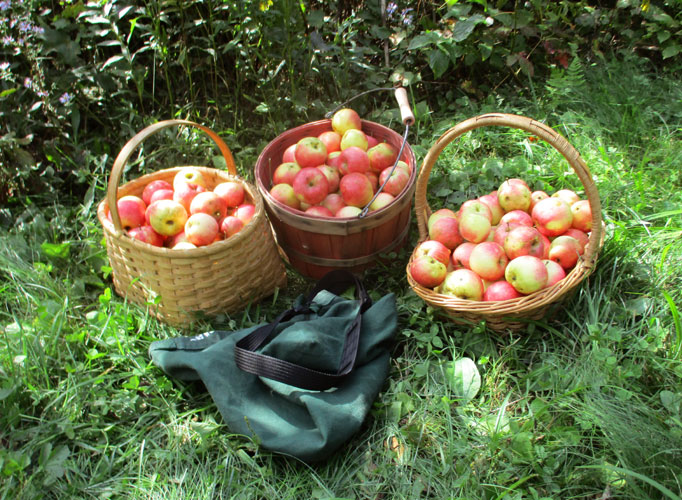 September 16, 2021 -- MrC Comes Through
Though it's been many decades since MrC, our first cat on the homestead, brightened our lives but his memory lives on in a half-wild apple tree not too far from the house. Yellow and white and friendly MrC arrived in our lives on his own just as this apple tree did. While MrC the cat was a full sized male (who loved to go on walks with us, until he got tired and had to be carried the rest of the way back) these apples are on the petite 2" "lunchbox" size -- just right for a quick bite snack. And a tasty snack they are! Most years the deer and chipmunks and whoever else comes along gets the bulk of the crop. But this year, being a bit short of apples thanks to that end of May hard freeze we had (when the apple trees were in full blossom), I'm happy to make use of these smaller jewels, usually passed over for larger cousins.
I knew it was a light crop when I started picking so it was quite a surprise when I ended up filling first one basket, then another, then a third for a total of almost 30#! I left quite a few for the wild creatures (especially those higher than I could reach!) so we all can enjoy and appreciate the output of this happy tree. But MrC wasn't the only one to produce in spite of that untimely freeze (and my fussing that there would be no apples at all). The Beacon had a nice light crop (and best fresh eating!) and so did Dudley. And with Dudley's habit of large apples, so easy to cut up and dry, I ended up with 7 quarts of dried apples to cook into sauce this winter. Plus some road-side apples, and last but certainly not least the last to mature Black Oxfords are sporting a fairly good number of nice apples, to be harvested next month and stored for fresh eating and sauce this winter. So once again Nature provides and we sure appreciate every one of those apples, especially when I thought we might have none.
September 13, 2021 -- From Wine to Vinegar -- on Purpose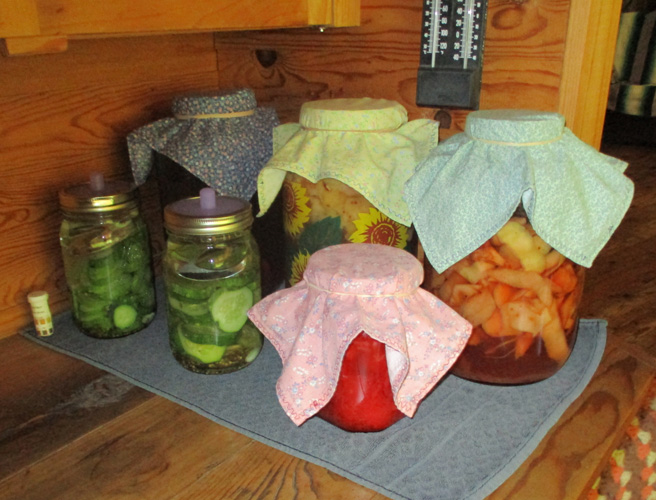 Usually those making wine don't want even a mention of vinegar around their brew. But I embarked on a vinegar making adventure by deciding to take some of last year's wild black cherry-blackberry wine and encouraging it into vinegar. It started with some of my fresh summer raspberry vinegar (made simply by pouring apple cider vinegar over mashed raspberries) producing some nice mother-of-vinegar (MOV) tops. This is a good thing to have, though a bit odd if you hadn't seen it before -- sort of a soft gelatinous matter that holds together well. It was hard to just toss it and since I had plenty of wine I figured I'd make some wine vinegar for salads. Pouring my wine in a gallon jar I carefully scooped up the MOV and laid it gently on top of the liquid to assist and encourage the process. Covered with a piece of cotton cloth it sat in the root cellar quietly doing its thing, slowly turning wine to vinegar.
That was fine but I started thinking about making some other types. Many years ago I'd made apple cider vinegar the year we had a really bumper crop of apples and pressed gallons on gallons of cider. Some of that went on to be the best vinegar I'd ever tasted. Well, we certainly didn't have a bumper crop of apples this year for cider but vinegar isn't all that picky about what it is made from. To get some ideas I got the "Homebrew Vinegar" book written by the same woman who wrote (with her husband Christopher) my favorite "Fermenting Vegetables" book, Kirsten Shockey. The vinegar book isn't nearly as extensive as the fermenting book but it gave me plenty of ideas. What a great way to make use of extras and scraps and over-ripe fruit. It's interesting and fun. And hopefully good tasting in the end. I won't know for many months yet.
The result for now is an array of jars of vinegar-in-the-making on the kitchen counter (vinegar likes warm) -- wine and apple scraps and strawberry-plum and corn-cob, and later maybe squash and ... It's probably a good thing that there isn't space for much more. BTW, the pickles in the photo are not part of the vinegar crowd, they are just waiting a day or two in the warmer kitchen to get their ferment going before heading back into the cooler root cellar on their way to being delicious fermented dill pickles. We eat well on the homestead!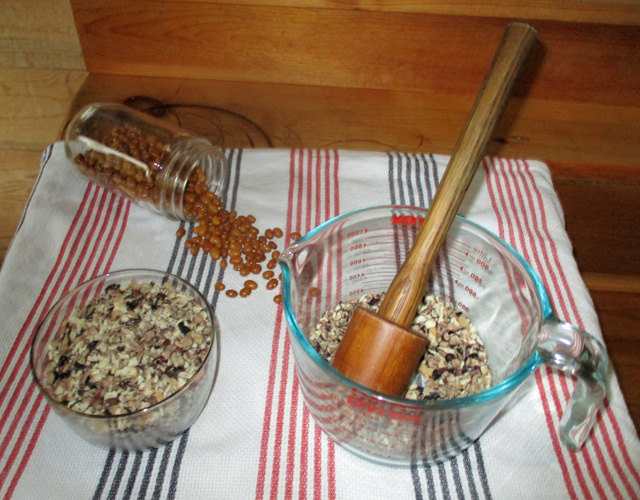 September 10, 2021 -- Re-dried Dry Beans
I've always enjoyed growing dry beans. They are so smooth and shiny and pretty, so basic. I spent years trialing different varieties, finding a few that would mature in our short season. Thankfully we like eating them, too. But they do take some time to cook so need pre-thinking so don't get included in a meal as often as I'd like.
But some mention of using dried refried beans in camping meals reminded me that I'd dried cooked beans before and how handy that was. I do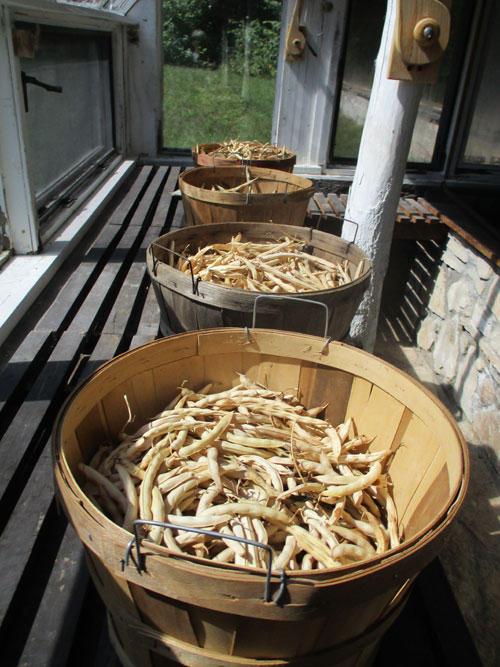 n't know why I didn't continue. Some things just get lost in the shuffle of new adventures. So I brought that project back. It's an easy one. These are truly Solar Re-dried Beans -- grown in the sun, cooked in the solar oven, spread on trays and dried in the solar dryer. when dried it was easy to break them up into pieces to be stored in jars waiting for winter soups where a handful will reconstitute to provide flavor, nourishment and good cheer to the stew. Ok, maybe that's a bit over-poetic for a bean but I do think they will be nice to have. All I have to do is remember to use them.
Those cooked beans were from last year's crop. This year's is still in the pods, a good harvest it was, too, since beans thrive on heat which we had in abundance this summer. A bit extra drying time in the greenhouse then into the house to wait for a less hectic time to be threshed, cleaned and stored. This is always a fun project, especially when I've grown a new variety which I did this year, a pretty one called Tiger's Eye. Always something new to discover, even when it's old.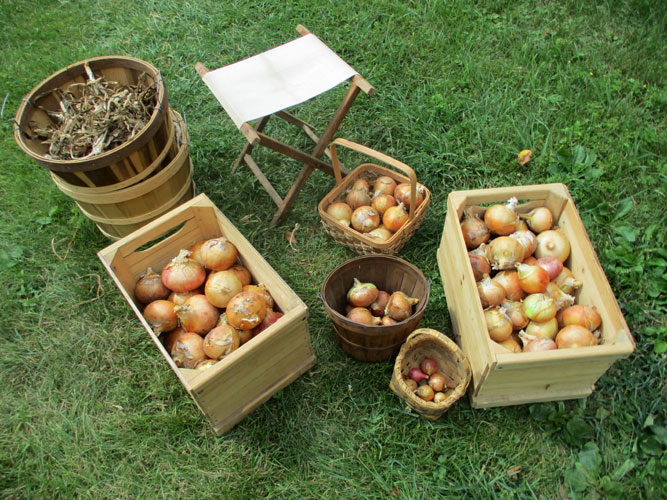 September 6, 2021 -- Onions for all Occasions
We eat quite a lot of onions - small ones in luncheon salads, larger ones in a variety of dinner dishes, tiny ones to save and plant next year as onion sets, any size diced up with sweet peppers and fermented into a delicious relish. My seed is an open-pollinated mix that I've been growing and saving for decades, aiming for that sweet spot of medium size that is just right for one meal. And some years I get a lot that size, some years more smalls, and some years more large. My onions are very independent.
And this year they decided to make great use of this (rare? or now common?) hot summer and go for large, as in three-meals worth sized (in the left crate). Even the mediums are on the hefty size. Like most things in the garden they matured early so were harvested 2-3 weeks ago. So they've been curing under cover, waiting for that perfect nice day when it felt great to sit outside in the sun and clean the beautiful bulbs for storage. And this was the day. It was a very good harvest, and much appreciated.
August 27, 2021 -- Ferments in the Root Cellar
I plan my garden to have fresh corn through late summer/early fall; to have cabbages ripen in the fall when the root cellar would have started cooling down so the sauerkraut would ferment nice and slow and last longer; to have winter squash ripen just as light frosts arrive in the fall to wilt the leaves and start the fruit curing. Sometimes it even works out that way! But this year nature took a few different turns. When we started getting rain toward the end of June (after 6 wks of abnormal dry heat) the reluctant gardens went into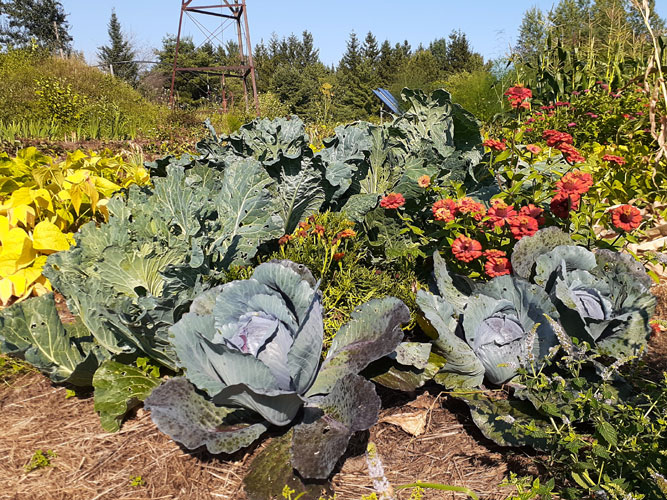 double time. At the Farmers Market we wondered in amazement at overgrown cabbages and squash plants, compared tall corn heights - way beyond "knee high by the 4th of July. And wondered what are we going to do with winter squash ripening already. Wednesday two vendors had ripe pumpkins on their tables already. The rain hasn't been overwhelming but the garden growth is showing great abundance. A summer of 80 degree temperatures does have some advantages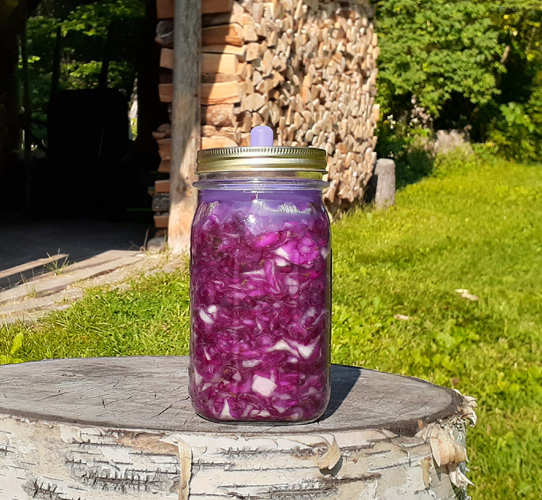 ! It's just something we've not been used to.
So this year my two plantings of sweet corn ripened fast and are now dried and in jars with just a few second ears left for fresh eating. The first red cabbages wouldn't wait any longer so there are two batches of beautiful kraut fermenting in the cellar. Thankfully the early green ones aren't ready yet.
We're eating our first jar of fermented dill pickles so I'll be getting another jar started soon. Jars of canned vinegar pickles are starting to fill the shelves. I enjoy fermenting season and we enjoy eating the results but since we have limited refrigeration space to keep the finished product I normally depend on the cooler fall root cellar to keep things from proceeding too fast (we can only eat so much kraut at one time!). I'm just hoping some coming cooler weather will slow down the cabbages so I can wait awhile before having to harvest them.
Meantime it appears the winter squash has overdone itself with not only record large plants but record number of good sized beautiful orange fruit hidden amongst the big green leaves. They have simply loved the weather this year. Good thing we like squash.
Even the apples are coming through with a handful of fruit whose blossoms had escaped the late May freezes. On a year like this with so little fruit one truly notices and appreciates each and every one that comes our way.
But lest it sounds like I'm spending all my time in the garden and kitchen, I'm not. Though I enjoy that time there has also been a lot of hours spent recreating -- boating, biking (Steve), hiking, walking the beaches of both Lake Michigan and Lake Superior, and just plain enjoying being outside in the summer air. We truly are having a beautiful summer and appreciating it a lot.

August 9, 2021 -- New Struts & Springs for the Prius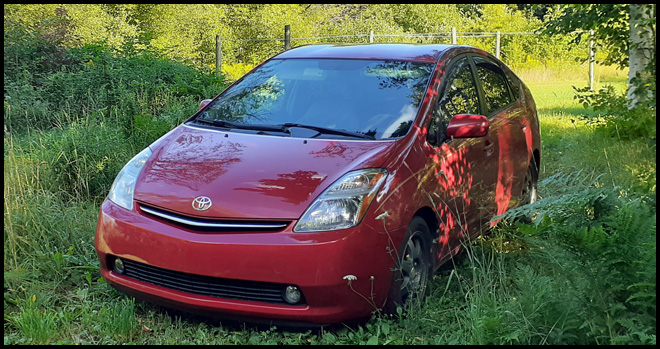 A month or so ago I took our venerable 2007 Toyota Prius to the dealership to have them check out a scraping noise in the front end and came out with an estimate of $995 for the replacement of both rear strut/spring units, (no comment on the front end noise). These were the original suspension parts, now with over 240,000 miles on them. Both rear springs were broken and the back of the car was about an inch lower than it should have been. The service manager kindly referred me over to a sales person, assuming (correctly) that I wouldn't want to invest that much money in an almost 15 year old car with so many miles on it. To shorten the story, we ended up taking a 2019 Prius for a ride and were quite disappointed in the quality of the car. I adjusted the headlights on our car downward so we wouldn't blind oncoming drivers while we decided on a car replacement or repair plan.

A few days later while returning home from a get-together with friends a fox dashed from the woods and took out the grill and a running light. Nothing we could do for the poor fox. This kind of damage is covered by our insurance so in less than two weeks we had the beautifly repaired and detailed car back home. In the mean time I had watched a couple of YouTube videos on how to replace your own rear strut assemblies. I decided that this was a good time to pick up a couple of tools I'd wanted for some time and would make the job go a lot easier (and safer). I ordered the two suspension units and now have a nice 3-Ton floor jack and electric impact wrench. Total cost of the parts and two new tools was less than less than half of the repair quote.

Here is a quick photo record of the project. (click any image for larger view)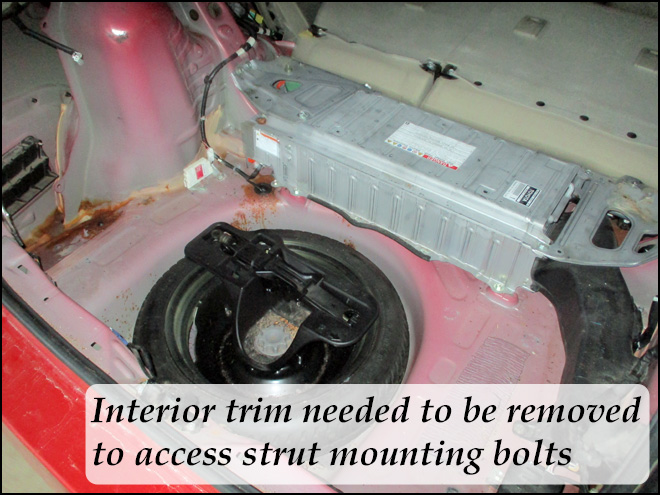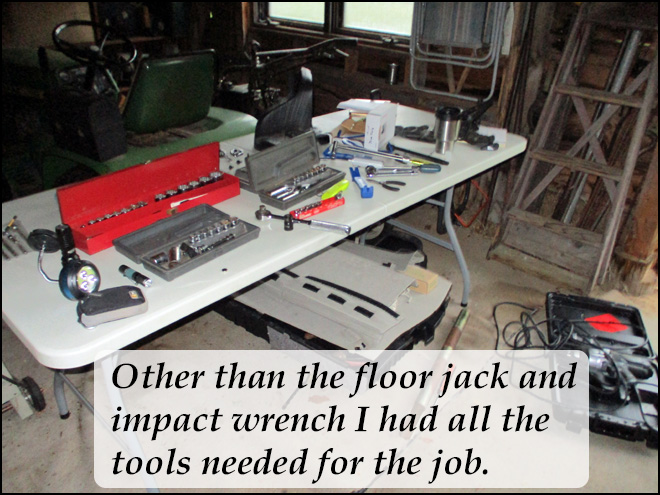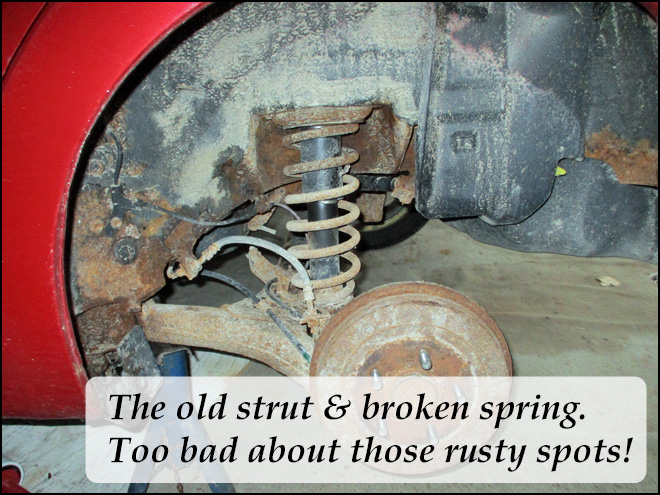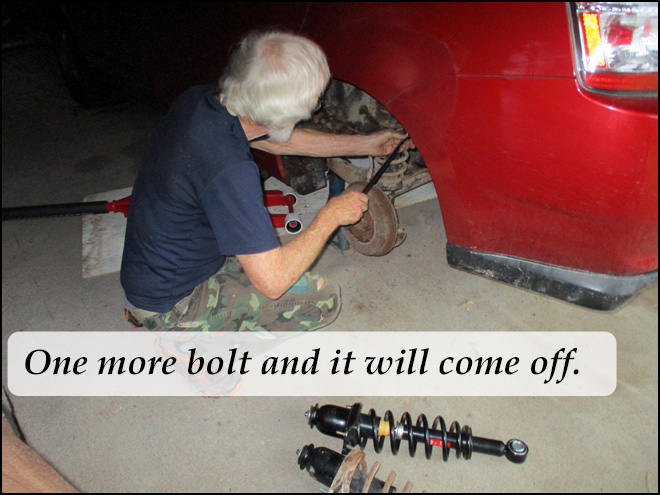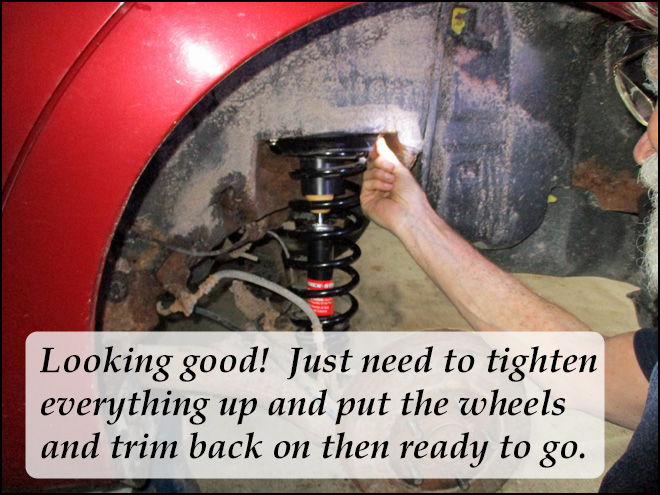 All went well, no skinned knuckles or anything. The project was enjoyable, taking most of a day and the car's ride is noticably better. Now I just need to re-adjust those headlights.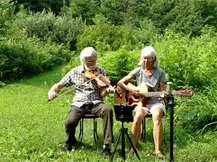 August 6, 2021 -- Mellow Morning, Strong but Mellow Song
Maybe a bit sad but mostly I think it is a heart-felt beautiful love song, especially for those who have been together for more years than you ever thought ahead to, way back when, at the beginning. It took me awhile to want to sing this one in public. But Steve really liked the melody and after awhile I was able to detach a bit from the words, and I do enjoy the song. It seemed to fit the day, for some reason, so here is our August video -- LINK.
July 24, 2021 -- Mushrooms!
Now and then I'd thought of growing my own mushrooms but always passed it by as maybe too much bother. But comments from a few friends who grew them encouraged me to bring it into "possible" status. Then an issue with a favorite apple tree brought the idea to the forefront so last fall I prepared two beds and this spring bought spawn.
The first bed is around one of our old Beacon apple trees. This was the main reason for the project. Last summer I found out the nice wild mushrooms growing around the tree that I had admired were a type one doesn't want in one's orchard -- Armillaria mellea - Honey Fungus, root rot fungus. The mycellium feeds on dead wood, then on into live wood, eventually killing the tree. Oh my...
I did some research and came up with a plan. (You can click on 'Orchard' - 'Apple' - 'Beacon' for more info if you are interested). One part of the plan was to get a "friendly" but aggressive mycellium going around the tree to, in essence, "crowd out" the Honey mushroom mycellium. To do that I chose the reportedly easy to grow Winecap mushroom.
Others reported that Winecap was also a generous producer of fruit but having not grown mushrooms before and really wanting it to "take over" that area I put plenty of spawn in the bed the end of May. I didn't expect to see mushrooms until fall but the instruction sheet did say to keep an eye out for the fruit when there's a temperature drop and rain, which is common here in the summer. Though rain had been sparse this year we did get 2 inches last week (and another inch last night with more coming!) (I guess we're done with the drought). But it was a surprise to suddenly see some small and medium mushrooms yesterday. A couple were older but that was good because I wanted to do a spore print just to make sure they were indeed Winecaps since we have wild mushrooms around. Thankfully Winecaps are fairly easy to ID and what was growing looked very true to the pictures. And the spores were indeed dark purplish-black as they should be. So we had our first home-grown Winecap mushrooms in dinner last night. Most reports I read suggested they are best at button stage not later and that's what I harvested - all three of them. The flavor was there though mostly they were lost in the dish. I hoped we'd get a few more.
Well, as I mentioned, we had rain last night/morning. When I walked by the tree today I was amazed to see the results. There were mushrooms all over the bed! Folks had mentioned that once they get going one can get tired of picking them but I hadn't taken that seriously. I think I see what they mean now if this keeps up. Clothespin in the photos for size reference. These all came up just overnight.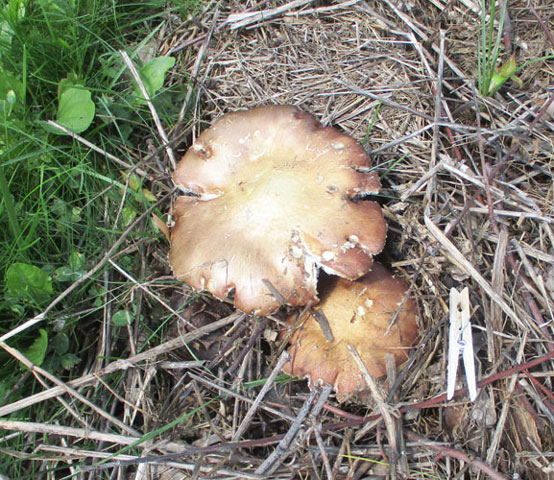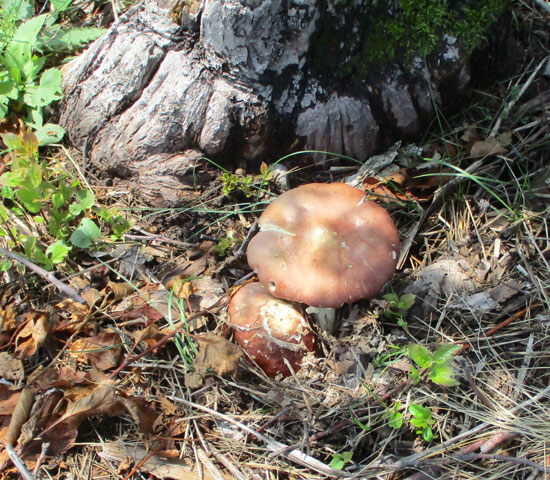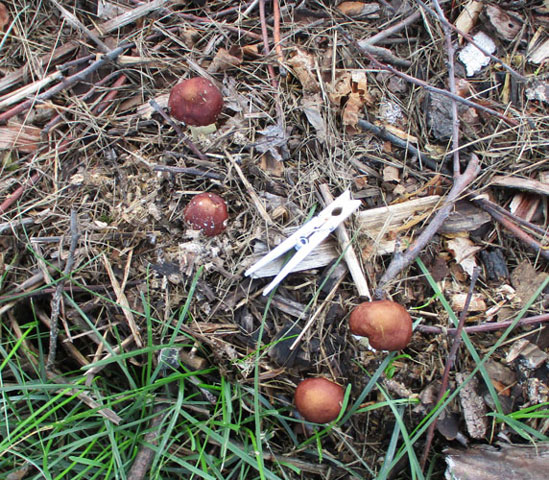 And there were more. So I decided to dry some. I think I'll be doing a lot of that since they go beyond button eating stage fast.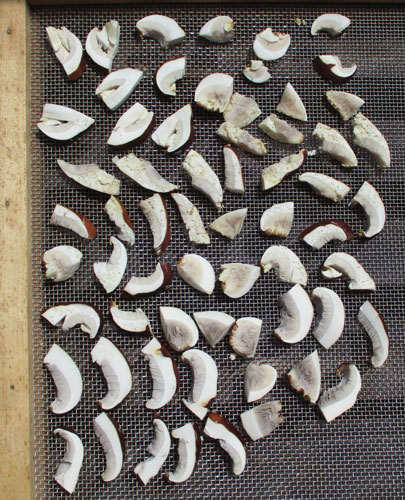 So plenty of mushrooms for homestead meals. And, if all goes well, and I hope it does, there is a second bed planted along the north side of the raspberries of Wood Bluet mushrooms. These aren't likely to fruit until fall but are reported to be good at both the button and open stages, and are preferred by many over the Winecaps. We'll see!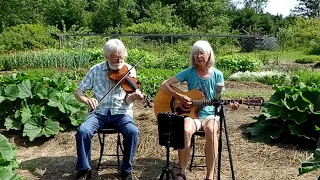 July 12, 2021 -- July Garden Video
Last year in May when it was garden planting time we did a video of the wonderful Dave Mallett song called, appropriately, the Garden Song. It's always in my mind at that time of year. A few days ago we were looking at (and admiring) the beautiful and lush growth that the garden turns into this time of year and I said we should do that song now when the garden looks so good. So we did. And Steve added a nice pan of the garden to start it out. Every year I'm newly amazed at what can come from a little seed and a bit of dirt. Here's the LINK.
July 8, 2021 -- Doe Neighbor
There is almost always one or (often) two does with fawns calling our property their home. It's so much fun when we get to see the fawns, though the encounters are almost always very brief. Deer are common here and we enjoy them. They walk on our roof, browse here and there, make sleeping/resting circles in the tall grass of the fields. We also have a good fence around the garden and orchard! They aren't too concerned about us but they do keep their distance and bound off with white tail flags high if we startle them.
But this year we've had a small, young doe staying very close around the house. She has a particularly pretty dark face. When Steve's sister and brother-in-law were visiting in early June she nicely came out and spent some time browsing in the front lawn. Our brother-in-law pointed out that she looked pregnant, something we hadn't noticed.
A week later she came through the front yard in the evening (her "home" base is obviously in the woods west of the house) and walked purposely around and through, very intent and focused on eating, steadily browsing and eating a variety of green stuff from blackberry leaves to grass and herbage to tree leaves. As we watched we realized she had obviously had her fawn as she was thinner and with full teats. I wondered if it was very recent and that this was her first foray out to eat. We are obviously sharing this home spot.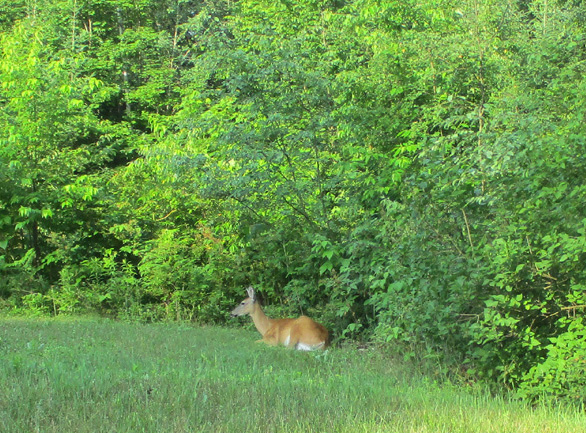 We see her often and to my surprise I spotted her lying close in front of the shop one day. A few days later I walked past the shop and startled the small young fawn who must have been standing in the yard there. It bounded healthily off into the near field by the wood piles. This morning at breakfast we looked out to see the doe leisurely browsing around in the front yard having her breakfast before settling down for a calm rest before heading off into the brush. We've never seen a deer lounging so close by before.
There is also an older doe with a larger (older?) fawn in the SE area of our property. Steve has seen the doe and I startled the fawn a week or so ago when walking through that woods. We're well blessed with deer companions.
July 2, 2021 -- A Video for July
We've had wonderful U.P. weather this past week with highs in the 70's but it does sound like we'll be getting a taste of the hot the next few days (upper 80's). So we picked an appropriate song for a Welcome to July video - the Cajun flavored "Jambalaya". Even though our taste in food, and weather, runs much milder than the namesake dish, and we don't have much in the way of bayou's, we still like the song. We chose to head over to the mouth of the Rapid River for a pseudo bayou - a pleasant marshy area between land and Lake Michigan. A cloudy start to the day kept us pleasantly cool while we recorded which was nice (the sun and warmth came along as we finished). This is a locally popular but somewhat out-of-the-way spot. There were several trucks with boat trailers in the parking lot, a fellow taking a break in his vehicle and a fisherman on the pier settled in with three poles and a newspaper. The boats remained out on the Lake, the fellow in the car left, and the fisherman was on the other side of a brushy expanse leaving us alone off the edge of the parking lot on a just-large-enough patch of grass near more bushes. Very peaceful. We set up, settled in, and began playing. Suddenly there was immediate and serious commotion as two male Red-winged Blackbirds flew out of the bushes, vigorously displaying on the pavement beyond the camera with intense and loud vocals to match, and the female coming out to add her opinion.
We were, of course, sorry to have intruded into their territory, and it was more than a little distracting, but we kept on and got a good first take. Midway through I guess they realized we weren't leaving so they disappeared back in the bushes, though I could hear their continued comments (and I don't think they were complimentary). But we finished and began packing up to leave the birds in peace. Then Steve realized he had neglected to turn on the microphone for that first take. So the birds (and fisherman) had to listen to the song again. I suppose it wasn't a common occurrence for either of them. But we had a good time! LINK to Video
June 22, 2021 -- Art Exhibit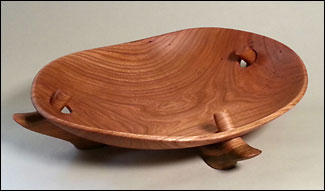 The North of the 45 Art Exhibit at the Devos Art Museum on the NMU campus, Marquette, opened to the public today. Up to now the NMU campus has been closed so it was great they opened up at the start of the Exhibit. This is an annual juried show and this year Steve entered (and was accepted) his latest carved bowl which was accepted for the show. It had been quite awhile since he'd entered a piece so it was fun to have something in this very nice show. Two of our "old timers" artist friends also have pieces in the show and we had a great time catching up with them (and seeing the artwork, of course). The Exhibition will be on through July 30 with a juror's talk that day at 6:00 pm.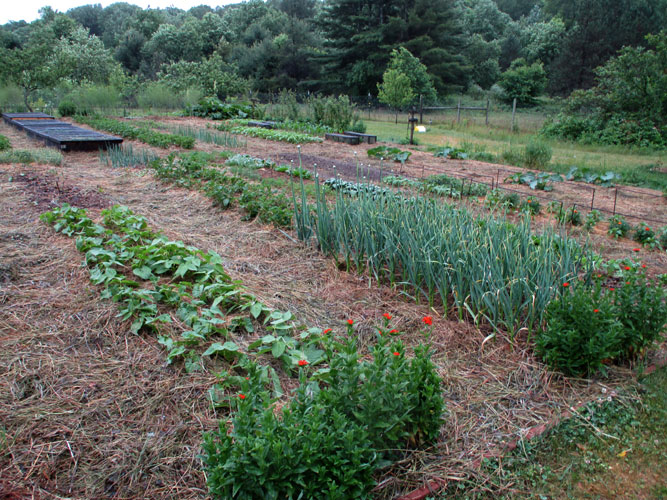 June 21, 2021 -- Happy Solstice Rain!!
A full ONE INCH of rain last night! What a beautiful sound and a beautiful wet world this morning. With only a little more than an inch total over the past seven weeks this is a big boost. With more rain forecasted for the coming week there are a lot of relieved plants, trees, people, animals, insects, etc. around these parts. There's even a chance the clouds might hang around enough to keep the frost at bay tonight. That would be very nice! But I'll still cover unless the chances sound a whole lot better later today. With very strong NW winds (which makes covering a bit of a game) and gale warnings on both Superior and Michigan, it's a wild "bundle up" kind of day out there. It looks like a good day to get caught up on indoor projects. Welcome to summer!
June 19, 2021 -- Spring or Summer?
As I look at the calendar to the coming official start of summer in a few days I can't help but wonder just what the coming season is going to be like. Since spring brought us temperatures from the low 80's to the low 20's (and that roller-coaster continues), with little to no rain -- it's been interesting to say the least! But for the most part the green growing things are doing their best to stay green, and I've hauled more buckets of water than I've ever hauled. Thankfully, we've had enough good pumping days to keep our water tank re-supplied.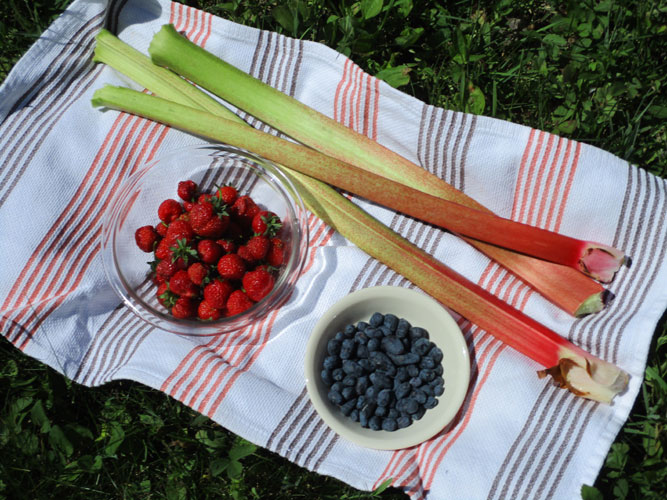 There will be few if any apples this year thanks to the four-night frost-freeze event (right after my enthusiastic apple blooming post below) but there are strawberries (well covered during those freezes) and haskaps and the blueberry crop is looking good. And there is always the hardy rhubarb, tinged but not defeated by the freezes. I have to admit that with the extended local drought the apple trees are no doubt better off without having to try to produce a crop this year. It all works out in the end.
While I've been weeding and watering (and watering and watering) Steve cut, raked, and hauled a good supply of hay -- short this year but so appreciated. So now I'm spreading hay on the garden to keep what moisture we have in the ground for the plants. They're predicting a decent rain for the U.P. tomorrow night and there's hope it will include us this time. And the hay comes in handy for covering plants. With everything growing well and early (thanks to our unusually mild winter and warm spring) the blanket supply is hard pressed to cover everything during these late frosts/freezes we're having. They say another one is coming in a few nights but it would be quite OK with me if they are wrong. I'll cover anyway, just in case. The spring heat and the drought are quite unusual for us here but the frosts are very familiar.
But there has been generous pickings of lettuce and spinach coming out of the garden, and green tomatoes on the small cherry tomato plants. Those early strawberries (an old variety that keeps it's berries close to the ground for warmth) have been a great treat, both on the table and in our breakfast sauce. A second variety is ripening now (I have four varieties, more or less ripening in succession). It had a harder time with the real low temps, even covered, since it's a modern variety that sets its fruit high on the plant, easy to pick but all too well exposed to the frosts (and the birds!). But it's a nice berry and I'm glad it's coming through with at least a partial crop.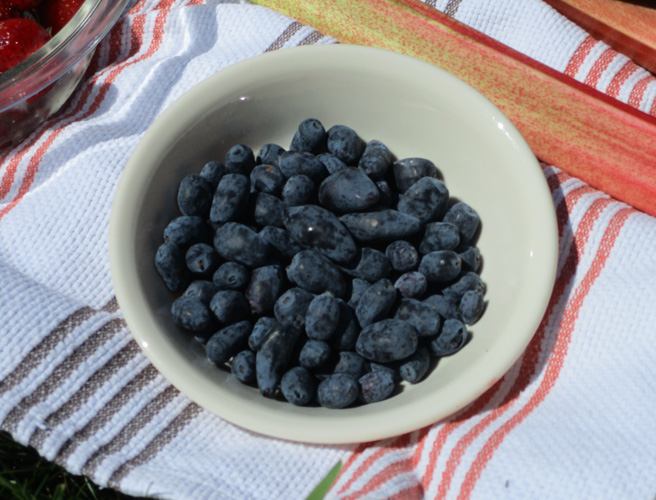 The haskaps are fun this year as this is the first year I'm getting enough to pick more than a sampling from the older (though still young) plants. And some of the youngest of the eight varieties I have are setting fruit for the first time so I get a taste of the differences between them all. They are mostly quite similar but ripen at different times so there is a fairly long season of harvest. They are an interesting fruit, aka honeyberries but they aren't as sweet as that name hints. They are more on the sour side, especially when not quite ripe, so one has to let them hang on the bush until they are ready to fall off and you hope to get them before the birds (or chipmunks) do. A bit of an odd look to them but they are an early and much appreciated fruit. And even better -- they are very hardy! They are doing just fine with all this crazy weather. They just keep on truckin' and that's a good way to go. There is always something good happening in the homestead garden and orchard.
May 28, 2021 -- A Special Birthday Video!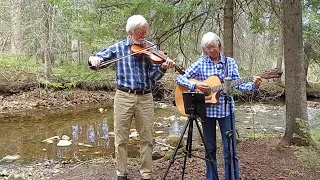 A trip to the AuTrain River down from the power plant by the Falls to do a special video for a special woman on her special Day. We planned ahead, anticipating the black fly situation, so we recorded it a week ago figuring (hoping) we'd beat the black flies. Well, we didn't but then that makes this video more authentic! It does point out why the Schmeck family went to AuTrain for the month of August and not in the spring. No matter the month, this is a beautiful place with great memories for Steve and his sister Nancy. And we enjoyed making the video, so, Happy Birthday Nancy!
LINK to video, or click on photo.
May 25, 2021 -- Apple Blossom Time!
They don't seem to care if it is hot or cold, wet or dry, a 'normal' year or a record year, when it's time it's time -- they bloom, and almost always with great enthusiasm. To be sure, a few do take the year off, while others are so full of blooms you can't see any of their leaves (usually the crabapples like the showy one in the photo). There are young trees trying out their first few buds and older siblings taking a middle road. If all goes well it looks like it will be a very good apple year.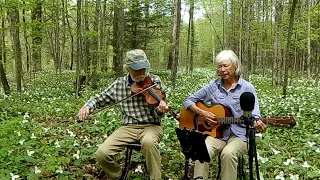 May 20, 2021 -- Celebrating Trilliums
The annual carpeting of the forest with beautiful white flowered green leafed Trilliums (and their companions the wild leeks) is a spring delight that always amazes us. I remember that first summer, more than 40 years ago, our first experience with this phenomena. It was (and still is) pure magic. The blooms are at their peak right now so we decided a song among the flowers would be just the thing. And a good setting for "A Satisfied Mind". Click on the photo or HERE to link to the YouTube video.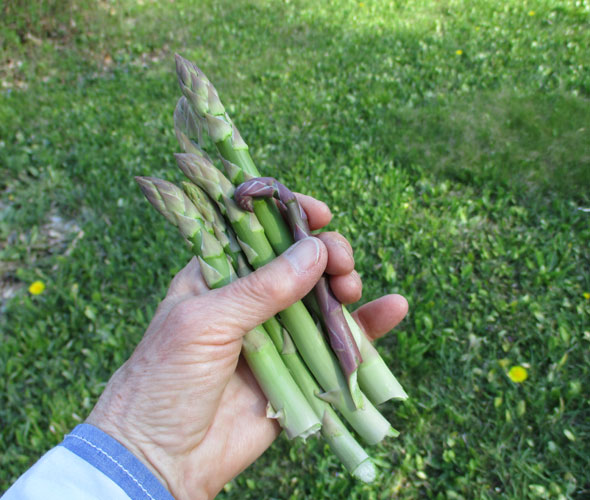 May 18, 2021 -- First Asparagus
It's a constant stream of Firsts and Welcome Back's this time of year - birds, plants, bugs, weather - an exciting time of year. Every moment is new, a lot of fun. And the first asparagus shoots are a very welcome and delicious return. This year they've been able to grow without the usual late spring freeze since our last cold night was May 12 (22 degrees) and with this ongoing very warm weather we're now getting I don't expect another. Grow on asparagus!
May 10, 2021 -- Appreciating Windbreaks
We've had a stretch of pretty strong north winds but if one finds a place out of the wind it can be almost warm. A few of the plants from the greenhouse have ventured outside to start getting used to the outdoor environment, while their less hardy friends stay inside because they don't think upper 40's is that warm. But those days are coming and soon they'll all be out basking in the fresh air. Meantime the brave early ones find it quite cozy on the south side of the wood shed where they can ignore that north wind.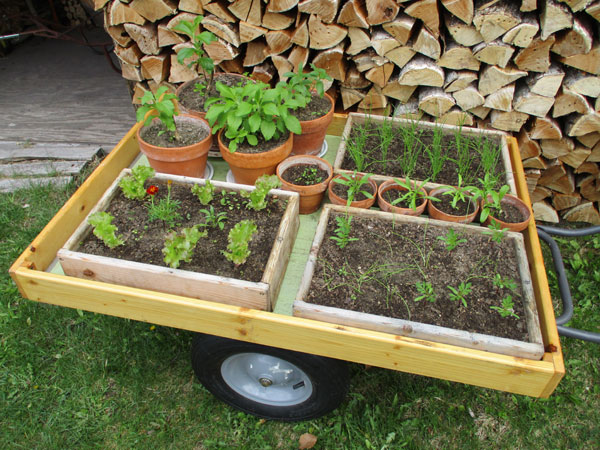 The plants aren't the only ones to appreciate a nice wind-break. Lilli found herself a nice new spot to sit and survey her kingdom. She sat there like that for quite some time before deciding all was well and she might as well head on in for her afternoon siesta. Or maybe she just needed a break from all that intense spring green.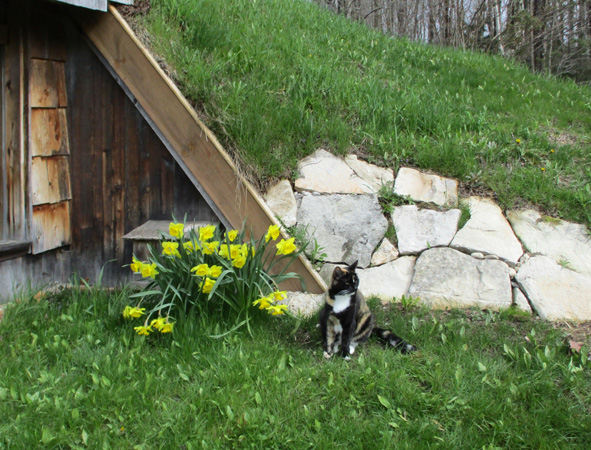 May 5, 2021 -- Bruno's Run Full Circle
It's interesting how our criteria changes with the seasons, and conditions, and what we consider when planning our days. We knew we wanted to walk the entire Bruno's Run Trail, about 11 miles, and wanted it warm enough to be able to enjoy our breaks. But also, being May and knowing the area has plenty of water and bogs, we needed to go before "they" arrived. No doubts, today was the day. Low 40's, brisk cold north wind (well, at some point you have to decide that's OK or you'd never go anywhere), mostly sunny (hurray!), with forecast temperature heading for 50. Ideal. We put all other plans aside and gathered our gear.
We had done three pieces of the trail in December, January, and March, and today we'd connect them all. With no snow those we had walked before would feel quite different. The closest trailhead was at Widewaters so we began there going counter-clockwise, along the beautiful Indian River, across Hwy 13, and up along the ridges. We enjoyed the differences between this and our last walk in snow and about ten degrees colder. Though one is in the woods the entire way around it is so varied and interesting, with sections of conifers, predominantly hemlock, then in and out of fairly thin hardwood stands, the large dead beech and other trees falling and leaving room for new generations and species. Ridges and bogs; river, creeks and lakes and more lakes; the trail winds up and down, around and between, over and through. And now there was occasional bird song to brighten the day.
We knew we'd be coming on soon to that special lunch spot of winter's walk but it still surprised us, coming around the corner, and suddenly there was that small lake - Dipper Lake - and the bench. It was too early for lunch but we did stop to admire the Lake, soaking up the sun, enjoying a snack. But this is a windy spot so we didn't stay long. It was a day of much changing of layers due to being in and out of the cold wind, but comfortably so and there was more than one remark made that this was such a perfect day. The sun overhead coming through the trees was wonderful.
The south east section was new ground for us, along Wedge Lake, mostly looking down on it, coming close to a leg (or would it be a foot?) of McKeever Lake, and bogs and wetlands. Along here was the only significant wet section we ran into, and thankfully we were able to get across without issue thanks to a few small dead trees (with great appreciation to whoever put them there) and a handy walking stick. This time I let steady Steve go first, but I made it, too. There is the beginning of a board-walk bridge under the water. Guess it needs to be raised up a bit.
When stepping onto the small bridge (it did rise up in the center to be over the water) a small frog dashed for cover in the water, then another one followed. There was plenty of hiding places, the clear low water was incredibly full of plants and brush and bog-stuff, a whole world. Then Steve spied something interesting and very different -- frog eggs! Several clumps of them. We didn't know if they'd show in a photo with the strong reflections of the trees in the water but there they are. Much prettier in person though.
Soon we were at the Deer Creek bridge where we had turned around from our north-northeast walk in December starting from Pete's Lake. This time with no snow we sat on the small boardwalk lead to the bridge to eat our Orzo-ghetti and PB&J lunch, warm enough that we chose shade. It felt good to take off shoes and socks, eat our lunch, lounging with plenty of just emerging plants to point out to each other, some we recognized, some not. And, thus energetically occupied, we had contact with our first, and only, other hikers - a young couple with a large, nervous - I don't want to go by those people - dog. We quickly offered to get up and move off the side of the boardwalk but they said no, we'll just go over here, being the other side which thankfully was dry enough. They encouraged the dog with some treats and she did make it by, with pets and good-dogs while we just talked calmly with the dog's humans. They were from Lansing and the semester just ended (I'm assuming college) and they just wanted to get out of the city so came up here. We were glad it was great weather for them, and not a busy time on this popular biking and hiking trail for the dog's sake.
When they were gone we re-assembled and got ourselves afoot. I checked out how high the bridge was above the creek, wondering if one could cool one's toes in warmer weather. Close, but slightly longer legs would be needed, and it wasn't exactly comfortable seating on the edge of the side-board. Steve spotted a small fish.
So off we headed up the trail. This part is the section of Lakes, the trail running down along then up and away, mostly near McKeever and Grassy, farther from Pete's. It would be fun to bring the kayaks to explore any, or all, of them. They are all large enough and interesting enough for a fun day. Probably later in the summer though as we had seen the first black flies of the season while eating lunch. That time was arriving. But not yet and we remarked once again what a beautiful perfect day this was.
The day warmed, the trail showed signs of recent maintenance and grooming with many blue trail-marker diamonds as it passed by and near Pete's Lake Campground. We considered pocketing a few of those plentiful markers to put up here and there on the 2/3 of the unmarked sections of the trail, but we didn't, of course. In the non-snow months the trail is pretty obvious with few questionable spots. But in the snow you have to hope someone who knows where the trail is has gone on before. But today it was an easy-to-follow walk. We crossed an access road then Hwy 13 to the Moccasin Lake turnout and trailhead. The one where we couldn't find the trail east two months ago in the deep snow. Now it was obvious - right across the south entrance to the turn-out. We had been looking across the north entrance, between those two short posts which usually indicates here is the trail for hikers (being too close together for vehicles), but not this time. But we very much appreciate having the trail at all, and this turn-out on Hwy-13 with outhouse is especially appreciated by us and very many other people being a stopping point for travelers, snowmobile/ATVers, fisherfolk, bikers, and hikers. It's also a beautiful little Lake.
On down the trail, along Moccasin Lake, happy to turn off into the woods and out of the wind, along the straight historic rail-bed and the interesting plaquard site-spot. This is a very much-trod part of the trail so exposed roots keeps one on one's toes. We decided to stop and eat dinner (leftovers) at the small bridge across a narrow spot where the Indian River flows from Fish Lake into the widewaters section, a very relaxing spot with its own early black fly scouts to remind us that it's May. But early and peaceful. It won't be long and the campground will be open and full of vacationers, the road full of cars and campers and boats of all kinds, birds and bugs in the air and smaller critters active on the ground. It's a great interim right now. We were so happy we took the day for a hike.
A somewhat muddy walk along the River and we were back to the car, and home before Lilli could wonder how late supper was going to be.
April 29, 2021 -- Early Harvests
This is the time of the year that a few humble plants get a lot of attention from me. As the winter crops in the greenhouse fade or are eaten away I'm anxious for fresh outside greens. It is early yet for most garden plants, temperatures below freezing still common, so I doubly appreciate these hardy souls. Besides being welcome edibles these plants are also easy, independent, and reliable. And they don't need to be planted each year, or at all, by me. They do just fine on their own.
The one I make the most use of, both now and again in the late fall, is Garden Sorrel, a tasty leafy edible perennial.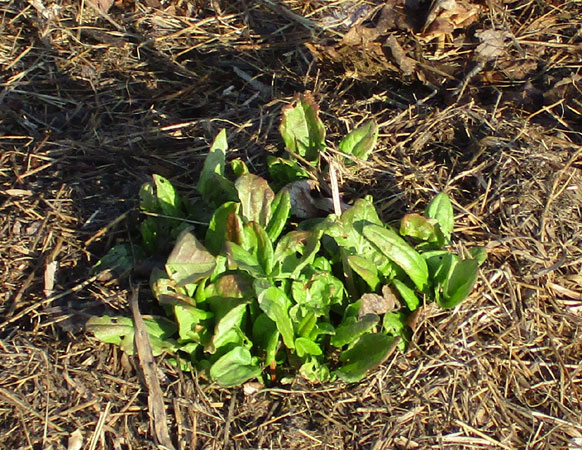 It's a sour (oxalic acid) leaf, though I guess lemony or zesty might sound better, and is appreciated for extra salad greens. It adds a bit of zing and is good mixed with milder lettuce, which is often in short supply right now. It works as a cooked green, too, though I don't use it that way very often. It is very similar in taste to wild Sorrel (which we have in plentiful supply) but much larger leaves and so much easier and more convenient to harvest. Right now the leaves are small since they've just started growing, and this human keeps picking them, but it won't be long before they are 4-6" and well outpacing my harvests. They thrive in a garden plot but a few years ago I dug a clump into the orchard "lawn" between an apple and a gooseberry and it is growing just fine there, companioning well with the grass.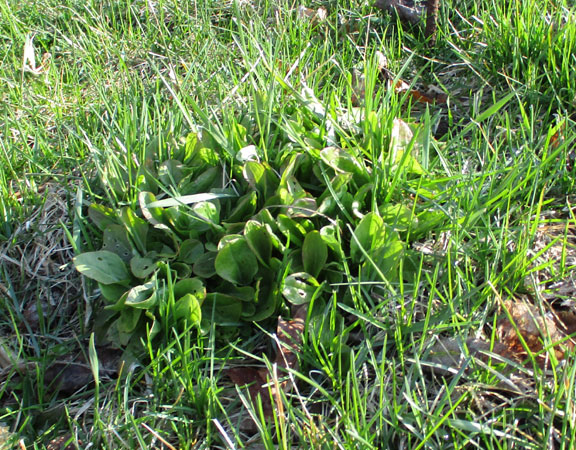 Some years there is Spinach in the garden that has overwintered well without being eaten by someone other than me. This year I have two plants which survived and are re-growing nicely, the fresh leaves appreciated. But they don't go far, and it's hard to decide whether to use them in luncheon salad or in dinner. There is still dried spinach to use but right now I'm looking for fresh, so I turn to other growing green things. While other crops may be in short supply, there is one we have in abundance -- Leeks! They don't take the place of spinach but they do add a nice mild flavor to a meal and I often harvest a half dozen or so leaves to add to what else I have. Though the south and east woods are carpeted with leeks we didn't used to have many near the house. But I transplanted a couple clumps under the wild apple near the shop and they apparently love the site, spreading and providing easy harvest. There are also clumps growing here and there, wild-planted. I don't make use of the bulbs though they certainly are edible. They're a little small, fussy and pungent for my taste. Onion are easier. But when the stored onions run out and the new ones not ready yet, then leeks are a readily available option.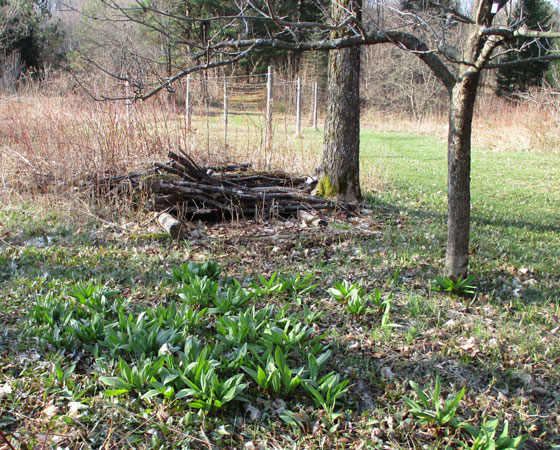 Chives are pervasive, some might say invasive, on our homestead and literally on our home since we planted it there when we first buried the roof and it has thrived ever since. Actually, it thrives about anywhere. I long ago stopped growing it in the garden and let it grow wherever it wants. Though the young chives are a bit thin yet they are already giving our salads a bit more green and a light chivy flavor. And it won't be long before they will also be providing beautiful lavender flowers. What a cheery plant.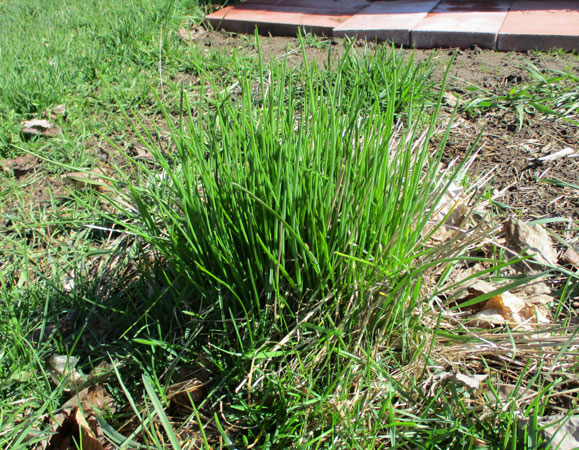 We have plenty of dandelions and there are always some nice plants in the garden, in spite of the trowel-wielding-gardener. I occasionally cut up some leaves to add to dinner greens, probably more because it seems like one should than because they add much. But mostly I leave them to flower for the bees. One has to admire their hardy tenacity though. I like having them around.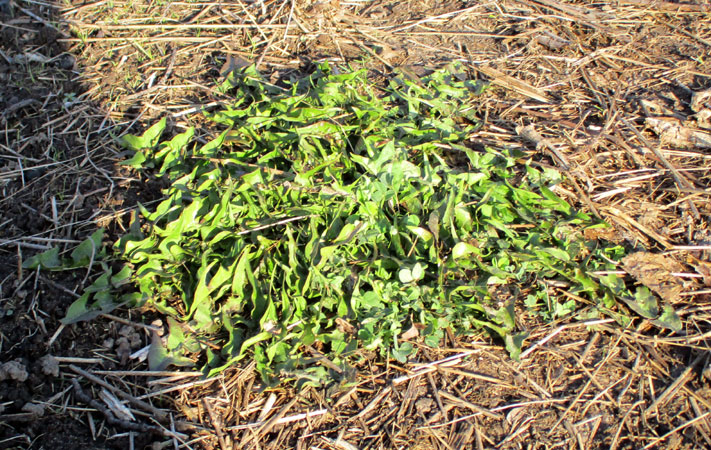 Long ago I planted some Johnny Jump Ups in my garden, not realizing how prolifically self seeding they are. Decades later they still pop up to be, mostly, weeded out. But I let some go. They're so persistently cheerful. They are flowering already, before even the dandelions. Though I seldom pick the flowers for our own salads I've added them as a colorful garnish to a potluck dish. But I do dry some for my mixed herb tea. They're quite mild flavored but they add a nice color touch, especially mixed with white and yellow chamomile flowers. Mostly I share them with the bees and just enjoy their easy flowering.
Now rhubarb isn't destined for the lunch or dinner meal, and the stalks aren't near large enough to harvest yet, but it won't be long. And spring is when we really enjoy that flavor, cooked with (plenty of) brown sugar or maple syrup and mixed with last fall's canned applesauce -- mmmm, I can taste it already! It's fresh and tart and juicy, and at least a few bites of the raw stalk is a necessary spring ritual. Rhubarb is also about the very first edible that starts growing when the snow has receded, then I know Spring is coming.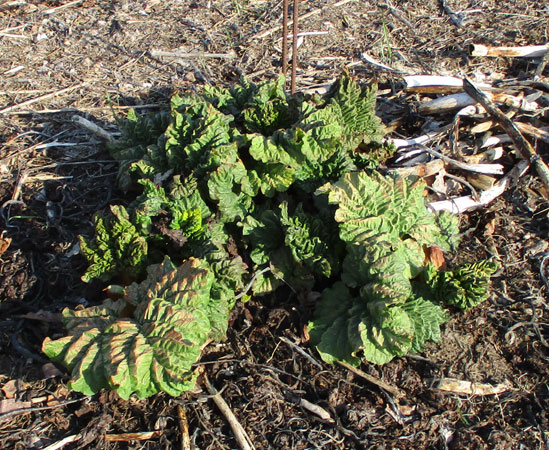 Oh yes, LilliB reminds me, I almost forgot a most important one. Generally the fenced garden is of no particular interest to her, but this time of year she often leads me to the gate when she is out and about and I start heading that way. There are rituals to follow. We go in and head straight for ... the Catnip, of course. Well, a bird or bug, or something might distract for a few moments, but the destination is pre-determined. Being scritched and rubbed and petted while munching a Catnip snack -- ahhhh, life is good. Then off she goes to check out all the other so interesting spots that the garden and orchard has to offer. But when I leave, she leaves. It's time to go back to the shop and harass the chipmunk.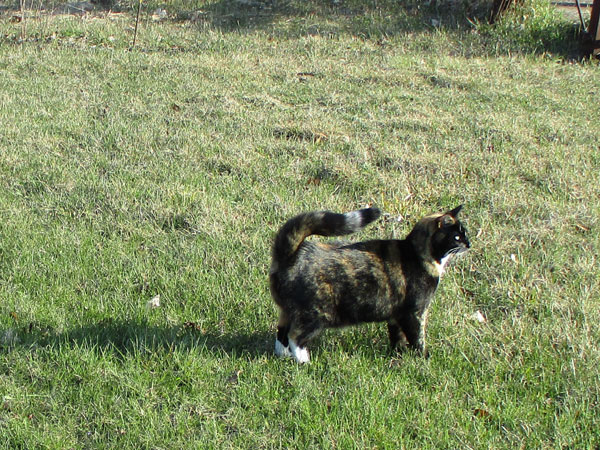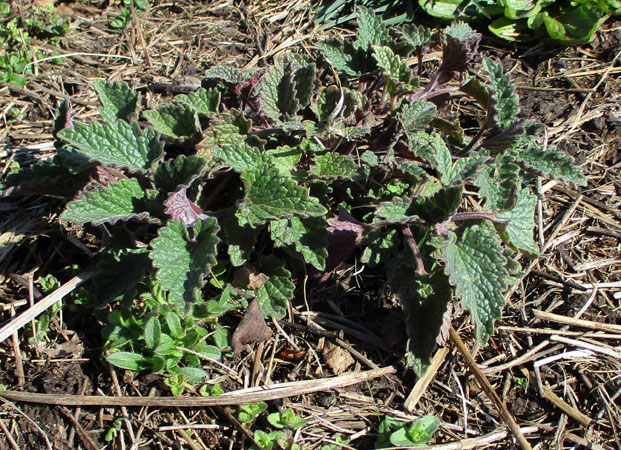 April 25, 2020 -- Walking the Skating Loops at Rapid River Ski Trail
With a stretch of rain/snow/sleet days forecast (you have to love the diversity of spring weather!) today was the last day to get in a hike before those indoor days started. We'd had a number of decent outdoor homestead work days which felt good so were in the mood to take the day off for a hike. The whole Bruno's Run trail had been in our minds but when the day arrived with temps in the 30's and a very brisk north wind we decided to save that for a nicer more leisurely day. When we'd been on the Rapid River Ski Trail in December it had been well wooded with wind-blocking conifers, just right for this day, so back to that trail we would go. It was sunny but still cool in the morning so we did a bit of shopping in Escanaba while the day warmed up some. It wasn't exactly warm at about 40 degrees but that was a lot warmer than our previous trip here and we now had our clothing systems pretty well worked out. The trick is to wear enough to be warm at the start (or the end if you are still out when the sun and the temperatures go down) yet have enough room in your pack to stuff in jackets, mitten, hats when it warms up. We had both sun and hill climbs to warm us and gusty north wind to keep us cool. What more could one ask for!
We had done the very nice B Loop last time so decided to check out the Ski Skating Loops this time. We knew there would be some low spots but hoped the wider skating loops might allow for easier walk-arounds. Plus it would be side-by-side walking most of the way which we enjoy. We'd had a bit of snow on the ground at home and there was some here, too, but it was minor. So we headed out on purple Easy Loop A (a nice gentle way to start and end a hike) to get to red Skating Loop S1which was in the same central section as our previous walk. The terrain was similar with beautiful conifer woods and hilly sandy high ridges amongst the bright green wetlands swamps and lowlands. This section is designated "moderate" but they are not overstating the ups and down with their loopy symbol. One minute you'd be looking down, down at the low area below, then the next you are down there looking up. As the sun was mostly overhead and the trees mostly blocking the bulk of the wind we ended up with cold weather jackets in our packs and much modifying of other layers. It really was a beautiful day for a hike and a beautiful area. We did run across, or I should say "very carefully skirted" a few wet sections but got by with only minor wet feet. The bogs were wet and well thawed now.
At the junction area of the central S1-B (red and gold) and S2-D southern (green and blue) trails we headed into new territory onto Skating Loop 2. We were surprised to meet a bicyclist since this isn't much of a biking trail with the steep and very sandy hills. But she said she had skied the area so was familiar with it, and she walked the steepest grades. Even the central area isn't for casual walkers but this farthest section has a "most difficult" jaggy peaked up/down sign, and the various hills have names such as Yahoo!, Holy Wah!, High Rise, Coronary Climb. And they aren't exaggerating! The ridges are high and the wetlands low, and wet, and beautiful. We refrained from taking more photos of the bogs (see Days River hikes) but did try to take one looking down into the lowlands from a ridge, but it is hard to get the scale in a photo. The best thing is for you to walk it and see for yourself. Well worth it!
The bicyclist had gone on ahead of us but soon we met her coming back. She said there was a wet part up ahead that she didn't think she could ride her bike through but maybe we could find a way around. And sure enough, a short ways ahead we found ourselves at the top of a steep sandy slope looking down on a nice little pond at the bottom, with generous wet bogs on either side. Definitely a "wet" patch. Mmmm. Well, we'd traversed wetlands before so down we went, heels dug into the soft sand, to where the trail disappeared into the water. It didn't look too promising, wet bog moss as far as we could see, but maybe some of those hummocks and bumps in the bog were solid. I went first (Steve's big on sending the light-weight canary first). Nope, not solid. That one either. There's a tree mound - very slippery, and wet. So I continued, stepping carefully, looking for possible dry footing though my feet were definitely not dry by now, going for the shallowest wet, hanging on to the small conifers, trying not to slip into something deeper. I made it to the other side to find Steve still at beginning, doing something. He was teetering on a high (relatively speaking) mound taking off his shoes and socks. Then he made his way around barefoot on (or rather, in) the squishy carpet of beautiful moss. This worked pretty good until the end when what looked like a shallow area turned out to be a calf deep bog moss covered little pond. Oh well. So he ended up with dry shoes and socks but very wet pants and long-johns. While I had wet shoes and socks but dry pants, being a bit luckier in my choices of foot-falls.
The trail went up from there on dry land so we laughed, I took off my shoes and socks, and together we walked barefoot for awhile, enjoying the warm soft sand and pine needle covered path as our feet dried. Then taking a break in the sun Steve put his shoes and socks back on and I went sockless in my wet shoes for awhile so the footbeds could dry a bit before putting on dry socks (we both carry dry socks in our packs), hanging my wet wool socks on the back of my pack. We were glad the weather was mild, and grateful neither of us had fallen full in the bog. We decided, for next time, that the time-honored solution for crossing creeks and streams of taking socks off, shoes on, pants rolled up would have worked better. But we appreciated quick drying synthetic hiking clothes and shoes. We were sorry we hadn't taken a photo of that scenic spot but we weren't going back to do so.
On around S2 we went, or rather up and down we went. It felt good to be out doing something we enjoy and feeling good physically. There came on one bog spot that the trail workers had dug the ground from beside the path, piling it on and raising the trail above water level and on top of a culvert. It was rough and messy yet but very much appreciated. It's not easy to turn a ski trail into a non-snow hiking path through this terrain and we're happy they are doing so. It's such a great place to walk.
After the steep hills of the southern part, then the moderate (relatively speaking) central section, we were back to the Easy A Loop, enjoying the wind-down walk. The sun was going lower and the temperature falling a bit but the wind had been wonderfully moderate on the ground amongst the trees. We especially noticed the plentiful Wintergreen ground cover here, seen throughout the entire area, the smooth leaves shining so bright among the dried pine needles and leaves. It was an eight and half mile walk, more vertical than horizontal, and a thoroughly enjoyable less than 4 hour hike. And we still have D Loop to look forward to, once it has dried out some.
One more thing that makes this a special ski and hiking trail system is the absence of logging. The area is full of impressive large conifers and the lack of logging has allowed the area to settle into a healthy and natural setting. I don't know the history of the area, when the Ski Trail was established or how long it has been since it was logged but it has been awhile. It sure would be nice if the DNR would follow this example at Days River. Meantime, we're happy for what is offered there but doubly impressed with the Forest Service leaving this area free to be while maintaining the trails.
April 18, 2021 -- Beauty on the High Ground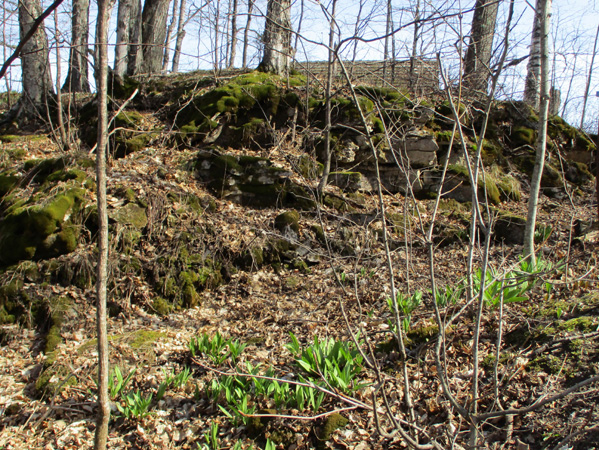 South of our property is a long limestone cliff that we go up to reach the road. You can just see the top of the roof of our small garage in the photo. It is a beautiful and intriguing spot that greets us whenever we go up there, with moss covered limestone blocks full of crooks and crannies and magical openings. We imagine who might be living in there. There have been fox tracks, and chipmunk, squirrel, others, though we've never seen anyone actually go in or out. But maybe whoever lives there doesn't make any tracks.
April 17, 2021 -- Pruning and Growing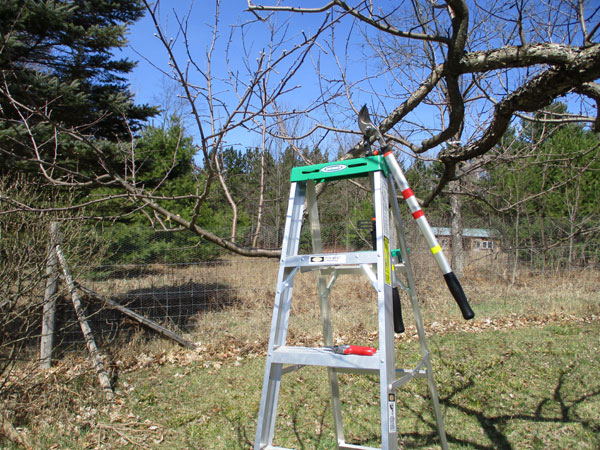 A brisk but beautiful day today allowed me to finish pruning the large apple trees inside the orchard/garden fence. It's been a lot of reshaping these past years but they are now all looking good so the pruning isn't as difficult which is nice. They still love to grow branches where I don't want them to be so it's an every year event but enjoyable. I admit, I like getting up close and personal with my trees! While I was making (relatively) smaller cuts with hand pruners, loppers and pruning saw Steve was making big cuts taking out some vigorous white pines near the path to the hangar and cutting back blackberry canes so we can walk by without getting snagged. They do love to grow which is fine, but we like to have some space, too.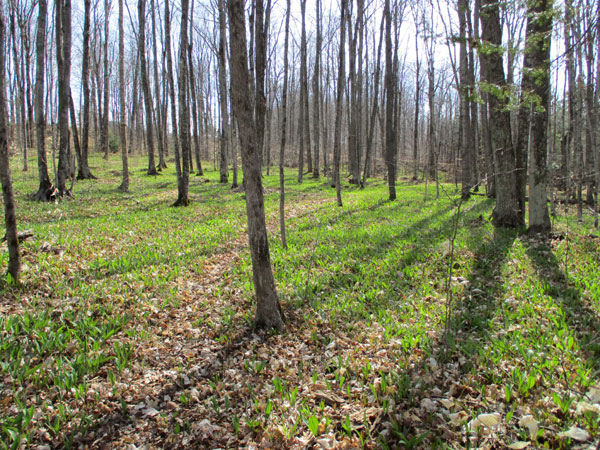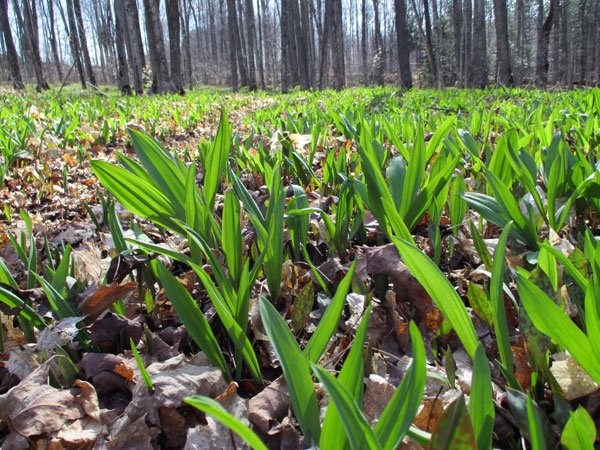 And it is a very growing time of year, everything moving and so amazing. The leeks in the woods haven't minded at all the colder weather as they spread their so cheery carpet of green. They go well with the fresh green of the fir trees interspersed in the hardwoods. So many things are coming along - the first Spring Beauties flowering, the Trout Lillies coming up under the protection of the leeks and growing grass, rhubarb making headway in the garden.
The sky is active, too, and not just with clouds. The Cranes are on the move and we had a large flock, maybe 75-100, stop over the night west of here, maybe visiting the locals who have been around for several weeks now. This morning as the day warmed and the thermals began the group took to the sky, vigorously calling to each other, group after group finding a thermal to circle higher, joining others, higher and higher, moving north. I stop and watch until I can't see them any more. Underneath the Cranes, much closer to the ground, soar several large Vultures and as they moved off south one stayed behind off to the north and I realized it was an immature Bald Eagle. The hawks are on the move, too. As I was up on the ladder pruning a shadow went over and I looked up to see a beautiful large white (male) Marsh Hawk* swoop over my head, low over the garden, up and over large apple trees then off east over the woods. You can be sure it was very quiet in the orchard as everyone kept very still. I went back to work, then the Phoebe started with its two note song, the Chickadee pair headed back to check out what they could glean from the compost pile, and the Bluebird flew back up onto the tail of the windmill, hanging on tight as it turned in the wind. It was a great day to be outside on the homestead.
* Since I didn't remember which Marsh Hawk, male or female, was white (the other is brown) I looked it up, only to find that they changed the name -- our impressive Marsh Hawks are more properly to be called Northern Harriers. Since they did this almost 40 years ago and we've been calling them Marsh Hawks all this time with no problems I guess it won't be of any concern if we continue to call them Marsh Hawks for another 30 or 40 years. They are a beautiful bird/hawk, easily identified with that bright white patch on their rump, and one we enjoy even more now when we don't have chickens.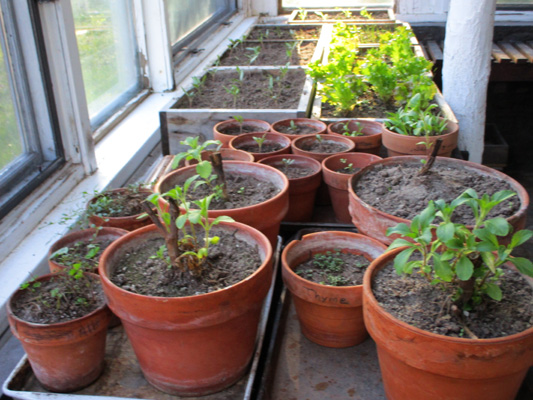 April 16, 2021 -- Greenhouse Beginnings and a Hiking Day
This past week has seen quite a bit of rain and cold and wind, with a few weather breaks to get us outside now and then. But mostly it's been a good week of working on indoor projects. Steve has made good progress on his redesigned rudder system on his boat and I've enjoyed finishing a number of small projects. And life in the spring greenhouse has begun which is always fun. Most of the winter's plants have been eaten or removed except for one vigorous alyssum that seems determined to fill the space left by her departed neighbors. Or maybe she's just trying to get across the isle to greet the new plantlets on the bench by the window. Quite an amazing creature.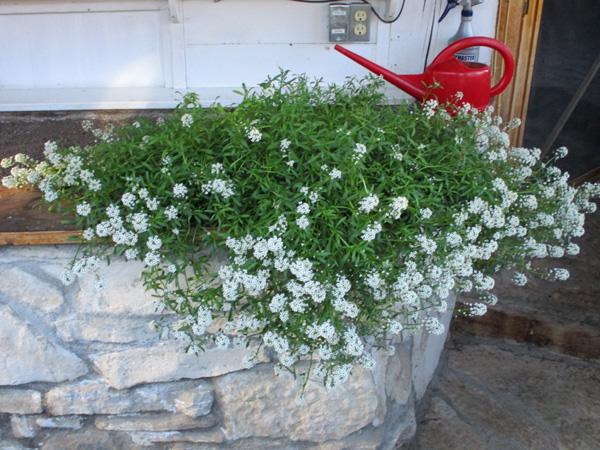 After more than a week without a long walk we were ready to take a day off to hit the trail, and since today was expected to be warmer (mid 40's), almost partly sunny, no rain, and less than gale force winds it was a day for a hike. There was that brisk north wind to contend with so we'd walk in the woods. The previous week of unusually warm weather had spoiled us a bit but we did still remember how to dress for the cold, and we did.
We didn't feel very adventurous and Steve needed a bolt from town so we went for an easy hike at Days River Pathway, this time skipping the extra Skating Loop. The north wind kept us from overheating and the sky cleared to a beautiful clear blue for a time giving us some nice sunshine. It was a beautiful day, with a lot of adding and removing layers with the changes in sun and wind exposure, though nothing too extreme. The wetlands were indeed wet, and no longer frozen. The creeks and river were running a good pace thanks to the recent rains. But the trail was surprisingly dry thanks to the sandy soil, and the snow was gone.
We stopped at the small bridge to admire and enjoy a small falls in the creek made by fallen trees and branches. In the summer I imagined how good it would feel to cool one's feet in the clear water. Today our feet were happy to be in warm socks and shoes!
We walked the whole Pathway again but this time in reverse. It's surprising how different things looked just by going in the opposite direction. Plus one can see the bicyclists (of which there were several) in order to quickly step out of their way rather than having them surprise us from behind. There seemed to be more steeper "ups" going this way which I'm sure the skiers and bicyclists enjoy since it would be "downs" for them. Though I guess the ups and downs all have to even out. We met several other hikers, too. It was nice to see others obviously enjoying the day as much as we were.
We had a lunch in the woods near a pleasant quiet bog, then later took a break by a noisy rush of water over a short dam across Days River where the path goes near, with calm water on one side and rushing swirls of water on the other. We wondered at the history and the reasons for this small cement barrier. [Looked it up when we got home and it was built in 1978 to prevent sea lampreys from heading up river.] This spot is the only large opening on the trail as it crosses a wide power-line clearing and we enjoyed warming up sitting out in the sun amidst rock fill on the hill by the River.
It felt good to be back on the trail and we enjoyed our four hour walk.
April 7, 2021 -- House Cleaning Time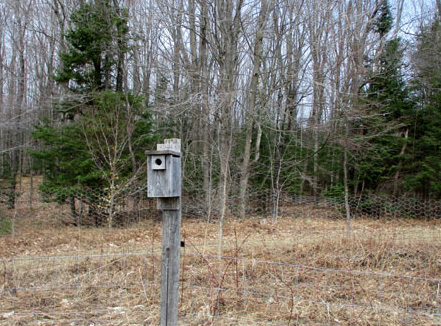 I had on my list of things to do to clean out the birdhouses but hadn't gotten to it. This early spring weather (and a lot of hiking days!) has scattered my schedule . But today when I walked into the orchard I heard a new bird voice, familiar and happily welcome - the bluebirds were back! I didn't see them but I immediately changed my plan, got ladder and tools and went to work cleaning out the birdhouses. We have eight on the fence around the acre orchard/garden, four along the south and center are the domain of the bluebirds and barn swallows, each with their favorites, and the other four varies as to occupants. As I pulled out old nesting materials of the first four I was happy to find apparently successful nests, used and empty, or made but not used. The bluebirds and swallows had a good year.
Our houses are of two designs, the older ones I have to take off the tops, hence the ladder. The newer ones are of better design and one screw allows a side board to be opened from the bottom, hinged at the top. When I got to the 5th box, on the far east fence near a white pine woods, I pulled up the side board (no need to climb the ladder for these) to find a nice pile of grass. Obviously this box had been filled but not used. I put my garden fork in to pull the pile out and instead out jumped a surprised mouse, onto a VERY surprised woman. Down she went (the mouse, not me) and immediately ran back up the fence post and into her nest. I wish I could have taken a photo of her because she was a beautiful beige white footed mouse. Well. I debated, very likely babies were aboard but I didn't really want to house a mouse. So I went and got a bucket and lid, carefully scooped mouse and nest in and moved all to what I thought might be a nice place under a large low on-the-ground fir branch. She, of course, scurried off but hopefully returned to repair and re-establish her nest somewhere else to her liking.
The other three boxes were uneventful. The one by the north fence gate was full of twigs as it often is, the domain of a local wren. The last box is one of the newer ones, down at the northwest corner, not used its first year two years ago. There is more traffic here and near to the woods and more shady so not likely to be as popular. But I had noticed chickadee activity last year and sure enough they had built, and used, a cozy nest full of moss and feathers in this box. Mostly the chickadees nest in the plentiful woods so it will be interesting to see if anyone uses this box this year.
My job done I headed out the gate and as I did I saw the male bluebird, landing briefly on that last nest box before flying back into the woods. I like to think he came out to say Hi and thanks for the house cleaning job.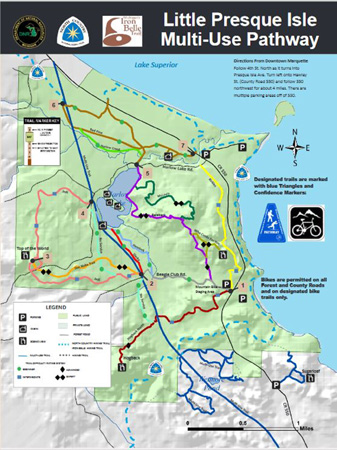 April 6, 2021 -- Little Presque Isle
A coming rainy spell meant (to us) that this was a day to get in one more hike. It was foggy, mid 40's cool, and there was mention of wind and possible and scattered showers but that was minor. We'd go to Marquette and walk the Little Presque Isle trail along the Lake, starting farther north at the parking lot near the Point and the Isle. The last time we were in that area was many years ago, part of a local Sierra Club clean-up session with many of the wonderful people who had been instrumental in saving this special area from development, allowing us and so many others to enjoy its incredible array of wonders, where almost every step is a "wow" moment.
When we got to Marquette we stopped at Jean Kay Pasties to get lunch, going out as usual to local Presque Isle Park to eat. I'm sure I'm not the only one that gets the two names confused, but Little Presque Isle - LPI - is about 5 miles north. We watched rail cars of ore going out on their long, tall dock to await a freighter to take their load. It was really warm in town, 60 degrees, but cooler here with the wind off the water.
As we drove north to LPI the temperature slowly dropped until it was back where we started - mid 40's. I replaced layers I'd taken off in town. We were the only car in the parking lot on this cloudy cool mid-day but soon another car pulled in beside us with three men out for a walk. There would be many more when we returned 5 1/2 hours later. This is a very popular area. Though we were most familiar with the trail along the Lake (it's also part of the North Country Trail so no bikes) this special recreation/natural area is about 430 acres, including Harlow Lake, Wetmore Creek, Hogback Mountain, Sugarloaf Mountain, and numerous trails and special and historical sites. There just anything like it anywhere else.
Definitely different than any of our other hikes, in a big way. This is an incredibly scenic "every step is a photo op" walk. The challenge was to gaze and marvel at the views without stopping every few minutes, while at the same time keeping careful eye on the trail, stepping carefully and deliberately up and down, over and around the abundance of roots and rocks. Cool and foggy near the Lake, warmer inland, we added and removed and added layers as we went. The Isle of Little Presque Isle name disappeared and reappeared in the mist.
The cliffs along the Lake are interspersed with magical small coves of beaches, some accessible, some not. The sound of the waves pounding against shoreline changed as walked along from one to the other. There is no boring spot along this trail.
At the southern end we chose to turn west inland, continuing on up (emphasis on UP) the North Country Trail, instead of going south up the back of Sugarloaf Mountain which we'd done before. To say this is a rocky section doesn't come near to an adequate description. Sugarloaf may get the most attention but it is only one of many and not the highest (I assume Hogback is). But walking around and up the lesser cousins here is amazing enough. With a magical bog on one side and huge rock on the other, this entrance to the inland rock section of the trail was more than a little special.
We don't normally do much rock scrambling so this was certainly a different kind of trail for us! Up a cut between two huge rock (hills? mountains? outcroppings? I don't know the proper term but they were definitely big and hard and high and impressive) we carefully stepped among the old leaves covering a path littered with rocks of multiple sizes. At that point we both (1) appreciated the good grippy soles of our shoes, (2) will be looking for a summer shoe with similar sturdy grip but a smaller footprint, as in no wide sole to catch on nearby rocks. It was definitely up, and it was great fun, this southern edge of the Hogback Mountain area and farther north the Huron Mountain Range.
We came down briefly, literally and mentally, to cross CR550 then back up we went amongst the big rocks. As the trail went by a particularly inviting smooth rounded rock nearby I called for a break, so we veered off to climb up on top of this wonderful rest spot. I wondered how many hundreds (thousands?) of hikers had sat and rested there before us. Removing shoes and sock we gazed at the incredible views and snacked then stretched out on the amazingly comfortable lounge. The sun came through the haze enough to warm two contented hikers. After a bit voices brought us back to the day as a group of hikers went by below our rock. As they disappeared we re-organized ourselves, tightening shoelaces for the "back down" trip, and down off our rock we went.
The walk back was as wonderful as the first half, seeing different views, different wonderings. We were in no hurry and the entire hike was one of appreciating the moments and the amazing terrain and landscape. We added layers as we came again closer to the wind off the Lake. We met more people, particularly near to the parking lots, as it was now "after work and after school" time. It still wasn't even close to "crowded", just pleasant. The north section along the LPI Point has its own generous landscape of rock to greet walkers coming and going.
The temperature had dropped a few more degrees and I didn't mind getting into a warm car, heading back into the warmer city to do our shopping at the Marquette Food Coop. Home along the fog-bound Lake we pulled into the turn-off on M28 to eat our dinner along side the sound and hidden view of Lake Superior. The fog lifted as we headed inland and we had a pleasant trip home. We'll be back, not only to explore again LPI and some of the othertrails. In particular we want to continue on the NCT south and north to see where it goes. There is no lack of hiking to be done here!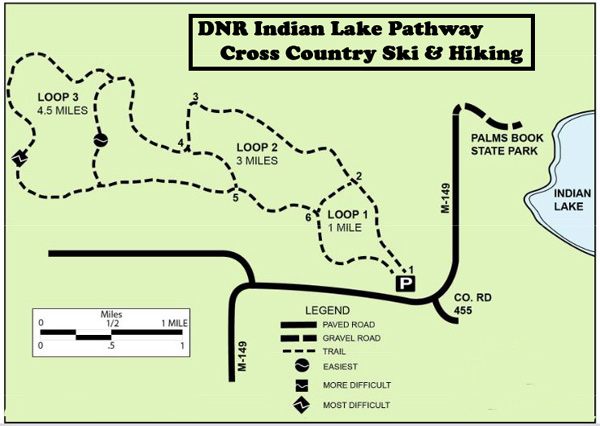 April 5, 2021 -- Indian Lake Pathway
When we walked the local snowmobile trail Saturday we passed by two spots where the Indian Lake Pathway trail crosses, a reminder that we wanted to walk that trail now that the snow was gone, and before mosquito season, since we had guessed that the lower Loop area might be wet. Today we had to go into Manistique so we stopped on our way home to walk the now bare trail.
It was indeed bare of snow (except for a few spots) and the low Loop 1 was indeed wet. In fact we spent as much time finding ways around the marsh and water filled low areas on the trail and surrounding grounds as we did just walking this section. As we remembered (it was only two months ago that we walked this trail in the snow) this is woods thick with young re-growth, and much easier to walk when frozen. It may dry up later in the summer but spring is a time to avoid this Loop. It would be beter to go on the snowmobile/orv two-track to where the Pathway trail crosses and just walk Loops 2 and 3.
But soon we were on the 2nd Loop which is higher, hillier, and with a more complete woods of mixed ages and types. There were even a couple of large, healthy looking live beeches, along with the many young ones doing their best to reforest this once heavy beech woods. We left most of the "trail ponds" behind. It was a beautiful sunny mid-50's day and we enjoyed this section. Since this is a "lightly" managed trail one had to keep alert for rough footing, especially those sticks that jumped up to try to trip you when you stepped on one end. Quite a different walk than the fairly easy snowmobile/ORV two-track. There was a wind but in the heavier woods it was light and we warmed up and shed layers. Just before we got to Loop 3 and the higher terrain we were ready for lunch, spying a creatively shaped cherry tree to stop near. This is also where the Pathway Trail and the snomo-ORV trails run side-by-side for a ways before the hiking trail crosses to head up into higher ground. It was so nice to have it warm enough to enjoy sitting, removing shoes, admiring the woods around us.
We looked forward to the hills and ridges of Loop 3 with its "most difficult" ZZ designation (for skiiers). A less logged, even nicer woods section it was hard to keep an eye on the rough trail while gazing at the forest. We weren't disappointed, this is a real nice trail, a beautiful forest, and some nice views down into lower valleys. It was also much easier walking without a foot or so of snow. Fun to touch base with remembered spots - where we ate lunch, where the intrepid skiier had to dismount to go over a large downed tree, then the tree across the steep down-hill. Plus a few more downed trees. The dead beeches are still falling.
It seemed shorter going back down and back along Loop 3, then 2, stopping to look at the maps at the intersections even though we knew where we were. It's a well marked fairly simple, enjoyable trail. But toward the end of Loop 2 we were back to the wetlands, making our way around mini-(and not so mini) swamps, trying to keep our eye on the not very distinct this time of year trail. Most of the path looked quite different in its spring coat instead of white snow. We ended up taking the north cross path of Loop 1 without knowing it until we found ourselves on the NE leg instead of the SW leg heading back to the parking lot. The wind had picked up and was felt more in this open area, and not exactly warm yet. It was good to get back to firm and dry ground! Plus a warm car. But overall we enjoyed our afternoon re-visit to this nice local Pathway.
April 4, 2021 -- Pear Gets Another Trim
Last year I had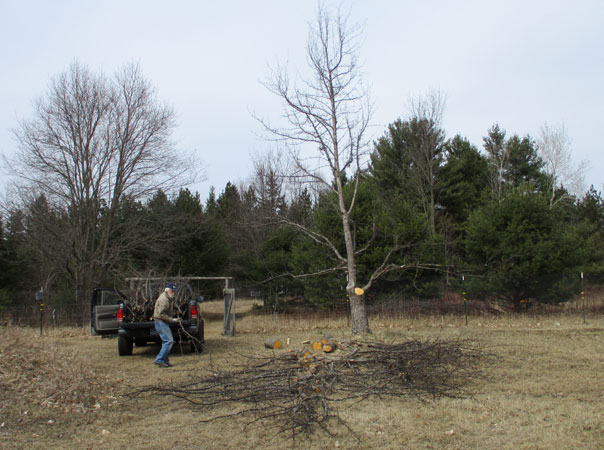 decided to cut off one of the three trunks on our ailing tall old seedling rootstock pear, hoping that would help. Well, I'm not sure if it triggered a tremendous attack of fireblight or if that was the result of our record long hot summer, fireblight being something we seldom see here and it loving that kind of weather. One way or another it was a rough year for the pear. But the season ended with some green leaves so it was still alive. Still not knowing the best thing to do I decided to go ahead with my plan to remove the second largest trunk, leaving the healthier and youngest (relatively speaking) north section. My deciding means Steve sawing, of course, which he did with no surprises, dropping the large trunk between windmill and solar panels, and not near any nearby young fruit trees. Actually, the tip didn't come close to anything and it was all without incident, but with a lot of hauling tangly pear brush away. Steve did that while I continued my pruning. Should every orchardist have such an accommodating, and much appreciated, partner! It is with high hopes that I wish our old pear a healthy recovery. I'd sure love to have it stay around for many more decades.
April 3, 2021 -- A Long Walk North-Northeast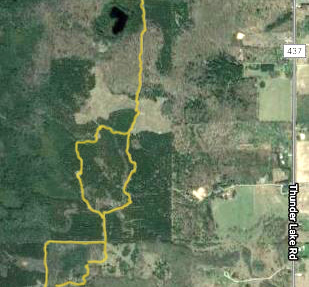 Warm weather - light south wind - sunshine. The odd weather pattern continues, with no complaints. We enjoyed working on the homestead yesterday and this day we decided to enjoy a long hike. Not inclined to drive anywhere we walked out our front door north, then east along the local snowmobile trail. Sans snowmobiles, of course, now an ORV two-track. We were on our way by 10:30 and it was already warm in the low 40's, quite unusual for this time of year.
Straight up (more or less) the middle route to the east-west A-Frame gravel road, our usual walk through the red pine plantation then mixed hardwoods (which was our landscape all day). Very gentle and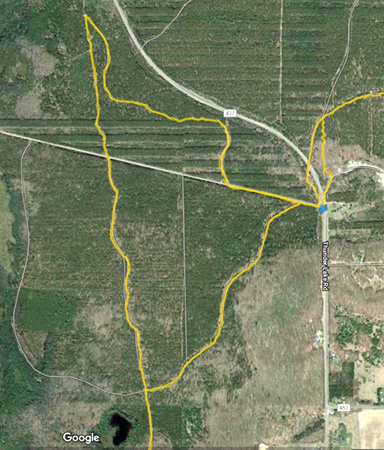 relaxing. As the day warmed up one or two layers came off and into the packs. But it was still April-warm, not summer, and the light wind and shade of the woods kept us from over-heating.
At the gravel road (snowmobile trail in the winter) we thought we'd turn right, walking down the road to paved Thunder Lake Road where the snomobile trail crosses just a little ways north. But this east-west road still had a lot of packed icy/snow, and mud, so we chose to cross and continue on the trail north where we were pretty sure there was a cutoff loop down to Thunder Lake. It was a much nicer trail than walking the road anyway. We found the east cut-off and it did indeed loop -- right back south to the gravel road! But we were now farther east, cutting off some of the walk on the icy-snow. And since we enjoy that north section it was fine, and it wasn't far to Thunder Lake Road.
The snomo trail crosses a ways north but we took a two-track right across which led shortly to a gravel pit. It was getting time for lunch so we just headed off into the woods toward the official snomo track, looking for a convenient downed log for seating. It wasn't too hard to find a nice seat in this beautiful hardwoods and we were soon settled for lunch.
Today we'd stocked up a little more, filling up our new 16 oz Thermous food containers with spaghttiettes, so we dug in and reveled in the pleasing setting and great weather. Then we continued through the woods to the two-track snomobile/ORV trail and headed east.

This is a fairly flat section, much of it (if not all) is along an old narrow-gauge railroad bed. The first couple miles was quite rough with pit-run rocks making some uneasy footing, but the route was through beautiful mixed hardwoods and older red pine plantations. Being mainly an east-west route and having been well packed by snowmobile traffic (this is a popular route) there was still a fair amount of icy-snow patches to traverse or get by on the edges. Then we left the rocks for welcome, and easier walking, dirt/sand through a more recent red pine plantation.
We were in dappled sun/shade most all the way, cool but not cold. It was a wonderfully easy, relaxing walk. None of the ups and downs of the ski trails! We stepped off the trail for one ORV then later for a group of four, mainly couples, all out enjoying the day as we were, each of us in our own way. It was a great day for a ride as it was for a walk.
It was easy to keep going, but at 3 hours out we came to a good turn-around spot -- a major intersection of two trails and a spur over to the Big Spring Inn (a major destination for the ORV crowd). It was only 3 more miles to the Big Springs but we decided we could save that for another day. The Park wasn't open yet anyway. We retraced our steps, heading back, enjoying the trip west as much as the initial trip east.
We stopped for a late-lunch as we neared Thunder Lake Road fairly near where we had stopped initially. This time we chose a spot near the trail in a little patch of young beech trees, their rustling leaves keeping us company while we ate.
We chose the shorter down-the-road route this time, turning off the A-frame road at the first, most eastern, trail heading south towards home. Part way down we met up with an ORV that stopped and we had a nice chat with a neighbor, now retired, out enjoying the day. As we parted and continued our walk home we reminisced about the many times in years past we had met his Dad in these woods, out cruising the logging roads in his jeep.
Five and a half hours since we'd left home, and about 14 miles later, we walked in our door, marveling that we were no more tired than we had been after much shorter walks earlier in the winter. It was such a beautiful day, still sunny and relatively warm. So we dug out our camp chairs, set them in the sun by the woodshed, propped tired feet on stools and relaxed as the sun went down behind the trees. All in all, a really nice day.
April 2-4, 2021 -- Happy April! and Easter Cheers!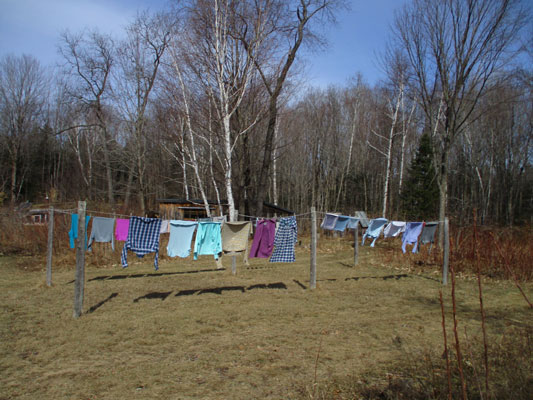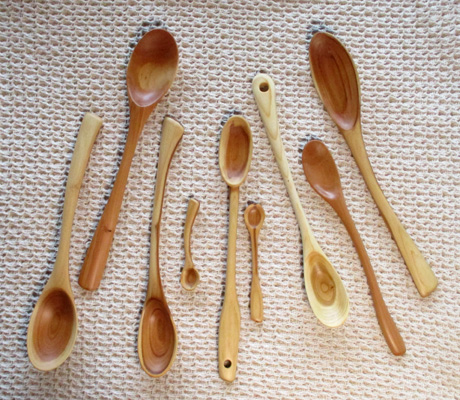 March 29, 2021 -- Changeover in the Shop
March spoons are shiny smooth, oiled, photographed, labeled, and added to the winter's inventory on the Spoon Page. All but one of this batch are of apple which really glows. But times are a'changin' in the shop. I hardly recognize it. Tools are sharpened and put away, chips, shavings and sawdust bagged, the floor swept clean, winter's accumulation of miscellaneous this and that have found other homes. And the woodcarver is now waiting for this cold snap to pass so the outer shop will be warmer and he can move out there to start working on his boat. He has a winter's worth of ideas to test out, and a new sail that needs a mast. There may still be ice on the bay, and we can't yet drive down, but boating season is coming.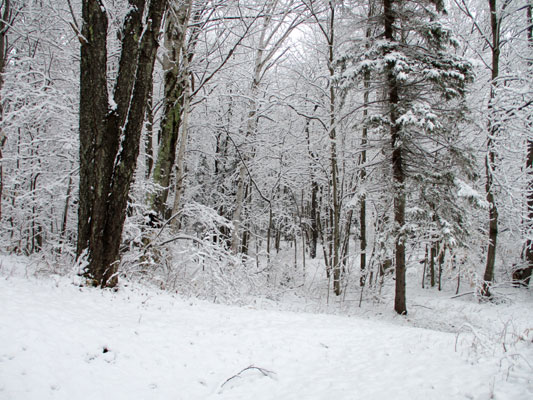 March 28, 2021 -- The Diversity of March
I think nature particularly enjoys having fun in March. We thought it was beautiful, waking up to the changed landscape. LilliB didn't agree. She stared at it through the window and waited until Steve shoveled the path before going out.
The scene out our back window...
Late wet March snows are nice because you know it will melt soon and you don't have to think much about whether you will work inside or outside today.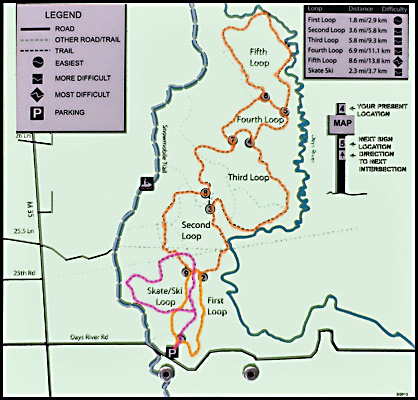 March 25, 2021 -- Bare Ground!
What a difference a few weeks can make. We had stopped by Days River a week ago on our way home from Escanaba (and a nice walk around town with friends) to see how the trails were looking - melting but still pretty muddy and quite a bit of ice and packed snow, so not yet. Two days ago, also returning from Esky and a nice long hike around town and through the parks, we stopped to check. Bare ground, though still some icy/snow patches showing. It's quite interesting how our criteria changes with the weather patterns. Today was cloudy, 28 degrees with a light NW wind, but no snow or rain or high winds in the forecast. Great weather for a hike, considering. Surely Days River would be clear enough now and we wanted to "finish" that trail, going all around including the Fifth Loop that we hadn't gotten to in December. The days being much longer now we would have plenty of time. And we felt like going on a longer hike.
After having an unusual stretch of warm weather in the 40's it took a bit of thinking to dress and plan once again for cold. I made and packed a lunch of hot spaghettiettes and we took hot drinks. It did get up above freezing but remained cloudy with that moderate north wind, which we were mostly protected from by the trees. We did get to take off a layer or two now and then but mostly it was pleasantly cool and we thoroughly enjoyed this wonderful pre-bug post-snow season. It was such a treat to walk the trail again with only occasional patches of icy snow. Thanks to the sandy soil the mud was minimal. We had the entire Pathway to ourselves except for a group of boys/young men we passed, carrying fishing poles and gear, obviously disappointed, heading back to the parking lot. When Steve asked how they did he got a mumbled "didn't even make it to the river", at least that's what we think the fellow said. I imagine the trek looked shorter on the map than in reality, and they didn't appear to be into hiking. Hopefully they found an easier accessed site to fish.
This is such an easy trail, just right for a longer stretch but with plenty of interesting ups and downs. As one heads north the woods get more pleasing, from the thoroughly managed, logged, and pruned red pine plantation of the first loop into progressively less logging, older, and more varied woods. It seemed that we kept heading up and up and up, with some downs, of course, looping along ridges through pines, then hardwoods, then mixed conifers, then more mixed woods. The crows pretty much kept us company throughout and we saw one squirrel. We stopped fairly early in the hike for lunch, being hungry and it being quite a while since breakfast, finding a nice downed log seat just off the path. Our spaghettiettes (spaghetti broken up into easier managed small pieces before cooking) were still hot. Re-fueled we hiked on.
The beautiful looping Days River comes close to the trail at several spots in the 2nd and 3rd Loops, running briskly down below, even though there is minimal snow melt to help it along this year. And the bridges over the creeks, now without their mufflers of snow and ice, are always a stop-and-admire highlight. Toward the upper part of Loop 3 we headed down and down into a magical world of bog and swamp with numerous small culverts and fill to keep one above the wet. The water was mostly frozen and the moss an eye catching bright green in a muted brown and gray world. We agreed now was the peak time to admire this section and it shone as a special gem, the moss very much alive.
The trail didn't stay low for long. Soon we were climbing once again, onto and through the really nice woods of the high ground Fourth Loop and onto the farthest north Fifth Loop. This northern part is well worth the walk to get to with such a beautiful woods, impressive large trees, and equally impressive high ground. The east and north part of the section follows the Days River and you can often look down (and it is very much "down") onto the brisk flowing, often fairly wide, incredibly loopy dark river and the narrow flood plain on either side. There are small rapids here and there so the audio adds to the joy of following along the River, especially where it turns in near to the trail. This Fifth Loop makes the Days River Pathway, for us, a particularly special trail.
After we made the turn around the tip and headed away from the River and starting back down the west side of the Pathway we stopped for a break and to finish our lunch. It was so nice to have mild enough temperature (and mild wind) that it was comfortable to take a longer sit-down break, instead of the quick snacks of winter. The spot we chose was apparently a particular crow's chosen territory. He let us know in an admirable array of voices and calls that this was his area and, I think, he (or she) would much prefer we just move on down the trail. So we did.
The west side was as enjoyable as the east. We once again ran into (or I should say, through) the bog area of Loop 3 and that beautiful moss, frozen but very much alive. The photo just doesn't do it justice but we did our best to admire it thoroughly.
Towards the end of the Second Loop the "Skate-Ski Loop" crosses and since we both felt good, though this was our longest walk yet, decided to add this extra couple miles to the hike. Now the entire trail is well marked (with appreciated new additional markers and signs at the previously confusing Fourth/Fifth Loop intersection). But I don't think they planned on hikers walking the Skate Loop, which in the non-snow months is a sandy two-track road through the plantation. It has few markers or signs and has a number of other roads crossing which makes it a bit challenging. Steve had to dig out the compass and get us going back in the right direction. We aren't real sure just where we went off but I'm pretty sure we added some extra steps to that "extra" loop. But we made it back onto the First Loop, back along the beautiful creek, over the bridge and to the parking lot, feeling good and happy for spending a wonderful afternoon, a little less than five hours and 10 to 11 miles, on the Pathway.
March 23, 2021 -- Town Hikes Can be Nice, too - and Finding Little Gems
Last week we walked for a couple of hours around Escanaba with hiking friends, enjoying spending time together and walking their home paths, talking about hikes past and those to come. One doesn't need to be on a woods trail to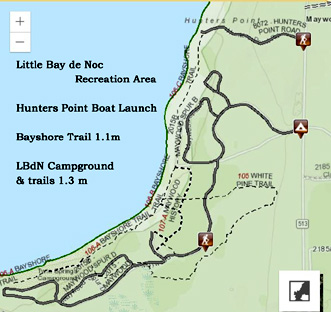 enjoy a hike, though all of us generally prefer the countryside. On our way home we added to the day by heading down Stonington Peninsula to check out the mile long Bayshore Trail along Little Bay de Noc as part of the Little Bay de Noc Recreation Area. A long name for a small area but it is very nice, including a boat launch and small campground with plenty of large trees and a series of footpaths between. The Bay was still frozen so with a breeze off the water it was rather cool and the trail was still snow/ice covered but we enjoyed an hour down there walking along the shore trail, which nicely separates the wooded camp sites from the marshy shore of the Lake, then around the loops of paths, stopping to read the many historical signs. It was fun to stop and visit this little gem which we'd passed so many times going down 513 to visit friends over the years.
Today we found ourselves in Escanaba again and while our car was getting an oil change we went for a longer hike around town. Although starting on pavement, having a need to stop by Stones deli downtown to get a scone for Steve (and they only had one left! whew, that was close...) and a cup of soup for non-scone-lover me, we soon were down by lakeside Ludington Park and off the sidewalks. For several more hours we walked mostly on ground, enjoying the pleasantly warm (for a cool March day), sunshine, and no snow. Along the park, out and back on the man-made nicely wooded Aronson Island, exploring the docks at the marina, greeting people also enjoying being out and about. We got back to pick up our trusty Prius before they closed having enjoyed a nice long town hike, making the trip a day's highlight instead of just a necessary chore.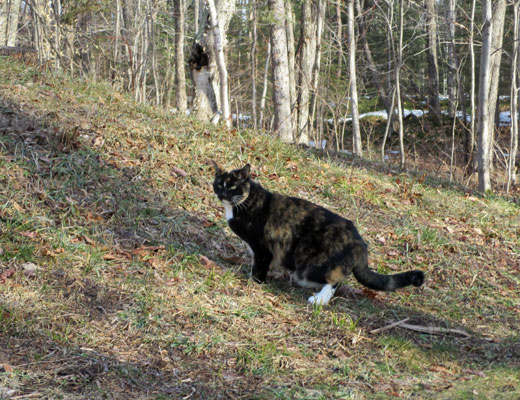 March 21, 2021 -- Happy Cat
The snow is receding fast leaving a lot of bare ground to check out and marks to renew. LilliB is thoroughly enjoying the beautiful day and almost dry ground. I'm glad she has her own in-out door!
March 20, 2021 -- Video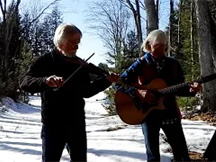 A beautiful sunny March day, destined for 50 degrees, and likely strong winds. And a used electric violin that Steve was interested in at the far eastern side of the U.P. A good day for a drive to an area we hadn't been. The violin looked good, we had a very nice visit with the seller, we got to see a different part of the U.P., very different in geology from our hilly central area., and the interesting, and soon to be full of traffic, St. Mary's River.
It was so nice out, especially in the sun and out of the wind. Steve wanted to try out the "new" electric violin (a Yamaha YEV 104 NT) and I brought along my guitar so we looked for a place to play. Between the wind and the snow it was a challenge, but when we stopped on the way home to check on my sister's camp there was our spot. It was warm and less windy in the lee of the building so we decided to try a video. No microphone and lacking needed rosin but it was fun to finally play outside and Steve got to experiment with this rather different fiddle. We chose a song we enjoy, words written in 1955 though the tune is likely older (some say it's an old cajun waltz) called "Before I Met You". LINK
Though hard to distinguish from the snow, there is a pretty, though still ice covered, lake behind us.
March 19, 2021 -- Going South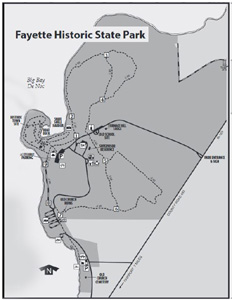 Going south to avoid the snow is a normal part of life for many in the U.P. so we decided to give it a try. We like winter and wouldn't choose to live where there was no snow but this in-between time is challenging for hiking. The snow is melting (very fast this year) but the packed paths are still pretty much covered with hard to walk slush, ice, or packed snow. So we headed south (about 26 miles) to Fayette State Park on the Garden Peninsula. We were pretty sure the snow would be gone there and (for the most part) it was. What a wonderful treat to simply walk on bare ground. A bit muddy in places (the snow melt was recent) but one could quite easily walk the dryer edges. Or not. A little mud was a small price to pay for easy footing.
We'd been to Fayette numerous times but mostly for the annual Heritage Day in August. In the early years, for many years, we set up our temporary shop on the site of the old Carpenter Shop next to the Blacksmith building and demonstrated using traditional tools, making spoons and other items. The blacksmith would be working on the other side of the building. There was music and other events and demonstrations and it was a great time. But funding cuts came until only the blacksmith was left. We did play traditional music there for several years, also enjoying that. And Steve has an even longer history having visited and explored the town-site with his sister, Nancy, in the early 50's back before much renovation had been done.
Our non-working trips have always been with company, enjoying the town-site with them but nothing more. Today however, was our day to discover the entire park. They have made a very nice layout of trails throughout the Park for skiing and snowshoeing in the winter and walking in the summer for a total of about 5 miles. That was our focus this trip and we enjoyed all of the various loops and sections, starting on the upper cliff trail along the harbor, from thick cedar to thin hardwoods, then thicker woods inland. The forest is naturally fairly sparse, especially near the cliff face, due to the very shallow soil atop limestone which can only support so much vegetation. It is common to see trees tipped over with their wide but shallow root system pulled out of the soil. The tree types are quite different than our own maple dominated woods with mostly oak here and some nice live beech which is always a happy occurrence. Maybe they have survived because they are a scattered species here.
With a good breeze coming across the still frozen water it was rather cool until we got inland. Then with clear sunshine coming through the leafless hardwoods we relished warmth! For lunch we found a nice large old birch log for very comfortable seating, in the sun, near a beautiful live large beech. It was hard to get moving when we were done! But there was more to explore. We walked the north trails and the south trails, all on high ground, reveling in the beauty and the hiking, until finally heading down to the campground by the water.
South of the campground is a very nice and well maintained park-within-the-Park, with a pavilion and playground equipment, picnic tables and restrooms. And one of the restrooms was open! This is a rare occurrence not only this time of year but this unusual "everything closed" year. The DNR gets extra stars for that. We sat in the sun on a picnic table and finished our picnic lunch. Then continued on south to the small picturesque old "Fisherman's Cemetery", Fayette's catholic cemetery. A lot of local names on those crosses and headstones.
Back through the campsite, along the road into the town, we walked around the familiar paths, remembering highlights of our past visits, seeing new renovation work, admiring the modern dock complex (nicely done), and to our surprise found an impressive new trash and recycling area. Having picked up a number of beer cans and pop bottles at the south park we deposited them in the appropriate bins, with appreciation, and headed back up to the car. It had been a very enjoyable and relaxing afternoon, with plenty of walking yet at a quite different pace than the usual trail hiking. An additional smile came with a sticky note on our windshield from friends who had pulled in after we had and saw us heading off and down the trail. Unfortunately we didn't meet up with them but it was a friendly greeting to get.
Not feeling like heading for home yet we drove on down to check out the small Sac Bay Park. Since Steve is thinking of taking a trip along the Peninsula in his expedition rowboat this summer he wants to know about good pull-out sites. Back home again we agreed it was a very enjoyable day.
March 15, 2021 -- Winner Apple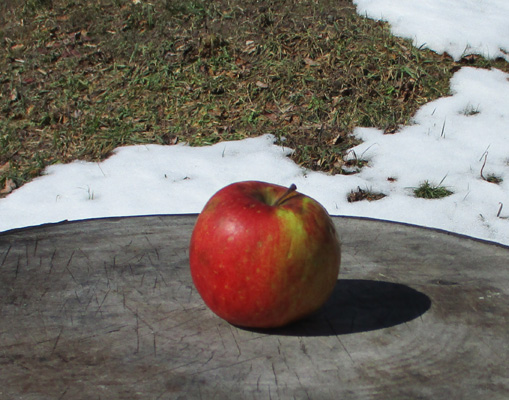 One last apple - the winner winter apple. We celebrated a "busy" five days* by enjoying the final apple of the season, fresh from the homestead (root cellar), a Haralson, in pretty good shape, especially considering its age, and very good eating. Won't be another until fall. Store apples just can't compare.
* 13-new moon; 14-time change; 15-ides of March; 16-our real Equinox and St. Urho's Day; 17-St Patrick's Day. Whew. Then a couple days off til Saturday, 20th-official Equinox day.
March 13, 2021 -- Around the Block, plus
It was a great forecast - sunny, high of 52 degrees. Wow! We'd walk the block, maybe take a lunch, go a little farther to find a spot to sit and bask in the sun. The roads would be clear of snow, maybe a bit muddy in spots but it should be good walking and we could leave the boots at the garage and continue on in shoes. It might be a strange pleasure but it's a real one. Well, it was indeed beautifully sunny and it made it up to 40 before we headed out (46 when we got home, according to the thermometer, the one not out in the wind). Maybe we didn't really expect 50's yet, but 40's was nice! The wind amped up a few knots to make sure we didn't expect to be out in shirt sleeves. It was strong enough that as we left the protection of the woods and headed down the road face into it we quickly amended our plan to possible just down the road and back. But we adjusted layers, covered ears and heads more thoroughly, and decided to just keep going. It was a SW wind but after 2 miles when we turned onto the west road there would be a fair amount of woods to give us a break.
The sun shone and we walked on bare ground for three hours (except for that part from house to garage -- still plenty of snow in our valley), and enjoyed the hike. We had occasional breaks from the wind thanks to trees or houses and walked on down Advent Road for an additional mile, as far as that road is plowed, then back. More traffic than usual, being Saturday and a nice day, so we waved at a number of passing cars and talked to the usual array of cattle. There had been a brief lull in the wind, much appreciated, and we found out why as we headed north. Wind change. Now that was unfair! What was supposed to be "wind at our backs" the second half was again wind in our face. Ah well, lots of woods on this road. Around the corner to the east and a bit chilly along those wind-swept pastures. In spite of it not being warm-warm, it was still warmer and we were both a full layer lighter in clothing than we had been all winter.
As we turned for the final north leg home the wind picked up to gale force, at least it felt like it. No ways about it -- it howled. It was a good thing it was in the 40's and not the 20's. Hats and hoods tightened we hunkered down and walked the last half mile into the wind, heads down, looking up occasionally to make sure we didn't run into anything (not that there was anything to run into). It was a relief to get to the garage and the protection of woods. Even more so as we headed down off the hill into our own woods, wind-tension and noise eased, warmth returned, nice to be home. It was a great walk, even counting the wind, over 8 miles and the first almost warm one of the year. We know there will be more.
March 12, 2021 -- Disappearing Paths
How the seasons of hiking change and our idea of "best weather". We've gone from looking for a warmer day to maybe a colder day would be good because the paths might be frozen and more easily walked, maybe without snowshoes. That was my thought for today since it was in the upper 20's. It was, as it has been recently, windy but we both were just going out for a short walk around our own Loops. It was afternoon and the sun had softened the snow quite a bit. Steve headed up to the mailbox on our well packed and still reasonably good path, no snowshoes needed. I headed out to LoopB, also without snowshoes, and found the paths out in the field, which hadn't gotten nearly the traffic as our main path, were in spring break-up mode -- patches of frozen, then soft, some both, not good with snowshoes, not good without, that time of year. There were starting to be some areas where it was easier to walk beside the path. With our lack of snow depth this year the snow melt will be fast.
This obviously will be the end of walking our paths until the snow is gone. We'll be finding bits and pieces of bare ground to walk on before long though -- already have around the house (to LilliB's great delight!). But I figured I'd finish, go on into the woods of LoopB then around to LoopA and back home. No extras today. The wind was cold but the sun was warm and it was good to be out. When I made it into the woods I lost the path. This section is higher ground and not a very dense woods, with a neighbor's farm field to the south. So the sun penetrates quite a bit, melting the snow around the trees, the melt spreading out from there. The snow in the woods was still frozen so I could walk anywhere. I had a nice time wandering around; it really is a pretty woods here.
I headed out into the field to find the path and head on around, back to rough footing but there is still enough snow overall to make it easier to walk on the rough path than slog through the snow since I was a'foot. Short walk was fine today because we plan a longer walk tomorrow on the inviting bare roads of our neighborhood.
March 9, 2021 - Valley Spur and the North Country Trail
The second day of our first real Spring Melt, with temps in the 40's and a stretch of sunny days. The snow was soft and melting and especially in the southern half of the U.P. snow sports season was over (unless there comes a good snowfall, which could easily happen). Even up north things were getting iffy. But on a trip to Marquette we tossed in our snowshoes in case we might be able to get a walk in somewhere. We could have just walked in town but decided to stop at Valley Spur on our way home.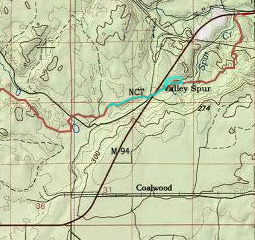 Even at home we had enough snow (we had snowshoed all our home trails in the soft snow yesterday to flatten them and with our wide snowshoes it was good walking) so knew the snow-belt VS would have snow.
The parking lot was icy-mushy, there was but one car but there was indeed still snow. We were happy to discover a sign that indicated two snowshoe loops -- the common short Bunny Loop and a longer 2.6 mile long snowshoes-only Snowman Loop. We slushed across the lot, put on our snowshoes and thankfully found the snowpack to be quite walkable. Though the trail was well packed it was flat and not too icy. It was warm enough out to soften the top layer which helped a lot. The trail goes through a very nice mixed, not-logged (at least not for awhile) woods with plenty of elevation changes and a beautiful creek. Whoever laid out the track must have had a good time weaving in and out and around trees of all ages. The one thing that keeps this trail from a five star rating is a very steep downhill section with trees and a sharp curve at the bottom that even in better snow conditions would not, and was not, snowshoe friendly unless one has technical shoes with sturdy crampons and rails which not all snowshoes have. Our classic wood frame laced bearpaws definitely don't! There were a few other uncomfortable steeps downhills as well but the majority of the path was enjoyable to walk with plenty of ups and downs to give one's legs a pretty good workout. Since much of the snowshoe trail is near to the road there is traffic noise but at some point one gets away from that and you can feel lost in the beauty of the woods. Then the trail heads down to wind along near the beautiful Valley Spur Creek. Steve remarked that "Next time we're going to have a creek on our property!". We wondered if we could dig one.
Though hazy/cloudy there was occasional sun and it was an amazing upper 40's. A brisk wind stayed up in the top of the trees so we were plenty warm. We got back to the parking lot after a very nice hour long walk to find the other car's occupants changing footgear after their skiing. They were from downstate and had been making the most, and maybe too much, of their days up here by skiing no matter the conditions. They said this morning was more or less OK but this afternoon was pretty sticky what with the soft snow and beech leaves on the tracks which they said act like little brakes (we could have used some of those on the snowshoe trail!). But they were obviously enjoying the trip and we had a nice chat. We mentioned the North Country Trail which runs through Valley Spur and on across the road and it turned out one of the men had volunteered on the NCT near where he lives. We shared similar experiences, told them how to get to the nearest auto parts store and hardware, wished them well then slogged on across the wet slush, across the road, to check out the NCT. We still had some leg energy left so thought we'd walk a little ways there.
Right next to the trail is a Forest Service road that is a snowmobile trail in the winter. Snow from the entrance to that road/trail had been plowed up blocking the NCT trail. But there was a clear fresh NCT marker visible beyond and we knew the trail was there, or at least had been. It had been ten or fifteen years since we'd been on that trail. We clumsily (in snowshoes) climbed up and over the bank and were disappointed to find no one had walked this beautiful trail section. We had an attachment here as we had spent many hours, many miles, and many muscles those many years ago clearing trail. We couldn't keep up with the work that was needed (it was far too long of a section for two people) but we had marked the trail from Munising to Rock River Road west of AuTrain and felt good about that. Well, we certainly knew this trail and knew how to break trail so off we went.
We immediately felt contentedly at home. We recognized places on the trail. This section of the NCT is simply beautiful through mixed hardwoods and spruce/fir/red pine forest. The snow was settled enough that it was fairly easy walking. After a short distance the trail crosses the Forest Service Road/snowmobile trail then heads down into a low area (which we remembered well). And we happily discovered snowshoe tracks. Folks had apparently been walking down the easy snowmobile trail to get on the NCT here. The tracks were slightly narrower than our bearpaw shoes but the snow was soft enough on the edge to not be a problem. And there had been enough traffic for easy traveling but not so much to make the trail icy. With the top layer of warm-softened snow it was a joy to snowshoe. We walked through the marsh and carefully crossed two small bridges with even narrower snow tops, hoping not to slip off into the water (successfully). The little bridges were nice as I'm pretty sure there were just logs across before. Then back up onto higher ground.
This trail was made by and for hikers. Up and down and around through the hilly terrain and mixed forest we snowshoed, farther than we had planned, and if we had had more time and less tired legs we would have kept going. But at the half hour mark we turned back and made our way along the now even better packed trail to the road as the sun went lower into the trees, enjoying the back track as much as the initial. This trail most definitely gets five stars and more. When the snow is gone we will be back to re-acquaint ourselves with this special trail. Meantime, there is enough snow that there may be some more good snowshoeing opportunities, depending on what the coming rain and more above freezing days does. We did our bit of trail work, too. Or rather Steve did. We had a metal shovel in the car so Steve came back and chopped and lowered that plowbank so the next snowshoers can easily get on and see the trail entrance here.
For being a town day with just a bit of walking planned to stretch our legs we ended up with a two good hikes and ready for a rainy day off tomorrow.
March 8, 2021 -- Inexpensive DIY Custom Drink and Food Container Kozies
Steve has had a neoprene kozie on his favorite insulated stainless steel coffee mug since soon after he bought it. He happened to find a real nice tall one at a thrift store that fit perfectly. It wasn't for warmth that he wanted it, this particular travel mug does a great job of keeping his coffee hot, but mostly it was for a better fit in our car's cup holder and to keep it from rattling.
But when we began hiking regularly in the cold weather it soon became obvious that his kozied mug was doing a much better job of keeping his drink hot on the trail than my insulated, but bare, Klean Kanteen water bottle. Up to now I hadn't been impressed or enticed by his "hot" coffee mug, since my preference is for comfortably room temperature drinks (except for maybe a bit of "quite warm" herb tea in the morning, or after a particularly cold, windy outdoor gig). I decided I needed to up my Kanteen's insulating factor. Happily those common, inexpensive, ubiquitous, logo'd foam kozies happen to conveniently fit easily our every-day insulated stainless steel Klean Kanteens (Steve has one and I have two). So I soon gathered a supply at the thrift store, picking through the pile for some that weren't too obnoxious in color or logo, to cozy up the KK's. Steve's KK is his secondary drink container (carried inside his pack), while I used both of mine, one in and one out.. When it is colder they both travel inside our packs, being warm being more important than convenience.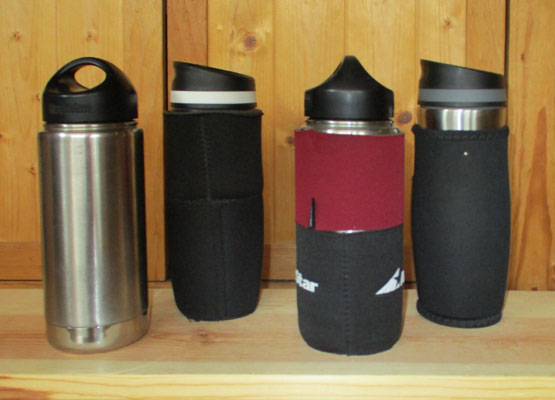 The first Kozie conversion was simple -- slip one on the bottom, cut a second to size and slip over the top to settle up against the first. The fit was pretty good on the KK's. Steve wasn't picky and didn't much care what color or logo. I fussed a bit about it until I realized all I had to do was turn them inside out -- they were all black on the inside. A couple were much nicer smooth fabric and were made of better foam, but I never found many of those. So I used one nicer smooth one, and one cheaper textured one. All I wanted it to do was keep my drink warm in the cold and I figured that would do. The seams being on the outside did bug me a little though.
The kozied bottle that traveled inside the pack was fine. But I soon discovered a problem with the "current use" one that went into my pack's stretchy outside pocket. When I shoved the bottle in, the top kozie slipped off, and when I pulled the bottle out, the bottom one came off. This wasn't an issue with Steve's tighter one piece cover on his coffee mug. Obviously I needed to unite the top and bottom, and do it with a smooth transition so there would be nothing to catch on the top of the pocket. I thought about tape but didn't think it would work that well. I decided to sew the pieces together.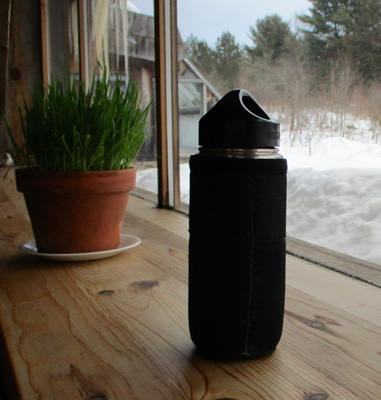 It took a bit of trial and error, though not as much as most of my projects this winter. But I came up with a fairly easy conversion from cheap can kozie to Sue's-Custom-Insulated-Winter-Water-Bottle/Travel-Mug-Cover. I realize I could simply have purchased some nice neoprene material and saved a bit of work and have a more elegant finished product. But we both like being able to use what we find at the thrift stores; and support their missions at the same time. It's more fun.
So two Klean Kanteens, one travel coffee mug, and one Thermous Funtainer Food container later, I ran out. I had to shop at a different thrift store since I'd wiped out the kozie supply at two others, plus Steve's private stash in the shop (he uses the foam for this and that). But I've now restocked and ready to do our other Funtainer, and maybe the lid, too. We still have some cold weather hiking before warm weather settles in. For DIY instructions click HERE (to go to a longer article on the Hiking--Food & Drink page). It's nice to have a quick and easy project once in awhile.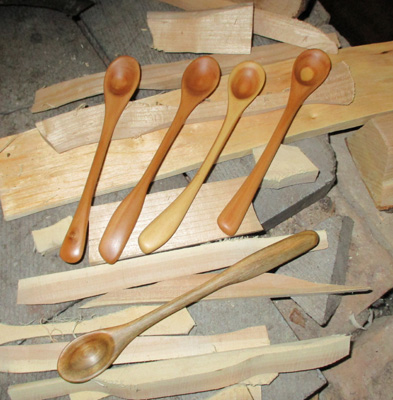 March 6, 2021 -- A Request for a Baby Spoon
A friend called and said he would like a baby spoon for a coming granddaughter, possibly in time for the baby shower, a week away. There were none in stock, but Steve decided he could do that. And apple would be the choice wood, being smooth, hard (for when said baby is older and has teeth) and a beautiful color. Not having any apple wood on hand he went into the woods and found a tree that was a good candidate. Just in time for the shower he had five spoons for the grandfather to choose from. Then he went on to make a few more.
March 4, 2021 -- A Quick Walk at Days River Pathway, that was the Plan
Since we we'd had a good work-out with yesterday's hike this was a no-hike day. But it was so beautiful out, clear blue, sunny, almost warm and Days River was right on our way home from a trip to Esky. We'd just stop and see how the trails looked. And maybe a quick loop around the snowshoe path would be nice to stretch our legs.
Pulling into the parking lot we got an instant hint at the conditions -- solid ice. We walked (carefully) over to the trail-head and were sure glad we hadn't planned on skiing. The trail was packed smooth and icy. We could easily walk on the ski trails without causing any problems, if we wanted to go skating. The snowshoe trail wasn't much better but at least it was bumpy and there were those stumps here and there to give you an occasional footing. It was just too nice weather to not go for a walk. There was still that cold north wind so we put on our layers and our packs and made our way along the snowshoe trail. I often took to the edges, preferring to hole it in the snow (it wasn't nearly as deep here as up north at Bruno's Run), and I wasn't the first to go that route, but Steve skated and slipped along the trail. It did seem much longer than it used to be! But we decided to make it to the snowmobile trail and maybe that would be better walking.
We did, and it was. We crossed the bridge and headed north up the road-wide trail. Ahhhh. Well, maybe it wasn't quite that good but it was much easier. There had been just enough snowmobile and ATV traffic to leave tracks for reasonable traction. And we were in shoes today instead of firmer boots so it was even more pleasing. It sure wasn't ideal snowmobile conditions but fine for us, and we weren't the first hiker to make use of this wide trail. Just before we got to the trail we saw a fat-tire bike go by (with its rider). The temperature was near to 32 and where the sun hit the packed snow it was just slightly thawed. This made for great walking. We had to slow down for a bit more care in the shade because it was icier but over all it was great. It felt so good to just walk along with normal stride. With the clear blue sky and in and out of the sun, well, we just kept going. And there was enough of that cold north wind to keep us alert. We admitted it would be a little longer than a quick walk.
We came to the first of two small bridges over the winding creek, this one with a small pool of open water on either side as it ran under the roadbed through a large culvert, coming and going beneath the ice and snow covered creek. Stopping to admire it we admitted it was hard to take a good photo though it is such a beautiful sight, the dark water against the white snow. We had taken several photos before. But a great deal of the beauty and attraction was in the sound of the water and that just doesn't come through in a photo. So Steve did a short video, free-hand to see if we could share a bit of that with you. Click on the photo at left (and turn your volume up) to see and hear it. Use your back arrow to return here.
Walking on we crossed the second small creek (this one was completely frozen) and a ways farther it was an hour out and time to turn back. In a way we felt like continuing since the days have gotten longer and more time before dark. But this was already a lot farther than we'd planned so we turned back, enjoying the return trip. Though the sun was often in our eyes the wind was now at our back and it was much warmer. When we got to the turn-off to go back via the Days River Snowshoe path we took a quick glance at that icy trail and continued on down the snowmobile track which conveniently goes right by the parking lot. A quick rough walk to the ice-rink parking lot, carefully stepping to the sun warmed car, and we settled in for the ride home, happy and satisfied with our "little" two hour walk.
March 3, 2021 -- Checking out Bruno's Run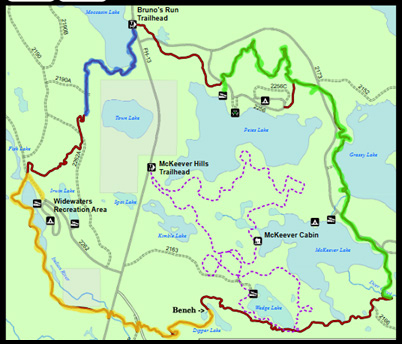 The forecast was for partly cloudy (which we read as Partly Sunny), low 30's and light wind. This would be after a zero degree night which meant the trails would be well frozen. Should be easy to walk. We decided this would be the day for a hike. We could go here, we could go there, it didn't matter, we just wanted to go. Well, the night was indeed cold and there was a little bit of sun now and then, but not much. Temperature pretty steady at 27 degrees and the wind was quite a bit more than "light", and from the north. Still, it was a good day for a hike. It wasn't raining or snowing and no mosquitoes. And to top it off the roads were pretty much clear. For a winter day it was really nice. We decided to head north and walk another piece of Bruno's Run, where there would be only hikers and snowshoers, and likely not many of either. We put our snowshoes in the car, just in case, but planned to hike in boots. This isn't a good trail for the larger wood snowshoes like our old Iverson modified bear paws.
Off we went for an afternoon on the trail, starting at the easily accessed and plowed Moccasin Lake turnout right on Hwy 13. They had more snow up there but we hoped there would be tracks to follow and previous hikers to have packed down the snow. There was one vehicle in the turnout but with an empty snowmobile trailer it was obviously not a hiker. We had planned to head east and go to Pete's Lake where we had begun a previous section of the trail in December. But when we crossed the road and headed up the steep hill on the other side, between the two posts that designated the trail, all we found was deep snow. Someone had walked up there previously but it was soon obvious that they didn't know where the trail was, and neither did we. The Hiawatha National Forest folks aren't big on markers. Well, even if we could figure out where the trail was we weren't going to hike in knee deep snow. We turned back to the car and decided to check out the other direction around Moccasin Lake.
The trail wasn't exactly obvious as a very large bank of snow had been plowed up almost hiding the official "Bruno's Run" sign. But we'd walked this part before so knew the trail, at least the first part. We climbed up and over the bank and found a number of boot and snowshoe prints marking the track. Glad there was a least a partly packed path we followed them down along Moccasin Lake (the blue NW trail section on the above map). We soon found that though it was easier than postholing through deep snow this wasn't going to be an easy trek. There hadn't been much traffic, a few hikers and one snowshoer, so the path was not packed down evenly and it was frozen -- slippery in places, softer in others, uneven, and deep if you slipped off the path. Once again our ankles got a chance to show their stuff.
But this trail is beautiful no matter how the track is. It winds up and down and around through a hilly mostly maple forest. The first part of this section goes along the SE and bottom of Moccasin Lake then off into the woods. It had snowed some since the previous traffic and there was some drifting but the tracks were easy to follow, which was good because it wouldn't have been easy to find the trail otherwise. The Forest Service had marked a couple of spots where one could easily have gone astray which was nice but mostly the trail is unmarked. We prefer not to have too many trail markers but one now and then is helpful, especially in the woods. But we had our intrepid snowshoer to follow. Even when it didn't appear to be the correct way we decided to follow him (turned out it was a trail re-route and he was correct). This fellow didn't have it easy. He was on regular wood-framed shoes, smaller than our bearpaws but still larger than the plastic or metal small shoes one can buy nowdays. Booted hikers naturally make a fairly narrow path in the snow and they had gone on before him. So to follow the path he had to walk with one snowshoe on the traveled trail and one beside it. We saw where he had taken his snowshoes off and tried walking without, but he sunk in quite a bit and apparently decided to go back to the snowshoes. This would have been when the snow was softer. Once, where there was room, he walked alongside the trail for a ways in the deeper snow but before long he was back to the one-on-one-off track.
His wasn't the only snowshoe tracks we saw though. There were quite a few trails and tracks of the large-footed snowshoe hare.
We hadn't seen those anywhere else (except at home). We also saw the usual coyote, fox, rabbit, squirrel and grouse. They add a lot of life to a winter's hike. Because of the more challenging walking we ended up stopping more often to admire a track or a tree, or nothing in particular. As we've found on other trails there were more people tracks early on but just a few later which made the walking even harder. And then, about 45 minutes into walk, even those few turned back. Suddenly it was only the snowshoer -- he was free to shoe at his own pace and his own trail and he sure did. You could feel it in the tracks --freedom! And you could also see that he had long legs and a long natural stride. Steve could stretch out his stride and walk in these snowshoe tracks. But I suddenly found myself with an on-again-off-again uneven rhythm. Up and down, into the deeper snow, onto the snowshoe pack, a few steps one way, a few the other, sliding and slipping, and and not at all gracefully. What a workout. It wasn't all that easy for Steve either. I soon called for a time-out. Then decided to keep going since we were close to our unofficial hour turn-around which wasn't too much longer.
Then we came upon a surprising thing, there, in what seemed like the middle of the forest, was an information placard. This one had been here some time and it was quite interesting; it seemed to fit in.
We knew we had been walking along a short section of an old rail-road spur. They are fairly common in the Upper Peninsula (we have one on our property). They are narrow, fairly straight with minimal elevation changes, and you can see the cuts in hills and filled sections in valleys and lowlands. When you think about the equipment available to build these rail beds at that time, and the many miles made, it is quite impressive. This info-sign told about the rail bed we were walking on -- the Nahma & Northern Rail Line, owned by the Bay de Noquet Company, to move the timber from up here to their mill in Nahma down by Lake Michigan.
You can click on the photo to see a closer readable view (use your back arrow to return here).
We walked on just a bit farther then with a bit of a relief turned back. When walking a track in the snow the return trip is usually easier since your previous tracks will have somewhat packed down the path, especially with two people's four feet. But this was not to be. The snow, though now quite settled, had been soft to begin with and was cold. The earlier traffic had occurred on a warmer day. But today, instead of our tracks packing the snow they simply churned it up. We found ourselves now walking, and slipping, in a sifty layer, much like walking in deep soft sand. And still dealing with the previous rough tracks. But it was still a beautiful surroundings and we were enjoying ourselves. It was almost a relief to get back to the icier early section though the north wind had picked up and we felt it along the more open section by Moccasin Lake. When we got back to the car we agreed we were glad we had come but it sure had been a work-out.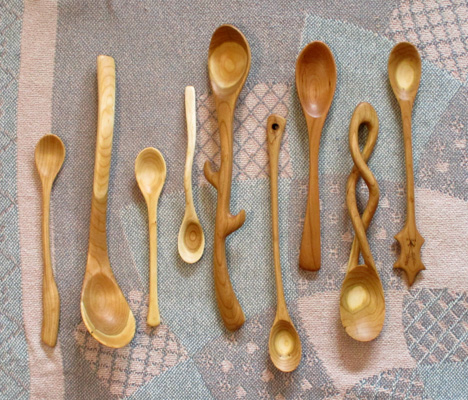 March 2, 2021 -- Steve's February Spoons
It was quite a creative month in the spoon carving workshop! And lots of of chips and shavings for the woodstove.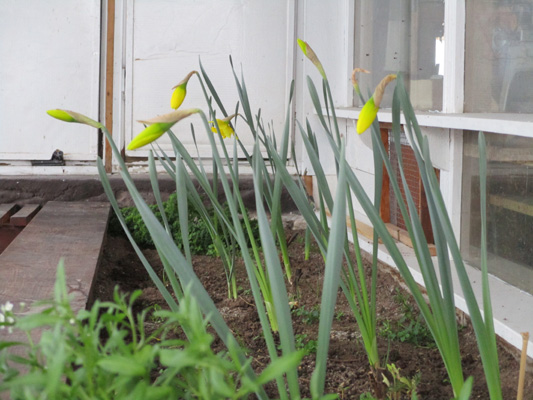 March 1, 2021

-- Ready for a New Month
February 27, 2021 -- Hint of Spring
Not everyone can get excited about muddy roads but this was a beautiful sight to us. Clear blue sky, above freezing temperature, and roads clear of snow -- so we went for a walk around the neighborhood block. The wind was a bit brisk for the first half and it was wet and muddy and slushy (the snow wasn't completely gone on the other gravel roads) but it was a real nice 2 1/2 hour hike. We had changed into shoes at the garage so enjoyed walking without boots and on (mostly) unfrozen ground. Good wool socks were a must! But it's starting to be that time of year - frozen one day, wet the next, and often both at the same time. We appreciate having the road to walk on, though our paths are still in good shape. The sun felt warm, especially when the wind calmed down which it did for the second half of our walk.
As on our previous neighborhood walk there wasn't much human action, just one four wheeler out for a ride. But one of the horses, a beautiful older beige colored draft horse, walked calmly over to the fence for a gentle nose skritch, which Steve obliged. The mature cows we saw didn't pay us any attention but the herd of young heifers had a few hot shots who tried to rile up the group as we went by, but their companions were more interested in eating. And a small group of young bulls always show interest but we didn't have anything for them but to say Hi and remark on how great they look.
Half of our block-walk is pavement but the snow has been plowed far enough back and it has mostly melted enough at the edge to allow walking along the grass-firmed shoulder. This was wet but not so muddy on the dirt road and not so hard as the paved. We wandered back and forth finding the best path. It was just very pleasant to get out and soak up that almost March sun, even if the only skin exposed is our faces (and on Steve that's a limited amount of bare skin to do the soaking!). We're not quite ready to lie out and bask in the sun yet but considering the coming weather forecast we were real happy to have this day for a walk.
February 26, 2021 -- New Trail!
I happened upon a new trail mentioned on the Manistique Tourism Council website. They had information on several area hiking and cross country ski trails and I spied one I hadn't heard of -- Ashford Lake Pathway, a DNR nine mile, three loop cross country ski and hiking trail. And only 30 miles from home! We definitely had to check this out. I couldn't find any other information on it online, including at the DNR website. There is a boat launch on Ashford Lake and that was listed, but not the trail. But the Manistique site included a map and the Pathway looked easy to find. So when we had to go into town yesterday we decided to take along snowshoes and packs and drive up to see what this not-promoted trail looked like.
It was a good day for it - just below freezing so the snow wouldn't be too sticky, cloudy but not much wind. We found the trail head, or at least what we assumed was the trail head. It was a generously plowed out area anyway and at the right spot on the road. There were no signs, no trail markers, no outhouse. Well, we didn't really expect the latter, though that is always a nice touch. And the tower noted on the map appeared to be in the wrong place but that can happen.
We walked over the lowest plow-bank and there did appear to be a set of ski track. And it looked like a snowmobile had been through and packed down the trail earlier. Though it had snowed since they had been there we could still see the tracks. We decided this had to be the trail. We'd follow it anyway and hope it was. So we put on our snowshoes and packs and followed the light track of the skiier on down the path, hoping they had only gone on the 3 mile Loop1. We didn't want to inadvertently end up on the 6 mile Loop 2, or 9 mile Loop 3. But without any trail markers it was a possibility, especially on a trail we weren't familiar with.
We found the area to be nicely rolling with various aged mixed hardwood stands, some more recently logged than others, most quite thick with young re-growth, a few thin areas. We could hear a processor working not too far away so it appeared logging was ongoing [later in the walk we came upon logging equipment and pickups parked by a plowed road that the trail crosses]. But it was a pleasant woods to walk through and the final southwest part of Loop1 in particular went through an older, not recently logged and really nice woods. According to the map the trail does go near to Ashford Lake but we didn't see it.
The snowshoeing wasn't too difficult, though we did trade off leading and breaking trail. The ski tracks faded now and then but they were easy to follow. There were several trails or logging roads that crossed the main trail but they were snow covered and hadn't had any traffic. We really appreciated the snowmobiler and skiier having gone before to give us something to follow!
The map was good and we made use of the compass now and then to confirm we were on the right track. And the skiier (and snowmobiler) had indeed gone around Loop1 and not headed off onto Loop2. The wide trail (likely a logging or ATV road) was well cleared so someone has kept it up. And the parking area was large and well plowed. We speculated on the lack of signage or information. Was this an old trail that the DNR has abandoned? Maybe someone local is keeping it cleared for local use? Maybe this is simply a "primitive" trail, kept cleared but no extras. Whatever the reason it was a very nice trail, we appreciated it being cleared, and we enjoyed our walk. Three miles was plenty for us on snowshoes but we plan to go back when we can walk the ground and see if the other Loops are there and find-able.
When we got home we looked up the area on Google Satellite Maps and found the missing tower. The old "radio tower" noted on the map was gone but you could see the small cleared area where it had been. There obviously has been a newer and much larger tower built since then (it is quite obvious) but it is to the west instead of east of the trailhead. One can only see traces of the trail on the Satellite image and there are different logging roads but that would happen since those temporary roads come and go over the years. But M94 and Ashford Lake and the trailhead parking space is there the same as on the old map, though the small loop of road around the old tower which was labeled "tower road" is now called "Ashford Lake Road".
February 22, 2021 -- New Loop
Steve went out for a walk on our east path a few days ago and decided to make an additional loop off to the south-east, easy to do in the snow. Well, maybe not exactly "easy", breaking trail in a couple feet of snow but at least a lot of the usual growth is buried - no mowing required. Of course, that doesn't include blackberry canes - there would need to be ten feet of snow to bury them, though in a heavy snow year like last year they can get bent over. Steve just avoided those brambly patches. A lot of the new trail goes through our SE woods which is really nice. It's an area we don't usually go to often except for cutting firewood now and then. But we love our mixed hardwoods forests and enjoy being in them.
After a few trips around by both of us the path is pretty well packed and should be easy to find after a snow. We decided we now had enough to make our trail "official" and designated: LoopA (original east loop), LoopB (the new southeast addition), and LoopC (north/west perimeter road). Then there is the walk up to the mailbox/garage/road but that is everyday and not a real loop. And we have the trailhead (the house) and the beginning path (out to the garden gate). We're conveniently guessing each loop to be about a half mile.
This is a "primitive" trail, with no signs, no maps, no trail markers. Some of the trail is "seasonal", as in it will disappear when the snow does, unless we decide to mow, clip, and clear it. We have enjoyed the first LoopA path that Steve created last summer and kept mowed and clipped of brambles. We walk a lot across the rough fields and through the woods but sometimes it's nice to take a quick hike around without getting wet or dealing with brush and brambles.
But right now we're enjoying having our own snowshoe/hiking trail right out our front door.
---