August 1, 2022 -- Happy Berry August!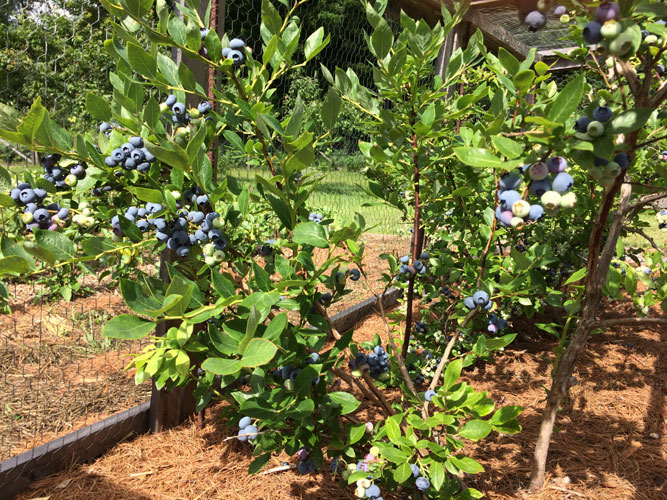 The strawberries have wound down, the raspberries picking up steam, and the blueberries are busy ripening in their bird-free enclosure. Not that I blame the birds for wanting to eat them but I figure they can enjoy the wild ones, and the raspberries, which they do. Plus any of the luscious tame ones that get too close to the chicken wire barrier. But there are plenty and the fruit bowl on the table is always full.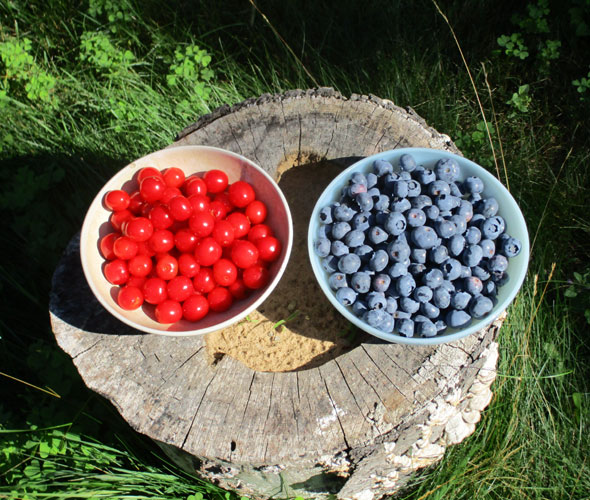 It's been several years since we've had tart cherries to harvest but this year the five year old Evans cherry tree did a nice job of getting them back into our world, and it is a very welcome homecoming! The cherries and blueberries together make a great flavorful sauce. It is a bit more of a challenge to encourage the birds to go for fruit other than those beautiful bright tasty orbs on the small Evans tree but I did my best by tying flashy bird-scare tape all over making it look a bit like a Christmas tree. I think it is working only because we have a very light bird population this year (I assume closely related to the very light insect population this year) though there have been some bird bites. Since we have a Robin still nesting in one of the apple trees in the orchard, and a pair of Cedar Wax Wings that I think just fledged two young, I have no delusions of keeping all eaters out of the cherries but I do want to have a good chance at a harvest for the humans, too. So far so good. As the tree grows and a few other cherries bushes and trees come into production there should be plenty for all. Meantime, we're getting a very good share and enjoying them thoroughly.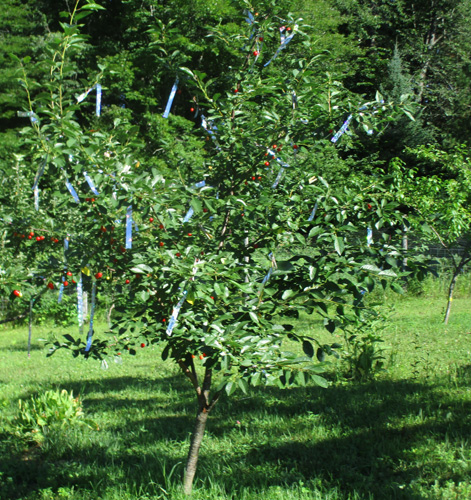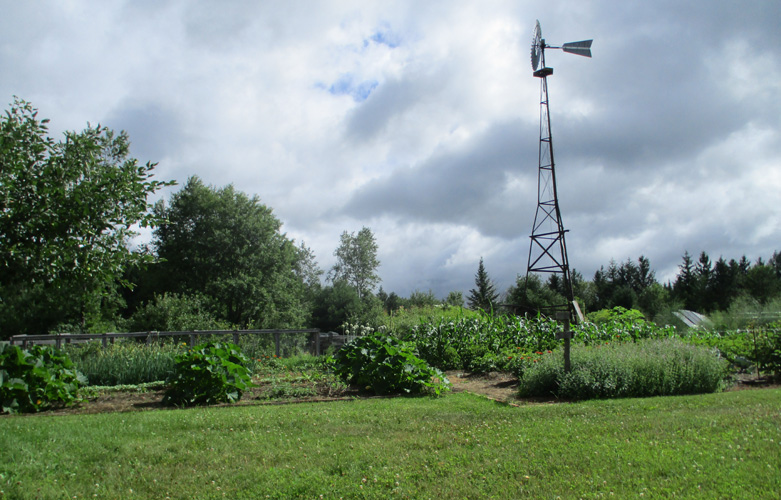 July 29, 2022 -- Garden Joy
This year the entire garden is growing and producing with enthusiasm and joy. I think it appreciated the cooler spring and early summer (as did we!) and has been embracing the much warmer summer as well. With just enough rain to keep things going it amazes me every time I walk into that world. I know -- I'm enthusiastic about the garden every year! But this year every single crop seems to be having its "best" year. And the orchard is doing its best to keep up.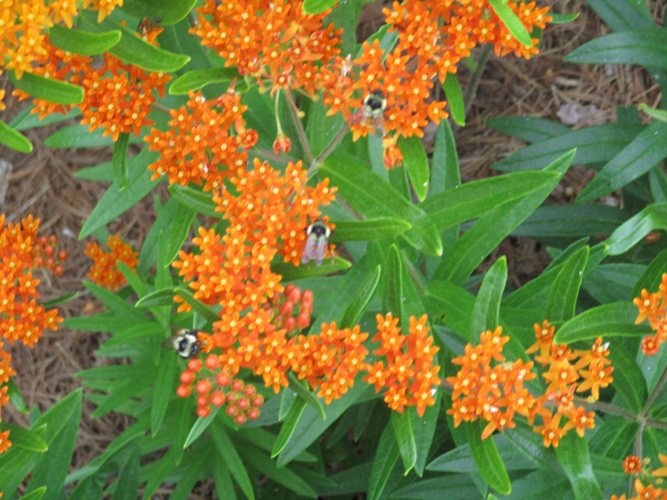 July 28, 2022 -- The Bees Knees
I'd planted some Butterfly Weed seeds a few years ago when adding additional perennials to the garden and orchard but hadn't thought much more about them. A few small ones grew and flowered last year, interesting but not all that noticeable. But they were healthy and expanded their space and size so that this year when they flowered there was no passing them by without notice! Which I certainly did, and so did the bees. I don't think I ever see the flowers without at least a few bees and usually many. They love them and so do I. What a cheery addition. I haven't seen many butterflies visiting the blooms yet but then we unfortunately have very few butterflies this year.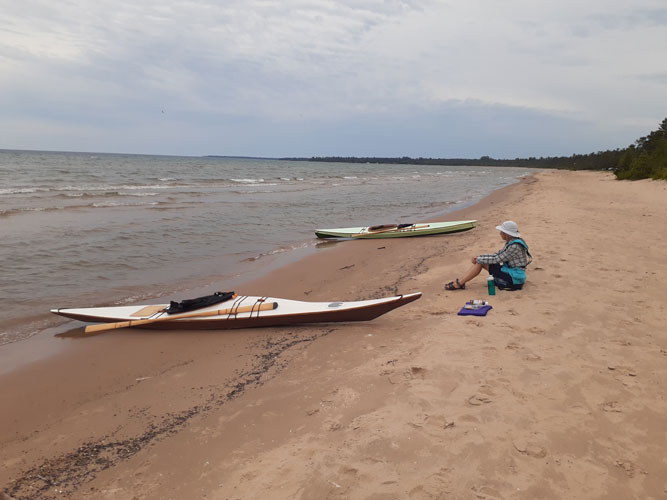 July 23, 2022 -- Beach Visit of Another Sort
July has been very full as Julys should be - plants, trees, birds ever growing and maturing, and some just starting. We've enjoyed many evenings walking the cooler beach along Lake Michigan. But this evening we decided to bring our kayaks down to the old Thompson boat launch - no longer a boat launch but a fairly short carry to get the boats to the water - to paddle instead of walking. There was a nice south wind that felt good after a hot day. It did make for a rather rocking-rolling ride along the shallow coastline. It was fun to see the beach from the water after having walked along there so often.
When we got past Rogers Park we headed ashore for a late sandwich dinner, both managing to get hung up on a long sandbar a little ways out from shore (did I mention it is quite shallow along here?). But we poled ourselves off and with the wave's help beached the boats. Though it was somewhat windy the extra waves and swells came from a fairly strong storm that had gone through (or was happening) south of us down the Lake. It hadn't been a very calm paddle and it felt good to take a break.
There had been an early summer alewife die-off this year, which sometimes happens along Lake Michigan shores, spreading the dead (and odorous) small fish along some beaches. But recent storms here had thankfully swept the dead alewives either out to sea or farther up the beach to dry out. So we enjoyed our break on the expansive beach, with only a little bit of sand blowing into our sandwiches.
Both the wind and waves had picked up while we sat and after the fairly long day of working on the homestead we decided not to fight the waves to paddle back. Instead we pulled the boats farther up on the sand and walked, as we have done so many times, along the beach back to the west end at the old Thompson boat launch and the car and trailer. It was nice to stretch our legs. As we had beached the boats not far from Rogers Park we simply drove the car and trailer there, pulled the kayaks along the nice shallow basin of water along the beach back to the Park. Another short carry across the sand and we were loaded and on our way home before dark. A very nice ending to a wonderful summer day.
We recorded this song last year but for several reasons wanted to redo it. And today's sunshine and warm breeze seemed to fit this strong gentle soul-filled song. To me it is a love song for those who have lived happily and closely together for decades. It is different than my usual preference for cheery songs but we both like it and the gentle tune. It is straight from the heart.
Written in 2002 by Guy Clark and Shawn Camp it is a song that catches your attention, and possibly a few tears. We didn't have a magnolia tree but we did our best with one of our favorite apple trees for a back-drop. The wind happened by just in time. Click HERE, or on the photo to go to the YouTube video.
You can find a list and links to all our videos on our Music Video/Audio page HERE.
July 5, 2022 -- Summer Blossoms
It seems that Spring flowers get most of the attention, which is understandable after the cold, white winter. But summer certainly has its share, though maybe they get a bit overwhelmed being surrounded by all that lush intense seasonal green. There are some surprises that can get overlooked unless they catch your eye and attention as you hurry by. This is one such: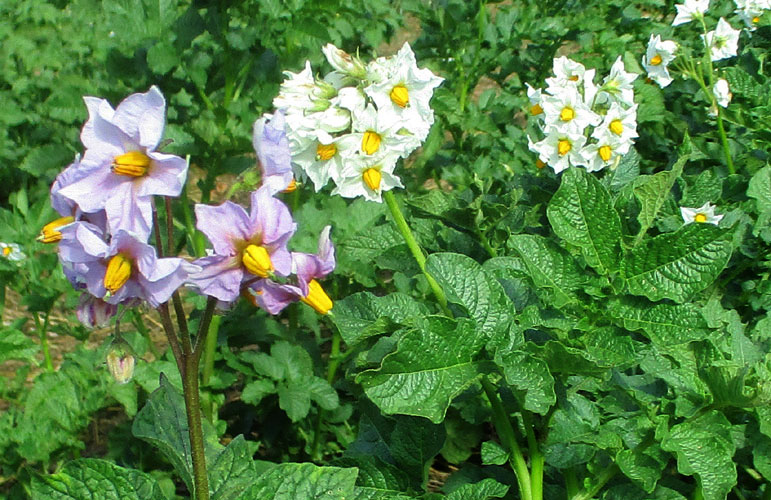 Potato blossoms. Not all potato varieties blossom (or set seed) but in one plot I happen to have three varieties, two with pink blossoms (red skinned potatoes) and in the center the third variety (white/yellow skinned) with white blossoms. They don't last long but they sure dress up the potato patch.
The "regular" flowers are doing wonderful, too, and I do notice them. These being in the upper plot of the garden where I walk by regularly get a good share of my flower attention appreciation: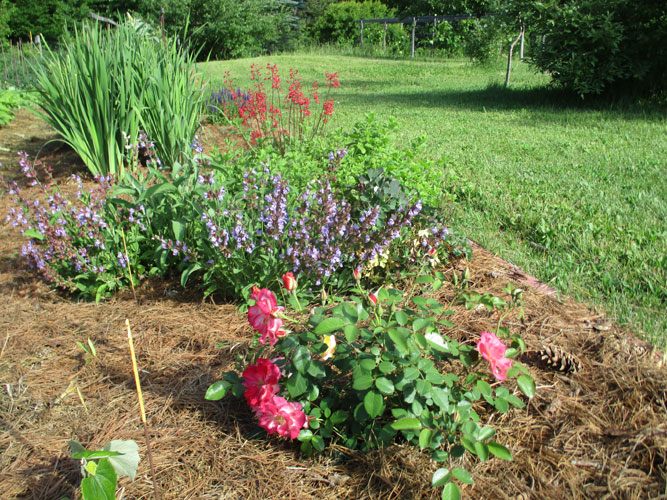 There are more, of course, including a great array of wild flowers. Not being a "flower gardener" it sometimes surprises me to have such an abundance of blooming going on in my garden and orchard! What a fun time it is.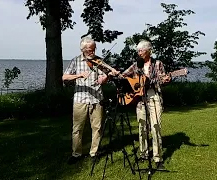 June 26, 2022 -- March Into Summer
We headed over to our favorite inland lake for an appropriate setting for our beginning-of-summer video -- the Scottish song "Loch Lomond" and traditional pipe and drum march "Scotland the Brave". Our Loch setting is nearby Indian Lake where we enjoy at least a few hours a week in kayak and row boat all summer, more if weather and life patterns allow. I've made a few changes to the words of Loch Lomond to make it better fit my happier feeling of the tune and the song, which leads naturally into the cheery Scotland the Brave. Wishing you all a cheery and wonderful summer! Click HERE, or on the photo to go to the YouTube video.
You can find a list and links to all our videos on our Music Video/Audio page HERE.
June 20, 2022 -- Hay Time!
The temperatures suddenly turned warm, lightning bugs arrived to announce that summer is officially here. For us it means (in addition to a few other things) that it is time to get the hay off the fields and into the garden. It came on us quickly this year, maybe because we had been dealing with frost warnings till now when suddenly they were talking hot with temps in the 80's. But the vegetation knows the routine and the grass was flowering right on time and it was time to mow.
Steve has an old walk behind sickle bar mower that he manages to keep in service. Actually, it's not "old" since it's the same age as I am; it's just been around awhile. But it still cuts hay (which for us is simply whatever mixed vegetation is growing in one of the tree-free spaces on our property). The field was mowed, left to dry a few days, raked into windrows (I get involved at this point), raked into piles ...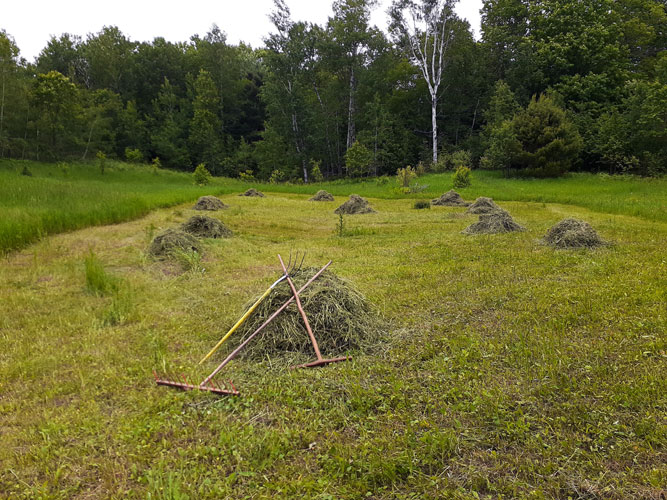 ... then hauled to near the garden. I like this project. Sometimes it's hot and dry and dusty, but this year we wanted to get it up and moved before a rain storm (we did get a nice inch of rain) so it was a little less dry and heavier. But the job got done.
Well, most of the job. It's been moved to many small piles in the garden paths, ready to be placed around the growing plants (and in the paths, too). My goal has always been to get the garden all mulched by the first of July and it looks like this year that will easily happen (depending, of course, on all of life's and Nature's little surprises). But the garden is growing and becoming, the orchard is thriving, the berries doing their thing right on schedule (we just ate our first early strawberries!), many birds are intent on their second brood and some on their first, insects abound. Life is good on the homestead.
June 11, 2022 -- Peacocks Amongst the Turkeys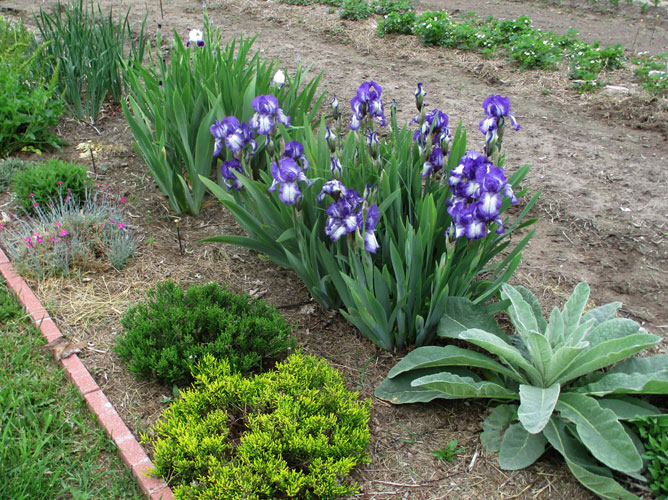 That's how it feels, and maybe a bit embarrassing, that almost formal display, a bit outrageous in my humble veggie garden. It started simply enough, a gift from a friend, a spontaneous purchase at a local nursery when buying more prosaic sage and thyme plants. I knew nothing about Irises but the picture on the display looked pretty. I stuck them along the fence in a mostly shady spot with little care and a lot of competition. They didn't much care for that but they did give me some blooms. Wow, those were pretty! Then the nursery plot opened up space as trees and bushes and plants were transferred out to their permanent spots. I didn't need another veggie bed so I moved all those odds and ends from the fence row to the "new" perennial plot in the garden. Good sun, good soil, good care. They thrived, along with everything else, to surprise this not-a-flower-gardener with this abundance of beauty.
This is definitely a Year-of-Bloom. It seems everything that can bloom is doing so, with abandon and gusto. Apparently we aren't the only ones who are thoroughly enjoying this cool Spring. In the background you can see the strawberries also in bloom, in a much more sedate manner. But when the fruit comes along they sure will be the top dog!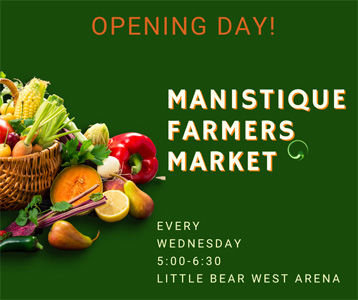 June 8, 2022 -- The Market Begins!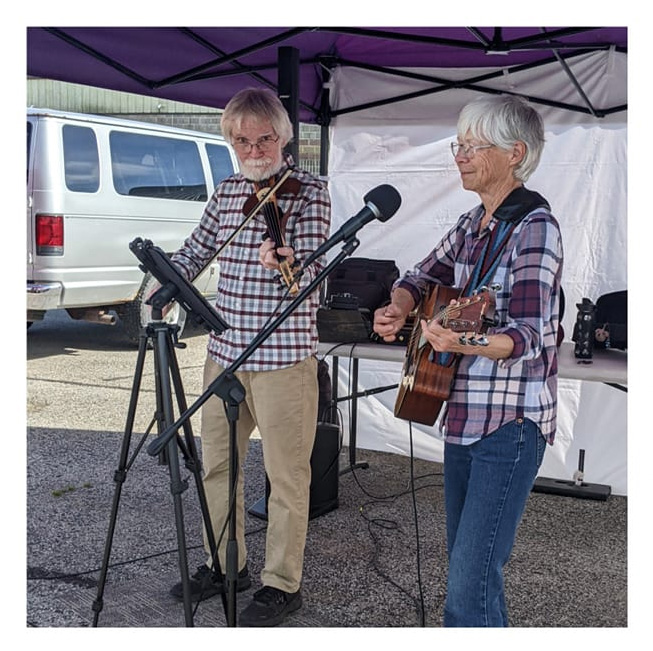 Today the Manistique Farmers Market began its 13th year and we began our 10th of providing music for customers and vendors, every Wednesday through September. The weather was beautiful, mid 60's, not too aggressive a wind, and a lovely partly cloudy-mostly sunny sky. A great start to this annual happening and we were happy to be there. There were some changes this year as the management of the Market changes hands but it was the usual good vendors and happy customers. The hours were changed to 5:00 - 6:30 pm. For us it meant playing straight through for an hour and half, instead of the former 2 hours with a break in the middle, which worked out fine. And we ended up at the head of the layout instead of our usual back row and that felt fine, too. All in all a nice beginning to a fun season.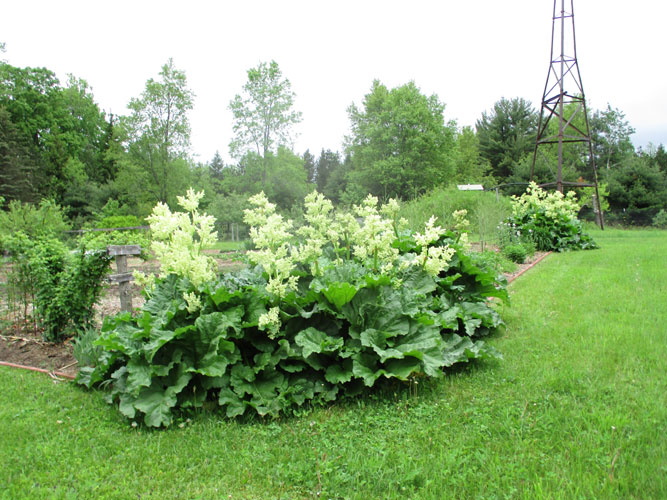 June 6, 2022 -- Another Blooming Machine
Every day it seems something new is blooming with great enthusiasm, which is wonderful for the pollinators and for us. One of our most reliable and impressive bloomers in the garden is the humble rhubarb. Many people cut these off right away but I've never seen a need to do that. Our plants provide us with more than enough stalks for sauce (which we look forward to and appreciate every spring) and I let them have their display which this year is more impressive than usual. The flowers are absolutely abuzz with pollinators of all kinds and sizes so it is not only an eye catching visual display but an audio one, too! Maybe the rhubarb isn't as humble as we thought.
June 1, 2022 -- Blooming Time
The apples are doing their best to make up for last year's wipeout, when we got a hard freeze during peak bloom. Though there are many cool nights forecast, and likely a light frost, the weather looks good for a successful year. I think every year that is able is participating in the blooming orchestra, starting with the hardy and anxious crabapples. Here is MrC, a delicious "wild" lunchbox size crab x apple cross growing near the house. A Robin thought it was a wonderful tree as well, building a nest nestled next to the trunk on a low branch and successfully filling it with baby robins.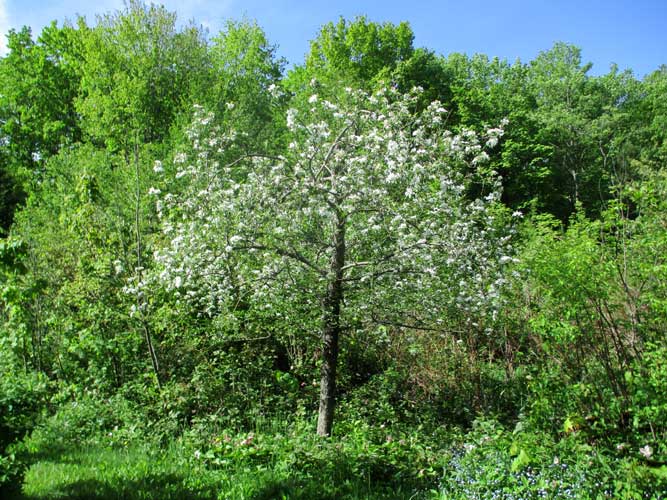 All the regulars are coming along as well, each with their own timing. We are thankful for the older trees that provide us with so much fruit, but there are several new comers this year that give an extra excitement to my regular tours of the orchard. Only a blossom or a few here and there but they are all varieties we've never tasted. Of course, a blossom doesn't guarantee an apple but already I'm enjoying imaging biting into these new apples. Two that hail from Maine are Tater House (discovered growing on the side of an old potato warehouse) and Smokehouse (a seedling found near the grower's smokehouse, but maybe also named for the color of the fruit). They are both young trees. I'd love to let them set fruit but I think Smokehouse is too young and sparse yet so I'll nip those off (once I'm done admiring them). But maybe Tater House, being older and sturdier, can handle one or two apples.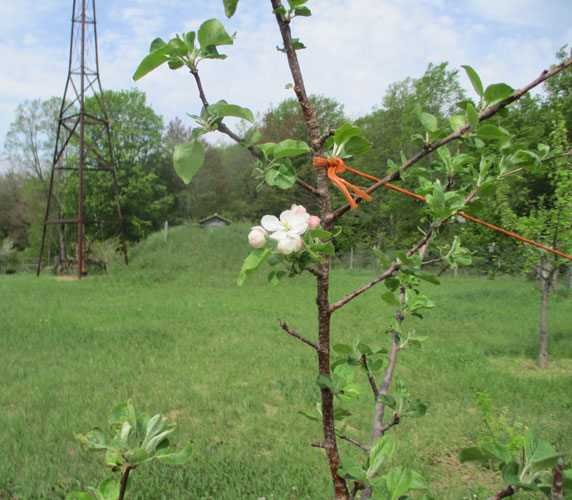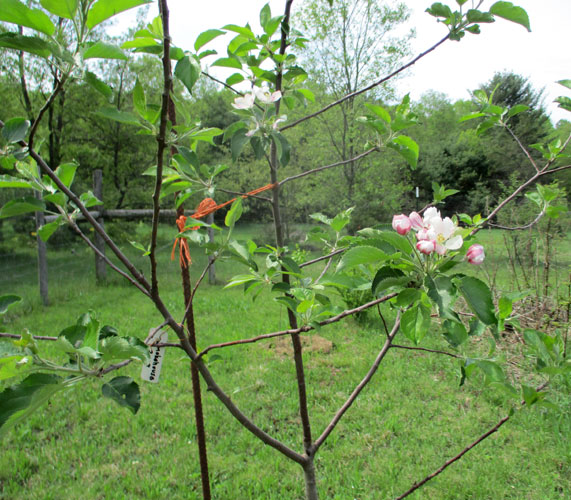 Then there are a couple trees or branches who have given us a taste of one or two apples in the past years but are getting into fuller swing this year. Here is the naturally small tree Frostbite sporting a nice set of blooms.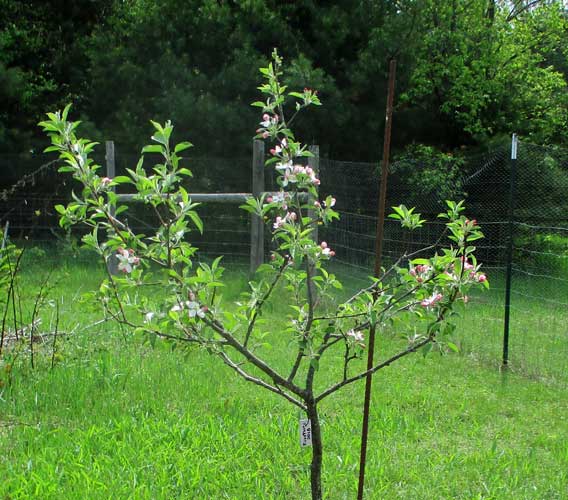 But it's not only the apples who are showing off -- our Lilacs are making a very big show of support for this cooler, more U.P. like Spring. I'm sorry I can't include the fragrance along with the photo! This one right outside our front door...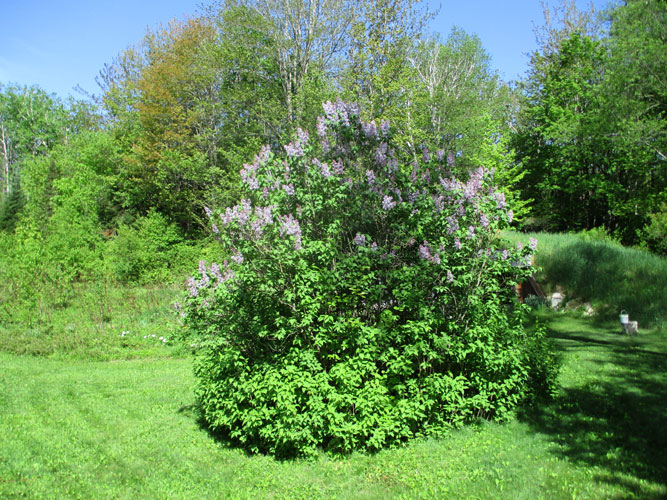 And this large original bush provides beauty and sweet lilac whiffs in the garden and orchard. I marvel that this incredible patch started from a little 8" twig some 40 years ago. How time does fly.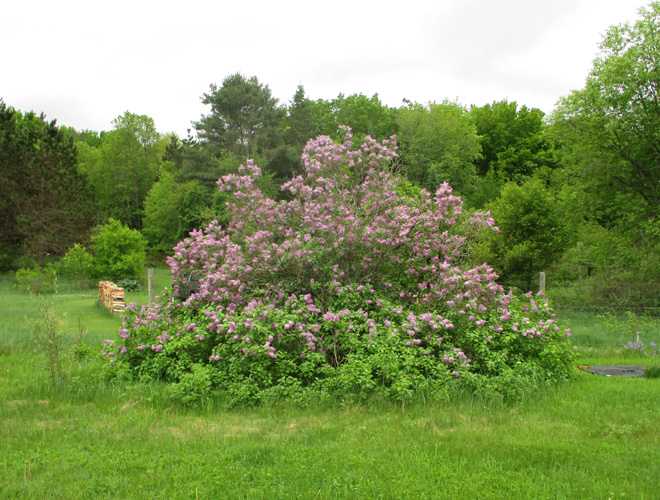 May 30, 2022 -- Seasons and Memories -- There Is a Time
Memorial weekend seems appropriate for this song not only because of the memories but for the time of changing seasons which this spring seems to be happening every few days! When singing this song I often think of Steve's family's connection to the AuTrain Falls, River and Power Plant where his Mom and Dad first stopped by and stayed in the small cabin on their honeymoon, becoming good friends with the Operator and his wife. The family continued to spend Augusts thereafter for many decades, through Steve and Nancy's growing-up years. Their Mom's ashes were spread at the lower fork of the River below the dam where she and their Dad had spent so much time fishing. The River makes several cameo appearances as background in the video since we decided not to brave the black flies to record on site!
"There Is a Time" was written in 1964 by The Dillards' Rodney Dillard and Mitch Jayne, known by many from their appearances on the old Andy Griffith Show as the Darlings, where this song is also performed. I changed a few words and the arrangement of the verses for us and we enjoy playing it. Hope you enjoy our version: LINK to YouTube Video, or click on picture above.
May 14, 2022 -- Nature is Blooming
And so has the orchard started. I was in the orchard looking carefully at the pears to see what new grafts might have blossoms, and hopefully fruit, this year when I turned around and to my surprise there was a young Nanking Cherry in full bloom. I didn't expect it so I hadn't noticed it. I looked around and two others are beginning to open their blossoms as well. Fingers crossed that we are through with the freezes (it does happen!).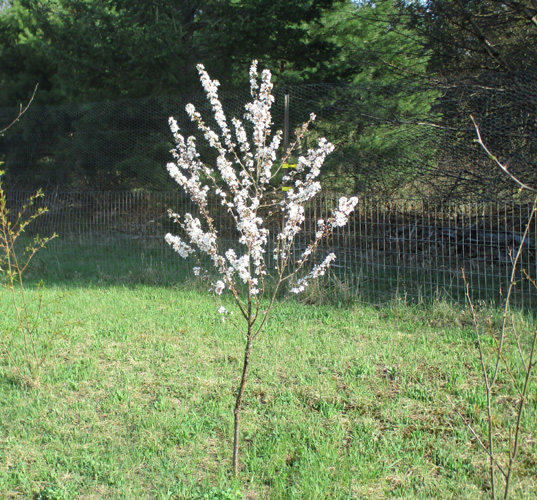 What I did expect to be blossoming are the Haskaps and three of the older (but still fairly young) bushes are doing a good job of it. Two more will be coming on later. These bushes and blooms are very hardy even if it should frost so we're fairly assured of a good fruit year. It looks like it will be worth it to cover them this year to keep the birds from harvesting most. They like them as much as we do, since it's one of the first fruits of the season. I'll have to leave it up to LilliB to patrol the perimeter and keep those pesky chipmunks away.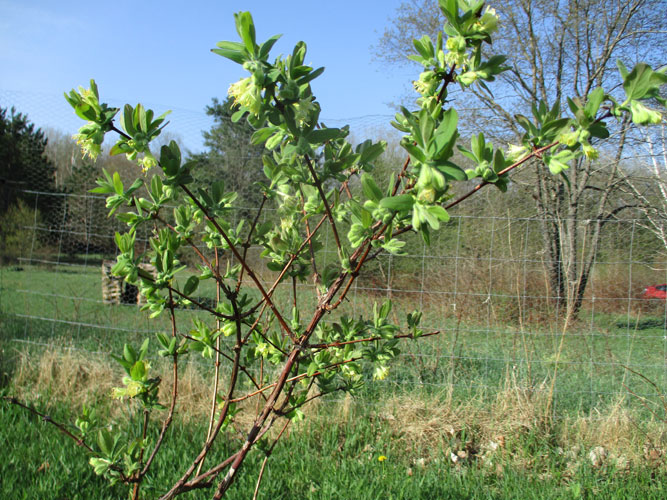 Of course, the insects don't have to wait for fruit to enjoy the bounty and there is more activity every day. A male Hummingbird has even arrived! What a beautiful world.
May 3-4, 2022 -- Getting Used to Bare Ground
Our hikes are usually shorter now as our attention is drawn more toward working/playing on the homestead. But we fit in walks whenever we're out and about. And we are very much enjoying walking on bare (as in no snow or ice) ground. The photos may not be as spectacular, actually down right common, but the change was a welcome treat to our feet (and us, too). And the "no bugs" yet appreciation high. First a few loops at Days River, then Rogers Park and Thompson Beach the next day, almost on our way home. Such nice walks.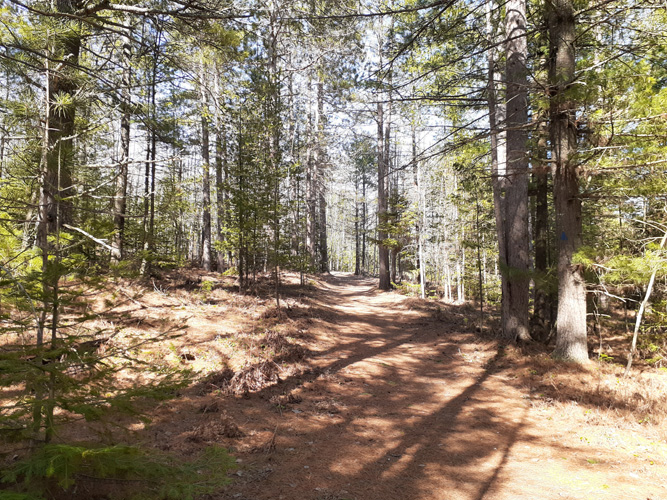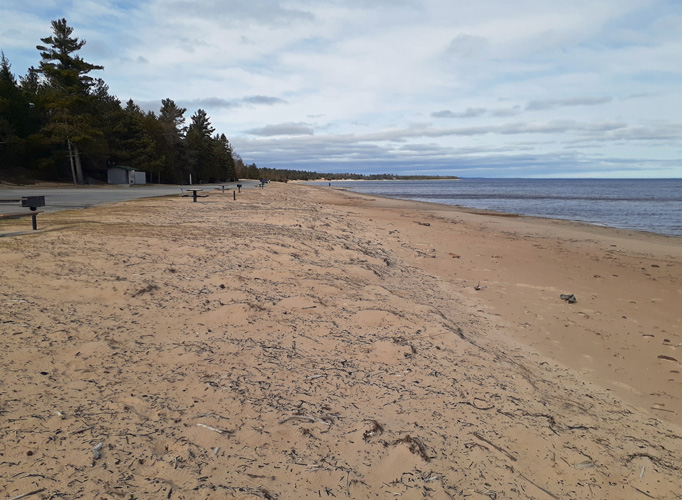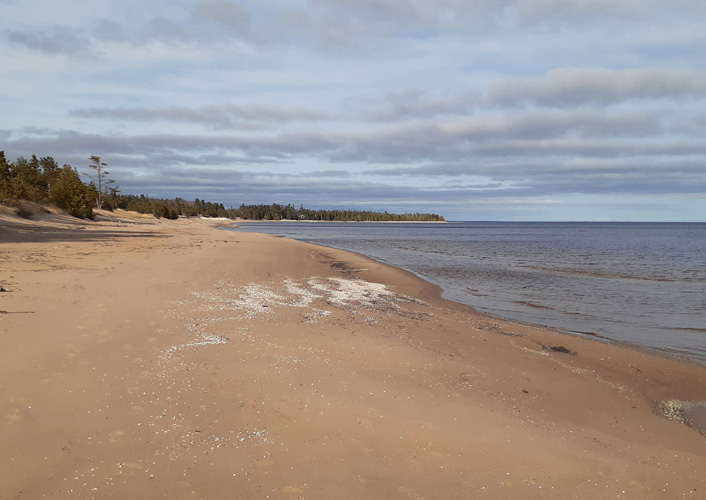 April 25, 2022 -- Month of Changes
One certainly can't accuse April of being boring! We get to experience all the seasons of the year this month. But mostly our lives change from indoor focus to outdoors, whenever the weather allows. The snow is gone, our car has switched from winter-4wd-Subaru to non-snowy-roads-Prius which is now parked by the shop ready to go without the walk up to the garage at the end of the road (and at the top of the hill). The days are longer, night (and supper) comes later. I've been busy pruning trees and Steve's been busy in the now easily warmed boat shop, plus all the fun spring projects outside. Lilli keeps busy checking out all the new activity in her territory. The bluebirds arrived four days ago and the swallows two days later. So many new birds that I don't know but I sure enjoy. It's a beautifully noisy world out there!
The greenhouse is filling up with the new generations,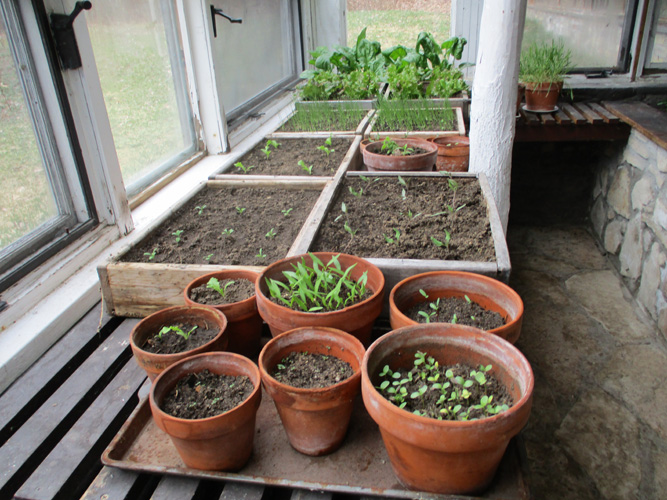 While those that waited patiently all winter for spring to come now have the warmth and sunlight to grow with enthusiasm.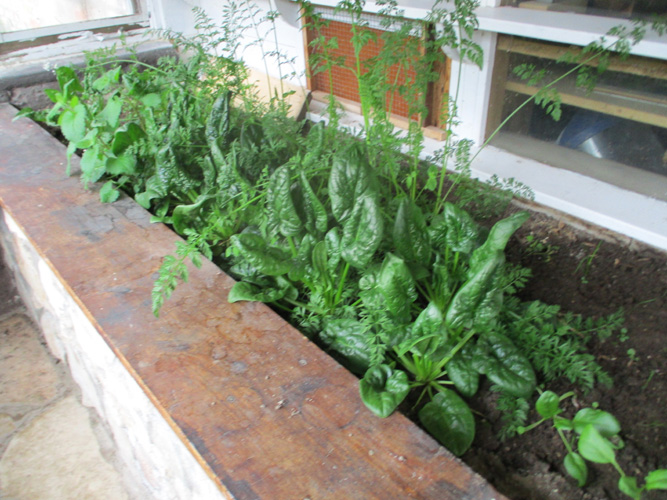 And the new grape cuttings are showing signs of vines to come as they get past their sticks-in-the-dirt phase.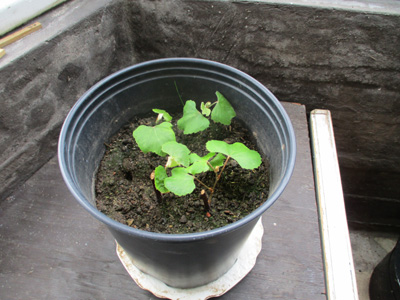 The temps go up and down and there is still snow in the forecast now and then (and still patches in low shady spots) but it's April. If there is any temptation to whine a bit about the cold or precipitation or spring gales that interrupt our outside projects all we have to do is mention -- NO BUGS!! -- and it is suddenly wonderful conditions outside.
April 11, 2022 -- Sunny and 55 degrees!!
Warmest day yet! We made the most of it, doing this and that, just happy for the day and being outside. I even planted some lettuce and spinach in the garden, spent time in the orchard, and enjoyed all the growing chorus of bird songs and sounds.
April 10, 2022 -- Beautiful Spring Day
This was the first day that really felt like the beginning of Spring. Sunny, mid 40's, mild breeze. But the biggest change was the fastly spreading bare ground. Finally we could look out (in certain directions) and not see any, or very little snow, though there is still plenty of snow in the low south woods (and on our driveway). Steve cleared the rest of the brush off the shop roof (barely showing in photo but he's there), and happily found only one dent and no more holes, then turned to the inside for the change-over to "boat shop". I happily hung out laundry, then started pruning in the orchard, small things first - gooseberries and Nanking cherries. They all got through winter in good shape.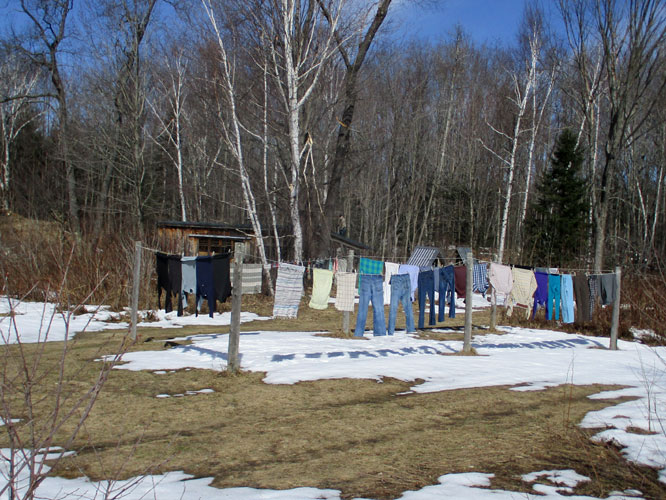 Finishing the day with a walk on the Thompson Beach has become almost routine. A bit of a cool wind but a beautiful sky and almost no snow on the ground. The mass of snow-ice chunks had moved out (off around the point to the west) and the ice "barrier ridge" has narrowed and flattened even more.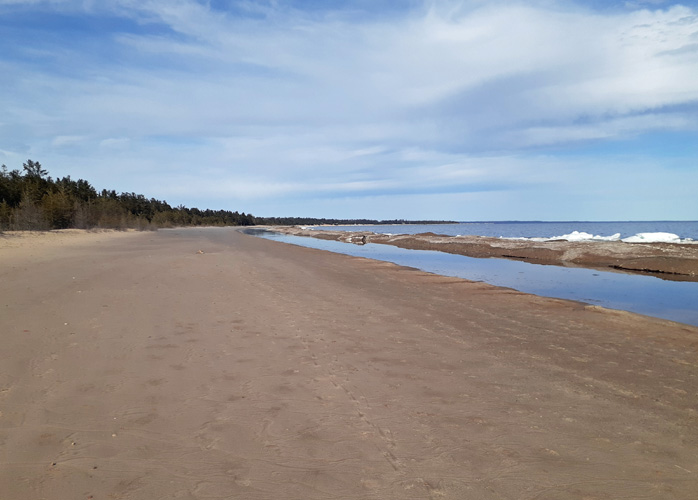 But the Bay finally made its break through the barrier! The final breakup has begun. With high winds forecast these coming days I expect it won't be long before the area is clear. For now the varied condition and size of the strip is still an interesting focal point of the beach for us.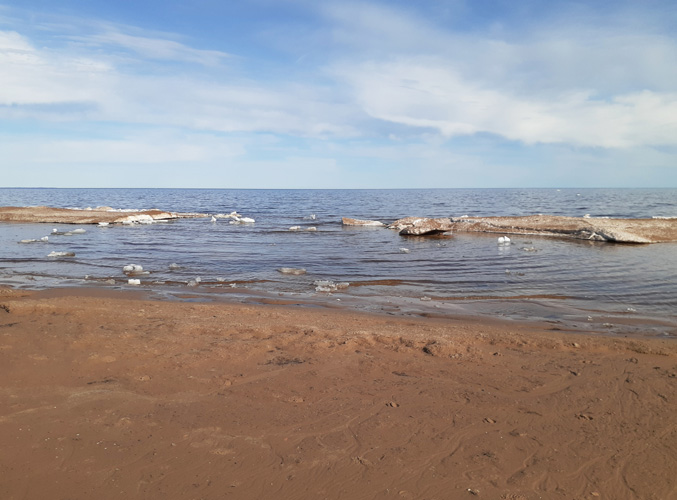 April 7, 2022 -- Ever Changing Landscape
This past week has been one of changes in spite of the ongoing "wintery-spring mix" weather. April 1 arrived with freshly snow covered ground (again) but wonderful (rare) clear blue sky and sunshine. A two hour walk on Thompson Beach refreshed us with snow covered sand on the west end transitioning to mostly bare sand on the east. But the Bay was the highlight. The frozen shoreline had flattened out with only a few mounds left, and chunks of small icebergs were floating out into the rich blue wet water (and no camera with us). Two days later we headed down to walk on bare sand the whole way - wonderful though a bit strange feeling to have that wide expanse of sand here. But the the previous clear Bay was chock full of ice! The wind had shifted and blown all those bergs back into shore (and again no camera...).
Two days again (April 5), cool and cloudy but no precipitation, we headed out, first to Days River but then to Thompson. The beach was happily still bare of snow with very little left along the woods. But now there is a significant band of water running between the beach and the narrowing band of ice and melting mounds. We decided one could almost kayak along that edge. The sand is wet and firm and easy and a delight to walk on. But the Bay was still full of ice, though one can now see clear water beyond. The brisk wind coming off that expanse of ice chunks was quite chilly in spite of some sun cheering the late afternoon so we cut our usual walk in half, happy to turn back with the wind at our backs.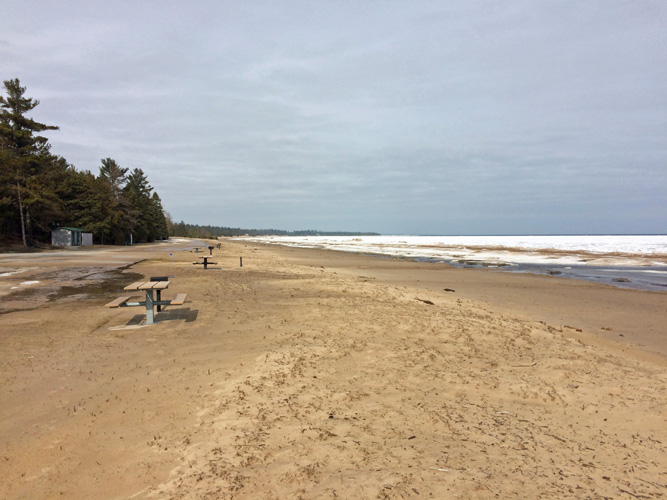 Earlier we had headed over to Escanaba and checked out Days River, hoping for some melt there. The ice patches were melting and the packed snow was indeed softer but the Pathway was still well covered. We decided to walk anyway so we slushed our way around Loops 1 and 2, which was plenty enough given the wet and sliding footing. But it was almost 40 degrees, mild wind and brightening skies, and it felt good to be out. We know bare ground is coming.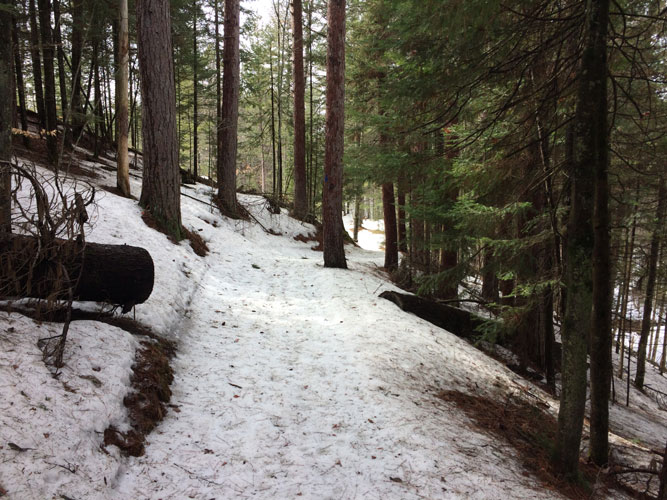 Then yesterday - RAIN! Beautiful snow-melting rain. Our first real rain of the season and we enjoyed watching the snow slowly recede, cozy and warm inside. LilliB was not nearly as happy about it, spending all morning wanting us to open the window and stop the rain, commenting (whining I would have to say) and fussing. We were all happy when the rain let up in the afternoon and she could go out without that horrible fate of getting wet. We enjoyed it, too.
Today we woke to even more bare ground, especially out the back window, since it didn't freeze last night. The front yard isn't as bare but it's coming.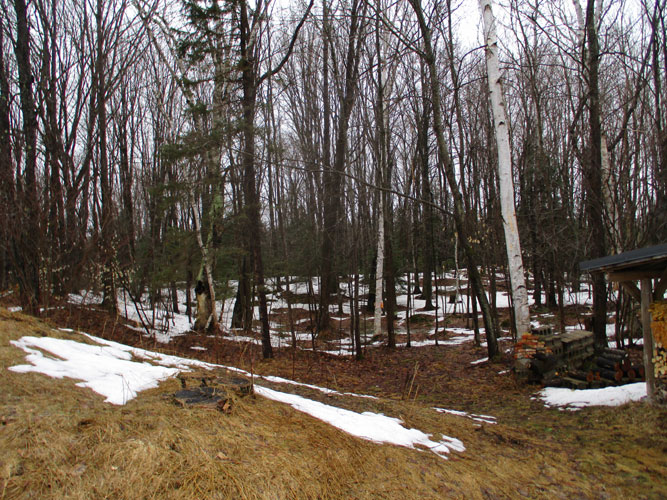 More and more birds are returning - cranes and juncoes and sparrows, and barred owls. The air may be damp and cool, the snow and cold isn't over, and the front yard and path still covered, but it's beginning to look and sound like Spring!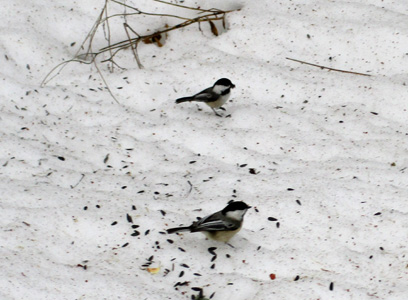 April 7, 2022 -- Ever Changing Landscape
This past week has been one of changes in spite of the ongoing "wintery-spring mix" weather. April 1 arrived with freshly snow covered ground (again) but wonderful (rare) clear blue sky and sunshine. A two hour walk on Thompson Beach refreshed us with snow covered sand on the west end transitioning to mostly bare sand on the east. But the Bay was the highlight. The frozen shoreline had flattened out with only a few mounds left, and chunks of small icebergs were floating out into the rich blue wet water (and no camera with us). Two days later we headed down to walk on bare sand the whole way - wonderful though a bit strange feeling to have that wide expanse of sand here. But the the previous clear Bay was chock full of ice! The wind had shifted and blown all those bergs back into shore (and again no camera...).
Two days again (April 5), cool and cloudy but no precipitation, we headed out, first to Days River but then to Thompson. The beach was happily still bare of snow with very little left along the woods. But now there is a significant band of water running between the beach and the narrowing band of ice and melting mounds. We decided one could almost kayak along that edge. The sand is wet and firm and easy and a delight to walk on. But the Bay was still full of ice, though one can now see clear water beyond. The brisk wind coming off that expanse of ice chunks was quite chilly in spite of some sun cheering the late afternoon so we cut our usual walk in half, happy to turn back with the wind at our backs.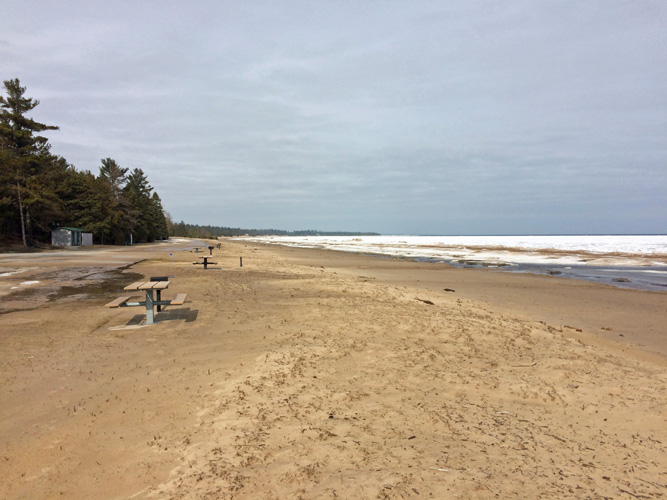 Earlier we had headed over to Escanaba and checked out Days River, hoping for some melt there. The ice patches were melting and the packed snow was indeed softer but the Pathway was still well covered. We decided to walk anyway so we slushed our way around Loops 1 and 2, which was plenty enough given the wet and sliding footing. But it was almost 40 degrees, mild wind and brightening skies, and it felt good to be out. We know bare ground is coming.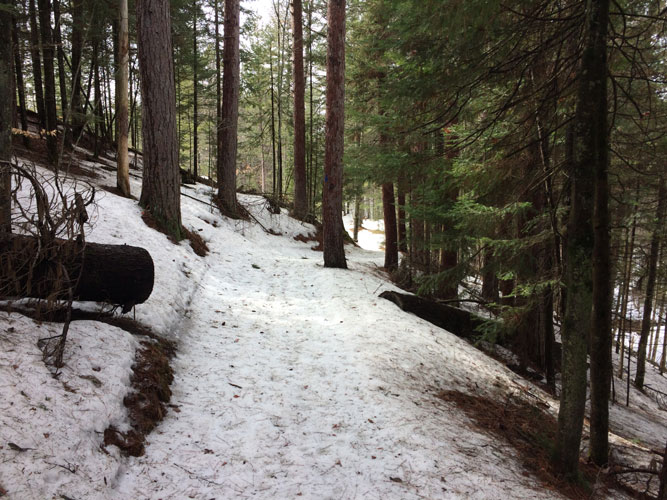 Then yesterday - RAIN! Beautiful snow-melting rain. Our first real rain of the season and we enjoyed watching the snow slowly recede, cozy and warm inside. LilliB was not nearly as happy about it, spending all morning wanting us to open the window and stop the rain, commenting (whining I would have to say) and fussing. We were all happy when the rain let up in the afternoon and she could go out without that horrible fate of getting wet. We enjoyed it, too.
Today we woke to even more bare ground, especially out the back window, since it didn't freeze last night. The front yard isn't as bare but it's coming.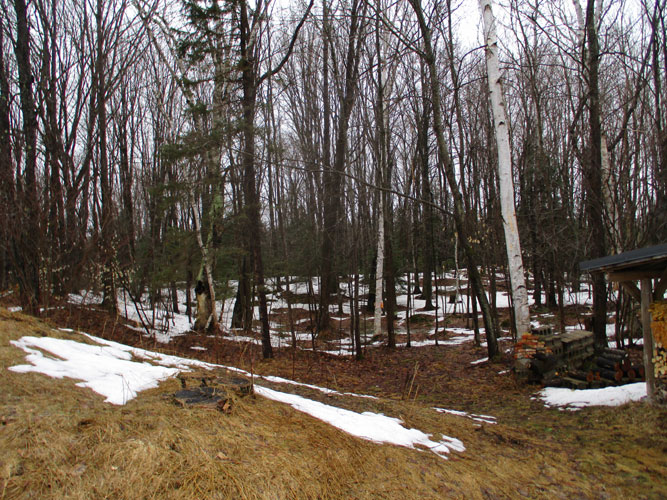 More and more birds are returning - cranes and juncoes and sparrows, and barred owls. The air may be damp and cool, the snow and cold isn't over, and the front yard and path still covered, but it's beginning to look and sound like Spring!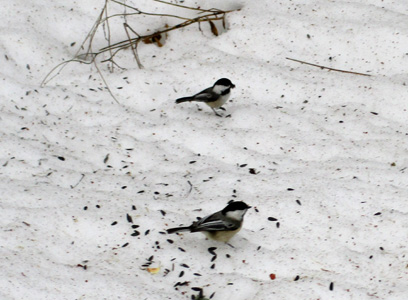 March 29, 2022 -- Hiking Day at Days River
Cold and cloudy but with a promise of some sun - this was our day to take to the trails sans snowshoes. No rain, no snow in the forecast. It was a balance between getting out while the snow was still frozen yet wanting some warmth for comfort. Maybe Days River Pathway would be past ski season now; there hadn't been as much snow in the southern U.P. as they had up north so it was possible. So off we went with a hot lunch and hot drink. When we arrived it was obvious the skiing was over -- the trail was a frozen patch of icy boot and paw prints. We donned our packs and took to the trail, carefully treading the uneven surface, heading to the outer edges for footing. There was still plenty of snow in the woods but some bare spots were emerging, around tree trunks and high points.
It was a slow walk but enjoyable none-the-less. When we left the most popular Loop 1 and headed onto Loop 2 we also left about half the footprints behind. So the trail had more crusty snow and less ice and the walking was easier. We still had to keep a good eye out for the icy patches and there was a fair amount of slipping and sliding. I often took to the firmer footing of the edges or up on the snow. There were a couple of rare but much enjoyed patches of bare ground. It was so good to feel bare ground underfoot.
At the intersection of Loop 3 we lost all but one set of tracks and the trail was now nicely packed snow with few ice patches. We thoroughly enjoyed the transition. About half-way around the sun came out, warming us and the trail surface, but it was still firm enough footing. When we came to Loop 4 we decided to save 4 and 5 for another time and bare ground. The almost 7 miles of 1, 2, and 3 would be plenty for today and the longest hike of the winter. But it was time for lunch so we began watching for an appropriate downed tree, and was soon settled in the sun filtering through the branches, very much enjoying our warm pasta lunch.
Back on the trail it seemed no time at all before we were heading down the west side, joining the tracks of people and dogs on Loop 2 and coming onto the longest stretch of bare ground. Nice! If brief.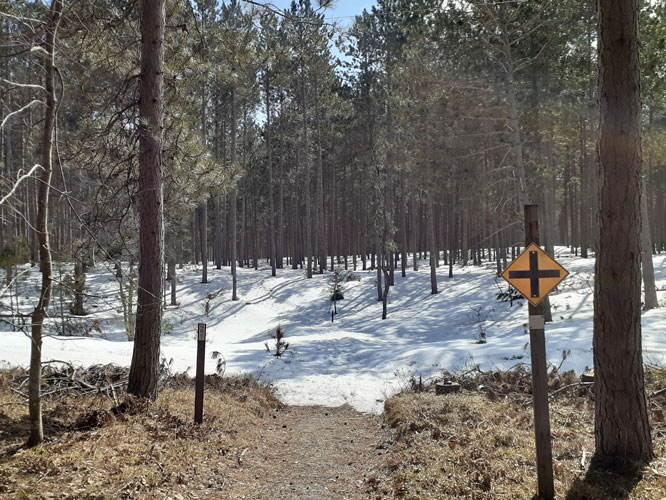 Back to Loop 1 and the many tracks of this well trod trail. But now the ice had softened enough to make the footing easier. The incredibly loopy winding creek down below the trail was as picturesque as ever; a treat along this Loop.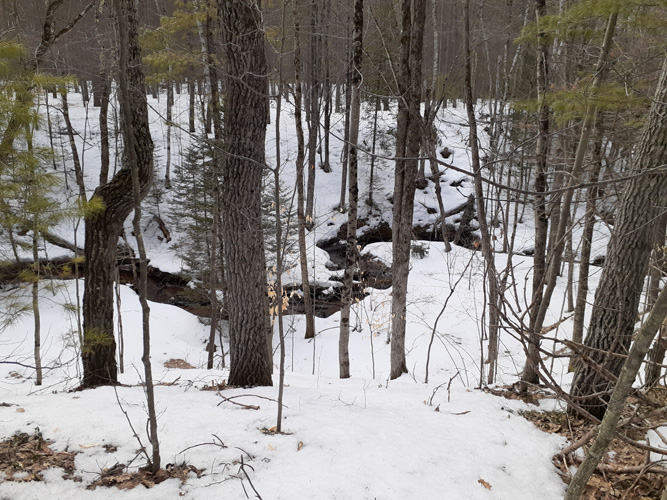 Before we knew it we saw the parking lot ahead and we were back at our car having had a delightful three hours on this favored trail. And were in plenty of time to meet our fiddler friend Sharon at Jack's Restaurant to return her fiddle that Steve had repaired. a very nice day.
March 25, 2022 -- Fix-It Day
Nature came through today with clear skies, sunshine and above freezing temps. Once it had warmed enough to soften the frozen snow for good footing Steve spent the morning on the shop roof. First with the chainsaw, dismantling the tangled brush and sawing up the limbs,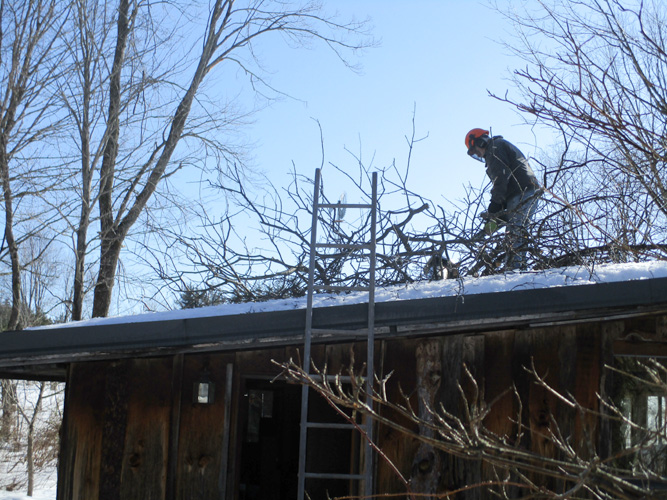 then with the shovel clearing the snow from around, and above, the damage. It was a perfect day for repairs.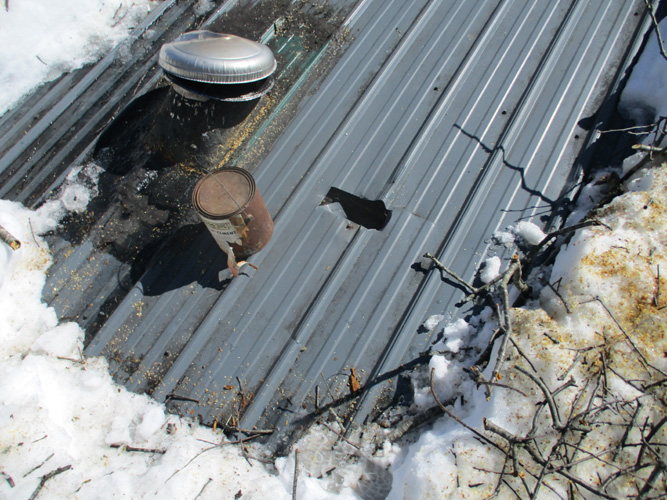 Afternoon was fix-it time. With the sunshine and 40 degree temperature the cleared area was soon nice and dry.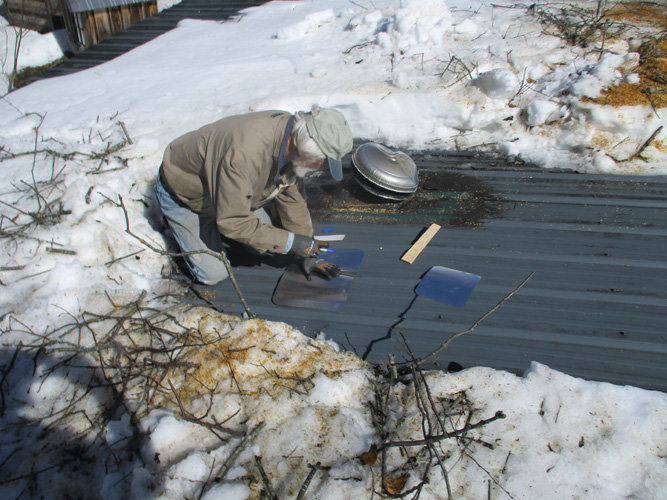 The chimney is now half as tall and the chimney cap customized with the severe dents un-dented but the area is now secure from rain and snow, and can wait for more agreeable conditions for further repair.
And it truly was a beautiful day; it felt so good simply to be outside. I enjoyed re-attaching some fence wire that had been pulled down by the ice and even hung some laundry out on the line. Local birds are starting to return and small flocks of travelers stopping by for a rest. We heard the first Sandhill Crane! And the first chipmunk emerged. There may be more wintery mix messy days in the forecast but days like this carry one's spirit easily over those.
March 23, 2022 -- Beauty and the Beast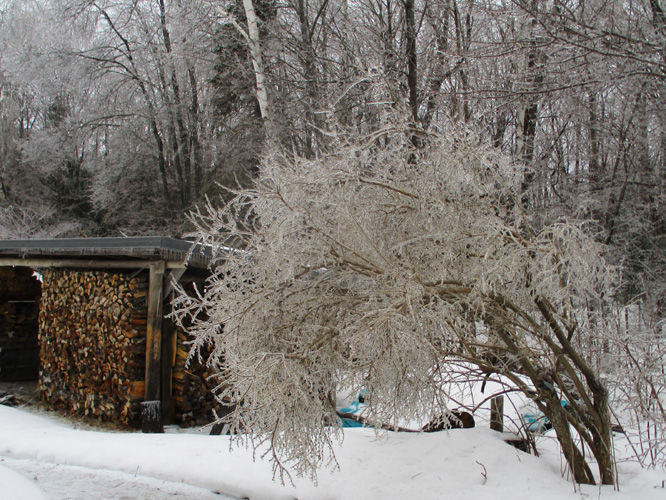 Two days after that beautiful clear sunny day the U.P. is covered in a wintery mix, most everything closed down, and high winds causing havoc. The ice covered branches are beautiful though, and, as usual, we are not involved in the widespread power outages.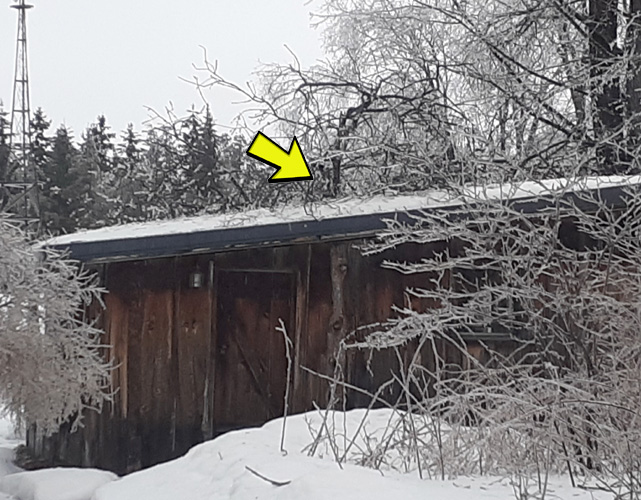 However ... what looks like a small tree and branches "behind" the shop are actually ON the shop, and the arrow points to where the chimney used to be. It also points to where a wild black cherry limb made its way inside ...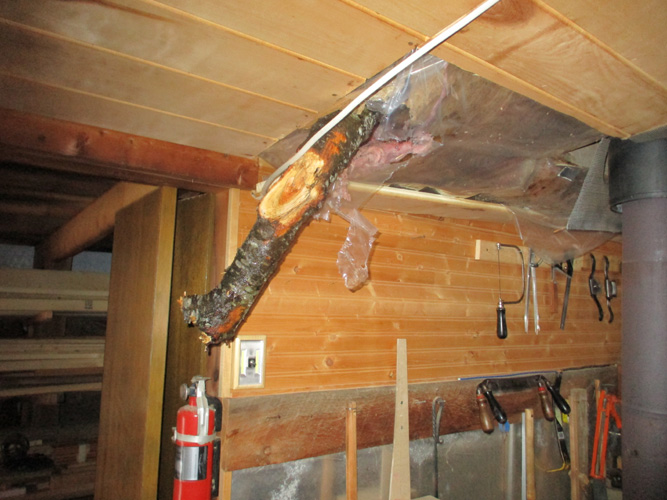 A feat that would have taken us a great deal of time and work to accomplish, the nearby cherry tree managed in just a few minutes. It made it through metal roofing, firing strip, vinyl layer, old roll roofing, roof boards, insulation, ceiling boards. Quite amazing. Thankfully Steve happened to go out to the shop to get a tool, and found the "leak" before it dumped too much water inside. The branch is doing a good job of channeling the icy rain/snowmelt into a bucket placed underneath. There will be no going up on the roof to do a temporary repair until the weather calms down, maybe Friday.
Meantime, we are all cozy inside the house, enjoying the beauty, and ignoring the beast.
March 21, 2022 -- What a Difference a Day Makes
Or in this case, two days. Yesterday was such a nice day we decided to head on down to Thompson Beach in the evening, just to see how it fared with two days of warmth and sun.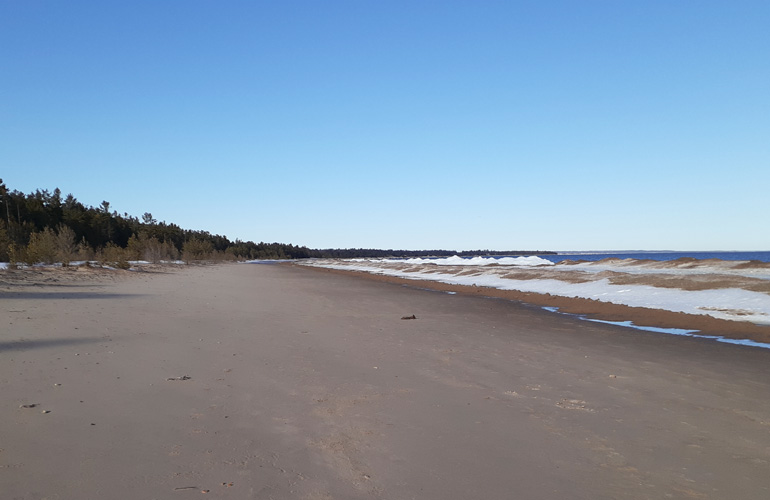 Quite a change! (see March 18 below) There was a little snow/wet ice up around the curve (this is looking east from the west end) and there is still a good amount of snow along the tree edge, but one could walk on sand the entire beach. So we changed from boots to shoes and had a wonderful walk on bare ground - the first of the year. The sand patterns were incredible artwork made by the melt making its way toward the Lake.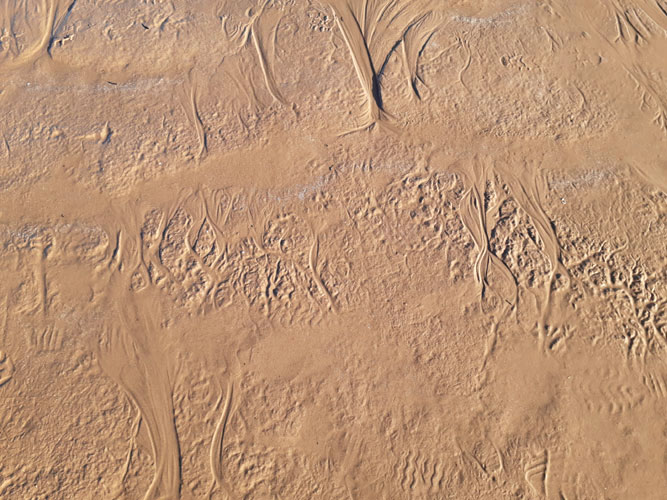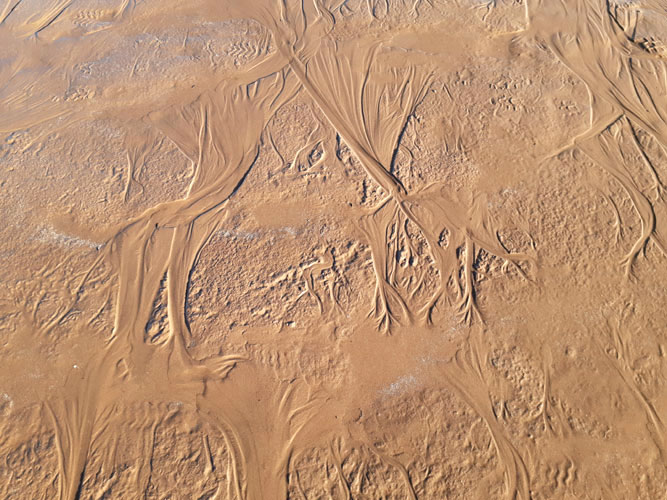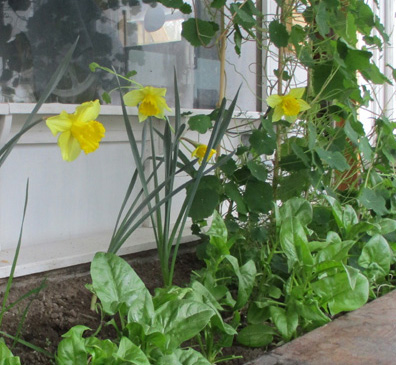 March 20, 2022 -- Happy Spring!

Nature helped us celebrate the first official day of Spring by providing a beautiful, calm, clear sunny day, with temperatures in the mid-upper 40's - our first warm day! We snowshoed out to the road and walked in the sun on the now bare roads around our neighborhood country "block". What a great day.
The greenhouse plants are perking up and growing and the daffodils were right on time with multiple blooms. Steve is now in the shop planning the first spring work on the boat, and I'm deciding which seeds to start. We hope you are having an equally nice balanced Equinox day!
March 18, 2022 -- Full Moon Cheers

And what better way to celebrate than a nice walk. We've had a stretch of warm above freezing days and the snow is disappearing fast. The bare spots around the house are expanding and LilliB is enjoying every additional inch. Though it is still very white here and snowshoes required to get to the car we just had to head down to Thompson Beach to check it out.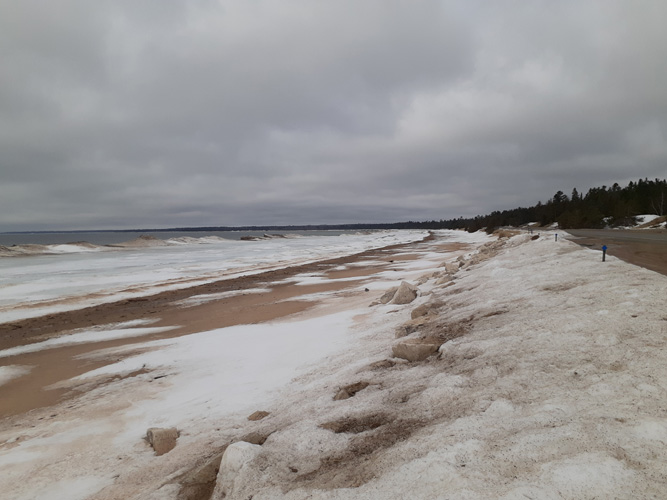 Bare sand! Frozen and only coming in patches amongst the snow and ice but still, walking on bare ground was such a treat. And the snow, mostly, wasn't very deep so we alternated between the two, avoiding the icy patches and occasionally walking along the clumpy frozen edge (good ankle exercise). The sun popped out now and then and with temperatures in the upper 30's the moderate wind didn't bother. It is so interesting how the shoreline changes along the long curve of the beach, with wind and tree line and direction of the waves making different landscapes as we walk along. It won't be long before Rogers Park will be ready for visitors!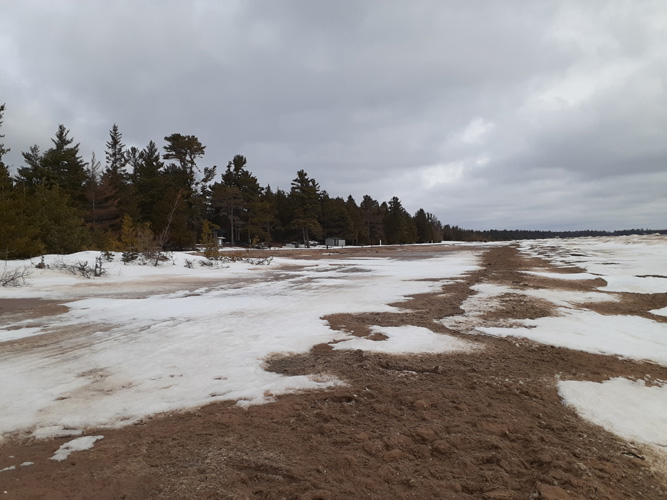 We decided to walk on past the Park and the old dock area to Thompson Creek. The snow-melt has swelled the Creek already and it was running full into the Bay, with Lake waves noisily breaking near land at the small harbor beside the mouth of the Creek. The sound and sight of lively free-running water was wonderful.
Depending on how much snow we get (it IS still only mid-March) it is possible it won't be long before there will be a snow-free stretch all along the beach. There is still significant ice/snow and ice-mounds out into the Lake but even that is starting to break down. The transition from winter to spring is such an interesting time, even before the first signs of green appear.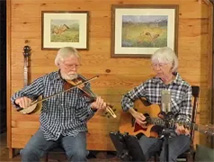 March 17, 2022 -- Happy St. Patrick's Day

Here's a song for the end of the day, when it is time to say farewell to friends and head for home. Though it originated in Scotland in the 1600's and is still popular there, it is also very much an Irish song and can be heard at gatherings from pubs to funerals, and any other time. We send it out as a St. Patrick's Day cheers to all of you, and also as a farewell to snow as our spring melt has begun! LINK
March 9, 2022 -- Speaking of Gardening

Or in this case, Saving Vegetable Seeds. I was fortunate to be asked to do a workshop at the annual MSU Agriculture for Tomorrow conference held in Escanaba today. It was so great to once again gather together, live, in person to talk about a topic we were all interested in. Co-presenting with MSU North Farm's Abbey Palmer was an extra treat. There was a good turn-out and I think we all enjoyed thinking ahead to that time when the snow is gone and we can get our hands in the dirt and watch our world turn green around us. It was a beautiful sunny day both outside and inside!
March 4, 2022 -- It's a Hiking Day!

Sunny, upper 20's, calm -- no question, it was a day to be outside. I know, it won't be long and this will feel downright cold, but it's still winter and this was a Cat's Pajamas of a day. Even LilliB agreed (for a short time). We were on the trail at McKeever Hills by 12:30, lunch in our packs and sun on our faces. Definitely more snow here but the pathway was well packed and recently groomed. Three happy skiiers came off as we were getting ready and we all agreed it was simply a most beautiful day. With freezing rain forecast for the next few days (yep, it's March) I think everyone who could (and wanted to) was out enjoying the day. One of the skiiers was from Milwaukee and was happy to be where there was snow (he was bicycling on bare ground back home); the other two were from Ishpeming who were taking a break from having had to shovel their roofs off twice this past week (when we got 4" of snow in the last storms Ishpeming/Negaunee area got upwards of 4 feet! McKeever area was somewhere inbetween.)
We felt so good we decided to head on down south-east to the infamous C Loop and see if it was do-able on snowshoes. It was a nice gentle walk down A to get there. This had to be the easiest snowshoeing we'd done, perfect conditions. Then onto C.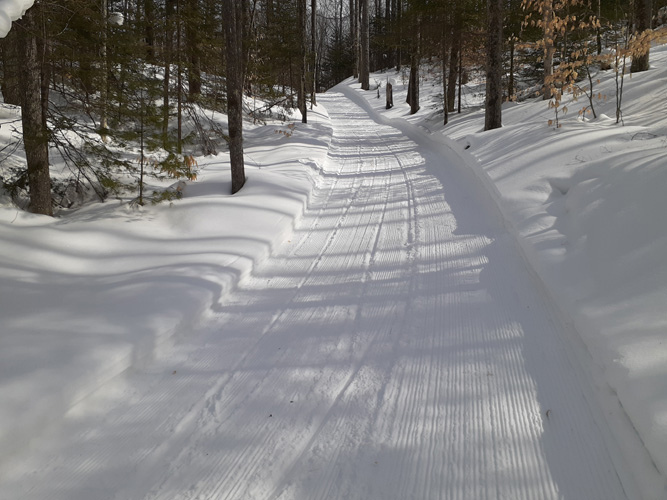 Sure enough, the hills were as loopy and curvy and steep as we remembered - beautiful, and fun. The photos all seem to "flatten" out the hills, but trust me, there is nothing flat about this trail! One skiier had been through fairly recently. You had to be a very confident, experienced skiier to do this Loop, and there were a lot of herring-bone tracks up and down some of those hills. There was just enough traction for our snowshoes to get up the ups, with a bit of slipping on the downs.
But we were getting hungry and started looking for a good spot to sit. There are plenty of downed trees, comfortable big ones, but the snow was so deep they were well buried. As we went on, looking for a possibility and a thinking we'd just have to pack down a spot in the snow along the trail we headed up a particularly steep series, with the usual curves, (between Fantastic and Heart Attack -- they love labeling these "special" hills!)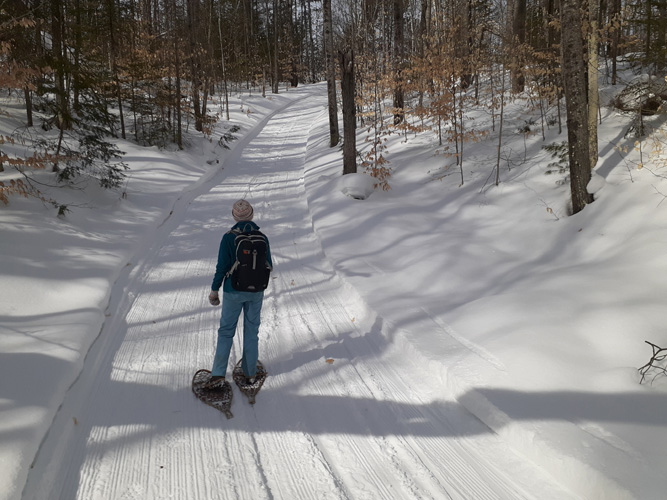 to find at the top -- a bench!! With a view through some trees of nearby Wedge Lake. We happily settled ourselves in the sun for a nice long lunch break. Cool enough but warm enough. There simply wasn't a better place to be at that moment.
But the rest of the trail called so, refreshed, we gathered ourselves and gear and looked down, down - and down we went.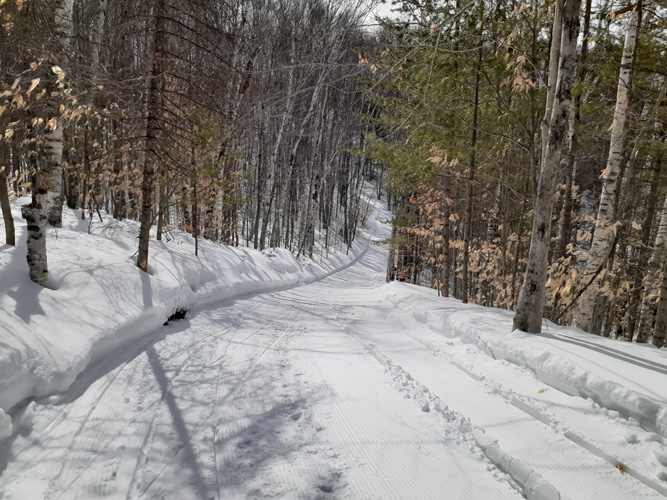 And on around C, along the short moderately flat piece where Bruno's Run crosses, onto the Thunder (steep up, where we had to hunker down to keep going up without sliding back) and Lightning (steep down, with a bit of sliding and running to keep our feet under us), and finally on to the crossroads of B. Did we want to go around the figure8 B loops? It was just too beautiful a day to end yet, so around the B's we went, with moderate hills compared to C. Again a bit of confusion at the intersections (a few more signs would be nice here) but we got ourselves going in the right direction so we didn't end up going around B again (and we definitely didn't want to go around C again!). A real nice return on A (past Hemlock Hill and Stride Out). As we neared the parking lot a voice behind us made us move quickly to the outer edges as a skiier glided by in the groomed tracks, having made an enjoyable loop around A. Living fairly nearby and skiing here often he confirmed what we suspected, the conditions were too fast today to comfortably ski C.
We finished off our outing with what has become a bit of a habit, dinner at the Buckhorn on the way home, where there are more snowmobiles than vehicles in the parking lot. We sit at our usual small table on the edge of the crowd of generally big people made bigger by their puffy specialized outfits, snowmobilers toting colorful big helmets and likely big appetites. All of us having enjoyed the outdoors each in our own way.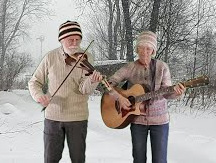 March 3, 2022 -- Welcome to March!

A nice bit of snow requires a nice cheery tune, and we thought this traditional march from Scotland was just the thing to welcome March in all its wild glory. We enjoy this tune and hope you enjoy the video! LINK
February 25, 2022 -- Back to Pine Marten

With a week of stormy, windy snow particularly north of us (when we got 4" of snow the northern half of the U.P. received a gift of from one to four feet!) we've been making do with short walks around the homestead. But the weather calmed down and we were ready to go for a longer hike. With temps in the upper teens and light wind this was our day. Pine Marten is about 20 miles north of us so we knew there would be more snow but didn't know how much.
As we drove north the snow banks got higher (it was a beautiful ride along this curvy road through the northwoods). When we got there we drove past without seeing the trailhead because the small opening was well hidden behind a large bank. But just ahead was the Indian River bridge so we didn't get too far along. And to our delight and appreciation, the snowplow had made a real nice sweeping wide swath along a wide spot before the bridge, large enough for a good number of cars to park, and the plow had just gone through (in fact he came back and finished the other side as we pulled into this wonderful off-the-road parking spot). This is a narrow road and as the snow and banks get larger the road gets narrower and I'm sure they were glad to have the cars off the road as well. Since the DNR wasn't plowing their entrance into the trailhead it was up to the road crews to do something. And we were happy they did!
So we gathered our gear and snowshoes and walked the short distance back to the trailhead. There we were confronted with this very tall fresh snow-bank. We put on our snowshoes and found climbing up it didn't work, so Steve took his snowshoe off and dug a large step. That did the trick. Maybe it wasn't an elegant ascent but we got on top, then over and on into the beautiful fresh snow scene. Not surprising, no one had been in since the latest big storm so we would be breaking trail. We quickly revised our plan from a longer trip down to Triangle Lake to heading straight across by the River to the Shelter, a little over a mile and a half in.
The usual horse-trough track was well filled in with about a foot of fresh and drifted snow on top of probably about two feet of base. The upside of this was we were able to make a nice fresh snowshoe wide track without having to fit our bear-paws into the usual narrow width. This is the kind of hike where one mellows out, moderates expectations, and enjoys a slow but steady forward progression. We switched lead more often as our muscles got used to breaking trail in the deep soft snow. The sun came through the overcast sky now and then to give us a beautiful scene of tree shadows across the soft, curvy snow. And the wind gusted through now and then to make us appreciate that for the most part it was a calm day, and we were well protected by the trees.
After the intersection where we had planed to go down to Triangle Lake we came to a beautiful little not-frozen creek running under a small bridge and flowing into the frozen and snow covered Indian River (this trail follows a fairly straight path along the very loopy River).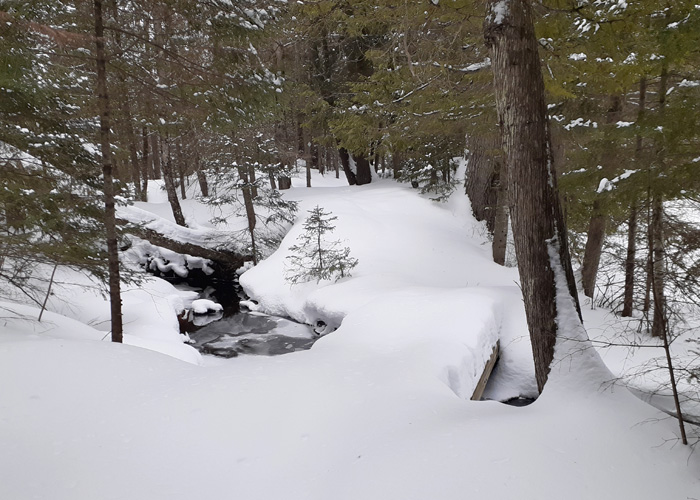 The canary (me) went over the bridge first, but since it was made for horses I figured I was in no danger! And we went on our way to the scenic Adirondack style shelter set nicely beside the River. After an hours serious snowshoeing we were ready for lunch and to take a leg break. We enjoyed both equally. (Our current favorite "pasta" now is the oddly named Ptitem, aka Israel Couscous though it isn't a couscous, small white round beads of baked hard-wheat pasta that boil up quickly yet keep their texture better than orzo's. Mixed hot with pasta sauce, and any vegetable leftovers if available, it makes a good winter hiking food). Lunch warmed and revived us.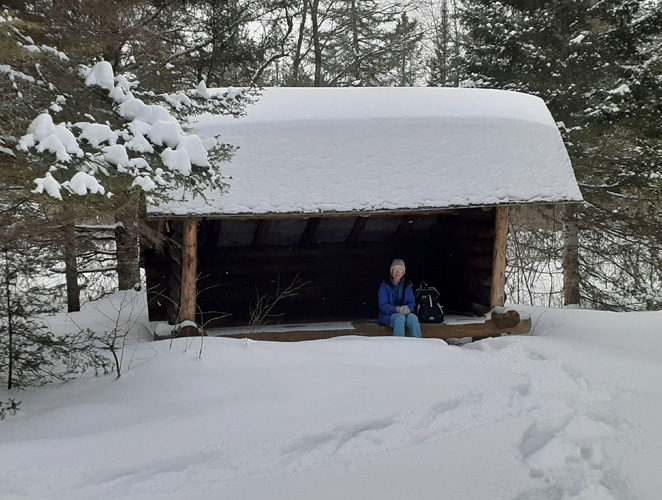 The nice thing about an in/out trek in snow versus a loop is that you know the walk back will be easier than the walk in, and it was. There was still plenty of snow but we also knew we were making a real nice packed trail. We hoped someone would come along to take advantage of it before the next snow. We laughed about coming back ourselves tomorrow to walk it! But with brisker winds forecasted we knew we wouldn't.
As we drove south towards home the sky cleared and the sun shone brightly. Since it had been a fairly short walk at Pine Marten it was still early so we decided to go on down to Thompson and go for a walk on the beach in the sun. We again don our snowshoes for easier walking but this time in snow maybe only 3-4" deep. As has been the case, the scene here was again different. The latest snow had made a beautiful flat fresh landscape of the beach. It was a treat to just walk along without breaking trail through the deep snow at Pine Marten. What a contrast between the two! Feathery clouds were making their way in across the blue sky, and off to the east it was dark. Somewhere out there it was snowing. But here was bright, warm in the sun and cool in the breeze (with an occasional strong gust to make us stop and pull our coats tighter). We hadn't been the first to enjoy the beach though.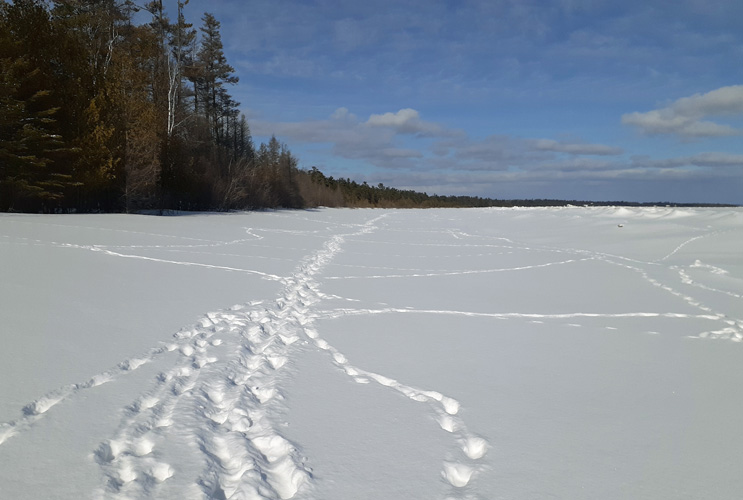 There was only one set of human boot prints but there was an amazing array of dog prints! These dogs had had a great time! Crossing in a much straighter line was also the smaller prints of (we're guessing) a resident fox. He/she was on a different mission, and we've almost always seen these tracks along the beach, criss-crossing from tree-line to shoreline, maybe hoping to come across a mouse under the snow.
The old boat launch "park" (which is occasionally plowed and has an outhouse) is a favorite take-your-dog destination so while it was heavy with tracks at that west end they stopped before we got to Rogers Park. It was clear and smooth there and we rather hated to disturb it with our own tracks. The wind had picked up and our legs were saying that really this was enough for the day so we turned back just beyond the Park, returning with the sun on our face and the wind at our back. A wonderful ending to a fun day. One doesn't have to go long or far for delightful mini-adventures.
02222022 -- Celebrate the Day!

It's once in a lifetime
And it won't come again
It's here then it's gone
On a warm winter wind.
February 14 & 17, 2022 -- Two Lakes, Two Landscapes

Although there are changes on land during winter it is (usually) not as surprising and interesting as that of the water around us. We continue to be drawn to the shoreline to see what is new. Although the wind was a bit brisk Monday it was a beautiful sunny day so we stopped by the Thompson/Rogers Park beach for a shorter than usual walk (before heading into town for a nice Valentine's Day dinner!). The landscape was worth the cold wind.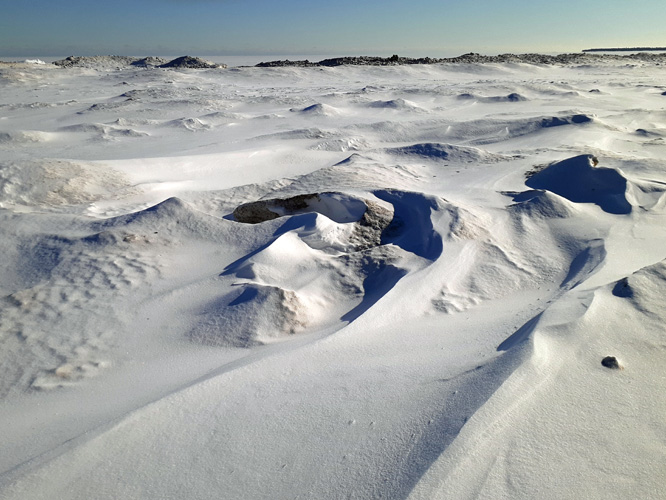 The unfrozen water from the artesian well at Rogers Park creates a beautiful small creek in the snow as it makes its way to the Bay.
Yesterday (Thursday) we were in Marquette and though another brisk day (mid teens, north-west wind) we picked up our usual lunch (Jean Kay's Veggie Pasties) and headed to Presque Isle to eat, with the cold view of Lake Superior not warming us up, but it was beautiful as usual, even on an overcast day. We snugged clothing up for a walk and headed as soon as we could up into the woods where the path was nicely packed and the wind calmed by the trees. Around to the east side we followed the suggestion of the "Lookout" sign to go over to the small observation deck that hangs out over the cliff. Again, the view was well worth the chilly walk.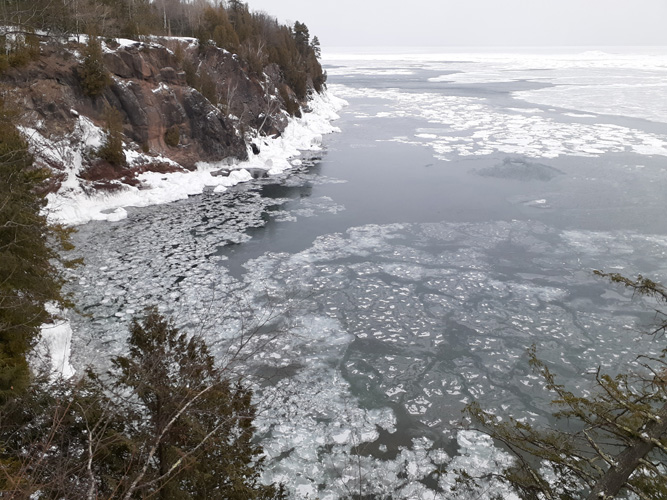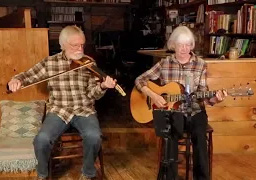 February 14, 2022 -- Happy Valentine's Day! with "Star of the County Down"

We don't remember when we first heard this old Irish ballad but we've enjoyed it for many years. In our early years of dancing we waltzed to WhiteWater's playing of the tune at their wonderful '2nd Sunday Folk Dances', and in our early years of playing at the Falling Rock Jam a member brought the song to the group, and that was probably my first experience singing in public.
Though the story of the ballad is rather open-ended as to whether the object of the singer's sudden love ever responds favorably there is a great deal of hope-filled dreaming involved. It is certainly cheerier than most Irish ballads! The lyrics are said to have been written in the early 1900's by an Irishman, Cathal MacGarvey, but the tune is a very old Scottish air.
So here is our Valentine's Day 'card' to you! LINK.

February 12, 2022 -- Lathe book Second Edition is live!
About 30 or so years ago I built myself a portable treadle lathe and in 2005 I wrote an eBook (before we really even knew what they were) about the construction and use of that lathe. Folks could download it from our web site or order a CD. Before long, pirated copies were available on line - a sure sign of success

. That early book was updated in 2010 and in 2014 we self-published yet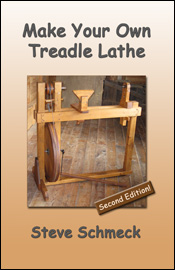 another updated version that was sold through multiple eBook sellers including Apple iTunes, Kobo and Barnes & Noble as well as Amazon. The full color and black & white paperback editions were sold by through Amazon.
Over the years I received quite a few requests for more information and clarification of the construction process and also received lots of photos of lathes that had been built using the book. It is so much fun seeing those photos and hearing their builder's comments. Since 2014 I have been posting updates and the answers to reader questions on Lathe Book Updates web page on our site but over the years that page grew pretty big and it became obvious that it was time for one more update. The new, expanded, Second Edition of Make Your Own Treadle Lathe went live at Amazon the end of January, 2022. The new eBook edition is available from multiple on-line sellers including those mentioned above.
I enjoyed the writing and editing and especially creating new illustrations for the new edition. It was a nice winter project!
February 5 - 10, 2022 -- More Good Walks
The weather continues to match the hiking trails with its many ups and downs. But after a stretch of non-hiking weather it comes on back to some inviting days, and this past week we had three! For us that means mid-teens to twenties, light wind, little precipitation, and a bit of sunshine is a bonus.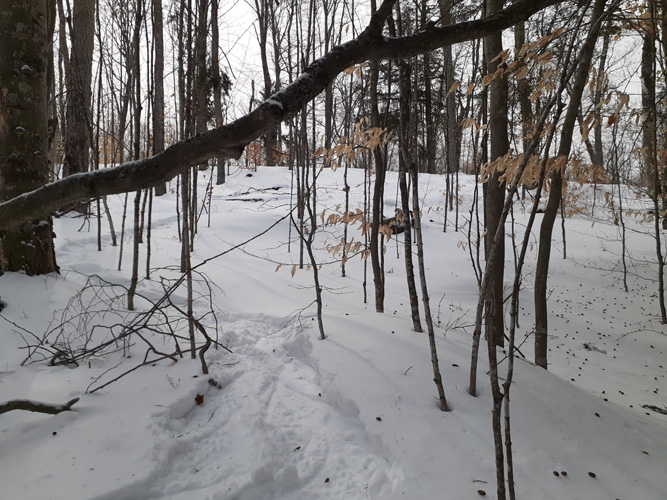 Friday was one such day and McKeever called us. We just had to go back to see if the trail was as nice as it was last trip. And it was! Firm base, enough snow for traction, cool but not too cold. There were (it appeared) two skiiers and dogs ahead of us and we followed their tracks around A & B loops. We had noticed before several side trails folks had made off the main track and we decided to follow a couple of them. The were both nice loops off of the north-west part of A, going down closer to Pete's Lake, on un-trod snow. On one we found a good large downed beech near some beautiful large hemlocks to sit and eat lunch, enjoying some light sun filtering through the clouds and branches. Though we didn't see the owners there were plenty of squirrel and rabbit tracks (including under our beech-seat) who no doubt made good use of the plentiful little hemlock cones (the little dark dots in the lower right of the photo). Since the area is rich in large hemlocks there are often cone-strewn patches along the trail, breaking up the solid white (along with the usual colorful beech leaves). It was again a wonderful 2 3/4 hrs in this beautiful area, and plenty long enough on snowshoes.
* * * * *
Tuesday arrived with nice weather, upper 20's and some sun, so we had to go out for a walk. When we had explored the small Days River Nature Trail in November we had said we'd stop back in the winter where it would be different in the snow. So that was our first stop, and it was not only a "new" trail with snow but still a delight. It was well trod so snowshoes not needed but we knew we'd go off trail down to the Bay so we put our 'shoes on, passing a couple coming out as we went in. The whole area was criss-crossed with trails, some made by people, others by their many dogs, and more by the local wildlife. This is a very popular spot! We wandered around on the trails, peaceful and enjoyable, heading off to the well-frozen (based on the number of pickups out on the ice) Lake on someone else's side trail. It felt good to walk along the open shoreline in the snow with the enough sun to cheer and warm us. So we made yet another trail, which being along the wind swept Bay would no doubt be wiped away before long. When we neared the River Steve found a way through the shoreline brush to get us back in and on the trail (or one of the many trails) where we were met by a large friendly dog who was obviously enjoying his own "walk" but in a much more exuberant fashion! We waved at the owner as we walked along the River. Soon another happy dog loped by, and another owner walked his own path. Back at the car after just a half hour we agreed this was a special place.
* * * * *
We headed on into the Escanaba Pathway and spent a bit over an hour walking the nice shorter (the more cleared part) of the snowshoe trail then on around on Loop 1. A skiier came out as we were going in and said we wouldn't need snowshoes. The trails are only occasionally groomed and pretty beat up with the traffic (people and dogs) and as the skiier said, it was a nearby convenient place to go and it gets him out, but it isn't a well maintained trail. But we appreciated the trail as he did and it was a pleasant hour's walk to finish our day in town.
* * * * *
Thursday -- a phone call to the Fayette State Park headed us on down for a very nice late afternoon hour and a half walk on the trails there. Two weeks ago we had gone down for their annual Lantern Lit Bluff Trail Walk, the 1 1/2 mile loop with the glow (and with no wind the "aroma"!) of kerosene lamps marking the way in the dark. It was surprisingly well attended and an interesting walk with a light snow filtering down. But Steve had apparently dropped his headlamp in the process of putting gear and snowshoes into the car when we were done. When he couldn't find it he called the Park and happily got the word that it had indeed been found and turned in. Which was nice because he was just getting ready to order a new one (it has a particularly bright setting and good for work in dim settings). The Supervisor offered to mail it but we decided to take advantage of a reason to go for a walk. So they nicely put it in a mailbox for us to pick up after hours and we drove down to go for a nice hike. The trail was firm enough with just a reasonable covering of snow after it had been groomed so we stashed our snowshoes and went a'foot. It's a trade-off for comfort. It's nice to walk without the snowshoes but with some snow it's rather like walking in loose sand and we notice the different muscles used! But we made it around all the loops as the light was fading and managed to get home before dark; no headlamps needed. The Park is such a peaceful and pleasing place to walk.
* * * * *
So now we're set for the coming spell of cold and windy weather, content to focus on indoor projects until the next nice winter day draws us back to the trails.
January 28, 2022 -- Ice Mounds on the Beach
Though a bit chilly (low teens) and cloudy it was calm, and after a long stretch of cold and windy weather we wanted to get out for a walk. Since we also were wondering how the beach ice at Thompson-Rogers Park was doing we went on down and walked the beach. The recent high winds had scoured the frozen beach so there were patches of bare (very hard!) sand and only maybe 4" snow most other places.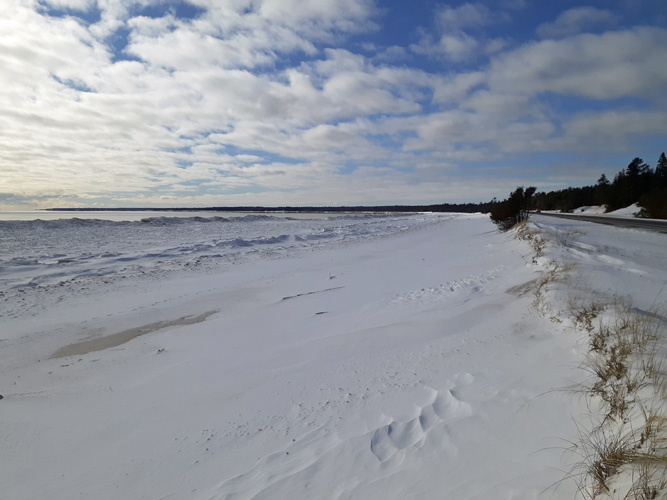 How nice to have a nice place to walk without needing snowshoes! The sun came out as we walked to brighten the day and warm the hikers. Both the sky and the shoreline were fascinating and beautiful each in their own ways.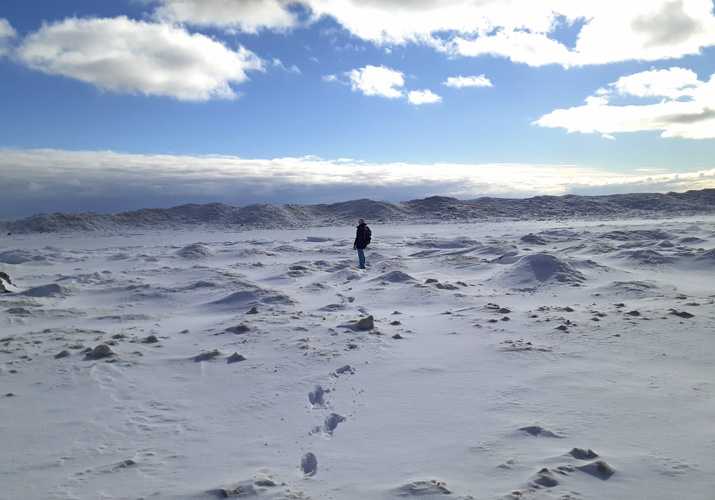 Mostly the ice mounds blocked the view of the small stretch of wet water along the edge, so what we saw looking out was the farther snow covered ice. The beach is still a large expanse of flat land then a ridge of clumpy ice along what we think is (was) the water line. Then a somewhat flat area leading to the moderately tall ice mounds. You don't have to walk out very far out into the this area to realize this isn't a place to walk, with significant unseen caverns and very slippery footing. We were quite content to stick to the flat easier walking of the beach. The cold snow was rather like walking in beach sand.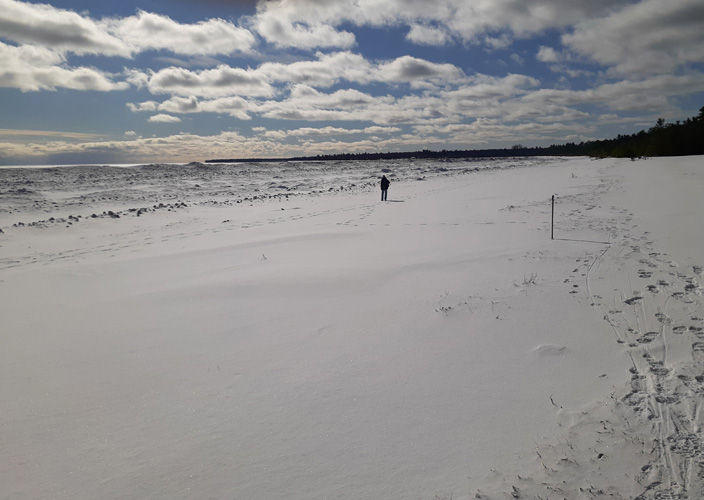 When we got near to the east end of the beach we could (barely) see the ice-extended "land" of Stoney Point now far out into the water. Steve climbed the bank for a better view.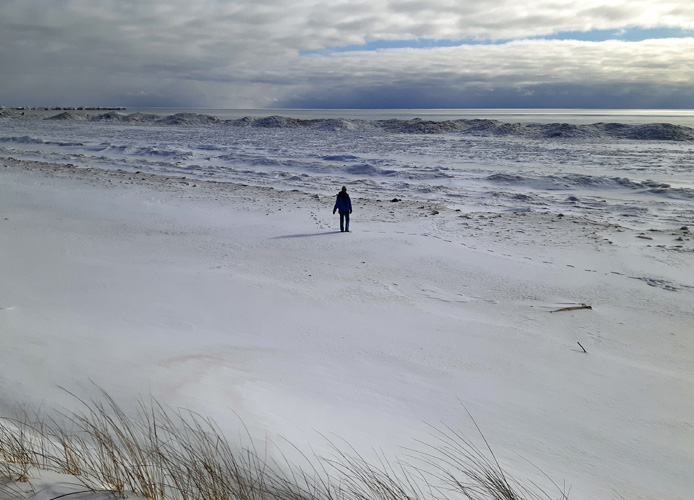 When we turned back a light wind came along to kept us cool as the sporadic sun kept us warm! Occasional openings in the ice mounds allowed a small view to water on the other side, now shiny in the sun. It was hard to tell if it was all frozen, except near Thompson Creek where we could then see a small cove of open water. It was a really nice 2 hour walk on the beach.
January 23, 2022 -- "Crossing the Border" by Si Kahn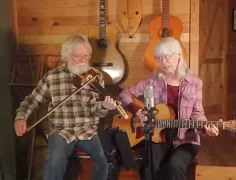 This time of year when it's Steve's Mom's birthday (today!) and my Dad's birthday in a few weeks, I often think of this song. And when we sing this song I think of our parents and others of that age who were important to us. Often we think of questions we'd like to ask them, discussions we'd like to have, now that we are older. They have all gone on now, but it's fun to think of them and wonder what they would say now, what stories they might share, or choose not to share! This video is in memory of all of them. LINK
January 17, 2022 -- McKeever Hills
We thought we'd snowshoe on a portion of Bruno's Run today. Parking is the big question this time of year but there are several options to get on Bruno's and all of them off Hwy 13. So we drove up to check them out, and also see if there were any tracks on the trail. There are only short sections on Bruno's that are reasonably well marked or easy to determine in the winter (near Pete's Lake Campground and Widewaters); the rest are quite often iffy and one can easily find oneself wandering through the woods lost in the snow. Ideally a snowshoer (who knows the trail) will have gone on before. There was a brisk west wind but one way or another we'd be walking in the woods so that wasn't a concern, especially with temps in the mid 20's.
We found two spots to get off the road, but at the Indian River crossing saw only a lone ski track which meant we'd be breaking trail. That would be OK, just a shorter walk. As we drove by and considered the options we saw that a plow had gone into the McKeever Hills spot. Maybe? Steve pulled in and we found a fully plowed parking lot! Not only that, when we got out to check the trail there was an even bigger surprise -- a wide groomed pathway with ski tracks down the middle and plenty of room on either side for snowshoeing. Plus a sign that indicated snowshoers were welcome (rare on a ski trail), just please stay off the tracks. Easy enough to do. And, to top even that, there was a section of this trail we hadn't walked yet. The decision was easy. Before the snow we had walked the infamous C Loop so knew we didn't want to do that one on snowshoes (more steep hills and curves than one could imagine getting into a fairly short loop) (it's a great walk though!). But we would do A and B -- clockwise on A and however it looked best to do the figure8 B loop.
Underneath the recent snow we saw plenty of tracks -- mostly dogs. At first I thought a big pack of coyotes had gone through, but this wouldn't be their style. Boot and snowshoe tracks were there so the dogs had apparently brought their humans with them, who kept nicely off the recently set ski tracks.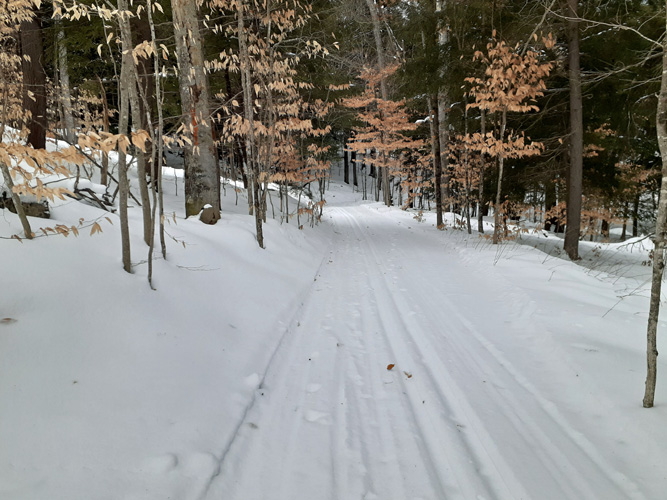 The entire trail through this beech-maple-hemlock woods is beautiful. There are a scattering of the large dead beeches still standing, still impressive, even when they finally fall. And their progeny are numerous, giving such wonderful color to the subdued mid winter forests, their fallen leaves pesky to skiier, pretty to us. The north part of A Loop goes roughly along the south side of Pete's Lake with glimpses of its snow covered flatness. It would be a great Lake to explore in our kayaks. The terrain is pleasantly hilly and the trail curves around enough to be constantly interesting. A few steeper hills give the skiiers a nice downhill without being overwhelming on snowshoes. (In the photo below that dark spot down the trail is me.)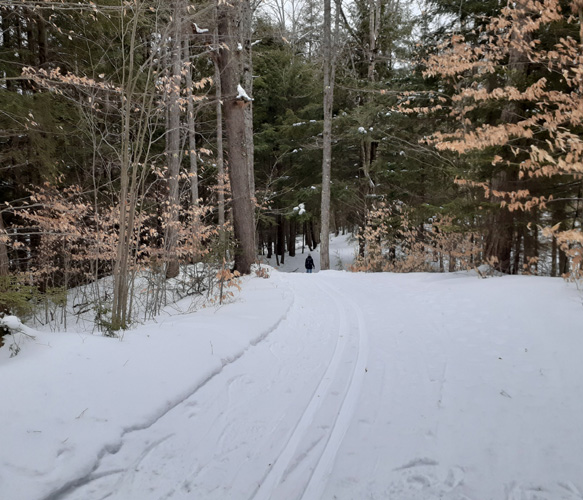 After an hour or so we found a suitable downed tree nestled out of the wind to stop for a lunch break just a short ways off the trail. Soon we heard voices and along glided a couple on skiis, and their dog who stopped in surprise to look into the woods at us. He was well trained and didn't come on over to check us out (or maybe he quickly determined we didn't have anything to eat of interest to him) which alerted the couple and we exchanged greetings as they went by. It was nice that someone was enjoying the set ski tracks before it snowed again.
As we went along we were very impressed by the groomer. He (or she, of course) obviously understood both the skiiers needs and the foot traffic, and was skilled in the use of the equipment. This is a well established, wide, cleared pathway which makes a difference, too (compared to one like Indian Lake Pathway's brushy, narrow track). But the ski tracks were consistent, in the center area except on steep hills where he moved the tracks to the appropriate side to give the skiier room to "walk" up, or down, with plenty of room for the snowshoes. The majority of the time we walked easily along, side by side on either side of the ski tracks. Such an easy trail to walk. We were a bit concerned at one point when it appeared the groomer had made a circle in a sudden opening and headed back, ending our wonderful groomed track. But no, he hadn't abandoned his trail users, he just made a comfortable nice curve around and continued on the trail into the woods.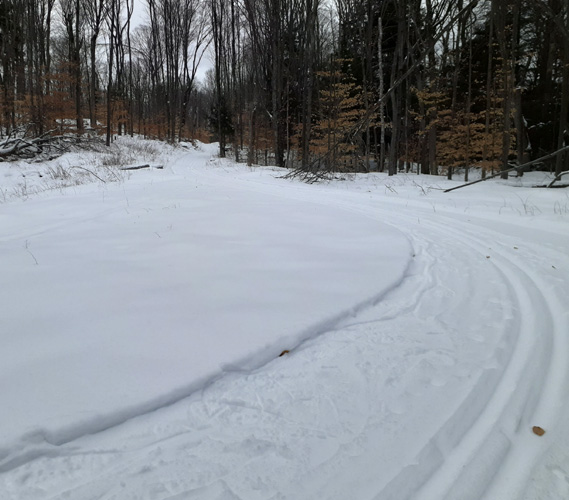 When we got around the B figure8 Loop we came to the only confusing spot. But a compass helped orient us and we headed back on the rest of A Loop which we had walked our previous trip here. In the parking lot there was a new arrival, a man with two lively dogs who were very anxious to get out of the truck. He nicely held them back until we were in the car then a quick moment later they were well on their way down the path. They knew where they were going. This is obviously a popular trail, for good reason.
We ended our delightful three hour walk by leaving a thank-filled note and donation in the donation box. It had been a great way to celebrate my 70th birthday! With dinner at Buckhorn on the way home to finish it off; a very nice day.
January 12, 2022 (01122022) -- Return to Ashford Lake Pathway
We wondered if the Ashford Lake Pathway had any action this year so decided to check it out. It was what seems to be our "regular" hiking weather this year -- cloudy, teens to twenties, calm to light wind, promise of a warmer afternoon so we left after lunch. We have less than a foot of snow here but there is more as one heads north. The main roads were clear which is always nice. When we arrived we found, as last year, the generous parking area plowed. A few vehicles had been in; still no signs.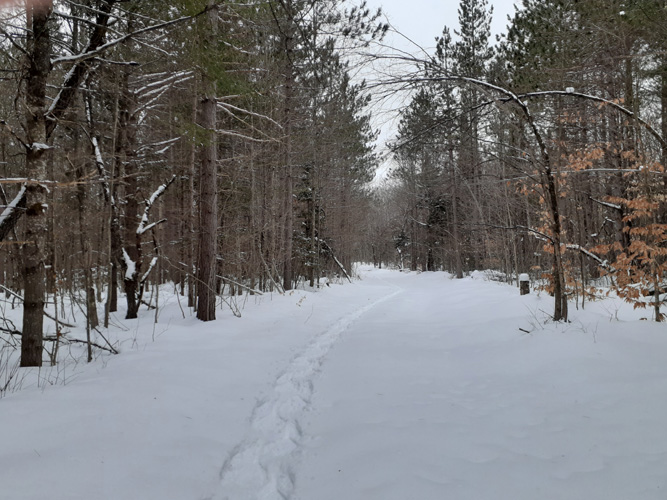 Also, as before, there had been one lone skiier, before the last snow but the tracks were visible. Snowshoes on, we followed the ski tracks up the well covered snowy road-wide 'Pathway', taking turns breaking trail. It may not be particularly exciting or scenic but it's a nice walk.
We think the skiier went the north-west side of Loop1 then headed out north on Loop2; thus we did as well. It really was guesswork but it didn't matter. It was an easy open track to walk and we could just follow our own tracks back if we didn't loop around in a reasonable amount of time. Thankfully, Steve has a good sense of direction, and, most important, a compass (it's rather funny that we both carry good Silva compasses but what gets used most often is a cheap little key-fob compass Steve has hooked to his jacket.)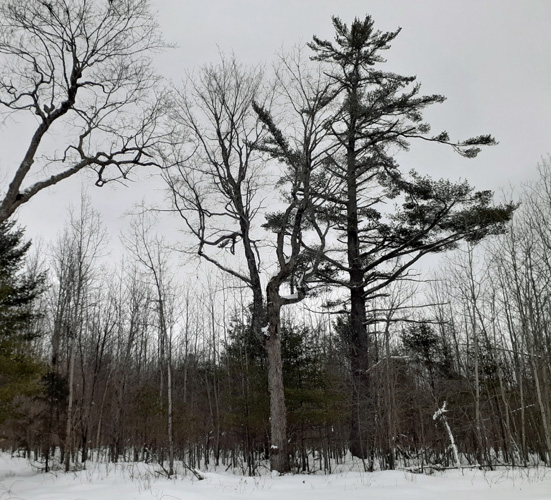 We went by a couple of what might be roads or the trail, but we continued on till we, and the skiier, came to an intersection of a "road" that had a bit of older traffic and a more recent snowmobile. The skiier followed that road left, but it looked like the trail crossed and continued north. This was narrower, not cleared, more pathway-like. Not a road. Plus there were several large trees at the entrance (rare amongst the young cut-over woods). I voted to head on north that way, so we did, clearing a bit as we went (compared to the Esky Snowshoe trail this was nothing!), going around a couple of downed trees. The woods were mixed second growth. After a bit we came to maybe the end; we weren't sure, but it looked like it might turn left. It was a path-like opening anyway. Then that ended, sort of. To the right the "trail" went up a steep fairly large hill (oddly placed in this flat area) where a wide swath had been cut in the young re-growth. We could have turned back. But who knew what was at the top! Up we went. This climb would easily match the best (to a skiier) of any of the steep hills at Rapid River or Valley Spur! At the top we could see that this was par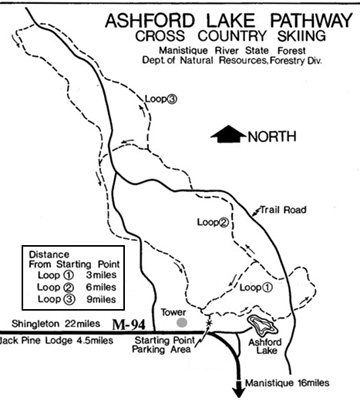 t of a ridge, running more or less west, recently logged with clumps of re-growing young maples. There was no trail. So what was that wide cleared swath up the hill about? Another unanswered question. There was enough room between the young clumps to get our snowshoes through and we had a nice walk along the ridge.
We following the high ground for awhile then decided we better go down and get headed southerly, giving a better chance of coming to a trail or two-track of the Pathway area. At the bottom we headed into a nice woods, fairly thin but with mature trees and not too much undergrowth. Using compass bearings Steve brought us out onto one of the snow covered roads. Were those the skiier's tracks? Maybe. It looked like snowmobile and other traffic under the last snow. Walking east we weren't too surprised to soon see the intersection opening ahead with the large trees, and our tracks. At least if someone followed our trail they would circle around and end up here, too. We guessed that we had been within the northern area of Loop2, between the Trail Road and Loop3. Maybe. It had been an interesting loop, but it was also nice to walk back on our previously tracked trail -- pretty easy snowshoeing compared to breaking trail through unknown woods. An uneventful return trip and we were back in the car in less than 2 hours.
We had planned a longer walk and there was still daylight so we drove up to the East Trailhead of Pine Marten to see if there was a place to park along the road to walk in from there. I'd called the Forest Service Office earlier to find that no, they would not be plowing the PM Trailheads. Sigh... When we got there we found Cty Road 437 well plowed and the Trailhead was at a straight stretch of the road, safe enough to park alongside. And there was indeed a car there, from Minnesota, with fresh ski tracks heading off down the path. We pulled in and parked behind them.
There were other tracks -- boot, snowshoe, ski, so this appeared to be the main way to access the Pine Marten trails in the winter. The trail here is pretty much a straight line, heading west along the scenic Indian River to one of the shelters. It's also a way to get down to the Triangle Lake Loop, and farther on to the Hardwood Loop. We had about an hour of daylight so decided to snowshoe in as far as the Triangle cutoff and see how the path was, thinking ahead to a future trip when we had more time.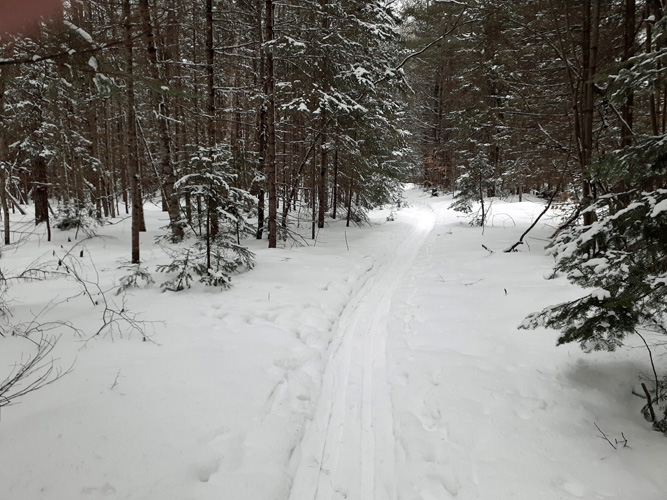 The woods were beautiful, mostly varied aged Balsam Fir and scattered mixed hardwood. The path is a trail not a road, nice, and thankfully there had been enough snow to fill in the horse-hoof-made trough to some degree. The previous traffic had at some point included a snowshoer so the trail was lightly packed and pretty much wide enough for our wood bearpaws, though we were scuffing the edges all the way. The ski tracks of the Minnesota pair were fresh and they were apparently accompanied by a small dog. We felt bad about walking over their tracks but on this trail there is no other option. The path is narrow through the woods and there is no getting out of that horse-trough! It was a nice walk, with glimpses of the Indian River. We came to the cutoff to Triangle in about 20 minutes. The skiiers had gone ahead to the shelter and also south to Triangle Lake. We wondered if they were camping out; it would be a cold night if they were. For us it was a nice addendum to the Ashford Lake walk. I expect we'll be back.
January 7, 2022 -- Escanaba Pathway on Snowshoes
We have hiked on the Escanaba Pathway with bare ground, with a little snow, with more snow, and now there was snowshoe snow. Would the Snowshoe Path be more easily traversed with more snow? But I really thought that we would just walk on the Ski Paths since they are plenty wide for snowshoeing along the edge. It was only mid teens but calm and we were getting acclimated to the colder weather now.
As we started out a couple came back off the snowshoe trail a'foot. We asked how the path was without snowshoes and he said it was fine, and she said it was OK except in one area. So we decided to go with snowshoes. We had a nice chat because theirs was the only other car in the parking lot and it was a Subaru Impreza. We exchanged similar enthusiasm for having a vehicle that was good in the snow since he had also just gotten his vehicle this winter as we had.
We decided to go the Snowshoe Trail, at least as far as the shortcut to Loop1. There were a lot of tracks, both boot and snowshoe and it was well packed. We widened and flattened the path a little more with our wider Iversons but the snow was soft and easy. It's a nice, pretty, hilly trail through the woods at this point.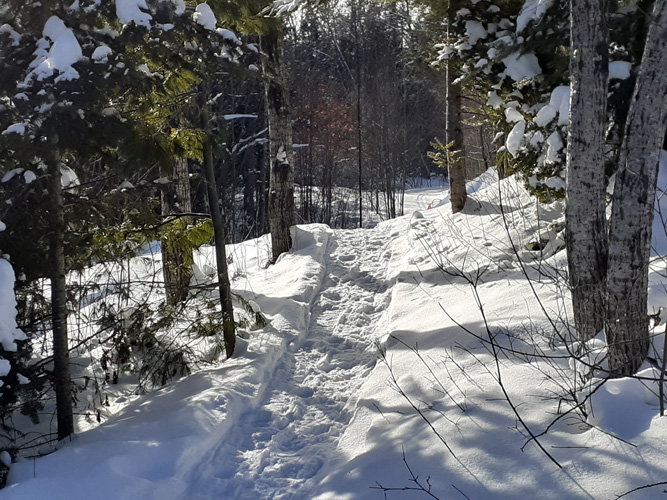 At the cutoff most of the traffic went that way but someone had gone on ahead and we decided to follow. Following someone who has packed the snow makes it easier walking which was nice. But a ways up where the trail got brushier the lone snowshoer turned back. We could have, too. But we decided to forge ahead. Something about the challenge I guess. We'd been here before and knew what we were getting into, or thought we did. Off into the deeper snow we went, breaking trail. Soon we were in the thick tangle of cedars, fitting our snowshoes between the trunks. Thankfully there was enough snow to cover most of the brush and small growth underfoot.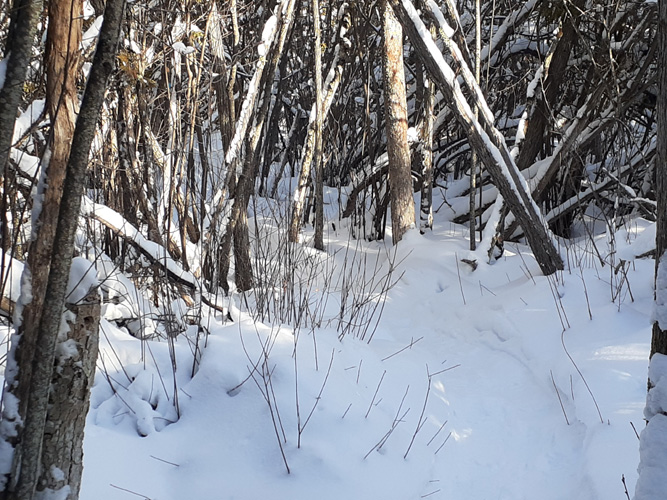 Then came the even thicker tangle of mostly dead tall thick swamp bush clumps (alders? dogwoods?) and marsh vegetation. With age and high wind events the trail was constantly blocked by usually dead crossed stems and branches. So we made our way, mushing through the snow made deeper being upon the undergrowth, through and over young whippy growth; breaking off what we could, moving what we could, somehow getting through what we couldn't, taking turns leading. The trail wasn't really apparent, but looking around it was easily apparent where you couldn't get through (all around), so you just had to take a few steps forward into that little space, hoping it would be obvious what the next step would be. Obvious being relative. It was certainly an adventure! Onward we pushed. We talked about volunteering next summer to do some much needed trail maintenance -- on bare ground!
It got worse as we got to an area that included more trees. There were many blowdowns to get over or under (remember the Limbo?). We laughed at our gymnastics, and at ourselves for doing this. But I kept thinking we must be getting close to the end, by North 30th Street, where one suddenly comes out of the dense brush into a small clear stand of red pine, then turns to walk along the road to the clear, wide ski trail. But we couldn't hear any traffic, nor see any pine trees above the swamp woods. We made our way around a few blowdowns, re-finding the path, such as it was. The sun was getting lower. Then we were confronted with a truly major blowdown mess -- cedars and birch and hemlocks, all thick within the thick alders and dogwoods, every which way. We looked, and looked, but there simply was no getting around or through. We were stopped. The trail for sure ended here, and my guess it will from now on. We turned back.
It was easier walking since we had already broken trail and cleared out most of the crossed stuff. We stopped at the few blue plastic trail markers to add a note that the trail ahead was blocked (pencil worked fine on the plastic). Then we heard voices ahead -- three snowshoers had followed our tracks. But then they turned back, and when we realized we were catching up to them we stopped for a break, not wanting to intrude in their trail experience. We were glad they had turned before it got really rough. But it was nice to know other folks were able to make use of our breaking trail.
Soon we came to that cutoff for the alternate snowshoe trail, crossing over to Loop1 of the ski trail, where almost all traffic had gone. We followed. It turned out to be a really nice loop, hilly but not challenging. When it came to Loop1 where it used to follow along the ski trail the snowshoe trail made a quick turn off onto one of the new boardwalks. Very nice!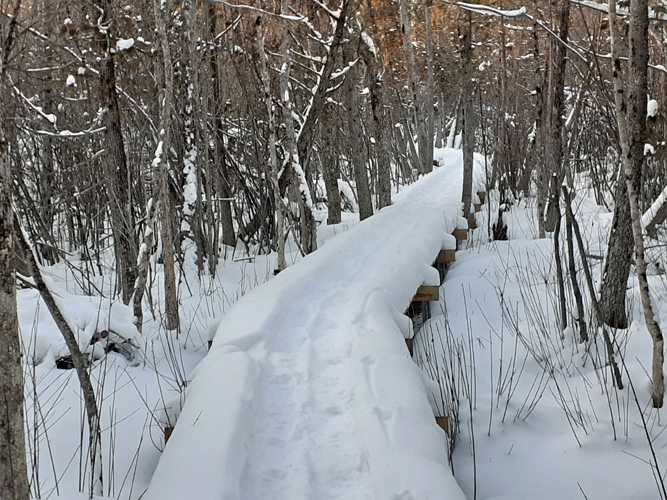 Then back on the ski trail back to the parking lot. It was so nice to see that on this nice wide trail there not only was plenty of room for both skiers and snowshoers/walkers but that not one person a'foot stepped on the ski tracks, staying to the side. People do know how to share the trail, given the space to do so. Almost all the traffic was a'foot but there had been two skiers go through recently. Very recently it turned out because as we got to the parking lot the skiers came along off their trail to their car. They had had a nice run and so had we. One and a half hours out, and only one back. It was a good walk, and a good workout! (more hikes link)
January 4, 2022 -- Indian Lake Pathway and the Boardwalk
Hike day! A warm one amidst the cold, getting into the upper 20's in the afternoon, cloudy but little to no wind. After lunch we headed over to the nearby Indian Lake Pathway trail, a fairly short 4 1/2 mile trail divided into three loops with cross trails. We figured the wet Pathway Loop 1 should be well frozen by now. Our previous hikes on this trail had convinced us that frozen was the only way to comfortably walk the first section, unless it was warm and you didn't mind wet feet. But the outer higher area (Loop 3) is the gem we were looking forward to revisiting.
The small parking lot was plowed and the narrow ski groomer had quite recently been through to lay tracks (and to saw out the many fallen trees blocking the trail). But beside the tracks there was a nice flat section (made by the groomer snowmachine) that we could walk/snowshoe on. How nice! It was firm enough so I opted to leave my snowshoes in the car but Steve wore his. It looked like easy walking so we could probably do the entire trail (4 1/2 miles); there should be enough time. So off we went.
Well, it didn't take long to find that the real nice flat base for snowshoeing beside the ski tracks only went as far as where they parked the small groomer by the side of the trail. That track was simply the snowmachine getting there. We could have turned back but there was just enough room to walk beside the ski tracks, so we decided to continued. This trail doesn't get much use so we weren't concerned about being in the way of a skier. I had about a foot wide firm (mostly) area to walk and the trail itself was usually wide enough for room for the snowshoes. The regular snowmobile trail, recently groomed, enticingly flat and wide, crossed the Pathway several times and followed close beside often. We had thought we might walk over there but it was easy to hear that the snomo trail was in full use as machine after machine went by. We stayed on our own trail.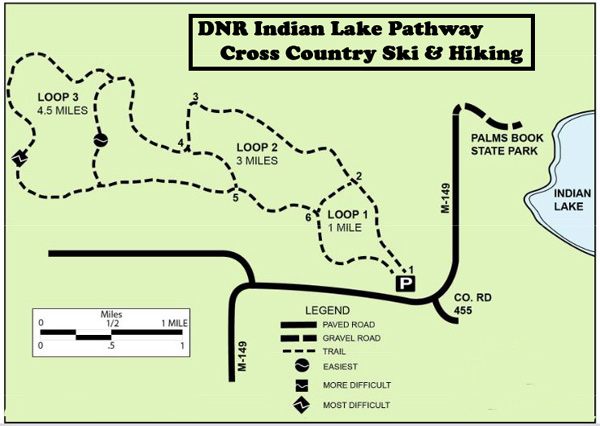 On up Loop 2 we went, walking on one side, then the other, then back as the ski tracks varied side to side, and as we avoided brambles and brush and the whippy small branches of young beech trees spreading out into the opening. So with eyes down to stay off the ski tracks and eyes up to avoid getting slapped in the face we made it to the start of Loop 3, and the start of the higher beautifully wooded section. Unfortunately, the groomer didn't head up there, he went on around Loop2 leaving the beautiful Loop 3 to the deer (lots of tracks). And since I didn't have my snowshoes on we couldn't go there either. So we followed the groomed tracks back down 2 then 1 to the parking lot. Though not the longer walk we'd planned it was a good hour and half trek. We decided we would come back after a good snowfall and before the groomer got out to snowshoe more comfortably up and around the whole trail.
But we wanted to walk a bit more so we decided to head on into town to the Boardwalk which would add another nice hour's walk, just enough time before dark for that. On our way we checked out the nearby Big Spring where a friend had said he had snowshoed around. They had roughly plowed the drive in and an area to park. There were three snowmobiles there and from the tracks it is a popular destination. We walked down the very well trod path to the Spring with the temperature heading down as we went. There were a number of signs placed around asking people to stay on the path to protect the fragile banks and roots of trees, so obviously we weren't going to head out walking around the Spring. But we joined the three snowmobilers on the raft to admire the big fish as they pointed them out (this was obviously their first visit here and it was fun to hear their enthusiasm - it IS an amazing spot). The view across the water and up the River was wonderful, made more so by several small groups of ducks moving about (and out of sight as soon as the camera was ready).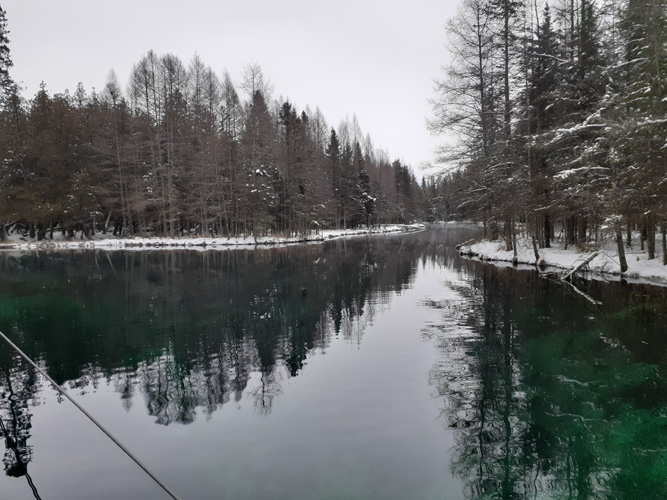 Onward to the Boardwalk in town. We parked near the marina at the west end, adding layers since there was a light wind off the cold water, and headed east along the Lake. To our surprise we could hear a very loud noise ahead -- machinery of some sort? heavy equipment? -- hopefully nothing major wrong along the Boardwalk. As we got near and could see the breakwater out to the lighthouse we realized the source -- large, icy waves hitting the ice covered shoreline. The area around the breakwater was heaving broken ice covered and the waves coming in were big, caused by storms farther south down the Lake. The sound made the air seem much colder! We took a photo but one just can't get that big noise into a still photo.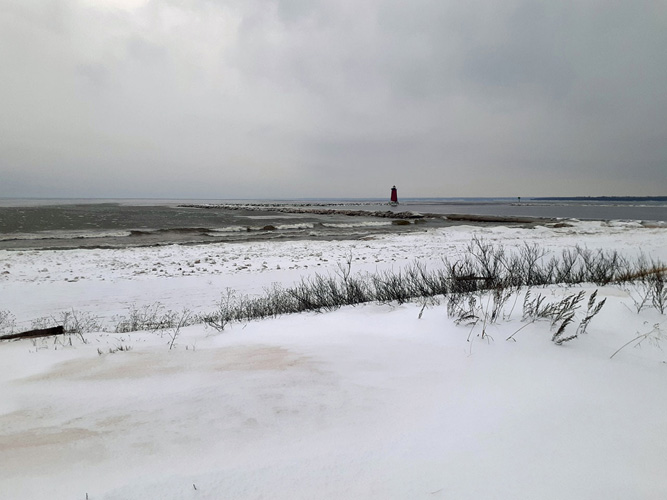 The walkway itself was snow-covered, drifted, trampled with many foot prints, being neither plowed nor groomed which didn't stop many walkers, just slowed us up a bit. There was just one other woman out and she was making her way along the frozen beach. We stopped often to watch the big, curling "surf's up!" waves crashing along the shallows, and marveled at the noise and the process of shoreline ice forming. Away from the breakwater the expanse of ice and snow-covered "beach" continued to grow and expand outward as the cold waves splashed and broke along the edge, water turning to ice in the cold. We wondered how far out that "shoreline" will be by the end of winter; will the ice make a high ridge or continue forming a low shelf out into the water. It was an interesting, always new, walk along the edge. We turned back at the other end as the cloudy sky got darker, enjoying the different and still fascinating view on the way back. It was a very nice hour long addition to our earlier walk. (more hikes link)
December 30, 2021 -- Groomed Trails!
We read that the Days River Snowshoe Trail was now open. We weren't sure what that meant but thought we'd check it out. The trail would likely be flagged and possibly have had some traffic so we wouldn't be the one making the trail like we did three weeks ago. Though that was fine, too. There should be enough snow now anyway. We'd go on to the snowmobile trail to check it out, too.
Well, to our surprise, the snowshoe trail was not only "open" but it had been groomed! We'd never seen a groomed snowshoe trail before but it was neat and flat (except where the snowmachine groomer had a bit of trouble getting through and around tight trees -- it couldn't have been easy), and snowshoe width. It must have been done that morning, and no one had been on it yet. We rather hated to walk on it, sort of looking like white carpeting. But of course we did. With our "old style" snowshoes we didn't make much of a dent.
At the far end we left the pretty groomed trail and headed off through the trees, following a skier's tracks. We aren't the only ones who enjoy the wide snomo trail where we were headed The snow was soft as temps were in the teens, bright cloudy with light snow falling, very pretty. We hoped it would warm up a bit as we went along (it did). When we got to the bridge and the snomo trail we were delighted to see it had also been recently groomed, very wide and flat, with little traffic yet. We decided to keep our snowshoes on, as it was a toss-up as to which would be easier boots or s'shoes. The track was so much easier walking than our last visit and we enjoyed a nice long walk.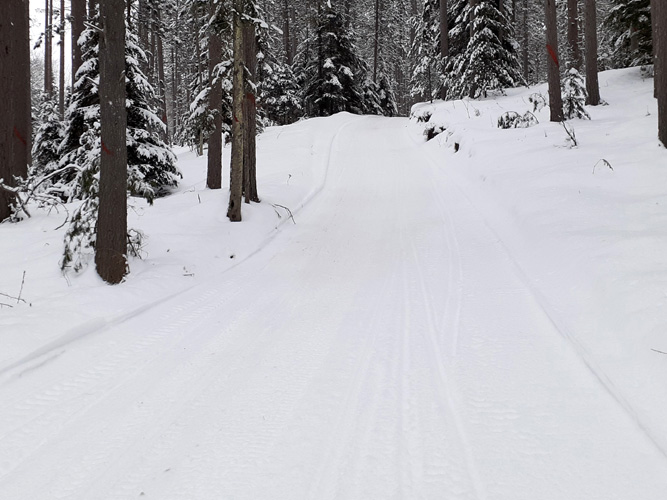 We were passed by two snowmachines (we stepped off the trail) and on the way back we were passed by a dog, with her owner walking briskly along behind. It was nice to see other folks out enjoying the day. We returned from the snomo trail trek and turned back to the Days River S'shoe trail, crossing the ski trail as a mother and young son came along, returning from their run. Maybe new ski's for Christmas? Back at the parking lot a bicyclist was strapping his bike on his car. What a nice diversity of people this trail serves. We enjoyed our outing and suspect that they all did, too. (more hikes link)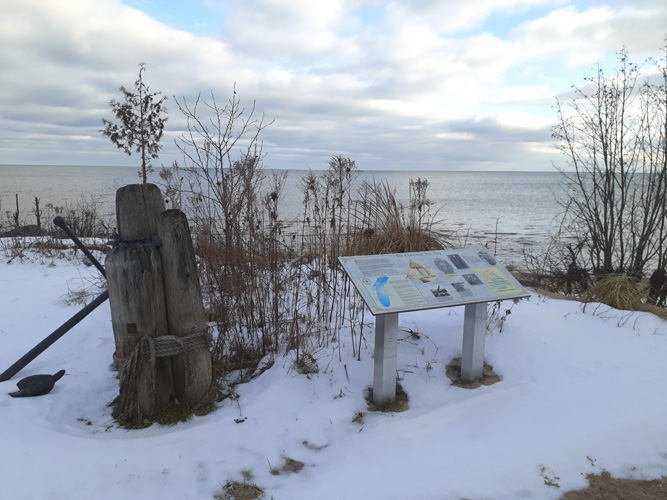 December 25, 2021 -- A Christmas Day Walk
A Christmas Day Walk starting at the Christmas Tree Ship site at the historic Thompson Harbor/boat launch, where Thompson Creek runs into Lake Michigan, seemed fitting. It's also convenient, being only about 10 miles away and is the start of the wide curve of beach that we enjoy by Rogers Park (see 12-20 post below). There is a nice mini-park with the Harbor and Christmas Tree Ship stories and an inviting bench (in warmer weather) to enjoy the view. You can click on the photo below for a larger image to read the Christmas Tree Ship plaque/sign.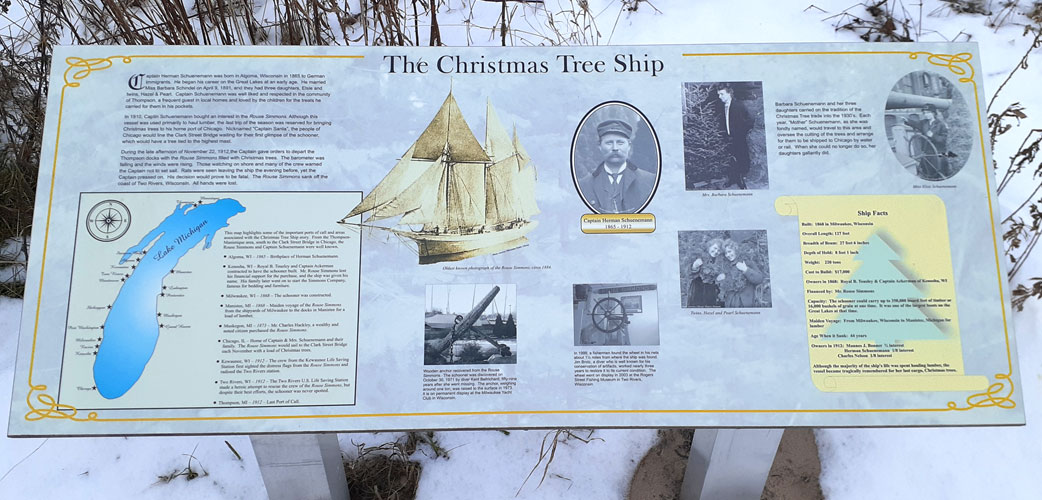 It was a lovely walk and we weren't the first to enjoy Christmas Day this way based on the tracks. The Lake has already begun its resculpting of the beach and shoreline, so interesting. We were often able to walk on sand by the water, gently lapping this time with no big waves. Some areas had frozen sand/ice right down to the water and we weren't inclined to wade out to get around so inland onto the snow covered beach we went. The icy in-between was tricky but overall it was a gentle 2 hour walk, up the beach and back, ending as the sun went down and the Christmas Day came to a close. We hope you had an equally pleasing Day!
12-23-2021 -- An Unplanned Section at Pine Marten Run
The day's weather certainly is a factor in our decisions of when to hike but often equally as big is the coming forecast. Thus it was today. Cloudy, calm, 30-32 deg -- great for snowshoeing. And with the promise of rain and freezing drizzle tomorrow, that clinched it. We decided on Pine Marten Run and the Hardwood Loop, hoping there would be enough snow to fill in the horse troughs.
Snowshoes in the car, a nice ride up, plenty of snow, and then a necessary change of plans when we found the Trailhead not only not plowed but with a nice plow-bank blocking even an attempt to get in off the road. Parking alongside wouldn't be a good idea on this snow covered, curvy, narrow road. A bit disappointed but we decided to go on up to Bruno's Run where there would be parking options.
But continuing on the back roads we passed by the West Trailhead of Pine Marten on a not-plowed section of road (no banks) and a little less snow here. Sure enough, with the AWD Subaru we could pull in far enough off the road, as someone had done before us. We are loving having this car for winter! And this would be a new section to walk -- so snowshoes on, and off we went to do the Rumble Loop.
The first part was a straight two-track with the Indian River winding/wiggling on one side and a broad blueberry bush filled clearing on the other. The Forest Service had done a planned burn here several years ago and we could see tops of charred stumps and 2-10 ft blackened up the sides of many (live) trees. Unfortunately, a snowmobile and a truck had gone in (apparently they missed the Non-motorized Trail part!) which made snowshoeing difficult. But soon they took off across the open and we headed to our left to walk along the loops of the River amongst a snow spattered red pine plantation.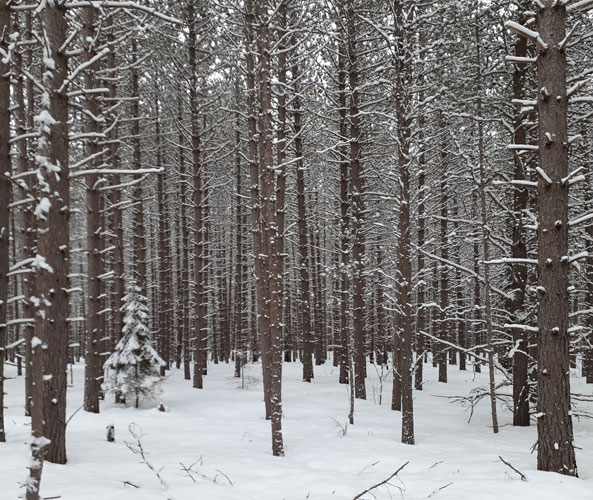 We didn't know where the trail was, and there were no markers or signs. I had noticed widely spaced orange tape but we didn't know whose trail markers they were -- hunter? potential new trail? logger (hope not)? hiker? They seemed to be going as we were, more or less along the loopy River, so we decided we'd just follow somewhere between the River and the Orange. Since Steve couldn't see the orange all that well I led the way, making our own loopy trail amongst the trees in the soft snow, seeing the River sometimes (winding so beautifully along) and a bit of orange others.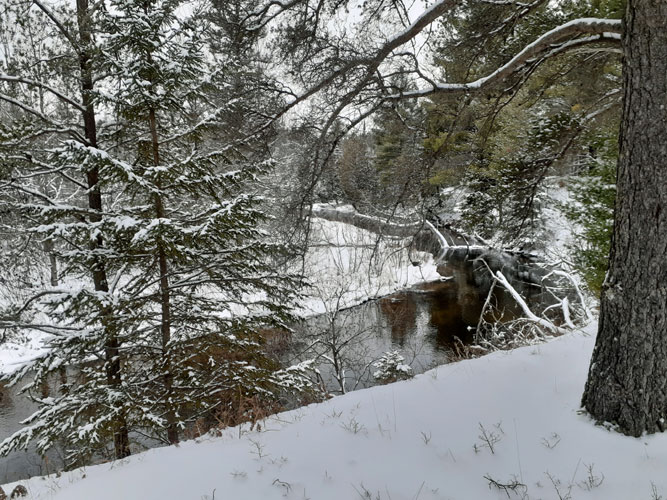 The plantation pines turned to mixed woods and there was enough snow, maybe a foot, to cover up most brush and branches that might snag a snowshoe. We stopped for lunch at a point we could see the River between the trees and sat on a downed small tree, well snow covered, a bit slippery sitting on our sil-nylon pads but a nice break.
We continued in and out along the River till we met a thicker woods of mostly young hemlock on lower ground, where we and the orange marker tape stopped. We turned away from the River, staying on the higher ground, still in a nice woods. There appeared to be an open area ahead as we came to a snow covered two-track, snowmobile tracks, and off to the left a barrier with a sign. Hurray! The first sign we'd seen. Maybe we could figure out where we were.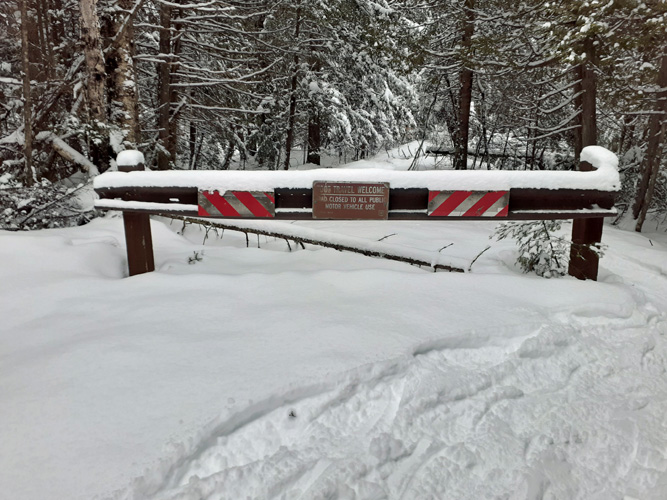 We walked up to and around the friendly "Foot Traffic Welcome - Non-motorized Trail" sign onto a straight ahead track through a beautiful mixed older hemlock woods. Though it wasn't particularly low ground we could hear/feel ice under the snow now and then, and a glimpse of water pockets in the woods. Wouldn't want to walk this one in the Spring! Up ahead was another sign (we were on a roll), an official wooden sign with a shelter logo and "Rumble Lake". No arrow, just the sign by the trail. Well, now we sort of knew where we were. We looked around but there obviously was no lake or shelter here. But it looked like the trail made a fork and we guessed the Rumble Loop headed off to the right and we were headed to Rumble Lake itself. We had apparently gotten onto the regular trail when we came out of the woods. We continued ahead, straight, on flat ground along the bottom of a real nice ridge to our right. The hemlock woods transitioned to mixed hardwoods with the usual small beeches giving color, their parents long gone now. We remarked that this trail was obviously not laid out by any North Country Trail crew who would most certainly have run the trail up and over and around that ridge as many ways as possible! Which what makes the NCT so interesting and fun to walk. But on snowshoes, and this far into our trek, we very much appreciated and enjoyed the flat ground of this trail.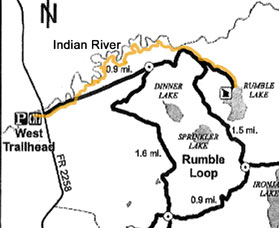 About 15 minutes later we came to the nice little oblong Rumble Lake. No sign of the shelter. We headed up the ridge but didn't see it. Back down Steve realized the trail continued straight ahead along the lake - there just happened to be a tree fallen across it. Up again around the tree and down the trail and sure enough there was the sturdy Adirondack type open shelter, with a small table and stool. We had thought we would stop for a break there but it was getting late so we decided we best head back. It would be easier and faster on the return since we had our tracks to follow. But we were mindful of the clouds and forecast of snow (which didn't happen until on the way home), and the usual coming evening dark. It was a nice relaxing trek back and we were happy to return to the car after our longest snowshoe walk of the season. At 3 1/4 hrs we figured we went about 5 miles. As you can see on the map the actual Rumble Loop to Rumble Lake is a pretty straight shot but that certainly wasn't the walk we did! Sometimes off trail can be more fun. (more hikes link)
12-22-2021
Longer days are comin'
Sunshine's in the air
Cold and crisp and solar rich
Solstice time is here!
12-21-2021 -- Happy Winter Solstice! And a video to Celebrate -- Let It Snow!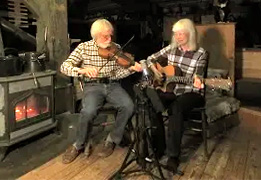 P.S. The bit at the end -- When we were all set up and ready to go LilliB jumped up onto Steve's chair and wasn't at all interested in leaving that warm perch. We did convince her to jump down (the easy way -- cat treat in the kitchen) so we were able to continue. Apparently she's getting into these videos. She jumped up on the shelf above our heads and stayed there for the whole time (can't see her much in the dark but she's there).
12-20-2021 -- Solstice Beach Walks
When Steve drove along the Lake on US-2 between Thompson and Manistique after the big gale storm he noticed something very different along the shoreline. We went down late afternoon today to check it out, walking east from the old Thompson boat launch along the 1.5 mile sandy section to and past Rogers Park. The past years of record high water on Lake Michigan (and the other Great Lakes) along with the usual gales and storms had already changed the shorelines in many places, tearing out vegetation, moving sand, removing human built objects, leaving banks and edges along the shoreline, step-downs in the water. This area was no exception and we had become used to the narrow (or no) beach. The Lake levels have dropped some now, a bit more beach returning. But what this recent storm had done looked quite unusual - nothing we'd seen before.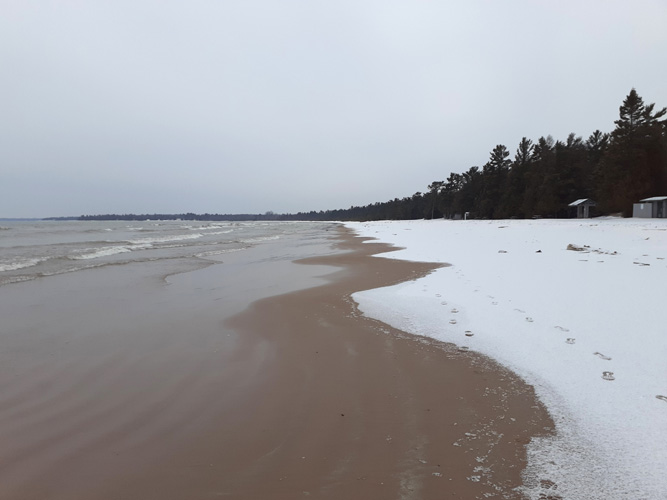 It had scoured the shoreline flat and smooth, a very wide area far out into the water. The waves were breaking far from shore with shallow sheets of long flat water gently moving up the now very wide beach (snow covered in the photos), receding, as another comes in. To get into water above knee level one would have had to go out a long way (we didn't check that out). The distance varied as we went along the curve of the beach but it felt like we were walking on a wide ocean beach (well, except for the temperature, snow and cold breeze!). No ledge just long flat expanse. I reminded me of areas with large tides and wide mudflats.
Almost all of the plants and roots and stems were gone, the sand was peppered with scattered small stones in one area, zebra mussel shells in another. But almost no driftwood, just a few random pieces. We walked to where the shoreline starts getting protection as it curves out into the water at Stoney Point. There was still an area of vegetation here before it transitioned to stone. We turned and walked back, in the sand (except when a more ambitious sheet of water came farther up to meet the snow) and at the edge of the frozen, snow covered beach. It was all bare sand yesterday when Steve saw it. Quite a sight.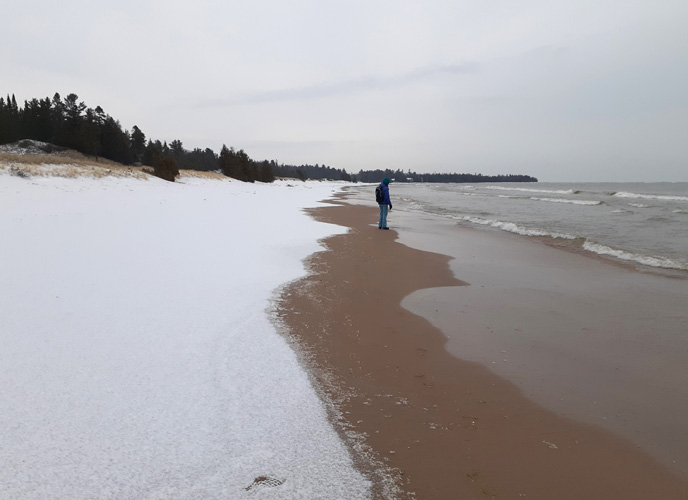 It's a guess as to what will happen as winter, waves, wind, ice and more storms arrive, what will change, what will it be like come summer. It was a delightful and interesting hour's walk. Though a bit chilled we warmed up in the car and decided to head into Manistique to see how the Boardwalk had fared. Here we found a similar situation as at the Rogers Park beach. The waves (which were larger here) were breaking farther out, with a wide expanse of flat sand, stone, or shale beach showing. We hadn't seen that much 'beach' since the low water levels about 10 years ago. Since the Boardwalk (combination of pavement and wood) was mostly covered with a mix of sand, snow and older frozen snow/slush our steps were some more deliberate but it was a good walk. The sun went down and the clouds cleared enough to give a beautiful if brief sunset behind the waves breaking against the breakwater out to the lighthouse. We made it back to the car before dark having had another hour's enjoyable walk. We decided to finish off our "Solstice Walks" warming up with dinner at a nearby restaurant. (more hikes link)
December 18, 2021 -- Picking Up Sticks
With the storms, big melt, and gales over we figured it would be nice to head out and help clear a trail and go for a walk. Mildly cold, mid to upper 20's, not much wind, cloudy with occasional flurries -- a decent walking day. But we didn't get going until well after noon so it wouldn't be worth it to drive too far, the days being so short. Maybe down the Garden Peninsula to Fayette, we might even find some bare ground to walk on. Though we had lost significant snow our ground was still well covered with maybe 6" of snow. With the recent freeze the paths were walkable without snowshoes which was nice.
Turns out they had as much snow as our area did. But the main roads were clear and the roadways at Fayette State Park covered with just the most recent snowfall. We parked in the empty parking lot and walked up and over the plow-bank to the start of the upper Bluff Trail. No other tracks from today but when we got out on the trail we guessed the staff had been out yesterday to clear out the larger tree and limb blowdowns across the trails. There was plenty of smaller stuff though to make our walk a progression of stop-stoop-toss-step-step-bend-toss... But there was enough new snow over the layer of frozen slush/snow that had survived to make walking easy. The hardest part was to let small stuff be -- more snow would cover it soon and be fine for the skiers and snowshoers. It was a bit cool along the cliff near the water but we warmed as we went along, stopping a few times to gaze out over the cold water to the townsite on its small wind-swept peninsula.
It wasn't too long and we remembered the important tool of clearing trail -- a good flip-stick -- sturdy but not too big, fairly straight with a nice little hook on the end. No more bending, except for bigger stuff. But then it was even harder to ignore the small stuff, they were so much fun to flip! But we did want to walk, too, so on we went. Such a peaceful place this is this time of year, and always beautiful. As the trail turned inland it was warmer and the woods thicker. Being full of oaks and still live beeches it was also the domain of squirrels. Suddenly the ground was covered with squirrel tracks and little piles of leaves where the critters had been busy retrieving their stash of nuts. They must have been really happy to have that deep snow melt down.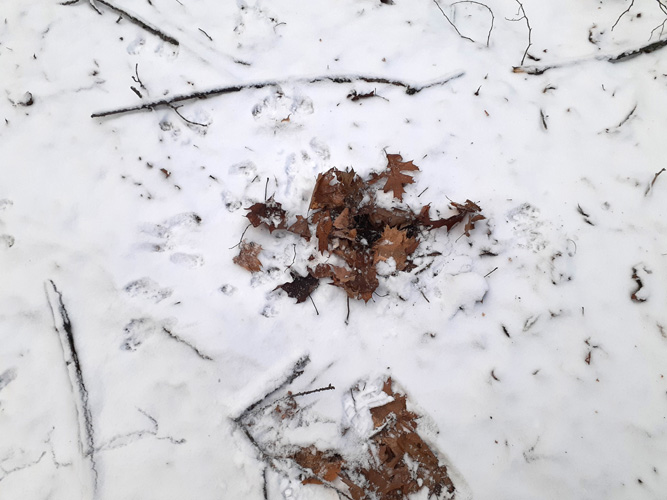 Later on we came upon a much larger area of dug up leaves. We both said -- deer. We had seen that on other trails through oaks where deer had cleared the snow around every large oak, going for the acorns under the fallen leaves. But when we got closer there were no deer tracks, just an impressive amount of squirrel traffic! They either had a few crazy active squirrels or a very large population. Maybe both. We only saw one red squirrel but the rest were probably down in their cozy dens sleeping off their nut eating frenzy. Or maybe they had just moved their stash in anticipation of snow to come. Either way, I think they have a healthy squirrel population here. We were surprised not to see any other tracks.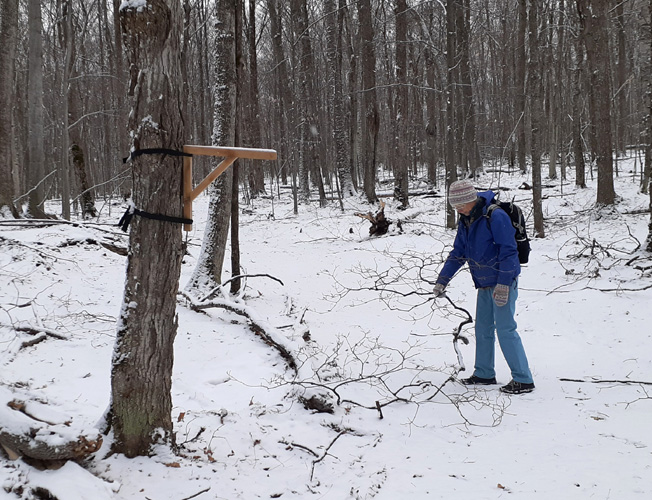 As we walked along the trail we couldn't help but notice temporary wood hanging brackets, regularly spaced, held to trees with buckled nylon straps -- easy to installed and remove. Very well designed and built! Every winter Fayette State Park hosts an evening ski-snowshoe-hike Lantern Lit Walk along the 1.5 mile Bluff Trail. We had never gone down for it (it's hard to get us back out out on the snowshoes after dark in the winter) but maybe we will this year. When I got home I looked it up (January 29 this year) to read they use regular kerosene storm lanterns, which explained the sturdy hangers. That's an impressive lot of lanterns to haul, hang, light, and maintain!
When we crossed the road near the entry booth building the trail headed down and was signed with neat small wood signs carved with a painted shoe-sole -- must be a walking trail! We put our flipping sticks down and decided to stop clearing trail and enjoy the rest of the walk. We had an option of the longer outer loop or across the shortcut. None of their trails are "long" but with the cloudy day we chose the shortcut, not wanting to end up walking by headlamp light even on an easy trail (we do enough of that at home!). So down and around we went through a different but still pleasing wood, heading over to the campground and the road along the water. Lined with beautiful and impressive cedars and patches of the unique shaped sumac, with the sound of the waves against the banks this was a cooler (light breeze off the Bay) but beautiful section of the walk. Glimpses of the gray ruffled water was lightly muffled by light snow in the air. This is a walk we've enjoyed often in much warmer, and greener, weather. As we neared the open view of the Bay and the townsite we enjoyed seeing the buildings from this direction, outlined as they were with the snow. We marveled at how cold it must have been to live and work here in those winters long past with cold winds blowing across cold water on either side.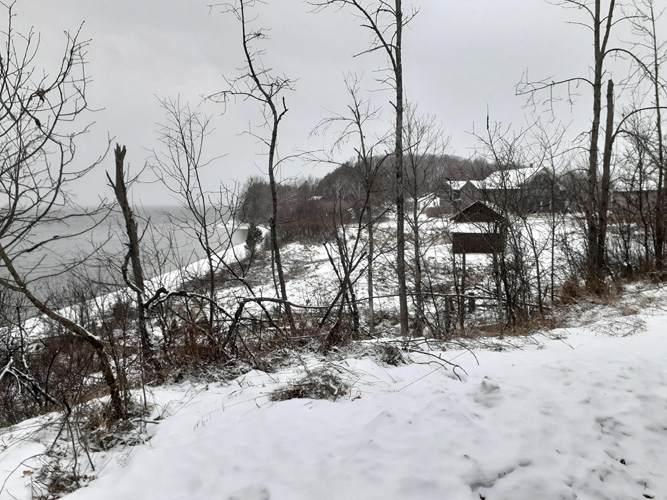 There was enough light left to walk around the townsite but we could feel the falling temperature and breeze picking up so were content to head up the steep hill back to the still empty parking lot and car, having enjoyed our few hours at Fayette. (more hikes link)
December 16, 2021 -- OK, Where Did It Go
We're used to the many changes of weather but to go from 24" of dense snow pack to maybe 4" of wet slush in 48 hours is a bit much even for us! Along with a night/day of gale force winds just for fun. Now we're starting all over again with the snow. Who can guess where it will go from here.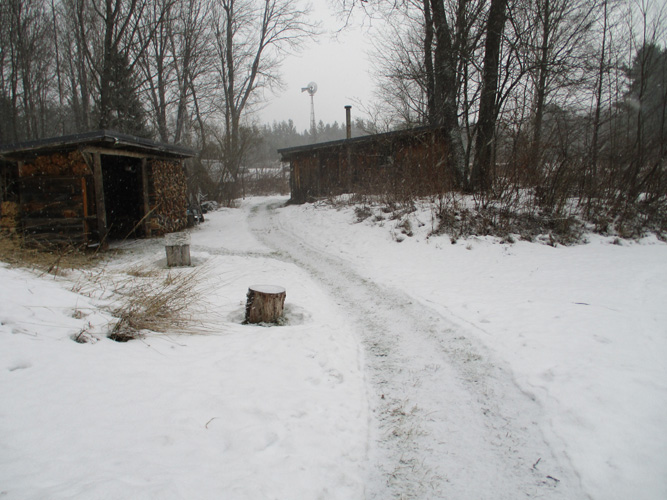 December 11, 2021 -- More?!
Apparently Nature is making up for last year's lack of snow. We had 10" on the ground already, and last night's storm has added about 12" more. And it's not done yet. I think we can put our hiking shoes away.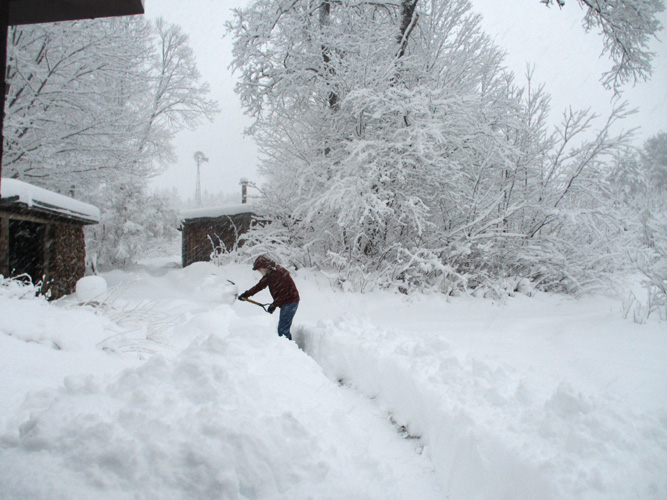 Even the little outside window hangings got into the swing of things, seeing how much snow they can hold till it falls off, just like the big guys do.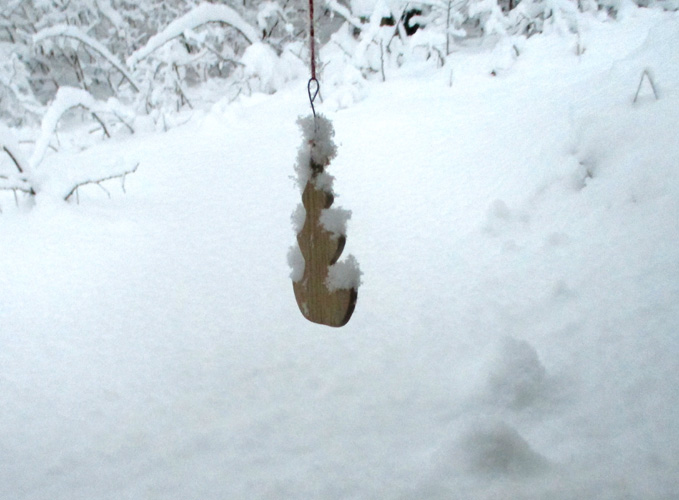 And LilliB is pondering the possibilities - indoor or outdoor? Is the path shoveled yet? Is it spring yet??!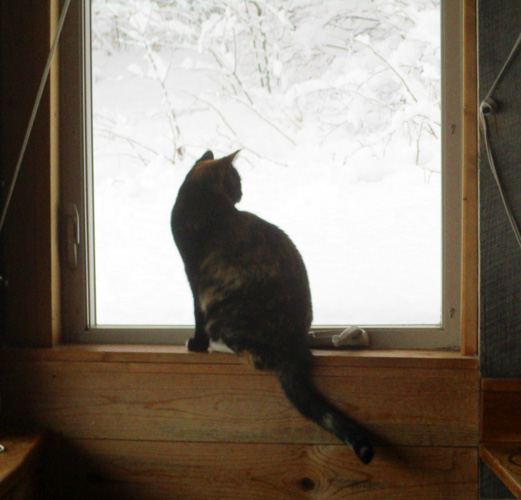 December 8, 2021 -- Checking Out the Snowshoe Trails
It was a bit chilly when we headed out this morning (it had warmed up to zero by the time we left) but it was clear skies and a forecast of calm and 24 degrees later. Steve had sold one of his older fiddles (having bought a new one and running out of places to store them) and had offered to deliver it to Trenary. We wanted to get some cedar shavings from the Trenary Mill anyway (really great fire starters!). We tossed in the snowshoes with plans to check out a couple of snowshoe trails. The recent snowstorm had been pretty widespread across the U.P. so snow and snowshoeing was pretty much assured, starting from our front door.
Our business completed, our first stop was the Rapid River Ski Trail. There was more snow here so not surprising the ski trails looked in great shape and recently groomed. And it had warmed up into the teens with clear sunny skies. Now, the snowshoe trails get "groomed" by the first to walk them, and that apparently was going to be us. So off we went into the soft cold snow, trading off breaking trail as we went along, aware that we were making track for whoever might come after (until there is another big snow to cover up all tracks and it all begins again).
The first section is along a straight power line opening but with some light hills. Part of it also shares with the first ski loop so that was groomed. But there was room on either side of the groomed tracks to stay off of them and was a nice break from the deeper snow. Then the ski trail cut off and soon the snowshoe trail turned into a beautiful but sometimes very wet low lying woods. Thankfully it was a much drier year and enough snow cover so only the first step looked damp, then all was well. It was great to see nice new trail signs and markers since half of the snowshoe loop is also the beginner/tot ski loop. Being assured of where you are and that you are on the right path helps keep the outing fun. Plus it shows the Trail is being well maintained (kudos to Hiawatha National Forest staff and volunteers). At the top corner of the loop we came to a new sign that pointed off on a side trail that had been made through the woods down to the Rapid River Falls. How nice! It's more river than falls this time of year but it was flowing beautiful and musical, and a real nice addition to the fairly short snowshoe loop.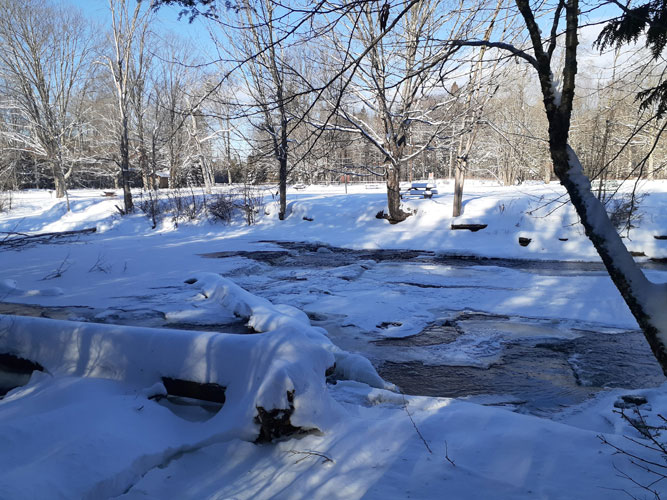 Around to cross the A Loop of the ski trail we continued on the snow covered two-track section, straight and true right down the middle since this is part of the Tot Loop here and we wanted to make a nice track for Tots of all ages. Back at the parking lot, well short of an hour, we brushed off the snowshoes and put them back in the car alongside the bale of aromatic cedar shavings. It was a short but sweet walk (helped along by some Trenary Raisin Cinnamon bread!). Now to see how the Days River Snowshoe Trail was.
After a few stops, including lunch, we pulled into the snow-covered and slippery Days River Pathway parking lot (all back roads and lots are in that mode now). We saw a fat-tire bike heading out on the nearby snowmobile trail so hoped that meant it had been groomed as that was really our destination. It was still clear and warmed up to low 20's which was nice. It looked like the ski trail had been roughly groomed but not sure if tracks had been laid down yet as it was also churned up with foot and dog tracks. But we soon saw why folks were still walking the ski trails as there was no sign of of the snowshoe trail -- no markers, no sign with arrow to show where to go. The snowshoe trail markers here are temporary and put up each year (just plastic tree tape). But at least there was enough snow to cover the stumps and brush that has made the trail hard to walk in the past.
We knew where the small east snowshoe loop went and could pretty much see the wider openings through the logged pine plantation so once again we did the 'grooming' job and made a track. We found widely spaced yellow flag markers now and then to confirm that this indeed was, or will be, the snowshoe loop. We were just early. When we crossed the ski trail over to the west loop of the snowshoe trail there were no markers at all and it was harder to tell where the trail had gone. I let Steve lead here! Since our goal really was to go through the woods and get to the snowmobile trail on the other side he pretty much just followed along the ridge with the winding creek down below; a nice walk and I think part of it at least was on the "regular" trail. It was something someone else could follow anyway.
Soon we saw the bridge of the Snowmobile Trail and found that it had not been groomed either (this is the first real snow of the season and not necessarily the best for grooming; plus some clubs don't start grooming until Dec.15 when muzzleloading season is over). But a couple of snowmobiles had gone through making a rough path to walk on. With the soft snow it was a toss up for snowshoes or not. We went on the snowshoes for a bit then stashed them in the woods to continue afoot. The bicyclist had gone on before us so we were following his tracks as well. The snowmobile tracks were neither straight, flat nor the right width for snowshoes. Walking was better, sort of, as one could search out the best tracks to walk in but it was similar to walking in soft sand at the beach, only in boots. It was a great day to be out anyway and we considered it cross-training for our muscles! I'm sure the bicyclist didn't have any easier a time in the soft snow but he did as we did -- look for the firmest footing.
At an intersection (and there are a lot of those in this area of logging roads and two-tracks old and new) we picked up more traffic (tracks that is), and better footing. Farther on at another major intersection a truck/SUV and maybe a tractor or tracked ATV made for really nice, flat snowpack and great walking. There were deer tracks all over. We were thinking it was time to turn back but this was so nice we went on till we got to the small bridge over a pretty creek (that we photographed several times on last year's treks), still running under a good layer of ice. The sun was getting below the tree tops so that was our turnaround. We could feel a slight breeze and the usual cool-off of evening, especially when the trail went into lower areas, so we were glad there was no real wind. We retraced our tracks, going from the easy walking section, to the medium easy (where we met a large SUV traveling the trails), then back to the snowmobile only tracks as the others turned at the intersections. I think this part is supposed to be snowmobiles only anyway, which, like the ski trails, matters when they start grooming.
We retrieved our snowshoes and soon crossed the bridge and turned back into the woods to retrace our tracks. We tried to find the old "official" snowshoe trail to make a proper loop back to the parking lot. But after ending up in some recent logging slash (which catches in the snowshoe webbing making progress very difficult) we headed back to our original track along the creek and returned that way. It's hard to say if they'll be making a snowshoe trail at all this year, or maybe they just hadn't gotten to it yet. It seems that the best way to keep people from walking on the groomed ski trails would be to provide a good alternative. But I think that's a low priority. And it is a lot of work to clear and keep clear a trail through the woods.
Our legs could feel the combined walks of the day, the longest yet on snowshoes and in soft snow this season, so we were happy to get back to the car after 1 3/4 hours, still in the daylight though the sun was well behind the trees now. The biker was also there, dismantling and brushing the snow off his bike to put in the back of his car. We chatted and found he had similar experiences on the trail. The snowmobile trail near where he lived had been groomed and he was expecting that here. But with the regular single track bike trails at the Pathway not groomed yet he made do with the snowmobile trail as it was and happy to be out on such a nice day. We all knew that the coming forecast of above freezing temperatures and chance of rain would likely keep us off the trails for awhile.
Back at the garage we finished our snowshoeing adventures for the day, with the final 1/2 mile walk down the hill and through our extremely beautiful woods (in our opinion!) with enough light in the sky and a bright quarter moon to guide us along our well packed trail. LilliB wasn't even concerned about it being a little past dinner time, and the temperature was 5 degrees warmer than when we'd left in the cold this morning. Another beautiful day. (more hikes link)
December 5-6, 2021 -- 8" to 10" of Winter Arrives
A nice U.P. blizzard last night into today, with high winds, respectable snow amount, most everything closed down, snowshoes on, snowshovels back in service, temperatures dropping to single digits tonight. A nice day in the U.P.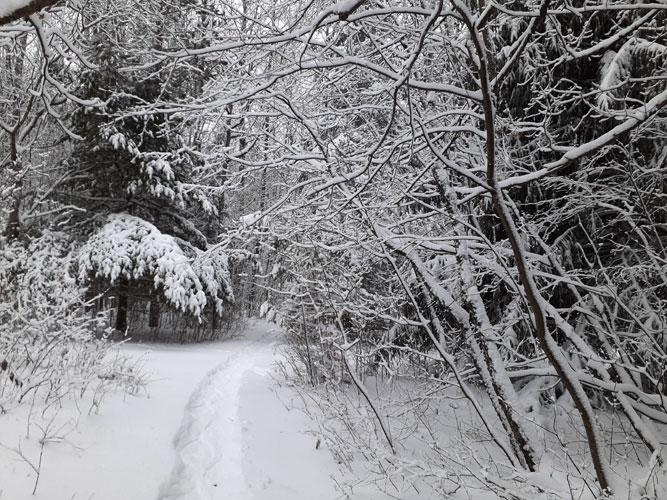 December 3, 2021 -- Finding the Forestville Trailhead
A day similar to our Seney walk Monday (mostly cloudy, mild wind, about 32 deg.) found us in Marquette and ready to stretch our legs after the 2 hr drive. We took care of our other commitments and headed out into the confusing pattern of trails and roads among which was to be found the Forestville Trailhead, a main hub on the Noquemanon trail network. And, we hoped, the North Country Trail, having decided to walk from Forestville back to where we had stopped last trip, then northwest where we hadn't walked yet. The Noquemanon map is very nice but comes up a bit short on finesse when it comes to fine points of exactly where a trail is, especially the NCT when it intersects their trails. On the other end the NCT maps are precise and clear, showing most roads plus elevation (which helps a lot in this variable terrain) but only a little of the Noquemanon trails. There is more information online though. Not to complain in any way; this area is a complicated mass of criss-crossing trails and roads, many with no names or designation, and both organizations do an amazing job with their trails. Steve had an idea where to go so off we went, hoping for signs for both getting to the Trailhead and finding the NCT.
Not to worry. It was a lot of turns and corners on un-named dirt roads but Noquemanon had signs at every corner. We made it there in good time and it was indeed a mega trailhead compared to the usual little pull-offs with a sign. But the focus and reason to be of the Forestville Trailhead is the cross country ski and biking trails complex, with ample parking, large building, lights, constructs, equipment, outhouses, etc, and signs saying the area was for members and guests only. We decided we must be a guest and found a spot out of the way to park the car. There was only one other vehicle plus someone on an ATV plowing so there was plenty of room. And though there was only maybe 4-6" of snow with bare ground showing here and there it appeared they had groomed the ski trails already! Sure enough, in came a skier (and a couple of bikes were heading out when we returned). But there was room for everyone and we headed on down the snow covered and very slippery drive to the equally slippery road looking for the NCT, which by the maps should be nearby. We hoped it would be easier walking on the trail.
It wasn't far and I spied the friendly blue rectangle of the NCT trail. It felt good to step off into the woods and start following the very well and recently re-marked trail. Back on then off a rutted snow covered dirt road then finally settling in to walk another beautiful section of the NCT. Since this was a continuation of the territory of our last walk we weren't surprised to very soon encounter a hill of rock, with enough rocks and roots underfoot to slow us down to very mindful walking.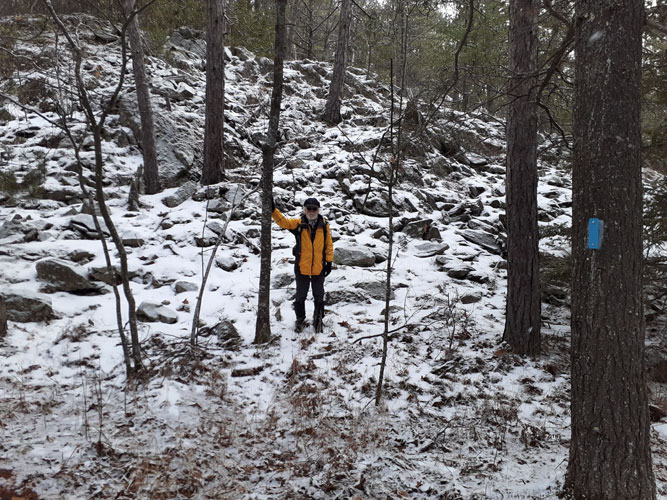 .
Up, over, down, through a beautiful section of mixed woods, made a bit trickier walking with snow covering the wet leaves but the temperature near the ground stayed in the sweet spot of cold enough to not be too wet and warm enough to give traction in the snow. There were also sections of bare (leaf covered) ground and we relished what was likely (based on the weather forecast) the last we'd see, and walk on, that for many months. After about a half hour the trail heads fairly close to the road and through some lower, flatter, no rock woods which gave some relief. We tried to determine where we had turned about the last trip but it's surprising how different a trail can look coming from the opposite direction, and now mostly covered with snow. We guessed at the spot but decided to continue on to the Big Rock. There were some wet sections along some lower parts but easy enough to go around. And though you could hear traffic on the nearby road it's a nice part of the trail.
After about another half hour up, up the trail went, and we went slowly, slowly, carefully choosing our steps on the jagged rough snow and leaf covered rocks up onto the wonderful rounded bare top with a grand view across nearby valleys to other large rock outcroppings in the distance. But the last time we were here the only trail markers had been older painted ones on the rocks at your feet and now there were new blue aluminum trail markers on the sparse but hardy small trees along the rock (great work by the trail volunteers!). But this was indeed where we had been before and we walked across on the rock-top trail to look down the even trickier descent on the other side. Yes, we remembered that, too, and decided this was a good spot to turn around and go back. It was definitely cooler up on top and we were happy to make our way down and into the warmer woods.
Back to near the Forestville Trailhead we discovered where the NCT crossed the road and went along beside the Trailhead complex (there was our car), coming out on the other side, sharing or crossing ski and bike trails through what must be (based on the tipped up picnic tables and fire-rings) the Forestville Campground and through an obviously logged oak woods (must have been beautiful before!). Crossing or following for a short distance two-tracks and trails we left the Trailhead area. Going through some light woods and heading up we came across a wide cleared expanse of major power lines, going straight through hills, valleys, woods and anything else, to the (recently demolished) power plant at Lake Superior. One could not only see the Lake but Presque Isle as well. The NCT does have its non-scenic times, but this section was comparatively short and was a good contrast to the rest. We really appreciated stepping back into a nice woods, leaving the other trails, tracks and roads behind. The walking on this NW side of Forestville Trailhead was much easier - no rocks.
We walked through a beautiful mature cedar and hemlock woods high along a ridge and were surprised to look down onto a delightful winding creek at the bottom. The surprisingly swift running small water crossed over, under and through little dams of downed branches and trees. Soon the trail made its way at an angle down the slope to follow along beside this magical and musical creek, deep in the shadows of the woods. The sound was equally as wonderful as the view. We wanted to take a photo of this highlight to share but it was too dark. On the other side of the little valley the trail headed back up to follow through a beautiful hemlock woods.
It was getting time to turn back so we looked for a memorable spot to mark (in our minds) the turn-around for a future continuation of our walk on this section of the NCT. Up ahead was a clearing which turned out to be an old road. Across that was a nice entrance back into the woods where we sat for a rest snack before the return trip.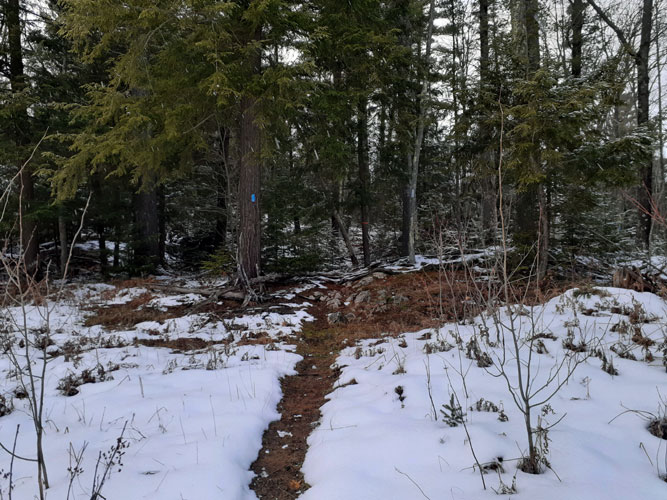 The sun came through the cloudy sky enough to cheer the stop though rifle shots in the woods reminded us that though the main firearm deer season was over there were still people with guns in the woods, and we didn't want to be out there as the sun went down. We did consider that maybe dog bells might be a good idea this time of year. So we ate our cookies, crossed the old two-track and headed back into the woods, down and across the wonderful musical creek, up the other side and through the beautiful hemlock and cedar woods.
Soon we saw the Forestville complex through the logged woods and only 40 minutes since we left we were back at our car. These two walks from the Trailhead, east and northwest, showed how one really can't estimate how long a trail section might take based on distance. The east walk with a lot of slippery rock and ups and downs was about 3 miles out and back and took us 2 hours. The northwest part with relatively easy walking was about half that distance on the map and only 40 minutes time. Thankfully, our criteria isn't distance but enjoyment. And we had a very enjoyable hike indeed. (more hikes link)
November 29, 2021 -- Seney Wildlife Refuge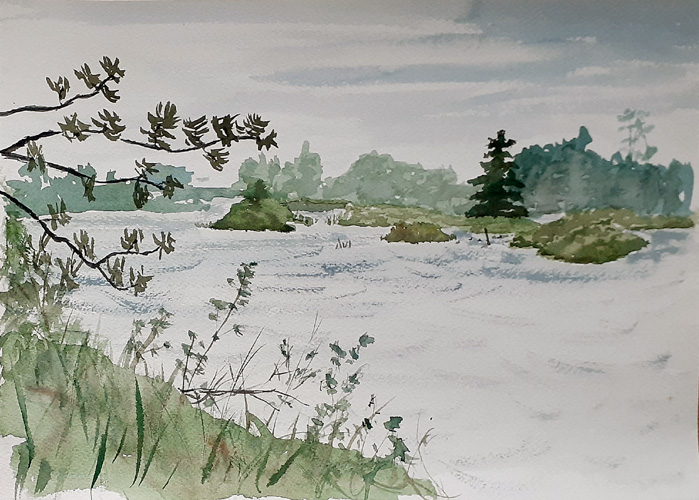 This wasn't our first visit to the Refuge; we've visited several times over the years, but not in the winter and not very often. I have sketches I did there about 20 yrs ago, and I remember our first walk with a group of friends maybe 10 years before that (cold early spring, none of us prepared for the weather or the length, but fun nonetheless). Then another walk in summer with a friend about ten years ago, a fast paced trot due to the flies and because he's a runner, but with stops to admire the many ducks in the ponds. We've thought off and on about heading up there again but it's not on the way to anywhere and more than a hour's drive so it never happened. It is indeed a unique and interesting place but we tended to think of it more as a casual destination with paved and graveled roads where one can also walk or bike, which is actually quite a small section of the Refuge. It does have wildlife though, depending on the time of year. When large groups of sandhill cranes or geese fly over our place in the fall we figure they've come from Seney. And as large as the Refuge is, it is just a part of the larger Seney wetlands area, so it's not a surprise that it is also known for its awesome population of mosquitoes and flies!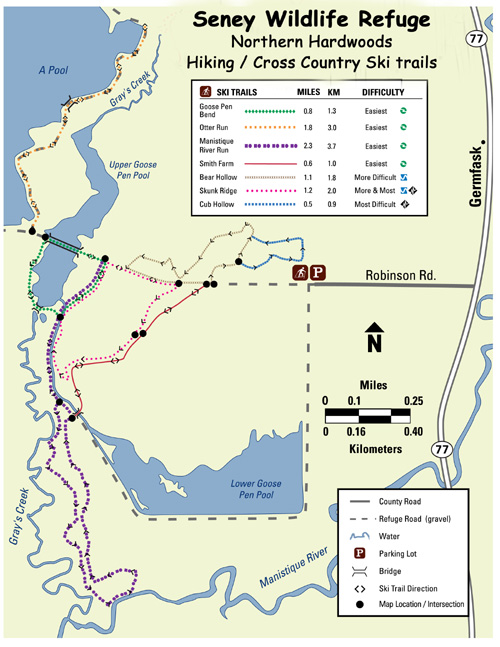 But bug season is over, and a few days ago I ran across a list of U.P. ski spots and to my surprise there was Seney Wildlife Refuge. Seney? Sure enough, they have made trails around and through the small area of upland ridges on the Refuge -- the Northern Hardwoods Hiking/Cross Country Ski trails. Well, that certainly required looking into. A quick search brought up info and maps and a plan to go check it out. Though most of the Refuge is open to hunting, the area where most of the trails run is not, though we weren't all that concerned anyway. Today came up calm, cloudy with maybe some sun, maybe above freezing, and less enticing weather in the days to come. Perfect. We had maybe 4" of snow here, shouldn't be much more up there, not enough to be a concern. It's definitely still hiking season.
The sun was hazy, the snow 4" to 8", and it didn't get above freezing, but it was calm, incredibly peaceful and beautiful, and a wonderful afternoon of exploring these new trails. We were the first humans to walk the trails since the latest snow, but there was ample deer tracks as well as squirrel and mouse/vole. In the first half hour we saw a chipmunk, eagle, and red squirrel, doing a good job of representing the Wildlife part of the Refuge.
The Loops are short, 1 to 2 miles each, so we laid out our plan to cover all but the north and south sections heading out into the "hunting allowed" areas, keeping mostly to the hilly sections. We parked in the small lot by the lower entrance and walked in on the flat access road. There was fresh truck tracks but no foot traffic. Soon we headed off south onto Skunk Ridge loop and into the quiet world of the woods. This was definitely different than our usual ideas of Seney. Mixed age hardwoods, maple that look quite different than ours, a lot of yellow birch with their cute little bird's foot seed scattered across the snow, a few long dead large beech still standing with many more providing a different kind of habitat as they decay on the ground, young beech providing color with their "all winter" leaves. Hemlocks mixed in, other trees, plenty of hills, quiet except for our snow-squeaky steps. We were getting back in the swing of walking in snow once again. The trails weren't cleared of brush which was no problem for hiking but wouldn't be much for skiing until there is much more snow to cover everything.
Back on the access road we finished that loop and turned north on the Bear Hollow loop, looking for a particularly nice downed tree (there were plenty of choices in this untampered woods) to sit and eat our lunch, surrounded by friendly forest.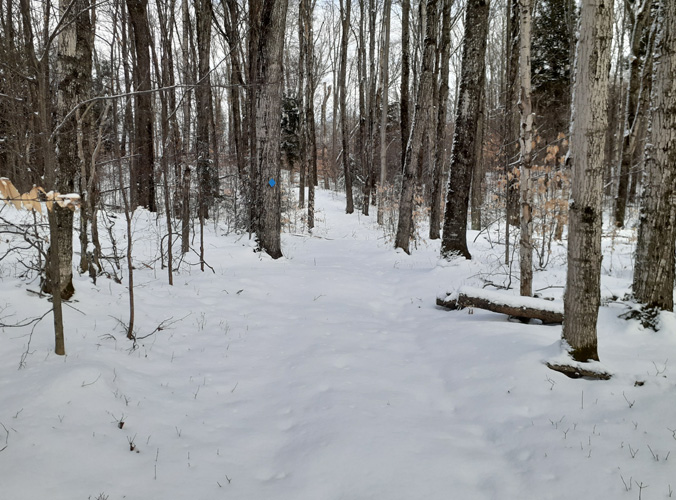 Re-energized we walked on, including Cub Hollow loop tacked on the east side of Bear Hollow, both wonderful sections. This area was more diverse, with the trail going off the ridge into a beautiful low forest of hemlock (and later a small natural red pine woods) (I'll try to refrain from saying 'beautiful' every sentence).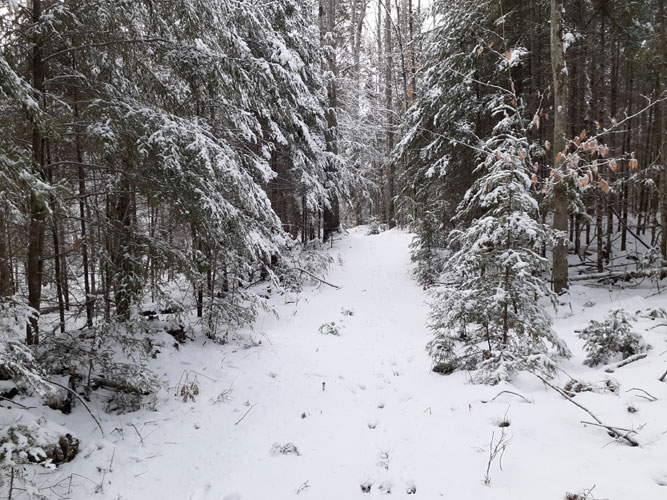 Though we knew we weren't far from roads and managed areas, the feeling we had was one of being deep in the wilderness. Though the woods are "northern mixed hardwoods", the same as our own woods, they are much different here. Of course, the underlying soil and terrain is much different, and not being filled with logging roads and ORV trails gives a much wilder feel. We were almost surprised when we found ourselves back on the access road.
We decided to head west out of the woods for a short jaunt on flat open ground and a different world on the Goose Pen Bend loop. Crossing the bridge of the Upper Goose Pen Pool we realized how much warmer it was in the woods this time of year, with no sun to help out. A nice walk along the Pool brought us to the small dam on Gray's Creek which manages the Pools. It is quite an impressive construction and arrangement, with a grated platform so one can stand on and see the wild, noisy water underneath, or look out on the quiet of the Pool to the north and the calm water of the Creek, heading on down to the Manistique River.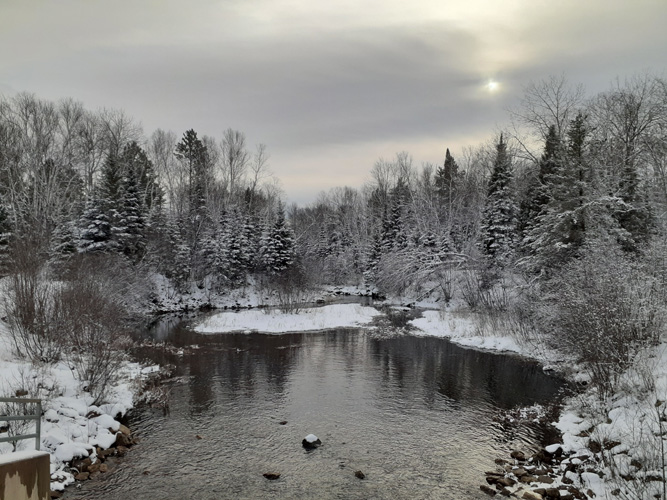 This was a reminder that the Refuge is very much a people-managed area, and it is quite a job that has been done, and continues to be done, a very long term project. Quite impressive considering the history.
We crossed back over onto our original Skunk Ridge Loop and into the woods, deciding to leave the flatter southern Manistique River Run for another time. This east side of the Skunk Ridge trail follows above along the edge of the low Smith Farm field and trail. Our legs were beginning to feel the difference of walking hills in snow versus bare ground so we decided to leave the ridge to return on the flat Smith Farm trail. Back on the access road we could feel it getting cooler. Though not late by the clock the daylight hours are definitely shorter, and snow covered ground doesn't add any heat! Thankfully, there was still no wind and still peaceful and beautiful. And the temperature had stayed just below freezing which is much preferable for walking in the snow.
As we headed toward the car we met two dogs with their human in the distance (which seems to usually be the case). Turns out he was a musician we knew who lives nearby. After a nice chat they headed into the Refuge and we to our car. What a pleasant and enjoyable afternoon, and a good start to the snow portion of hiking season. This is a time when the miles walked get shorter as do the hours available but the experience on the trail seems to expand. Though less than 3 hours it felt like we were out there much longer. It was enough and we were well satisfied.
P.S. We have a bit of a close connection to Seney since several of the large beams in our house came from there, logged after the large Seney fire of 1976, which was burning when we bought our land. I assume the trees were cut from State land adjacent to the Refuge. (more hikes link)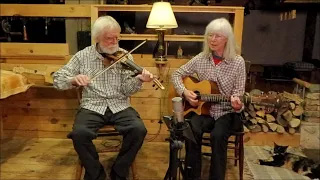 November 27, 2021 -- Happy Anniversary(s)!
Here is a special video for special people:
Happy 50th Anniversary Nancy and Jack!!
and (belated) Happy 60the Anniversary to Merry and Gary!!
Two wonderful sisters (Steve's and mine respectively) and brother-in-laws, both couples having married in November, but a few years apart. And still happily young at heart. With Love, LINK.
November 24, 2021 -- An Afternoon on the Escanaba Pathway
An appointment in Gladstone today meant a good excuse to head on over to the Escanaba Pathway to see if they had put up any more trail markers. It was 45 degrees, hazily sunny, a bit windy but no precipitation -- we just had to go for a walk somewhere. And this was a good choice with deer hunting season still on (no hunting within city limits). Besides, I realized we had few photos of the Escanaba trail, which didn't seem fair since some of the other trails we hiked often had plenty of photo PR. It was a good enough reason to go (not that we really needed any excuse). We had a very nice two hour walk, meeting several dogs and their humans, and even a woman without a dog. And we got our photos.
The Pathway has some real nice scenic sections up on the ridge; always a joy to walk: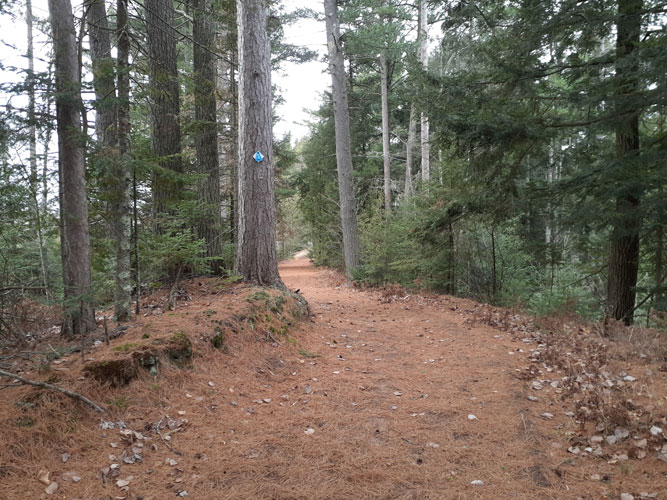 And the big news of the Pathway this year was the 2000 feet of boardwalks put in this year and last, to enable easier accessibility to the area which is mostly part of a large wetlands. This most definitely upped the enjoyment of the trail and made it possible to walk sections that even in this dry season would have meant wet feet and churned up muddy trail (with subsequent damage to this fragile marshland). It will be interesting to see if the former rutted paths that the boardwalks bypass mend and recover. Though it's not clear if the maintenance vehicles might still run on them since they (ATVs) wouldn't be able to go on the narrower 2-board walkways.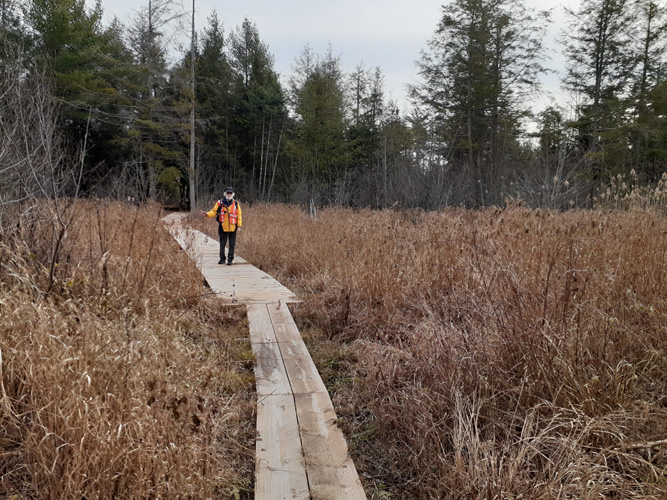 Signage (see our October 21 report on the trail) -- well, there are indeed a few more signs and markers, which helped, more or less depending on where they were. It's still often hit and miss, with unmarked intersections and crossings, and new bypasses not on the map (which is hard to match to the trail anyway). But they are making progress and we applaud the effort. We did manage to go all around Loop 1 this time, thanks to the new boardwalks, with only a few short backtracks and wonderings where we were. We think we ended up doing Loop 2 twice, and still don't know if unmarked Loop 3 is there or not. We did see signs that possibly they are rerouting the snowshoe trail, which is very much needed and would be a big improvement. There is a lot happening here with, I'm guessing, few people doing it. But we'll be back, to enjoy the trail and appreciate the ongoing work to make this an inviting area to walk and ski and snowshoe. (more hikes link)
November 24, 2021 -- the Days River Nature Trail
Since it was only mid afternoon when we left the Escanaba Pathway we decided this might be the day to check out the little Days River Nature Trail on the way home. We don't like to leave any trail within our area unexplored but this one was, like the Esky trail, on low ground so we'd passed it by many times. Maybe today would be its day.
Being right on the Kipling Road, which runs along the Lake between Gladstone to near Rapid River, it's an easily accessible stop. Built some many years ago by a cub scout troop, according to the well aged but nicely made sign in the small parking lot. There is little to no information about it online and no date on the sign.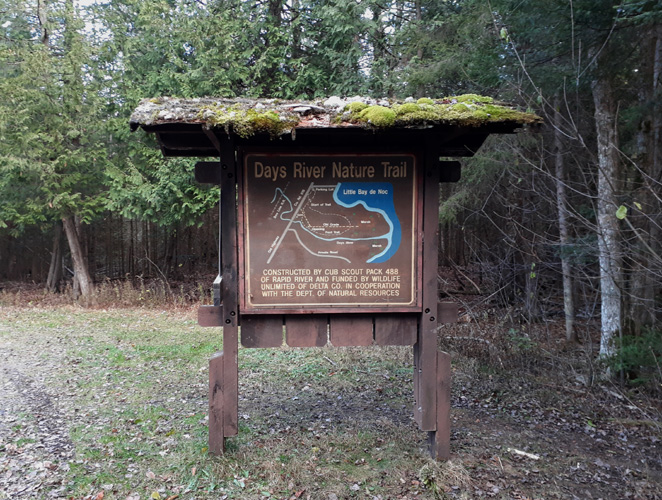 But someone has fairly recently re-marked the trail with blue paint triangles on the trees which is especially nice on a narrow path through the woods, where one could easily walk off in any direction between other trees. And the trail has been used. Though muddy in places it was quite passable, going through a mixed forest from cedar and hemlock to white pine and hardwoods. The land is low, nestled between the Bay, the Days River, and the road. It is a small tract and one never gets away from the traffic noise of US-2, but it is very pleasant.
When the water of the Bay came in view we left the nice trail to stumble through and over the reeds and dead branches and shrubs of the shoreline to see if we could get to the water, more or less following a mix of animal trails. We got close but it was getting pretty wet so we admired this small stretch of natural area along the Bay between the populated sections on either end and returned to the trail. Walking on and around we came to where the trail nears the Days River as it heads on into the Bay. The other part of the Days River that we visit so often on the much larger Days River Pathway trail, seemed far away, though probably not so far as the crow flies. Here the River is fairly wide with houses and cabins lining the other side. There were several short paths from trail to waters edge, with trail signs and a nice bench at the intersection. When we got close to the River we were surprised by a black rooster on the other side loudly defending his territory. His alarms followed us back and on down the trail.
There are some beautiful trees in this un-logged woods, including this beautiful big hemlock. One simply has to stop and hug a tree like that.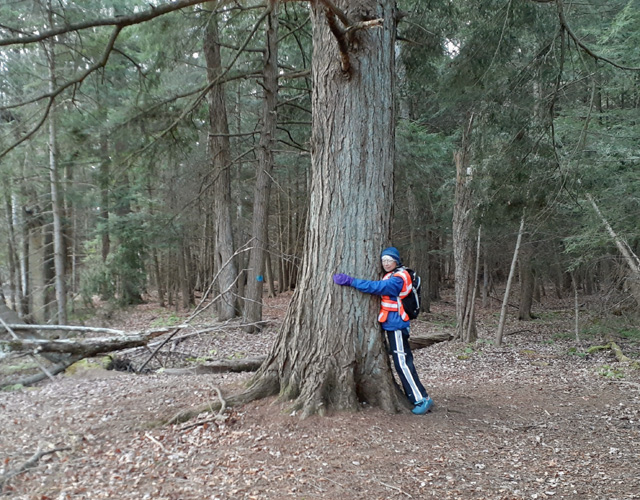 We followed the River then turned in to rejoin the entrance trail back to the parking lot. This is a small but delightful little trail. It probably took me almost as long to write about it as walk it, but trails don't have to all be long and challenging. It's especially nice to find a hidden gem like this amidst a populated area. It will be fun to return and walk it again on snowshoes this winter. (more hikes link)
November 19, 2021 -- Days River Loop 5 Beckons
Seven months almost to the day from the last complete hike around the Days River Loops and we were doing it again, in somewhat similar conditions. It was cooler today -- mid 30's instead of the mid 40's of April -- and only partly sunny, now and then, but the wind was light and we were comfortable. Much dryer this time as well, with no visible water in the bogs (but they were still beautiful green gems) and only slow and shallow action in creek and river. It's never the same, of course, no matter how many times one walks a trail. There's always new interest. We set out for a relaxing, calm walk. After the "watch your step concentration" hikes at McKeever Hills, Rapid River Ski Trail and the North Marquette NCT it was enjoyable to be able to look around while we walked.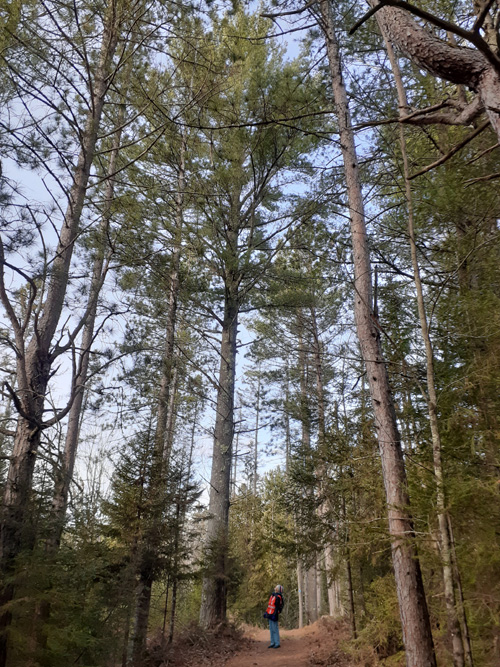 There are some nice ups and downs but they seemed much more gentle after hiking those other trails recently.
We donned our orange vests (it being that time of year) and went the five loops, easy with the now familiar trail, again choosing to skip the Skate Loop (it's mostly a sandy rutted two-track), going the "ski way" (counter clockwise) except for Loop2 on the way back (we crossed back over to the east side as we think that's more scenic). Lunch (macaroni and tuna) was enjoyed when we started Loop4 but we didn't take any other long breaks, just the usual drink-and-snack pauses about every half hour or when a scenic view dictated. There are some nice large white and red pines on the trail, and equally large deep ravines down to the river.
On the way up the east side of Loop5 as we walked along the lowlands of the Days River we stopped at the sight of a fairly recently beaver chewed stump. Then another, and a few more. What a fine sight! We could imagine them out there, waiting for these interrupting people to go on by so they could get back to work. The smaller trees and the tops of the larger ones had been hauled off but one tree, successfully downed, had fallen into another and was hung up a ways off the ground with the top (the part they wanted) too high to reach. Undeterred, the beaver had carved its way partly through higher up on the now downed tree, getting half way through before being interrupted. I assume it will come back to finish the job, and hopefully get it down so they can nip off and use the parts they want. The impressive carving marks didn't show up very well in the photo but they were quite obvious, along with the chips. We just hope they are left to be in this world which is more theirs than ours. What amazing creatures they are.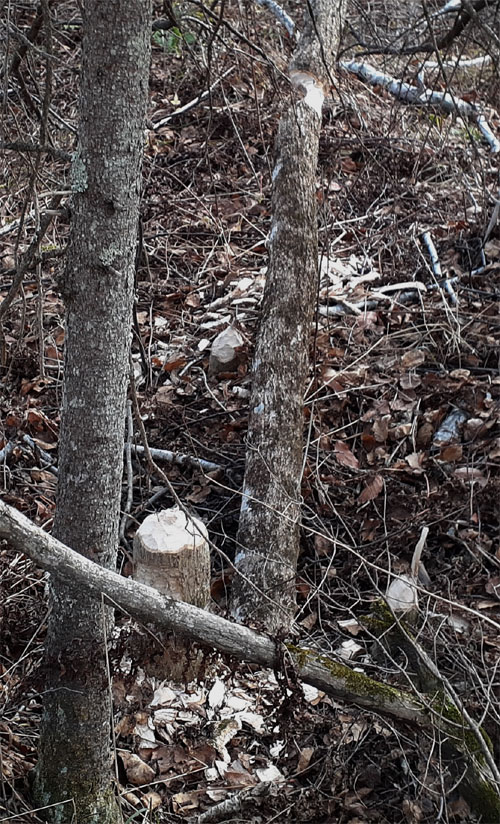 Less than 4 hours later we were back in the car, having enjoyed the nine mile walk and happy to be in shape to do it. We had done numerous shorter walks on the Days River Pathway through the summer on our way home from Escanaba or Gladstone but it was nice to spend more time there. It's such a convenient, well maintained trail and easy to access. It's easy to see why it's popular. Today there were two cars in the parking lot when we left, and two different ones when we returned, though we didn't see anyone. We'll likely get in many more walks there before the snow turns the trail over to the skiers. (more hikes link)
November 16, 2021 -- Bango's Tune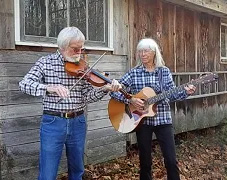 When we were playing regularly at the Falling Rock Cafe Old-Time Jam we were fortunate to have Marilyn (banjo and mandolin) and Barney (upright bass) to play with. They were part of the originals of the Jam. But in the winter they would head south for a time to enjoy some more outdoor time with fellow musicians, and, not incidentally, pick up some new tunes to bring back to us. This is one such tune but it came from Marilyn herself. She said she was noodling on her mandolin as they traveled south, trying to remember a new tune the jam had been working on, when she came up with something else that she liked. She continued on and it turned into, in time, what we know as "Bango's Tune".
I like tunes with interesting names which this one has (we like the tune, too, of course!). For Marilyn's birthday someone had ordered a birthday cake to be decorated musically and with "Banjo Lady" written on it. To their amusement it arrived miss-spelled as "Bango Lady". As Marilyn hadn't come up with a name for this tune yet their long time band mate and hammered dulcimer player, Chelle, christened it "Bango's Tune". Thus this nifty tune became official. Here's our rendition of it: LINK.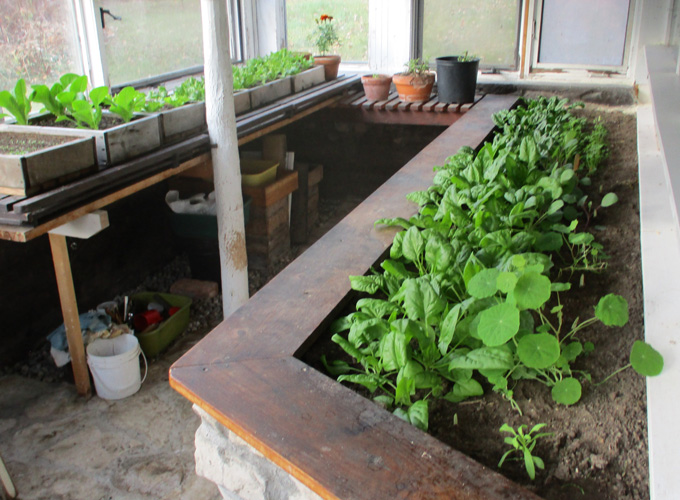 November 15, 2021 -- Happy Spinach
It is a beautiful tree-filled white outside this morning with a gentle start to snow season. This makes the green filled greenhouse especially pleasing. The usual array of growing lettuce takes up the space on the bench near the windows, enjoying easy access to the short but sweet sun. The bed along the house is also getting good sun -- it's just a little later to hit all of it. But the spinach growing there is doing better than ever. And with the colder nights now and then I will soon be moving my harvesting from the garden to the greenhouse, abandoning the lettuce and spinach still growing in cold frames.
I did something different this year for the spinach. In the past I've transplanted seedlings started in the garden into flats which are then moved into the greenhouse sometime in October. The lettuce is happy with this but the spinach hasn't been. So this year I got the greenhouse going early in September, watering the bed, opening all the windows (it's still very warm in the usually empty greenhouse at that time), and planted spinach seed directly in the bed. I also put in some carrots and cabbage just to see how they do (and a couple nasturtiums, and a volunteer alyssum, plus the usual daffodils) (it's hard for a gardener not to plant when confronted with bare ground, even in an inside bed). While there was plenty of warmth, the sun was still fairly high with no direct sunlight hitting the bed yet. The plants did OK with the LED light-bar on and the ambient light. But I could see that they were happier as the sun dropped lower in the sky and started touching the plants directly.
The spinach has grown very well, better than I expected, and looks like it will give us a lot more fresh greens than we usually have. I also didn't dig up and transplant plants directly from the garden as I have in the past (except for one healthy small marigold, and the Stevia who are in pots and will be going dormant soon for the winter). I'm hoping this will help in pest control, particularly aphids and cutworms. Some years there are plenty of ladybugs and I move some into the greenhouse in the fall, but this year they were scarce.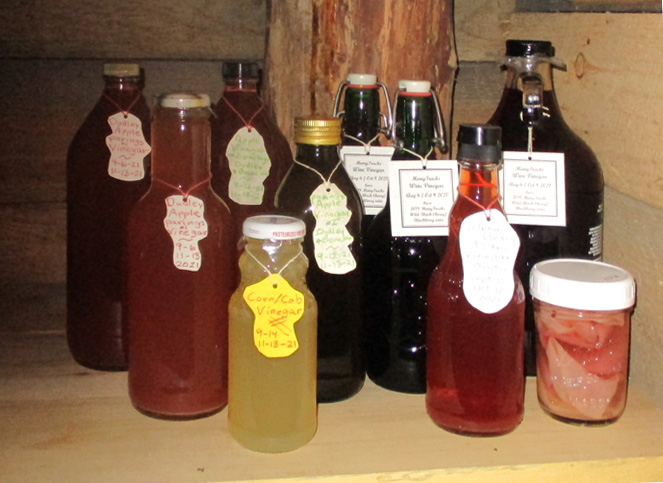 November 13, 2021 -- Aging Vinegar
The vinegar experiment (see September 13 below) is now on to the next stage -- hanging out to mellow and age. The wine vinegar was bottled earlier and is mild and tasty and ready for use, especially for salads. All the others tasted, well, like strong vinegar, which I guess is a good thing! Strawberry, two batches of apple parings, corn/cob and (not bottled yet) squash. The latter two are in the "mmm, well, we'll see..." category. I'm more confident of the fruit vinegars. It will be interesting to see how much, if any, change there is after aging for awhile. Meantime, they look nice gathered on a shelf in the root cellar. They all had good MOV (mother of vinegar) which I've saved to help start the next batch of vinegar.
November 12, 2021 -- Time for Hiking
Actually, we've been getting in some hikes since early October, and it's time to update our Hiking Log. I won't fill up the blog page with all the details of the six hikes but if interested you can go to our Hiking Main Page and click on the individual hikes. But we've been thoroughly enjoying getting out before it gets colder. It's fun to revisit places we hiked last season and to add a few new ones. Here's a brief list of this Fall's outings: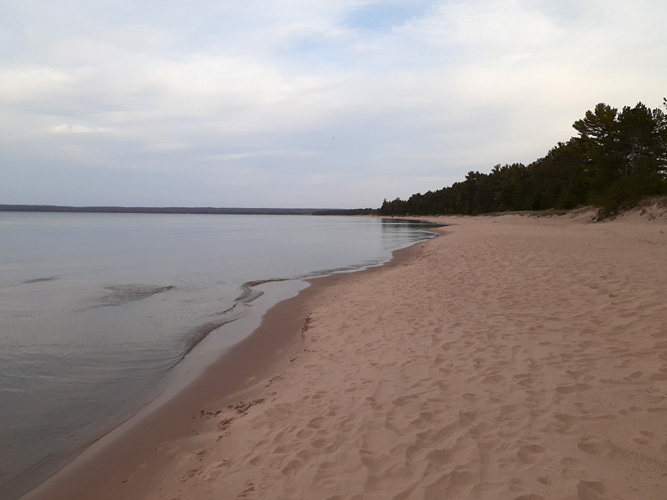 October 1 - AuTrain Beach - This is a walk we did many times this summer; one of our favorite places. On this warm October day we went up for possibly the last bare foot beach and water walk for the year, soaking up this special patch of Lake Superior.
October 21 - Escanaba Pathway - since we'd had a fairly dry season we decided to give the west end of the trail a second chance, and found some happy surprises.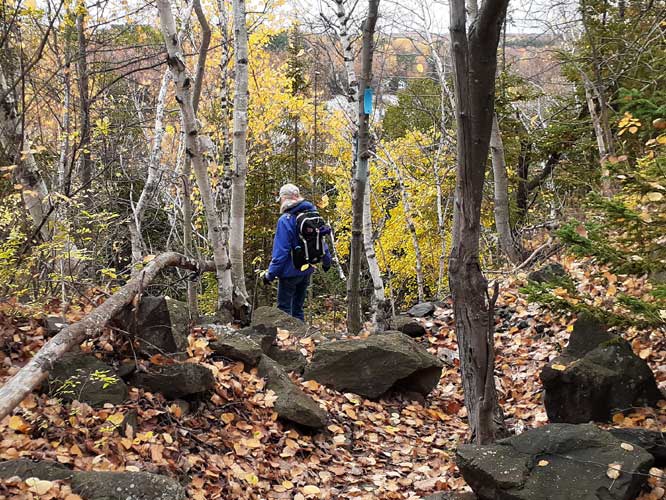 October 29 - North Country Trail / Noquemanon Marquette Trails North - a wonderful trail with varied terrain, and far fewer mosquitoes and black flies that when we were last here (hurray!!).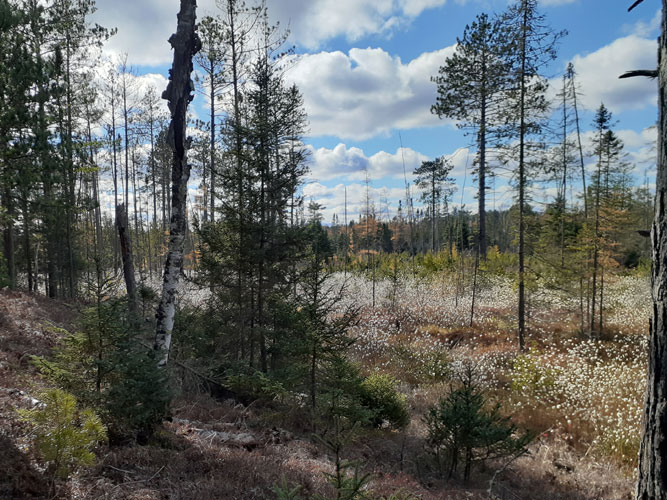 November 1 - Rapid River Cross Country Ski Trail - The significant ups and downs of the Rapid River Trail was a perfect match to the significant ups and downs of November weather. A perfect start to the month revisiting these fun trails in a much dryer season than our last visit.
November 7 - AuTrain Beach / Valley Spur - Too cold for bare feet beach walking in the water but it was a pleasing walk along the beach; then we headed on over to Valley Spur to walk some trail in this beautiful woods as the trees continued their change over to bare branches. It was our 'new' Subaru Impreza's first road trip! It did great.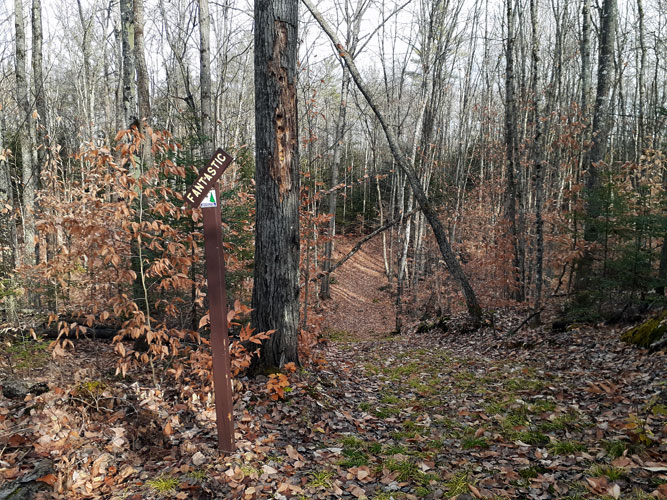 November 10 - McKeever Hills - no casual sauntering here! Surrounded by lakes and woods and hills and valleys, and the wonderful and popular Bruno's Run Trail is this amazing "for advanced skiiers only" trail. Whahoo!!! Be prepared. We'll for sure go back again.
November 8, 2021 -- Cold Frosty Morning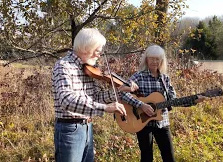 We've been enjoying another unseasonable stretch of mild sunny days; hoping for just one more to get in all we want to do before the weather changes. We thought our last video might be the last outdoor one for the season but here we are -- comfortably outdoors again! And since we've had many cold frosty mornings the last couple of weeks, helping to acclimate us to the cold to come, this crispy tune came to mind as a good one for November.
LINK.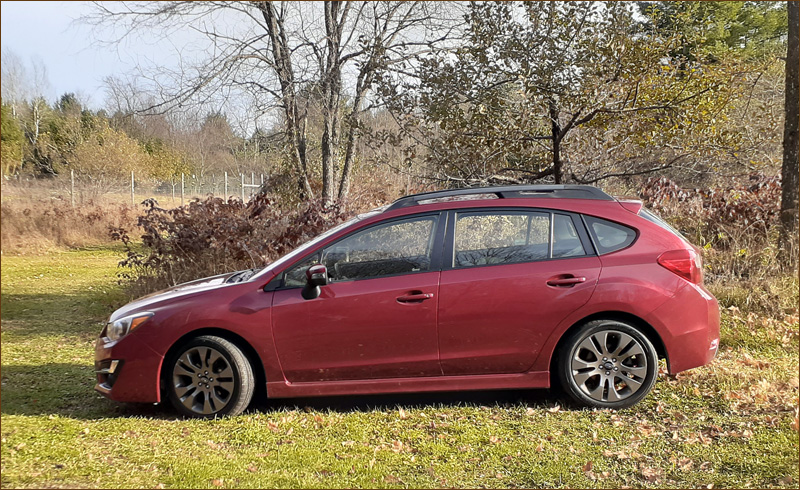 November 6, 2021 -- A New Arrival
It's the annual pre-winter dilemma -- do we buy new snow tires, or are last year's still good enough? Do we finally get a second set of rims, or just have the tires changed? Well, we avoided all that this year by buying a second car for winter! So a 2015 AWD Subaru Impreza hatchback came to live with us today. Red (our favorite car color, though it is a purplish red and not the gold red of the Prius -- for color conscious folks they look best not parked right next to each other), and the right size to fit in our small garage. Our venerable Prius will get to spend the winter cozy and comfortable in the hangar building, surrounded by boats and other homestead tools. When snowy weather is over the cars will change places. We figure this will add some years to our favorite Prius. But already we are liking the Impreza and look forward to easier driving on snow covered roads. We did have to do some serious down-sizing of stuff when moving over to the Impreza. We've always been impressed with, and appreciated, the ample and multiple storage nooks and crannies in the 2007 Prius but it was still a surprise at how little there is in the Impreza (or in newer Prius's). But it was a good exercise in deciding what was most wanted and we have now moved in to our winter car. But it's OK with us if the snowy roads hold off for another month.

October 22, 2021 -- New (Black) Batteries for our solar-powered homestead
As we were approaching winter it became evident that our old lead-acid deep cycle batteries (the red-topped ones in the photo) weren't going to have the ability to get us through those long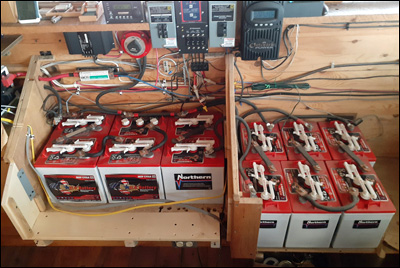 dark days and nights. Those 12 6-volt batteries were installed in December of 2015 so they gave us good service for over five years - which is about average for that type of battery in a system like ours. At a cost of about $1,200 that worked out to an 'electric bill' of less than $20 per month for the last 5+ years. After doing lots of research we decided it was time to upgrade our system to Lithium Iron Phospate (LiFePo4) batteries.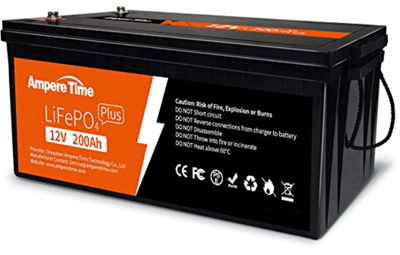 Although the new batteries cost significantly more than our old set they should have a longer lifespan than the lead-acid batteries and outperform them too. If we take care of them these new batteries should last at least 15 years and perhaps as long as 20 years. They will also provide almost three times the usable storage.

Another advantage of these batteries is that there are only six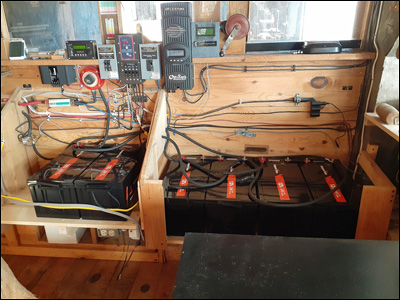 of them and they each weigh noticeably less than the old ones. The installation went well and the solar charge controller and inverter/charger settings have been updated. It has been fun watching the meters which have been confirming that the batteries are performing as expected.
October 20, 2021 -- The Blackest Crow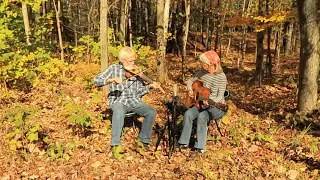 In keeping with last week's post on The Blackest Apple, here is a new video with the song "The Blackest Crow". It was the last day of a great stretch of beautiful, warm, sunny weather and we decided we wanted to get in at least one more outdoor video before the cold moves us inside. Plus the bright world of autumn leaves on ground and trees/bushes just begged to be the setting for a video. There is quite a contrast between the darker mood of title and lyrics of this old song to the incredible beauty of the day but it seemed to fit the many contrasts of October in the northwoods. And we like the song. Hope you enjoy it, too! LINK.
October 13, 2021 -- The Blackest Apple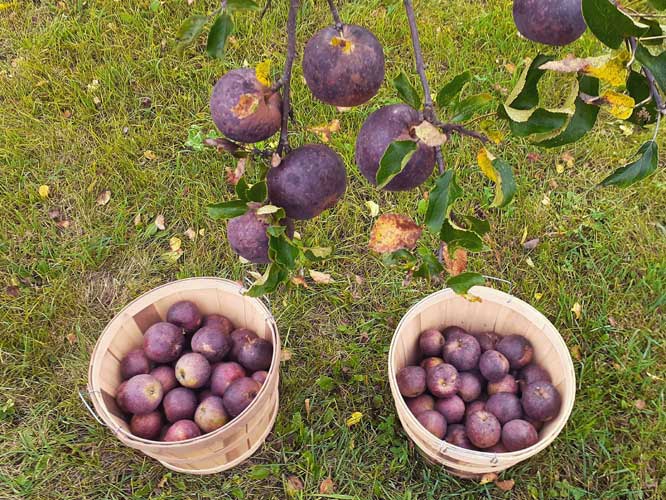 It may not be the blackest skinned apple but it must be close, and this year my Black Oxfords were darker than ever. They apparently loved the long hot summer. Not only dark and beautiful, it was tastier than ever right off the tree. In past years it has taken some time in storage to develop the sweet flavor this firm apple is known for. I was waiting for a frost (said to sweeten the flavor) but since we have not yet had a frost (mid October and no frost yet!) and the tree has been dropping a few good apples (immediately enjoyed by ground critters) I decided to harvest. That the there were any apples at all was a great surprise given the late May freezes that wiped out most of the apple blossoms this year.
Harvesting was a great treat. A beautiful day, beautiful apples, many more than expected, and almost all within reach from the ground. Only a few apples required climbing up into the tree to get (which was fun itself!) (my excuse was that there weren't enough to bother going to get the ladder). Many of the apples were also much larger than usual! On the tree the fruit has a slight "bloom" which helps give them that dark musky look, but a bit of quick polishing makes them glow like a gem. In the end I ended up with 33 pounds of wonderful sweet BlOx's for great fall/winter fresh eating and sauce. Wow. For a year that I thought would be sparse in the apple corner I look with surprise at a comfortable supply to please us through the coming year. We are apple happy.
September 29, 2021 -- Goodbye September Video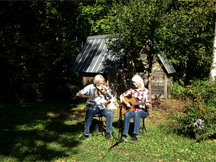 We've had such beautiful weather so we decided to celebrate the leaving month and welcome the coming October with a happy dance song and a cheery tune. The first, "There's a Dance Tonight", was written by David Tamulevich who we had the pleasure to listen to singing it many times back in the late 70's (before we moved north). It's a wonderful song and especially fitting since a few of the U.P. dances we used to attend before the shutdowns are starting back up again. So though there may not be a dance literally tonight, there are two coming up during October which we are looking forward to. Hope we remember how to dance!
The tune following the song, "Sara Armstrong's Tune", is one we've enjoyed for a number of years. I think we learned it from our musician friend Marilyn Ouellette back in the days when we were playing at the Munising Falling Rock Cafe weekly old-time jam. Though Sarah Armstrong was a fiddler this tune has become quite popular with banjo players, and Marilyn was playing the banjo back then, bringing the tune back from a winter down south.
September 28, 2021 -- Mushroom Fun
Since rain has been a bit sparse the last few weeks I decided I better water the mushroom patches. I've mentioned the generous WineCap bed around the apple tree, which still surprises me with a few mushrooms now and then though I think its fruiting season is about over. But I also planted spawn in the mulch on the north side of the raspberries. I didn't expect mushrooms yet. They say it fruits in the fall but it can take till next year to have mushrooms grow. I've kept the area moist all summer for them which I think the raspberries appreciated, too. They usually don't get a lot of attention.
The "raspberry" mushrooms are Wood Blewits which in photos look attractive (I hadn't seen one in real life) -- a bluish-lilac-peachy color when younger, less color when older, meaty and pleasant flavored. I'm not much of a mushroom connoisseur but I thought it would be nice to have a mushroom that fruits in the colder fall to follow the summer fruiting WineCap. Plus I liked the name -- Blewit. So I watered the mixed material of the mulch bed by the raspberries, enjoying a really beautiful warm feels-like-August day.
Then to my surprise I realized I'd just dumped water on a mushroom! It was past prime, flat starting to turn up at the edges, rather non-descript beige color, but a "new" mushroom none-the-less. Could it be? Then farther on down the bed was another of about the same age. I picked the better looking of the two and brought it in to compare to photos and descriptions.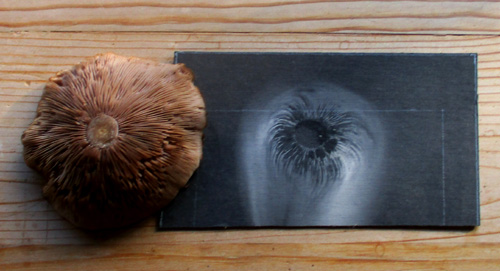 Though way past eating stage it certainly sounded correct. I wouldn't eat one yet anyway until I did a spore print to confirm. These mushrooms have a light colored spore so I cut off the stem and set the cap gills down on a black card figuring to leave it overnight.
But an hour later I came by and there it was, an attractive white/light colored spore print. Apparently the mushroom was at peak time to drop its spores. I find spore prints (all two of them that I've done) to be fascinating. It would be fun to compare the many wild mushrooms though I think I'd rather leave the fruit where it is to be admired.
Meantime I'll be checking regularly by the raspberries, on the look-out for fresh new Blewits to admire and to eat.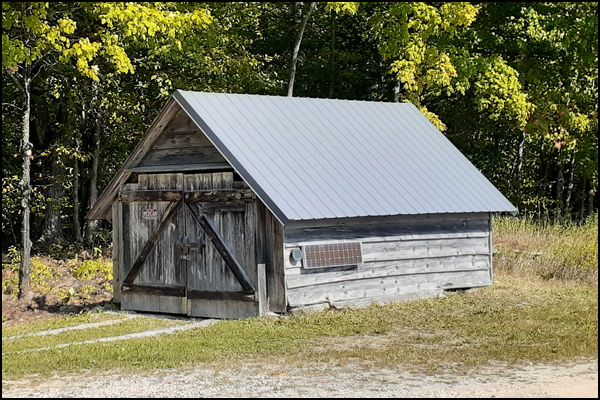 September 22, 2021 -- Garage Roof Update
A bit of history on our garage: It is located at the end of the county road about ½ mile south-west of the house, on our neighbor's property. We built it over 40 years ago on the edge of the snow-plow turnaround. The county road stops there because of a significant escarpment. About 30 years ago the paper company that owned adjacent land filled and graded beyond that cliff to create a viable logging road which gave us a nice, gated driveway. Nice in the summer, that is. The hill is steep enough that it is not passable once covered with snow and ice.
Having the garage up there at the top of the hill has been nice, especially in winter. We sized it for the smaller cars we were driving in our early years here on the homestead; Opel Kadetts, Toyota Corolla and Dodge Rampages. Our 2007 Prius fits in lengthwise but it is a bit tight getting in and out.
Originally the roof was covered with 30# tar paper, and then upgraded to roll roofing and eventually, 30 years ago, re-roofed with cedar shingles. The shingles did their job admirably for about 28 years. A couple of years ago we began to notice points of sunlight shining through those picturesque shingles. After two years of procrastinating we have finally replaced the shingles with boring, gray metal roofing – that does not leak.

Well, in truth, so far we have only done the south-facing side. This afternoon I'll go up and begin on the back side (that nobody sees, but still needs replacing). Here are some 'Before & After' photos of the project.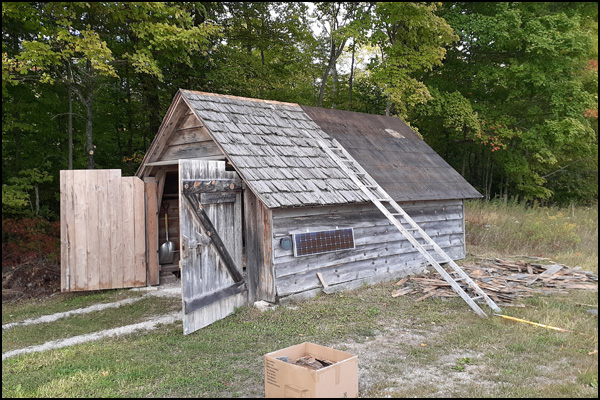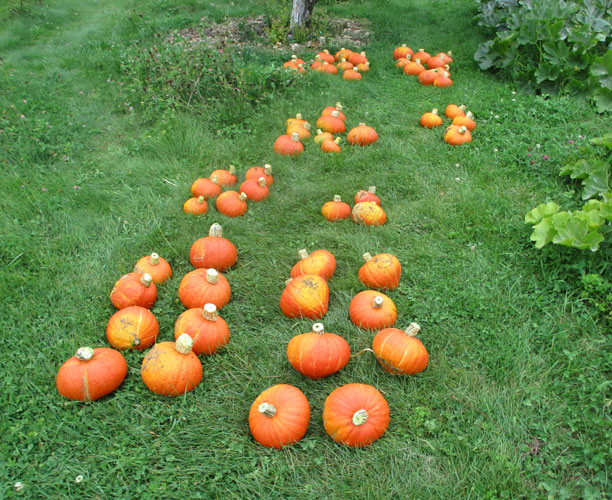 September 20, 2021 -- Harvest Moon and Harvest Squash
The moon was generously large this great Harvest Moon night and so was the squash harvest! I think this is the first year ever that I picked squash because it was mature and the plants dying because they were done not because of impending frost or freeze (which we haven't had yet). What a year! Unusually long hot mostly dry weather put the squash into overdrive and they had a great time. So now is the question of what does a family of two (LilliB declines to eat squash) do with 60 winter squash?? With an average of 5 lbs each that means about 300 lbs -- twice the harvest of last year's record number. Maybe I will name this open pollinated orange squash cross of mine "Harvest Squash" in honor of both the moon and the abundance.
I haven't yet figured out where in the house to lay them out to cure for two weeks, then room in the pantry to store them, but we're used to working our way around drying/curing/waiting vegetables and fruits. There will be plenty of sharing with others (how many do you want?), a good chance to try squash kraut, squash vinegar, squash wine? (maybe but I don't think so). Think I'll even can some to use in homestead cookies. And, of course, a lot of good baked squash eating. Can't wait. It'll be a month before they are at their best.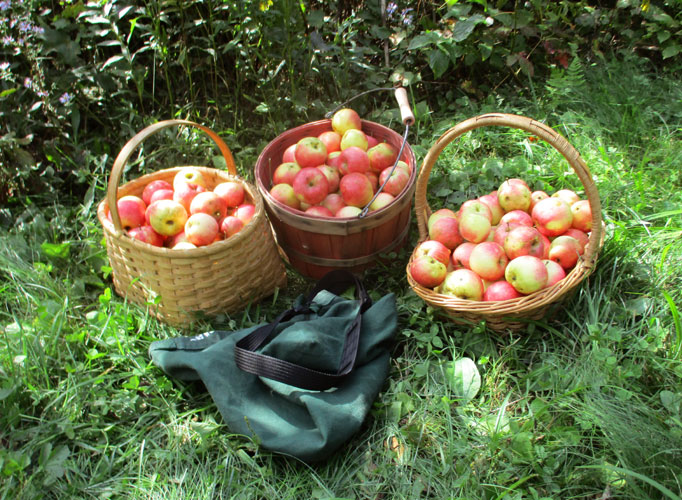 September 16, 2021 -- MrC Comes Through
Though it's been many decades since MrC, our first cat on the homestead, brightened our lives but his memory lives on in a half-wild apple tree not too far from the house. Yellow and white and friendly MrC arrived in our lives on his own just as this apple tree did. While MrC the cat was a full sized male (who loved to go on walks with us, until he got tired and had to be carried the rest of the way back) these apples are on the petite 2" "lunchbox" size -- just right for a quick bite snack. And a tasty snack they are! Most years the deer and chipmunks and whoever else comes along gets the bulk of the crop. But this year, being a bit short of apples thanks to that end of May hard freeze we had (when the apple trees were in full blossom), I'm happy to make use of these smaller jewels, usually passed over for larger cousins.
I knew it was a light crop when I started picking so it was quite a surprise when I ended up filling first one basket, then another, then a third for a total of almost 30#! I left quite a few for the wild creatures (especially those higher than I could reach!) so we all can enjoy and appreciate the output of this happy tree. But MrC wasn't the only one to produce in spite of that untimely freeze (and my fussing that there would be no apples at all). The Beacon had a nice light crop (and best fresh eating!) and so did Dudley. And with Dudley's habit of large apples, so easy to cut up and dry, I ended up with 7 quarts of dried apples to cook into sauce this winter. Plus some road-side apples, and last but certainly not least the last to mature Black Oxfords are sporting a fairly good number of nice apples, to be harvested next month and stored for fresh eating and sauce this winter. So once again Nature provides and we sure appreciate every one of those apples, especially when I thought we might have none.
September 13, 2021 -- From Wine to Vinegar -- on Purpose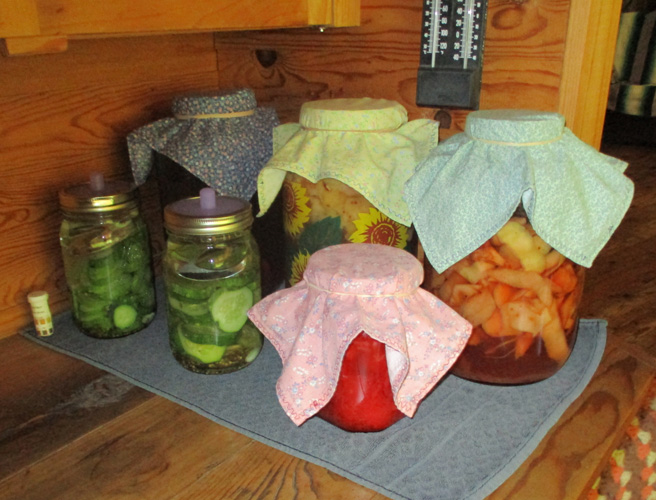 Usually those making wine don't want even a mention of vinegar around their brew. But I embarked on a vinegar making adventure by deciding to take some of last year's wild black cherry-blackberry wine and encouraging it into vinegar. It started with some of my fresh summer raspberry vinegar (made simply by pouring apple cider vinegar over mashed raspberries) producing some nice mother-of-vinegar (MOV) tops. This is a good thing to have, though a bit odd if you hadn't seen it before -- sort of a soft gelatinous matter that holds together well. It was hard to just toss it and since I had plenty of wine I figured I'd make some wine vinegar for salads. Pouring my wine in a gallon jar I carefully scooped up the MOV and laid it gently on top of the liquid to assist and encourage the process. Covered with a piece of cotton cloth it sat in the root cellar quietly doing its thing, slowly turning wine to vinegar.
That was fine but I started thinking about making some other types. Many years ago I'd made apple cider vinegar the year we had a really bumper crop of apples and pressed gallons on gallons of cider. Some of that went on to be the best vinegar I'd ever tasted. Well, we certainly didn't have a bumper crop of apples this year for cider but vinegar isn't all that picky about what it is made from. To get some ideas I got the "Homebrew Vinegar" book written by the same woman who wrote (with her husband Christopher) my favorite "Fermenting Vegetables" book, Kirsten Shockey. The vinegar book isn't nearly as extensive as the fermenting book but it gave me plenty of ideas. What a great way to make use of extras and scraps and over-ripe fruit. It's interesting and fun. And hopefully good tasting in the end. I won't know for many months yet.
The result for now is an array of jars of vinegar-in-the-making on the kitchen counter (vinegar likes warm) -- wine and apple scraps and strawberry-plum and corn-cob, and later maybe squash and ... It's probably a good thing that there isn't space for much more. BTW, the pickles in the photo are not part of the vinegar crowd, they are just waiting a day or two in the warmer kitchen to get their ferment going before heading back into the cooler root cellar on their way to being delicious fermented dill pickles. We eat well on the homestead!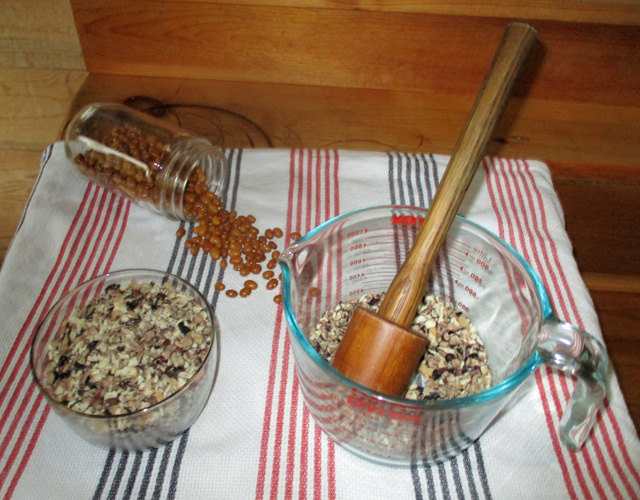 September 10, 2021 -- Re-dried Dry Beans
I've always enjoyed growing dry beans. They are so smooth and shiny and pretty, so basic. I spent years trialing different varieties, finding a few that would mature in our short season. Thankfully we like eating them, too. But they do take some time to cook so need pre-thinking so don't get included in a meal as often as I'd like.
But some mention of using dried refried beans in camping meals reminded me that I'd dried cooked beans before and how handy that was. I do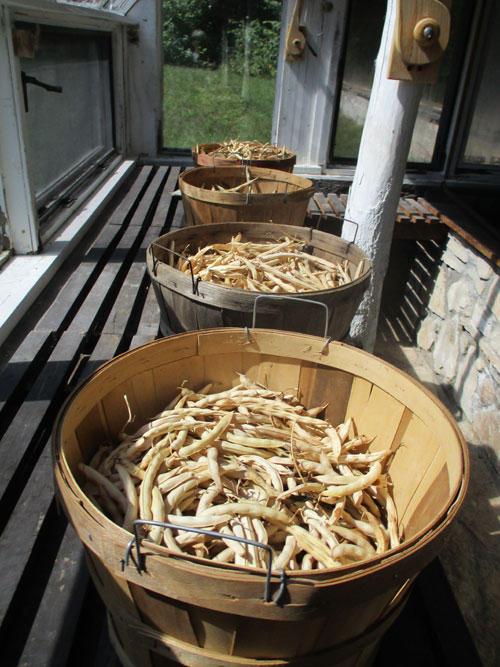 n't know why I didn't continue. Some things just get lost in the shuffle of new adventures. So I brought that project back. It's an easy one. These are truly Solar Re-dried Beans -- grown in the sun, cooked in the solar oven, spread on trays and dried in the solar dryer. when dried it was easy to break them up into pieces to be stored in jars waiting for winter soups where a handful will reconstitute to provide flavor, nourishment and good cheer to the stew. Ok, maybe that's a bit over-poetic for a bean but I do think they will be nice to have. All I have to do is remember to use them.
Those cooked beans were from last year's crop. This year's is still in the pods, a good harvest it was, too, since beans thrive on heat which we had in abundance this summer. A bit extra drying time in the greenhouse then into the house to wait for a less hectic time to be threshed, cleaned and stored. This is always a fun project, especially when I've grown a new variety which I did this year, a pretty one called Tiger's Eye. Always something new to discover, even when it's old.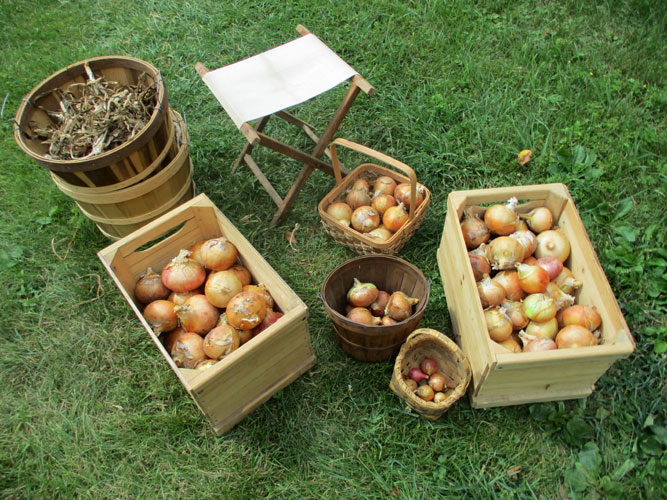 September 6, 2021 -- Onions for all Occasions
We eat quite a lot of onions - small ones in luncheon salads, larger ones in a variety of dinner dishes, tiny ones to save and plant next year as onion sets, any size diced up with sweet peppers and fermented into a delicious relish. My seed is an open-pollinated mix that I've been growing and saving for decades, aiming for that sweet spot of medium size that is just right for one meal. And some years I get a lot that size, some years more smalls, and some years more large. My onions are very independent.
And this year they decided to make great use of this (rare? or now common?) hot summer and go for large, as in three-meals worth sized (in the left crate). Even the mediums are on the hefty size. Like most things in the garden they matured early so were harvested 2-3 weeks ago. So they've been curing under cover, waiting for that perfect nice day when it felt great to sit outside in the sun and clean the beautiful bulbs for storage. And this was the day. It was a very good harvest, and much appreciated.
August 27, 2021 -- Ferments in the Root Cellar
I plan my garden to have fresh corn through late summer/early fall; to have cabbages ripen in the fall when the root cellar would have started cooling down so the sauerkraut would ferment nice and slow and last longer; to have winter squash ripen just as light frosts arrive in the fall to wilt the leaves and start the fruit curing. Sometimes it even works out that way! But this year nature took a few different turns. When we started getting rain toward the end of June (after 6 wks of abnormal dry heat) the reluctant gardens went into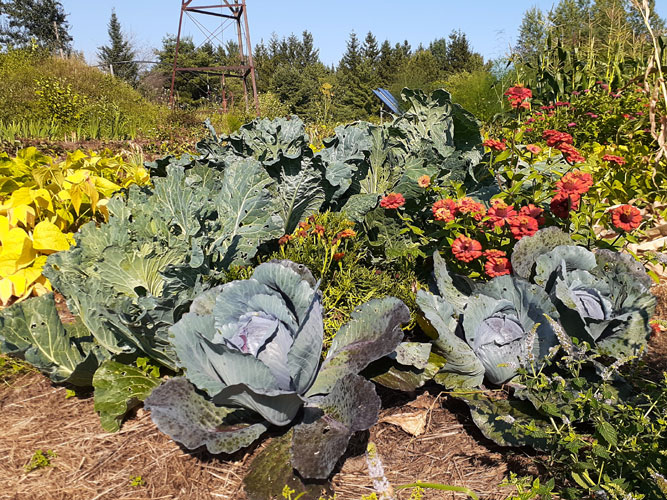 double time. At the Farmers Market we wondered in amazement at overgrown cabbages and squash plants, compared tall corn heights - way beyond "knee high by the 4th of July. And wondered what are we going to do with winter squash ripening already. Wednesday two vendors had ripe pumpkins on their tables already. The rain hasn't been overwhelming but the garden growth is showing great abundance. A summer of 80 degree temperatures does have some advantages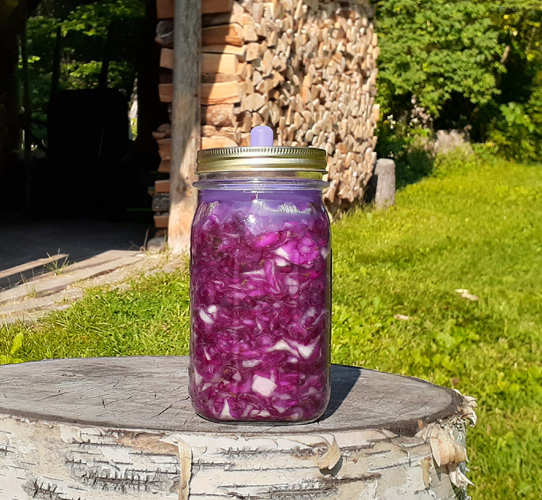 ! It's just something we've not been used to.
So this year my two plantings of sweet corn ripened fast and are now dried and in jars with just a few second ears left for fresh eating. The first red cabbages wouldn't wait any longer so there are two batches of beautiful kraut fermenting in the cellar. Thankfully the early green ones aren't ready yet.
We're eating our first jar of fermented dill pickles so I'll be getting another jar started soon. Jars of canned vinegar pickles are starting to fill the shelves. I enjoy fermenting season and we enjoy eating the results but since we have limited refrigeration space to keep the finished product I normally depend on the cooler fall root cellar to keep things from proceeding too fast (we can only eat so much kraut at one time!). I'm just hoping some coming cooler weather will slow down the cabbages so I can wait awhile before having to harvest them.
Meantime it appears the winter squash has overdone itself with not only record large plants but record number of good sized beautiful orange fruit hidden amongst the big green leaves. They have simply loved the weather this year. Good thing we like squash.
Even the apples are coming through with a handful of fruit whose blossoms had escaped the late May freezes. On a year like this with so little fruit one truly notices and appreciates each and every one that comes our way.
But lest it sounds like I'm spending all my time in the garden and kitchen, I'm not. Though I enjoy that time there has also been a lot of hours spent recreating -- boating, biking (Steve), hiking, walking the beaches of both Lake Michigan and Lake Superior, and just plain enjoying being outside in the summer air. We truly are having a beautiful summer and appreciating it a lot.

August 9, 2021 -- New Struts & Springs for the Prius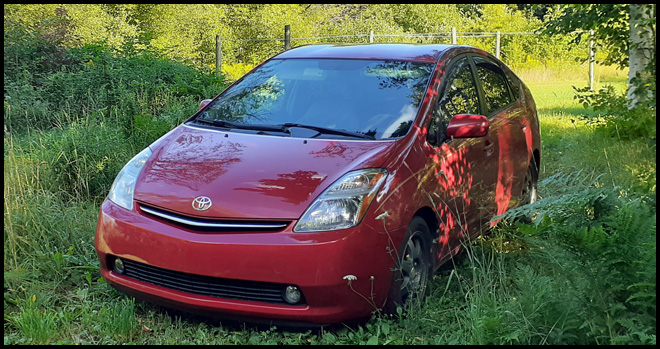 A month or so ago I took our venerable 2007 Toyota Prius to the dealership to have them check out a scraping noise in the front end and came out with an estimate of $995 for the replacement of both rear strut/spring units, (no comment on the front end noise). These were the original suspension parts, now with over 240,000 miles on them. Both rear springs were broken and the back of the car was about an inch lower than it should have been. The service manager kindly referred me over to a sales person, assuming (correctly) that I wouldn't want to invest that much money in an almost 15 year old car with so many miles on it. To shorten the story, we ended up taking a 2019 Prius for a ride and were quite disappointed in the quality of the car. I adjusted the headlights on our car downward so we wouldn't blind oncoming drivers while we decided on a car replacement or repair plan.

A few days later while returning home from a get-together with friends a fox dashed from the woods and took out the grill and a running light. Nothing we could do for the poor fox. This kind of damage is covered by our insurance so in less than two weeks we had the beautifly repaired and detailed car back home. In the mean time I had watched a couple of YouTube videos on how to replace your own rear strut assemblies. I decided that this was a good time to pick up a couple of tools I'd wanted for some time and would make the job go a lot easier (and safer). I ordered the two suspension units and now have a nice 3-Ton floor jack and electric impact wrench. Total cost of the parts and two new tools was less than less than half of the repair quote.

Here is a quick photo record of the project. (click any image for larger view)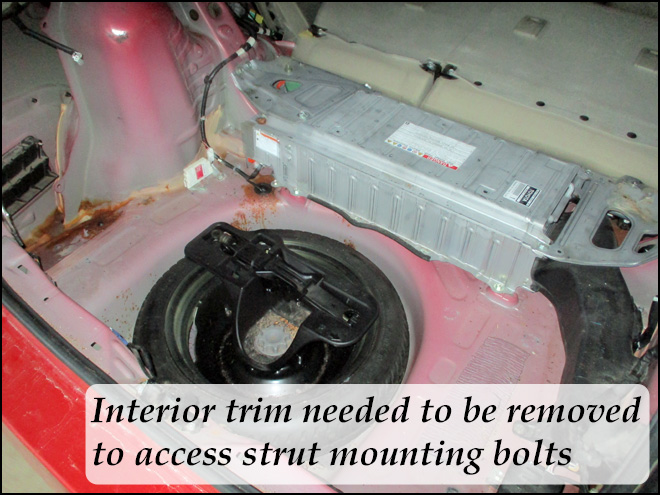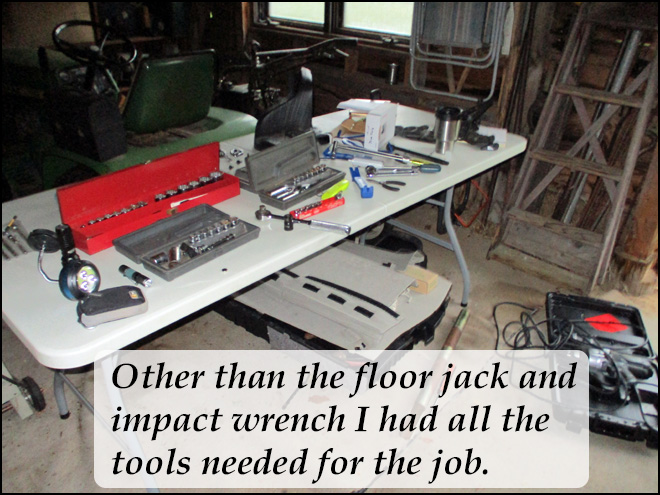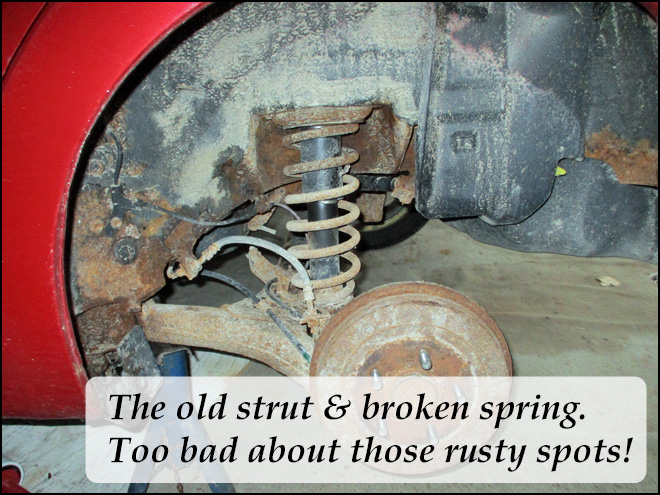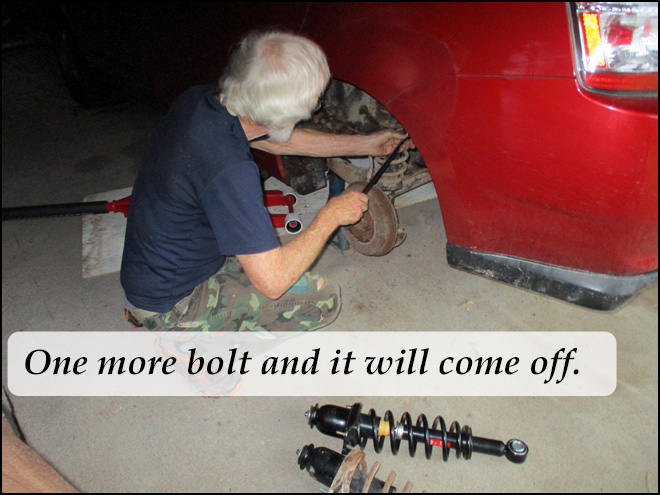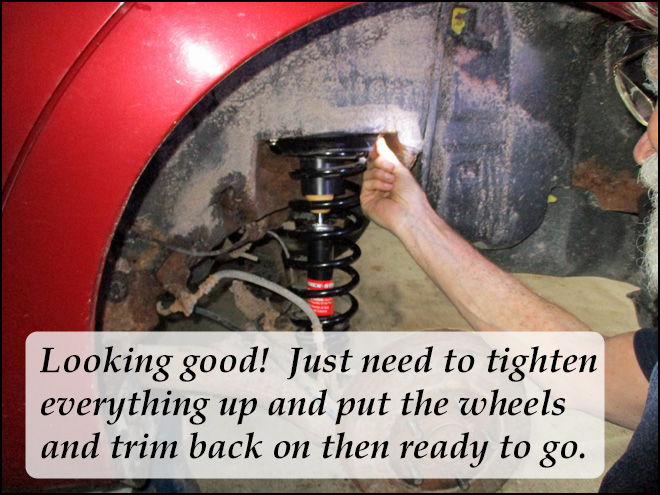 All went well, no skinned knuckles or anything. The project was enjoyable, taking most of a day and the car's ride is noticably better. Now I just need to re-adjust those headlights.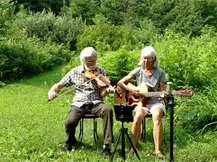 August 6, 2021 -- Mellow Morning, Strong but Mellow Song
Maybe a bit sad but mostly I think it is a heart-felt beautiful love song, especially for those who have been together for more years than you ever thought ahead to, way back when, at the beginning. It took me awhile to want to sing this one in public. But Steve really liked the melody and after awhile I was able to detach a bit from the words, and I do enjoy the song. It seemed to fit the day, for some reason, so here is our August video -- LINK.
July 24, 2021 -- Mushrooms!
Now and then I'd thought of growing my own mushrooms but always passed it by as maybe too much bother. But comments from a few friends who grew them encouraged me to bring it into "possible" status. Then an issue with a favorite apple tree brought the idea to the forefront so last fall I prepared two beds and this spring bought spawn.
The first bed is around one of our old Beacon apple trees. This was the main reason for the project. Last summer I found out the nice wild mushrooms growing around the tree that I had admired were a type one doesn't want in one's orchard -- Armillaria mellea - Honey Fungus, root rot fungus. The mycellium feeds on dead wood, then on into live wood, eventually killing the tree. Oh my...
I did some research and came up with a plan. (You can click on 'Orchard' - 'Apple' - 'Beacon' for more info if you are interested). One part of the plan was to get a "friendly" but aggressive mycellium going around the tree to, in essence, "crowd out" the Honey mushroom mycellium. To do that I chose the reportedly easy to grow Winecap mushroom.
Others reported that Winecap was also a generous producer of fruit but having not grown mushrooms before and really wanting it to "take over" that area I put plenty of spawn in the bed the end of May. I didn't expect to see mushrooms until fall but the instruction sheet did say to keep an eye out for the fruit when there's a temperature drop and rain, which is common here in the summer. Though rain had been sparse this year we did get 2 inches last week (and another inch last night with more coming!) (I guess we're done with the drought). But it was a surprise to suddenly see some small and medium mushrooms yesterday. A couple were older but that was good because I wanted to do a spore print just to make sure they were indeed Winecaps since we have wild mushrooms around. Thankfully Winecaps are fairly easy to ID and what was growing looked very true to the pictures. And the spores were indeed dark purplish-black as they should be. So we had our first home-grown Winecap mushrooms in dinner last night. Most reports I read suggested they are best at button stage not later and that's what I harvested - all three of them. The flavor was there though mostly they were lost in the dish. I hoped we'd get a few more.
Well, as I mentioned, we had rain last night/morning. When I walked by the tree today I was amazed to see the results. There were mushrooms all over the bed! Folks had mentioned that once they get going one can get tired of picking them but I hadn't taken that seriously. I think I see what they mean now if this keeps up. Clothespin in the photos for size reference. These all came up just overnight.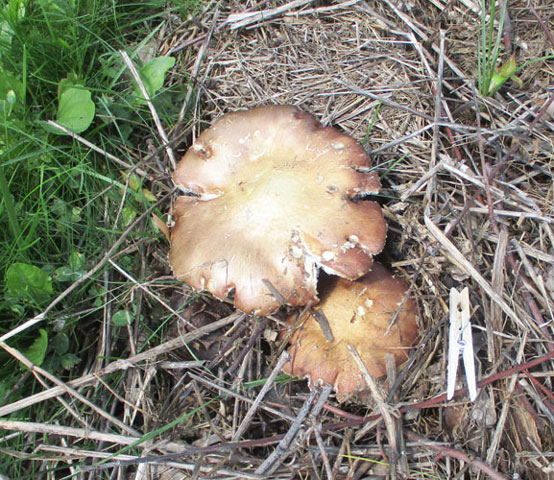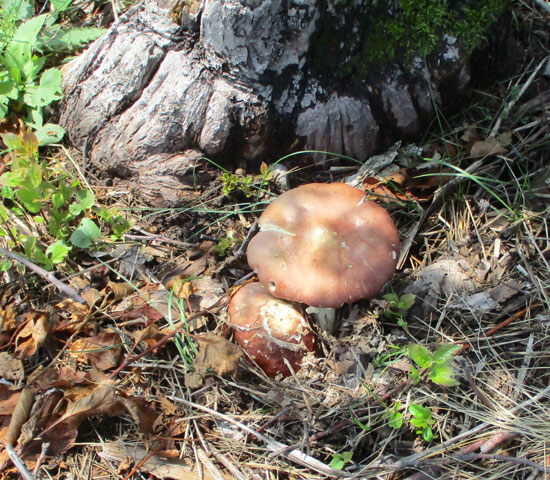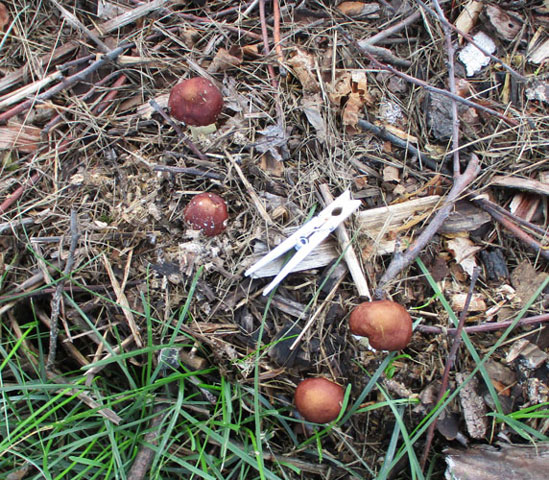 And there were more. So I decided to dry some. I think I'll be doing a lot of that since they go beyond button eating stage fast.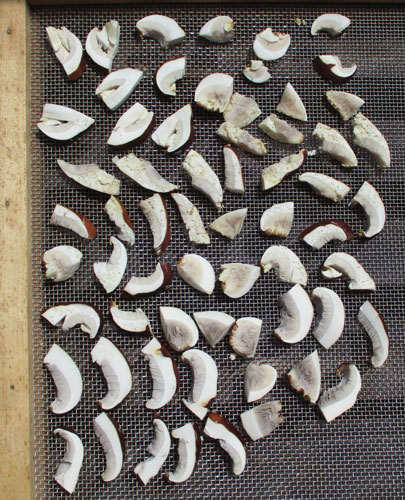 So plenty of mushrooms for homestead meals. And, if all goes well, and I hope it does, there is a second bed planted along the north side of the raspberries of Wood Bluet mushrooms. These aren't likely to fruit until fall but are reported to be good at both the button and open stages, and are preferred by many over the Winecaps. We'll see!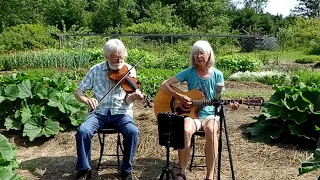 July 12, 2021 -- July Garden Video
Last year in May when it was garden planting time we did a video of the wonderful Dave Mallett song called, appropriately, the Garden Song. It's always in my mind at that time of year. A few days ago we were looking at (and admiring) the beautiful and lush growth that the garden turns into this time of year and I said we should do that song now when the garden looks so good. So we did. And Steve added a nice pan of the garden to start it out. Every year I'm newly amazed at what can come from a little seed and a bit of dirt. Here's the LINK.
July 8, 2021 -- Doe Neighbor
There is almost always one or (often) two does with fawns calling our property their home. It's so much fun when we get to see the fawns, though the encounters are almost always very brief. Deer are common here and we enjoy them. They walk on our roof, browse here and there, make sleeping/resting circles in the tall grass of the fields. We also have a good fence around the garden and orchard! They aren't too concerned about us but they do keep their distance and bound off with white tail flags high if we startle them.
But this year we've had a small, young doe staying very close around the house. She has a particularly pretty dark face. When Steve's sister and brother-in-law were visiting in early June she nicely came out and spent some time browsing in the front lawn. Our brother-in-law pointed out that she looked pregnant, something we hadn't noticed.
A week later she came through the front yard in the evening (her "home" base is obviously in the woods west of the house) and walked purposely around and through, very intent and focused on eating, steadily browsing and eating a variety of green stuff from blackberry leaves to grass and herbage to tree leaves. As we watched we realized she had obviously had her fawn as she was thinner and with full teats. I wondered if it was very recent and that this was her first foray out to eat. We are obviously sharing this home spot.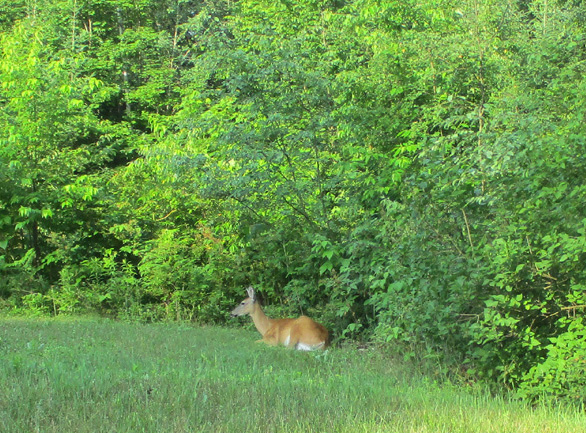 We see her often and to my surprise I spotted her lying close in front of the shop one day. A few days later I walked past the shop and startled the small young fawn who must have been standing in the yard there. It bounded healthily off into the near field by the wood piles. This morning at breakfast we looked out to see the doe leisurely browsing around in the front yard having her breakfast before settling down for a calm rest before heading off into the brush. We've never seen a deer lounging so close by before.
There is also an older doe with a larger (older?) fawn in the SE area of our property. Steve has seen the doe and I startled the fawn a week or so ago when walking through that woods. We're well blessed with deer companions.
July 2, 2021 -- A Video for July
We've had wonderful U.P. weather this past week with highs in the 70's but it does sound like we'll be getting a taste of the hot the next few days (upper 80's). So we picked an appropriate song for a Welcome to July video - the Cajun flavored "Jambalaya". Even though our taste in food, and weather, runs much milder than the namesake dish, and we don't have much in the way of bayou's, we still like the song. We chose to head over to the mouth of the Rapid River for a pseudo bayou - a pleasant marshy area between land and Lake Michigan. A cloudy start to the day kept us pleasantly cool while we recorded which was nice (the sun and warmth came along as we finished). This is a locally popular but somewhat out-of-the-way spot. There were several trucks with boat trailers in the parking lot, a fellow taking a break in his vehicle and a fisherman on the pier settled in with three poles and a newspaper. The boats remained out on the Lake, the fellow in the car left, and the fisherman was on the other side of a brushy expanse leaving us alone off the edge of the parking lot on a just-large-enough patch of grass near more bushes. Very peaceful. We set up, settled in, and began playing. Suddenly there was immediate and serious commotion as two male Red-winged Blackbirds flew out of the bushes, vigorously displaying on the pavement beyond the camera with intense and loud vocals to match, and the female coming out to add her opinion.
We were, of course, sorry to have intruded into their territory, and it was more than a little distracting, but we kept on and got a good first take. Midway through I guess they realized we weren't leaving so they disappeared back in the bushes, though I could hear their continued comments (and I don't think they were complimentary). But we finished and began packing up to leave the birds in peace. Then Steve realized he had neglected to turn on the microphone for that first take. So the birds (and fisherman) had to listen to the song again. I suppose it wasn't a common occurrence for either of them. But we had a good time! LINK to Video
June 22, 2021 -- Art Exhibit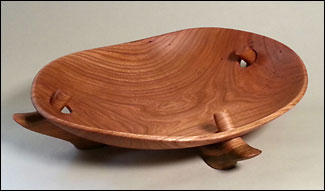 The North of the 45 Art Exhibit at the Devos Art Museum on the NMU campus, Marquette, opened to the public today. Up to now the NMU campus has been closed so it was great they opened up at the start of the Exhibit. This is an annual juried show and this year Steve entered (and was accepted) his latest carved bowl which was accepted for the show. It had been quite awhile since he'd entered a piece so it was fun to have something in this very nice show. Two of our "old timers" artist friends also have pieces in the show and we had a great time catching up with them (and seeing the artwork, of course). The Exhibition will be on through July 30 with a juror's talk that day at 6:00 pm.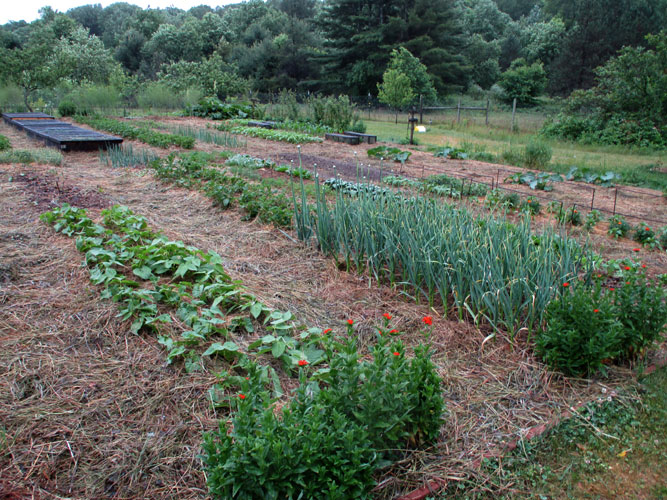 June 21, 2021 -- Happy Solstice Rain!!
A full ONE INCH of rain last night! What a beautiful sound and a beautiful wet world this morning. With only a little more than an inch total over the past seven weeks this is a big boost. With more rain forecasted for the coming week there are a lot of relieved plants, trees, people, animals, insects, etc. around these parts. There's even a chance the clouds might hang around enough to keep the frost at bay tonight. That would be very nice! But I'll still cover unless the chances sound a whole lot better later today. With very strong NW winds (which makes covering a bit of a game) and gale warnings on both Superior and Michigan, it's a wild "bundle up" kind of day out there. It looks like a good day to get caught up on indoor projects. Welcome to summer!
June 19, 2021 -- Spring or Summer?
As I look at the calendar to the coming official start of summer in a few days I can't help but wonder just what the coming season is going to be like. Since spring brought us temperatures from the low 80's to the low 20's (and that roller-coaster continues), with little to no rain -- it's been interesting to say the least! But for the most part the green growing things are doing their best to stay green, and I've hauled more buckets of water than I've ever hauled. Thankfully, we've had enough good pumping days to keep our water tank re-supplied.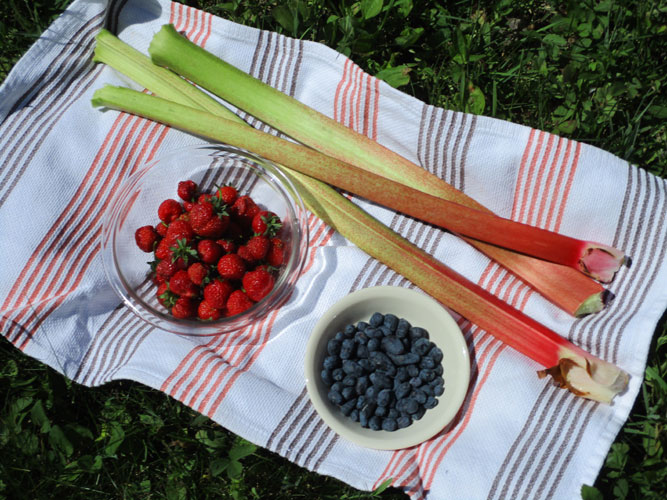 There will be few if any apples this year thanks to the four-night frost-freeze event (right after my enthusiastic apple blooming post below) but there are strawberries (well covered during those freezes) and haskaps and the blueberry crop is looking good. And there is always the hardy rhubarb, tinged but not defeated by the freezes. I have to admit that with the extended local drought the apple trees are no doubt better off without having to try to produce a crop this year. It all works out in the end.
While I've been weeding and watering (and watering and watering) Steve cut, raked, and hauled a good supply of hay -- short this year but so appreciated. So now I'm spreading hay on the garden to keep what moisture we have in the ground for the plants. They're predicting a decent rain for the U.P. tomorrow night and there's hope it will include us this time. And the hay comes in handy for covering plants. With everything growing well and early (thanks to our unusually mild winter and warm spring) the blanket supply is hard pressed to cover everything during these late frosts/freezes we're having. They say another one is coming in a few nights but it would be quite OK with me if they are wrong. I'll cover anyway, just in case. The spring heat and the drought are quite unusual for us here but the frosts are very familiar.
But there has been generous pickings of lettuce and spinach coming out of the garden, and green tomatoes on the small cherry tomato plants. Those early strawberries (an old variety that keeps it's berries close to the ground for warmth) have been a great treat, both on the table and in our breakfast sauce. A second variety is ripening now (I have four varieties, more or less ripening in succession). It had a harder time with the real low temps, even covered, since it's a modern variety that sets its fruit high on the plant, easy to pick but all too well exposed to the frosts (and the birds!). But it's a nice berry and I'm glad it's coming through with at least a partial crop.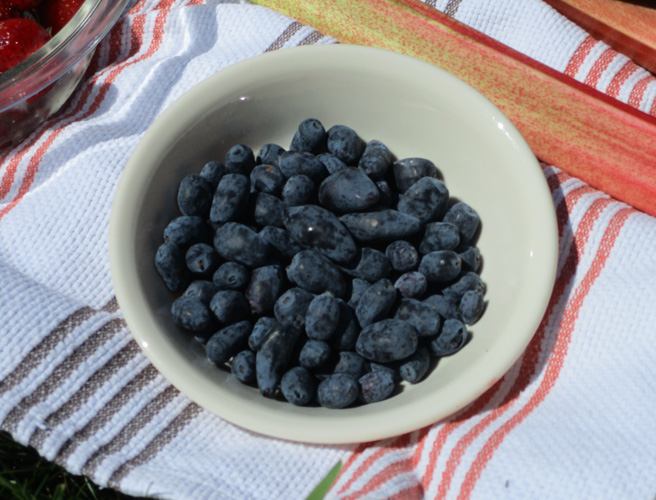 The haskaps are fun this year as this is the first year I'm getting enough to pick more than a sampling from the older (though still young) plants. And some of the youngest of the eight varieties I have are setting fruit for the first time so I get a taste of the differences between them all. They are mostly quite similar but ripen at different times so there is a fairly long season of harvest. They are an interesting fruit, aka honeyberries but they aren't as sweet as that name hints. They are more on the sour side, especially when not quite ripe, so one has to let them hang on the bush until they are ready to fall off and you hope to get them before the birds (or chipmunks) do. A bit of an odd look to them but they are an early and much appreciated fruit. And even better -- they are very hardy! They are doing just fine with all this crazy weather. They just keep on truckin' and that's a good way to go. There is always something good happening in the homestead garden and orchard.
May 28, 2021 -- A Special Birthday Video!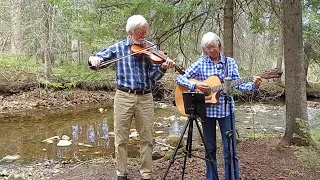 A trip to the AuTrain River down from the power plant by the Falls to do a special video for a special woman on her special Day. We planned ahead, anticipating the black fly situation, so we recorded it a week ago figuring (hoping) we'd beat the black flies. Well, we didn't but then that makes this video more authentic! It does point out why the Schmeck family went to AuTrain for the month of August and not in the spring. No matter the month, this is a beautiful place with great memories for Steve and his sister Nancy. And we enjoyed making the video, so, Happy Birthday Nancy!
LINK to video, or click on photo.
May 25, 2021 -- Apple Blossom Time!
They don't seem to care if it is hot or cold, wet or dry, a 'normal' year or a record year, when it's time it's time -- they bloom, and almost always with great enthusiasm. To be sure, a few do take the year off, while others are so full of blooms you can't see any of their leaves (usually the crabapples like the showy one in the photo). There are young trees trying out their first few buds and older siblings taking a middle road. If all goes well it looks like it will be a very good apple year.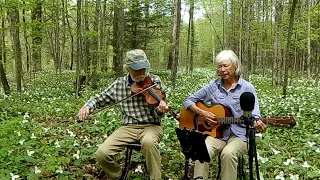 May 20, 2021 -- Celebrating Trilliums
The annual carpeting of the forest with beautiful white flowered green leafed Trilliums (and their companions the wild leeks) is a spring delight that always amazes us. I remember that first summer, more than 40 years ago, our first experience with this phenomena. It was (and still is) pure magic. The blooms are at their peak right now so we decided a song among the flowers would be just the thing. And a good setting for "A Satisfied Mind". Click on the photo or HERE to link to the YouTube video.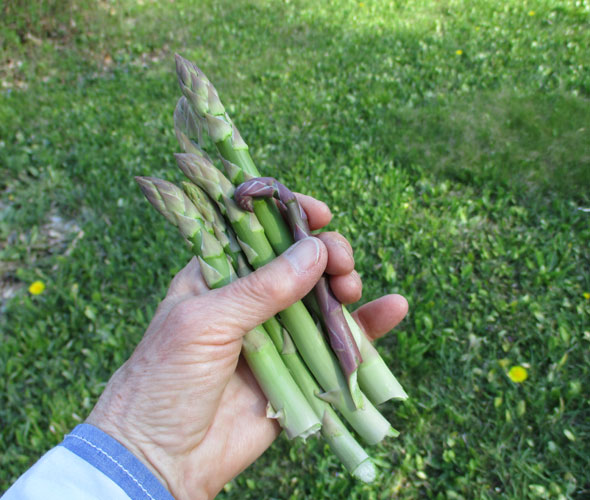 May 18, 2021 -- First Asparagus
It's a constant stream of Firsts and Welcome Back's this time of year - birds, plants, bugs, weather - an exciting time of year. Every moment is new, a lot of fun. And the first asparagus shoots are a very welcome and delicious return. This year they've been able to grow without the usual late spring freeze since our last cold night was May 12 (22 degrees) and with this ongoing very warm weather we're now getting I don't expect another. Grow on asparagus!
May 10, 2021 -- Appreciating Windbreaks
We've had a stretch of pretty strong north winds but if one finds a place out of the wind it can be almost warm. A few of the plants from the greenhouse have ventured outside to start getting used to the outdoor environment, while their less hardy friends stay inside because they don't think upper 40's is that warm. But those days are coming and soon they'll all be out basking in the fresh air. Meantime the brave early ones find it quite cozy on the south side of the wood shed where they can ignore that north wind.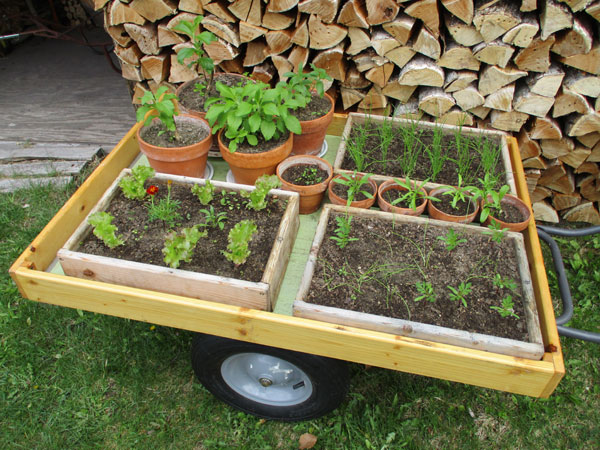 The plants aren't the only ones to appreciate a nice wind-break. Lilli found herself a nice new spot to sit and survey her kingdom. She sat there like that for quite some time before deciding all was well and she might as well head on in for her afternoon siesta. Or maybe she just needed a break from all that intense spring green.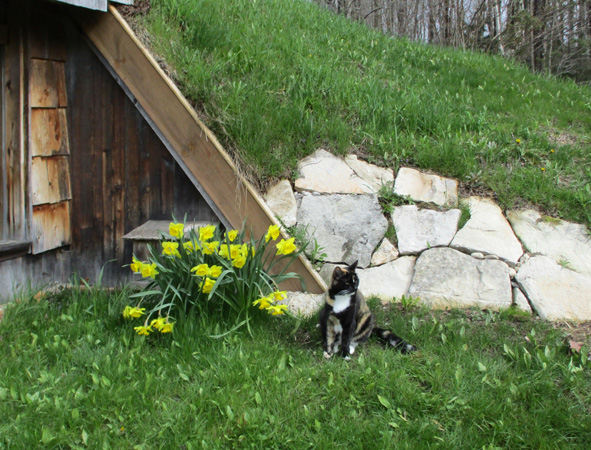 ---