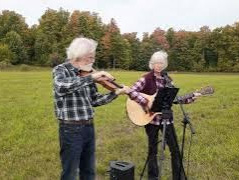 September 29, 2023 - Harvest Moon Cheers
As the month is drawing to a close the woodpile has grown and the pantry is filling. It's that time of year! With unusual summery weather this month and a bit of rain our world is still very green. So we did an appropriate video in a nearby field, with my lyrics to the tune of Greensleeves, called "Memories of Green Fields". LINK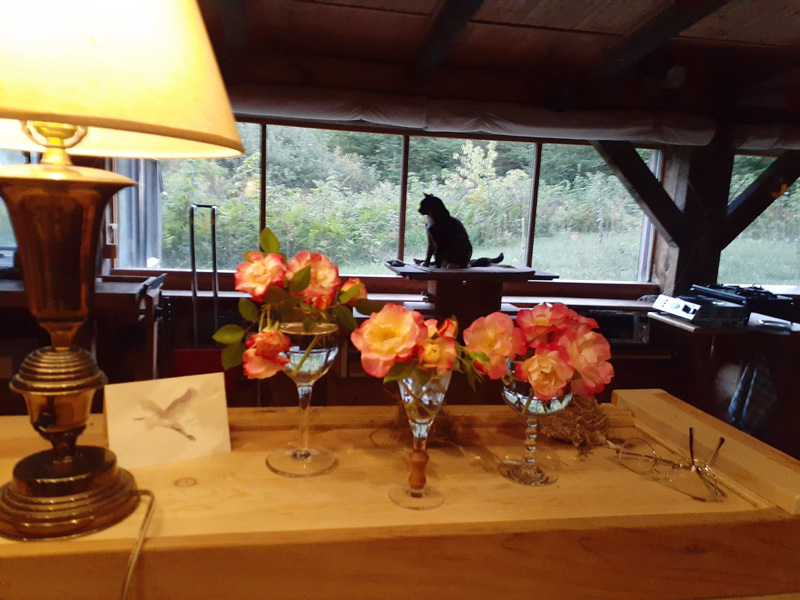 Happy September 2023 - We really haven't disappeared! I know, one post a month is a bit sparse but some rainy or frosty day I'll get caught up. Meantime, life is beautiful, harvest is happening, firewood has started, and things are still green outside thanks to some much needed and welcome rain.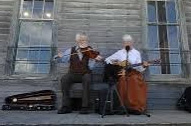 August 27, 2023 -- Play Music on the Porch Day

Once again we chose the wonderful porch of the historic Fayette State Park town-site hotel for our Play Music on the Porch Day event. The official day is the last Saturday in August (the 26th this year) but with a cool day and a strong north wind off the Lake forecast (the hotel faces north) we decided to wait till Sunday. It was a beautiful day, calm breeze, friendly people and a good time playing for several hours. There were people going in and out of the hotel, chatting (as you can hear on the video!), stopping to listen, and even singing along now and then. We took time out in the middle to record several videos. Click on the photo for the first, or on these links below (which take you to YouTube). Maybe this will help make up for us being a bit lax on putting up videos this summer.
When Irish Eyes are Smiling: https://youtu.be/OkLsNf0kTxc
Arran Boat Song / Shady Grove / Road to Lisdoonvarna set: https://youtu.be/PcWf7WwDc6A
All the Way to Galway / Finnegan's Wake set: https://youtu.be/-3ikU9ZyjBg
Thanks to Fayette State Park for allowing us to play on the porch!
July 23, 2023 -- Summer Music

Summer is going by so fast but it is full and rich. We have once again included playing music as part of our summer activities (though I admit we have been a little lax on the video front!). For the past ten years we had played at the Manistique Farmers Market which was fun and an opportunity we appreciated (it is our closest town). But it was time for a change and with some changes being made at that market it turned out to be a good timing for us to do something different. We really do enjoy the Farmers Market atmosphere though so I inquired at two nearby Farmers Markets, and soon we were on their schedules and made very welcome by both.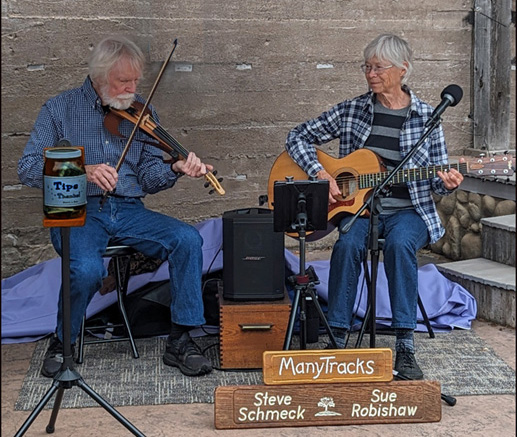 Gladstone Market was the first and we play there once a month (two down, two to go) for the season. It is a small but nice market with garden produce, baked goods and crafts. Having spent many years working in Gladstone in our early days up here we are quite comfortable there and enjoy adding our music to their Market.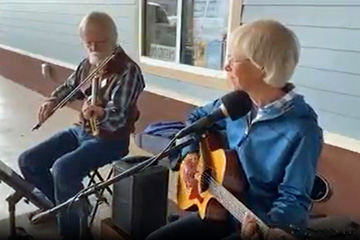 Escanaba Farmers Market has a wonderful large pavilion built several years ago specifically for markets and other activities. They hadn't had regular music for their Saturday morning market so we were sort of a "trial" to see how they would like it. They did - we did - and we are enjoying playing for them most Saturday mornings, 9:00-12:00. We have had a long connection to Escanaba in many ways and it is nice to see old friends. We'll play there until the temps drop too far for the fingers, but that won't be for awhile yet.
The friendliest people seem to attend (and sell at) Farmers Markets and we appreciate being able to participate with our music. We will also again be playing at Fayette State Park the last Saturday in August (the 26th) for the global "Play Music on the Porch Day" - a fun time and a fantastic venue! Here's the LINK to our schedule with dates and more information. We'd love to have you stop by, say Hi, and give us a listen.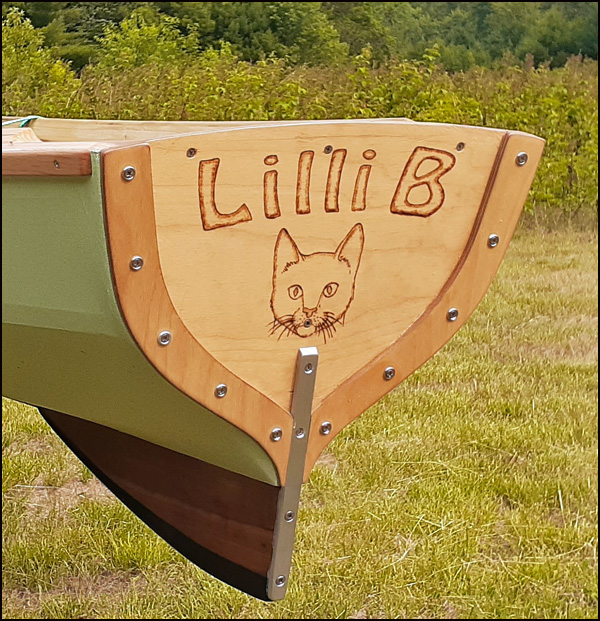 July 15, 2023 -- The boat has been named!

I got out my wood burning outfit and burned the boat's new name. "Lilli B" on the transom along with an image representing the real Lilli Bulero, our wonderful calico cat. It was this or 'Nancy E' for my sister (also wonderful) but I already had the cat image so it won out. I see now that the transom really does need a bit of trim along the top - a project for tomorrow.


July 7, 2023 -- The New Boat is Done

We launched the new rowboat today and it floats! It's 'sea trials' went just fine in spite of the fact that we were kind of pinned down to the south shore of nearby Indian Lake by strong, gusty winds. The boat handles predictably and is pretty fast as rowboats go. There are a few changes I'll want to make; raise the oarlocks a half inch, install a rotation bearing to the sliding seat and either add another mirror or revert to the one from the expedition boat. Oh, and I need to add her name, "Lilli B" to the transom! More details on the boat page: LINK.
July 5, 2023 -- RAIN!!!
It was only1/3 of an inch but it was a very happy event. With May and June rains totaling barely an inch (and coming after a low snow winter) the soil was dryer than we had ever experienced here. But the vegetation was amazing. Though a lot of the grasses and low growth was crunchy brown and even the plantain leaves curling, the bushes and trees were hanging in there though many also curled their leaves to conserve moisture. After the rain the world looked so fresh and happy. Already vegetation is perking and greening.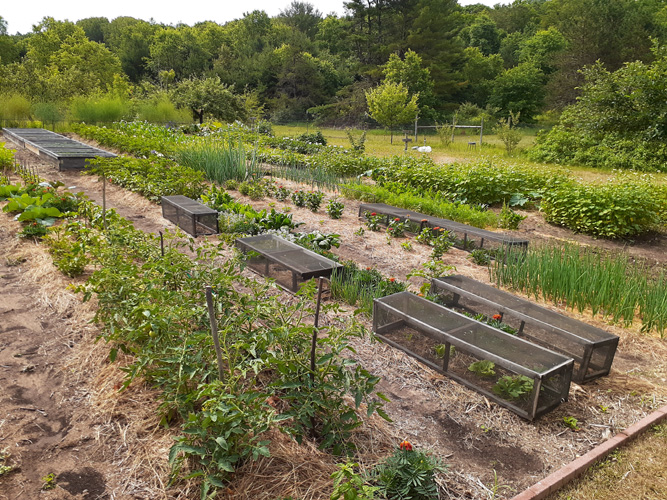 The garden had a bit of an easier time since it was easier to water than the trees, and it has been generously keeping us in edible greens in spite of such an odd start (we are definitely not used to July 80's temperatures starting in early May!). But even it obviously appreciated the "good" watering that the rain gave it and everything seemed to make a big spurt of growth overnight . Though the fields were sparse this year we did cut enough hay to mulch and I made use of every bit of any other mulch material I had. So the garden is ready for the summer.
There have been some advantages of this dry season - fewer weeds! Fewer insects also (though that does NOT include mosquitoes!) which is definitely a dubious blessing. The birds are having to hunt far and wide to feed their growing peeps. But in spite of it all they manage quite well. I don't often get to see the "fledge day" but I happened to be in the garden when suddenly the air was rich with a small cloud of Tree Swallows - I managed to count 15!! Three or four were adults but the rest were first flighters bravely flapping those new wings intently to keep in the air and with the crowd. It didn't last long but it was pretty thrilling. Through the day I'd see a few young ones take a turn or two in the air, doing amazingly well, as the parents continued to gather meals to feed that hungry crew. I think they were from three nest boxes but it could have been four, it was hard to keep track of who was in which, and this was the second nestings. Most didn't stay around long, likely heading out to better feeding grounds (or air). I'll miss their beautiful aerial flights which add (along with all the other wonderful birds) to my gardening enjoyment.
July 5, 2023 -- The Water Flows

The rain, or rather lack of rain, wasn't the only water issue on the homestead. While I kept busy toting buckets of water to garden and orchard Steve kept in shape digging. We are never lacking in fun projects. In the second photo below the little light spot at the bottom of the trench is a cap covering the open/close valve of our water system, which hadn't seen light of day in 45 years. The photo at the bottom is an old one of the yet to be buried water tank, taken May 1978. We were excited for the wonderful water from our newly drilled well and (outside the photo) the fresh new red hand pump (before the tower and windmill were in place). Doing laundry by hand (with hand pumped water) didn't last long but it was just one of many adventures. What a ride it has been. Life, and time, sure are interesting! As usual there is a bit more to the current story (to come...)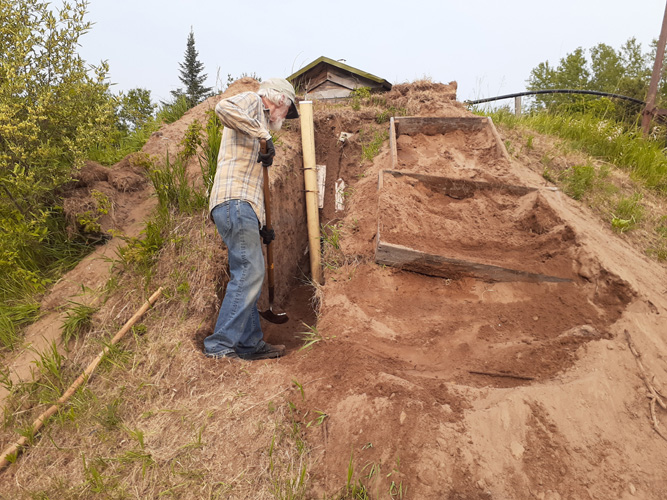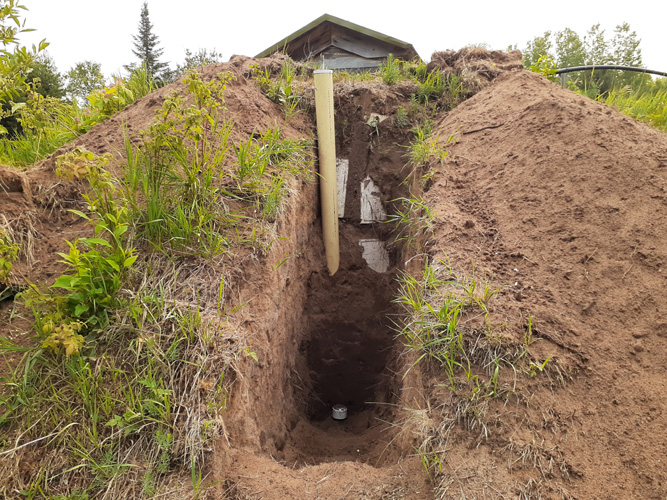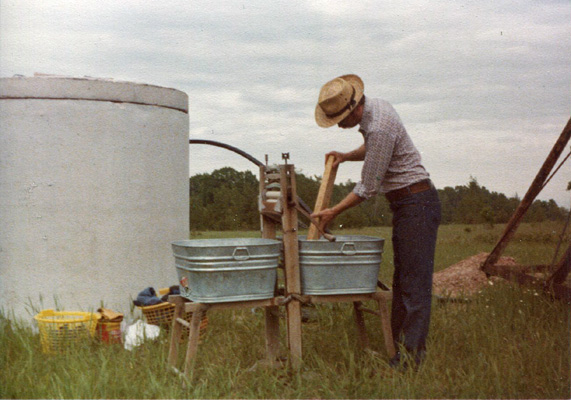 June 13, 2023 -- Definitely a diversion!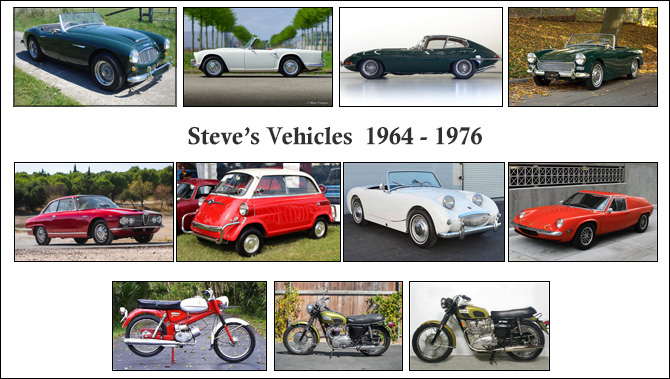 While reminiscing with my sister Nancy the other day the subject of all the cool cars I had driven over the years came up. I got carried away and created a web page listing the cars I had back in the '60s and '70s so I thought I'd share that page here.
June 9, 2023 -- Finally on the Water

A mild day with a forecast for light wind, just right to take time out from homestead projects and go out on Indian Lake for our first boat row of the season in our Chamberlin Dory (which was our first home-built boat). We like being in the same boat together, taking turns rowing while the other navigates. The boat rows wonderfully - except in the wind, so we always look for a calm day to go out. This was the day, or so we thought. It WAS beautiful and calm when we started. Then the wind (not having read the official forecast) picked up briskly and did its best to try to blow this light-weight boat to shore while we struggled to keep going the direction we wanted to go - along the shore north to where the Indian River flows into Indian Lake, hoping to get into the River and out of the wind to eat our picnic lunch.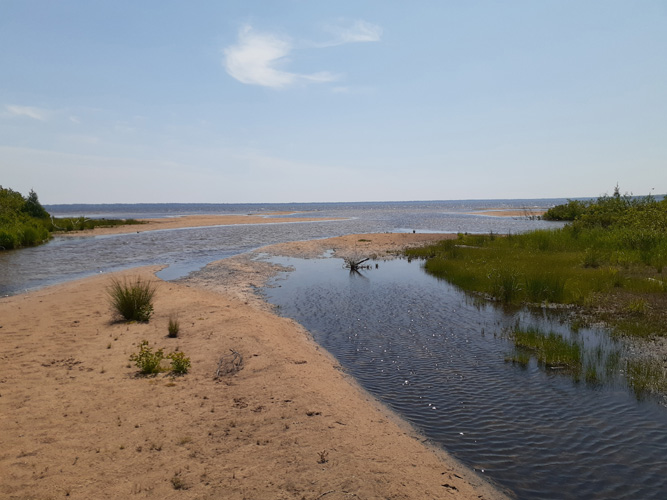 Well we did make it, bumping along the waves, the wind easing a little bit as the land curved around the Lake. The entrance to Indian River isn't real obvious until you are there but it did finally appear. However, the River doesn't join the Lake in a mannerly fashion. It meanders here and there over and around ever-changing sandbars, depths changing with the seasons and the River's whim, with no straight path. Steve was rowing and I was peering over the edge of the bow trying to guess the depth of the shallows - Was that a deeper area or a shadow? Could we get over to that spot? I think there's enough water here. Oh well, maybe not. So we both got out and waded the boat through the shallows and around sandbars into an area deep enough to float both us and the boat. It was nice to be out of the wind and waves. I tied us up to a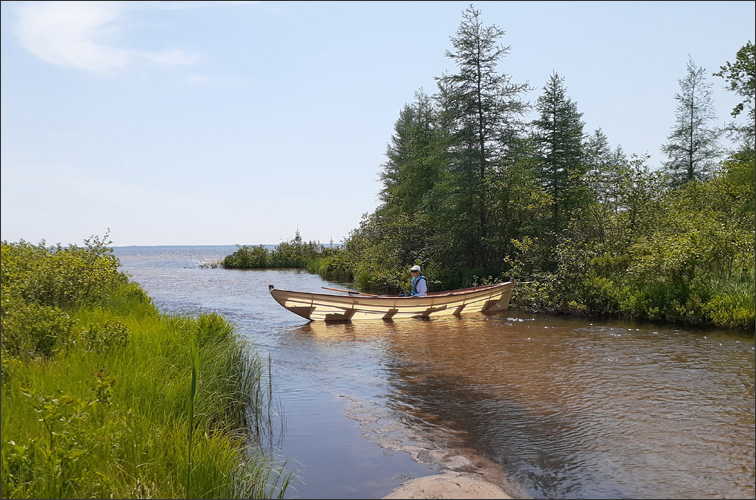 shrub and we enjoyed a nice relaxing lunch. Looking up the shallow River it was obvious we wouldn't be able to take the dory any farther. But we'll come back later in kayak and Steve's newest light, smaller rowboat to further explore this interesting and ever-changing area.
Meantime, lunch and relaxation over, we headed back into the wind and waves for a bit more strenuous row that we'd planned, back to the dock, glad we had taken the time to get out on the water for our official first row of the season.

April 5, 2023 -- Yet another boat building project!



This will be our fifth home-built skin-on-frame boat. It is a slightly modified high performance wherry - a lightweight rowing boat. I'll be working on it as weather permits and hope to have it ready for the water by the first of June. I have enjoyed everything about my Expedition Rowboat but at about 150 lbs. it is too heavy to hand launch; it needs a launch ramp. I'm hoping that this smaller, simpler boat will weigh under 50 lbs. so we can trailer it along with Sue's kayak and just carry both boats to the water and launch from the beach.

You can follow the build progress here.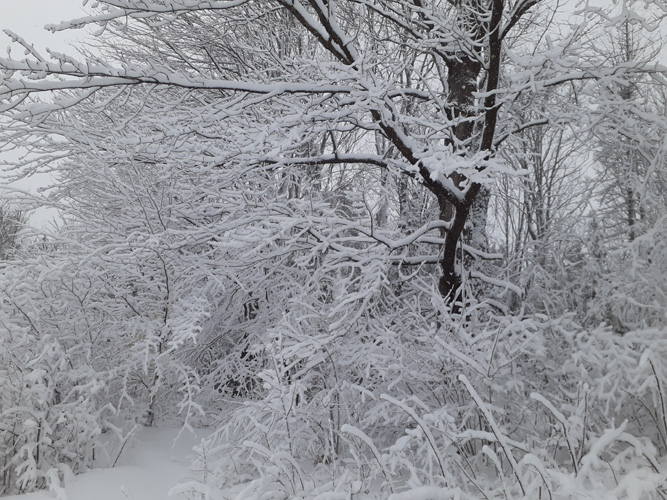 A Beautiful Welcome to April !
And it's not done yet. Ahhhh, Spring in the U.P.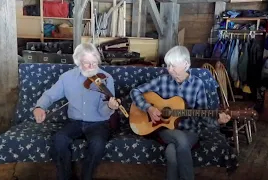 March 31, 2023 -- "Battle of Aughrim"
This Irish tune seems to fit this ending of March with its creative snow and cold and sunshine and rain and whatnot, sometimes all in the same day. We were hoping to do our March video outside, and we did give it a sincere try, but instruments and fingers decided, firmly, that inside where it was warm and cozy was more to their liking. We finally agreed. On the couch with a fire in the woodstove was real nice.
"Battle of Aughrim" is a popular 18th century Irish march whose name commemorates an important historical battle in Ireland. Also known as 'After the Battle of Aughrim'. For me the tune reminds me of the progression of a day here in the U.P. The first time through feels like the calm early morning; by the second time the sun is climbing higher and the day becoming active with bird song and gentle breeze; then the wind picks up and both sky and land are wild with life for the final part. All scenarios help form the plans for the day, till the the end when it is once again quiet.
Hope you enjoy it! LINK.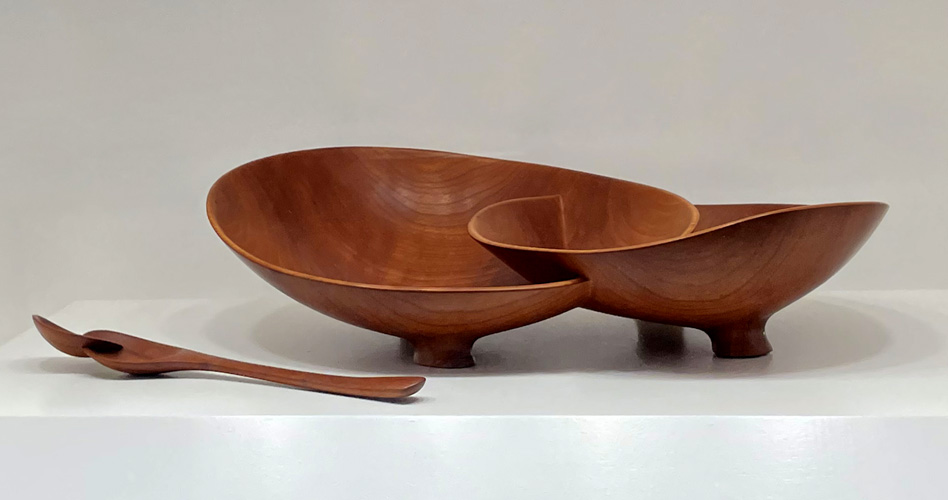 March 24, 2023 -- "Duet" on Display
We were happy to get an email telling us that Steve's carved bowl and spoon Duet is currently on view at the Flint Institute of Arts in an exhibition titled The Art of Refreshment which will run until August 27, 2023. The bowl and spoon is part of the museum's permanent collection. It is a treat to see it so well displayed and shared with visitors.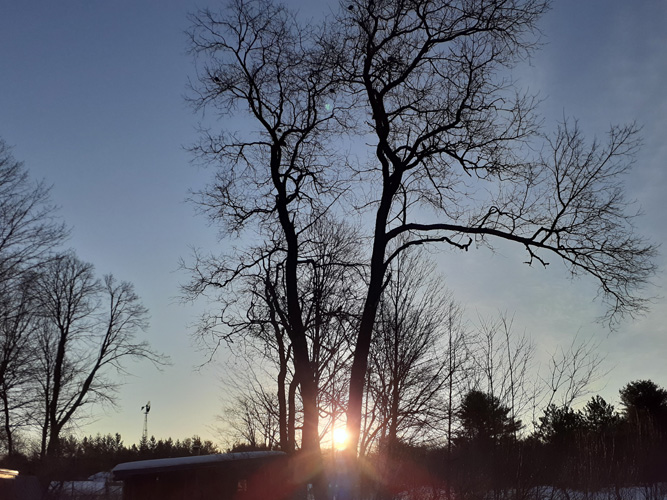 March 20, 2023 -- Happy Equinox!
March 12, 2023 -- Tracks!
We love seeing the many different animal tracks in the snow here on the homestead -- fox, coyote, neighbor's cat, squirrel, mouse, grouse, chickadees... They are all a delight. But there is one set of tracks that definitely makes us stop and take notice:
The photos were taken a few days after the prints were fresh but they still showed clear enough though in soft snow. They went along the western part of our property. It's not the first time we've seen wolf tracks but usually there are two sets, one smaller than the other. This time it was just a lone track. We weren't too surprised to have wolf since we seem to have a pretty good population of hares (based on tracks), their main food source. LilliB wasn't as excited as we were to have a wolf on the property (understandable), being very reluctant to go outside for a few days. But then she reacts the same way when the neighbor's beautiful big black cat (male) pays a visit. So we never know the reasons but we trust her judgement.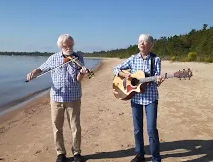 February 23, 2023 -- Happy Snow Day!
With a beautiful cold blustery snowstorm outside it was a good day to revisit one of our former videos to correct the poor audio on it, similar to what we did on The Blackest Crow. Although reposting deletes all the precious comments, views and likes we think it was worth it. Hopefully the warm, sunny beach of the video and the happy "lullaby" will help warm all who have been shoveling out of or dealing with the ice of today's storm. We're cozy here and happy to have the fresh 12" snow-blanket insulation on our roof! Video LINK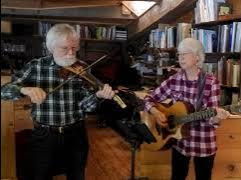 February 14, 2023 -- Happy Valentine's Day!

All I Have to Do is Dream, written

by Boudleaux Bryant 1958.

This very well known popular R&B song of the late 50's and 60's has strong staying power. We had planned on a different song for our Valentine's Day greeting but when we got ready to record this is the song that came out. Enjoy the memories! LINK
February 9, 2023 -- Sunshine Walk
A beautiful clear blue sun-soaking day deserved a walk. It was a bit breezy off the Lake but temps were above freezing and we enjoyed a hike along Thompson Beach. The west third was slushy-snow covered with patches of bare wet sand that turned into snow-free bea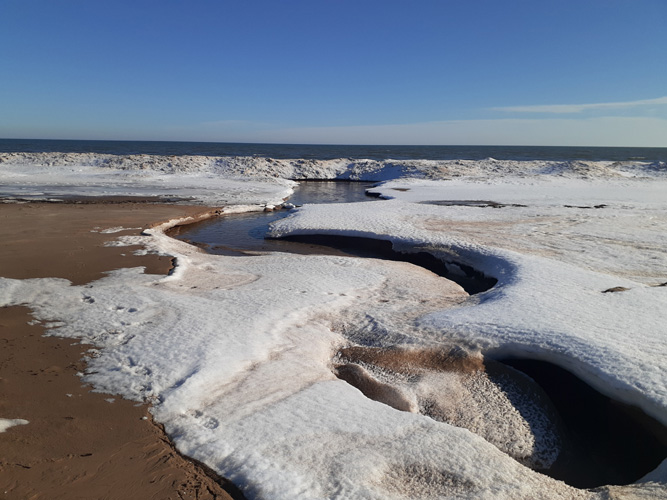 ch as we went east. It was easy and delightful walking. The ice mounds and ice sheet along shore are well along and growing as the waves crash and spread icy cold water over the tops. On the way out the splash was moderate but by the time we got to the far end the wind had picked up, with white caps on the water and spray splashing high over the mounds, the waves doing their best to drown out the noise of traffic on the highway.
At Rogers Park the run-off "creek" from the flowing well at the Park was being dammed up before cutting its way through the ice to join the Lake, making a picturesque scene in the rather sparse landscape. There was a narrow driftwood bridge over the far narrows to help us across without incident. An animal had walked across the nearer safe-looking natural bridge, but what you see is not always what you get as Steve found out on a previous walk. These "bridges" are often undercut by the water and can be very tender. At another run-off creek farther along the beach Steve's snowy bridge collapsed and he ended up knee high in very cold water! But today's walk was without major or minor incident and we returned to the car as the sun headed toward the trees and the temperature was falling, appreciating this rare sunny day.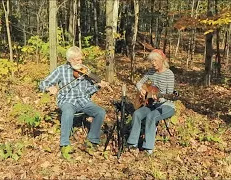 February 7, 2023 -- Winter Continues
We are still here, enjoying the mild winter, with enough snow for insulation (for house and orchard) and enough projects to keep us happily occupied. I've been slowly working through the "winter list" and planning the coming garden/orchard season. Steve has been working in the shop with some beautiful new spoons coming out, and doing all the other odds and ends that arise. Plus he has been upgrading our audio equipment and learning the ins and outs of the new tools. A big plus will be the ability to do a better job with the audio on our videos. To test it out we re-recorded the audio on one of our previous videos that was particularly poor. We're pretty happy with the results. The video (The Blackest Crow) was done in October 2021 and it warmed us up looking at it from the gray and white days of February! To make the audio changes to the video we had to delete the original and freshly post the new-old one, so it appears as a "new" video. Click HERE or on the photo to see/hear the results.
January 3, 2023 -- Wishing You All a Beautiful Dream Filled Year!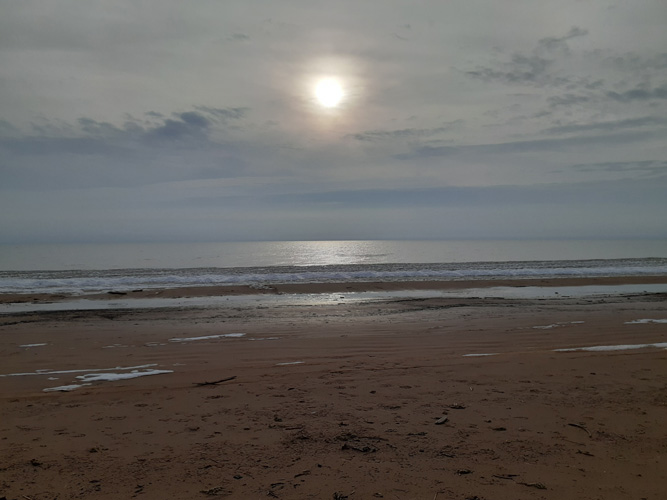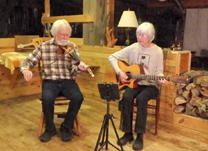 December 24, 2022 -- Wishing You a Wonderful Holiday Season!
"Away in a Manger" is rated as one of the top Christmas songs, and a nice gentle song it is. The American author of the poem is unknown but it was spread through the United States and into Europe via Protestant Christian publications, becoming popular (apparently) wherever it went. The words were sung to many different tunes, likely something known and liked in any particular congregation. Published as a song two versions became most common. In America James R. Murray's was, and is, the most popular, and in England a tune written by American William J. Kirkpatrick is most common. We grew up with the former but found we enjoy the second as well, so we do both. We hope you enjoy our version, our Christmas song-gift to you! YouTube LINK
12-21-2022 -- Happy Winter Solstice!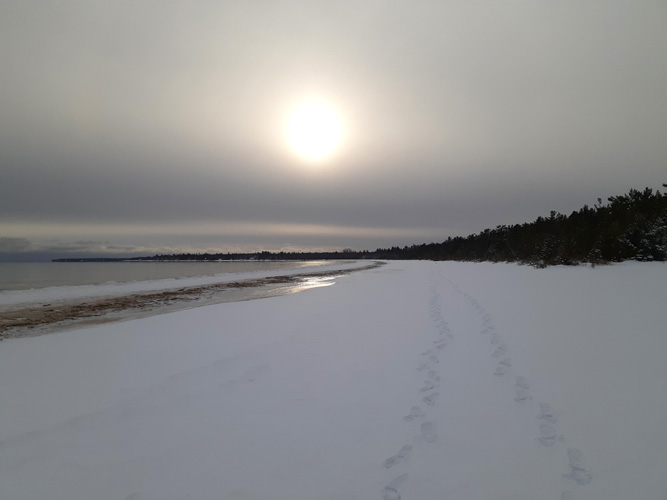 Celebrated here with a beautiful walk on Thompson beach.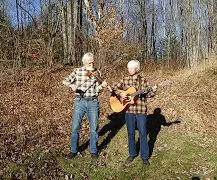 November 26, 2022 -- Two Lively Tunes to End November
Here are two old-time fiddle tunes to finish off November and enjoy an unusually nice day. We found a spot out of the gusty winds so we could once again play outside. With winter on its way these days are special!
Both tunes are likely from the late 1700's. The first is Scottish-English, named after an 18th century Northumbrian piper Jamie (or Jimmy or Jemmy) Allen who appears to have been well thought of as a musician but maybe not so successful in general life. The second is Irish-English, with many stories and opinions of its origins, most likely not true. Of course, no one knows for certain just when or from where either tune arose, as is often the case with these old tunes, but both are popular and played often on both sides of the ocean. Including by us!
Click on the photo, or click HERE to see the video.
Looking Ahead -- Friday, Dec. 2 & Saturday, Dec. 3
We will be thick in the Holiday music with two events coming up to start the season for us. How nice it will be to return to both after the two years off.
---
December 2, Friday: Christmas in the Village - 4:00-6:30 pm -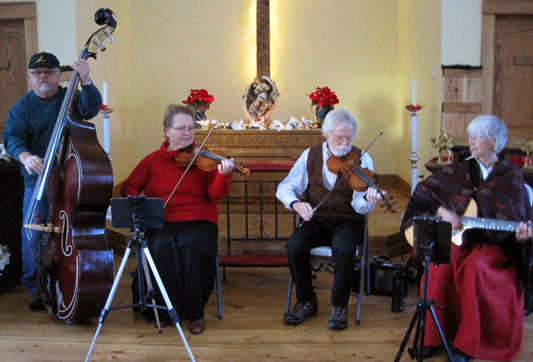 U.P. Steam & Gas Engine Village, U.P. State Fair Grounds, Escanaba. "Wild Cherry Wine" will be spicing up the evening with holiday songs and old time fiddle tunes Friday from 4:00-6:30 pm in the Chapel Building (which is warm and has seating!). This popular annual event is full of old-fashioned festive atmosphere, with a wide variety of shops, demonstrations, handicrafts, wagon rides, roasted chestnuts, hot chocolate and goodies galore. There is no charge but they ask that you bring non-perishable food items or new unwrapped toys to be donated to local charities. The event runs Friday 12:00n-7:00pm and Saturday 10:00 am-7:00 pm. Fun for all and so much to see you'll want to plan to spend many hours. Hope to see you there!
---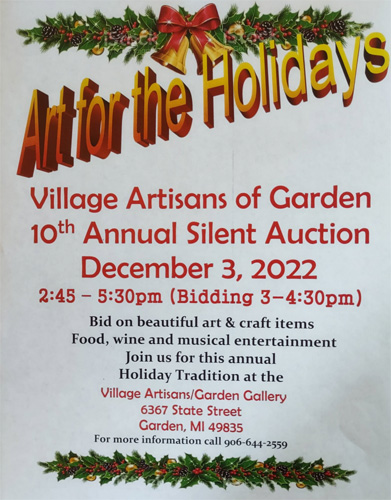 December 3, Saturday: Village Artisans of Garden 10th Annual Silent Auction, with a wonderful selection of art and craft to bid on, snacks and sweets to enjoy, wine and punch, and an enjoyable crowd. And musical entertainment provided by Steve and I, in the background as well as a fun sing-a-long. This is an annual event that we truly enjoy and look forward to.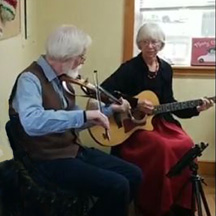 Doors open at 2:45, bidding from 3:00 - 4:30, and a holiday sing-a-long at 4:30 (while they organize and tally the winning bidders). It's a festive and fun afternoon and one highly recommended. You can preview most of what will be available to bid on at the Village Artisans website at:
www.villageartisansofgarden.org/pictur/10th-annual-art-for-the-holidays-2022/
November 11, 2022 -- Ready for Winter
I think we're ready - though it's just fine with us if the snow holds off for awhile.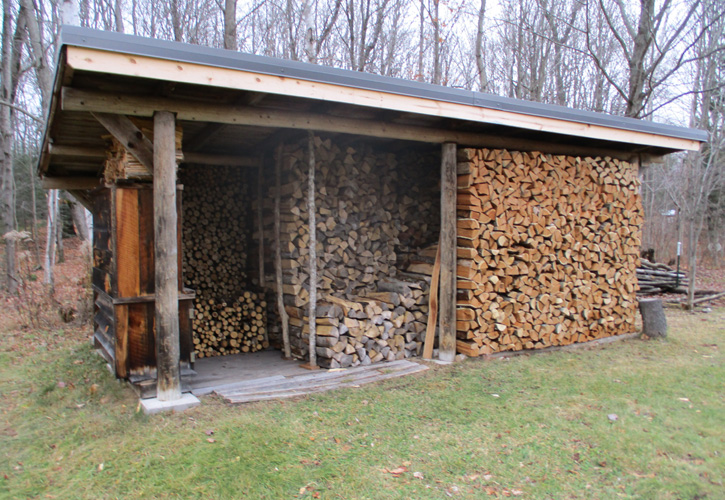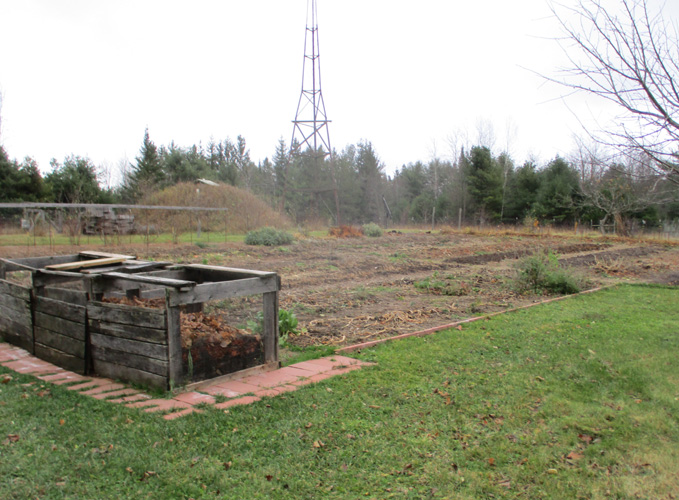 October 29, 2022 -- McKeever Hills Ski Trail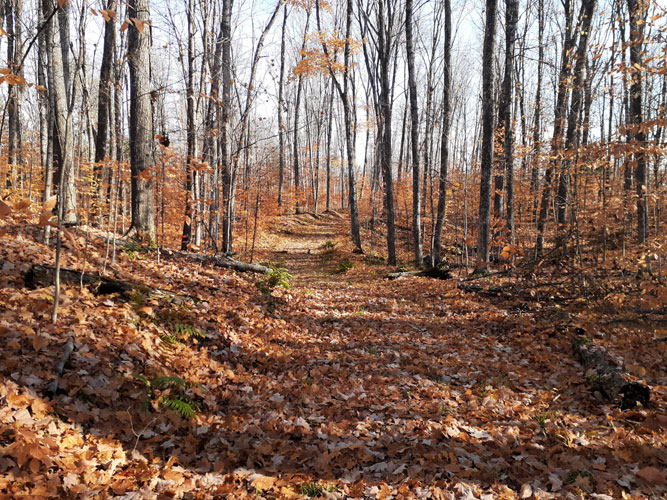 The leaves have fallen, or more likely 'blown down' thanks to some low temperatures and several high wind episodes. But this day was wonderfully mild, 45-50 degrees with just a mild wind. The leaf covered trail was damp and cushy like a thick carpet, until one's toe caught on a hidden root or stick. We slowed our pace and enjoyed a more leisurely walk. We had decided it was a good day to walk McKeever but debated on the route. We rather wanted to do the main A loop clockwise since we had gone the other way the last time. But there was the issue of where the trail crosses a wet area near the Cabin, with several ponds on one side and McKeever Lake on the other. If we went counter-clockwise (south) (as before) we would come to that spot about a third of the way around, about 1 1/4 miles, then could backtrack and do the C loops. If we went clockwise (north) it would be about 2 1/2 miles there then back and likely not enough time to go on down to the more challenging C loop, which we weren't sure we wanted to do anyway. Such decisions! We finally chose to go with our druthers, clockwise, take off our shoes and wade across when we got to that spot, then continue on around. It was a bit cool to be real excited about that but really, it wasn't that big a deal. Though we decided (based on previous experience) that the best way to go about it was to remove socks and innersoles, shoes back on, roll up pant legs, wade, then replace the dry socks and innersoles, put on the wet shoes, then continue on, and let the shoes dry on the trail. We'd decide about the C Loop when we got there.
It's a delightful trail, twisting and turning and hilly, along the south side of Pete's Lake, around and down to McKeever. As we came to the crossing we heard voices and barking up ahead - there apparently were folks staying at the cabin. Not surprising as this is a popular Forest Service cabin to rent and is often booked far ahead. But what WAS a surprise, and a very happy one at that, was to come upon a long wooden walkway of cedar poles laid down across the marsh and wet ground of the McKeever Lake "channel", continuing until the ground rose out of the wet.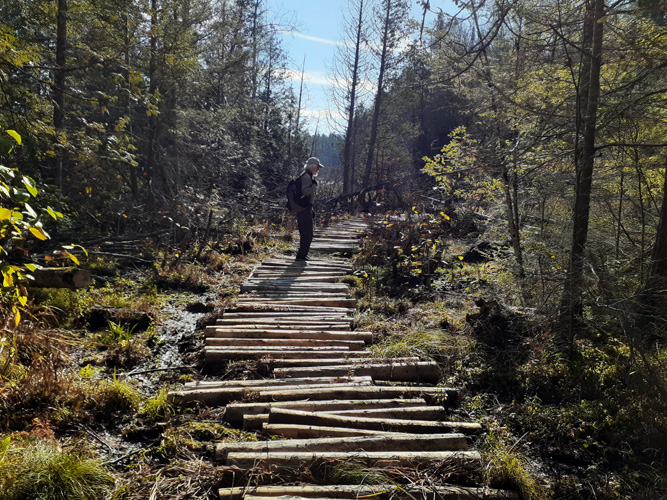 It was careful walking across the wet poles but it was very much appreciated. We emerged dry footed at the other end to be greeted by two happy dogs with the owners calling to get them back. We waved to the couple who were on a side trail below the cabin then continued on our way.
When we got to the C Loop intersection we decided we had time and energy to add that couple of miles (which doesn't sound like much until you see the terrain). The leaves covering the trail had dried and it was rather a noisy crunchy walk now. We enjoyed renewing acquaintance with the now more familiar named hills - Quick Silver, Sinkhole, Fantastic, Heart Attack. They didn't seemed quite as severe as we remembered, but, we reminded ourselves, we weren't on snowshoes this time. And when we came to Thunder and Lightening, slipping on the leaves as we went up, up and stopping (for the view, of course) at the welcome bench at the top before going down, down, slipping and sliding some more, we agreed that C still deserved its "Most Difficult" (for skiiers) designation.
Towards the end of the C Loop the trail crosses an old little used two-track that goes a short ways over to Wedge Lake. On the Forest Service map this is a numbered "road" and there is a Boat Launch icon. We decided to check it out. It was a short walk and what a wonderful discovery. This is our kind of "Boat Launch" (yes, this is it, verified as a fishing spot by two little red and white bobbers hanging tangled in a nearby branch, which brought back childhood memories for both of us. Neither remembered much in the way of fish but we do remembers those cute bobbers.)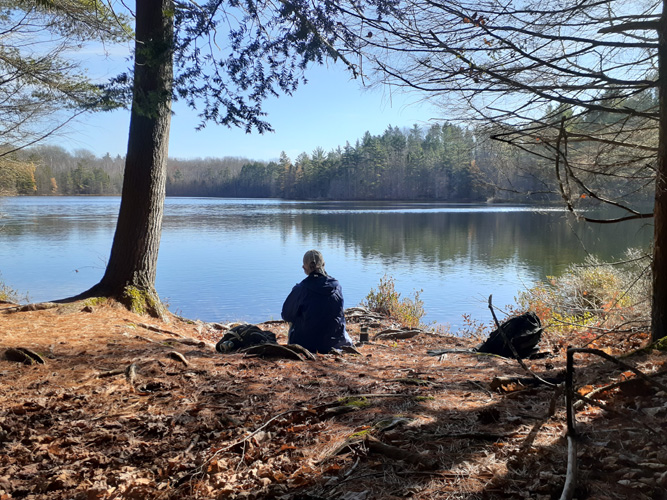 It was incredibly peaceful, beautiful, relaxing. We took a long break just soaking it in. There was little chance anyone would be bringing a boat in here to disturb us. Finally though it was cooling off and we still had some ways to go so we gathered ourselves and gear and continued on. We'll certainly visit here again though.
We decided to skip the B loops this time and headed up to finish the A loop back to the parking lot, marveling again at the large trees on Hemlock Hill, passing the edge of Kimble Lake, enjoying the last fairly level track of A back to the car. Now we felt ready for November.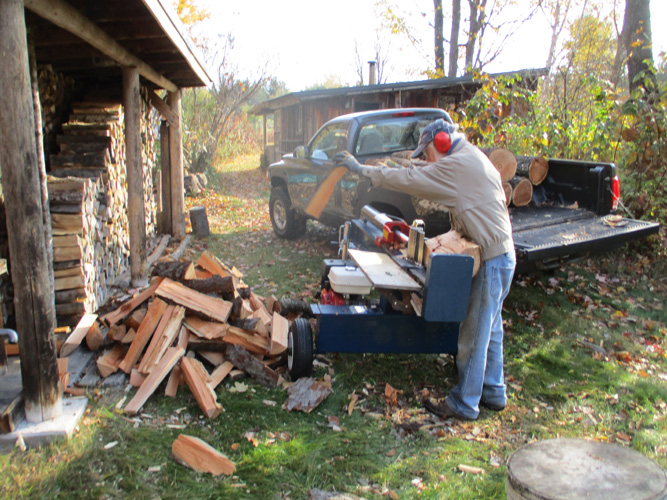 October 28, 2022 -- Fall Chores
Our time in the fall is pretty focused. For me it is readying the garden and orchard for winter, with final harvesting, protective mulches, and wrapping hardware cloth around every tree and bush to protect from vole damage. They like those fruit trees as well as we do, just in a different way! Steve has been cutting, splitting, stacking wood for this winter and next. Some years he has to finish up in the spring (for the following winter) but this year I think he'll have full stacks before the snow flies.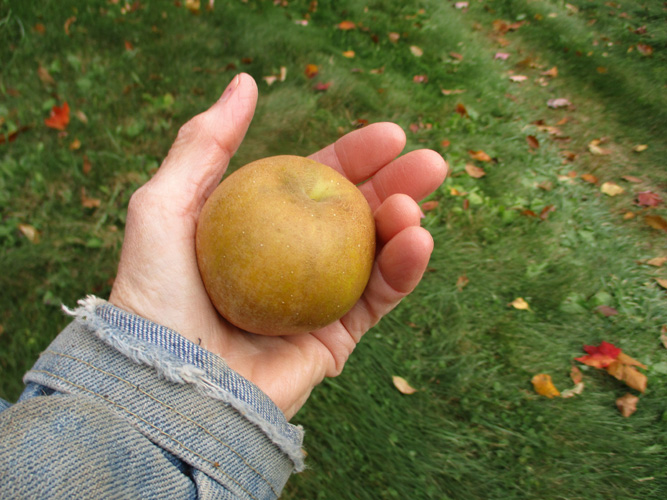 October 26, 2022 -- First Golden Russet!
My first (and only) Golden Russet fruit! It was watched with great attention as it grew. As a new, and unknown to me, apple I didn't know when it would be ripe or its ripe color. I decided October 6 that it looked ready so picked this distinct, medium small, beautifully clean healthy fruit. It sat on the counter for several days while I admired it, then back into the cooling root cellar.
It is reported to be an excellent storage apple but I couldn't wait. On October 26 I quartered and cored this little gem, happy to see the dark brown of the seeds stating that it was indeed ripe. We each took a slice -- ahhhhh! It was delicious, gently firm, with very good flavor. I so look forward to more. This fruit was a long time coming - ten years since we grafted it. It was the only graft of a half dozen that year that survived a late May freeze as it was in a more protected spot, nestled against the woods of our north border. It is definitely a keeper.
October 12, 2022 -- First Sierra Pear!
When I read about the Sierra Pear it sounded good to me - similar to Bartlet but higher quality and hardier. It is a cross of Bartlett x Marquerite Marillat released in Summerland B.C. in 1969. I ordered scions from the USDA ARS-GRIN program and we grafted it onto branches of three different growing pear trees. Three years later I lost two of the three trees to fireblight but one of them, Summercrisp, was fine as were the Sierra grafts on it. We continued to graft over Summercrisp to Sierra the next three years, hoping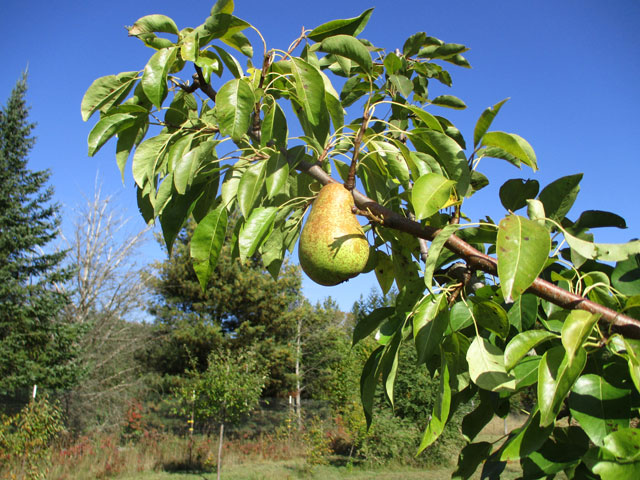 it would be a good pear but having never tasted one. But this year was our chance. There was the first fruit on the first graft we'd done, and the first "regular" sized pear in my orchard.
It grew fine and though not very large it was certainly the queen of the pear world for me (the only other pears I had this year were some Summercrisps, rather small, rather blah fruit).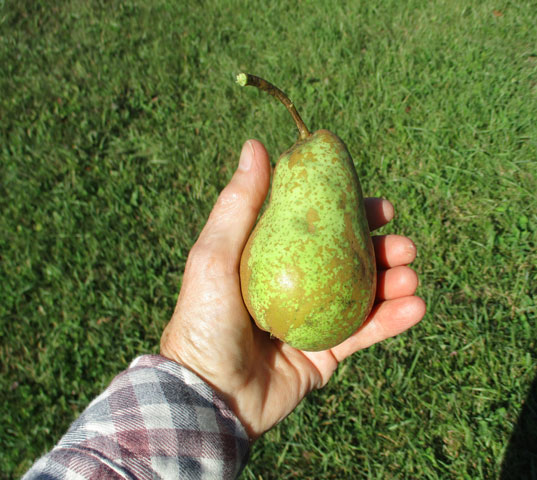 I waffled endlessly over when to pick it. Pears are very picky, and variable, about timing, with many rules and opinions shared by other growers and a lot of "well, it depends..." And having only one fruit makes it hard to experiment. Finally I decided it LOOKED like it had turned a lighter shade of green as others had said it would when ripe. And I was pretty sure it felt just a little give at the neck. I picked it October 3.
Letting it set on the counter ten days it finally got its day - the big anticipation soon to be over. Sliced, cored, we each took a piece ... it looked good, smelled good ... hurray! It tasted good. It was very nice. Smooth, sweet, just a little grit around the core, nice texture, nice firmness. It didn't take long to finish off this our first "real" pear, and we now look forward to many more. I will continue removing the rest of the original Summercrisp branches, and do more grafting to turn the entire tree over to this Sierra variety.
October 11, 2022 -- Rapid River Ski Trail
Beautiful 4 hour walk! The hills and valleys as steep and fun as ever. Overcast but 60 degrees with reasonable wind. Life is good in the northwoods.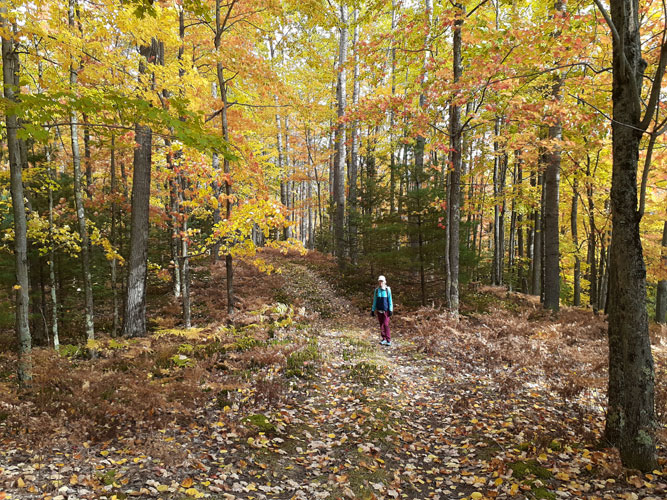 October 9, 2022 -- Happy Autumn Color for "Raglan Road"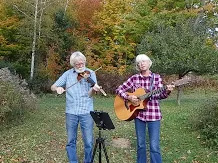 A beautiful autumn day between some downright chilly nights, with a stretch of cold rain forecast (they even mentioned the 'S' word!) prompted us to get to our October video while it was still warm enough to play outside. We knew this could be (though we certainly hope not) the last chance until Spring. This song seemed to fit the dramatic changes in the natural world this time of year. We heard the tune first years ago and fell in love with it, later discovering and enjoying the song as well. It is a somewhat dramatic lyrical ballad poem written by Irish poet Patrick Kavanagh in 1946, and set to an old Irish slow air "Fáinne Geal an Lae", also known as "Dawning of the Day". In the 1960's Kavanagh gave the song to Luke Kelly of the Dubliners who brought it to the public with great success.
The poem is based more or less on Kavanagh's own experience but there are a number of interesting bits in the lyrics and the story behind the words, that, for me, lighten the heaviness of the song. But for all the drama in the story and the lives of both Kavanagh and Kelly we simply just like the song. We hope you enjoy our rendition of it, with Happy Autumn wishes as well.
October 6, 2022 -- First Gray Pearmains
With several low 20's freezes forecast and a spell of rain to follow I decided to pick a number of "special" apples just in case the temps went lower and damaged these long awaited fruits. One of the picks was an apple I knew little about and had been wondering if I should simply cut this grafted branch off since it had taken so long to bare fruit. The graft is on a branch of a mature wild tree done in 2013. Growth has been vigorous though it has had some winterkill in years past.
But this year it saved itself by setting three apples, one of which the birds got to before I did, the other two I picked today. They certainly aren't model specimens with bird and bug damage and some surface blemishes but here they were, in person (so to speak), not just a photo online.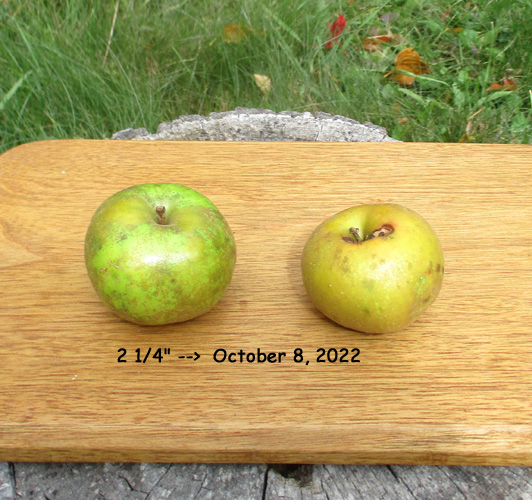 One was obviously green, the other with more yellow was maybe ripe? Since the yellowish one was damaged I cut that one up right away. It was firm, not very juicy, rather like a Black Oxford. It had a nice sweet flavor even though it turned out it wasn't fully ripe (seeds partially brown). But it was enough to make me anticipate some really good eating if they could ripen fully. I'm a bit concerned about that because this is rather late (October) for fruit to ripen here. The obviously green one is in the root cellar awaiting, hopefully, further ripening. But this is the first fruit for this graft and the tree it is on doesn't get ideal sun. It will likely change as it matures.
[later note - November 12 - The greenish fruit was starting to feel a bit rubbery so I decided not to wait any longer though it was still the same green color. To my surprise the seeds were brown. There was some insect damage but the texture inside was fine, certainly eatable, and the flavor nice - gently sweet with no tartness or hint of under-ripeness. I'm feeling much better and hopeful about this variety and look forward to more fruit in years to come.]
October 4, 2022 -- Escanaba Westshore Pathway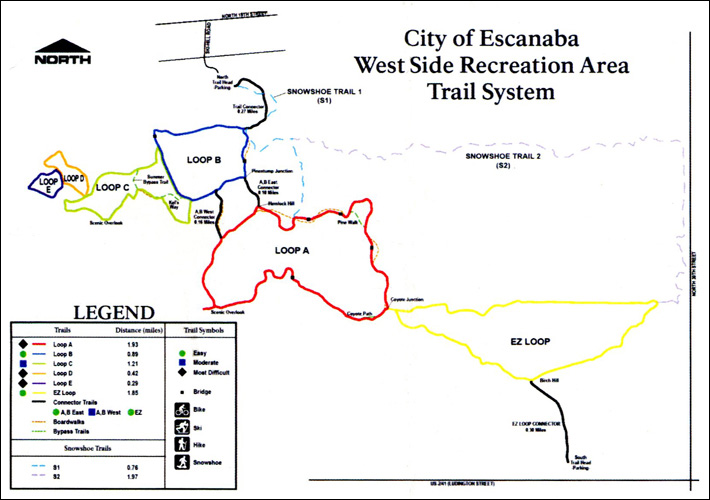 We were interested to read of the Escanaba Pathway's newest boardwalks and new signage plus a new map. All would be welcome additions. So we decided to check it out. Maybe we would finally get to walk that missing Loop 3. The new map is very nice though in studying it we realized the trails hadn't changed but the naming had. There were now Loops A, B, C, D, and E, in addition to that low EZ Loop through the wetlands (best traversed after frozen and covered with deep snow). So off we went to enjoy the newest boardwalks (truly appreciated as a lot of the area is wetlands) and the new signs. They have indeed added some nice simple signs which help orient one (as long as you follow the "ski" way not the other way). The only spot completely confusing is, unfortunately, near the beginning in a large sandy opening with no less than five trails leading out (or in), with no signs at all! But considering this Pathway is a result of a lot of volunteer work (in addition to DNR and City) this is not a complaint, just an observation. It's possible more signage is forthcoming. There were a few other intersections we had to stop and think about, but it really isn't too complicated a trail system.
It was a surprisingly warm day and I ended up in shorts, enjoying the expanded "summer". We followed around Loop A, enjoying the wonderful high ridge with beautiful big trees, declined (with no discussion) to head out into the EZ Loop wetlands, onto Loop B, onto C where we finally figured out the "missing" other Loop 3, now designated as rest of C, plus D, and E. There was a gate, as there had been, blocking what we had thought might be the Loop 3 that we'd never found. The No Trespassing sign was still there but added was the explanation "Sludge Ponds" -- the latter words a pretty good deterrent to tresspassing we thought. This area backs up to the Delta County Landfill. And just before the gate is now a newly signed path noted as "Summer Bypass Trail". And it hit us why. One wouldn't be able to traverse this area until the ground (and sludge ponds??) were well frozen and covered with snow. THEN it would allow an additional area for the cross country skiing route. We would likely never walk that part of the Pathway, and it would be available to skiiers only in those good winter years. Escanaba is relatively "warm" and not known for excessive snow. But it would be a nice addition when it happens.
We finished Loop B back to the starting trail. One can go on around the "easy" snowshoe loop at this point and we decided to, until we went just a little ways down into wet ground so, on second consideration, to leave that until winter freeze up. Back to the main Loop and the welcome, and appreciated, very long, boardwalk across the all too common wet ground (even on this dry season) on up the hill back to the parking lot. It is a relatively short adventure but a quite nice Pathway, off the sidewalks of the City.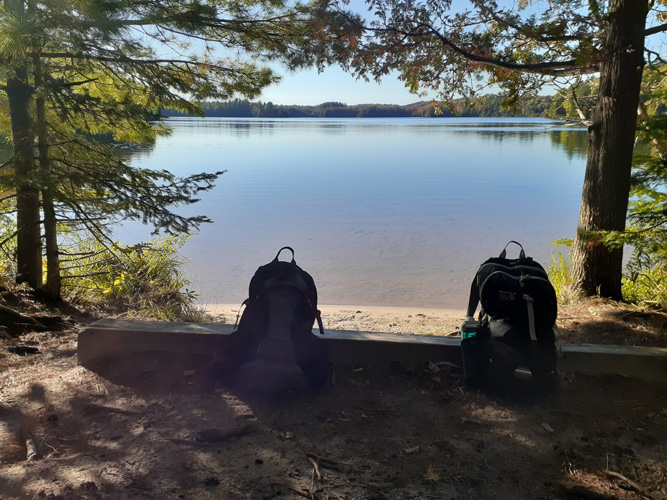 September 30, 2022 -- Bruno's Run
McKeever Lake from Bruno's Run Trail, a great way to end September. And a wonderful day for a walk. We had decided to start at Pete's Lake Campground on the north and head east and south, a route we had covered in late December two years ago and early April last year. So this time we would discover the area in the fall, with fall colors and warmer temperature.
It was as fun and interesting as ever; a truly beautiful route, passing near the three Lakes, with varied terrain but never too steep. The hardwoods were into their color tour phase and the days still long enough for a good four hour walk even though we hadn't started till after noon.
As we walked along the familiar trail we soon stepped onto a freshly dug section. It was surprising what a jarr that was, to go from well packed comfortable old trail to packed fresh dug dirt. This was obviously a "professional" job, as in done with machinery, unlike the North Country Trail reroute we'd experienced at AuTrain which was a by-hand-and-by-foot-by-volunteer labor endeavor. This new path was wide, flat, and regular. As we went on we were on and off the old pathway onto new reconstruction or reroute. It was a very neat and fairly extensive job, with vegetation and removed trees spread nicely along the sides. Sometimes we could see a section was a necessary reroute, moving the trail farther up a hill, away from the lower wetter old route. Sometimes we weren't sure, maybe just a repair. This trail is a popular bicycle destination which is hard on the hilly terrain. We speculated on what the equipment might be like to do this job.
After awhile we passed by McKeever Lake into the lowlands of the southeast corner area where we could hear machinery somewhere up ahead. We came to a Y where the old trail continued downwards and a new trail was being cut higher up the side hill. There was an interesting appropriately sized walk-behind motorized trailer parked with a rake leaned against it. Then up ahead on the newly made section a fellow with a another rake was cleaning up the path. He waved to us to follow the old trail below him. Ahead of him was a small yellow excavator carving out this new trail from the woods around it. When we stopped to watch in amazement at the operator's skill with the bucket the fellow who was afoot stepped down to talk to us. Yes, they were indeed making new trails where needed to get out of low mucky spots and repairing other sections that had gotten rutted but were OK. Bruno's Run is a Hiawatha Forest Service Trail and these folks were independent contractors doing the work, and they were obviously very good at their job! It was a job that would be appreciated by a great many users of this trail in the months and years ahead.
We continued on our hike and left the noise of the machine behind (though it was surprisingly quiet compared to most heavy equipment) as the trail headed up and put land and trees between us and the excavator.
When we got to the bottom corner of Wedge Lake we decided we had better head back. The sun was getting lower and it was cooling off. It was time for a sandwich break so we promised ourselves to stop at the McKeever Lake "boat launch" for that purpose, not too far back. We again passed on the trail below the excavator working up the hill and stopped to watch. It was fascinating, and too dark in the woods now to take a photo. The operator was excellently skilled, removing and placing vegetation large and small, seeming precariously balanced on the side of the hill. But sandwiches called so we continued on, leaving the voice of the machine behind, to sit at the small sandy boat launch with a concrete beam "seat" to sit and enjoy the calm beautiful and peaceful setting.
As we retraced our steps along McKeever Lake and Grassy Lake and Pete's Lake, up hill and down, through the varied forest, we could now see where old trail sections had been very well "erased" when new ones made. In a year I doubt one will even notice new and old, except for the neat edges of the newly carved pieces.
September 23, 2022 -- One More Time
Two realizations helped us plan our day. The first was that it appeared this would be the last "nice" day for a stretch, the weather turning cold and rainy tomorrow. And we had one more chance for a Mama Cow's ice cream before they closed for the season. Now we're not big ice cream eaters, but this small but special "shop" in the small town of Chatham has truly caught our fancy. The place itself, the building, the corn crib, the pastoral backdrop, the owner and workers, are wonderful. But it's the super premium rich ice cream, made in Madison, Wisconsin, by the Chocolate Shoppe that gets us there, us and a crowd of others! This is a very popular stop. As the information on their paper bowls states: "Nutrition? Don't even ask. ... it has Gobs of rich Wisconsin cream, tons of real ingredients for boat-loads of luscious flavors. That means it's not low-fat, low-calorie or low anything, and that's why everyone Loves it. If you want nutrition, eat carrots." And we do, of course, but we also eat their ice cream!
But we needed to do something first to make it a real treat to look forward to. So we spent the morning on outdoor projects we wanted to get done before the weather turned then after lunch headed north for a hike. There are a number of trail options but we decided to go to Valley Spur (west of Munising), cross the road and walk north on that section of the North Country Trail. This was a trail we knew as we had worked on clearing and marking it some years ago. It's a real nice single track through the woods, and being a NCT trail, it winds over-around-up-down in an enjoyable and energizing way. It was a nicely cool, mostly cloudy but no rain kind of day. Very pleasant walking.
Since we "knew" the trail we were surprised to very soon find ourselves on a route different that what we remembered. This was obviously a fairly new and extensive reroute, and a lot of work had gone into it. I was a little disappointed because there was a section missing that I liked. But we also remembered the low swampy area that this reroute avoided so we understood and appreciated the work done. Soon though we were on familiar ground, enjoying the variations in the woods, and the magical sections full of large ferns and low spreading yews. This is pretty much an all-woods trail with few obvious "landmarks" but we happen to love walking in the woods and had a rough idea of where we might be based on a couple of road and two-track crossings.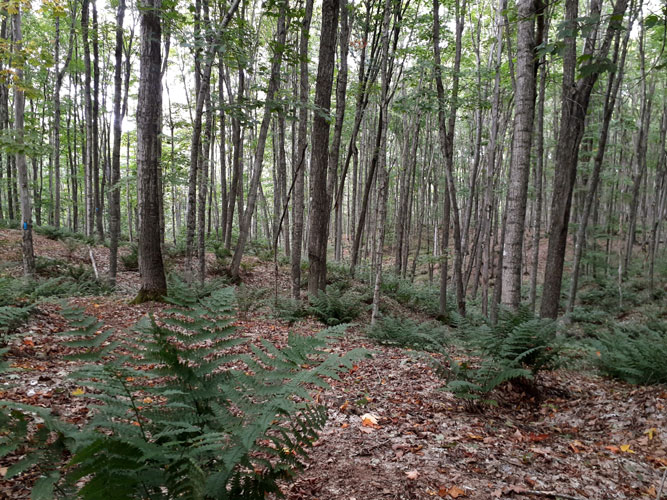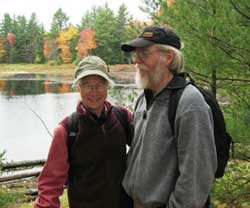 There is one special landmark though, well known to hikers of this section of the trail, a sudden change from the trees - two ponds, one on either side of the trail, called (not surprising) The Ponds, with a small bridge where the two try to meet. It was on this trail almost twenty years ago that friends Lynn and Lon Emerick introduced us to the North Country Trail by inviting us to go for a walk with them. Lynn took a photo of us on the bridge at the Ponds. The vegetation around the bridge has now grown up quite a bit but below is today's picture just a few yards away. A little less color, a few more wrinkles, different caps, but we're still hiking!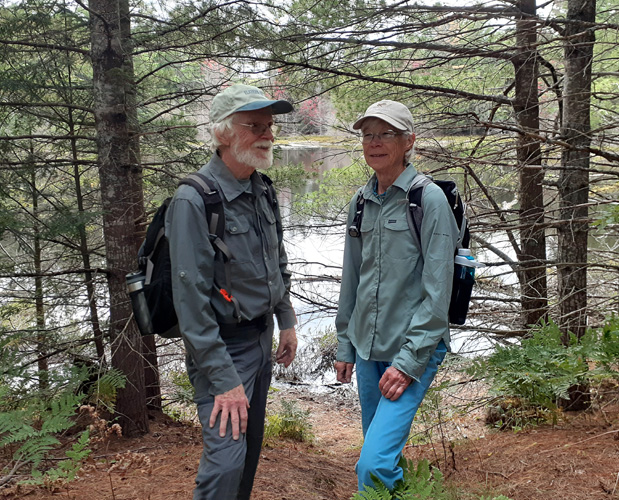 It was a real nice four hours on the trail (we took sandwiches to sustain us) and we once again made it back and to Mama Cow's in plenty of time for our last ice cream treat of the year. But it certainly won't be our last hike!
September 22, 2022 -- Happy Equinox!
Nature looked at our calendars and realized that today we expected Fall weather to arrive, not these beautiful summerish temps we'd been having. So, right on time, freeze warnings tonight. Not a nice gentle easing into colder weather with a few frosts and cold days to get us ready, but a no-nonsense dive right into the 20's, with rainy cold days ahead. NOAA gave us plenty of warning but it was obvious anyway -- brisk north wind becoming calm with clear skies, and being towards the end of September. I know we're lucky to have made it this far without even a frost (though it had been down in the mid-30's a few times) though I always hope for a few more weeks. The routine came easily - harvest tomatoes and peppers and grapes and onions and anything else I didn't want to cover. Cover the rest, which at this point was just lettuce and spinach and cabbage, and making sure the potatoes had enough mulch. They won't come out for another two or three weeks, and happily the carrots are fine safe in the ground as they are. It was time to let the rest of the garden rest, though I and the bees would miss the zinnias and marigolds and buckwheat flowers. Good thing we love autumn weather as much as we love all the seasons!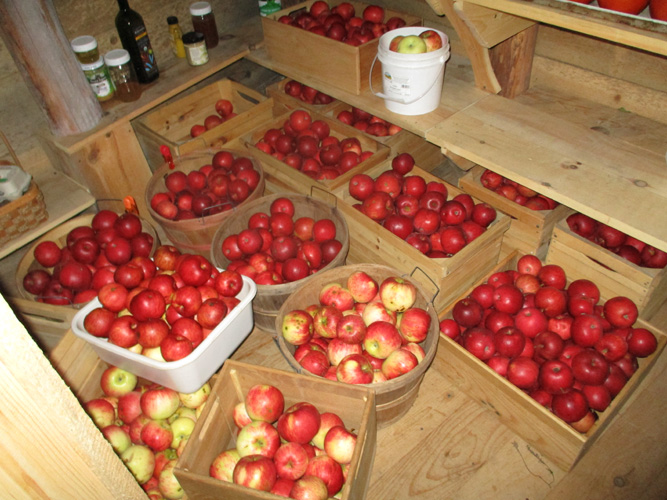 September 19, 2022 -- Cider Time
I stepped into the root cellar to add another box of apples and realized the only place to put it was where I was standing. I'd been drying apples and saucing apples and eating apples but that just wasn't enough. It was time to make cider! And the day presented itself, not too hot, not too cold, just enough clouds, just enough sun. Life can be so good. And so is the cider! It had been three years since we'd had a bumper crop of apples enough to press so we were very ready for some fresh brew. Five half bushels, about 100 lbs, of Beacon and Dudley apples, soon (well, after a couple of hours) emerged as 4 1/2 gallons of fresh sweet cider.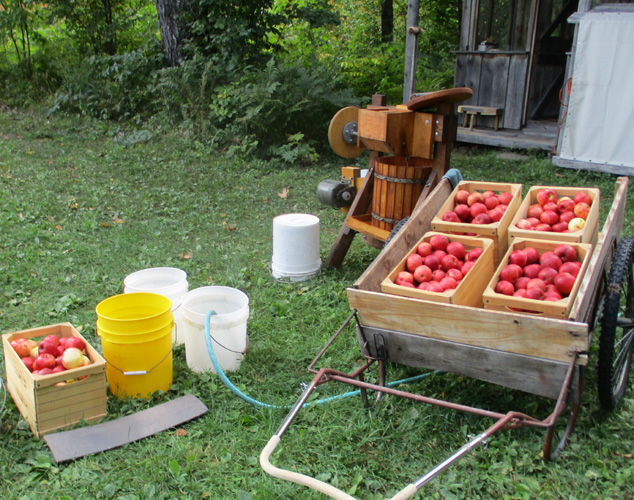 Half of the pressings went into clean buckets to be made into vinegar and half onto the compost pile to add their own contribution to the garden. The cider was heated and canned to keep it from turning into hard cider (while interesting that wasn't what we wanted). Any unsuitable apples (and there weren't many) went into the woods for our local deer (usually two does and their current offspring) who do a good job of keeping the small pile of rejects cleaned up.
There are more apples to be pressed -- it was truly a bumper healthy apple year -- but we find this amount to be just right to enjoy the pressing. Thankfully apples are patient and will contentedly wait in the root cellar for the next "right" day to make cider. It's still happily crowded in the cellar but we can now walk all the way in.
September 18, 2022 -- A Day at the Beach
The day's forecast was for rain so we resolved to stay home and take care of much needed indoor chores. But there was looming over us the report that Mama Cow's Ice Cream Shop in Chatham was due to close for the season the end of this week. And we really did want to go for a walk on Au Train beach before it came too cold to walk in the water, but, their forecast was even stronger for stormy weather than ours. We put our attention to our respective jobs. Then the weather cleared up a bit, and a hint from one of us that maybe we could ... and we were off and on our way. One should always trust strong inclinations. We did pack our umbrellas, however.
Thankfully it was fairly warm and not windy. The sky was full and active, with dark clouds every which way, more or less moving from the west or northwest. It was beautiful and calm, the gentle moving water reflecting the wild sky.
As we walked along we could see and hear the rain coming and were ready when it reached us. With no wind we were well protected under our umbrellas. Exhilerating music pattering then pounding on the fabric overhead and on the water, while we watched it cross over us and continue on up the shoreline, the surface of the Lake alternating smooth and reflective then dimpled and dancing in the rain.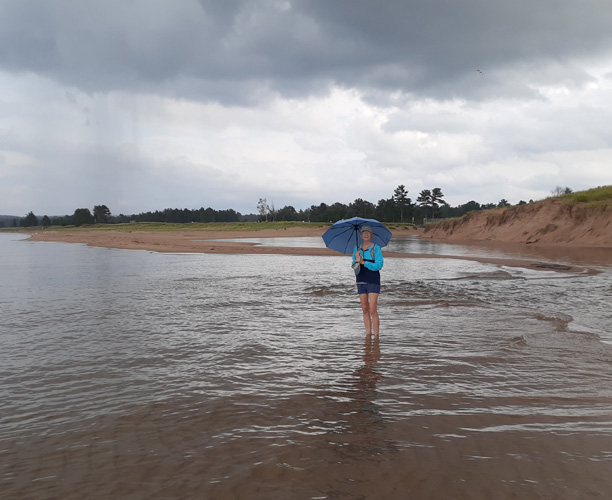 We stopped often, soaking up all that active and creative atmosphere. The photo above is where the Au Train River cuts across the beach and merges with the Lake. It's a bit dicey to find the best spot to cross as the course and depth changes often but we made it to the other side without getting too wet. Which I guess is rather a funny concern considering we were wading in the water in the rain!
We turned back to look at the sky and there was even more magic: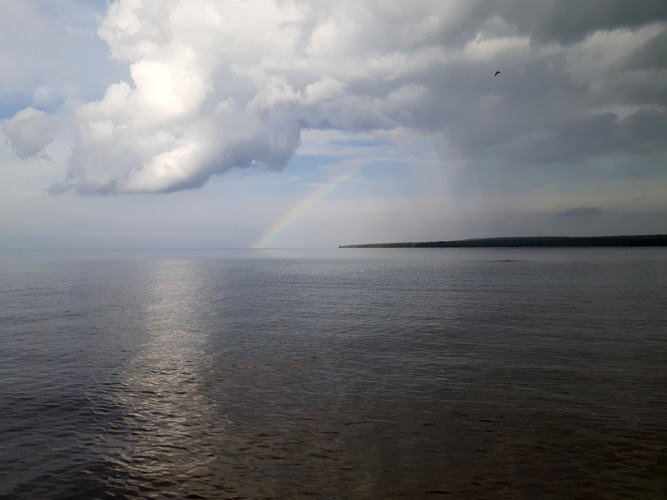 With the rain behind us we continued on near to the west end of the beach, having a great hike, watching the moving cloud banks. Then one of us realized time was also moving on and that if we didn't get marching back Mama Cow's would close before we got there. Well, we didn't want that to happen, so turn around we did. There was also the incentive that the wind had picked up and there was an obvious large dark rain cloud heading our way from Marquette, and it seemed to be moving faster that we were. So we only made one stop on the way back, when we crossed the River. There we saw a fellow standing on the beach next to the outlet of the River, holding a fairly long leash attached to the harness on a dog, a medium large, strong looking white dog who was facing upriver "swimming" into current, treadmill style, going no where (to our eyes) but obviously having a great time. His owner confirmed that the dog loved this and would go much longer than he (the owner) had the patience for, but he obviously cared enough for his dog to stand there quite a long time. The dog glanced over at us a few times then went back concentrating on his swim.
And we continued on along the beach and shoreline water, concentrating on (and enjoying) our brisk walk back to the car, looking back and up now and then at that fast moving dark cloud. It started raining just as we got safely in the car, with enough wind this time that we were glad not to be out on the beach trying to manage umbrellas. And we made it to Mama Cow's in plenty of time. What a fun day.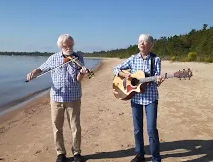 September 8, 2022 -- Morningtown Ride
We went down to one of our favorite beaches along Lake Michigan east of the old Thompson docks for this enjoyable bedtime lullaby written by Malvina Reynolds in 1957 and made popular by the Seekers some ten years later. This song comes often to mind when we're rocking and rolling while paddling or rowing out on the water.
You can click on the photo above to go to our (YouTube) video, or click LINK.
September 5, 2022 -- Grapes and Pears, So Pretty, So ... blah?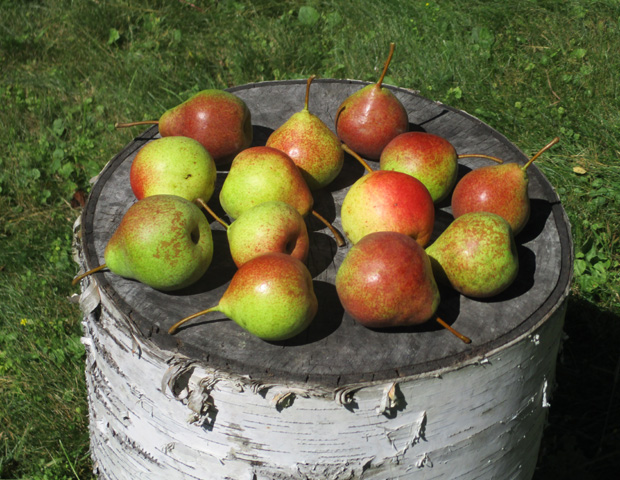 It was harvest time! I found a Summercrisp Pear on the ground so looked carefully at some of the others on the tree and it did indeed look like time to pick. It's tricky to get the pears at just the right time, especially a moderately flavored pear like Summercrisp. But we taste tested one and it was surprisingly good and not too gritty. And the pears were larger, relatively speaking, at 2 1/4 - 2 1/2 inches across. We've been grafting over this tree to a different variety as I haven't been very impressed with the Summercrisp fruit but I started to wonder if I had been wrong. Both tree and fruit are very healthy, and attractive, which is certainly a plus. But after trying a few more fruit as they ripened on the counter I'm back to my opinion that it is at best just a "fair" tasting pear and not one to keep around. But the fruit didn't go to waste. I happened to be making a large batch of apple vinegar so I cut up the rest of the pears and added them to the pot. The variety that we've been grafting onto the Summercrisp branches is a larger pear called Sierra. And this year there is one fruit growing! It is quite a ways from ripe so I do hope it makes it.
Another fruit that looked ripe is our fairly young Somerset Red Seedless grapes. Last year there were just a couple very little clusters of grapes, just enough to taste and make me excited about this variety, which had been highly recommended by other short season fruit growers. Several traits make this one special. One is that it is sweet and tasty as soon as it is partly colored and even before it is ripe, so there is a better chance of getting a harvest in spite of early frosts (which we, thankfully, have not had yet this year). It also happens to be almost seedless, and for short season growers this makes Somerset a must have grape even if the fruit is quite small compared to warm weather varieties most are used to. It actually often does have a few seeds but they are soft and easy to eat. So this is a wonderful variety for those of us in cold climates.
I have been nibbling often on the grapes, a few at a time, and they are tasty. I wasn't sure just how ripe they were, or if they would get darker, maybe sweeter. My other grapes aren't ripe yet though they are coloring up (unlike Somerset they are NOT sweet until they are fully ripe). These sure were pretty though, healthy, and quite an abundance of fruit for such a young vine. With a stretch of wet weather forecast and maybe a cold night I decided to go ahead and harvest them, not waiting for the other varieties. Though I enjoyed snacking on the grapes my main purpose for all the varieties is for juice. So I juiced my little harvest in the steam juicer with anticipation of a nice sweet juice. The result? Three cups of light colored, light flavored - actually VERY light flavored with a bit of an "off" touch. Not exactly what I had wanted. Somehow it had not occurred to me that a grape bred (by the great breeder Elmer Swenson) for fresh eating might not be the best for juice. To be fair to the fruit though, I'm thinking that it might be just fine if left to get fully mature. I do hope so. But I will have to wait until next year to find out. Meantime, I'm urging my other three vines with fruit along to get busy with maturing. I still have a hankering for some good home-grown, home-made grape juice!
September 1, 2022 -- Aronia Chokeberry
Not all fruit growing in my orchard is immediately sweet and tasty, and aronia, aka as black chokeberry, is one such. But in spite of the chokeberry designation it isn't a bad tasting berry if one is patient for it to mature. It's a pretty bush, easy to grow, and has become probably most known for the antioxidant properties of the fruit. I added two bushes several years ago, mostly for diversity but I'm happy to make use of the fruit as well. The birds and chipmunks seem to leave it be and it is very easy to harvest. The moderately firm VERY dark blue/purple fruit colors anything it touches, including hands, but most noticeable added to fruit sauces such as pear or apple. The flavor is mild, a bit dry, with a very little tart and sweet, so it doesn't add too much other than color though it does have a distinctive flavor all its own. This year was a bumper crop for my still young bushes, pulling the limbs down to the ground. The fruit was starting to wrinkle (not that I have anything against wrinkles!) so I harvested them all and made juice to add to applesauce as I make it. I'm not sure about the antioxidant thing but I figure a little extra nutrition and interest is a good thing. And it's nice to make use of this easy fruit.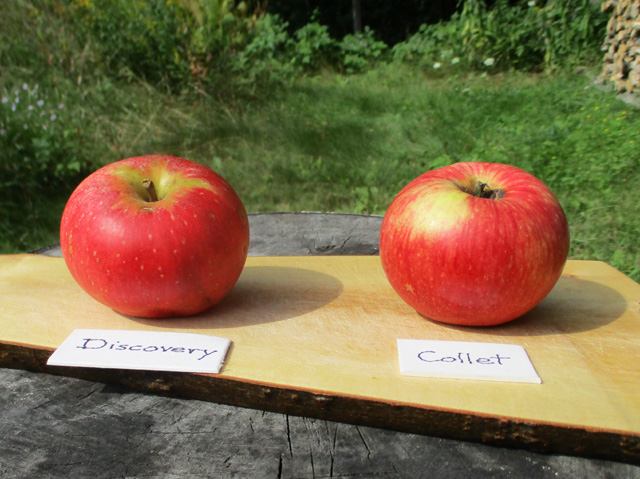 August 30, 2022 -- New Apples!
This is the year for new apple varieties in the orchard, two of which have ripened. One thing I'm finding is that many of our apples look very similar, but the tastes differ which makes it fun and interesting. The first, on the right, has been especially watched. It was a lone apple on a fairly young rootstock and not a common variety. "Collet" came from seed planted in Canada in 1934. Thirteen years later it was selected out of a crowd of 300 as the best all around and hardiest. It's a nice apple, similar to a Macintosh, juicy, tart-sweet, tender. While not my favorite Steve thought it was very good. I look forward to seeing how it does down the road.
The apple on the left is more known, at least in the U.K. where it was introduced in 1962 as "Discovery". We grafted it three years ago onto a branch of a full grown wild apple tree in front of the shop. I was rather surprised and happy to discover three apples growing on that graft this year. The variety came with rave reviews for flavor from several Canadian growers so it was with hopeful anticipation that I kept my eye on those three. It is known as an early apple but the apples dropped about the same as my regular late summer apples. And to my happy taste buds it was every bit as good as reported. We both thoroughly enjoyed each apple and glad we had grafted onto a few more branches the last two years. I also have a graft on a small rootstock in the regular (fenced) orchard but it will be some years before that one has fruit.
I have two more new apples to anticipate, one each, still hanging. They are both late varieties - a Golden Russet and a Gray Pearmain. They are both looking good and I'm hoping they both hang in there until they are ripe, and that they both do indeed ripen before cold weather. And (many hopes with these two!) that the wild critters ignore them since they are outside the fence.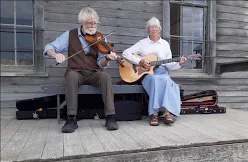 August 27, 2022 -- Play Music on the Porch Day!
"Play Music on the Porch Day" began as an idea in 2013 by Brian Mallman in California. The idea was "Smaller Peaces - What if for just one day everything stopped, and we all just listened to the music." He invited any and all people to get out and share their music, on the porch, with others, for others, on the last Saturday in August. Musicians responded, all over the world, and it has continued to grow since. We heard about it this year and decided to participate. It was fun and it felt good.
We chose to go down to one of our favorite porches in the area to play (with permission) - on the old hotel in the Historic Townsite of Fayette State Park in the Upper Peninsula of Michigan. We had a great time playing old-time music for several hours and talking to the visitors. It was a beautiful warm partly sunny day and the view we had of the late 1800's site and the protected Snail Shell Harbor was magical. Towards the end of our two hours we put the camera out and recorded a few tunes and song for our official "Play Music on the Porch" video. Unfortunately the wind decided to really pick up then, as you can see and hear in the video. But it was a lot wilder on the back side of the hotel where the waves of Big Bay de Noc and Lake Michigan were crashing against the other side of the small peninsula where the old iron smelting buildings and townsite is located. We were happy to be sheltered on the hotel porch and I'm sure the boats were even happier to be in the shelter of the Harbor.
You can click on the photo above to go to our (YouTube) video, or click here LINK. To see a long list of other's PMOTPD videos on YouTube click on the hashtag #playmusicontheporchday at the end of the description under our video.
Check out Play Music on the Porch Day on their website (https://playmusicontheporchday.com/),
or on their Facebook page (https://www.facebook.com/playmusicontheporchday),
or on YouTube, Instagram, Twitter, etc.
The tunes we recorded were old-time tunes and song of an era suitable to the Fayette Historic Park Townsite: Tombigbee Waltz, Oh Susannah, and Emma's Pride.
#playmusicontheporchday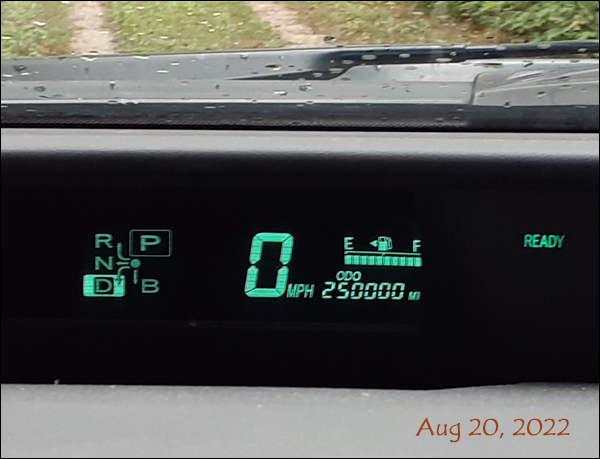 August 20, 2022 -- 250,000 Miles!
Our wonderful 2007 Toyota Prius has just passed the 250,000 mile mark! We celebrated by getting it a new muffler - the original lasted all those miles. Other than a little surface paint bubbling the car looks great. Over the last half-dozen fill-ups it averaged 51.2 mpg. Pretty cool for a 15 year old car!
Last fall we bought a 2015 Subaru Impreza as our 'winter car' so the Prius now gets the winters off for the rest of its life with us. It deserves the break. What a great car it has been for us!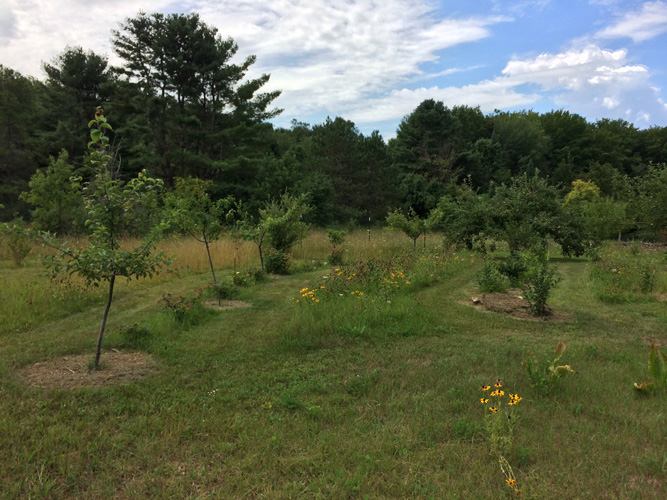 August 19, 2022 -- Growing Orchard
The younger trees in the orchard have had a good growing season this year and are finally showing up stronger amongst the vegetation. I mow either side of the tree line which helps, leaving patches unmown to let the wildflowers bloom for the pollinators and other insects, as well as cover for the snakes and toads.
It's never a cut and dry pattern as I also prefer to discourage voles and anything that wants to send seed into the garden area. The older half has vegetation that grows thick and lush while the newer half is mostly thin and working on building up its soil. So some sections get mowed often, others seldom, and it all depends on what I'm thinking or feeling when I get out there with the mower! But thankfully the trees seem to do just fine no matter what I do so it's a happy world in the orchard.
And it will soon be apple time! Thanks to the older established trees, all of whom are giving at least a partial crop this year, no doubt making up for last year's freeze-out. Looks like it will be a cider year, too, when there are plenty of apples to press after eating, storing, and sauce making.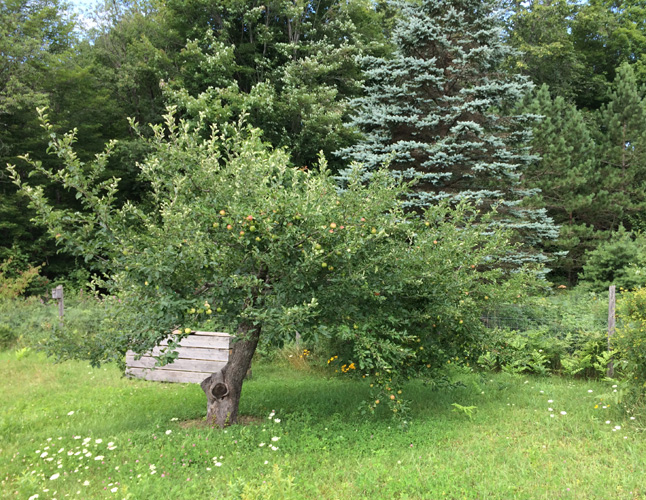 Ten years ago we had begun major cutting on our original Beacon trees bringing the over-grown trees down to a more manageable size. This went on for a number of years as we cut out large limbs and large trunks of the multi-trunked trees. On the north-most tree we left one original large limb on the north side and for so long it really looked lopsided as the rest of the tree shot out new growth every which way to try to fill out the other sides and get itself back in balance. That original north limb (the right side in the photo) has been producing apples for some years now but it's been a wait for the new growth on the other three sides to get mature enough to fruit.
Now, after many years of challenging pruning, this wonderful tree is finally gaining some equilibrium and sense of self. There are many apples growing on the east and west sides now (including a full grafted branch of Goodlands). And the south side is reaching out nicely to balance that thicket of old growth on the north. Next year I'll start cutting back the north side to finish the reshaping. It's been a long-term renovation but well worth it. It shows just how adaptable and agreeable apple trees can be as they do their best to accommodate the idiosyncrasies of their humans.
August 1, 2022 -- Happy Berry August!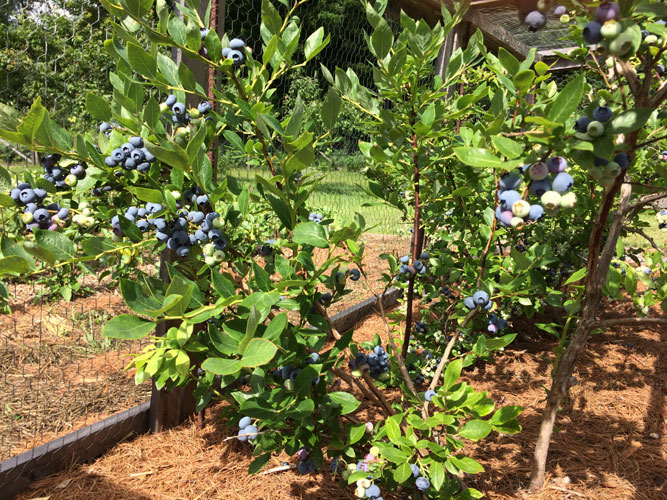 The strawberries have wound down, the raspberries picking up steam, and the blueberries are busy ripening in their bird-free enclosure. Not that I blame the birds for wanting to eat them but I figure they can enjoy the wild ones, and the raspberries, which they do. Plus any of the luscious tame ones that get too close to the chicken wire barrier. But there are plenty and the fruit bowl on the table is always full.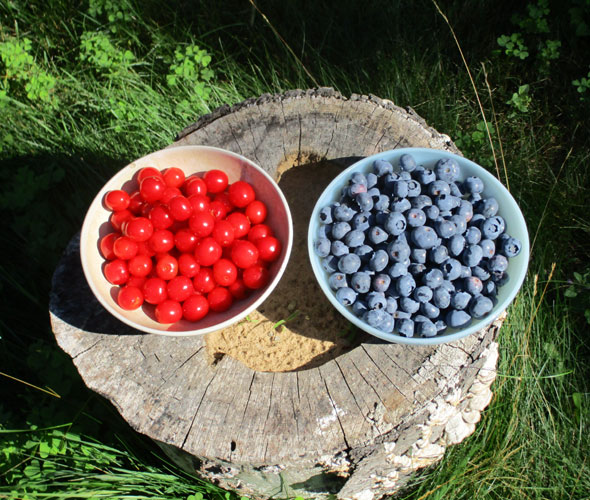 It's been several years since we've had tart cherries to harvest but this year the five year old Evans cherry tree did a nice job of getting them back into our world, and it is a very welcome homecoming! The cherries and blueberries together make a great flavorful sauce. It is a bit more of a challenge to encourage the birds to go for fruit other than those beautiful bright tasty orbs on the small Evans tree but I did my best by tying flashy bird-scare tape all over making it look a bit like a Christmas tree. I think it is working only because we have a very light bird population this year (I assume closely related to the very light insect population this year) though there have been some bird bites. Since we have a Robin still nesting in one of the apple trees in the orchard, and a pair of Cedar Wax Wings that I think just fledged two young, I have no delusions of keeping all eaters out of the cherries but I do want to have a good chance at a harvest for the humans, too. So far so good. As the tree grows and a few other cherries bushes and trees come into production there should be plenty for all. Meantime, we're getting a very good share and enjoying them thoroughly.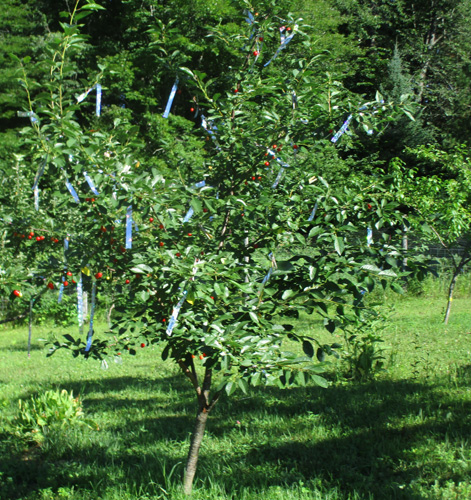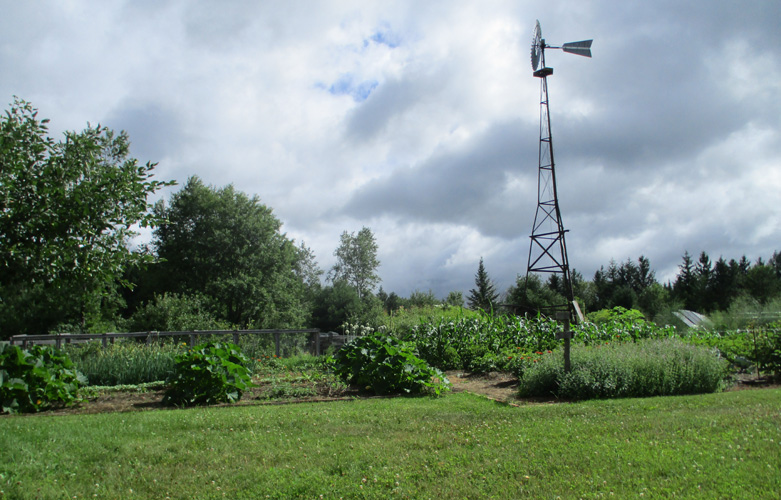 July 29, 2022 -- Garden Joy
This year the entire garden is growing and producing with enthusiasm and joy. I think it appreciated the cooler spring and early summer (as did we!) and has been embracing the much warmer summer as well. With just enough rain to keep things going it amazes me every time I walk into that world. I know -- I'm enthusiastic about the garden every year! But this year every single crop seems to be having its "best" year. And the orchard is doing its best to keep up.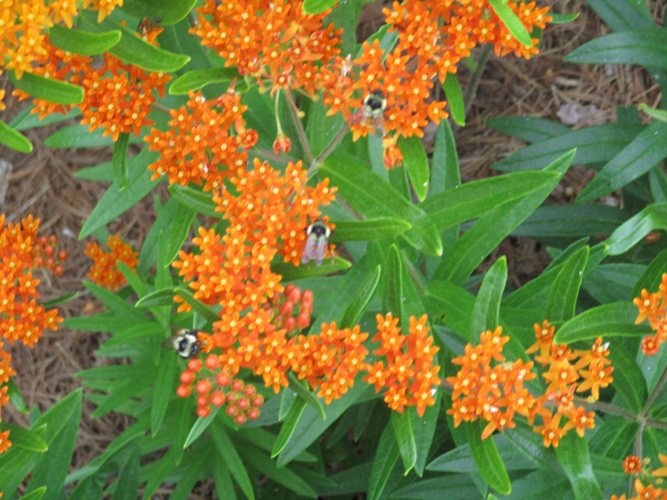 July 28, 2022 -- The Bees Knees
I'd planted some Butterfly Weed seeds a few years ago when adding additional perennials to the garden and orchard but hadn't thought much more about them. A few small ones grew and flowered last year, interesting but not all that noticeable. But they were healthy and expanded their space and size so that this year when they flowered there was no passing them by without notice! Which I certainly did, and so did the bees. I don't think I ever see the flowers without at least a few bees and usually many. They love them and so do I. What a cheery addition. I haven't seen many butterflies visiting the blooms yet but then we unfortunately have very few butterflies this year.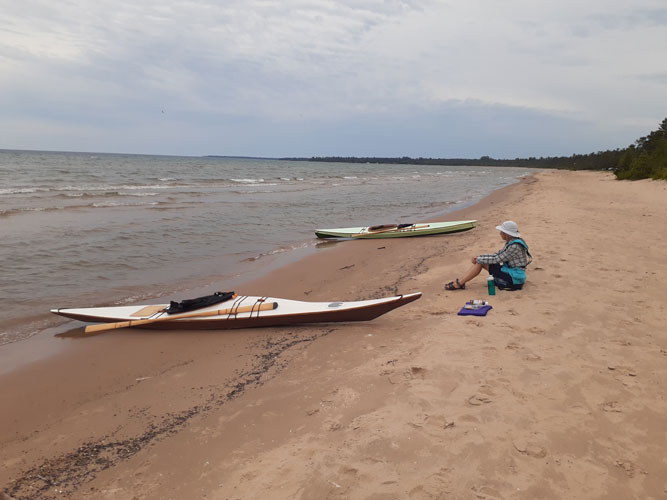 July 23, 2022 -- Beach Visit of Another Sort
July has been very full as Julys should be - plants, trees, birds ever growing and maturing, and some just starting. We've enjoyed many evenings walking the cooler beach along Lake Michigan. But this evening we decided to bring our kayaks down to the old Thompson boat launch - no longer a boat launch but a fairly short carry to get the boats to the water - to paddle instead of walking. There was a nice south wind that felt good after a hot day. It did make for a rather rocking-rolling ride along the shallow coastline. It was fun to see the beach from the water after having walked along there so often.
When we got past Rogers Park we headed ashore for a late sandwich dinner, both managing to get hung up on a long sandbar a little ways out from shore (did I mention it is quite shallow along here?). But we poled ourselves off and with the wave's help beached the boats. Though it was somewhat windy the extra waves and swells came from a fairly strong storm that had gone through (or was happening) south of us down the Lake. It hadn't been a very calm paddle and it felt good to take a break.
There had been an early summer alewife die-off this year, which sometimes happens along Lake Michigan shores, spreading the dead (and odorous) small fish along some beaches. But recent storms here had thankfully swept the dead alewives either out to sea or farther up the beach to dry out. So we enjoyed our break on the expansive beach, with only a little bit of sand blowing into our sandwiches.
Both the wind and waves had picked up while we sat and after the fairly long day of working on the homestead we decided not to fight the waves to paddle back. Instead we pulled the boats farther up on the sand and walked, as we have done so many times, along the beach back to the west end at the old Thompson boat launch and the car and trailer. It was nice to stretch our legs. As we had beached the boats not far from Rogers Park we simply drove the car and trailer there, pulled the kayaks along the nice shallow basin of water along the beach back to the Park. Another short carry across the sand and we were loaded and on our way home before dark. A very nice ending to a wonderful summer day.
We recorded this song last year but for several reasons wanted to redo it. And today's sunshine and warm breeze seemed to fit this strong gentle soul-filled song. To me it is a love song for those who have lived happily and closely together for decades. It is different than my usual preference for cheery songs but we both like it and the gentle tune. It is straight from the heart.
Written in 2002 by Guy Clark and Shawn Camp it is a song that catches your attention, and possibly a few tears. We didn't have a magnolia tree but we did our best with one of our favorite apple trees for a back-drop. The wind happened by just in time. Click HERE, or on the photo to go to the YouTube video.
You can find a list and links to all our videos on our Music Video/Audio page HERE.
July 5, 2022 -- Summer Blossoms
It seems that Spring flowers get most of the attention, which is understandable after the cold, white winter. But summer certainly has its share, though maybe they get a bit overwhelmed being surrounded by all that lush intense seasonal green. There are some surprises that can get overlooked unless they catch your eye and attention as you hurry by. This is one such: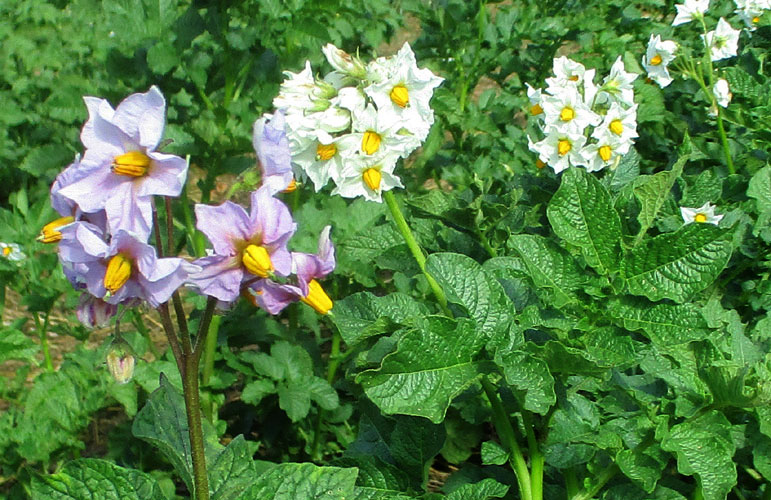 Potato blossoms. Not all potato varieties blossom (or set seed) but in one plot I happen to have three varieties, two with pink blossoms (red skinned potatoes) and in the center the third variety (white/yellow skinned) with white blossoms. They don't last long but they sure dress up the potato patch.
The "regular" flowers are doing wonderful, too, and I do notice them. These being in the upper plot of the garden where I walk by regularly get a good share of my flower attention appreciation: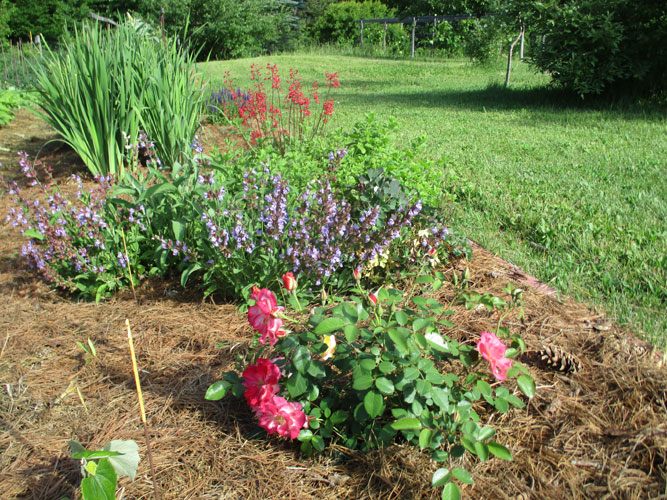 There are more, of course, including a great array of wild flowers. Not being a "flower gardener" it sometimes surprises me to have such an abundance of blooming going on in my garden and orchard! What a fun time it is.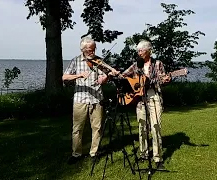 June 26, 2022 -- March Into Summer
We headed over to our favorite inland lake for an appropriate setting for our beginning-of-summer video -- the Scottish song "Loch Lomond" and traditional pipe and drum march "Scotland the Brave". Our Loch setting is nearby Indian Lake where we enjoy at least a few hours a week in kayak and row boat all summer, more if weather and life patterns allow. I've made a few changes to the words of Loch Lomond to make it better fit my happier feeling of the tune and the song, which leads naturally into the cheery Scotland the Brave. Wishing you all a cheery and wonderful summer! Click HERE, or on the photo to go to the YouTube video.
You can find a list and links to all our videos on our Music Video/Audio page HERE.
June 20, 2022 -- Hay Time!
The temperatures suddenly turned warm, lightning bugs arrived to announce that summer is officially here. For us it means (in addition to a few other things) that it is time to get the hay off the fields and into the garden. It came on us quickly this year, maybe because we had been dealing with frost warnings till now when suddenly they were talking hot with temps in the 80's. But the vegetation knows the routine and the grass was flowering right on time and it was time to mow.
Steve has an old walk behind sickle bar mower that he manages to keep in service. Actually, it's not "old" since it's the same age as I am; it's just been around awhile. But it still cuts hay (which for us is simply whatever mixed vegetation is growing in one of the tree-free spaces on our property). The field was mowed, left to dry a few days, raked into windrows (I get involved at this point), raked into piles ...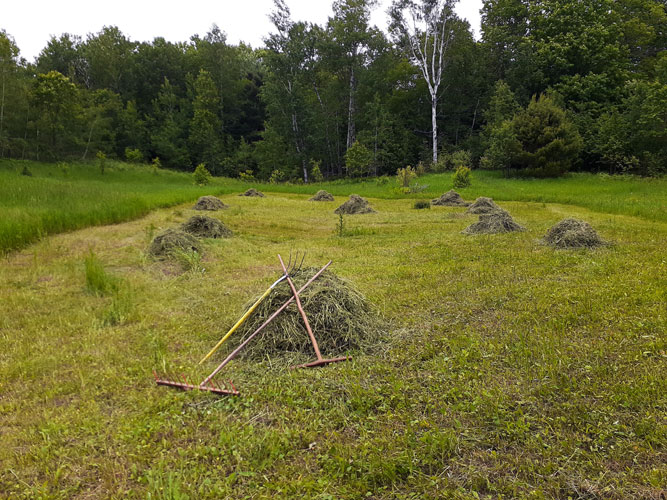 ... then hauled to near the garden. I like this project. Sometimes it's hot and dry and dusty, but this year we wanted to get it up and moved before a rain storm (we did get a nice inch of rain) so it was a little less dry and heavier. But the job got done.
Well, most of the job. It's been moved to many small piles in the garden paths, ready to be placed around the growing plants (and in the paths, too). My goal has always been to get the garden all mulched by the first of July and it looks like this year that will easily happen (depending, of course, on all of life's and Nature's little surprises). But the garden is growing and becoming, the orchard is thriving, the berries doing their thing right on schedule (we just ate our first early strawberries!), many birds are intent on their second brood and some on their first, insects abound. Life is good on the homestead.
June 11, 2022 -- Peacocks Amongst the Turkeys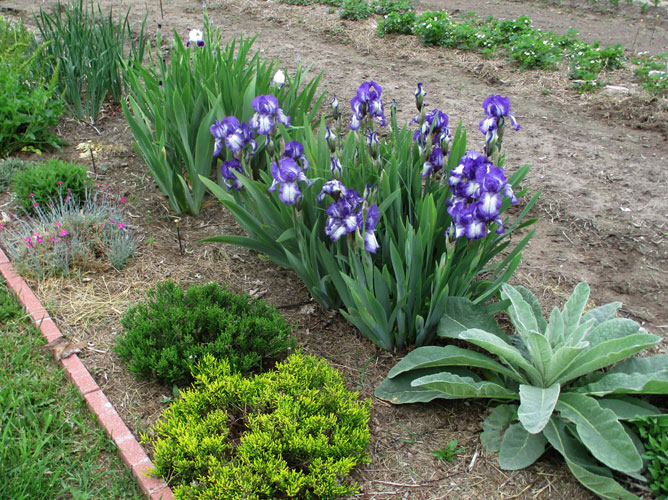 That's how it feels, and maybe a bit embarrassing, that almost formal display, a bit outrageous in my humble veggie garden. It started simply enough, a gift from a friend, a spontaneous purchase at a local nursery when buying more prosaic sage and thyme plants. I knew nothing about Irises but the picture on the display looked pretty. I stuck them along the fence in a mostly shady spot with little care and a lot of competition. They didn't much care for that but they did give me some blooms. Wow, those were pretty! Then the nursery plot opened up space as trees and bushes and plants were transferred out to their permanent spots. I didn't need another veggie bed so I moved all those odds and ends from the fence row to the "new" perennial plot in the garden. Good sun, good soil, good care. They thrived, along with everything else, to surprise this not-a-flower-gardener with this abundance of beauty.
This is definitely a Year-of-Bloom. It seems everything that can bloom is doing so, with abandon and gusto. Apparently we aren't the only ones who are thoroughly enjoying this cool Spring. In the background you can see the strawberries also in bloom, in a much more sedate manner. But when the fruit comes along they sure will be the top dog!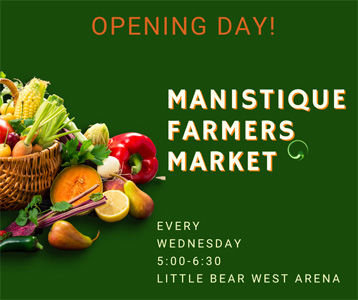 June 8, 2022 -- The Market Begins!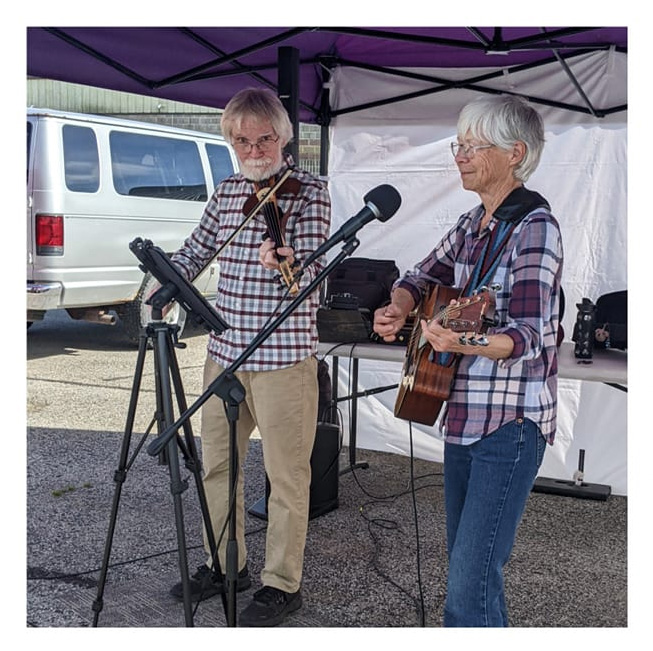 Today the Manistique Farmers Market began its 13th year and we began our 10th of providing music for customers and vendors, every Wednesday through September. The weather was beautiful, mid 60's, not too aggressive a wind, and a lovely partly cloudy-mostly sunny sky. A great start to this annual happening and we were happy to be there. There were some changes this year as the management of the Market changes hands but it was the usual good vendors and happy customers. The hours were changed to 5:00 - 6:30 pm. For us it meant playing straight through for an hour and half, instead of the former 2 hours with a break in the middle, which worked out fine. And we ended up at the head of the layout instead of our usual back row and that felt fine, too. All in all a nice beginning to a fun season.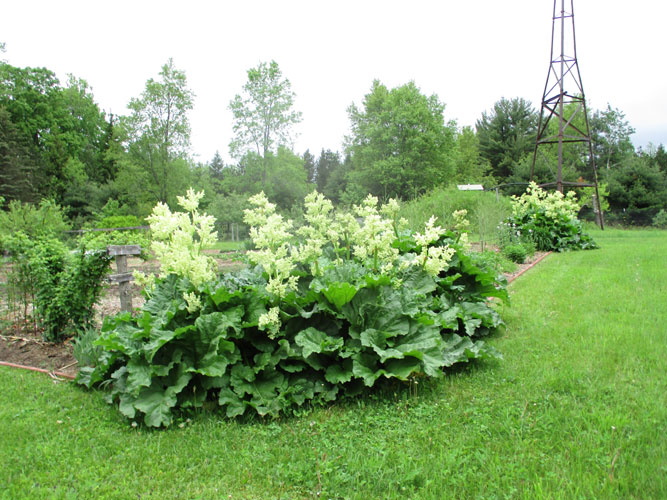 June 6, 2022 -- Another Blooming Machine
Every day it seems something new is blooming with great enthusiasm, which is wonderful for the pollinators and for us. One of our most reliable and impressive bloomers in the garden is the humble rhubarb. Many people cut these off right away but I've never seen a need to do that. Our plants provide us with more than enough stalks for sauce (which we look forward to and appreciate every spring) and I let them have their display which this year is more impressive than usual. The flowers are absolutely abuzz with pollinators of all kinds and sizes so it is not only an eye catching visual display but an audio one, too! Maybe the rhubarb isn't as humble as we thought.
June 1, 2022 -- Blooming Time
The apples are doing their best to make up for last year's wipeout, when we got a hard freeze during peak bloom. Though there are many cool nights forecast, and likely a light frost, the weather looks good for a successful year. I think every year that is able is participating in the blooming orchestra, starting with the hardy and anxious crabapples. Here is MrC, a delicious "wild" lunchbox size crab x apple cross growing near the house. A Robin thought it was a wonderful tree as well, building a nest nestled next to the trunk on a low branch and successfully filling it with baby robins.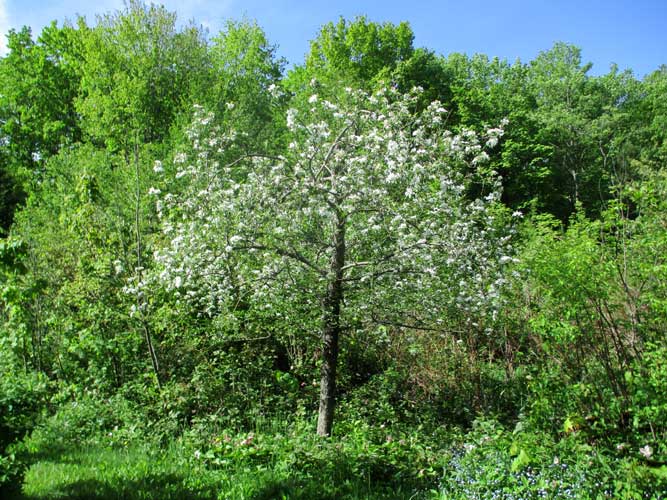 All the regulars are coming along as well, each with their own timing. We are thankful for the older trees that provide us with so much fruit, but there are several new comers this year that give an extra excitement to my regular tours of the orchard. Only a blossom or a few here and there but they are all varieties we've never tasted. Of course, a blossom doesn't guarantee an apple but already I'm enjoying imaging biting into these new apples. Two that hail from Maine are Tater House (discovered growing on the side of an old potato warehouse) and Smokehouse (a seedling found near the grower's smokehouse, but maybe also named for the color of the fruit). They are both young trees. I'd love to let them set fruit but I think Smokehouse is too young and sparse yet so I'll nip those off (once I'm done admiring them). But maybe Tater House, being older and sturdier, can handle one or two apples.
Then there are a couple trees or branches who have given us a taste of one or two apples in the past years but are getting into fuller swing this year. Here is the naturally small tree Frostbite sporting a nice set of blooms.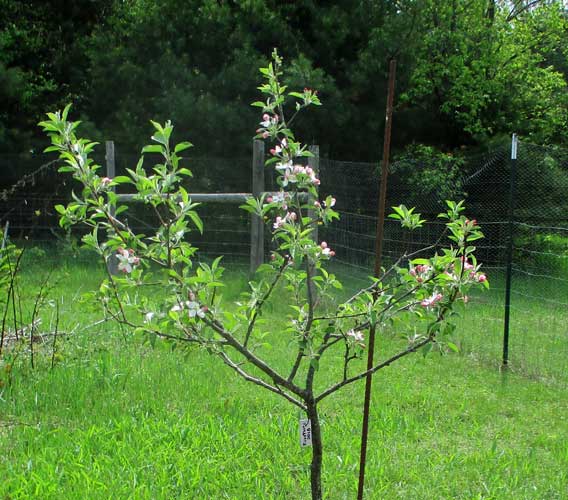 But it's not only the apples who are showing off -- our Lilacs are making a very big show of support for this cooler, more U.P. like Spring. I'm sorry I can't include the fragrance along with the photo! This one right outside our front door...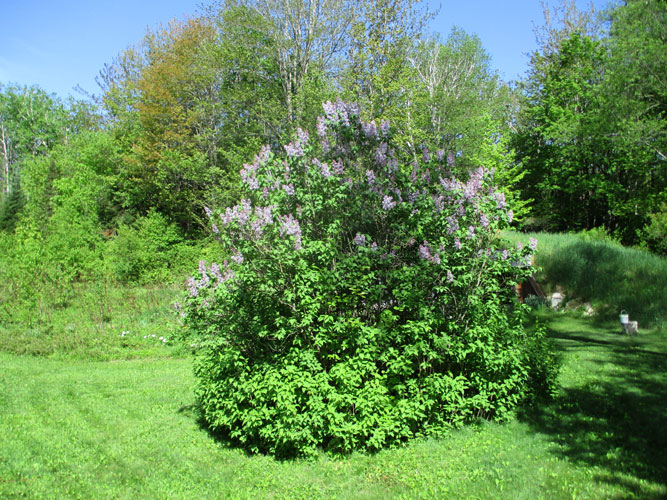 And this large original bush provides beauty and sweet lilac whiffs in the garden and orchard. I marvel that this incredible patch started from a little 8" twig some 40 years ago. How time does fly.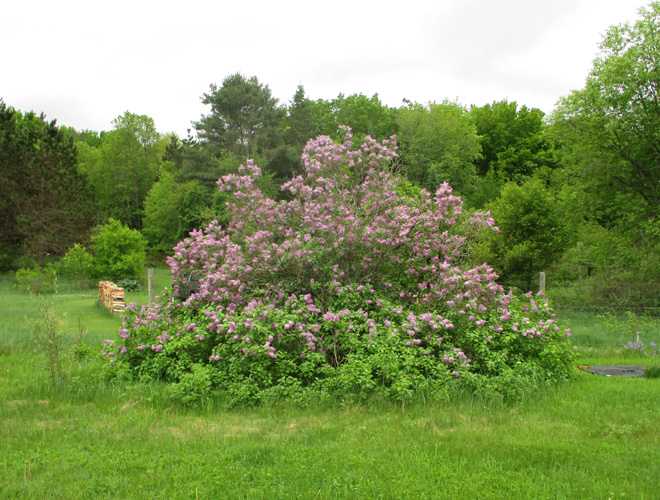 May 30, 2022 -- Seasons and Memories -- There Is a Time
Memorial weekend seems appropriate for this song not only because of the memories but for the time of changing seasons which this spring seems to be happening every few days! When singing this song I often think of Steve's family's connection to the AuTrain Falls, River and Power Plant where his Mom and Dad first stopped by and stayed in the small cabin on their honeymoon, becoming good friends with the Operator and his wife. The family continued to spend Augusts thereafter for many decades, through Steve and Nancy's growing-up years. Their Mom's ashes were spread at the lower fork of the River below the dam where she and their Dad had spent so much time fishing. The River makes several cameo appearances as background in the video since we decided not to brave the black flies to record on site!
"There Is a Time" was written in 1964 by The Dillards' Rodney Dillard and Mitch Jayne, known by many from their appearances on the old Andy Griffith Show as the Darlings, where this song is also performed. I changed a few words and the arrangement of the verses for us and we enjoy playing it. Hope you enjoy our version: LINK to YouTube Video, or click on picture above.
May 14, 2022 -- Nature is Blooming
And so has the orchard started. I was in the orchard looking carefully at the pears to see what new grafts might have blossoms, and hopefully fruit, this year when I turned around and to my surprise there was a young Nanking Cherry in full bloom. I didn't expect it so I hadn't noticed it. I looked around and two others are beginning to open their blossoms as well. Fingers crossed that we are through with the freezes (it does happen!).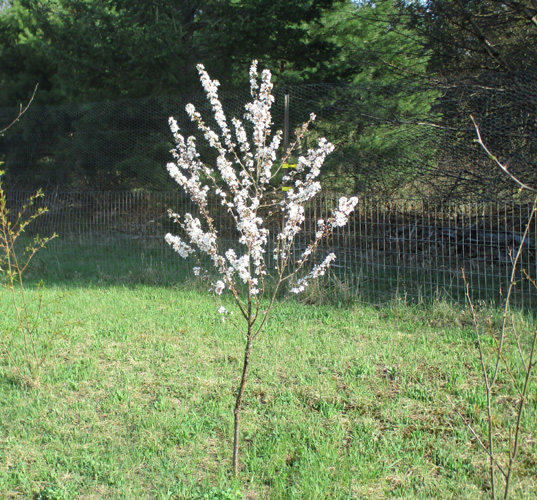 What I did expect to be blossoming are the Haskaps and three of the older (but still fairly young) bushes are doing a good job of it. Two more will be coming on later. These bushes and blooms are very hardy even if it should frost so we're fairly assured of a good fruit year. It looks like it will be worth it to cover them this year to keep the birds from harvesting most. They like them as much as we do, since it's one of the first fruits of the season. I'll have to leave it up to LilliB to patrol the perimeter and keep those pesky chipmunks away.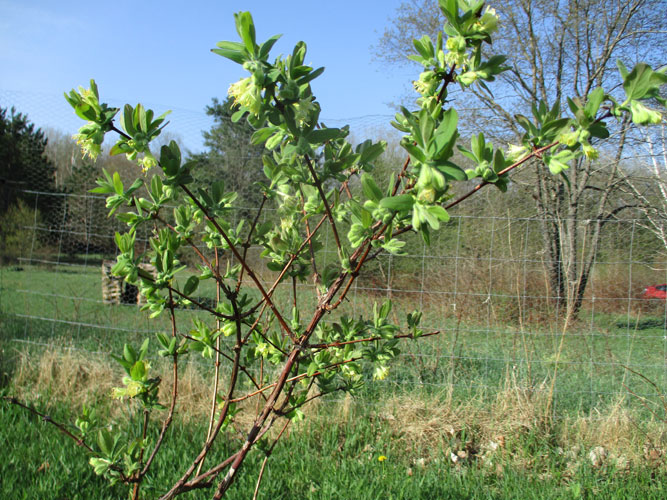 Of course, the insects don't have to wait for fruit to enjoy the bounty and there is more activity every day. A male Hummingbird has even arrived! What a beautiful world.
May 3-4, 2022 -- Getting Used to Bare Ground
Our hikes are usually shorter now as our attention is drawn more toward working/playing on the homestead. But we fit in walks whenever we're out and about. And we are very much enjoying walking on bare (as in no snow or ice) ground. The photos may not be as spectacular, actually down right common, but the change was a welcome treat to our feet (and us, too). And the "no bugs" yet appreciation high. First a few loops at Days River, then Rogers Park and Thompson Beach the next day, almost on our way home. Such nice walks.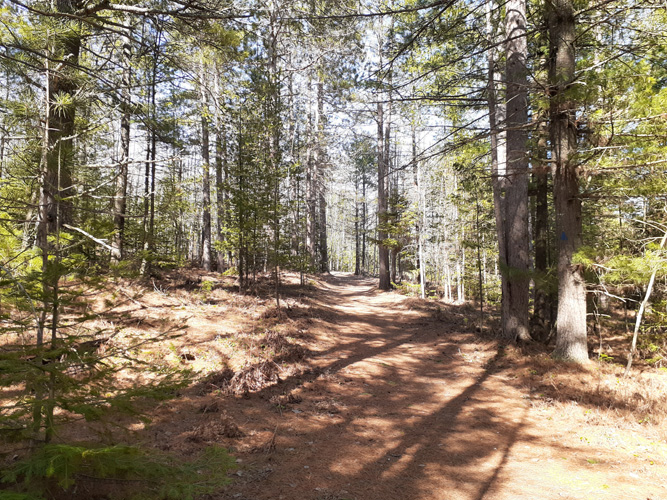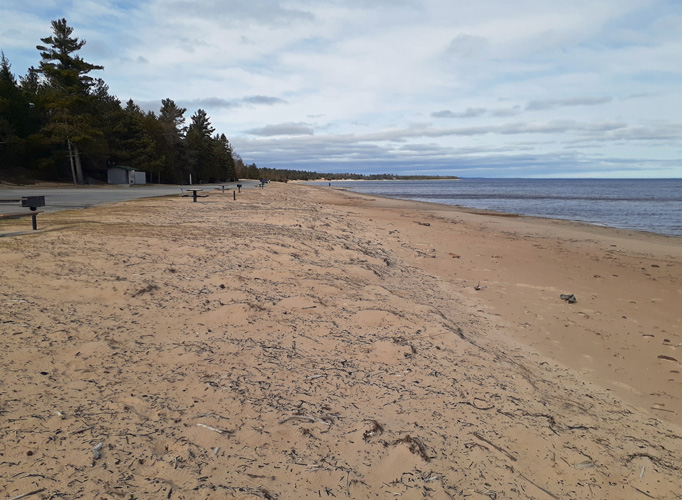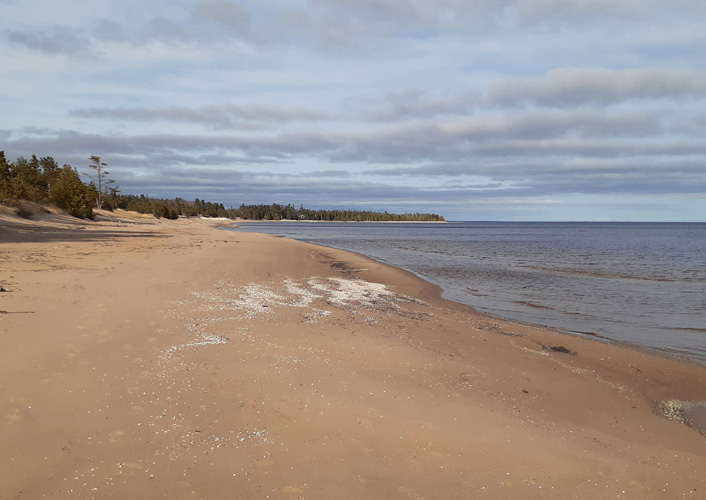 April 25, 2022 -- Month of Changes
One certainly can't accuse April of being boring! We get to experience all the seasons of the year this month. But mostly our lives change from indoor focus to outdoors, whenever the weather allows. The snow is gone, our car has switched from winter-4wd-Subaru to non-snowy-roads-Prius which is now parked by the shop ready to go without the walk up to the garage at the end of the road (and at the top of the hill). The days are longer, night (and supper) comes later. I've been busy pruning trees and Steve's been busy in the now easily warmed boat shop, plus all the fun spring projects outside. Lilli keeps busy checking out all the new activity in her territory. The bluebirds arrived four days ago and the swallows two days later. So many new birds that I don't know but I sure enjoy. It's a beautifully noisy world out there!
The greenhouse is filling up with the new generations,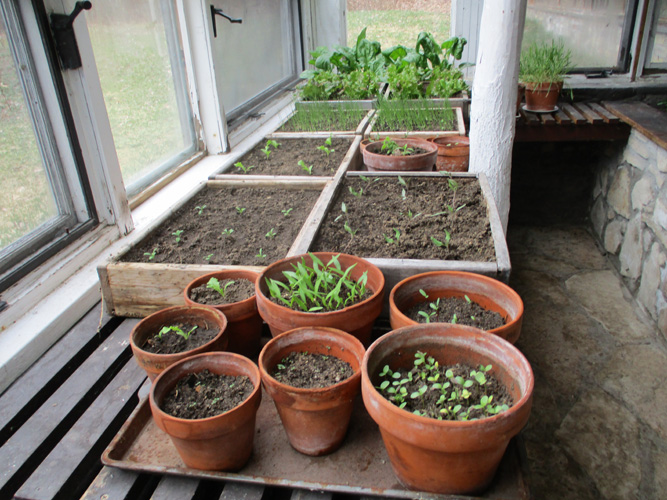 While those that waited patiently all winter for spring to come now have the warmth and sunlight to grow with enthusiasm.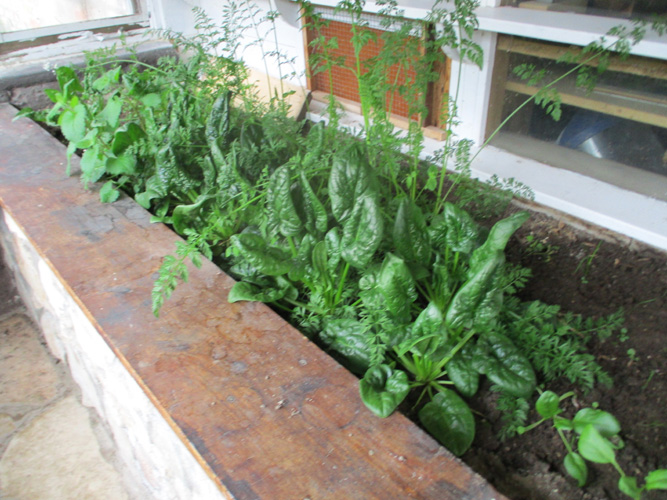 And the new grape cuttings are showing signs of vines to come as they get past their sticks-in-the-dirt phase.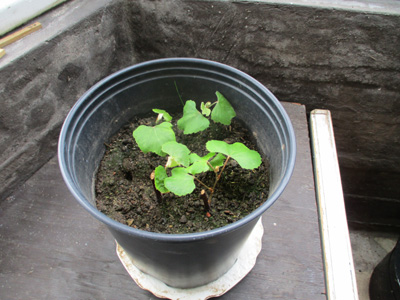 The temps go up and down and there is still snow in the forecast now and then (and still patches in low shady spots) but it's April. If there is any temptation to whine a bit about the cold or precipitation or spring gales that interrupt our outside projects all we have to do is mention -- NO BUGS!! -- and it is suddenly wonderful conditions outside.
April 11, 2022 -- Sunny and 55 degrees!!
Warmest day yet! We made the most of it, doing this and that, just happy for the day and being outside. I even planted some lettuce and spinach in the garden, spent time in the orchard, and enjoyed all the growing chorus of bird songs and sounds.
April 10, 2022 -- Beautiful Spring Day
This was the first day that really felt like the beginning of Spring. Sunny, mid 40's, mild breeze. But the biggest change was the fastly spreading bare ground. Finally we could look out (in certain directions) and not see any, or very little snow, though there is still plenty of snow in the low south woods (and on our driveway). Steve cleared the rest of the brush off the shop roof (barely showing in photo but he's there), and happily found only one dent and no more holes, then turned to the inside for the change-over to "boat shop". I happily hung out laundry, then started pruning in the orchard, small things first - gooseberries and Nanking cherries. They all got through winter in good shape.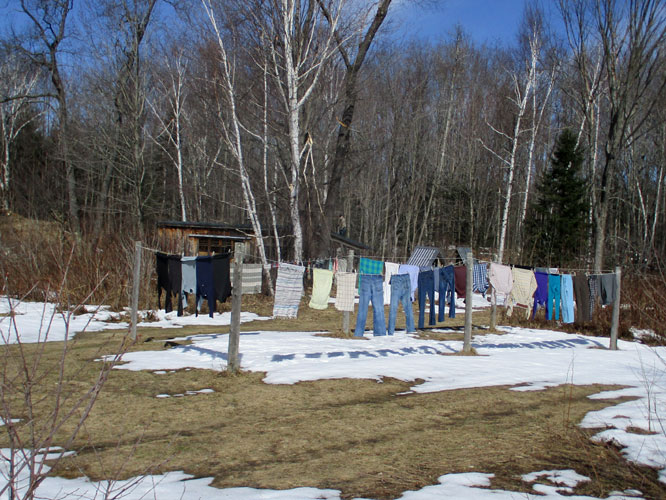 Finishing the day with a walk on the Thompson Beach has become almost routine. A bit of a cool wind but a beautiful sky and almost no snow on the ground. The mass of snow-ice chunks had moved out (off around the point to the west) and the ice "barrier ridge" has narrowed and flattened even more.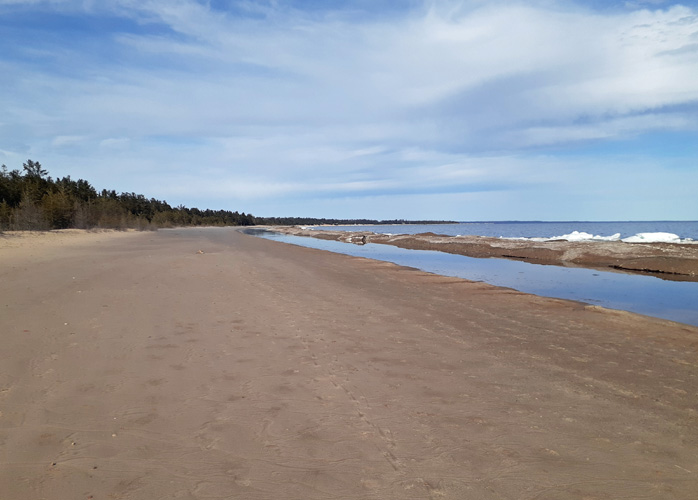 But the Bay finally made its break through the barrier! The final breakup has begun. With high winds forecast these coming days I expect it won't be long before the area is clear. For now the varied condition and size of the strip is still an interesting focal point of the beach for us.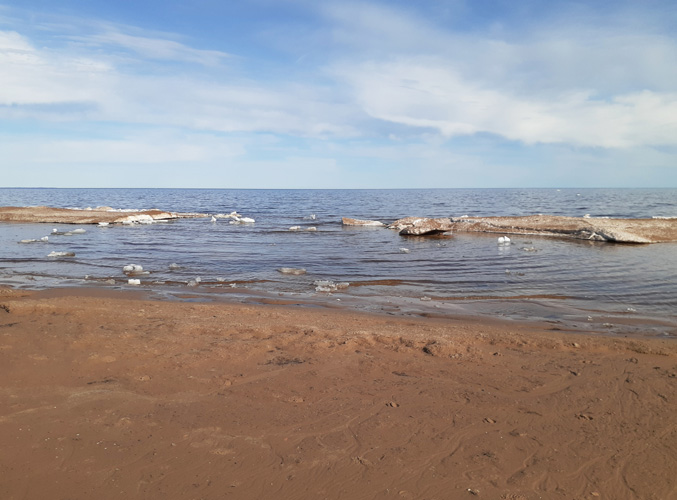 April 7, 2022 -- Ever Changing Landscape
This past week has been one of changes in spite of the ongoing "wintery-spring mix" weather. April 1 arrived with freshly snow covered ground (again) but wonderful (rare) clear blue sky and sunshine. A two hour walk on Thompson Beach refreshed us with snow covered sand on the west end transitioning to mostly bare sand on the east. But the Bay was the highlight. The frozen shoreline had flattened out with only a few mounds left, and chunks of small icebergs were floating out into the rich blue wet water (and no camera with us). Two days later we headed down to walk on bare sand the whole way - wonderful though a bit strange feeling to have that wide expanse of sand here. But the the previous clear Bay was chock full of ice! The wind had shifted and blown all those bergs back into shore (and again no camera...).
Two days again (April 5), cool and cloudy but no precipitation, we headed out, first to Days River but then to Thompson. The beach was happily still bare of snow with very little left along the woods. But now there is a significant band of water running between the beach and the narrowing band of ice and melting mounds. We decided one could almost kayak along that edge. The sand is wet and firm and easy and a delight to walk on. But the Bay was still full of ice, though one can now see clear water beyond. The brisk wind coming off that expanse of ice chunks was quite chilly in spite of some sun cheering the late afternoon so we cut our usual walk in half, happy to turn back with the wind at our backs.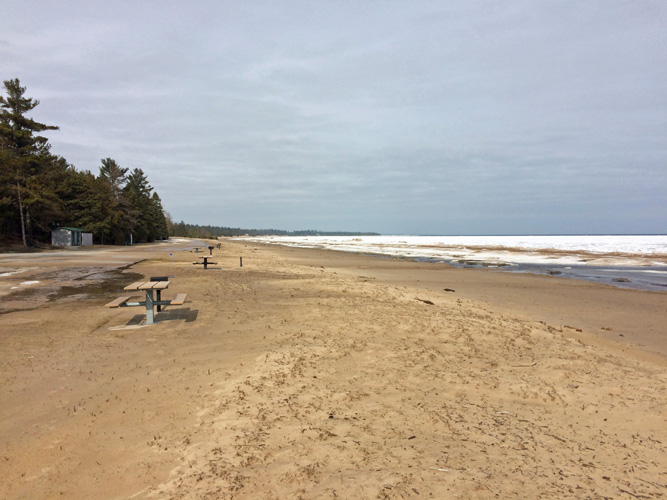 Earlier we had headed over to Escanaba and checked out Days River, hoping for some melt there. The ice patches were melting and the packed snow was indeed softer but the Pathway was still well covered. We decided to walk anyway so we slushed our way around Loops 1 and 2, which was plenty enough given the wet and sliding footing. But it was almost 40 degrees, mild wind and brightening skies, and it felt good to be out. We know bare ground is coming.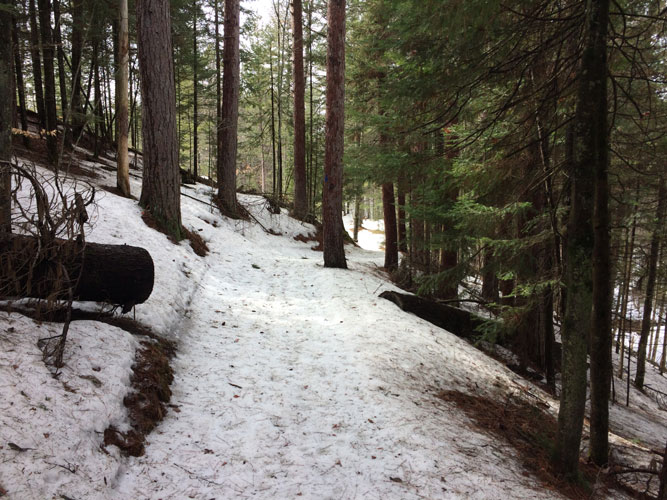 Then yesterday - RAIN! Beautiful snow-melting rain. Our first real rain of the season and we enjoyed watching the snow slowly recede, cozy and warm inside. LilliB was not nearly as happy about it, spending all morning wanting us to open the window and stop the rain, commenting (whining I would have to say) and fussing. We were all happy when the rain let up in the afternoon and she could go out without that horrible fate of getting wet. We enjoyed it, too.
Today we woke to even more bare ground, especially out the back window, since it didn't freeze last night. The front yard isn't as bare but it's coming.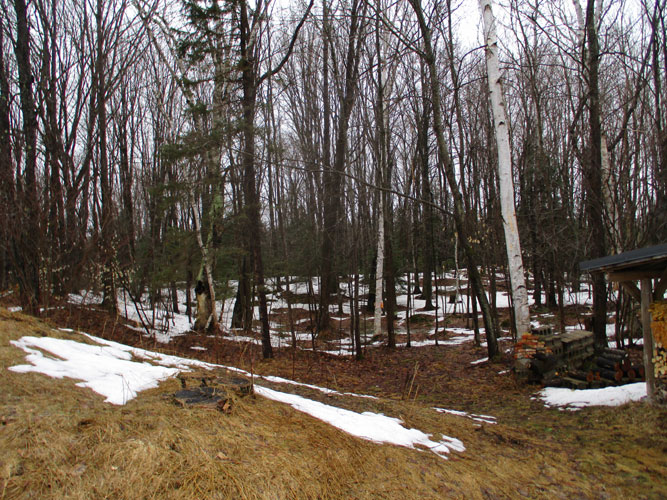 More and more birds are returning - cranes and juncoes and sparrows, and barred owls. The air may be damp and cool, the snow and cold isn't over, and the front yard and path still covered, but it's beginning to look and sound like Spring!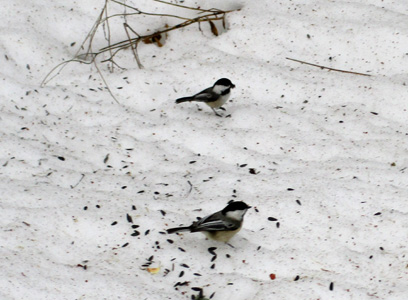 March 29, 2022 -- Hiking Day at Days River
Cold and cloudy but with a promise of some sun - this was our day to take to the trails sans snowshoes. No rain, no snow in the forecast. It was a balance between getting out while the snow was still frozen yet wanting some warmth for comfort. Maybe Days River Pathway would be past ski season now; there hadn't been as much snow in the southern U.P. as they had up north so it was possible. So off we went with a hot lunch and hot drink. When we arrived it was obvious the skiing was over -- the trail was a frozen patch of icy boot and paw prints. We donned our packs and took to the trail, carefully treading the uneven surface, heading to the outer edges for footing. There was still plenty of snow in the woods but some bare spots were emerging, around tree trunks and high points.
It was a slow walk but enjoyable none-the-less. When we left the most popular Loop 1 and headed onto Loop 2 we also left about half the footprints behind. So the trail had more crusty snow and less ice and the walking was easier. We still had to keep a good eye out for the icy patches and there was a fair amount of slipping and sliding. I often took to the firmer footing of the edges or up on the snow. There were a couple of rare but much enjoyed patches of bare ground. It was so good to feel bare ground underfoot.
At the intersection of Loop 3 we lost all but one set of tracks and the trail was now nicely packed snow with few ice patches. We thoroughly enjoyed the transition. About half-way around the sun came out, warming us and the trail surface, but it was still firm enough footing. When we came to Loop 4 we decided to save 4 and 5 for another time and bare ground. The almost 7 miles of 1, 2, and 3 would be plenty for today and the longest hike of the winter. But it was time for lunch so we began watching for an appropriate downed tree, and was soon settled in the sun filtering through the branches, very much enjoying our warm pasta lunch.
Back on the trail it seemed no time at all before we were heading down the west side, joining the tracks of people and dogs on Loop 2 and coming onto the longest stretch of bare ground. Nice! If brief.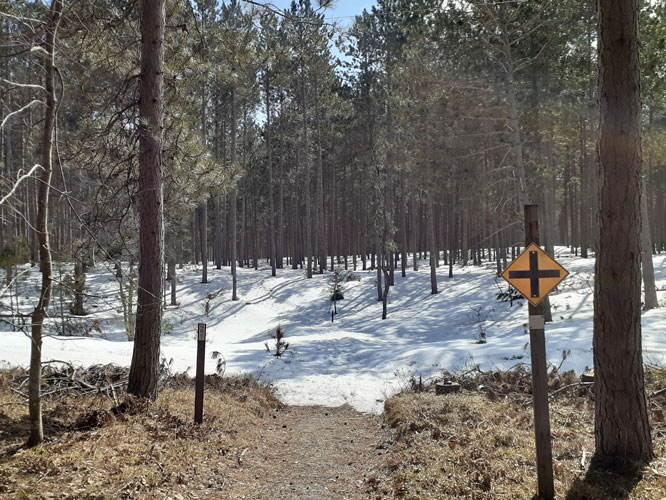 Back to Loop 1 and the many tracks of this well trod trail. But now the ice had softened enough to make the footing easier. The incredibly loopy winding creek down below the trail was as picturesque as ever; a treat along this Loop.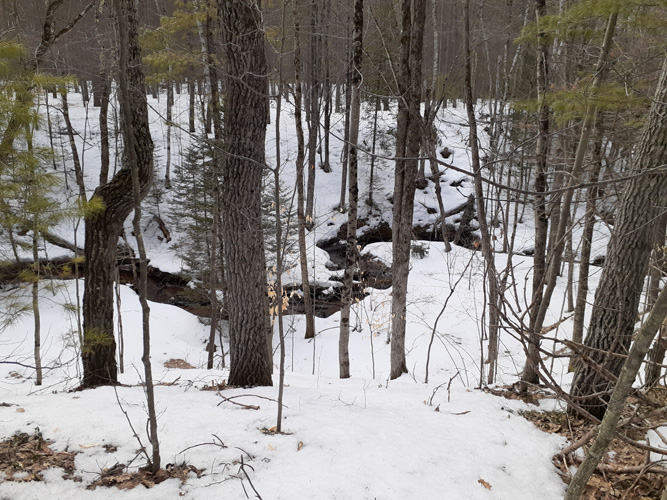 Before we knew it we saw the parking lot ahead and we were back at our car having had a delightful three hours on this favored trail. And were in plenty of time to meet our fiddler friend Sharon at Jack's Restaurant to return her fiddle that Steve had repaired. a very nice day.
March 25, 2022 -- Fix-It Day
Nature came through today with clear skies, sunshine and above freezing temps. Once it had warmed enough to soften the frozen snow for good footing Steve spent the morning on the shop roof. First with the chainsaw, dismantling the tangled brush and sawing up the limbs,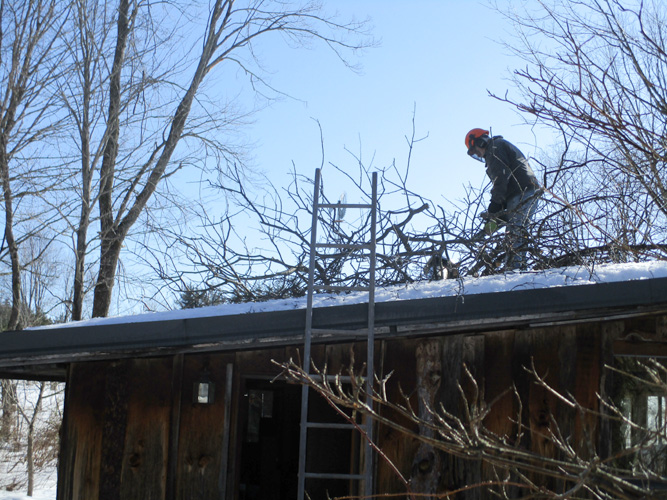 then with the shovel clearing the snow from around, and above, the damage. It was a perfect day for repairs.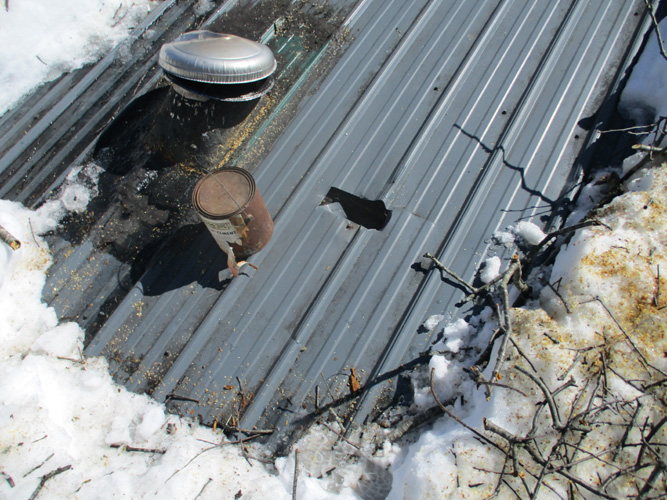 Afternoon was fix-it time. With the sunshine and 40 degree temperature the cleared area was soon nice and dry.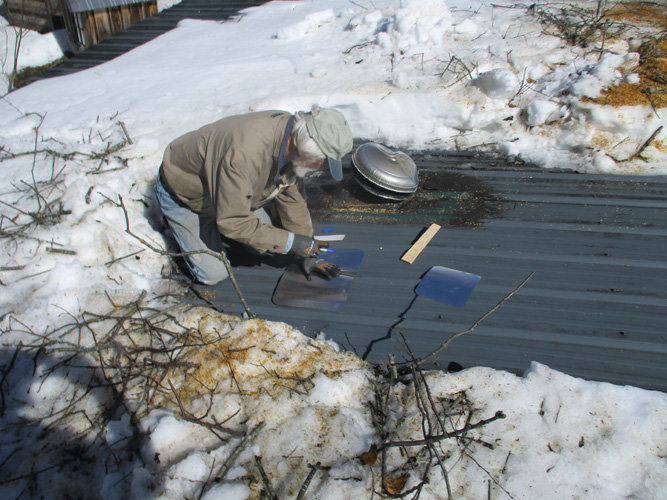 The chimney is now half as tall and the chimney cap customized with the severe dents un-dented but the area is now secure from rain and snow, and can wait for more agreeable conditions for further repair.
And it truly was a beautiful day; it felt so good simply to be outside. I enjoyed re-attaching some fence wire that had been pulled down by the ice and even hung some laundry out on the line. Local birds are starting to return and small flocks of travelers stopping by for a rest. We heard the first Sandhill Crane! And the first chipmunk emerged. There may be more wintery mix messy days in the forecast but days like this carry one's spirit easily over those.
March 23, 2022 -- Beauty and the Beast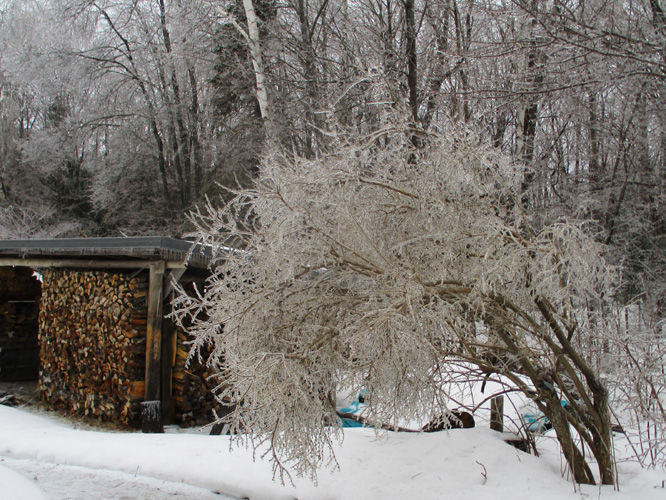 Two days after that beautiful clear sunny day the U.P. is covered in a wintery mix, most everything closed down, and high winds causing havoc. The ice covered branches are beautiful though, and, as usual, we are not involved in the widespread power outages.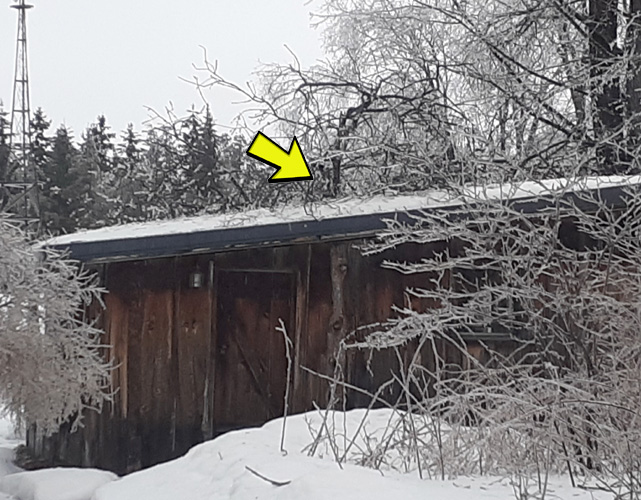 However ... what looks like a small tree and branches "behind" the shop are actually ON the shop, and the arrow points to where the chimney used to be. It also points to where a wild black cherry limb made its way inside ...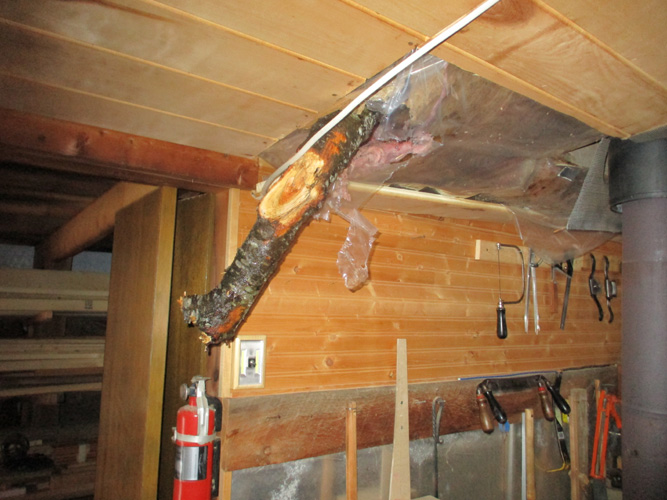 A feat that would have taken us a great deal of time and work to accomplish, the nearby cherry tree managed in just a few minutes. It made it through metal roofing, firing strip, vinyl layer, old roll roofing, roof boards, insulation, ceiling boards. Quite amazing. Thankfully Steve happened to go out to the shop to get a tool, and found the "leak" before it dumped too much water inside. The branch is doing a good job of channeling the icy rain/snowmelt into a bucket placed underneath. There will be no going up on the roof to do a temporary repair until the weather calms down, maybe Friday.
Meantime, we are all cozy inside the house, enjoying the beauty, and ignoring the beast.
March 21, 2022 -- What a Difference a Day Makes
Or in this case, two days. Yesterday was such a nice day we decided to head on down to Thompson Beach in the evening, just to see how it fared with two days of warmth and sun.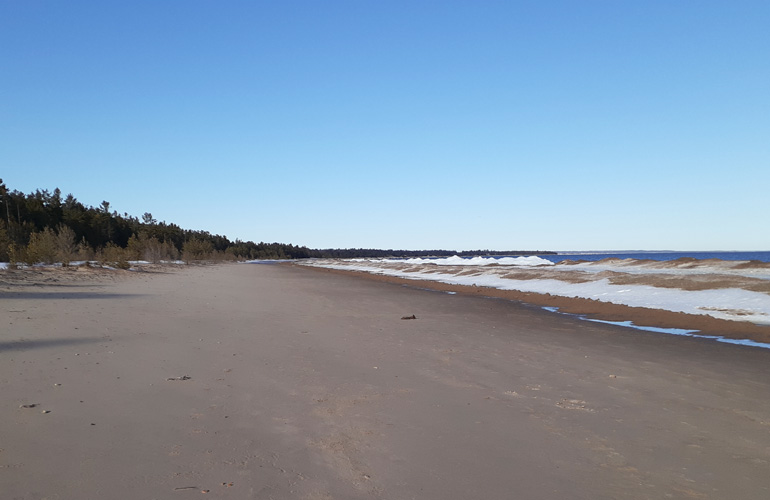 Quite a change! (see March 18 below) There was a little snow/wet ice up around the curve (this is looking east from the west end) and there is still a good amount of snow along the tree edge, but one could walk on sand the entire beach. So we changed from boots to shoes and had a wonderful walk on bare ground - the first of the year. The sand patterns were incredible artwork made by the melt making its way toward the Lake.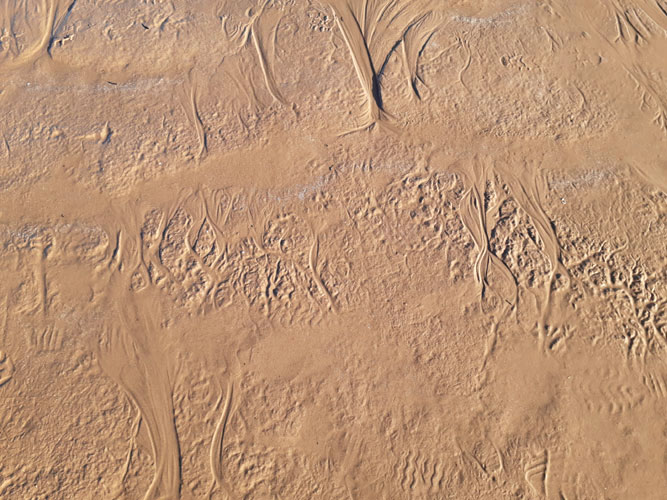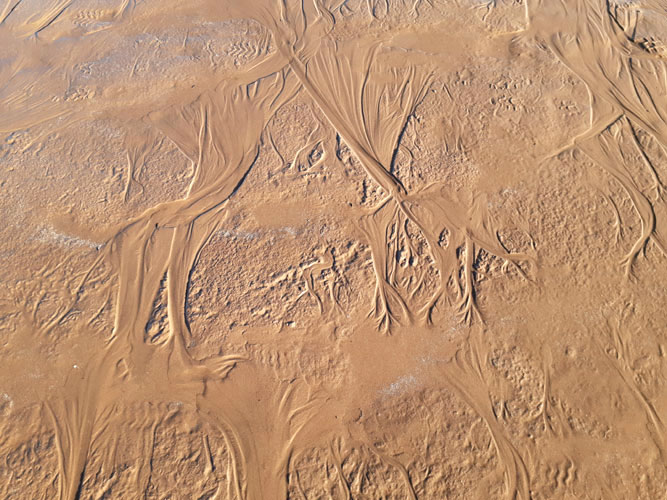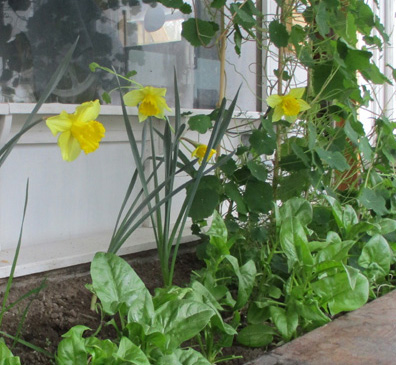 March 20, 2022 -- Happy Spring!

Nature helped us celebrate the first official day of Spring by providing a beautiful, calm, clear sunny day, with temperatures in the mid-upper 40's - our first warm day! We snowshoed out to the road and walked in the sun on the now bare roads around our neighborhood country "block". What a great day.
The greenhouse plants are perking up and growing and the daffodils were right on time with multiple blooms. Steve is now in the shop planning the first spring work on the boat, and I'm deciding which seeds to start. We hope you are having an equally nice balanced Equinox day!
March 18, 2022 -- Full Moon Cheers

And what better way to celebrate than a nice walk. We've had a stretch of warm above freezing days and the snow is disappearing fast. The bare spots around the house are expanding and LilliB is enjoying every additional inch. Though it is still very white here and snowshoes required to get to the car we just had to head down to Thompson Beach to check it out.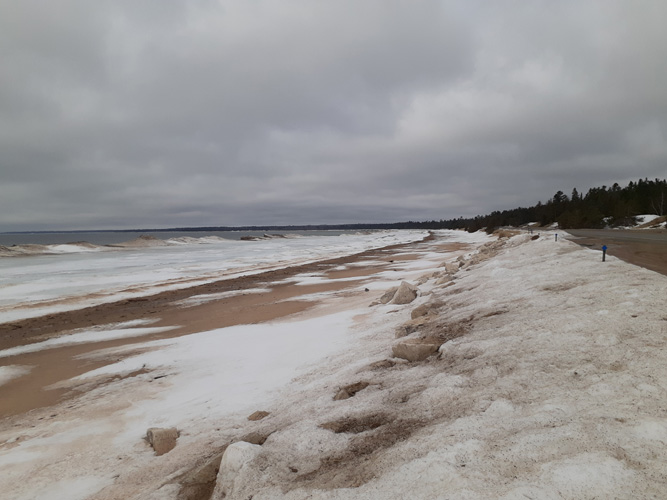 Bare sand! Frozen and only coming in patches amongst the snow and ice but still, walking on bare ground was such a treat. And the snow, mostly, wasn't very deep so we alternated between the two, avoiding the icy patches and occasionally walking along the clumpy frozen edge (good ankle exercise). The sun popped out now and then and with temperatures in the upper 30's the moderate wind didn't bother. It is so interesting how the shoreline changes along the long curve of the beach, with wind and tree line and direction of the waves making different landscapes as we walk along. It won't be long before Rogers Park will be ready for visitors!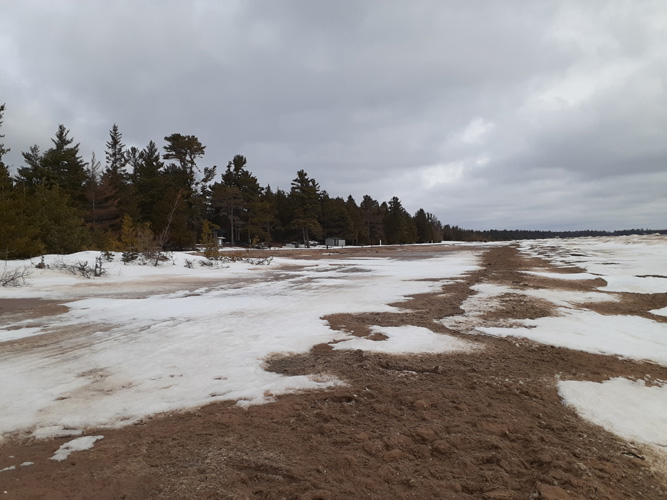 We decided to walk on past the Park and the old dock area to Thompson Creek. The snow-melt has swelled the Creek already and it was running full into the Bay, with Lake waves noisily breaking near land at the small harbor beside the mouth of the Creek. The sound and sight of lively free-running water was wonderful.
Depending on how much snow we get (it IS still only mid-March) it is possible it won't be long before there will be a snow-free stretch all along the beach. There is still significant ice/snow and ice-mounds out into the Lake but even that is starting to break down. The transition from winter to spring is such an interesting time, even before the first signs of green appear.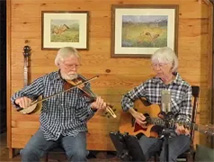 March 17, 2022 -- Happy St. Patrick's Day

Here's a song for the end of the day, when it is time to say farewell to friends and head for home. Though it originated in Scotland in the 1600's and is still popular there, it is also very much an Irish song and can be heard at gatherings from pubs to funerals, and any other time. We send it out as a St. Patrick's Day cheers to all of you, and also as a farewell to snow as our spring melt has begun! LINK
March 9, 2022 -- Speaking of Gardening

Or in this case, Saving Vegetable Seeds. I was fortunate to be asked to do a workshop at the annual MSU Agriculture for Tomorrow conference held in Escanaba today. It was so great to once again gather together, live, in person to talk about a topic we were all interested in. Co-presenting with MSU North Farm's Abbey Palmer was an extra treat. There was a good turn-out and I think we all enjoyed thinking ahead to that time when the snow is gone and we can get our hands in the dirt and watch our world turn green around us. It was a beautiful sunny day both outside and inside!
March 4, 2022 -- It's a Hiking Day!

Sunny, upper 20's, calm -- no question, it was a day to be outside. I know, it won't be long and this will feel downright cold, but it's still winter and this was a Cat's Pajamas of a day. Even LilliB agreed (for a short time). We were on the trail at McKeever Hills by 12:30, lunch in our packs and sun on our faces. Definitely more snow here but the pathway was well packed and recently groomed. Three happy skiiers came off as we were getting ready and we all agreed it was simply a most beautiful day. With freezing rain forecast for the next few days (yep, it's March) I think everyone who could (and wanted to) was out enjoying the day. One of the skiiers was from Milwaukee and was happy to be where there was snow (he was bicycling on bare ground back home); the other two were from Ishpeming who were taking a break from having had to shovel their roofs off twice this past week (when we got 4" of snow in the last storms Ishpeming/Negaunee area got upwards of 4 feet! McKeever area was somewhere inbetween.)
We felt so good we decided to head on down south-east to the infamous C Loop and see if it was do-able on snowshoes. It was a nice gentle walk down A to get there. This had to be the easiest snowshoeing we'd done, perfect conditions. Then onto C.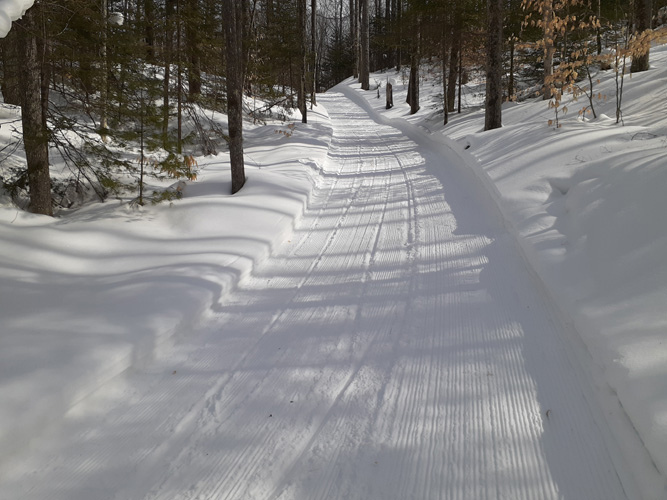 Sure enough, the hills were as loopy and curvy and steep as we remembered - beautiful, and fun. The photos all seem to "flatten" out the hills, but trust me, there is nothing flat about this trail! One skiier had been through fairly recently. You had to be a very confident, experienced skiier to do this Loop, and there were a lot of herring-bone tracks up and down some of those hills. There was just enough traction for our snowshoes to get up the ups, with a bit of slipping on the downs.
But we were getting hungry and started looking for a good spot to sit. There are plenty of downed trees, comfortable big ones, but the snow was so deep they were well buried. As we went on, looking for a possibility and a thinking we'd just have to pack down a spot in the snow along the trail we headed up a particularly steep series, with the usual curves, (between Fantastic and Heart Attack -- they love labeling these "special" hills!)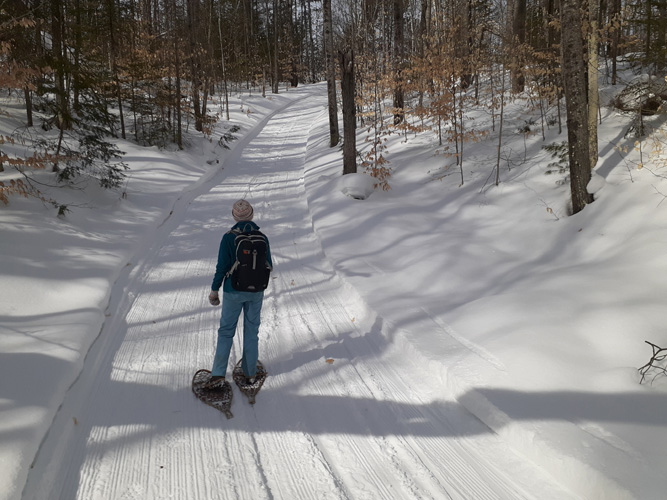 to find at the top -- a bench!! With a view through some trees of nearby Wedge Lake. We happily settled ourselves in the sun for a nice long lunch break. Cool enough but warm enough. There simply wasn't a better place to be at that moment.
But the rest of the trail called so, refreshed, we gathered ourselves and gear and looked down, down - and down we went.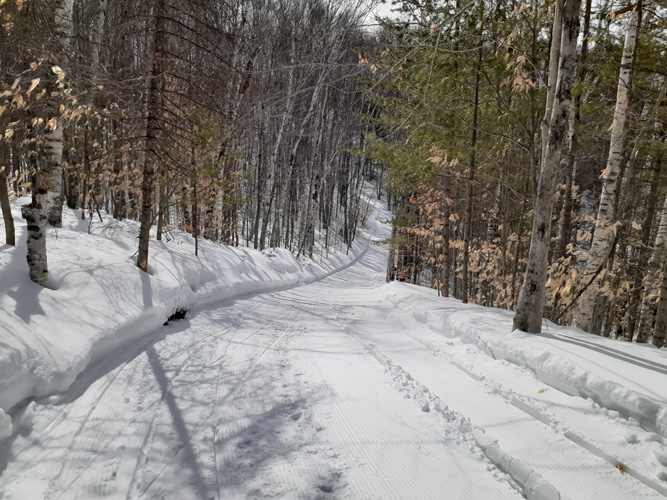 And on around C, along the short moderately flat piece where Bruno's Run crosses, onto the Thunder (steep up, where we had to hunker down to keep going up without sliding back) and Lightning (steep down, with a bit of sliding and running to keep our feet under us), and finally on to the crossroads of B. Did we want to go around the figure8 B loops? It was just too beautiful a day to end yet, so around the B's we went, with moderate hills compared to C. Again a bit of confusion at the intersections (a few more signs would be nice here) but we got ourselves going in the right direction so we didn't end up going around B again (and we definitely didn't want to go around C again!). A real nice return on A (past Hemlock Hill and Stride Out). As we neared the parking lot a voice behind us made us move quickly to the outer edges as a skiier glided by in the groomed tracks, having made an enjoyable loop around A. Living fairly nearby and skiing here often he confirmed what we suspected, the conditions were too fast today to comfortably ski C.
We finished off our outing with what has become a bit of a habit, dinner at the Buckhorn on the way home, where there are more snowmobiles than vehicles in the parking lot. We sit at our usual small table on the edge of the crowd of generally big people made bigger by their puffy specialized outfits, snowmobilers toting colorful big helmets and likely big appetites. All of us having enjoyed the outdoors each in our own way.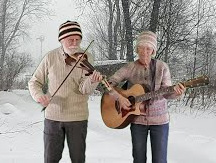 March 3, 2022 -- Welcome to March!

A nice bit of snow requires a nice cheery tune, and we thought this traditional march from Scotland was just the thing to welcome March in all its wild glory. We enjoy this tune and hope you enjoy the video! LINK
February 25, 2022 -- Back to Pine Marten

With a week of stormy, windy snow particularly north of us (when we got 4" of snow the northern half of the U.P. received a gift of from one to four feet!) we've been making do with short walks around the homestead. But the weather calmed down and we were ready to go for a longer hike. With temps in the upper teens and light wind this was our day. Pine Marten is about 20 miles north of us so we knew there would be more snow but didn't know how much.
As we drove north the snow banks got higher (it was a beautiful ride along this curvy road through the northwoods). When we got there we drove past without seeing the trailhead because the small opening was well hidden behind a large bank. But just ahead was the Indian River bridge so we didn't get too far along. And to our delight and appreciation, the snowplow had made a real nice sweeping wide swath along a wide spot before the bridge, large enough for a good number of cars to park, and the plow had just gone through (in fact he came back and finished the other side as we pulled into this wonderful off-the-road parking spot). This is a narrow road and as the snow and banks get larger the road gets narrower and I'm sure they were glad to have the cars off the road as well. Since the DNR wasn't plowing their entrance into the trailhead it was up to the road crews to do something. And we were happy they did!
So we gathered our gear and snowshoes and walked the short distance back to the trailhead. There we were confronted with this very tall fresh snow-bank. We put on our snowshoes and found climbing up it didn't work, so Steve took his snowshoe off and dug a large step. That did the trick. Maybe it wasn't an elegant ascent but we got on top, then over and on into the beautiful fresh snow scene. Not surprising, no one had been in since the latest big storm so we would be breaking trail. We quickly revised our plan from a longer trip down to Triangle Lake to heading straight across by the River to the Shelter, a little over a mile and a half in.
The usual horse-trough track was well filled in with about a foot of fresh and drifted snow on top of probably about two feet of base. The upside of this was we were able to make a nice fresh snowshoe wide track without having to fit our bear-paws into the usual narrow width. This is the kind of hike where one mellows out, moderates expectations, and enjoys a slow but steady forward progression. We switched lead more often as our muscles got used to breaking trail in the deep soft snow. The sun came through the overcast sky now and then to give us a beautiful scene of tree shadows across the soft, curvy snow. And the wind gusted through now and then to make us appreciate that for the most part it was a calm day, and we were well protected by the trees.
After the intersection where we had planed to go down to Triangle Lake we came to a beautiful little not-frozen creek running under a small bridge and flowing into the frozen and snow covered Indian River (this trail follows a fairly straight path along the very loopy River).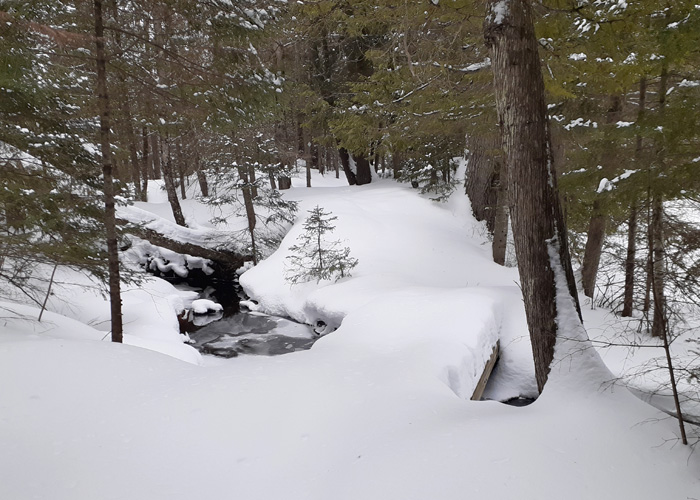 The canary (me) went over the bridge first, but since it was made for horses I figured I was in no danger! And we went on our way to the scenic Adirondack style shelter set nicely beside the River. After an hours serious snowshoeing we were ready for lunch and to take a leg break. We enjoyed both equally. (Our current favorite "pasta" now is the oddly named Ptitem, aka Israel Couscous though it isn't a couscous, small white round beads of baked hard-wheat pasta that boil up quickly yet keep their texture better than orzo's. Mixed hot with pasta sauce, and any vegetable leftovers if available, it makes a good winter hiking food). Lunch warmed and revived us.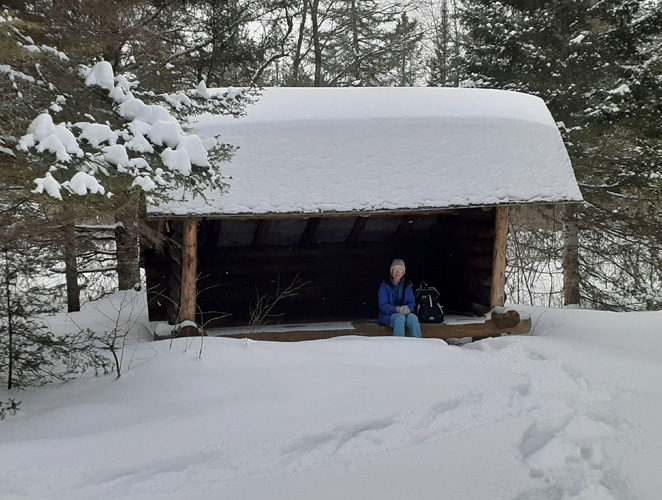 The nice thing about an in/out trek in snow versus a loop is that you know the walk back will be easier than the walk in, and it was. There was still plenty of snow but we also knew we were making a real nice packed trail. We hoped someone would come along to take advantage of it before the next snow. We laughed about coming back ourselves tomorrow to walk it! But with brisker winds forecasted we knew we wouldn't.
As we drove south towards home the sky cleared and the sun shone brightly. Since it had been a fairly short walk at Pine Marten it was still early so we decided to go on down to Thompson and go for a walk on the beach in the sun. We again don our snowshoes for easier walking but this time in snow maybe only 3-4" deep. As has been the case, the scene here was again different. The latest snow had made a beautiful flat fresh landscape of the beach. It was a treat to just walk along without breaking trail through the deep snow at Pine Marten. What a contrast between the two! Feathery clouds were making their way in across the blue sky, and off to the east it was dark. Somewhere out there it was snowing. But here was bright, warm in the sun and cool in the breeze (with an occasional strong gust to make us stop and pull our coats tighter). We hadn't been the first to enjoy the beach though.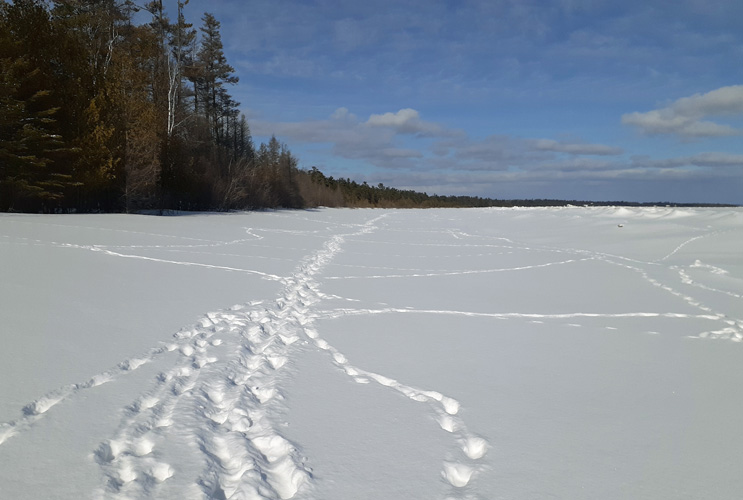 There was only one set of human boot prints but there was an amazing array of dog prints! These dogs had had a great time! Crossing in a much straighter line was also the smaller prints of (we're guessing) a resident fox. He/she was on a different mission, and we've almost always seen these tracks along the beach, criss-crossing from tree-line to shoreline, maybe hoping to come across a mouse under the snow.
The old boat launch "park" (which is occasionally plowed and has an outhouse) is a favorite take-your-dog destination so while it was heavy with tracks at that west end they stopped before we got to Rogers Park. It was clear and smooth there and we rather hated to disturb it with our own tracks. The wind had picked up and our legs were saying that really this was enough for the day so we turned back just beyond the Park, returning with the sun on our face and the wind at our back. A wonderful ending to a fun day. One doesn't have to go long or far for delightful mini-adventures.
02222022 -- Celebrate the Day!

It's once in a lifetime
And it won't come again
It's here then it's gone
On a warm winter wind.
February 14 & 17, 2022 -- Two Lakes, Two Landscapes

Although there are changes on land during winter it is (usually) not as surprising and interesting as that of the water around us. We continue to be drawn to the shoreline to see what is new. Although the wind was a bit brisk Monday it was a beautiful sunny day so we stopped by the Thompson/Rogers Park beach for a shorter than usual walk (before heading into town for a nice Valentine's Day dinner!). The landscape was worth the cold wind.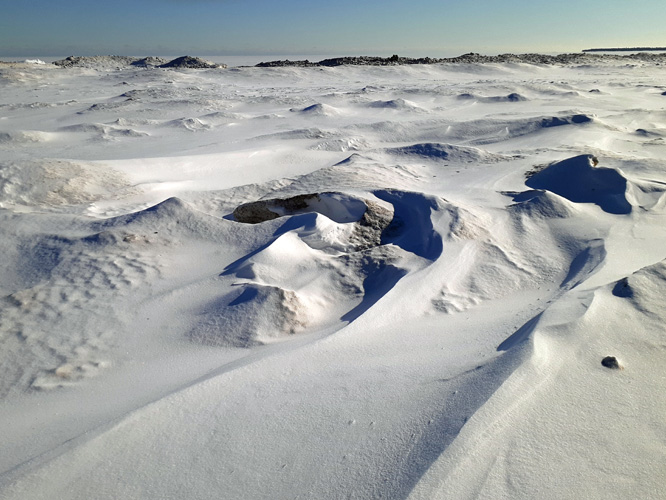 The unfrozen water from the artesian well at Rogers Park creates a beautiful small creek in the snow as it makes its way to the Bay.
Yesterday (Thursday) we were in Marquette and though another brisk day (mid teens, north-west wind) we picked up our usual lunch (Jean Kay's Veggie Pasties) and headed to Presque Isle to eat, with the cold view of Lake Superior not warming us up, but it was beautiful as usual, even on an overcast day. We snugged clothing up for a walk and headed as soon as we could up into the woods where the path was nicely packed and the wind calmed by the trees. Around to the east side we followed the suggestion of the "Lookout" sign to go over to the small observation deck that hangs out over the cliff. Again, the view was well worth the chilly walk.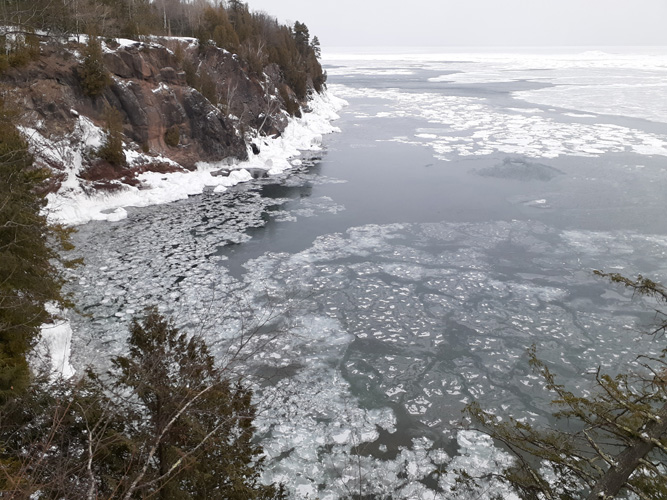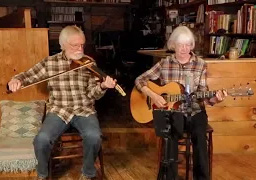 February 14, 2022 -- Happy Valentine's Day! with "Star of the County Down"

We don't remember when we first heard this old Irish ballad but we've enjoyed it for many years. In our early years of dancing we waltzed to WhiteWater's playing of the tune at their wonderful '2nd Sunday Folk Dances', and in our early years of playing at the Falling Rock Jam a member brought the song to the group, and that was probably my first experience singing in public.
Though the story of the ballad is rather open-ended as to whether the object of the singer's sudden love ever responds favorably there is a great deal of hope-filled dreaming involved. It is certainly cheerier than most Irish ballads! The lyrics are said to have been written in the early 1900's by an Irishman, Cathal MacGarvey, but the tune is a very old Scottish air.
So here is our Valentine's Day 'card' to you! LINK.

February 12, 2022 -- Lathe book Second Edition is live!
About 30 or so years ago I built myself a portable treadle lathe and in 2005 I wrote an eBook (before we really even knew what they were) about the construction and use of that lathe. Folks could download it from our web site or order a CD. Before long, pirated copies were available on line - a sure sign of success

. That early book was updated in 2010 and in 2014 we self-published yet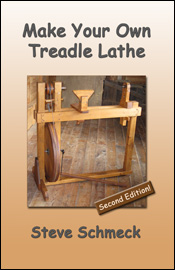 another updated version that was sold through multiple eBook sellers including Apple iTunes, Kobo and Barnes & Noble as well as Amazon. The full color and black & white paperback editions were sold by through Amazon.
Over the years I received quite a few requests for more information and clarification of the construction process and also received lots of photos of lathes that had been built using the book. It is so much fun seeing those photos and hearing their builder's comments. Since 2014 I have been posting updates and the answers to reader questions on Lathe Book Updates web page on our site but over the years that page grew pretty big and it became obvious that it was time for one more update. The new, expanded, Second Edition of Make Your Own Treadle Lathe went live at Amazon the end of January, 2022. The new eBook edition is available from multiple on-line sellers including those mentioned above.
I enjoyed the writing and editing and especially creating new illustrations for the new edition. It was a nice winter project!
February 5 - 10, 2022 -- More Good Walks
The weather continues to match the hiking trails with its many ups and downs. But after a stretch of non-hiking weather it comes on back to some inviting days, and this past week we had three! For us that means mid-teens to twenties, light wind, little precipitation, and a bit of sunshine is a bonus.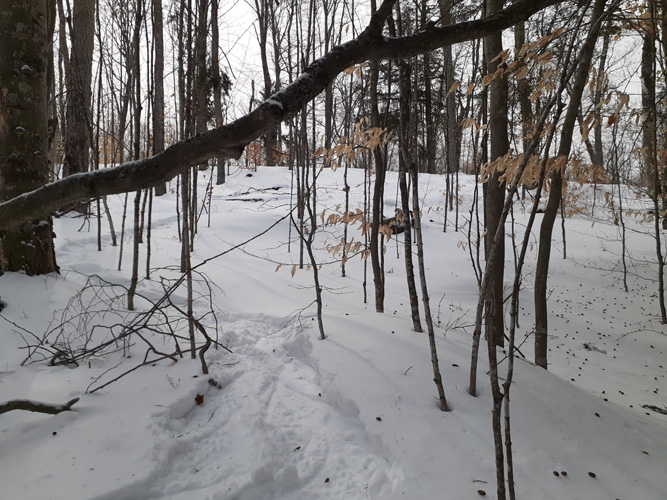 Friday was one such day and McKeever called us. We just had to go back to see if the trail was as nice as it was last trip. And it was! Firm base, enough snow for traction, cool but not too cold. There were (it appeared) two skiiers and dogs ahead of us and we followed their tracks around A & B loops. We had noticed before several side trails folks had made off the main track and we decided to follow a couple of them. The were both nice loops off of the north-west part of A, going down closer to Pete's Lake, on un-trod snow. On one we found a good large downed beech near some beautiful large hemlocks to sit and eat lunch, enjoying some light sun filtering through the clouds and branches. Though we didn't see the owners there were plenty of squirrel and rabbit tracks (including under our beech-seat) who no doubt made good use of the plentiful little hemlock cones (the little dark dots in the lower right of the photo). Since the area is rich in large hemlocks there are often cone-strewn patches along the trail, breaking up the solid white (along with the usual colorful beech leaves). It was again a wonderful 2 3/4 hrs in this beautiful area, and plenty long enough on snowshoes.
* * * * *
Tuesday arrived with nice weather, upper 20's and some sun, so we had to go out for a walk. When we had explored the small Days River Nature Trail in November we had said we'd stop back in the winter where it would be different in the snow. So that was our first stop, and it was not only a "new" trail with snow but still a delight. It was well trod so snowshoes not needed but we knew we'd go off trail down to the Bay so we put our 'shoes on, passing a couple coming out as we went in. The whole area was criss-crossed with trails, some made by people, others by their many dogs, and more by the local wildlife. This is a very popular spot! We wandered around on the trails, peaceful and enjoyable, heading off to the well-frozen (based on the number of pickups out on the ice) Lake on someone else's side trail. It felt good to walk along the open shoreline in the snow with the enough sun to cheer and warm us. So we made yet another trail, which being along the wind swept Bay would no doubt be wiped away before long. When we neared the River Steve found a way through the shoreline brush to get us back in and on the trail (or one of the many trails) where we were met by a large friendly dog who was obviously enjoying his own "walk" but in a much more exuberant fashion! We waved at the owner as we walked along the River. Soon another happy dog loped by, and another owner walked his own path. Back at the car after just a half hour we agreed this was a special place.
* * * * *
We headed on into the Escanaba Pathway and spent a bit over an hour walking the nice shorter (the more cleared part) of the snowshoe trail then on around on Loop 1. A skiier came out as we were going in and said we wouldn't need snowshoes. The trails are only occasionally groomed and pretty beat up with the traffic (people and dogs) and as the skiier said, it was a nearby convenient place to go and it gets him out, but it isn't a well maintained trail. But we appreciated the trail as he did and it was a pleasant hour's walk to finish our day in town.
* * * * *
Thursday -- a phone call to the Fayette State Park headed us on down for a very nice late afternoon hour and a half walk on the trails there. Two weeks ago we had gone down for their annual Lantern Lit Bluff Trail Walk, the 1 1/2 mile loop with the glow (and with no wind the "aroma"!) of kerosene lamps marking the way in the dark. It was surprisingly well attended and an interesting walk with a light snow filtering down. But Steve had apparently dropped his headlamp in the process of putting gear and snowshoes into the car when we were done. When he couldn't find it he called the Park and happily got the word that it had indeed been found and turned in. Which was nice because he was just getting ready to order a new one (it has a particularly bright setting and good for work in dim settings). The Supervisor offered to mail it but we decided to take advantage of a reason to go for a walk. So they nicely put it in a mailbox for us to pick up after hours and we drove down to go for a nice hike. The trail was firm enough with just a reasonable covering of snow after it had been groomed so we stashed our snowshoes and went a'foot. It's a trade-off for comfort. It's nice to walk without the snowshoes but with some snow it's rather like walking in loose sand and we notice the different muscles used! But we made it around all the loops as the light was fading and managed to get home before dark; no headlamps needed. The Park is such a peaceful and pleasing place to walk.
* * * * *
So now we're set for the coming spell of cold and windy weather, content to focus on indoor projects until the next nice winter day draws us back to the trails.
January 28, 2022 -- Ice Mounds on the Beach
Though a bit chilly (low teens) and cloudy it was calm, and after a long stretch of cold and windy weather we wanted to get out for a walk. Since we also were wondering how the beach ice at Thompson-Rogers Park was doing we went on down and walked the beach. The recent high winds had scoured the frozen beach so there were patches of bare (very hard!) sand and only maybe 4" snow most other places.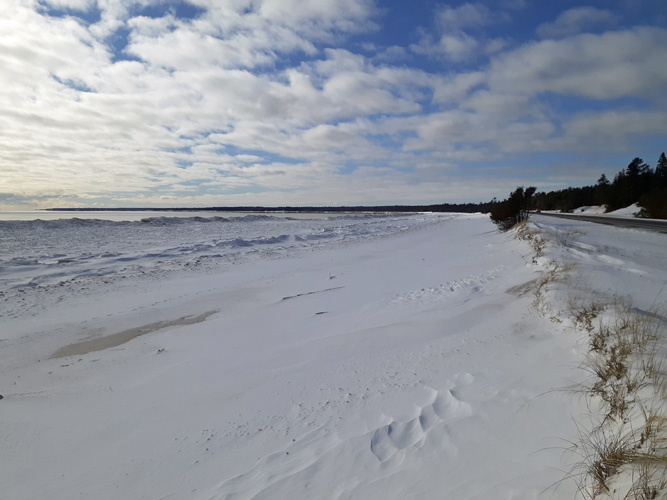 How nice to have a nice place to walk without needing snowshoes! The sun came out as we walked to brighten the day and warm the hikers. Both the sky and the shoreline were fascinating and beautiful each in their own ways.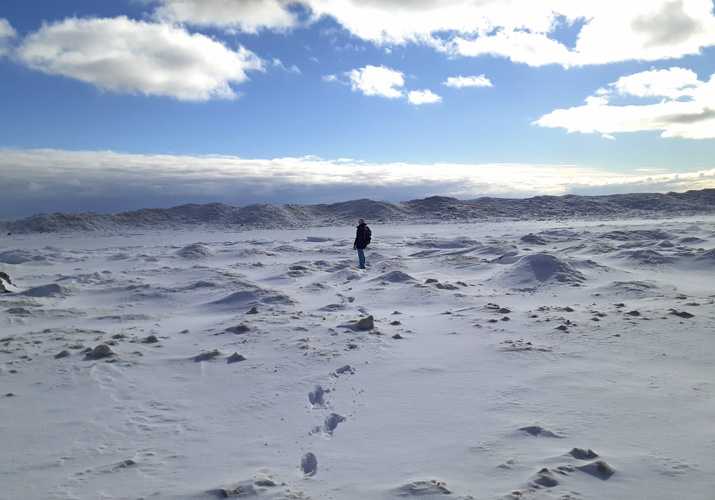 Mostly the ice mounds blocked the view of the small stretch of wet water along the edge, so what we saw looking out was the farther snow covered ice. The beach is still a large expanse of flat land then a ridge of clumpy ice along what we think is (was) the water line. Then a somewhat flat area leading to the moderately tall ice mounds. You don't have to walk out very far out into the this area to realize this isn't a place to walk, with significant unseen caverns and very slippery footing. We were quite content to stick to the flat easier walking of the beach. The cold snow was rather like walking in beach sand.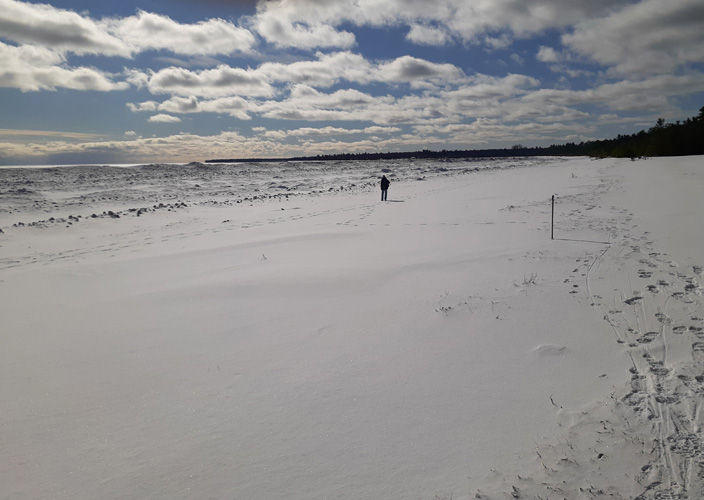 When we got near to the east end of the beach we could (barely) see the ice-extended "land" of Stoney Point now far out into the water. Steve climbed the bank for a better view.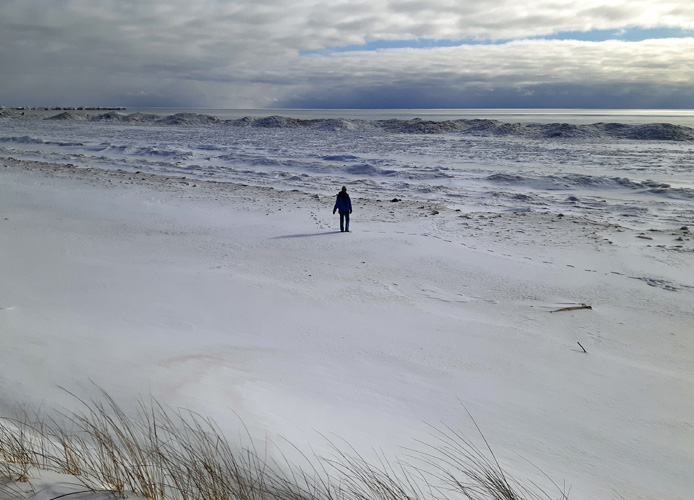 When we turned back a light wind came along to kept us cool as the sporadic sun kept us warm! Occasional openings in the ice mounds allowed a small view to water on the other side, now shiny in the sun. It was hard to tell if it was all frozen, except near Thompson Creek where we could then see a small cove of open water. It was a really nice 2 hour walk on the beach.
January 23, 2022 -- "Crossing the Border" by Si Kahn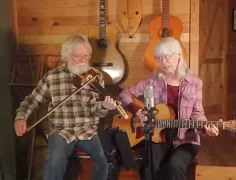 This time of year when it's Steve's Mom's birthday (today!) and my Dad's birthday in a few weeks, I often think of this song. And when we sing this song I think of our parents and others of that age who were important to us. Often we think of questions we'd like to ask them, discussions we'd like to have, now that we are older. They have all gone on now, but it's fun to think of them and wonder what they would say now, what stories they might share, or choose not to share! This video is in memory of all of them. LINK
January 17, 2022 -- McKeever Hills
We thought we'd snowshoe on a portion of Bruno's Run today. Parking is the big question this time of year but there are several options to get on Bruno's and all of them off Hwy 13. So we drove up to check them out, and also see if there were any tracks on the trail. There are only short sections on Bruno's that are reasonably well marked or easy to determine in the winter (near Pete's Lake Campground and Widewaters); the rest are quite often iffy and one can easily find oneself wandering through the woods lost in the snow. Ideally a snowshoer (who knows the trail) will have gone on before. There was a brisk west wind but one way or another we'd be walking in the woods so that wasn't a concern, especially with temps in the mid 20's.
We found two spots to get off the road, but at the Indian River crossing saw only a lone ski track which meant we'd be breaking trail. That would be OK, just a shorter walk. As we drove by and considered the options we saw that a plow had gone into the McKeever Hills spot. Maybe? Steve pulled in and we found a fully plowed parking lot! Not only that, when we got out to check the trail there was an even bigger surprise -- a wide groomed pathway with ski tracks down the middle and plenty of room on either side for snowshoeing. Plus a sign that indicated snowshoers were welcome (rare on a ski trail), just please stay off the tracks. Easy enough to do. And, to top even that, there was a section of this trail we hadn't walked yet. The decision was easy. Before the snow we had walked the infamous C Loop so knew we didn't want to do that one on snowshoes (more steep hills and curves than one could imagine getting into a fairly short loop) (it's a great walk though!). But we would do A and B -- clockwise on A and however it looked best to do the figure8 B loop.
Underneath the recent snow we saw plenty of tracks -- mostly dogs. At first I thought a big pack of coyotes had gone through, but this wouldn't be their style. Boot and snowshoe tracks were there so the dogs had apparently brought their humans with them, who kept nicely off the recently set ski tracks.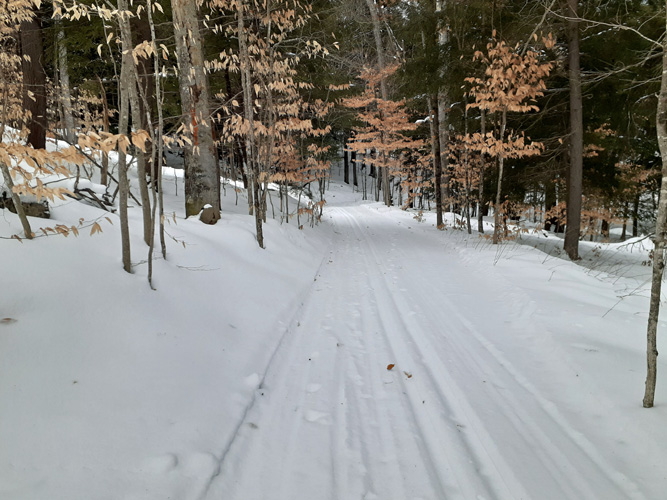 The entire trail through this beech-maple-hemlock woods is beautiful. There are a scattering of the large dead beeches still standing, still impressive, even when they finally fall. And their progeny are numerous, giving such wonderful color to the subdued mid winter forests, their fallen leaves pesky to skiier, pretty to us. The north part of A Loop goes roughly along the south side of Pete's Lake with glimpses of its snow covered flatness. It would be a great Lake to explore in our kayaks. The terrain is pleasantly hilly and the trail curves around enough to be constantly interesting. A few steeper hills give the skiiers a nice downhill without being overwhelming on snowshoes. (In the photo below that dark spot down the trail is me.)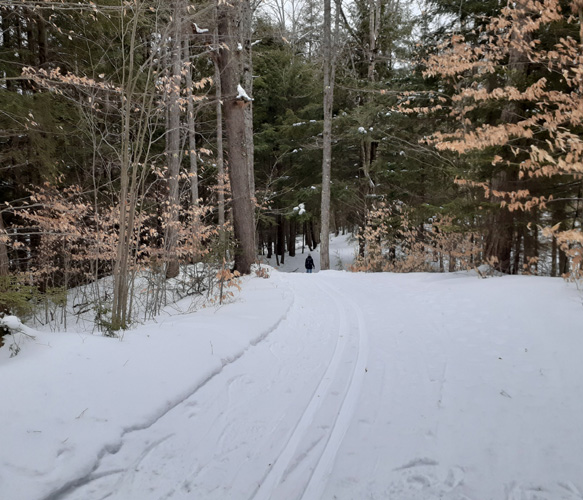 After an hour or so we found a suitable downed tree nestled out of the wind to stop for a lunch break just a short ways off the trail. Soon we heard voices and along glided a couple on skiis, and their dog who stopped in surprise to look into the woods at us. He was well trained and didn't come on over to check us out (or maybe he quickly determined we didn't have anything to eat of interest to him) which alerted the couple and we exchanged greetings as they went by. It was nice that someone was enjoying the set ski tracks before it snowed again.
As we went along we were very impressed by the groomer. He (or she, of course) obviously understood both the skiiers needs and the foot traffic, and was skilled in the use of the equipment. This is a well established, wide, cleared pathway which makes a difference, too (compared to one like Indian Lake Pathway's brushy, narrow track). But the ski tracks were consistent, in the center area except on steep hills where he moved the tracks to the appropriate side to give the skiier room to "walk" up, or down, with plenty of room for the snowshoes. The majority of the time we walked easily along, side by side on either side of the ski tracks. Such an easy trail to walk. We were a bit concerned at one point when it appeared the groomer had made a circle in a sudden opening and headed back, ending our wonderful groomed track. But no, he hadn't abandoned his trail users, he just made a comfortable nice curve around and continued on the trail into the woods.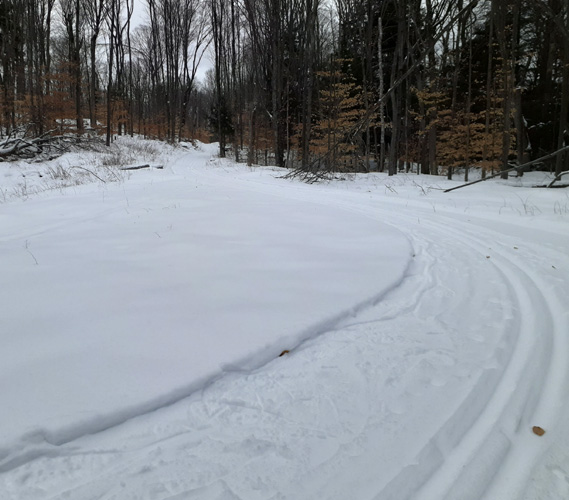 When we got around the B figure8 Loop we came to the only confusing spot. But a compass helped orient us and we headed back on the rest of A Loop which we had walked our previous trip here. In the parking lot there was a new arrival, a man with two lively dogs who were very anxious to get out of the truck. He nicely held them back until we were in the car then a quick moment later they were well on their way down the path. They knew where they were going. This is obviously a popular trail, for good reason.
We ended our delightful three hour walk by leaving a thank-filled note and donation in the donation box. It had been a great way to celebrate my 70th birthday! With dinner at Buckhorn on the way home to finish it off; a very nice day.
January 12, 2022 (01122022) -- Return to Ashford Lake Pathway
We wondered if the Ashford Lake Pathway had any action this year so decided to check it out. It was what seems to be our "regular" hiking weather this year -- cloudy, teens to twenties, calm to light wind, promise of a warmer afternoon so we left after lunch. We have less than a foot of snow here but there is more as one heads north. The main roads were clear which is always nice. When we arrived we found, as last year, the generous parking area plowed. A few vehicles had been in; still no signs.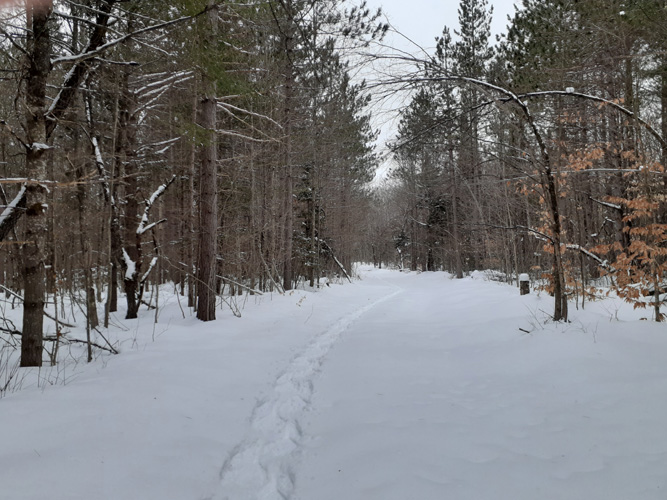 Also, as before, there had been one lone skiier, before the last snow but the tracks were visible. Snowshoes on, we followed the ski tracks up the well covered snowy road-wide 'Pathway', taking turns breaking trail. It may not be particularly exciting or scenic but it's a nice walk.
We think the skiier went the north-west side of Loop1 then headed out north on Loop2; thus we did as well. It really was guesswork but it didn't matter. It was an easy open track to walk and we could just follow our own tracks back if we didn't loop around in a reasonable amount of time. Thankfully, Steve has a good sense of direction, and, most important, a compass (it's rather funny that we both carry good Silva compasses but what gets used most often is a cheap little key-fob compass Steve has hooked to his jacket.)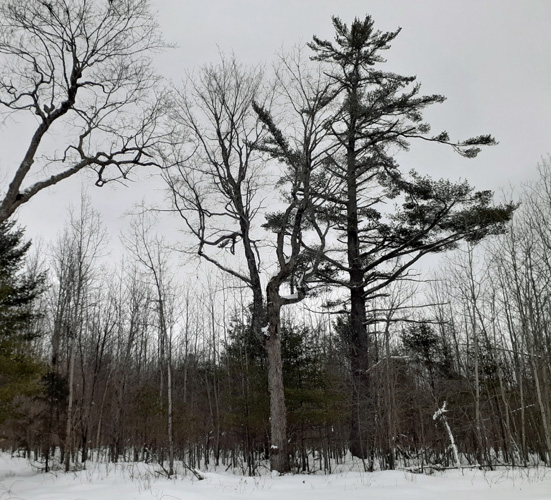 We went by a couple of what might be roads or the trail, but we continued on till we, and the skiier, came to an intersection of a "road" that had a bit of older traffic and a more recent snowmobile. The skiier followed that road left, but it looked like the trail crossed and continued north. This was narrower, not cleared, more pathway-like. Not a road. Plus there were several large trees at the entrance (rare amongst the young cut-over woods). I voted to head on north that way, so we did, clearing a bit as we went (compared to the Esky Snowshoe trail this was nothing!), going around a couple of downed trees. The woods were mixed second growth. After a bit we came to maybe the end; we weren't sure, but it looked like it might turn left. It was a path-like opening anyway. Then that ended, sort of. To the right the "trail" went up a steep fairly large hill (oddly placed in this flat area) where a wide swath had been cut in the young re-growth. We could have turned back. But who knew what was at the top! Up we went. This climb would easily match the best (to a skiier) of any of the steep hills at Rapid River or Valley Spur! At the top we could see that this was par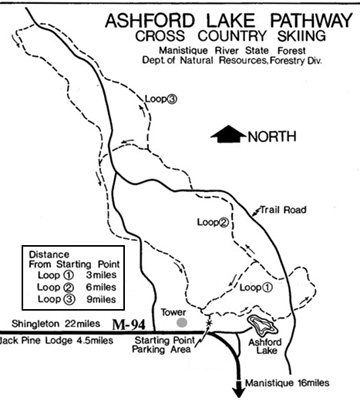 t of a ridge, running more or less west, recently logged with clumps of re-growing young maples. There was no trail. So what was that wide cleared swath up the hill about? Another unanswered question. There was enough room between the young clumps to get our snowshoes through and we had a nice walk along the ridge.
We following the high ground for awhile then decided we better go down and get headed southerly, giving a better chance of coming to a trail or two-track of the Pathway area. At the bottom we headed into a nice woods, fairly thin but with mature trees and not too much undergrowth. Using compass bearings Steve brought us out onto one of the snow covered roads. Were those the skiier's tracks? Maybe. It looked like snowmobile and other traffic under the last snow. Walking east we weren't too surprised to soon see the intersection opening ahead with the large trees, and our tracks. At least if someone followed our trail they would circle around and end up here, too. We guessed that we had been within the northern area of Loop2, between the Trail Road and Loop3. Maybe. It had been an interesting loop, but it was also nice to walk back on our previously tracked trail -- pretty easy snowshoeing compared to breaking trail through unknown woods. An uneventful return trip and we were back in the car in less than 2 hours.
We had planned a longer walk and there was still daylight so we drove up to the East Trailhead of Pine Marten to see if there was a place to park along the road to walk in from there. I'd called the Forest Service Office earlier to find that no, they would not be plowing the PM Trailheads. Sigh... When we got there we found Cty Road 437 well plowed and the Trailhead was at a straight stretch of the road, safe enough to park alongside. And there was indeed a car there, from Minnesota, with fresh ski tracks heading off down the path. We pulled in and parked behind them.
There were other tracks -- boot, snowshoe, ski, so this appeared to be the main way to access the Pine Marten trails in the winter. The trail here is pretty much a straight line, heading west along the scenic Indian River to one of the shelters. It's also a way to get down to the Triangle Lake Loop, and farther on to the Hardwood Loop. We had about an hour of daylight so decided to snowshoe in as far as the Triangle cutoff and see how the path was, thinking ahead to a future trip when we had more time.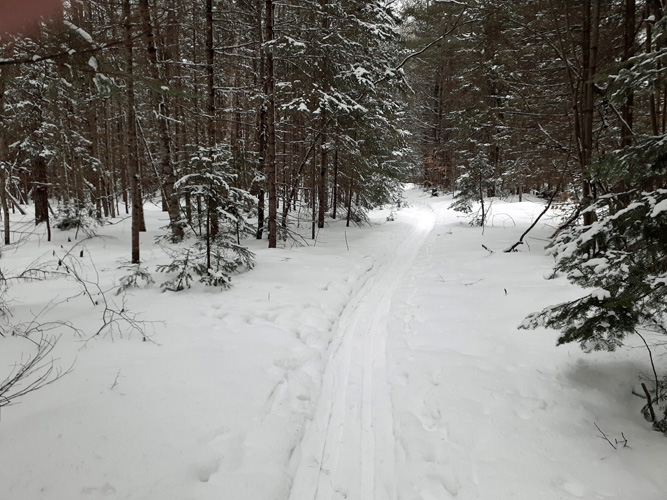 The woods were beautiful, mostly varied aged Balsam Fir and scattered mixed hardwood. The path is a trail not a road, nice, and thankfully there had been enough snow to fill in the horse-hoof-made trough to some degree. The previous traffic had at some point included a snowshoer so the trail was lightly packed and pretty much wide enough for our wood bearpaws, though we were scuffing the edges all the way. The ski tracks of the Minnesota pair were fresh and they were apparently accompanied by a small dog. We felt bad about walking over their tracks but on this trail there is no other option. The path is narrow through the woods and there is no getting out of that horse-trough! It was a nice walk, with glimpses of the Indian River. We came to the cutoff to Triangle in about 20 minutes. The skiiers had gone ahead to the shelter and also south to Triangle Lake. We wondered if they were camping out; it would be a cold night if they were. For us it was a nice addendum to the Ashford Lake walk. I expect we'll be back.
January 7, 2022 -- Escanaba Pathway on Snowshoes
We have hiked on the Escanaba Pathway with bare ground, with a little snow, with more snow, and now there was snowshoe snow. Would the Snowshoe Path be more easily traversed with more snow? But I really thought that we would just walk on the Ski Paths since they are plenty wide for snowshoeing along the edge. It was only mid teens but calm and we were getting acclimated to the colder weather now.
As we started out a couple came back off the snowshoe trail a'foot. We asked how the path was without snowshoes and he said it was fine, and she said it was OK except in one area. So we decided to go with snowshoes. We had a nice chat because theirs was the only other car in the parking lot and it was a Subaru Impreza. We exchanged similar enthusiasm for having a vehicle that was good in the snow since he had also just gotten his vehicle this winter as we had.
We decided to go the Snowshoe Trail, at least as far as the shortcut to Loop1. There were a lot of tracks, both boot and snowshoe and it was well packed. We widened and flattened the path a little more with our wider Iversons but the snow was soft and easy. It's a nice, pretty, hilly trail through the woods at this point.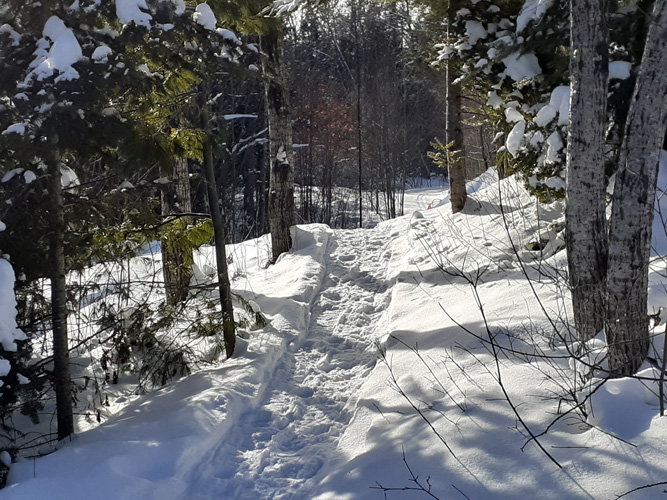 At the cutoff most of the traffic went that way but someone had gone on ahead and we decided to follow. Following someone who has packed the snow makes it easier walking which was nice. But a ways up where the trail got brushier the lone snowshoer turned back. We could have, too. But we decided to forge ahead. Something about the challenge I guess. We'd been here before and knew what we were getting into, or thought we did. Off into the deeper snow we went, breaking trail. Soon we were in the thick tangle of cedars, fitting our snowshoes between the trunks. Thankfully there was enough snow to cover most of the brush and small growth underfoot.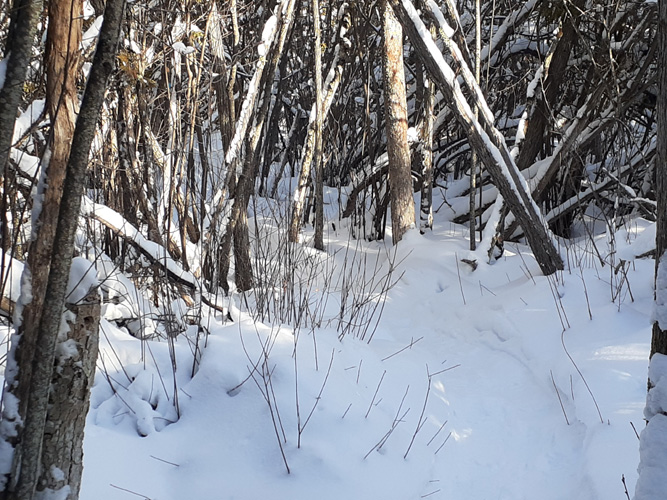 Then came the even thicker tangle of mostly dead tall thick swamp bush clumps (alders? dogwoods?) and marsh vegetation. With age and high wind events the trail was constantly blocked by usually dead crossed stems and branches. So we made our way, mushing through the snow made deeper being upon the undergrowth, through and over young whippy growth; breaking off what we could, moving what we could, somehow getting through what we couldn't, taking turns leading. The trail wasn't really apparent, but looking around it was easily apparent where you couldn't get through (all around), so you just had to take a few steps forward into that little space, hoping it would be obvious what the next step would be. Obvious being relative. It was certainly an adventure! Onward we pushed. We talked about volunteering next summer to do some much needed trail maintenance -- on bare ground!
It got worse as we got to an area that included more trees. There were many blowdowns to get over or under (remember the Limbo?). We laughed at our gymnastics, and at ourselves for doing this. But I kept thinking we must be getting close to the end, by North 30th Street, where one suddenly comes out of the dense brush into a small clear stand of red pine, then turns to walk along the road to the clear, wide ski trail. But we couldn't hear any traffic, nor see any pine trees above the swamp woods. We made our way around a few blowdowns, re-finding the path, such as it was. The sun was getting lower. Then we were confronted with a truly major blowdown mess -- cedars and birch and hemlocks, all thick within the thick alders and dogwoods, every which way. We looked, and looked, but there simply was no getting around or through. We were stopped. The trail for sure ended here, and my guess it will from now on. We turned back.
It was easier walking since we had already broken trail and cleared out most of the crossed stuff. We stopped at the few blue plastic trail markers to add a note that the trail ahead was blocked (pencil worked fine on the plastic). Then we heard voices ahead -- three snowshoers had followed our tracks. But then they turned back, and when we realized we were catching up to them we stopped for a break, not wanting to intrude in their trail experience. We were glad they had turned before it got really rough. But it was nice to know other folks were able to make use of our breaking trail.
Soon we came to that cutoff for the alternate snowshoe trail, crossing over to Loop1 of the ski trail, where almost all traffic had gone. We followed. It turned out to be a really nice loop, hilly but not challenging. When it came to Loop1 where it used to follow along the ski trail the snowshoe trail made a quick turn off onto one of the new boardwalks. Very nice!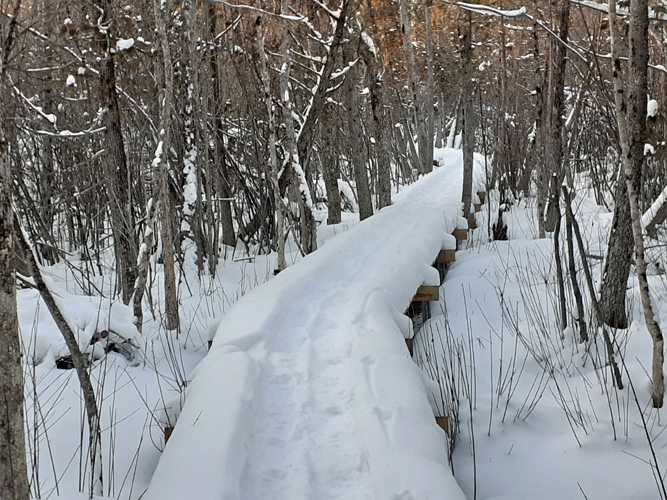 Then back on the ski trail back to the parking lot. It was so nice to see that on this nice wide trail there not only was plenty of room for both skiers and snowshoers/walkers but that not one person a'foot stepped on the ski tracks, staying to the side. People do know how to share the trail, given the space to do so. Almost all the traffic was a'foot but there had been two skiers go through recently. Very recently it turned out because as we got to the parking lot the skiers came along off their trail to their car. They had had a nice run and so had we. One and a half hours out, and only one back. It was a good walk, and a good workout! (more hikes link)
January 4, 2022 -- Indian Lake Pathway and the Boardwalk
Hike day! A warm one amidst the cold, getting into the upper 20's in the afternoon, cloudy but little to no wind. After lunch we headed over to the nearby Indian Lake Pathway trail, a fairly short 4 1/2 mile trail divided into three loops with cross trails. We figured the wet Pathway Loop 1 should be well frozen by now. Our previous hikes on this trail had convinced us that frozen was the only way to comfortably walk the first section, unless it was warm and you didn't mind wet feet. But the outer higher area (Loop 3) is the gem we were looking forward to revisiting.
The small parking lot was plowed and the narrow ski groomer had quite recently been through to lay tracks (and to saw out the many fallen trees blocking the trail). But beside the tracks there was a nice flat section (made by the groomer snowmachine) that we could walk/snowshoe on. How nice! It was firm enough so I opted to leave my snowshoes in the car but Steve wore his. It looked like easy walking so we could probably do the entire trail (4 1/2 miles); there should be enough time. So off we went.
Well, it didn't take long to find that the real nice flat base for snowshoeing beside the ski tracks only went as far as where they parked the small groomer by the side of the trail. That track was simply the snowmachine getting there. We could have turned back but there was just enough room to walk beside the ski tracks, so we decided to continued. This trail doesn't get much use so we weren't concerned about being in the way of a skier. I had about a foot wide firm (mostly) area to walk and the trail itself was usually wide enough for room for the snowshoes. The regular snowmobile trail, recently groomed, enticingly flat and wide, crossed the Pathway several times and followed close beside often. We had thought we might walk over there but it was easy to hear that the snomo trail was in full use as machine after machine went by. We stayed on our own trail.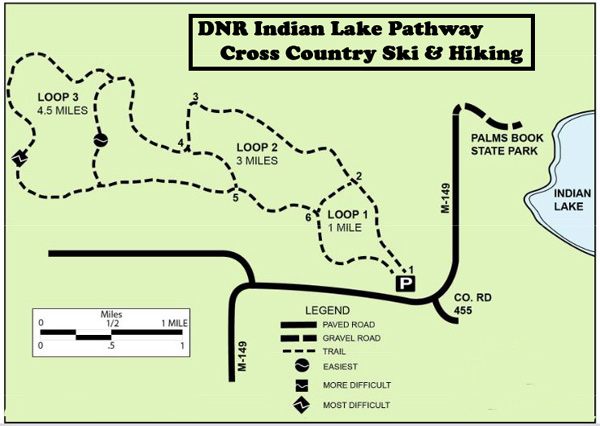 On up Loop 2 we went, walking on one side, then the other, then back as the ski tracks varied side to side, and as we avoided brambles and brush and the whippy small branches of young beech trees spreading out into the opening. So with eyes down to stay off the ski tracks and eyes up to avoid getting slapped in the face we made it to the start of Loop 3, and the start of the higher beautifully wooded section. Unfortunately, the groomer didn't head up there, he went on around Loop2 leaving the beautiful Loop 3 to the deer (lots of tracks). And since I didn't have my snowshoes on we couldn't go there either. So we followed the groomed tracks back down 2 then 1 to the parking lot. Though not the longer walk we'd planned it was a good hour and half trek. We decided we would come back after a good snowfall and before the groomer got out to snowshoe more comfortably up and around the whole trail.
But we wanted to walk a bit more so we decided to head on into town to the Boardwalk which would add another nice hour's walk, just enough time before dark for that. On our way we checked out the nearby Big Spring where a friend had said he had snowshoed around. They had roughly plowed the drive in and an area to park. There were three snowmobiles there and from the tracks it is a popular destination. We walked down the very well trod path to the Spring with the temperature heading down as we went. There were a number of signs placed around asking people to stay on the path to protect the fragile banks and roots of trees, so obviously we weren't going to head out walking around the Spring. But we joined the three snowmobilers on the raft to admire the big fish as they pointed them out (this was obviously their first visit here and it was fun to hear their enthusiasm - it IS an amazing spot). The view across the water and up the River was wonderful, made more so by several small groups of ducks moving about (and out of sight as soon as the camera was ready).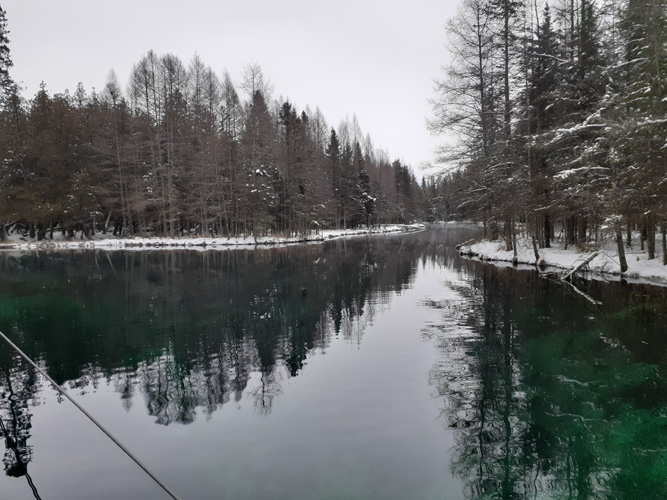 Onward to the Boardwalk in town. We parked near the marina at the west end, adding layers since there was a light wind off the cold water, and headed east along the Lake. To our surprise we could hear a very loud noise ahead -- machinery of some sort? heavy equipment? -- hopefully nothing major wrong along the Boardwalk. As we got near and could see the breakwater out to the lighthouse we realized the source -- large, icy waves hitting the ice covered shoreline. The area around the breakwater was heaving broken ice covered and the waves coming in were big, caused by storms farther south down the Lake. The sound made the air seem much colder! We took a photo but one just can't get that big noise into a still photo.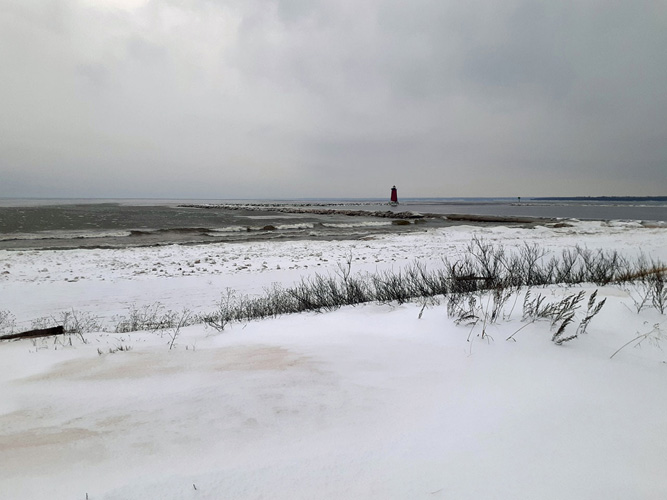 The walkway itself was snow-covered, drifted, trampled with many foot prints, being neither plowed nor groomed which didn't stop many walkers, just slowed us up a bit. There was just one other woman out and she was making her way along the frozen beach. We stopped often to watch the big, curling "surf's up!" waves crashing along the shallows, and marveled at the noise and the process of shoreline ice forming. Away from the breakwater the expanse of ice and snow-covered "beach" continued to grow and expand outward as the cold waves splashed and broke along the edge, water turning to ice in the cold. We wondered how far out that "shoreline" will be by the end of winter; will the ice make a high ridge or continue forming a low shelf out into the water. It was an interesting, always new, walk along the edge. We turned back at the other end as the cloudy sky got darker, enjoying the different and still fascinating view on the way back. It was a very nice hour long addition to our earlier walk. (more hikes link)
---
---