---

November 26, 2020 -- Happy Thanksgiving! From our House to Yours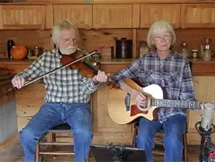 The words of this song by Rodney Dillard and Mitch Jayne (The Dillards/Darlings), 1964, seemed to me particularly fitting, in many different ways, this calm 2020 November day. I changed a few words and the order from the original. I hope you enjoy this song as much as we do. LINK to the video.
"There is a Time"
There is a time for love and laughter, These days will pass like summer storms;
The winter wind will follow after, But there is love and love is warm.
There is a time for us to wander, When time is young and so are we.
The woods are greener over yonder, The path is new the world is free.
There is a time when leaves are falling, The woods are gray the paths are old,
The snow will come when geese are calling, You'll need a fire against the cold.
So do your roaming in the springtime, You'll find love in the summer sun.
The frost will come and bring the harvest, And you can sleep when day is done.
Time is like a river flowing, With no regrets as it moves on;
Around each bend a brand new morning, Full of friends you thought were gone.
There is a time for love and laughter, These days will pass like summer storms;
The winter wind will follow after, But there is love and love is warm.
Yes, there is love, and love is warm.
---

November 20, 2020 -- The Nice Days of November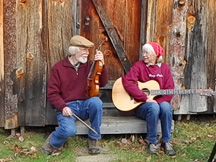 There have been plenty of gales and wind this month but we've also had an incredible number of nice days in the 40's, maybe even 50, with no snow, an unexpected bonus for working (playing) outside. Many projects that we didn't think would be done until Spring are done and off the list. What a fun time it has been. Many times we talked about doing a video, thinking to get yet one more outside before the weather really changes but the days went by so fast it didn't happen. Yesterday we realized that that might really be out last chance, looking ahead at the forecast of daytime temps heading down into the 30's. It was partly sunny, a bit breezy but not too bad, mid 40's. It seemed like a very nice day, and it was, compared to the really blustery colder ones we'd had. It's all relative though. We had rather forgotten that mid-40's is a bit cold to be playing outside, especially when the wind picks up and the sun disappears. But we still enjoyed it, maybe the last time outside. Though when we were done our fingers indicated quite firmly that the next video will be inside by that nice warm fire. We hope you enjoy our offering of a warm and cheery song and tune for those colder and cloudier days - Oh Susanna and Emma's Pride - Here.
---

N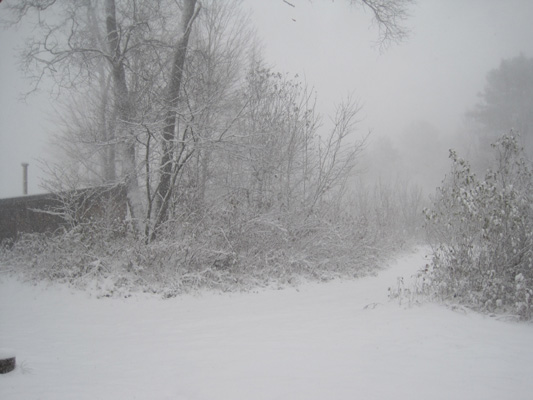 ovember 1, 2020 -- And Now, November Begins
An exciting changeover from October to November with high end gales across the U.P. and both Lakes. South winds yesterday, north winds and snow today. The photo doesn't show the snow blowing horizontally! Actually, we're pretty well protected here, and the snow will melt, we hope quite soon since the 1-2 inches forecast turned into 6-8 inches, and the car is down here by the house, not up in its nice cozy end-of-the-road garage. But sunshine and temps in the 40's promised this coming week.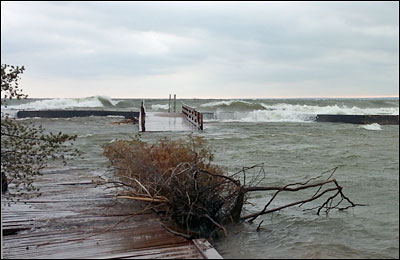 We love the waves of a good storm (well, from shore) and these were high end gales so yesterday evening we headed into Manistique to check out the Lake. Yep, pretty breezy (as I get knocked back a step or two). We stopped at Rogers Park and the waves were quite impressive. But the wind was knocking the tops off the white-caps so the photos looked much more benign than it was. Of course, a lot of the experience of the high wind was in the noise, which wouldn't show in a photo. But we knew the Manistique Harbor would be active so we went on to the new pavilion by the campground, a spot we'd just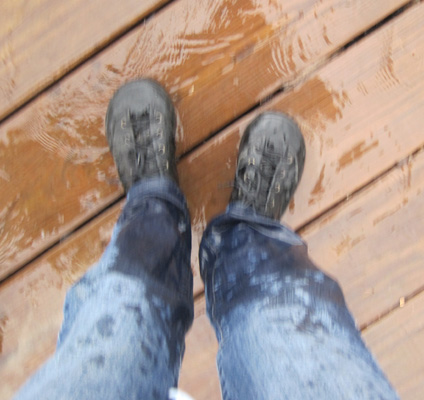 discovered recently. Sure enough - full scale exposure, high waves breaking against the breakwater, hard to capture but trust me, it was truly a gale. And well worth driving in for. We both took in our fill of the wind and waves and a number of photos. And just as I decided to take a few more shots, trying to catch a particularly high wave, the Lake decided to give me a little closer taste of the water. Fair enough! So we headed off to the restaurant to dry out and check out our favorite waitresses' Halloween costumes. There weren't many Trick-or-Treaters out last night but I think Nature did enough of that on Her own (today included)
Though they say the winds are stronger today, we decided yesterday's was good enough so today we enjoyed the storm, including the blizzard, at home. A very fitting welcome to November. And we will equally enjoy the coming week of calm and sunshine.
---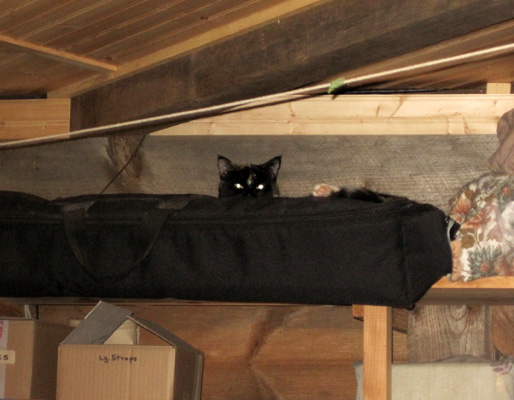 October 31, 2020 -- Happy Full Moon Halloween!
... from Lillibulero from her favorite safe perch. It wasn't easy to get to this spot but once she managed it, it has been her favorite since. A perfect spot for a dark cat to hang out on a wild windy Halloween night.
---

October 30, 2020 -- The Tale of Two Apples (well, actually, quite a few apples but that didn't sound as poetic)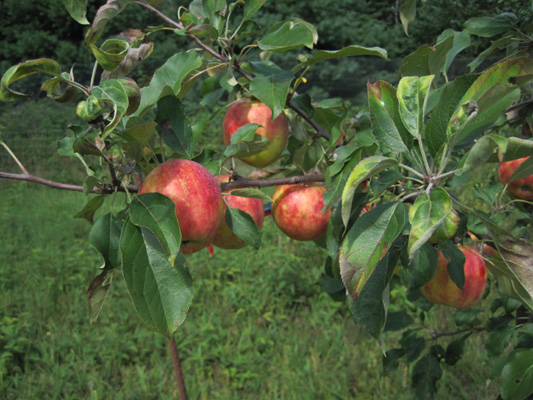 It's crispy fall, a full moon and Halloween tomorrow, and winding down of peak apple season. Apple crisp, apple bread, applesauce, apple cookies - I've had apples on my mind, and in my life, a lot lately! I mentioned the new (to me) Norkent apple earlier, when it first bloomed. It ended up with a great crop of beautiful apples. I harvested them Sept. 7 and found them to be cris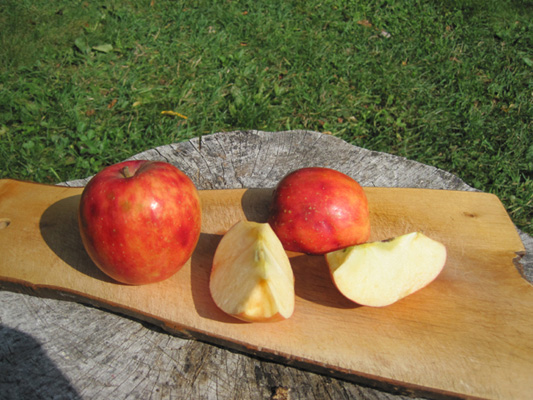 p, juicy and delicious. We both really liked this apple. Now each apple variety has its peak time period for the best fresh eating and Norkent was great for a good month. I was hoping for longer (and it may be longer as the tree matures and in a not-so-hot year). But in early October I realized it was losing its special flavor zing, though still firm and juicy. And by the 25th it was tasting a bit blah though still sweet and firm and juicy. But it was time to make sauce of the last of the crop which, mixed with some damaged Haralsons, it did quite well.
The Beacons were gone, having been made into sauce mid October, being then past their peak fresh eating (but making great sauce). I had a lot of Haralsons but they were still on the tart side, though they made great apple crisp! It would be another month before they were ready for good fresh eating (they sweeten and mellow in storage). Of course, if that's all one has then they are quite good enough!
But I had one more variety - Splitter. A nice wilding, it got named at a time that Steve w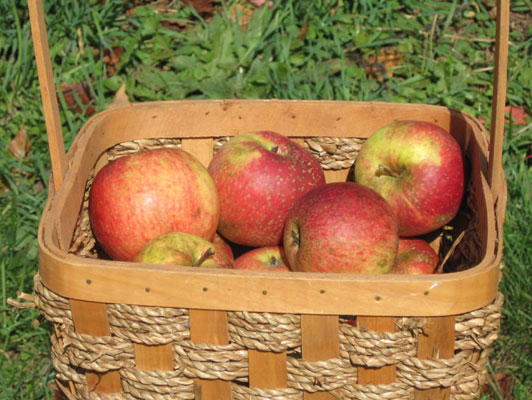 as doing a lot of wood splitting right next to it. A very nice smallish tree it usually puts out a light crop of medium size, what I call "Duchess type" of apple - late summer, more tart than sweet, a decent enough apple that usually got incorporated with other varieties in sauce or cider. I appreciated its crop as I do all my apples but never thought of it as special in any way, other than really enjoying the tree as it is right beside where we now park the car and I greet it often. But this year it got its rightful due - as a very good fruit - by being at the right place at the right time - in the cellar when no other apple was prime for eating. October 8 -I cut one up and, Hey! It was very good! I'd hit it at its prime, with a nicely balanced tart-sweet (enough sweet) and very good flavor. They had been dropping so I picked the rest Sept. 21. There were only 12 apples but we enjoyed every one after that. So now I know, they want 2 or 3 weeks of storage then they're ready to eat. From previous years I know they don't keep long but now they have a special place as fresh eaters after Norkent and Beacon are past, and before Haralson is ready. Yay Splitter!
Oh yes, one more apple - and it was only one. For its second year, Goodland (which is grafted onto one branch of the north Beacon tree) produced one beautiful large 8 oz apple, picked and eaten the end of September. Very juicy with a sprightly sweet flavor with a touch of ?grape? to it. Not real crisp but quite a very good apple. We grafted more onto other branches this year and I look forward to having enough of a crop to try it out for cider. I think it could be very good.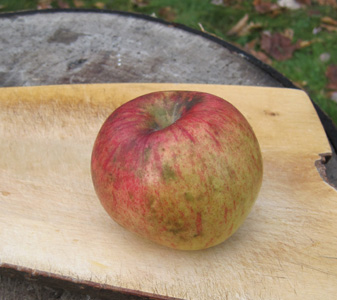 And yet one more, but this is indeed the last and the last to be harvested. Again just one apple, what I've named Hoholik after the original farm family who planted (or allowed to grow) the mother tree maybe 100 yrs ago. The farm, now owned by friends, we'd gotten scions and grafted onto a rootstock in the orchard, which is growing well and healthy but hasn't fruited yet. We guess the original might be an old Golden Delicious. At the time we also put a graft on a branch of the above mentioned wild Splitter tree and this graft produced one apple this year (and three last year). A very nice 6 oz healthy pretty apple. It was Oct. 20 and due to the many freezes we were having I decided to pick it even though it wasn't real excited about coming off. It was mature though as the seeds were ripe brown when I cut into it a week later. Quite interesting, the apple didn't look much like the original (which was a green/yellow with just an occasional blush patch), nor like last year's apples (which were closer to the original). This year's had a lot of red. It was moderately crisp, moderately juicy, moderately flavor. No Wow but a decent eater. It's possible it needs more time in storage but I won't know until I have more apples to trial. Maybe next year! The original tree unfortunately fell over (it was well past its prime) and they had to cut it down. So I'm particularly anxious for our main tree in the orchard to fruit to compare to the Splitter's graft and to what I remember of the original tree's apples.
And that really is the last of my apple wanderings! We now have only Haralsons left in the root cellar but thankfully a very good harvest which will keep us in fresh eating apples as well as fresh sauce well into next year. It is our only real winter storage apple thus far and I'm so thankful it decided to crop heavy this year.
---

October 15, 2020 -- "Toad" update
Off and on during the night I thought about the toad - would he get in the mousetrap (livetrap), would he jump off the bed (falling on the very hard stone floor), was there enough for him to eat, should I have put out a dish of water, should I put him back outside ... A litany that did no one any good! In the morning I went right into the shop and shined a light through the window into the greenhouse and there he was, sitting on the wood sill near the parsley, looking east out the window, waiting for the sun to come up? I went out to talk to him about moving back to the garden. When I stepped into the greenhouse he hopped up on the side of the nearby small plastic waterin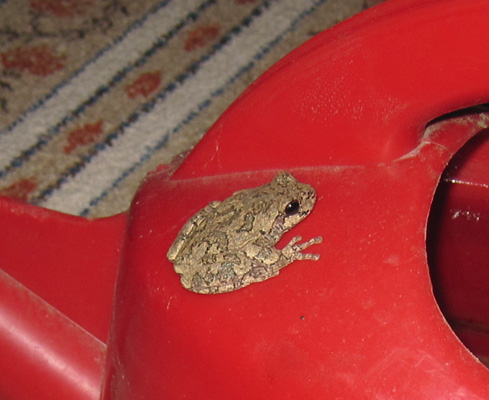 g can, having no trouble hanging on. Oh... Steve came out just then with the comment that toads don't do that. Yeah, I know. My only excuse is that I expected a toad and never looked any closer (though you'd think the coloring would have given me a clue!). I've seen a lot of toads in the garden but never a tree frog. It didn't occur to me that one might decide to hibernate there, though it certainly is easy digging. But Tree Frog he certainly is, and a handsome cute one at that. Obviously quite awake I quickly scooped him up as he hopped to the top of the watering can and I worried he might hop into the water. We headed out to the garden and I set him down in the newly planted garlic patch with lots of mulch, freshly dug soft dirt, and no one digging in there until next fall. He calmly hopped off my hand, in no big hurry, and surveyed his newest surroundings. Thankfully there is plenty of time for him to re-hibernate before the really cold weather sets in. I think we'll both sleep better tonight.
---

October 14, 2020 -- Moving Day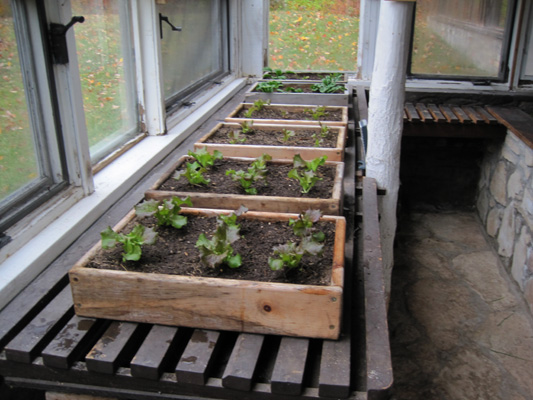 Though the weather thus far this month has been rather mild (not counting the ongoing high winds!) they are forecasting a couple of low 20's nights this week so I decided it was time for the big move into the greenhouse. It was already cleaned and ready, the deep bed along the house watered and compost added (it gets very dry during the uninhabited summer months), and the spiders lectured on better moderation in their enthusiastic web building. We've had several days of on and off rain which was good weather for moving plants into their winter quarters. It's not a large crowd, mostly young lettuce and spinach seedlings and two full grown parsley. There is still lettuce and spinach in cold frames in the garden, too, and parsley, which I'll harvest from until it gets seriously cold or snowy. By then the young greenhouse plants will have had a chance to grow, though it is slow growing this time of year.
I also found and moved a young Calendula which is sure to provide a bright spot of color this winter. Calendula doesn't seem to mind the cold or lack of sun; it grows and flowers anytime of year. And an Alyssum side shoot which I hope will perk up to add a sweet flower aroma. The back of the bed looks a little sparse but there are four hibernating Stevia plants dug in to be replanted back out in the garden in the spring. I tried this with one plant the last two years and they did well. Though Stevia is a perennial it isn't hardy and will winterkill if left in the garden. Mostly I grow it as an annual, newly seeded each spring, but digging and replanting the mature plant is easier and grew larger.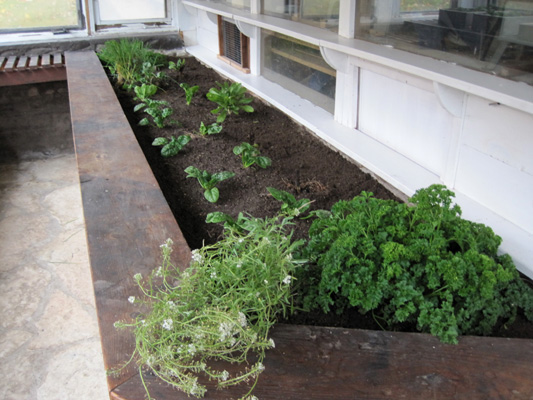 The last, but not least, transplant into the greenhouse are the daffodil bulbs. I dig up a clump (we have a lot of them growing out and around) and wriggle out some of the healthy rooted bulbs to plant throughout the bed. Many of them will produce flowers mid winter to cheer up the cold white world outside. They are an amazing and tenacious flower! And then there is the very special guest this year. When I was lifting one of the Stevia clumps into its new home in the bed some of the dirt fell off and out fell a small toad! He had likely dug himself down into the dirt for the winter and I'm sure this was quite an unwelcome rude awakening. He is about 1 1/2 inches and a pretty black-white-gray coloring. I quickly moved him under a recently transplanted parsley with the hopes he will dig down and re-establish his winter quarters and get back to sleep. It won't be as cold as out in the garden, but hopefully to his liking.
Addendum: It's 8:00 pm and I just went out in the greenhouse with a flashlight to close the insulated front curtain. Might as well keep some of that daytime heat in. As I walked out I quickly shined the light at the parsley at this end and there perched on a leaf was the little toad, quite wide awake! I quickly turned the flashlight away, out of his eyes. I'm sure I moved in plenty of earthworms and likely other garden insects with the plants but whether there is enough to feed a small toad I don't know. I'll have to do some research. I may have to move him back out to the cold, but natural habitat, garden. Though I certainly wouldn't mind having a companion toad out there, if he might enjoy it.
---

October 8, 2020 -- Beautiful Octo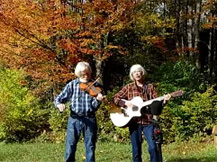 ber
The changing colors of fall is such a magical time, and every year is so different. This year seems to be a lot of golds and browns with subtle small patches of red, and still a lot of varied greens. After a rainy spell we've had wonderful sunshine and been making full use of this great October weather to fill the woodshed and get the potatoes in the root cellar. Steve's been in daily contact with chainsaw and wood splitter (and so appreciative of the good tools that makes that big project go better!). I drop in to the project to help stack - a fall ritual I love. My time is, as is often the case, in the winding-down garden (mostly digging potatoes recently) and getting the young orchard trees ready for winter. It's a great time of year to be outside.
But we realized it is indeed "that time of year" when the weather can change rapidly and if we wanted to do another outdoor video while the temps were mild we better take time out to do that. Plus the beautiful leaves have a tendency to fall fast some years. So this was the day. To get some of that beautiful red maple color for our backdrop we took to the roof. It was fun to be up there and not be digging or hauling dirt! We enjoyed our morning musical interlude as a start to this beautiful day - hope you do, too. Here is the YouTube LINK (or click on the photo). The rest of our day was great, too. The woodshed is now full (hurray!) and there is a very good start on next year's stack in the field.
For a list of all of our videos and links (in our Music section) click here: LINK.
---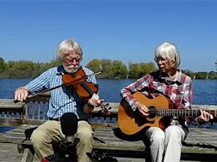 September 22, 2020 -- Warm & Sunny, Head to the River
It would have been a great day for a row but this trip to the river was to do a video. We had thought of the fairly wide Escanaba River as a nice setting for the beautiful song Shenandoah and had checked out some possible locations on a previous trip where we discovered the Escanaba Boat Launch and Fishing Piers. An older installation with plenty of vegetation the piers felt surprisingly secluded, at least this time of year. As we had need to go to Escanaba today we decided to stop on our way home and do the video. We much appreciated the warm and sunny day as we know there may not be many more of them yet this year. Click on the picture or HERE to go directly to the video on YouTube. Or go to the list of all of our videos (in our Music section) and click on the one you want from there - here is the LINK for that page. However you get there, we hope you enjoy our little musical adventures via video!
---

September 18, 2020 - First Hard Freeze of the Season
Night before last there was mention of scattered frost, which meant frost for sure in our frost-pocket little valley. It wasn't the first we'd had this month so the blankets were ready at hand and the necessary plants covered. It got down to 29 in the orchard, and would be warmer in the garden near the still warm ground. All was well. But yesterday they got a little more serious about it - Widespread Freeze - with possible 20's hinted. And a red warning box on the NOAA forecast page. That wasn't really necessary - if you'd lived here long enough you could feel it - but I certainly took them seriously. As usual I'd hoped for a few more growing weeks since, as is often the case, it's supposed to warm back up after this cold spell. But not to be, so yesterday, while Steve went out to cut firewood, I harvested. And they were right - it got down to 24 degrees out in the open. Cold enough!
A really nice full sweet pepper crop with many ripe, red peppers filled up their spot along two walls of the root cellar, plants with their fruit hung where the under-ripe peppers will continue to ripen and keep surprisingly fresh for quite awhile. A small basket of cherry tomatoes at various stages of ripe will brighten our salads for many weeks to come. The grapes had done their best in spite of buds being frozen twice in the spring, with a small crop with enough ripe for a batch of juice. If there had been more I would have covered them but instead I harvested. NEXT year I'll remember to cover them in the spring so they can get that needed extra long growing season. Grapes are an iffy crop here but I keep trying.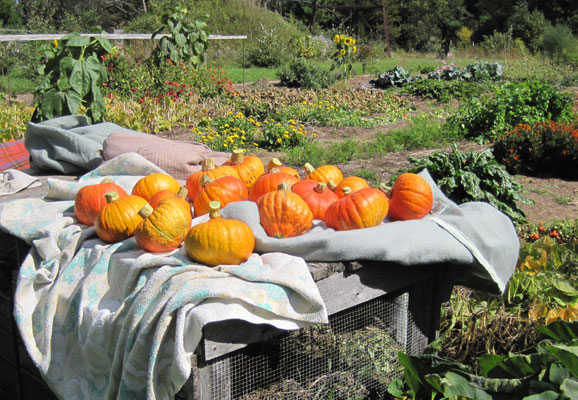 Squash had a late start getting going this year, maybe due to the unusual record heat so I didn't know if there would be any ripe ones. But I had detected some orange amongst the very lush large leaves so I hoped. Turns out there was no need to worry, they loved this over-hot summer and made record time ripening. I think we'll have enough squash! There were five not quite ripe good sized fruit left in the plants so I double-blanket covered those to see if they can make it.
Apples! I wasn't too concerned about the apples but the Beacons were about done a
nyway so I harvested the rest - a light but very nice crop. And my one and only Goodland - big and beautiful. My trees all seem to be biennial bearing so each year is different as to what varieties we have. This year it was Haralson's turn to be top dog and it seemed to know it. It put out with great enthusiasm. I did some thinning early on (definitely should have done more!) and it did its own thinning later by early dropping damaged or too crowded fruit but it hardly looked like it. They're a keeper and will get milder and sweeter in storage, keeping well into late winter so it's a good one to have. As the fruit is real close to ripe (and keeps better if picked before really ripe) I picked the bottom half, what i could reach without the ladder, and got almost 2 bushels! Probably nearly that many still on the tree. I hope those hang on for awhile because the root cellar is not very cold yet. But it's fun to have it filling up.
Of course, though the garden looks pretty wilted and done-in today, there is still much out there - potatoes and carrots, parsley, spinach and lettuce to move into the greenhouse when the cold really sets in. Meantime, there will be many warm days yet, and likely frosts, and the woodshed is cleaned out and ready to start filling. Autumn is a great time of year.
---

September 15, 2020 - Lush Roof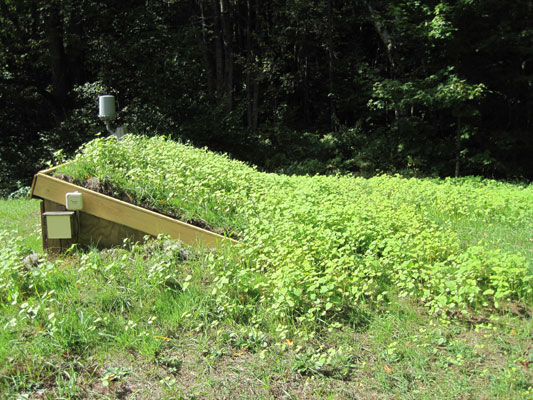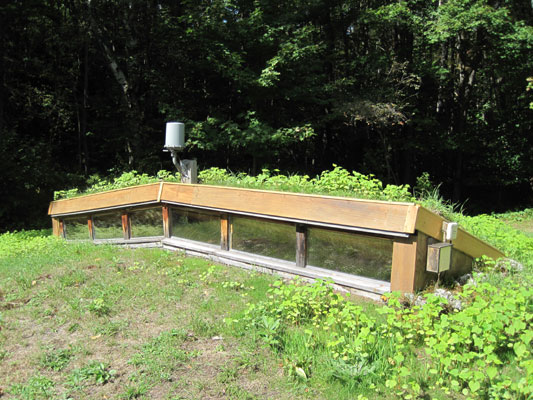 Apparently I really had planted plenty enough seed ...
maybe we should consider adding a goat to the roof.
---

September 8, 2020 - The New Hill is Finished!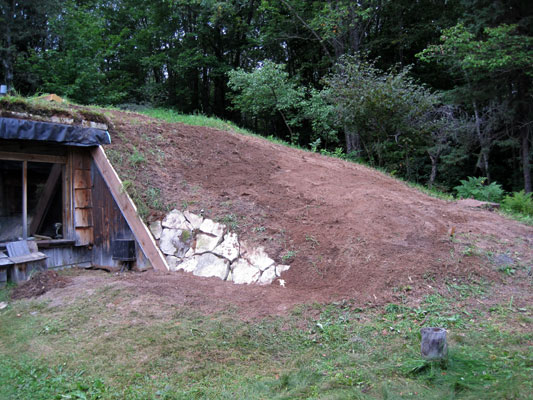 Steve spent the day shoveling, moving sod, sculpting, re-arranging, hauling rock. He finished just when it started to sprinkle so I quickly grabbed the last of the rye grass and tossed it out. Rain forecast tonight and tomorrow so it was good timing. A few more smaller projects on the window corner and we can have a celebratory dinner for the job done. All we'll have to do is watch it grow and enjoy this part of the outer house that we see the most. In a few years wh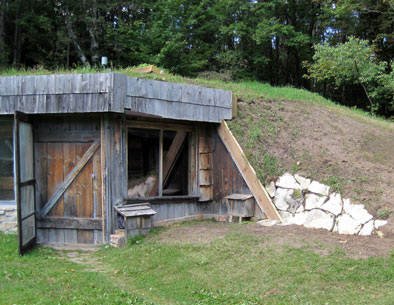 en all the vegetation gets growing it probably won't look much different but we'll know and at least for awhile we'll remember. It won't take long for new projects to take our attention (I hardly remember the roof work!) which is what keeps us going. Always something new, even when it's old.
September 13 - the final odds and ends completed - and now we can cross this one off our lists!
---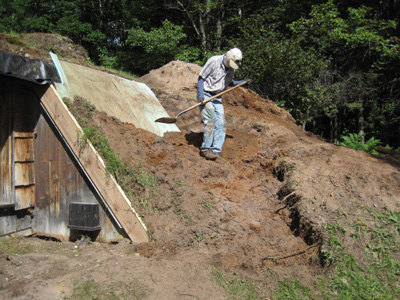 September 7, 2020 - Almost There!
Mid-morning we started in digging. Though it was still windy we had another beautiful day with enough clouds to keep us cool (and we are very much appreciating having good U.P. temperatures now! Even if we do have to wait for it to warm up in the morning). It was a pleasing rhythm - dig, stomp, dig, stomp. By noon the dirt was well up the wall! Wow, this was going faster than I thought it would.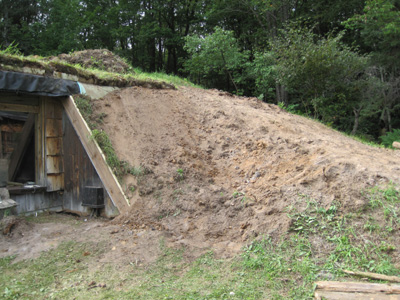 After lunch (and a welcome short nap) Steve went back to it while I headed off to the garden and orchard to take care of some other chores. Fall will arrive soon and there was a spell of rain forecast. As I went back and forth the change taking place amazed me. We had decided we wanted a different landscape footprint this time and Steve put his sculpture talents to the task but with dirt instead of his usual wood. It's amazing what can happen when one really gets into it and just keeps going. I certainly didn't expect it to be this far along by the end of the day. There's more to do but the end is now much easier to imagine.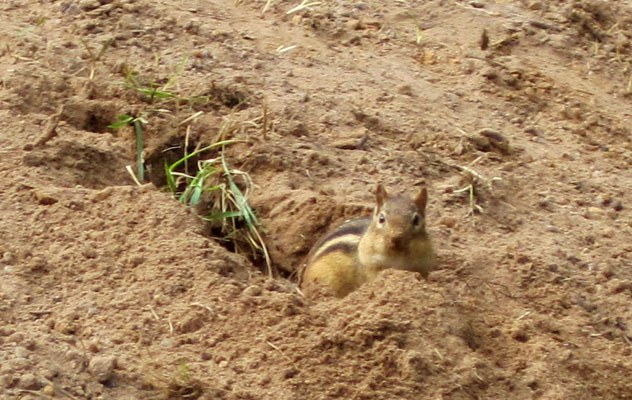 A resident chipmunk has been our regular companion. Sometimes I think he's enjoying the goings-on. But today it was obvious he was intent on stocking up and I doubt he appreciated this constant moving of his dirt piles and people in his way. Not to mention the destruction of well made tunnels (in yesterday's photos you can see a hole in the upper part of the bank, one of his most elegant entrance/exits). There really wasn't much we could do about it but trust he/she has time to stash enough when we're done, which I'm sure there will be. And I know he'll soon have new tunnels in the fresh laid dirt.
---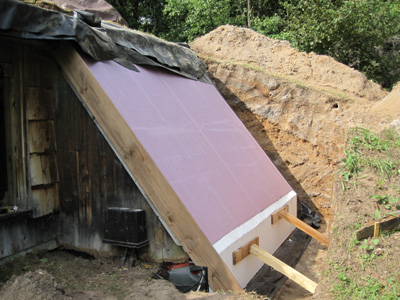 September 6, 2020 - Making the Sandwich
Maybe not as tasty as some sandwiches but it certainly was welcome! First a second layer of new plastic over the old (just in case), then 2" of new insulation, kept dry by the main waterproof layer of sturdy EDPM. Before the dirt goes on we'll cover that with some closed cell foam that will help protect the EDPM from roots (and chipmunks and such). This is one secure wall! And certainly will be better insulated. The styrofoam and beadboard that we removed, which were on top of the waterproofing not under it, the way the whole house was built, were at various stages of waterlogged. That was the standard system of the time - now we all know better.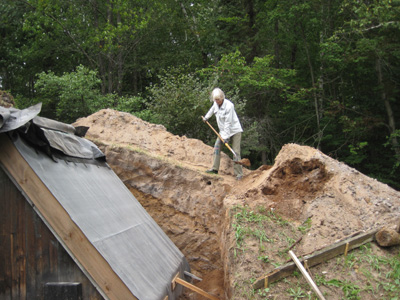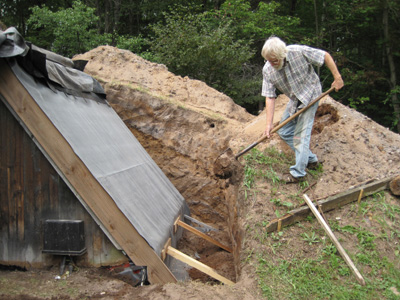 It was a bit tricky getting all the slippery layers installed at this angle, especially with gale force winds to help! But it didn't rain and finally - it was time to start the rebury! The hole that seemed small when we were working in it how seemed quite large! Thankfully, we're digging sand not gravel or clay. And yes, I did get to do a share of the rebury. Wouldn't want to miss the fun.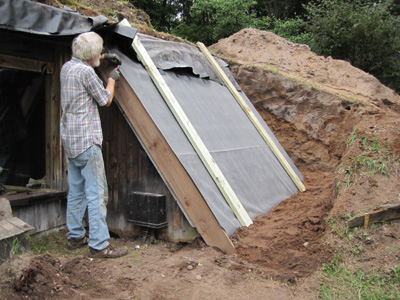 By the end of the day it was great to have the bottom knee-wall buried and being able to walk in at ground level. In spite of the piles of dirt to go it doesn't seem quite so daunting now that we've begun to put the dirt back. We no longer had to cover it with the hard-working tarp. It was a high point to fold that up and put it away! While the basic shoveling suits me Steve gets to do all the fine-tuning and bits and pieces that always go along with any job on our sometimes challenging house. It works - as he finishes up I go make dinner!
---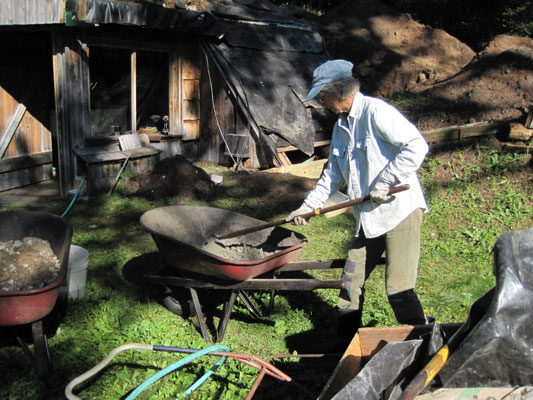 September 4, 2020 - New Footings!
It certainly brought back memories! Gathering the tools, remembering the formula, mixing cement, sand, gravel in the wheelbarrow. I mixed and Steve hauled many wheelbarrows of concrete when we were building the house so many years ago. It wasn't all by hand (though there was quite a bit of that) since the main footing pour came by truck (remember that, Nancy?!) and most of the other concrete was mixed in our reliable and much appreciated green cement mixer . Later when we added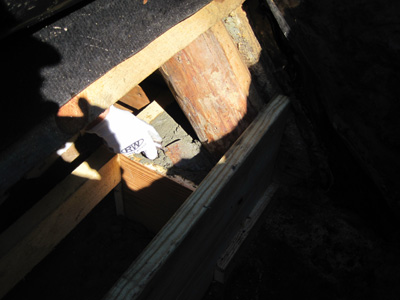 brick to the front wall and rebuilt the greenhouse of stone it was back to the wheelbarrow, keeping the brick and stone layer supplied with mortar. These are good memories.
Thi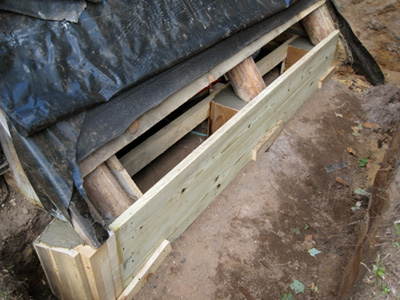 s job was much smaller - three deep footings to replace the rotted bottoms of the posts - but it was still a lot of mixing and placing and tamping and finishing, made a bit tricky since the posts are at an angle and in place but the footings are straight up and down, stuffed around and under the posts, kneeling in a small space both inside and out. But when they were done and the tools all cleaned (I well remember that part, too!) we were very happy with the results. I expect this repair will well outlast us and whoever comes after. It was a satisfying part of the project.
---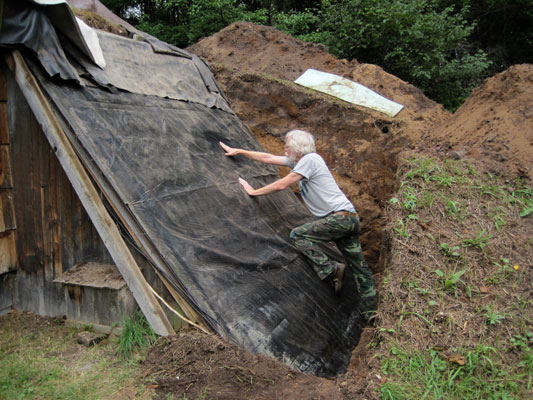 August 29, 2020 - A Step of Success
Digging and more digging - but the bottom finally emerged, down farther than I thought it could be. After removing a number of layers of foam, both insulation and barrier, it was great to find the bottom waterproofing plastic in good shape. Underneath, the boards were in good shape as well except at the bottom front edge where there had been a long term leak which rotted the boards in that area, and the rotted structural posts where they were in contact with the wet dirt at the bottom. We knew about both (though not the extent) so it wasn't a surprise.
The big question now was could the center post be jacked out successfully to get it back in line enough that we could just rebuild the bottom of the structure and not have to tear off and rebuild the entire thing. We had co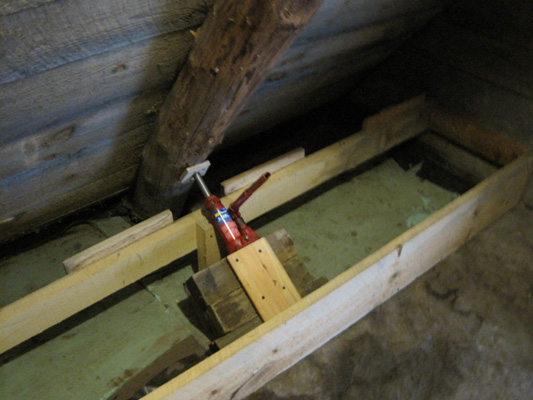 nsidered a number of ideas, the easiest, though not the most creative, being to repair and rebury, keeping the same design. This is the solution we were aiming for, and today was test day. Inside, with the washer moved and the area cleared and cleaned, Steve carefully secured the jack against the laid stone floor of the main room and to the center post, which being at such an angle didn't make the process easy but it worked. So one pump at a time, without fanfair or fuss, the post moved back out. Oops, too far, now there was a hump instead of a dip. Back down. I checked the outside wall for straight across, and that was it. Back in shape. The end walls of this little space had kept the two side posts more or less in place. All three had pulled down some when they came in, but not excessively, and the only way to get them back in original place would be to tear it all apart. We decided it was good enough.
Of course, this isn't really it. There's a bit of work to do now, with concrete and new boards, to repair and rebuild the damaged bottom area, replace the insulating foam with new dry pieces, cover with new waterproofing membrane (the original design has the waterproof barrier under the insulation not on top of it, resulting in waterlogged not-very-insulating styrofoam), and then, finally, reburying. It seems like a lot but knowing where we're headed and having a plan makes it feel quite do-able, which I'm sure it will be. Having temperatures finally back to U.P. cool makes it easier as well, even if we're having to play cat-and-mouse with the scattered rain. But the rain has encouraged the recently reburied roof to grow. And it turns out there was plenty of buckwheat and oats left after the chipmunk had collected his share, so we have a healthy crop of both growing along with the more recently seeded rye grass. It will be a lush pasture soon!
So all in all, a good day, topped off with a trip to town for a traditional dinner out at a favorite restaurant (Happy Birthday, Steve!).
---

August 23, 2020 - Entry Hill Work Begins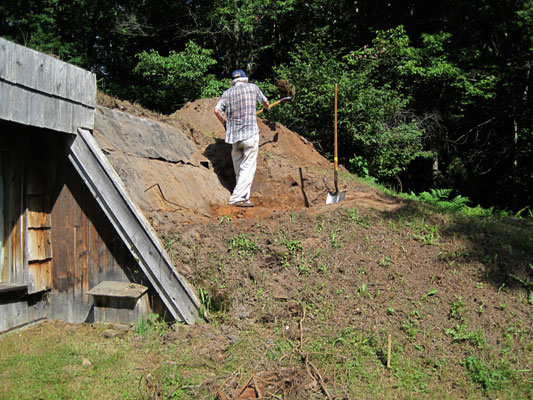 We took a few days off in-between, catching up on other chores, discussing options and ideas, then decided to just go ahead and start digging and figure it out when we get there. This is the east "wall" of our entry, or part of it anyway. The main house is sturdy and secure on larger-then-necessary footings (or so the building inspector said - after we had already poured the footings). But when it came to the pantry/root cellar and entry/porch we chose to build using cedar and tamarack posts for "footings", probably due to time, money, and ease of building. This worked well - until the the posts started rotting, as wood posts in the ground tend to do. We did what we could from the inside, and in the back (pantry and root cellar) decided that though they had moved in some, the wall structure appears to be holding things all together so we would just leave it be unless we saw more movement. To replace the posts would mean digging down all the way down to the footings - not a job we want to do (the roof and down a few feet was quite enough!). But the entry really did need more attention. The design is a bit odd but there is an 8 foot section next to a front window that slants out at an angle from the roof to the ground, making a nice little triangle area for the washer (the design was meant to help balance the dirt on the other side of the house). The wall boards rest on tamarack posts, the bottoms of which, having rotted, pushed in, especially the center one. We made temporary supports from the inside some years ago but it was time to make the major repair. Which meant, as most work on our house means, dig in, and dig it out. We're quite up to speed now on digging, and after a couple of hours made pretty good progress. As it is once again sunny, hot and humid that was enough for the day. But it felt good to get started on this project we've been considering for so long. And we had good company while we worked, the resident chipmunk sat nearby, cheeks full (I don't want to know with what), watching, or running across the area, up and over the dirt piles. We had to be careful not to toss a shovel-full of dirt on him.
---

August 20, 2020 - Roof Work Finished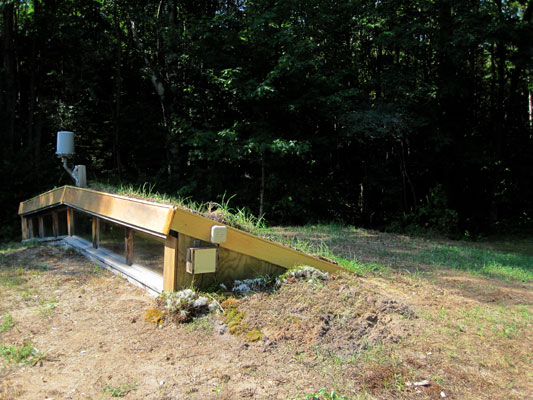 Hurray! It's done! The last dirt hauled, the last sod placed, new front and ends on the clerestory, and seed scattered to help rebuild the vegetation. Since I had a supply of buckwheat and oats on hand I spread that seed around generously, knowing it would be hit and miss for germination since it wouldn't be properly buried, and with so much sifty sand as part of the soil structure some would likely wash away when we got a good rain. We hoped for some rain (August has been dry) but no gully washers. Well, we've been fortunate on the no-hard-rain but rather lacking in any moisture at all, so I've spent many hours on the roof with the hose, admiring the view, the new roof, and the many baby toads who don't at all like being sprinkled. Oh, and not to forget the resident chipmunk (or two) who has taken a great interest in all this activity. It turns out I didn't need to worry about how the buckwheat would germinate because it didn't take long at all for the resident chipmunk (with likely help from friends and/or a red squirrel or two) to vacuum all those neat little buckwheat seeds off the bare ground and safely bury for future consumption (I assume). Well, if I'd thought about it I guess that shouldn't surprise me, but I didn't think they'd take ALL the seed! I think they're working on the oats now. So next trip to town Steve picked up a bag of rye grass. Hopefully that much smaller seed isn't as popular. I had better luck with some extra lettuce and spinach seed that I tossed about. Maybe we'll be picking salads off the roof this fall! But all that is just to get something rooted and growing to hold the soil until the local vegetation can regrow and spread out again. This doesn't include blackberries, however, who would love to take over, and which we will endeavor to keep out.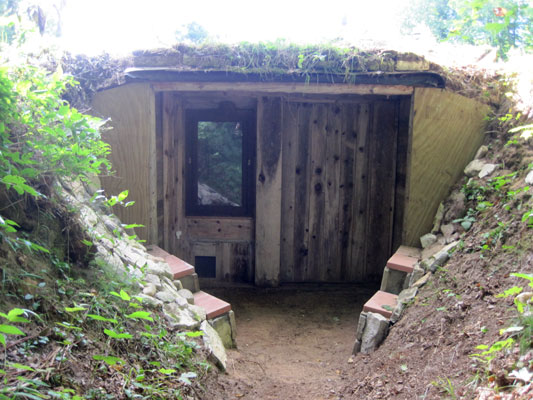 Along with the roof work we finally, after all these 35 years, put finishing touches on the back door area. It is an emergency exit idea that hardly ever gets used. But next to the door is a window into the pantry which lets in light and air when opened (and every year hosts a phoebe nest though it's isn't a particularly good spot). And now there is a much nicer view out the window which we're enjoying. And it feels good to step out the door, onto new brick and pavers, so maybe the back entrance will get more company now.
---

August 16, 2020 - Alarm in the Buckwheat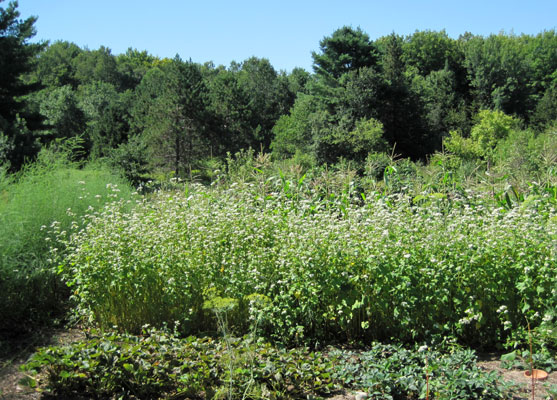 A week or so ago I noticed the last patch of buckwheat was starting to phase from flower to seed so it was time to cut it down. I often grow buckwheat whenever I have an empty bed or patch for green manure or mulch. Letting it flower allows the pollinators to enjoy it (though they've been very sparse this year) and it's quite attractive. If I don't cut it well before it goes to seed I end up with buckwheat "weeds" next year. I'd already taken care of two earlier patches. (I usually do this with the scythe but as the space was tight I tried our Greenworks battery hedger which worked surprising well, even though I had to run it on my knees.)
So I put it on my mental list to get to this bed of buckwheat soon. But about the same time I became aware of some persistent chipping when I was in that area of the garden. This was more strident and intense than the common chip-chirp of the Chipping Sparrows. Then I saw who it was - a male Indigo Bunting was directing his chips at me from a perch on top of the buckwheat. He didn't fly away, but moved next door to the corn, watching me, and chitting, the whole time. The next few days it became apparent that something serious was going on here. Not only did I often have the male chipping at me but I realized there were alarm-chirps coming from within the buckwheat patch. Then I saw the male and female emerge together to perch nearby. So, no question about it now; there will be no cutting down of the buckwheat patch, at least not for awhile. It seems a bit late but with the unusual weather extremes of this year there really is no "normal" and it does appear that they've chosen that spot for an August nest.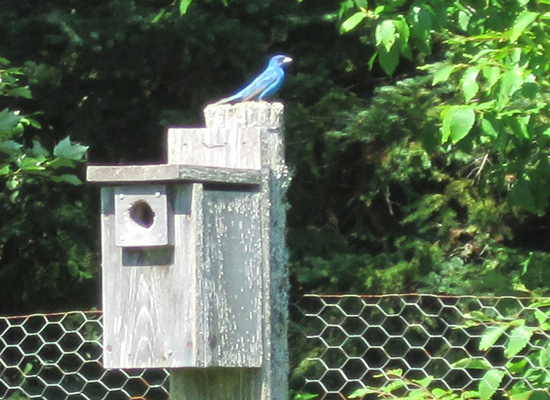 The male is so attractive amongst the white mass of buckwheat blossoms so when I saw him there again I ran back to the house to get the camera. He usually sticks around for some time. But when I came back both the male and female were off nearby fussing loudly at someone else. When I came back into the garden the male flew over to a nearby nest box to check me out, staying long enough for a photo op before going back to help his partner chase off whoever else they were upset about.
Thankfully for their peace of mind I'm not spending a lot of time in the garden right now. I haven't seen, or heard, the male the last few days so maybe his guard duty has eased off, or he's decided I'm not that much of a threat. I've heard some chirps from the buckwheat patch and have seen the female briefly so I assume all is well. Meantime, I walk/work gently around that area when I'm out there and wish the Indigo Buntings the best weather for their new family.
---

August 10, 2020 - Looking Better!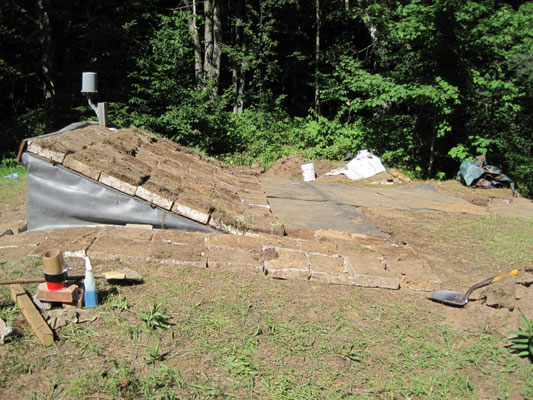 F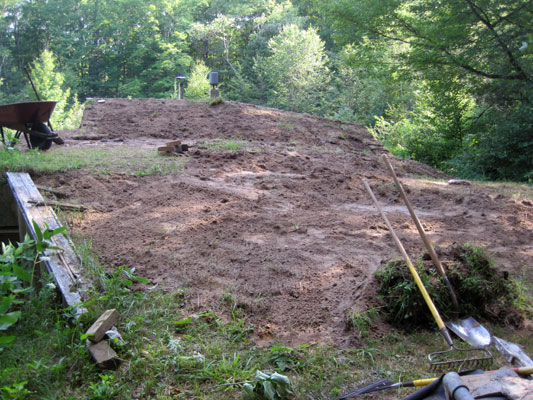 riday we finally began recovering the roof and after a couple of good hard work days, and a big incentive of wanting to get it reburied keeping us going, it is much closer to being back to it's "green roof" self. It's not done yet but we took today off to work on some indoor projects. Being a hot and very humid day with thunderstorms forecast (which apparently went elsewhere) helped that decision! It feels good to be able to imagine the completion of this phase of our summer house repair/renovation projects.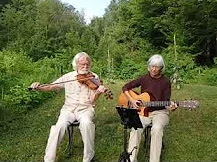 Our new video camera arrived Friday so before we started working on the house yesterday we decided to give it a test and re-record Tam's Slow March. We were quite pleased with the results, both audio and video, and glad we switched from the phone. We had a little extra accompaniment on this one in the form of a nearby, and very vocal, cricket, and a fly-by bird adding its little bit. Nice to have company. The camera is a Zoom Q2n 4k. Here's a link to the video: LINK (or click on the thumbnail).
---

August 3, 2020 -- Update: Videos and Roof
After putting the videos online we discovered there was an audio problem with them. So we've taken the videos down. Sigh... Not sure what caused the issue so we did what one has to do -- we ordered a new video camera (we've been using a phone). And we will redo these two songs. They deserve it!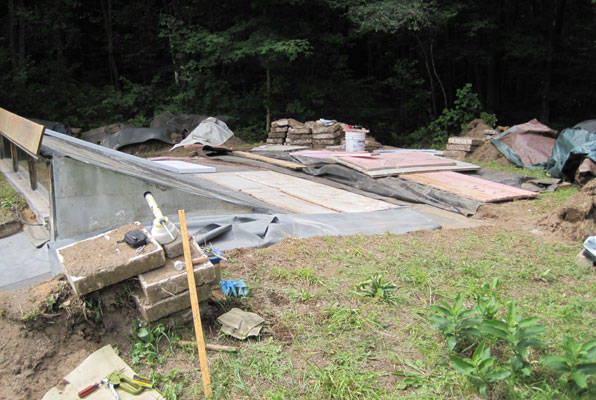 And the roof -- good news there. We had a beautiful U.P. weather type cool north wind day (ahhhhhhh) today and made good progress. It may not look like such great progress in the photo but we are very happy to be at this stage of putting new (and old) foam insulation back on, and soon (tomorrow) new (and old) waterproofing. Then on to the fun part - reburying.
We had a healthy batch of new toads born this year (about 3/4 inch long now) and I'm sure they (and us) will be happy when we're done and they can hop around in peace without worrying about being stepped on, dirt thrown on, weird stuff in their way, and humans forever moving them or trying to direct them where they don't want to go. Same for small snakes and a lone chipmunk. One is never alone up here!
August 1, 2020 -- Up On the Roof
Since we've been spending so much time on the roof we decided to do a couple of videos up there. The world around us is so intensely varied shades of green and brown and the different levels (roof and ground and tree tops) adds a lot to the design. Unfortunately, that part doesn't show up much in the video or photos, but the height of summer dress of the trees and vegetation is enough. We're sitting on the front east half of the house roof, the camera looking south.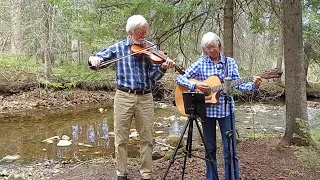 So often these past months the song "What a Wonderful World" has been in my mind. The words seem to remind me that everything is indeed all right. We started doing this one early in the year and it's one of my favorites. Though we don't have any red roses (yet - I did plant one this spring!) we certainly have an abundance of trees of green, skys of blue, and clouds of white.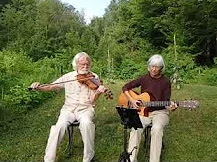 "Tam's Slow March" is a tune Steve discovered on a YouTube video some time ago and immediately wanted to learn it. I really enjoy it as well and have to keep focused on my playing so I don't just stop and listen instead. It comes from Scottish Borders fiddler Tom Hughes (aka Tommy or Tam) possibly in the early/mid 1900's. His grandson (who learned it from his grandfather) calls it Tommy Hughes' March.
You can click on the pictures to go direct to the YouTube videos. Or go to our Videos Page on the website where all our videos are listed and click on whichever video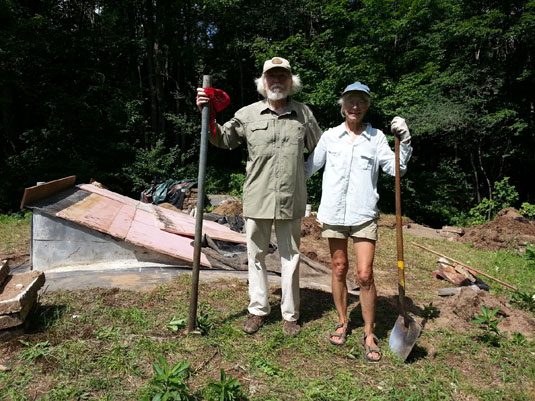 you want to view. Here's the link to that page: VIDEOS.
Today's videos show the part of the roof that hasn't needed to be dug up (thankfully) since the moss is growing so nicely in that area. But after we finished recording it was back to work, back to the usual homestead attire, and turn back to the not-so-photogenic (right now) back part of the roof which we hope to get back to its wonderful repaired, buried, growing self soon.
---

July 24, 2020 -- House Roof Repairs Adventures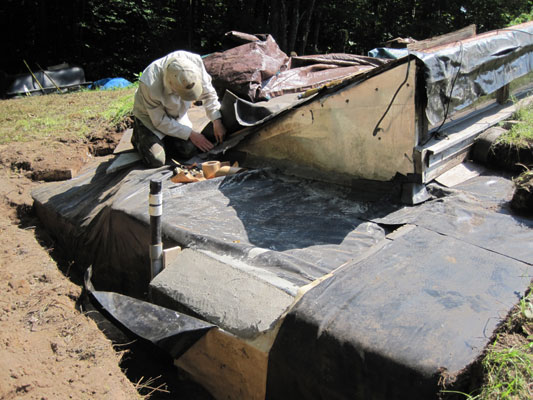 Where to start - that seemed the biggest hurdle. We had two leaks, one of which Steve had temporarily repaired several years ago and as good as duck tape is it wasn't a comfortable permanent solution. The other we sort of knew at least part of the problem, and also had a temporary repair in place which worked except in big downpours, which meant there was more to it, somewhere. Both were caused by small holes chewed in our plastic waterproofing by some unknown little rodent for unknown reasons. The mice went elsewhere but the ants loved the easy entrance. It was time to fix both.
We had already decided this would be the summer for roof repairs and reconstruction (entry room and greenhouse). Our wonderful house is 35 years old, created and built with a lot of enthusiasm, not much money, and even less experience. In spite of that it has done us well so we aren't complaining at this year's work. We've done some repairs and upgrades in years past, but it's been awhile. It was hard to get the shovels out and start unburying what we'd hoped would never need to be unburied again, especially when we didn't know just where or what we'd find. But we had the extra incentive thanks to the mice.
We've had mice in the not ever quite finished add-on pantry and root cellar from the beginning. A few now and then, mostly in the winter. It wasn't much of an issue to trap and move them until we got around to putting the final touches on that back area. When we had two super hunter cats they no doubt kept the numbers down, too. But this year we've had a mouse explosion - not just in the back but in the main part of the house - 4 to7 a night - nicely spaced about an hour apart. Noisy mice, trap eating mice (we live trap), cute but sleep-disturbing-irritating mice. And a wonderful much-loved cat who is a moderate but not overly enthusiastic hunter. Besides, mice inside aren't as exciting or interesting as mice outside. Apparently. And if we thought it was hard to track down a leak, well, trying to figure out where a mouse, or many mice, were suddenly getting in turned out to be ridiculously difficult and frustrating. But this was a challenge that really needed to be solved. So as soon as the garden, orchard, firewood, spring chores were caught up our attention turned to the house. We hadn't planned on this year's record heat, which has slowed us down, but we've adjusted.
We had some fairly good guesses for mice entrances, and the leaks, and other more common construction issues. We'd just take them one at a time, and figure it out as we went along. After all, that's how we had built the house and that worked out fine. Sure, we'd do many things different if we built again, but we didn't want to build again. Considering that option, repairing was more enticing. And we've always enjoyed working on the house together. We just had to decide where to start. While we weighed pros and cons, levels of importance, this and that, a bear came along and decided for us.
In the middle of the night a number of weeks ago some noise woke me up. Being used to this by now, I got up without even waking all the way up, to take care of the noisy mouse. Steve woke up, too, and when I said something to him about "another mouse" he replied, "I don't think it's a mouse" as he looked out the clerestory window at a very large black bear, busily digging for ants and making a mess of our carefully arranged tarps covering one of the known leaks. The bear apparently didn't care for the sudden lights and noisy humans and took off, and we decided where to start our work, which we began soon after. The repairs would also take care of a lot of the ant problem. We'll never get rid of the ants, of course, but we don't need to encourage large populations by the house.
From the inside we stopped up possible mouse entrances as we discover them, including making a new cat door after I watched a mouse simply trot in that easy entrance. Lilli wasn't at all impressed with the new arrangement but after a few adjustments decided it would do. Another (we're pretty sure) entrance was unearthed along our west roof-wall edge, now blocked with cement. So the numbers have gone down, but not ceased completely. But there's hope as work continues. And we look forward to the day when the entire house is repaired-reconstructed-reburied-regrowing, and the inside is mouse and ant and rain free. Meantime, work is coming along and our mornings (before it gets too hot and when it's not raining) are committed to our house.
Though the mosquitoes are apparently not taking time off this summer (this is their kind of weather!) the numbers have gone down so we can even work sometimes in the (sometimes) cooler evenings. Apparently we have gotten somewhat used to the unusual heat since a few days of wonderfully "normal" U.P. temperatures in the mid 70's actually felt cool! We've sure enjoyed those days.
Unlike us the garden loves this hot and humid weather and is growing happily and healthily with little attention from me, feeding us generously, with great appreciation from us. So summer continues here on the homestead. We're happy and healthy as well.
---

July 9, 2020 -- Hot, Hot, and More Hot -- And an Anti-Itch Solution
Used to be, just one year ago, 80 degrees was hot, something we'd get occasionally for a few weeks in July, with cool nights to keep the corn from growing too fast. But this year 90 with lows in the 60's has become "normal", and the corn is growing crazy. And it's just a week into July. South winds, sunny, calm, humid, with sporadic thunderstorms. I know, this is common for much of the country, so what are we complaining about? Well, you see, Yoopers can melt at those temperatures! Though we seem to be holding together just fine in spite of it; even (almost) getting used to it. I admit it's a nice change from worrying about frosts. And what most needs to get done is getting done, and what is better to wait for cooler weather is waiting. We search the forecasts and radar pictures for thunderstorm-clear weather to hook up the boat trailer and head to the water, and hope for a gentle rain at night for the garden and orchard. Life is pretty good here in the northwoods. No matter what, there's a solution to be had.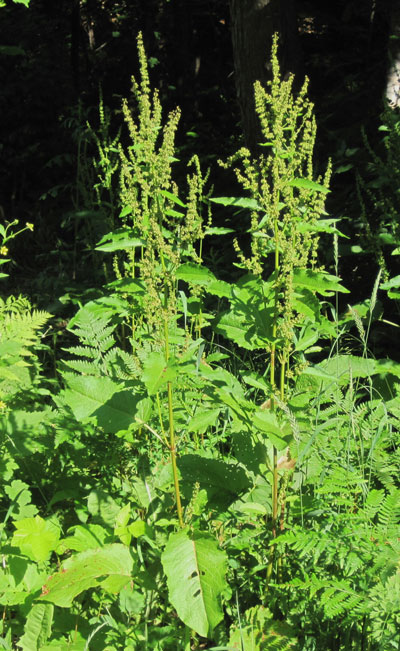 And speaking of solutions, I just got a new batch of one of our most appreciated "solutions" going -- an herbal homemade anti-itch tincture. It's easy and it works well. This year has come with a bumper crop of mosquitoes (and black flies which have thankfully calmed down) so we've been using a lot of it. The main ingredient is Yellow Dock root. I used to have to head out north and south of our property to find some but I finally harvested some seed in the fall, tossed it in an area by the woodshed, and I now have my own patch. It's a hardy weed so I expect it'll be around now. Being biennial some plants are flowering now (the ones you can see in the photo) and others first year low growing but fairly large leafed plants. This is what I dig up to get the long root, clean it, chop into pieces into a jar and cover with vodka. Then a week or two later I gather the green herbs, chop and add to the mix. Let set for a number of weeks, stirring or shaking now and then, until I get around to straining and bottling the new brew for next year's itchy bites season (or anything else that causes itchy reaction). Just dab or rub in on the spot, several times and as needed, and it usually calms things down after a short time.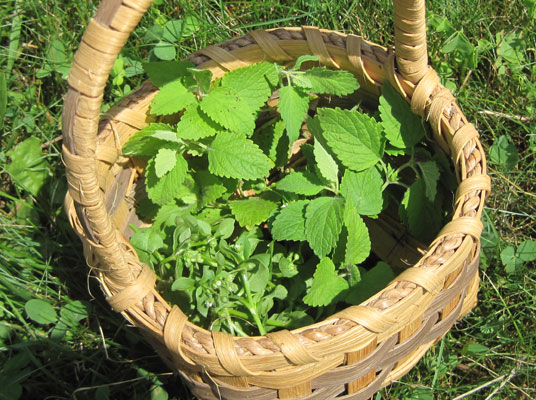 The one problem with this tincture is that yellow dock root is also a good strong dye plant, which means one has to take care since it can stain clothing. But the alcohol dries pretty fast and we're usually in work clothes anyway so it's not much of a problem. I've been making it for a long time and I don't recall when or just how I came up with the recipe but these are the herbs I've been including, all readily available in garden or field:
yellow dock root // lemon balm // chickweed // burdock or Witch Hazel leaf
This year I couldn't find the normally easy to see burdock. I think the very vigorous and aggressive wild blackberries crowded it out. But a few years back I'd planted a Witch Hazel bush which has grown well and perfect for this use. So this year's batch has Witch Hazel leaves instead of burdock. And I threw in a few plantain leaves, too. Basically it is a combination of anti-inflammatory and astringent herbs of kinds that I have available. It's a yearly tradition that we make good use of.
---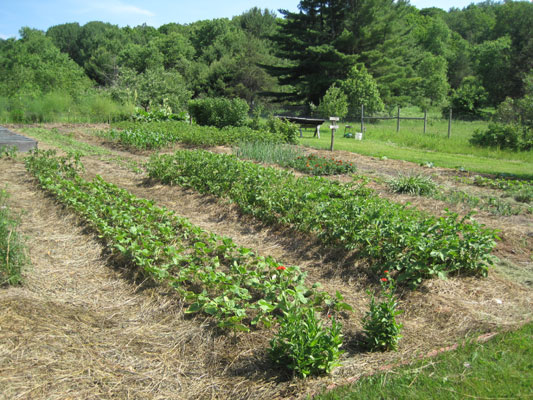 June 29, 2020 - Summer!
Summer for me begins when the garden is all planted, growing and mulched, hopefully (and usually) by the end of June. And this year the garden came through right on time; it's happily settled in for the summer, feeding us well. But the coming "hot weather of July" that we usually plan for is a bit hard to figure since we've been getting those 80's July temperatures since the end of May! A strange year indeed. It's hard to guess just what July, and the rest of summer, will bring but we intend to enjoy it all the same. The mosquitoes, black flies and ticks are easing off, stacks of firewood are drying in the field, the orchard is looking good. Steve put the final touches on his Row Cruiser and it went for its first row of the season yesterday, along with my kayak, for a beautiful evening on the water. Other spring chores are finished so we're changing gears, planning to do some major work on the house and spending more time on the water. I think we're ready for July. We're ready for summer.
---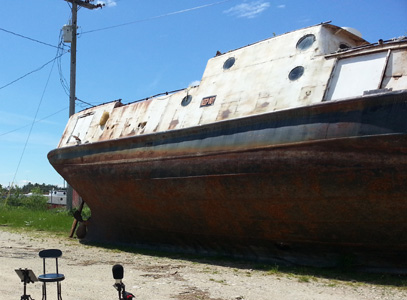 June 25, 2020 - Off-Site to Manistique Harbor
On land by the local commercial fish dock in Manistique is an old rusty fishing tug near where we often walk when in town. We've stopped to admire this sturdy work boat, wondering at its many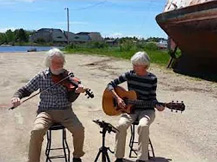 years of hauling fishermen and fish. Stan Rogers song, "Tiny Fish for Japan", a favorite of ours, fit right in. So yesterday, before we headed to the Farmer's Market to play, we set up near the boat for our weekly video. It was a beautiful day and the large body of the boat did a fairly good job of blocking the wind, plus dampening somewhat the noise from the work being done on the marina next door. It felt good playing this song in an appropriate environment. LINK.
---

June 15, 2020 - A Bit of Cool, a Lot of Sunshine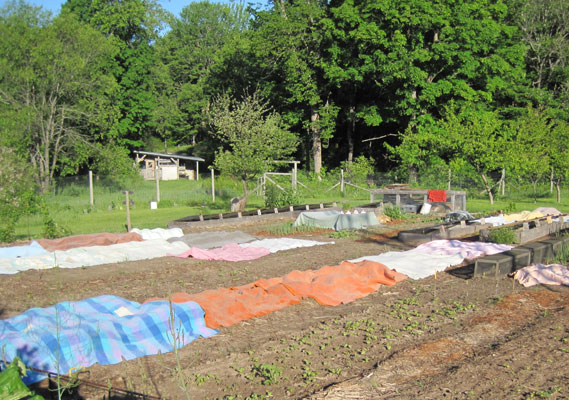 We've had a short spell of frosty nights and some truly beautiful warm enough/cool enough sunny days for great working out of doors. Thankfully the frosts were light though it did require covering a good portion of the garden for four nights. It's a bit late in the month for frost but not all that unusual. Many plants are still in their protective cold frames; easy to manage. But this year with the very unusual heat (we just don't get 80 degrees in June!) (well, we didn't used to...) things like potatoes and beans and corn, a good portion of the garden, were up and running, spurred on by the heat and the rain, and not at all up to being frosted. So the stack of old garden blankets and sheets were brought out, with not one extra left over, and everyone made it through with no damage. Today they were dried and back in storage as the temps are again rising, with more 80 degree days forecasted. What a roller-coaster ride.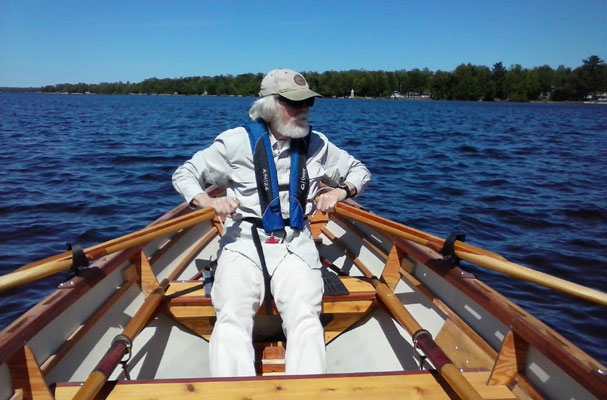 And off for a ride we went - a mostly calmer one - in the dory. Yesterday was such a beautiful day, sunny, in the upper 60's with just a moderate wind we decided to head out to the Lake. We had thought about going to Lake Michigan but the wind was just a bit too brisk for comfort in the wind-sensitive boat so back to Indian Lake. It was a great row, mostly calm, except when it wasn't, depending on how close to shore or in or out of the wind you were. We alternate rowing in 1/2 hr shifts. There were some people on the beach, in the water, in kayaks, enjoying the day and the sunshine. Wonderful to see. Many duck families, too! A very pleasing outing, and likely the last in the "big" boat as the next time out will probably be in the kayaks and/or Steve's new rower. I think summer is here!
---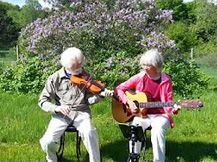 June 10, 2020 - Nice Rain!
It's been a dry spring here this year so we really welcomed a generous inch of rain last night, with likely more coming in tonight. Hard to believe it came all the way from the Gulf Coast! It still had a good wind pushing it along but we're quite protected down here in our valley. I also didn't think it could get any greener out there but it looks even brighter today, all freshly scrubbed clean. Smells great, too.
But there was still plenty of green, along with the gentle lilac, for our video background yesterday. What doesn't show is the good number of yellow Eastern Tiger Swallowtails having a great time among the lilac flower, joined occasionally by a Monarch. I even spotted one of the beautiful black Swallowtails. In keeping with their short jaunts here and there from flower to flower we did a short set of two tunes - the gentle "Simple Gifts" into a livelier "Davy Knick-Knack", a couple of tunes we always enjoy playing. LINK.
---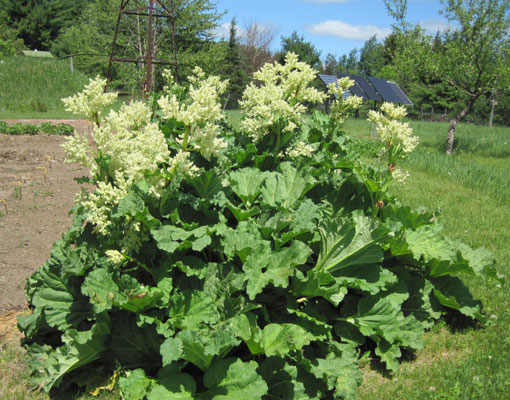 June 7, 2020 - And Then Cold
Life is always interesting here in the northwoods. And we don't mind at all a few cooler days for outdoor work, though I could have done without the frost last night. But it was a light one and the garden well covered. This is a routine I'm well used to. It didn't faze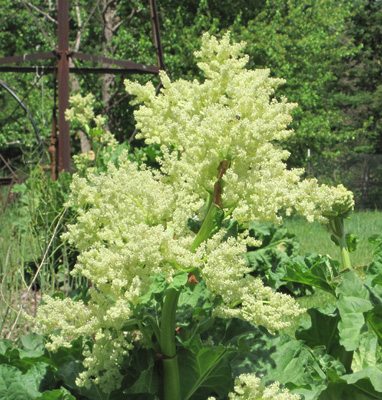 much of the outdoor world including the ever-hardy reliable rhubarb. What a plant! We love that lively flavor in the spring when fresh rhubarb sauce is mixed with our canned apple sauce. It never lets us down. But an often overlooked aspect of rhubarb is its flowers. Many people pull those stalks off as soon as they appear but I let ours go. We have plenty of rhubarb growing but I haven't noticed the flowers affecting the harvest anyway. And they are lovely flowers on those sturdy robust stalks. Not for the timid is rhubarb, even when flowering.
But the main reason I let them go is for the pollinators - they LOVE the flowers, especially appreciated at this time of year when most of the trees are through flowering and summer flowers are still waiting for warmer weather. It doesn't show in the photo but that cloud of white bloom is buzzing with all manner of buzzer types.
Of course one can't miss the other queen of the blossoms right now - our wonderful lilacs. Planted as little inexpensive starts some 40 years ago our main lilac bush/patch south of the garden delights us no end. We have many lilacs growing by the house, too, and when the weather and breeze is just right the smell is mmmmmmmmmmmmmm. An amazing plant that is beautiful in all its seasons.
---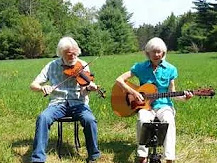 June 3, 2020 - Back to Hot
The ups and downs of the weather in all its moods is hardly news, but these big swings up to 80 degrees this time of year still takes some getting used to. You just have to take each day as it comes and enjoy whatever it is. And the joy is very easy with the incredible beauty surrounding us. Dealing with the mosquitoes, black flys and ticks on the other hand ... well, we're still working on that. The techniques do come back and we adapt. A strong batch of homemade Anti-Itch helps.
Yesterday we thought we had the perfect morning for our mid-week Music @ ManyTracks video. A beautiful day, not too hot yet, clouds on the horizon but clear above, a light breeze, and a beautiful spot picked out. Just right for our chosen song, "The Whistling Gypsy Rover". And it was nice, except the edge of the woods where we decided to set up blocked what little breeze there was and it turned out to be a popular spot for a healthy population of hungry black flys and mosquitoes (with a few ticks to top it off). Good thing we love this place, and we certainly remember years when it was worse. But we didn't stick around for another take or to admire the view when we were done. We really do enjoy being able to play outdoors however. Here's the LINK to the latest. Happy welcome to June!
---

May 31, 2020 - And Then Frost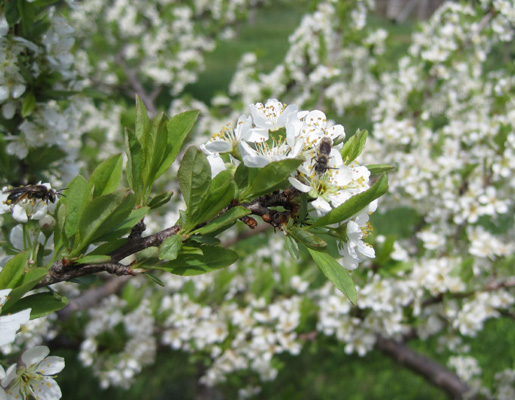 May decided to end its above normal temperatures with an all too familiar cold snap, heading down to 25 degrees last night just to keep us gardeners on our toes. So out came the old blankets, buckets, cold frame windows. And the garden came through just fine. Too bad about the grapes which had started growing, and the gardener forgot to cover. Sigh... But it appears the orchard did fine with plenty to appreciate and admire. Though most of the trees in the orchard are young, planted and grafted in the last three years, the full grown bearing trees get all the attention right now as they come in and out of bloom in succession - pears, plums, cherries, apples. And this year the blooms are FULL of a wide variety of pollinators - a cause for great celebration. The last years have been a noticeable lack overall of pollinators. We certainly had them, we had fruit and the various flowers and blossoms had attention, but not in the numbers we used to. This year it appears the numbers (and variety) are heading back up. I was particularly happy because both the pear and plum blossoms came and went at a record rate, likely due to the unusual heat. Thankfully the pollinators were busy during peak time.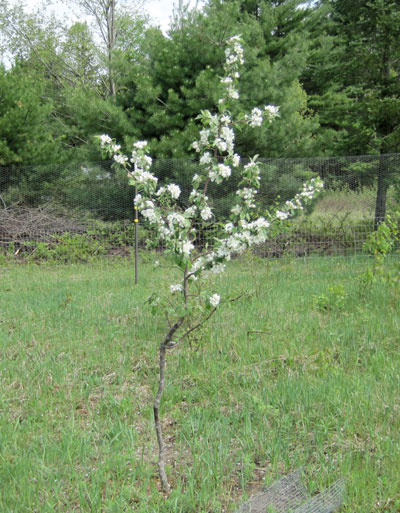 But in all of this grandeur I suddenly realized there was a small apple tree in the new section that was in full bloom, and fully clothed, too. What a surprise. This apple, grafted only 3 years ago, didn't start out with just the usual few blooms of a young tree, it decided to go all out and no question about it! Not only that, it was the very first apple to bloom, with only a scattering of other trees starting. He was making sure he got the full attention. And he certainly did. Now normally a 3 year old is too young to let bear fruit. But the wild rootstock is strong and vigorous, and the variety grafted on is strong and vigorous (a great combination). It's a hardy Canadian bred variety named Norkent that I've read great reviews of though have never tasted - maybe this year! If the blossoms produce fruit then I'll let it keep some, maybe 4 or 6. I really should nip off some of the blossoms but I'm still in amazement, and admiring, this precocious young tree. I've been pointing him out as an example to some of my other, older, larger, and yet to bloom trees. See what you could do?! Oh well, they each have their own timeline, and my urging isn't going to change that.
---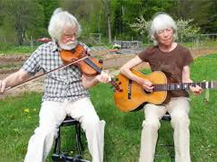 May 28, 2020 - Plenty Warm
As much of a surprise as it was it didn't take us long to get used to temps in the 70's this second half of May. But the last few days of 80 degrees is a bit much for us Yoopers, even in July let alone May. Today brought the forecasted and much needed and welcomed rain (and a tremendous explosion of mosquitoes!) (those aren't welcomed) and cooler temps. No complaints really on the heat because they're talking frost this weekend (ah, the upper Midwest weather). But yesterday we realized we'd better get out early for our weekly video before the heat kicked in (which it did). The season chose the song, the Garden Song by Dave Mallett, which pops into my head a lot in May as I'm bringing the garden back to life. It's such an appropriate and cheery song and well liked. So we got set up out by the windmill north of the garden with the blooming plums a beautiful backdrop. And a beautiful slightly overcast 70 degrees. The only problem was, the mosquitoes and black flys loved this time, too. We've played out in heat and wind and sun and damp and cold. They're doable, if sometimes challenging. But playing while the bugs are enthusiastically biting is something else. We made it through the first take OK but definitely distracted. Mmm. Let's try one more. We wiped and shoo'd and took a deep breath. And ... a breeze came up rustling hair and bugs. Ahhhh, that's better. It didn't do much about the ants crawling up Steve's legs (reminder, check for ants before choosing where to sit) but the bugs abated for those few minutes and it was a take. We dismantled and just as we got the last item in the house a little shower spattered down. Sometimes things just work out. Here's the results: LINK.
---

May 25, 2020 - It's That Time of Year
Although there is some variety to our days with numerous choices of what to work on there are several projects that are pretty regular this time of year. You can find me most every day out in the garden weeding, readying and planting. While Steve has been working on replenishing our firewood supply, with breaks to work on his boat. With this unusual heat wave we got a record number of grafts (70!) done in the orchard, a good week ahead of usual, now finished and ready to grow. Nature is having a great time all around us, and so are we.
---

May 22, 2020 - Off to the Lake!
Summer is here - 74 sunny degrees! From late winter to early summer overnight; guess we're skipping the inbetween spring temperatures this year as these warm temps are continuing. It's a bit disconcerting but we're happily adapting. And nature is on overdrive catching up for the early cold. Every moment has new leaves, new buds, and the first early blossoms on the Juneberries popped out today, others getting ready. It's an exciting world and we realized it was plenty warm to get out on the water. So I set aside my garden/orchard chores and Steve took a break from clearing and firewood and off we went with our trusty rowboat to Indian Lake for our first row of the season. It was short but fun. A nice light wind made for choppy seas so we doubled up on the oars for an energetic row out into the waves, with a few whitecaps as we got farther out. Then turn around and a faster and calmer row back with the wind and waves helping us along. Usually we take turns rowing while the other navigates and relaxes, but the boat has two rowing stations and two sets of oars (Steve prefers his slightly longer ones while I like mine) and as I was having a bit of a challenge getting us off the shore we decided to double up. It felt good both to be out there and to start getting those rowing muscles back in shape.
---

May 20, 2020 - Short Sleeve Warm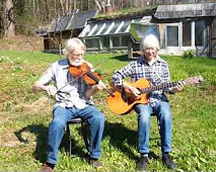 We do seem to focus on the weather a great deal, but it is a big part of our lives. And today was a special one - the first really warm day of the year, with more to come. It may change overnight but meantime we're thoroughly enjoying being in light cotton clothes. Shorts even! And it was our first time to be warm recording outside. Didn't even mind the bright sun in our eyes, and the beginning black flies even left us alone for awhile. A "warm" set of light tunes set the stage for a beautiful day, from us to you. LINK.
---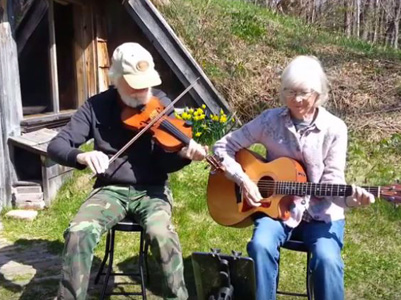 May 13, 2020 - Finally, Feels Like May - with a Smile
It may not be what many folks think of as "warm" but compared to the record low temps we've been having (17 degrees last night) today is almost downright balmy with possibly reaching 50 degrees [it did!]. In celebration of the easing of the cold spell we chose "When Irish Eyes are Smiling" for our weekly video, smiles included. LINK. Then off we went for an enjoyable day working outside with a vast array of spring projects to choose from. No mosquitoes or black flies yet - what a beautiful day!
---

May 8, 2020 - March Returns
I'm not sure if Nature is making a point that each day is indeed different from the previous, or if she decided to do March over again. No matter the reason, there was no question of working outside with highs in the upper 20's and a brisk north wind, though the sun did come out now and then to cheer the spirits. It was a good day to be inside and we both enjoyed our plentiful indoor projects.
---

May 6, 2020 - Dragons in the Pond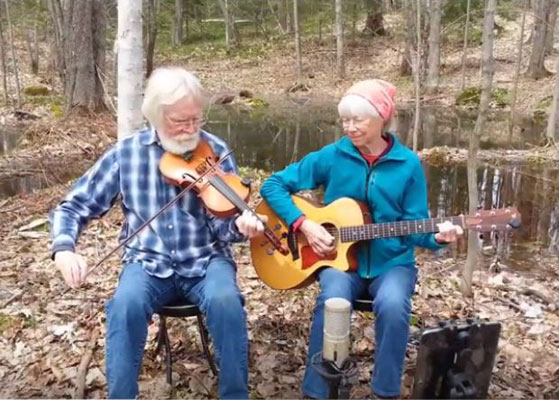 Another week now and the pond is receding fast since there's been no new snow or rain to replenish. Wanting to do another video there before it disappeared or became too covered with pollen we ignored the still too cold weather and settled ourselves pond-side. As we began we each realized our chairs were slowly sinking into the soft, barely dried ground. But the show must go on! And since there are certainly little dragons-to-be in the pond "Puff the Magic Dragon" seemed an appropriate song. And to sooth the little beasts a lilting but gentle "Planxty Fanny Power". Click on the picture to go to our Recordings page where both new videos are listed. We plan to continue our midweek Music @ ManyTracks videos, at least until we are out in live personal public again. Meantime, we're enjoying connecting in this way.
---

April 27, 2020 - Our Own Crawdad Pond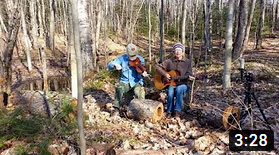 Well, I doubt there are any crawdads in our small seasonal pond but there are Spring Peepers, a few who have just started with their evening calls (when it's warm enough). And the birds and small mammals (maybe bigger ones, too) like it. So do we; it's right out our back windows and we admire it greatly, our short-lived waterfront. So we decided to do our first outdoors video of the season by the pond, even if it wasn't really warm enough it was fun. And the Crawdad Song seemed to fit. Who knows, maybe there are tiny crawdads in there. Maybe they'll eat the mosquito larvae.
Here's a link to our video list: www.manytracks.com/Music/recordings.htm. Or click on the picture here to go to this one.
---

April 27, 2020 -- The rowboat has a new rudder ...
After researching small boat rudders I finally came up with a design that I think will work as a rowing rudder on this boat. Because rowing doesn't stress a rudder nearly as much as sailing I made the blade out of some high strength 6061 aluminum - a repurposed, salvaged 'Curve Ahead' road sign. The rudder is controlled by an indexed push-pull tiller, can easily be raised or lowered from the cockpit and will swing up on its own if it hits something in the water - like the bottom. It took me about a week in the shop, from design to done. The rudder head is made of marine plywood and the rest is stainless steel and aluminum. Everything but the gudgeons and pintles came out of our salvaged & saved bins. The main pivot pin is from an old photocopier; the tiller rod was a fiberglass driveway marker.

Next up is to work on lightening and balancing my long oars.

---

April 26, 2020 - Our Nearest Neighbors are Back!
There is a fenced field beside our garage at the end of the road (about 1/4 mile from our house). When calving starts the neighbor farmer moves his cows into this field, and we get to see the new calves and watch as they grow and explore this new world of theirs. There are just a few so far (that's one on the ground between the two big cows). It's a highlight of our walks to the mailbox which is by our nearest human neighbors who also returned today from Florida. We're happy they made it back, too.
---

A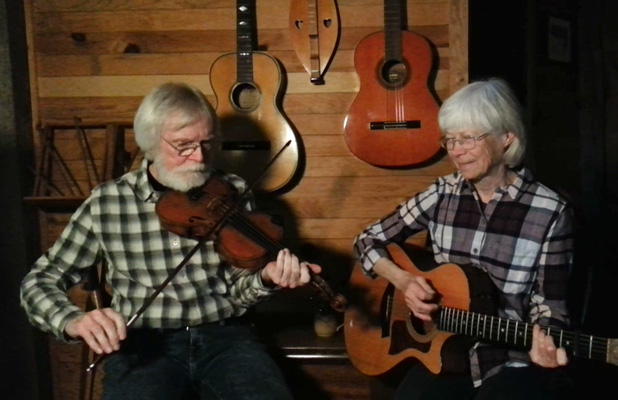 pril 22, 2020 - A World of Our Own
A timely song of the 60's that feels a lot different today than it did back then. I had modified one verse and added another, but singing it now during our current societal lifestyle brings a whole different meaning to the words. It makes me laugh when I sing it (which isn't necessarily a good thing). I hope it brings a smile to you, too.
Find the link to this newest video (and the others, too) at: Music at ManyTracks - YouTube. Cheers from Steve & Sue's recording studio.
---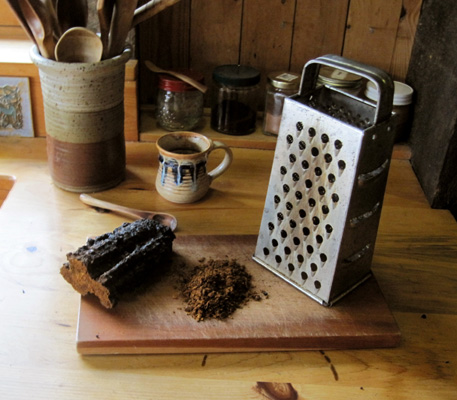 April 20, 2020 - Chaga Tea

We were familiar with Chaga from several directions. Many years ago we were involved in the local PowWow scene. Chaga was (is) a popular pipe and incense ingredient, having a pleasant sweet smell and Native American significance. And a friend uses it as a healing herb for arthritis. But it was my fairly recent interest in growing edible mushrooms that brought Chaga into our kitchen, and it didn't have far to travel as it is growing on one of two large birch trees that flank the back of our house. They were there when we chose this spot to put our dwelling. The Chaga came later, growing in and around a fairly large hole on the south side of one tree. We knew it was there, of course, but didn't know it was a mushroom, albeit quite a hard one. It's not what one normally thinks of as a mushroom. Our only thought about it was to hope that if the tree chooses to break at that spot that it falls away from the house.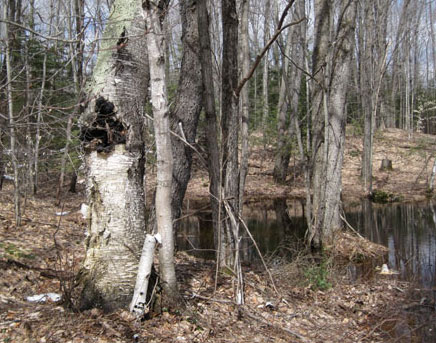 But in my reading of the ways of edible mushroom growing I came across a piece on harvesting and processing Chaga for tea. That interested me so I went over to our birch tree to see if I could get a piece of this hard black mushroom. Thankfully it's within easy reach. Sure enough, a good handful sized piece broke off without much trouble. Then I searched online for some instructions on how to prepare it. My next big discovery was that Chaga is definitively "in". There were posts all over, most best ignored as is the way of the internet. But there were a few well informed, personal experience sites so I read those and decided on my own method.
Thankfully, it is not a difficult process. Using a kitchen grater I soon had a little pile of what looked similar to rough coffee grounds. It took a bit of muscle but was quite doable. I put a tablespoon or so in water in a pan and put it on the woodstove to simmer, not knowing if I'd even like it. I'm an herb tea woman, not much fond of coffee, and it sounded like it was more coffee than herb tea. But I kept an open mind. The brew turned a very dark color and I not only liked it, Steve did, too. It's a bit of a mild bitter flavor but not overly so. A little honey takes the edge off the bitter if you want. The next few times I kept track of how much grated Chaga, how much water, and how long a simmer so I could have some consistency in the future. It's not an exact science considering the many variables of particle size, age of the chunk, how much water, how hot, how long it simmers, etc. So it varied. But it was fine every time, just a little more or less strong. The last time I made it I used a heaping tablespoon of ground Chaga in 4 cups of water, simmered for about an hour then left in the pan for maybe several hours. Pour the very dark liquid off the grounds (which settle nicely at the bottom) into a jar, and store in refrigerator (which in our case is still the cool root cellar). Use as you wish. I like it straight thinned with water, in a small cup made by a local potter, sipped throughout the day or evening. Steve likes it in his everyday drink which is diluted orange, or other, juice. As he uses a clear glass mug for this the color is a bit odd but the flavor is good. He's tried it is his coffee and that was OK, too, but as his coffee has other amendments he prefers the Chaga in his juice drink.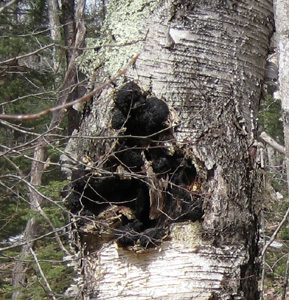 That first Chaga piece I harvested I hung in a cloth bag in the pantry between gratings. But I was concerned about it getting mold as the pantry was warming up now (mid 40's) and as hard as the Chaga seems it is a live mushroom. Plus it was getting harder to grate as is dried. So I grated up the rest of it, spread out and dried it in a glass cake pan (which hasn't seen a cake in decades) by the woodstove, and stored it in a jar. As I'd read one should only harvest when the Chaga is dormant (late fall through late winter) I decided to break off another piece right now, grate and dry it. It's much easier to grate when fresh. Our Chaga on the tree isn't real large and I don't want to inhibit it from continuing to grow so I didn't take too much - a small hand-full size piece. But I now have 3 cups of the fresh dried grated Chaga mushroom to keep us in brew (hopefully) till next harvest season. It's a nice addition to the homestead world.
---

April 15, 2020 - Video Time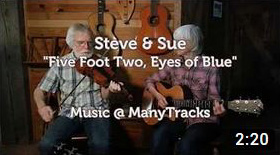 This week's video is an old (as in 100 years old) standard - "Five Foot Two, Eyes of Blue". I spruced it up a bit by adding another verse. We decided to travel a ways to record this one, all the way around the corner from our original spot. It did have a bit different sound, and lighting challenges, but fun none-the-less here at the: Music at ManyTracks - YouTube recording studio.
---

April 14, 2020 - Potato Chitting Time
The ground is once again covered with snow outside but gardening continues inside. The stored seed potatoes came out of the root cellar and new ones arrived by mail, just in time to be spread out to begin their pre-season growth. This gives them a little head start before they are put in the ground, which won't happen until the end of May when the ground, and weather, warms up. I enjoy this little task where I can imagine the summer, green growing plants, and fall's harvest. Each variety (eleven this year) is different which makes it fun, if one likes potatoes, which we do!
---


April 12, 2020
Happy Easter
Happy Spring
Happy However You Make It!
Love, Sue & Steve

---

April 11, 2020 -- The bowl is done ...
While cutting firewood last fall I saved a couple of particularly nice pieces of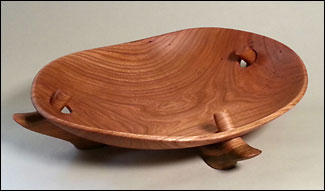 wild black cherry for carving. In January I began roughing this bowl out from a 50+ lb. half-log and now, here it is, a bowl! I have enjoyed working with this wood; it has beautiful grain and has shaped up nicely. I have one coat of pure tung oil on it and over the next few weeks I'll apply several more coats. Tung oil doesn't produce a shine, more of a glow, and that seems appropriate for this bowl. I'll leave it in our south-facing front window to cure and the cherry will naturally darken to a deeper red color over time.

I'd say that this bowl, tentatively titled "Cherry Nest" will be ready for its new home by the end of April. Click on the photo to see more images of this bowl.

---

April 7, 2020 -- Golden Slippers on a Rainy Day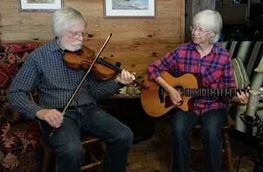 Today was cool with scattered rain so a good time to create another music video or two. The first is "Golden Slippers", an 1870 song by James Bland, popular in that era, that was over the years to become a popular and commonly played fiddle tune. We like and do it both ways, as a song and a tune, sure to warm one up no matter the weather. It flows into one of the oldest and likely most played old-time tune called "Soldier's Joy". Steve (who is resident videographer and computer guru) put that one up on our ManyTracks YouTube Channel today. Link at: Music at ManyTracks - YouTube
Soon the second April video will be online as well - a song we've loved for many years, "Night Rider's Lament" by Michael Burton. We learned it years ago from a wonderful guitarist singer friend so in addition to simply enjoying the song it also brings back good memories of a good friend. We hope you enjoy these as much as we do.

---

April 6, 2020 -- Rowboat outfitting - almost ready ...
Over the winter I managed to collect a few things to finish outfitting my 'Adventure Rowboat' so that as soon as it warms up enough I can begin work on the boat. I did a lot of research and decided to buy a Mantus Dinghy Anchor and enough 5/16" anchor rode (rope) for the water depth in the areas I'll spend most of my time rowing. Also on the bench are a few bits and pieces intended to make my late summer expedition (row my age in miles (76) in 48 hours) safer and more enjoyable. I am trying to discipline myself by not working on the boat until my bowl carving project is done. I'm hoping that will be in the next few days but the forecast is for nighttime temperatures in the low 20's this week so I may have to wait a while for warmer days. Let's see, what else might I need for the boat project? I'll be posting the boat project here:
once I do get started.

---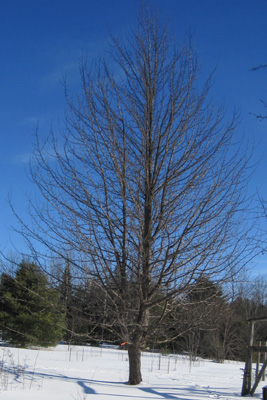 April 6, 2020 -- Big Pear Gets a Big Trim
When we first moved here more than 40 years ago we planted some apple trees and a pear. I don't recall the pear variety but it died to the ground the first winter or two. The unknown but hardy rootstock regrew to become a beautiful large multi-trunked tree and prolific producer of inedible little fruits, aptly named 'chokepears'. Forward many decades and I became much more interested in fruit, edible (to us) fruit, so as we got into grafting I decided to graft some known pear varieties onto this now rather old tree. Of course, we couldn't graft onto the ideal upper branches, and even if we did it would be only for the birds and squirrels as we wouldn't be able to reach the fruit, the tree being now 40 feet tall. Undaunted, I chose to graft on the lower but quite shaded branches that we could reach with hope they would eventually grow anyway. Young grafts much prefer sun and upper dominance to grow well. Soon the venerable old chokepear sported ten new little grafts.
We aren't the only ones who have enjoyed this tree. The the squirrels love the fruit, as did the deer before the re-fencing project put the tree inside out of reach, and likely birds eat the fruit as well. And it is obvious the woodpeckers and sapsuckers also love the tree, peppering the bark with myriad little holes, enough over the years as to possibly weaken the tree. The past several seasons the top leaves have been turning brown early. Most of the tree is still looking good and healthy but this has been a concern. I debated taking down the largest and most riddled of the three trunks hoping that it would help put more energy into the other 2/3 from the extensive roots system. It would also really open up this overgrown tree for more light and air, and give those little low grafts a better chance. I really don't know, but we had success cutting back the old apple trees so I decided to do it. It wasn't an easy decision because it is a beautiful tree that we really like.
This past week, once the snow receded from the base of the tree, I started pruning off side branches of the limbs of the chosen trunk. This is a very tangly tree, all branches well tangled into and around each other. My plan was to get as much cut off as I could reach and cut through with my pruning saw to hopefully limit the damage on nearby branches of the remaining two trunks, and most particular try to save the grafts on those branches, when the big trunk came down. Of course, the top priority was simply get it down safely and that would be Steve's domain. And then there were the nearest other fruit trees - were they far enough away, out of harms reach? I hoped so. Thankfully Steve was more sure they would be fine, as would the fence. I trusted him to put it down where we wanted it, he'd certainly done enough of that, but this wouldn't be an easy cut. The large trunk to be sawn was four feet from the ground, close in to the other two.
But today was the day. It was calm, cool but not too cold, cloudy. I went out and finished my part then got Steve to come out and we decided on a strategy. I went to get the taller ladder and he went to get the chainsaws. I took a long last look at this wonderful tri-trunked tree, then Steve started in. Judiciously balancing on ladder and limbs he started taking off what limbs and branches he could reach. I pulled a few with a rope as he cut to get them to come down in a bare spot instead of taking out a lower good limb. So far so good. I was amazed that several grafts right in harms way were still there. Then came the big cut. ... and down it came, right where it was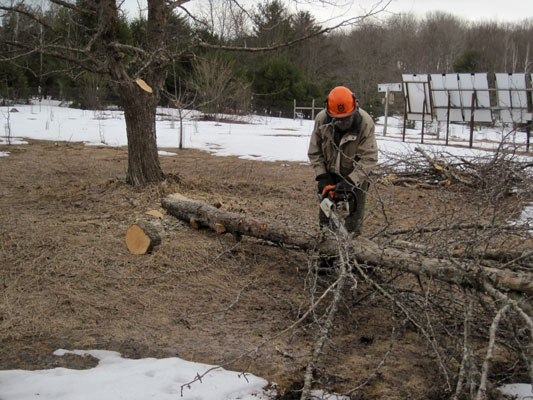 supposed to, no damage to the remaining limbs, and not even very close to the other trees. Sigh of relief. Steve went on to cutting up the trunk and limbs. I hauled some brush then went in to make lunch.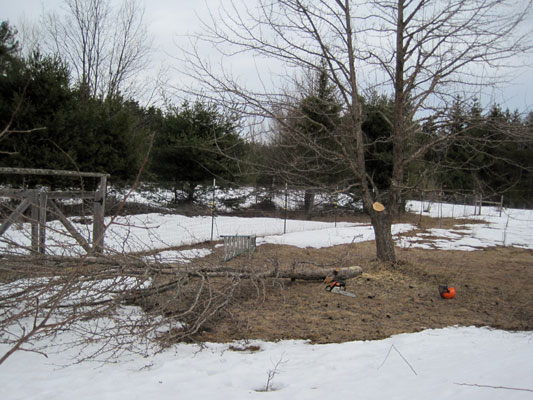 It looks a little out of balance but not as bad as I'd feared. It certainly is more open and it will grow into that bare area. In future years we'll take down a few of the east branches to help balance the tree. The little brush loving birds, and squirrel, will get a big fresh addition to their nearby home and we get a really nice pile of hot firewood, and probably some carving wood. All in a days (or several days) work.

---

April 1, 2020 -- Happy April! ManyTracks now has a Channel.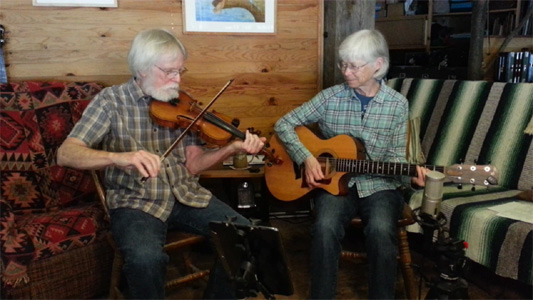 We celebrated the end of March by recording and uploading several music videos to YouTube - our entrance into the digital music world. It seemed a nice way to share and keep in touch with our family and friends, and something we'd talked about doing for some time. And now was the time! Here is the link: Music at ManyTracks - YouTube . All of our videos will be listed there (just 3 right now). You can also search YouTube for ManyTracks or our names. And we'll have links on our Music Audio/Video page.
This was an interesting project, learning the process, the software, the hardware. I expect it will be easier as we get more experience. We hope to do a few more before spring and outdoor projects call us. The snow is melting fast and the bare patches are growing. Steve played a bit with the boat today during breaks from bowl work and I got out in the orchard to put on some more tree tags. Life is good here on the homestead.

---

March 27, 2020 -- What a Day!
Snow melt is such an interesting time and today was a major step in that direction - clear, sunny and warm, calm, beautiful, we even made it up to a real 40 degrees in the shade! Warmer in the sun. We all celebrate each new patch of snow-free ground, happily walking on snow-free ground whenever we can. LilliB is thoroughly enjoying the expanding freedom of access, in and out of the house, checking out fresh smells and new possibilities. By days end there was noticeably less snow.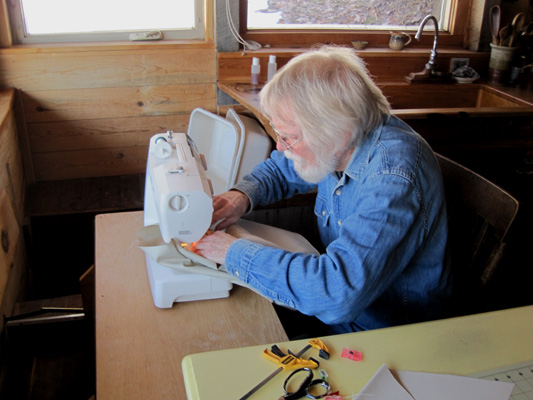 In the morning I turned the "sewing room" over to Steve as he'd been patiently waiting for a break in my sewing marathon to work on a canvas bucket for the boat (which turned out really nice). In addition to storing a shiny new anchor right now it will double as a sea anchor should the need arise. I grabbed my own bucket of tree tags and headed out to the orchard. Each to his own passion!
Last night's 20 degree temps made walking on top of the snow a breeze, and the added foot or so an asset for reaching branches. I'd remade these tree tags over winter since what I'd done last summer hadn't worked so well, off they'd come for a redesign. When I only had a few dozen trees tags weren't needed. And even now I know my older trees well and mostly remember what is grafted where of the newer additions. The year planted or grafted, however, seems to not be so firm in my mind, and it's nice when working on them to know how old they are. Often I'm amazed at how long its been. I do have a map of it all but the trees now number 85 with an additional 48 branch grafts. And as the grafts grow they get harder to detect just where they start. So in addition to wanting to know just what variety is where, it's even more important to know where the grafts are so I don't mistakenly prune one of them off. And it was a great excuse to be in the orchard and get reacquainted with the trees as they emerge from winter.
As I was pleasantly standing in the warm sun, attaching a tag I heard a familiar call off to the north. First thought was turkey, but a minute later it connected - crane! The first sandhill crane of the season. As I was searching the sky to get a glimpse of this very welcome returnee I became aware (it wasn't like it was hard to miss) straight over m
y head from behind, just above the trees, a mature bald eagle, sun clearly highlighting the white tail and head, soared on by, to gracefully take a few laps just off our north border before heading off, regal as ever. I stood in awe for several minutes before returning to my my task. A very pleasant day taken to a higher level!
We topped the day off with a real nice walk in the warm sun, down the road, greeting our neighbor cows, enjoying our peaceful neighborhood. Later as I was taking a photo of one of the new tree tags in the orchard a local chickadee dropped in to say Hi. Or maybe just for the photo op. But we both knew the real reason - sunflower seeds? This is the human that stores sunflower seeds in her jacket pockets. Unfortunately for the chickadee I didn't have a jacket on. Oh well, next time, nice to see you anyway. And off it went.

---

March 26, 2020 -- Gardening Season Begins!
There is still a foot of snow on the garden, or there was a few days ago when I dug a welcomed bucket of fresh carrots from under the snow and mulch. The snow is melting fast though with these above freezing days and some nice rain. But my gardening season doesn't wait. It has begun, as it usually does, inside. In a way it never ends with lettuce and parsley and other green things growing in the greenhouse all winter. But this is the new crop, the first young fresh seedlings of 2020 - lettuce, planted just 5 days ago. They are an enthusiastic bunch, from seed I grew this past season, a variety called Red Tinged Winter. It's my favorite fall-winter-spring lettuce; the kind we've been eating all winter (and still are). When those first seedlings emerge it feels like spring no matter that it is still white outside (though the patches of bare ground have begun).
And it won't be long before many more seedlings join in. Today I did my main planting - peppers, cherry tomatoes, flowers, herbs - nine pots of anticipation and a flat of onions. As it's still a bit cool at night in the greenhouse they all get to start out in the warmth behind the woodstove by the chimney, pushing kindling and drying boots aside to claim their spot. When they emerge they'll head back out to the greenhouse where there is more light and kindred spirits growing. But that will be a few weeks away, and more for some of them. Today it was just me and the seeds and the dirt - a happy combination.

---

March 23, 2020 -- Is it a bowl yet?
It has been a while since I posted progress on this black cherry bowl. Over the last week or so I have been working on it a little more regularly. It seems like some bowls get to a certain point and then either I'm unsure how to proceed or life's events get in the way of carving. Both situations applied to this bowl.


It isn't so much that I don't know what to do next as it is being hesitant to do something that will mess up the bowl. The more time I have invested in the project the more carefully I seem to consider my next moves. In this case I couldn't proceed with carving the inside of the bowl until the little nubs on top were carved down to close to their final size. Once that was done and the inside was pretty much shaped the way I wanted it and smoothed I could start thinning the whole thing down to 1/4" by removing wood from the bottom. That allowed me to have room to work on the upper surfaces of the base. That's about where I am right now.

Today I'll continue thinning the bottom and then refine the shape of each foot. Coming soon is drilling tiny pilot holes around each upper support nub so I can see where they will meet the lower supports. So, onward! Way more carving info than I intended and I suppose it might take away some of the romance when thinking of some old guy carving away in the north woods, but I suppose even Michelangelo had to face some similar issues. Interesting thought: Michelangelo and I, two of a kind - sort of. Ha!

---
March 17, 2020 -- Happy St. Patrick's Day!

---

March 16, 2020 -- Looking Ahead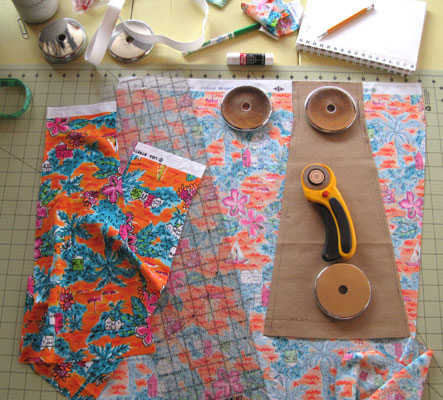 The snow is melting and it will be summer before we know it. OK, we do have a ways to go before we'll be out on the lakes (on water not ice) but the snow is receding and the temperature is showing above freezing now and then. And I realized I better get to those winter sewing projects before the ground is bare and my focus switches to outside. What better one to start with but a lively cheery bathing suit fabric. It looked a lot less wild on the little swatch I'd ordered from but the turquoise had caught my eye - it would go well with my kayak. Somehow I'd missed the neon pink and orange. It now reminded me of a bathing suit and matching pants (bell bottomed, of course) I'd had back in the late 60's. Oh well, I have plenty of muted "blend with the woods" fabric for hiking clothes so why not go with the wild. Besides, the somewhat odd design pleases me. If it makes you smile go for it!
When I bought the material I had a vague idea of a regular two piece suit made of a plain color with s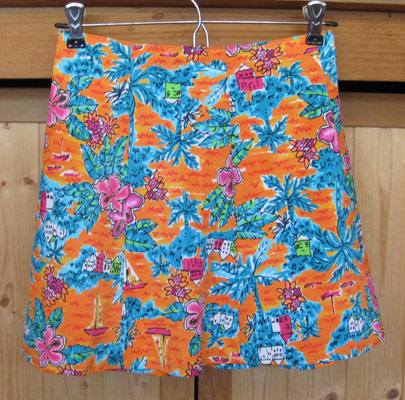 ome sort of cover made of the print, but I hadn't figured out what. Last year I did make the plain bathing suit bottom, worn with a stretchy tank top which worked fine. I don't swim much but kayaking is definitely a water sport and it's nice to be able to slip into the water on those rare warm days when the water is likewise warm. Now it was time to decide on this fabric, which turned out to be a short skirt, something to wear when I get off, or out, of the water. A pattern wasn't too hard to come up with, it would be six gore similar to my regular dance skirts, one of which is conveniently made of similarly stretchy material. It took a bit of tweaking but it was nice to have a project that didn't take so very long. Now I just have to come up with the top, and wait for a bit warmer weather (though the skirt looked pretty snazzy over black tights which one might want on the all too typical chilly summer water days).

---

March 7, 2020 -- Is it spring yet?
Just a quick post to let you know that even though the daylight savings time change is coming tonight it just doesn't feel like spring up here yet. In the photo the car is parked a few hundred yards down the county road from our garage. Our local road crews have been great again this winter. We have only needed to really dig out a couple of times. The temperature today topped out around 30° and it was a nice, sunny day.

---

February 29, 2020 -- Happy Leap Day!
And a bright sign in the greenhouse of Spring to come with the first Daffodil bloom! It's a beautiful sunny, melting, warm (almost above freezing!) day with temps in the mid to upper 30's forecast for this coming week. Quite a rise from the cool -4 this morning. Folks who tap maple trees are getting their equipment ready and anxiously awaiting the hopefully soon start of sap season. Our chickadees and bluejays are coming out of the woods earlier each morning to meet me in the orchard for a daily sunflower treat, and some unknown arrival was singing gustily and wonderfully from the top of the maple by the shop. It is truly a "Wonderful World" and worthy of many happy leaps.

---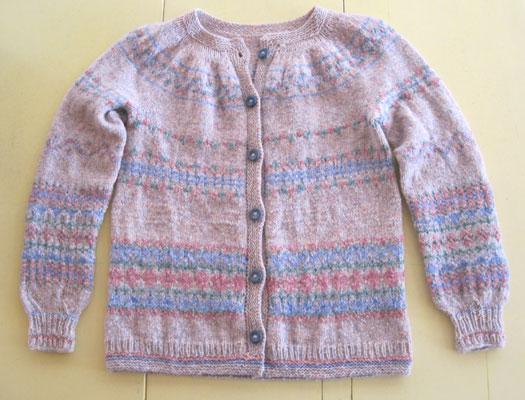 February 22, 2020 -- Ready to Wear!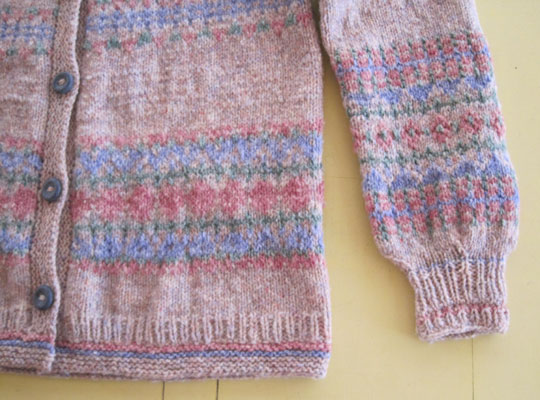 Finally, the last stitch knitted, the last yarn end woven in, the patient project washed and dried, and my sweater is back in business. I added a bit more to the cuffs, another inch to the bottom, and ended with a nickel size ball of yarn leftover. It was a satisfying bit of knitting and I'm happy to have it available to wear once again.

---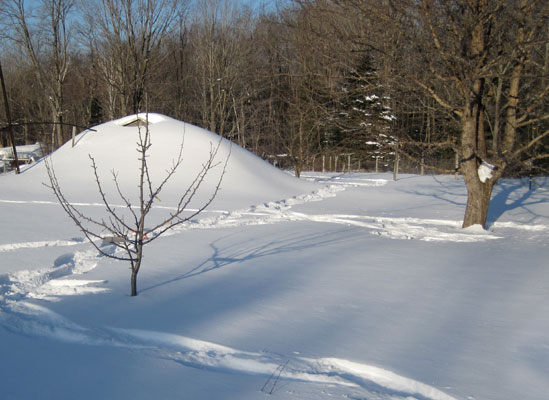 02-20-2020 -- A Beautiful February Day, and a Magical Date!
It was a day to do something special, even if only to admire and enjoy the wonderful clear sunny day, which we did. The batteries were full early, the woodstove banked as the solar heating panels cranked in the heat, and it certainly was cheery out, and in. Though a bit chilly with a brisk breeze I decided today was the day to walk the orchard (on snowshoes - still have more than 2 feet of snow on the ground) and cut scions, the first orchard activity (other than planning) of the new year. Usually I only have a few scions to cut off my own trees, mainly to trade with other backyard growers. But this year our grafting will be from our own trees, onto our own trees.
It may be I want to move a variety from one tree to another, others will be to graft a new variety onto other branches of the same tree. Some are due to change of mind, some simply expanding the amount of a particular variety. A few are vigorous shoots on a graft that are growing where I don't want them to so need to be pruned off. And since I will then have a piece that could be grafted elsewhere why not find a place to put it? This is a "problem" with many of us small orchardists, who get excited about each new variety, each successful graft,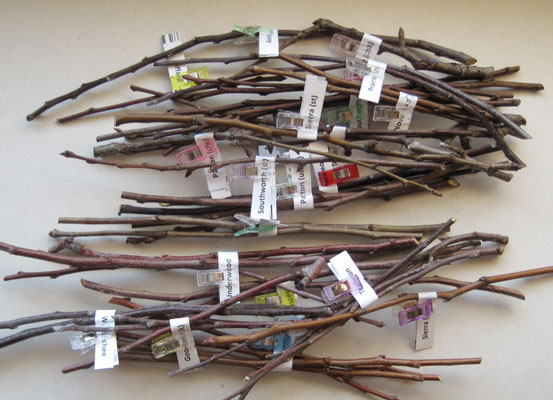 and tend to see every pruning as a potential scion to be grafted somewhere else. I'm getting over that as my orchard is filling up, and I've realized that two varieties per tree is enough and easier to manage. Finally many of the original grafts have grown enough to be able to cut off a piece so I can do this expansion. So that will be our grafting project this spring, about 30 grafts total.
Meantime, the 8" pieces of last year's growth, freshly cut, are now safely stored in the root-cellar, triple bagged to keep them from drying out or being affected by anything else in the root-cellar (the natural outgassing particularly of apples can "kill" a scion). Towards the end of May we'll be out in the orchard, walking on bare ground, on a warm day, re-attaching these bits of twigs which will one day down the road (if all goes well) grow an apple, or pear, or plum. It's an amazing and magical process.

---

February 1, 2020 -- Welcome to February!
We're quite settled into winter with two feet of snow on the ground, plenty of wood in the woodshed, paths that are packed down well enough we don't have to use snowshoes, involved in numerous indoor projects, and enjoying playing a variety of tunes and songs, both new and old. I like this relaxing time of year. While Steve's been working on his bowl, planning additions to his most recent boat, and doing website work I've mostly had two main projects (and, of course, many little ones!) - creating a computer database for my expanding orchard, which will hopefully be easier to manage than sorting through likewise expanding folders and paper; and knitting.
Four years ago I knitted an "in the round" cardigan sweater of my own design. It was a bit of an ambitious project since I mostly knit socks and mittens, but it turned out (after a bit of fine tuning). I was happy with it and have worn it often. It had one feature, however, that I thought would be a good idea but turned out to be not so. The initial reasoning was fine but somewhat limiting. What really prompted me to make the sweater initially was the Manistique Farmers Market where we play music every week from May into September. Any place in the U.P. can be chilly any day of the year, summer included. But Manistique's location on Lake Michigan gives it an added bonus of some nice brisk cold winds. I can leave home in shorts and tshirt then have to change into longjohns and wool toque when we get to town. But there are some really warm days, too, so no complaints. After all, there's hardly ever any snow that time of year.
That's why I knitted myself a warm wool cardigan. And since my mind (rather narrowly) was focused on something that would work well with playing my guitar I decided I wanted fairly tight sleeves. Both to keep the material away from the strings and to fit comfortably under a windbreaker or another jacket. So that's the way I made it. It was comfortable for both those reasons. But, turns out, it didn't slip on or off so easily over a long sleeved shirt, which is also a common item of clothing worn. And when one is also wearing a guitar on a strap, and connected by one or two cords to various sound equipment, being easy-on-easy-off without having to take everything off (instrument and equipment, not clothes) is a real nice feature for changing weather and comfort. And I did wear it at other times, too.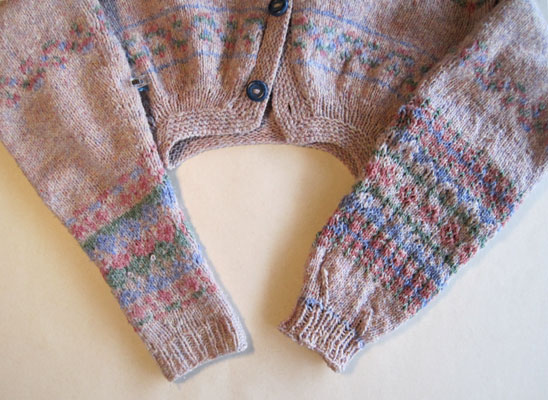 So I decided to redo the sleeves. Which gave me the opportunity to change the design, which for me is the most fun part of knitting. I love planning it out on paper then seeing how it turns out in the wool. One big consideration was that I didn't have any more of the main light heather yarn. The downstate sheep farm that raised and had spun the wool (and made really great yarn!) was no longer doing so. I did have plenty of the colored yarn though so I designed using more color. But it necessitated carefully unraveling (or is it raveling?) the current sleeves to save all the light heather that I could so the sleeves would still appropriately match the main body of the sweater.
And one sleeve is done! I'm happy with the design, and the new sleeve fits well. Tight enough and loose enough. Sigh of relief. The photo shows the initial tight sleeve and the redone looser sleeve. The pattern on the newly knitted part will show better when washed and blocked. Today I'm starting February by starting the second sleeve. I'll be happy to have the sweater once again available for wearing. It gets kind of cold in the winter, too.

---

January 24, 2020 -- Still ...
I came across some minor soft spots in the top of both end loops (see my previous post) and decided that they just were not solid enough to keep in the bowl so the loops are gone. I have carved their inside areas into rough button-shapes aligned with the tops of the support legs as you can see in the lower photo.

The other progress is that I have separated the bottom of the bowl from most of the base. The only connecting points are the three spots where the 'posts' will penetrate through the rim to capture the bowl. This is going a little slower - smaller gouges, files and some knife work. It is a bit of a trick to line up the exterior parts of the posts with their inner parts. I'd like the fit between the holes in the rim and the posts to be reasonably close so that the bowl is held fairly securely in place on the base.

Overall the bowl appears to have stabilized pretty well and has indeed reshaped itself enough that I've had to modify the holes in the base plate where it attaches to the feet. It's coming along a little each day.

---

January 19, 2020 -- Enjoying the Storm
What a beautiful storm we just had. Widespread, I think everyone in the Upper Midwest got to participate. Nice soft, fluffy snow here which wind drifted and sculpted into a wondrous landscape, while we watched from the cozy inside. Well, some of us enjoyed watching. One occupant handled the storm in her usual practical way, after pacing a bit, staring out the window, looking at us and commenting (LilliB doesn't meow, she 'talks', soft and gently), she decided on the best course of inaction. Although I've yet to figure out her language I'm pretty sure she wasn't sharing our joy at the snow.

---

January 17, 2020 -- Still carving ...
It is beginning to look more like a bowl. I have a couple of good-sized bins full of aromatic black cherry chips to show for all the work, and of course, the bowl. The sides are currently about 1/2" thick on their way down to about 1/4" near the rim and 3/16" nearing the bottom.

On the left edge you can see where I have marked a rim reshape. Near that upper 'loop' there is a spot that may want to check if I leave the rim as it is; too close to what was the center of the tree. At this point in the carving process it is important to work more quickly to get the bowl down to near its final thickness. Some pretty strong stresses build up as the wood dries but if the cross-section of the bowl is thin enough the whole thing will gently reshape itself and equalize those stresses. Another of the wonders of working with a natural material.

---

January 10, 2020 -- Bowl progress.
Just a quick update to let you know that I am still working on this black cherry bowl. Although it doesn't look a lot different than the last post I have removed about a half-bushel of chips since then. The yellow arrow points to the area where I did a test plunge cut between the base and the body of the bowl to be sure that the bottom on each side of the base was close to the same level. It came out pretty close. Any minor offset will be cleaned up as I refine the shape of the bottom of the bowl.

The next step is carving the base and bottom to very close to their final shapes. Once the bowl is released from the base it will be nearly impossible to carve or even sand it - too much movement between the two pieces, so timing of the release is kind of critical. In any event, it won't be for a while as there is a lot of wood to remove yet.

---

January 7, 2020 -- Oud restoration is complete.
Referring back to my December 30 post, the oud is ready to go to its new home. The neck joint is solid but not wanting to push my luck I did end up installing a set of six classical guitar strings. I'm including an un-notched spare nut blank and a second set of strings so if the owner wants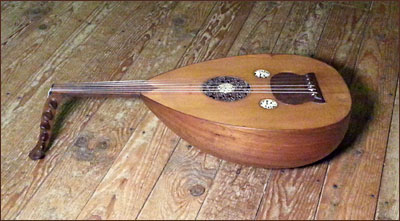 to add them she can. The oud sounds quite mellow tuned as it is, a fourth below standard guitar tuning. The instrument has violin style friction tuning pegs and they also limit the string tension range.

I've attached a short recording so you can hear how it sounds. There was a bit of a learning curve since the oud is fretless. Sue's guitar in the background helped me with the timing. The tune is The Parting Glass a traditional Scottish/Irish piece.

From 'in pieces' to the music room for less than a $15 investment plus, of course, several hours in the shop. Time to get to work on an old diatonic 'Cajun' accordion I picked up at Goodwill. The fun goes on!


---

January 6, 2019
Last fall I noticed these unusual trees along our woods. They looked like they were in full bloom though it was October. While others were dropping their leaves these were doing something else. The tops were full, of not only the usual autumn colored leaves but something more. On closer inspection they weren't doing anything unusual, really, they were just going all out and doing it with prolific abandon. And it wasn't a rare unknown tree, but our common, and loved, Ironwoods. And they had done what trees naturally do, they grew seeds. But this year was a bumper crop and then some. We didn't remember seeing anything like it before. We have a good number of the small (compared to the others) wonderfully shaped trees and they usually just blend in nicely with all the others. But this was their year to stand out, and they did, in spite of being a small tree in a world of large brightly multi colored maples and cherries and bass and birch. Their branches were full to capacity with their unique clumps of seeds. They were in bloom, in a different way, and getting ready to fill the forest understory with little Ironwoods. I didn't take any photos but we sure admired them often.
When we got our big snow the first of December we started noticing the Ironwood seeds on the ground, the light paper-thin encased seed scattered like natural confetti across the wind-blown snow. It was fascinating, and beautiful. We often don't have snow that early so the seeds would not be noticeable on the camouflaged forest floor. But one couldn't miss these. Every day more seeds, from different trees, they seemed to be taking turns. And they didn't let loose of all of them at once, it was a sporadic here and there event throughout the winter months.
Finally the end of December I took photos. The trees had let go of a good portion of their seeds but there are still some left. This makes sense for them, of course. By spreading seed in both time and space there is a better chance for some to germinate and grow. But it also is a boon for the smaller creatures of the forest, a continuing buffet of seed to eat, and us to admire.
---

January 1, 2020 -- A New Year's project ...!
For many years one of my main winter activities was to carve wooden spoons and bowls. Between us Sue and I have carved over 1,200 spoons and I created dozens of hand carved bowls. Many of those spoons and bowls were sold at art fairs back in the late 80's and 90's and through local art galleries. We also sold many spoons from our web site. I have been very fortunate to have some of my larger bowls purchased by collectors and some have ended up in museum collections.

It has been a couple of years since I have created any bowls but this fall
while cutting firewood I came across a couple of trees that begged to be remembered by being made into bowls. There are a couple of large, heavy (at least 50 lb.) pieces of maple safely
buried in a snow bank out behind the woodshed, and on the bench now is this piece of black cherry. The smaller photo shows how much wood has been removed to get it to this point. For scale, the carving bench top is 24" square.

I have a rough idea of where I'd like to go with this bowl; a shallow bowl suspended by a three-footed base. The bowl itself will be a captured but as a separate piece secured by either pegs or possibly loops at the top of the three legs. It's all in my head and I think that's the fun, for me at least. I can't wait (but obviously will) to see how it turns out.

If you'd like to see how my caving process goes you can check out some of these 'In Progress' photos. I'll post progress reports on this bowl right here. Happy New Year!

Letting the chips fall where they may,

Steve
---

December 30, 2019 -- It's an Oud!
A friend and fellow fiddler acquired an older oud (Middle-Eastern stringed instrument) that had been discovered in a mutual friend's basement. It was in pretty rough shape with the head broken off, the fretwork in the main soundhole damaged and multiple open cracks in the top and body. Thankfully the neck break was pretty clean and the soundhole parts were rattling around inside the body of the instrument - along with a significant number of dust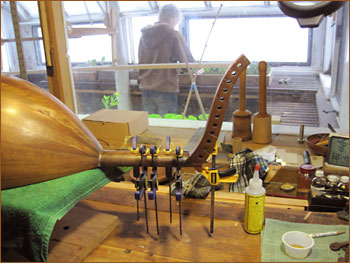 bunnies. I do the maintenance on her fiddles so she though maybe I could bring the oud back to life.

Since she isn't really into Middle-Eastern music she requested that I set it up to be tuned like a guitar. Ouds are often strung with 11 or 12 strings but pitched a bit lower than a guitar. I have ordered two sets of classical guitar strings and will set up first as a six-string and if it feels as though it can handle the tension, will add strings until it breaks. No, not really. I'll first double up the 3rd & 4th strings and tune the whole set a fifth lower (A D G C E A), or a fourth lower (B E A D F♯ B), like a baritone guitar.

Obviously this is all an experiment. As I write this the neck/head joint is freshly glued with hide glue. I'll let it dry for a couple of days to be sure I've given it a good chance of surviving the new string setup. If it sounds OK I'll post a bit of audio in a future post. If not, this the last either of us will hear of this experiment.


---

December 21, 2019

Happy Winter Solstice!
---

December 7, 2019 -- Fun Playing Music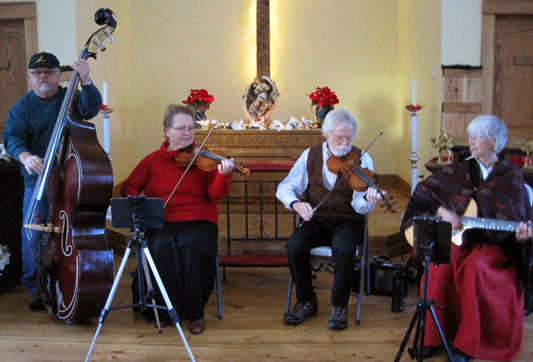 Yesterday we had a wonderful time playing with our friends Tom Caron and Sharon Vierk at the U.P. Steam & Gas annual "Christmas in the Village" in Escanaba. It was a chilly, snowy but storm-free evening, and a lot of people of all ages came out to wander around this old-time village in the corner of the U.P. State Fair grounds, checking out the many small shops and displays, riding the festively lighted wagon behind an appropriate nice old tractor. Steve and I were involved back in the late 80's when the "village" was a few rough built shops and a great old steam engine driven saw mill, a shingle mill, a large impressive steam tractor, blacksmith shop, and enthusiastic "old timers" (who mostly weren't all that old!). During their annual Labor Day event, and a few other times, folks would bring their old engines and tractors to display (which they still do). We built a woodworking shop, nailing up rough hemlock boards, hauled fresh fro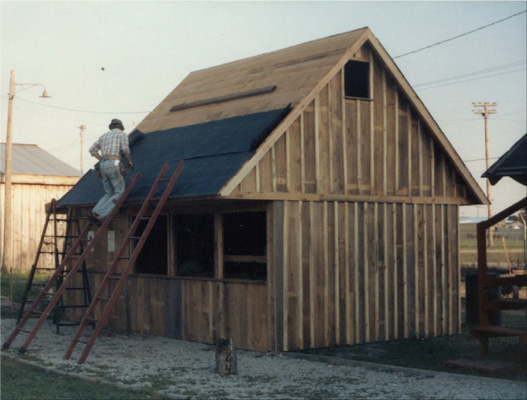 m the pile fresh from the working sawmill. The design included an attic where we could stay overnight. It was a fun time, making hand carved spoons, using the treadle lathe, talking to folks. But life was very full and we bowed out after some years, other folks taking over and using the shop.
So thirty years later bass player Tom said, "What do you think about playing at Christmas in the Village?" Well, we thought it would be fun, they were happy to have us, so play we did. The Village is now full of all sorts of shops, side streets, lights, electricity - quite a change! A few years ago they built a chapel with both heat and seating, something very appreciated by folks walking around outside in the cold. That's where we played, a bit chilly but definitely warmer than playing outside! We had a great group of folks of all ages, coming and going, singing along or not, listening, warming up. What a cheery way to spend the evening.
Then today, this afternoon, Steve and I get to do it again at the annual Garden Gallery Village Artisans annual silent auction fund-raiser, in Garden, an event full of friends, incredible snacks, wine, bidding, warmth, and, of course, music. How lucky we are for it all.
---

December 1, 2019 -- 20 in 20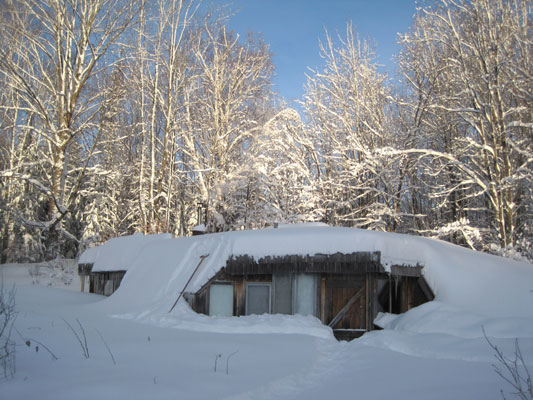 That is, 20 inches in 20 hours. Apparently Nature decided it was time to just get at it and start winter, and no doubts about it, no messing with just a few inches here and there. We went to bed Saturday night with about 4" on the ground, a reasonable amount for this time of year. Then it started snowing, and didn't stop for 20 hrs. Monday morning we awoke to a changed world with 24" on the ground (and everything else). Maybe a bit overdone, but it sure is beautiful. And we are very snug in the house with that thick blanket of insulation helping to keep us warm. Today also came with beautiful clear skies and sunshine. A wonderful contrast to the day before, and very good for this solar house. It was also a good day to be outside making our way through that beautiful snow, welcoming December in northwoods homestead style.
---


November 28, 2019
Outside or Inside
We Wish You a Very
Happy Thanksgiving!
---

November 13, 2019 -- The Last Krauts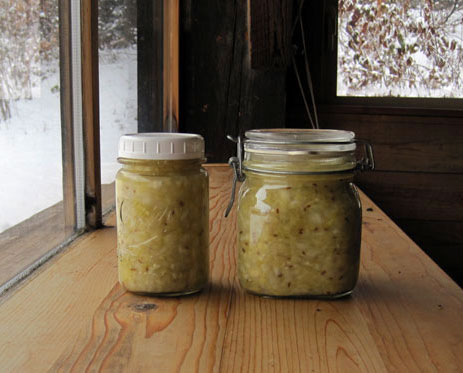 A blustery, wintery blowing snow day. Though it didn't add very many inches to the snow on the ground it did keep us from driving north to play old-time music with friends at Falling Rock Cafe. in Munising. Since they recently had gotten 20-24 inches we decided to play music at home instead. But it also seemed like a good day to transfer the most recent batch of sauerkraut (#4), made two weeks ago, into jars. This one was made with just green cabbage, some apple and caraway seed. It has a real nice, mild flavor which I like. It will develop a stronger "kraut" flavor with time though. We're eating red-green kraut #2 right now (made end of August) but I dipped into #3, all green, to see how it was doing. Very nice, mild, gentle texture. The onion flavor I'd noticed earlier has mellowed and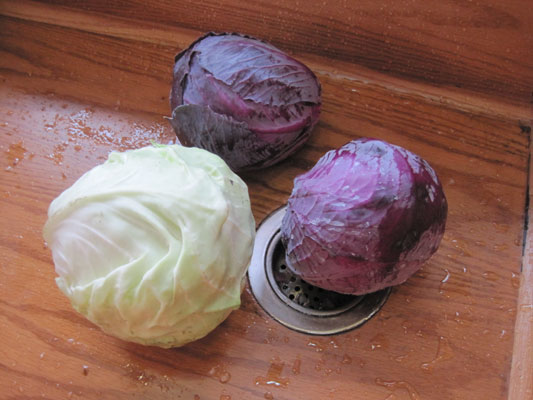 it's very good eaten straight, not mixed in salad or dinner.
Since the busy crock was now empty I sliced up the last of the cabbages, picked a month ago before the temps dropped and stored in the root cellar. They were all small, two red & one green, but together made a nice batch of kraut. I decided to again go with just some apple and caraway seed (and salt, of course). So I think we now have enough sauerkraut to get us through the winter. Actually, I don't know how long it will last nor how much we will eat so it will be interesting to see how that turns out. Meantime we're enjoying the extra taste and crunch in our salads and additional flavor to potato dishes. The jars are pretty in the root cellar as well!
(note - November 27 - I transferred this last batch of kraut to jars; the flavor is good as is the texture. Interesting, it turned out to be a very intense red-purple, much darker than the end of August all red cabbage kraut.)

---

November 8, 2019 -- Seasonal Change
The first snow melted and we had a number of days to do those last minute outdoor jobs. It felt good and we both finished every last thing on our lists. Steve topped up the now full wood shed, and cut some dead fir trees to add a few more props to the largest outbuilding (last year's record snow still in mind - the roof made it through that in good shape but there were some uneasy days as the snow bu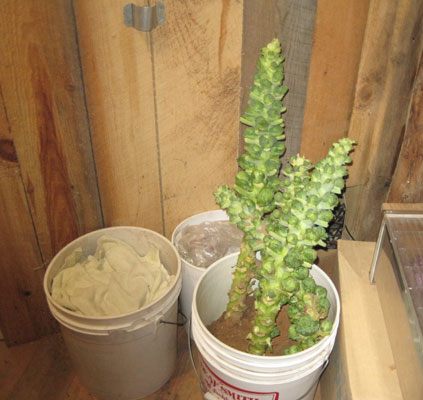 ilt up). We'd rather not have that much snow this year but one never knows. Splitter and mowers and trailers and such, including boats, readied and stored, each finding a spot to comfortably ride out the winter inside.
I added some additional mulch to garden plants and roots, dug up some brussels sprouts to store in a bucket of sand in the root cellar to extend their harvest, and took an appreciated walk on bare (though now frozen) ground. Timing was good. Yesterday afternoon the snow returned, Steve left the car in the garage at the top of the hill, just in case, and we woke this morning (Friday) to a cold 3 degrees! That was a bit of a surprise. We were very thankful we had a few inches of snow to insulate. Today's walk was in snow boots but no need for the snowshoes yet, hanging ready by the door for when the time comes.
It's November. The snow may go and come and go, or it may just stick around now. Temps may get above freezing again, or may not. But we're ready for the changeover and are settling in to a focus on indoor projects. At the top of my list was to process and store the garden seed crops and herbs that had been drying on racks and lines since being harvested late summer. It was a dusty several day job but quite satisfying. They are all stored now, the seeds in a tin and herbs in their jars in the pantry. The seeds for planting next spring (lettuce and spinach and carrot this year), the herbs for eating all year. The only one left to take care of is the dry beans. Thankfully they are very patient but I think I'll get to them tomorrow.

---

October 29, 2019 -- Magic!
Over night our world changed. We awoke to this beautiful scene out our windows. It wasn't a surprise, or at all unusual, but the first snow of the season always feels new and exciting. Even better, we had spent a good day yesterday finishing up a good number of pre-winter chores - the biggest being the final load of firewood cut, split and stacked. The woodshed is full of dry wood and there is a nice long stack of green wood drying out in the field. The garden is all set, carrots getting their final layer of mulch to keep them safe and unfrozen through the winter, the strawberries, garlic and seed onions likewise. A few days ago I put the last hardware cloth cage around trees and shrubs in the orchard to keep hungry voles from their tender, and apparently tasty, bark. All sorts of odds and ends on our to-do lists were crossed off during these recent mild days and it felt very good to know we were ready for that snow. It wasn't that big of a snow, 2", wet and sticky, and it melted a lot today. So winter isn't really here, but it is almost November. Temperatures are lowering, winter-wear is out, and we're ready for the real snow whenever it comes. Though we really prefer it to wait a couple more months!

---

October 24, 2019 -- And the Leaves Fell ...
A week ago we were surrounded above our heads by a dizzying bright cloud of all shades of yellow-gold as the trees turned their leaves into bright candelabras, set off by dark green evergreens, maroon-red brambles, brown ferns, and dark limbs. Incredibly beautiful, we stopped and admired every time we stepped outside. Being "that time of year" the leaves started letting go one by one, flying or floating down as was their desire. Then a few mid 20's nights and a few days (and nights) of strong gusty winds and the air was filled with a flurry of leaves and the ground started collecting its fall carpet. A lot of leaves held out though, some still in the green-turning-yellow phase, others simply not ready to go yet. There was bright color everywhere, high and low.
Then, one of those gales of November came early, inland as well as on the Lakes, and our world changed in a day. Tall trees were suddenly mostly bare of their upper leaves and the ground so full of bright colors it is hard to find our usual paths through the woods. The gusts made windrows of leaves here and there and the sound of the wind through the trees noticeably changed. The bushes, brambles and smaller trees weren't so affected so it isn't a sparse winter look outside but rather a lowering of the fall colors, still very bright and awesome, just in a different way. And there are still some large trees fully clothed, some not even changed color yet. It IS still October, not December.
The smell of fresh fallen leaves, the sound (and fun) of shuffling through rustling drying leaves (a small chipmunk can sound like a large deer in those leaves!), it's just an amazing time of year. Sometimes it lasts many weeks, sometimes not, just depends on the weather, but it's a special treat either way. I love leaf-fall, in the woods, in our yard, and (after a bit of work) as mulch in the garden and orchard.

---

October 20, 2019 -- Boating season is over ...
We finally have decided that summer is over and with below freezing temperatures in the near forecast it was time to put the boats away until spring. We did get a few chances to get out on the water this fall and the paddling and rowing trips integrated nicely with our homestead projects.

The rack I made for carrying Sue's kayak on the trailer with the rowboat has worked out nicely. The two wooden supports easily drop into the front of the cockpit and the bow hatch; their feet are large enough to spread out the load and to hold them in place in the boat. The kayak is light enough that it is easy to lift onto the rack. We use a couple of sets of cam-buckle straps (four in all) and fore/aft tie-downs to hold the two boats in position and they handle highway speeds just fine.

The trailer is an inexpensive multi-use (for us) trailer that I have modified for a gentler ride for our light loads by removing the second leaf of the springs. This made a huge difference by smoothing out the ride and is saving the boats from those sharp hits from our rough back roads. I also extended the tongue and for the rowboat, added a rear support with roller. Pulling the trailer does knock our '07 Prius' mileage down from 50mpg to around 47mpg but that's the price we pay for engaging in this form of water sport.

We moved the rowboat into the shop for the winter. I have a list of a few modifications I'd like to make, mostly related to the cabin area. I took a few naps in the cabin this summer and it is much more comfortable than it looks but I'm thinking that it might be nice to be able to sit up in there, under cover, while anchored. I'll be posting the updates on the rowboat's web page - most likely in the spring, but firewood is almost done and if the weather is mild enough I may get out into the shop yet this fall. Overall this has been a very satisfying project.


---

October 17, 2019 -- Moving Day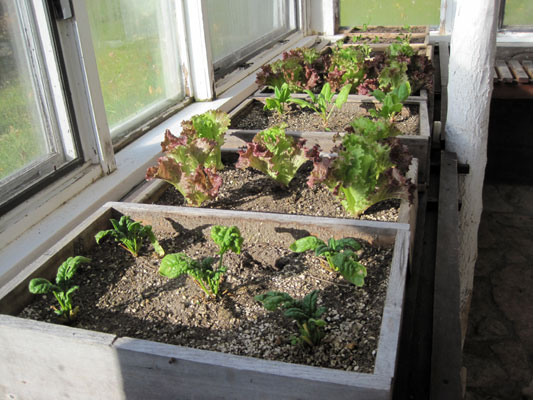 With temps forecast for the low 20's it was time to move some plants into the greenhouse for the winter. Sometimes I simply dig some of them out of the garden right into their indoor bed. This year I managed to plan ahead and potted up plants that were to move, in addition to transplanting small lettuce and spinach seedlings int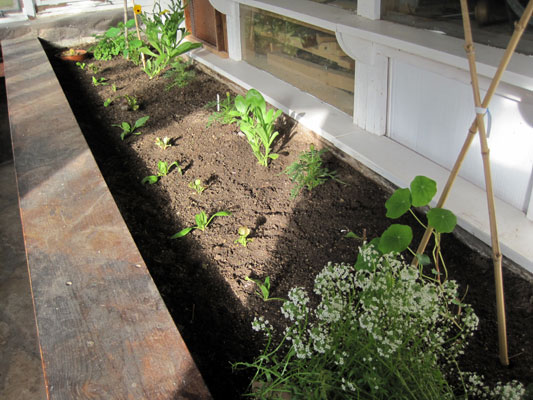 o flats to go on the front bench. These had all been waiting in a cold frame and cart for the moving day. Every year I try something a little different for the deep bed along the house side. It's fun to imagine how the plants will grow. No matter that the little ones seems a bit lost in the space allotted for them; I know that in a month or so they will fill out and be holding hands with their neighbors. I've put up bamboo (sent to me some years back from my nephew in Texas) stakes for the nasturtiums to climb and hopefully keep them from over running others. They do like to travel but they are a cheery bunch.
We're still eating lettuce and spinach from the garden, safe in cold frames that can be closed up on those cold, windy days and colder nights. But it won't be long when those give in to the frost and freezes and I move my harvests to the plants inside. They keep us in salads all winter. And the flowers - calendula, nasturtium, marigolds, daffodils - lift our spirits during the long winter. It's an annual happening on the homestead, one that marks the passage from beautiful fall to that "late fall early winter" time that says it's definitely time to get those pre-winter chores done. It may be mild well into December, or winter could descend upon us tomorrow. One of those things that makes living up here so interesting.
---

October 11, 2019 -- A Wild Array
This year's apple saga is winding down. I harvested the Haralsons a few days ago (14#, a smaller harvest but a very nice crop - it's a variety that tends towards one year on, one year off and this is its "off" year), we pressed our second batch of cider, another nice and delicious 4 gallons, canned it today, and there is now room in the root cellar for the potatoes (dug yesterday, before today's/night's big rains). Black Oxford is still on the tree, there is a crate of Beacons waiting to be sauced along with the oldest Dudleys, and several crates of the best and freshest for fresh eating and fresh sauce as needed. If the weather cooperates I'll dry a few more batches, too. We're still enjoying fresh apples but they aren't quite as exciting as they were a month ago.
But there are also little sets of 2, 3 or more apples sitting here and there on the shelves in the root cellar. These are my "test" apples, mostly from our wild trees. I'm wondering how long they will keep in good shape. The cold front coming in tonight (likely freezing nights, cold and windy days) should help cool down the root cellar which will be nice since it's still in the mid-upper 50's, warm for good apple storage. A few of the wildings have very good fruit, some I'm happy to leave for the deer and squirrels, others are OK and find their way into a batch of sauce or cider. I enjoy these diverse apples no matter what I do, or don't do, with them. They are mostly quite different one from the other, Nature's breeding at work, not only in looks but taste and texture, too. It also helps that I've named most of the trees for our many and diverse cats who have blessed our lives over the forty years we've been here. It's pleasing as well as practical. So here's our line-up this year:

All the wild trees had at least a small harvest, while MrC outdid itself raining down a storm of juicy pretty large crabapples for the deer and smaller critters. I even enjoyed these small bites as I wandered by, a particularly tasty year. And Bulero surprised me greatly by having a good crop of good tasting, sweet, juicy, small red "lunchbox" size apples that made the best no-sugar sauce! Last year they were rather dry texture. I didn't want to leave Ditto out but her tree hasn't fruited yet.
---

October 1, 2019 -- Apple Love
It's probably not a surprise to anyone who reads our blog that apples are a bit of a passion for me. I'm not sure how I got so interested in them, but they do bring me a lot of pleasure, beyond simply as food. And it's getting even more fun as new apples that I've never seen nor tasted before start to fruit. This year there were three new grafts that set fruit, only a few each, and only one of one, but enough for a taste. They were our first apple grafts to bear fruit! All were on a branch of an established tree (not on their own rootstocks) which means there will never be many (unless we graft onto more branches) but it also means they fruit earlier than the ones on young small rootstocks. It was exciting when I realized they had blossoms, and then thrilled when they fruited. These apples were given a great deal of watchful attention. Every time I passed the trees I looked to make sure the fruit was still there. Only one was inside the fence, the other two outside on a wild tree, vulnerable to a deer or squirrel munch. Thankfully, we are in short supply of both this year.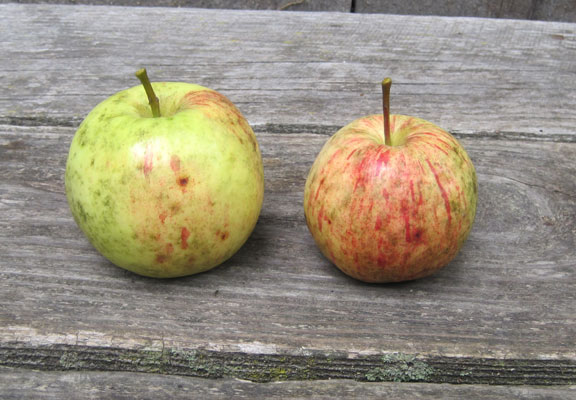 The first to ripen (2 apples) was the Nutting Bumpus (the names are sometimes as much fun as the apples!). One dropped mid September, the other came off in my hand. Excited I took photos then took a slice. Mmmmm. Well, it was OK but really wasn't very special. It tasted quite like the wild tree it had been grafted to, though somewhat larger and earlier. Rather tart but with flavor and some sweetness. It isn't a bad apple, just not anything special. I saved one of the two apples to see how it kept but it was getting soft so today it went into a batch of sauce. I won't cut it off but I won't graft any more of it. To be fair, apples often change as the tree ages and future crops may be different. But it is a Duchess seedling and tastes a lot like the many Duchess types that are all along the roads. Duchess of Oldenburg is an old and hardy apple that was likely planted in most of the old orchards around here. I'm not sure now why I chose this one to begin with. But it was still exciting to have it fruit.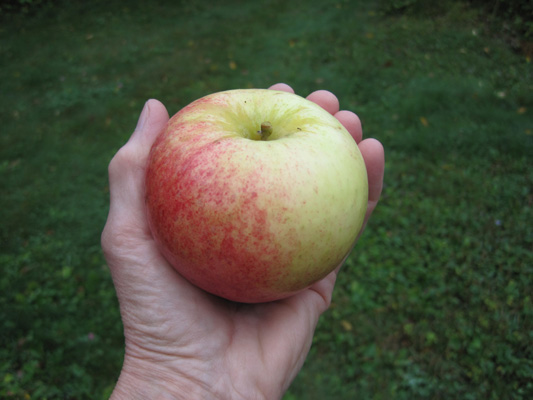 The second variety came down five days later - the one and only apple - a Canadian variety called Goodland. This was such a beauty it had been fun just to watch it grow. A large, 3" fruit, clean, I was really excited about this one. I set it on the counter for several days just to admire it! Then I carefully sliced it - nice, juicy. Gave Steve a piece and we both tried it. Hurray! This one is a keeper for sure. Delicious. We both liked it a lot. Sweet/tart flavor has an interesting sweet aftertaste. Can't wait for more of these. We'll be grafting it on its own rootstock next year.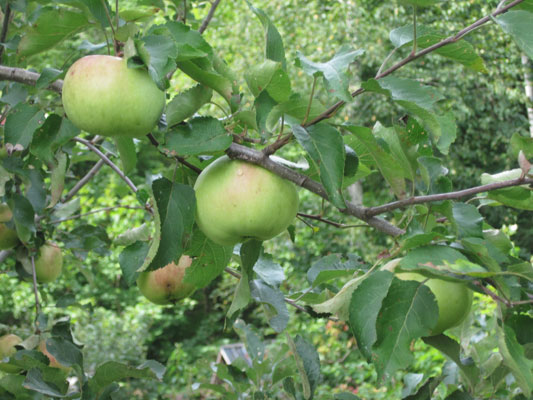 Our third newby is still on the tree - 3 fruit, outside the fence, carefully protected from deer (I hope) with a ladder underneath to discourage close contact (and give the squirrels a way to climb up Steve says) (hah) (I expect LilliB to make sure that doesn't happen) and branches pinned carefully across to hide the fruit, because these will likely not be ready for several more weeks. We have had this one before, from the tree we got our scion from. An old tree, growing outside the front door of an old farmhouse friends had bought. When the house burned down the only thing left was this tree (they rebuilt, a really nice house). They figure the tree was planted early 1900's. They gave us a bucket of apples awhile back and we liked them so much we asked to cut a scion for our own tree. We grafted one piece on its own rootstock and it is growing well but will probably be some more years before it has a crop. We had also grafted a piece onto the branch of a mature wild tree, and this is the one that has fruit. It is a nice, mild, fairly sweet green/yellow apple that stores well. We guess it might be a Golden Delicious, but don't really know for sure. Can't wait to taste our own.
Now that's not to say I don't appreciate and admire all the other apples that have given us many baskets and bushels of fruit this year. I do!! The root cellar is full, more cider to be made, more sauce, more eating. It's a very good apple year and I'm enjoying it fully. Most of the apples are harvested but there are still Haralsons and Black Oxfords on the tree, later varieties and good storage types. I'll leave them for awhile yet, depending on the weather (no freezes yet!) and the birds (hopefully they are too busy with the abundant crabapples to bother my apples). They are harvests to look forward to yet this fall.
---

September 25, 2019 -- Cider Day!
We're blessed with an abundance of apples this year which means it's a cider year! There is nothing quite like the taste of fresh pressed cider, and the only way to get that is to be right there, cup in hand, as the juice starts flowing from the press. Enjoy all you can that first day because left to its own devices it soon starts turning. Now for some folks that's the whole point - they're going for hard cider. We prefer sweet cider, so stop the process fairly early. But first step is to gather the apples.
We've made many a cider with mostly just one variety of apple - Beacon in our earlier years, along with whatever wild apples were ripe. Two years ago it was Dudley's, which made a real good juice (as do the Beacon's). It just depends on what is available. This year it was about half/half Beacon and Dudley with a smaller amount from one of our wild seedling trees - named Splitter. It's a "Duchess type" which is pretty common around here, a decent tart-sweet September apple. The Beacons were interesting (to me anyway) because this is the first year since we did major cut back of the two tree that we had a good harvest (so nice to have them back!), enough for both sauce and cider. Secondly, while one tree had beautiful, blemish free clean fruit the other one's fruit had a lot of watercore, almost getting to the "rot" stage. I was a bit bummed by that but when I cut into a well watercored fruit and tasted it I realized it was tasty and would do just fine for cider. Watercore tends to sweeten an apple. Unfortunately, it also makes it not keep very long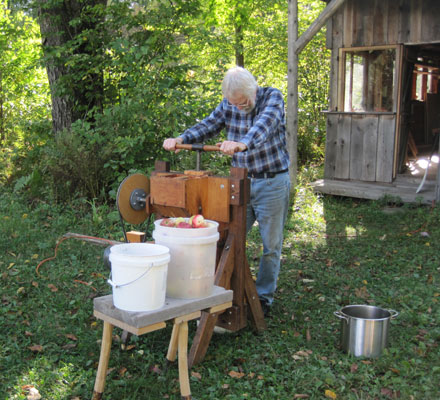 . That wasn't a problem - all those apples were going right into cider.
This is a bit earlier than we usually press, but those Beacons were ready and the root cellar was getting crowded with baskets of apples. It was a lightly cool day, no rain, just right to take a few hours off from firewood and gardening and enjoy this small homestead event. So we did. I washed apples and tossed them into the chopper, then Steve operated the press, slowly squeezing the pulp as the golden pink juice ran into the pot. A lone yellow jacket arrived to keep us company. Cider making would not be the same without the yellow jackets. Unfortunately we have very few nowdays; a state we certainly hope is temporary. But the one lone y.j. did his best to get in the way however he could.
Two hours and 100 pounds of apples (about 5 - 5 gallon buckets) later we had 4 1/2 gallons of sweet, sweet cider. Ambrosia of the gods for sure.
Two days later the cider had gone past the super sweet sticky stage and I canned the batch (after drinking all we could fresh!). This stops the fermenting progress and is where we like it, with just a touch of zing. Sometimes it takes four days, it just depends. Heating the cider to the boiling point does change the flavor some but it is still very good drinking, and will be enjoyed all winter. It goes boiling hot into jars with regular canning lids then set aside to cool. The regular "pop" of the metal lids as each quart seals is a welcome music in the kitchen during canning time.
They are more apples coming and more cider to be made - a very happy situation to look forward to. We sure appreciate our apple trees!
---

September 16, 2019 -- Colorful Sauerkraut
I don't remember the last time I made sauerkraut - it's been many years, decades really. It's not that we didn't like it; we just didn't eat that much and that really nice 10 gallon crock that Steve's Mom had given us so long ago always tempted me to make way more than we needed. So it was one of those things that just went by the wayside. But this year the "Fermented Vegetables" book turned my thoughts to sauerkraut once again. That and some really good homemade kraut we had at a friend's house. So at the last minute I picked up some seed and planted a row of red and green cabbages.
They grew well, thankfully at varied rates, and the first of September I realized a nice head of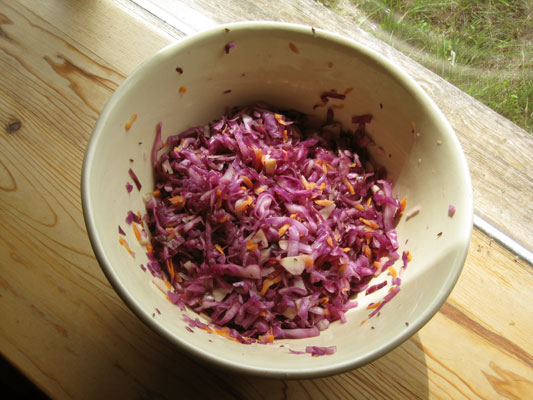 red cabbage was mature and starting to crack. I had a small crock (a repurposed crockpot that Steve had stripp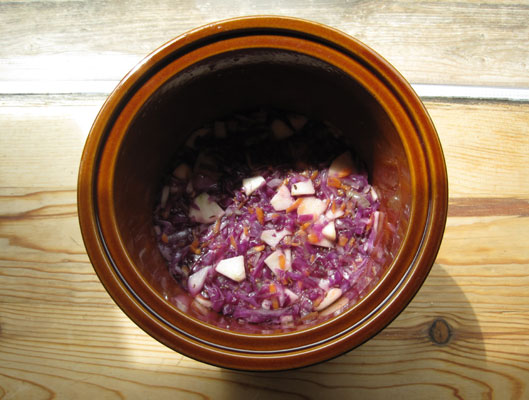 ed of its outer shell and wire) and I did something I seldom do - I got out the book and followed their directions and recipe for Red Kraut, with apple, onion and caraway seed. I also included shredded carrot which added some nice color to the mix, and we have a lot of carrots this year. Being a small batch (one 3# cabbage) it didn't take long to slice and shred and mix. It was particularly satisfying for some reason to get my (very clean) hands in there and knead in the salt.
I let it ferment for two weeks, tasting and checking it now and then and finally deciding it was ready. It sure turned out pretty! But even nicer, we liked it, much better than anything I had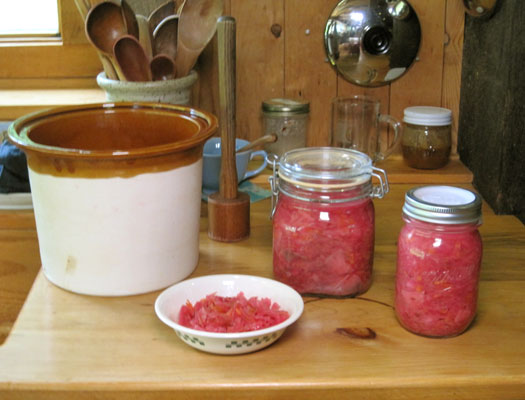 made before. It adds a particularly nice flavorful crunch to our luncheon salads.
The timing was good because just as the crock was emptied and washed there were three more cabbages mature and ready out in the garden, two green and one red. So a new batch is fermenting in the root cellar now, this time with carrot, onion, and fresh oregano. I wonder how it would be to add some shredded rutabaga to the mix? Mmmm, I can see how one could get quite carried away with the possibilities. Good thing I only have one small crock.
---

September 2, 2019 - New rowboat has been launched!

Sue has been keeping you up to date on all things on the homestead and I admit to being a bit lax on posting here about my summer boat
building project. This all started back mid-winter with ideas, sketches a bit of design work and a tentative deadline of July 4th. Oh well, I'm a mere 60 days late but for me the wait was worth it. Once I decided that I wasn't going to work on a schedule I began enjoying the process a lot more. The boat is done and was launched today at nearby Indian Lake. No fanfare, just slipped into the water, floated (important) and looked good enough to me. The boat is very stable and rows like a dream. I'm looking forward to spending a lot of time rowing this fall.

You can see some more photos of the boat and follow the building process here>

---

August 14, 2019 -- Lake Effect Arts Fundraiser
We had a good time playing for the annual Lake Effect Arts Art Auction Fundraiser in Manistique Saturday. It was well attended and attendees were treated to a fun and wonderfully presented event, with great auction items, incredible food, a nice array of entertainment and a beautiful presentation of everything. Proceeds will go to help renovate their newly gifted Community Arts building. We're already looking forward to next year's event. For more information on this local Arts organization see their website at www.LakeEffectArts.org.
---

August 7, 2019 -- First Pickles of the Season
Someone ate my first planting of cucumber seeds this spring (and the squash, too!) so I replanted later than I normally plant. Being concerned that the crop would be limited because of that I planted extras. Turns out that wasn't at all necessary and I now have a crowded, thriving, green jungle of cucumber plants in my plot, happily putting out cucs right and left and right on schedule. They know when it's time to produce. Plants probably get quite a chuckle at human's fussing.
They did catch me a bit by surprise, since I thought they'd be later, but when I noticed some full sized cucumbers I was quite happy to grab a basket and pick enough for the first batch of fermented pickles. I do both fermented and vinegar pickles; not so many of the first and more of the second since they last longer. The ferments are for "fresh" eating while the vinegared are mostly cut up in salads and dishes.
Since ferments are alive and ever changing their shelf life is limited. How long they are good depends a lot on the temperature and the season and weather. The first batch of the season is barely given time to get going before being eaten since it's been a good long while since we've had any. In a week or two we'll start sampling this first batch. They won't last long. But they are very easy to make so more will be on their way soon. I spread out my pickling - a small batch of ferments now, then several batches of vinegar, which aren't hard to make but they take a bit more time so it depends on my schedule and how the cucs are ripening. This year I think I'll be giving cucumbers away!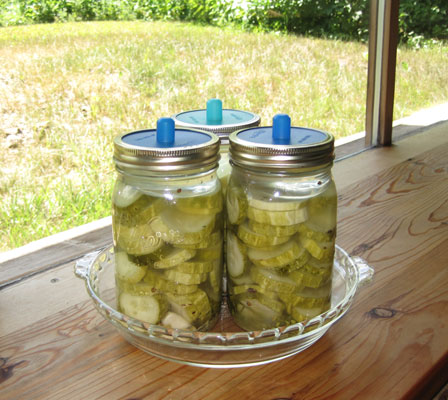 But not until the pickle shelf is full. If you've never had fresh fermented pickles you might want to give them a try. We like them. I'd made them off and on through the years, using directions from here and there, coming up with my own recipe. Usually they turned out good, though it's not a sure thing. But a few years ago I bought a book that got me enthused once again about ferments - "Fermented Vegetables" by Kirsten and Christopher Shockey. Now most of their well written and wonderfully photographed book is a bit lost on me, being quite fond of simplicity in my own kitchen/preserving life and not much inclined to add to it. But I enjoyed reading the book anyway and was really amazed at the array of ferments. They do a great job of explaining the ins and outs and particulars of fermenting - well worth it even if you don't want to ferment everything in sight. I did try a few new things and came up with an adaptation of their onion and sweet pepper relish that I really liked. I'll do that one again when my peppers are ripe. It's a fun book.
Ferments are pretty basic and simple. My recipe is basic and simple. The tools required are simple, too. I made many a pickle, and sauerkraut, in a crock with a plate and a rock or jar of water for a weight. It works, and I still do that sometimes. But skimming off the scum is a bit fussy. I found that for pickles doing them directly in a jar works better - no or little skum to skim. But last year I discovered something even easier - Pickle Pipes made by MasonTops, along with their PicklePebbles glass weights. I started with a set of four, and it wasn't long before I ordered another set. I made do with those 8 last year, using a crock until a PicklePipe and Pebble was free then transferring to a jar. I'm not much for gizmos, especially in my kitchen, but I have to say these things are not only cute they simply make ferments easy, more reliable and trouble free.
So this is how I (usually) do it:
Scrub and slice medium sized pickling cucumbers (large ones tend to get mushy). Pack firmly into into a wide mouth quart jar along with these optional options:

2 cloves garlic
fresh green dill flowers/seeds (whatever stage is available)
grape leaf or horseradish root piece
1 tsp mixed pickling spice
Leave about 2" headroom if using Pipe & Pebble (less if not). Weight with a PicklePebble.
Cover with brine made of 1 1/2 TB plain salt to quart of water
Put on a PicklePipe with metal ring
Leave for 3-5 days in kitchen (or somewhere around 70 deg) to begin ferment, then move to cooler space, for me this is the root cellar at about 60 deg this time of year. Start testing in about a week or two. Start eating when you like the flavor. Move to a pint jar when half eaten. The ferment brine is good, too, and good for you. It adds a real nice flavor to bread or baked goods, or general cooking that needs liquid.
The last fermented pickles made end of season in September have kept fairly well until March but they do tend to get soft by then, and that's the end of the fermented pickles until the next season. These later pickles get cooler storage temps as the root cellar starts cooling down in October and is down to 40 degrees in November.
But that's a long ways off. Meantime, we look forward to the first fresh fermented pickles in a week or two.
---

August 4, 2019 -- BlackCaps!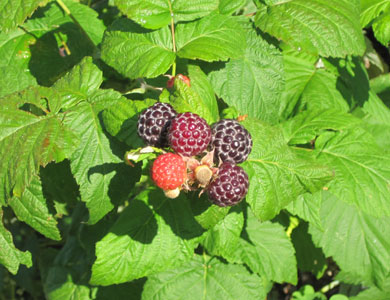 Something new arrived in the homestead berry world today - our very first black raspberry (aka blackcaps), a hardy variety called MacBlack. Just a few ripe fruit so far but are they every good! I hadn't had a black raspberry since a child when we had wild ones growing along the edge of our yard. I don't really remember them much, just that I'd eat them now and then when out playing, as I did the red raspberries that grew mostly untended beside a shed. Black raspberries don't grow wild around here and are mostly for warmer zones, but I'd read of a few hardier varieties so decided to give them a try, hoping I'd like them if they survived.
Well I certainly do like them! They have a somewhat similar taste to red raspberries but not the same. They taste, well, like black raspberries.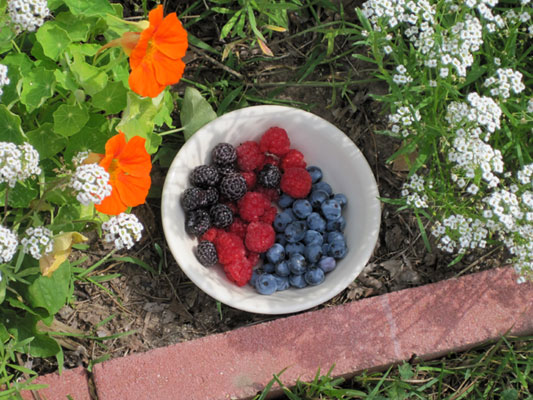 They are firmer than the reds and the canes have much more serious thorns, more like a rose. Definitely something to respect. My first plant made it through its first winter and I planted two more this spring, another MacBlack and a Pequot Lakes. That was all I had room for. I do hope they decide they like it here and can handle the winters. These first ones are ripening a bit later than the reds (the Preludes have finished and the Lathams are about midway in their season) and should still be ripening when the Lathams are done. Since I mostly like the raspberries for fresh snacking it will be nice to have the season extended, hopefully into the fall. And now that I've tasted those first few berries I'll be better able to be patient and let them truly ripen to a rich, sweet black before picking them. We're truly rich in berries here on the homestead.
---

August 1, 2019 - For Thee and the Bee
I spend a fair amount of time searching and reading, planning and planting specifically for the pollinators, thinking that as I add more and more fruit that I'm counting on them to pollinate I should be adding special extras for their enjoyment and use. This is fine, and they do make use of these gifts, but they also often remind me by their actions that they are quite capable of taking care of themselves with what is already there. I do know this, it's quite obvious as our homestead is blessed with a wide and generous variety of wildflowers, and many a blossoming tree is loud with buzzing during peak time. But our pollinator population has definitely dropped. Only bumble bees seem to be in good supply, or maybe they are just the most obvious. But flowers are being pollinated, fruit and seed is being produced, nature is doing the job that nature does. There are ups and downs in all things.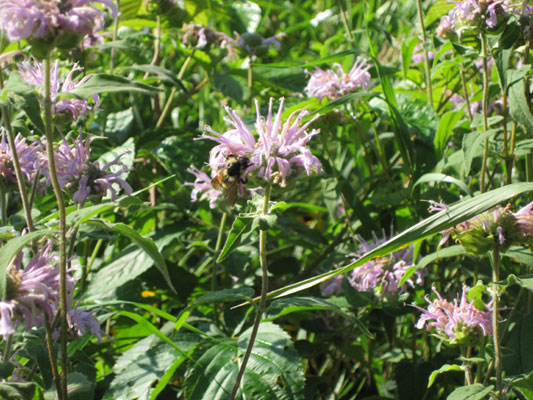 And it is the plants that I didn't plant for the pollinators that remind me that all is well in spite of my fussing and mild worry. The Wild Bergamot I didn't have much hand in. Early on, maybe the late 80's, I noticed this pretty lavender flower up by the gate at the end of our road. I transplanted a little clump into the edge of the front yard wild area. They have grown there ever since, expanding some though not much, losing themselves in the surrounding vegetation until they flower and they get their well deserved attention, from the bees and us.
Some years ago more Wild Bergamots showed up by the garden gate, to our delight. We marked those few beginners so we wouldn't mow them and they responded by spreading into a really nice patch, along with a growing population of Black Eyed Susans, apparently enjoying each others company. They are a pleasing welcome to the garden, loved by the bees and other pollinators (and us), and with no assistance from me.
The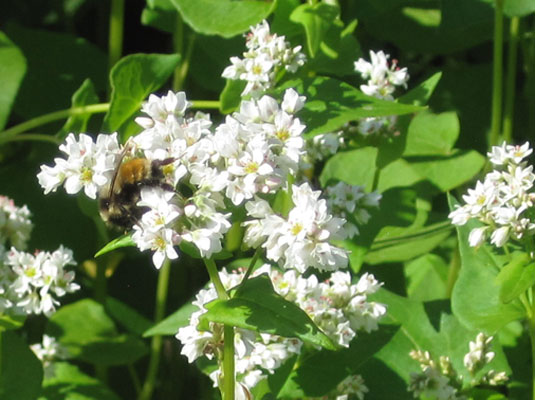 buckwheat in the garden, on the other hand, does get my help by being planted wherever there is a spot not being used by vegetables. Since it will happily self seed (and does in spite of my management) in a way it doesn't need me either. But being in the garden proper I require it to keep in its place, though I'm pretty lax and often let volunteers grow here and there. I initially started planting buckwheat for green manure - to grow and be cut down for mulch and extra nutrition as it breaks down. It grows easily and produces a lot of matter. But when it flowers it's obvious it has an even bigger purpose - it's there for the pollinators, and they are there for it. It is one very popular flower! And by a variety of insects. The "fragrance" of the flowers won't win it any awards by humans, on the contrary being downwind causes wrinkled noses (and visitors might look quickly at their shoes to see if they stepped in something they shouldn't have) but no matter, the prolific buzzing coming from the patch wins all. There certainly are showier and more touted "bee flowers" but I doubt there are many more popular to the bees than the rather humble buckwheat.
---

July 30, 2019 -- Happy Blues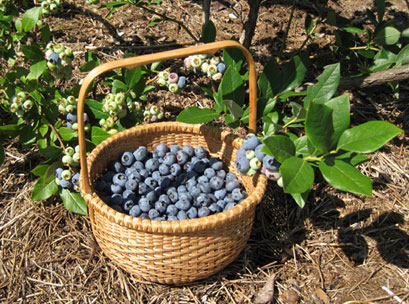 It's that time - the blueberry harvest has begun! The blues can indeed be happy.
---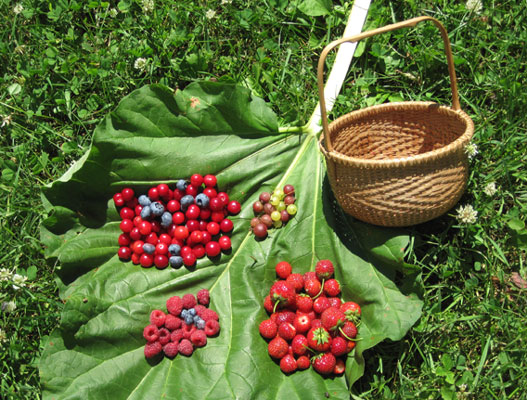 July 21, 2019 -- A Very Berry Day
The berries know how to do it. As one finishes it hands the baton to another, and the creatures (including humans) eat well. In the garden the Dunlap strawberries are winding down, the Valley Sunsets ripening the last ones, the Old North Sea taking a break as they energy up for that very welcome late crop. Hinnonmaki Red gooseberries ripening their last as Pixwell ripening its first. Prelude raspberries are coming on to their peak to fill us well until the sweet Lathams ripen. And this year somewhere in there will be our very first black raspberries, maybe with the Latham. Haskaps/Honeyberries produced more than I expected, well past now except for a few final Boreal Blizzards which added a bit of dark zing to the strawberry sauce. And now come the Carmine Jewell tart cherries! Our 2nd year of fruit, a quite decent crop, ripening up bright and cheery. So nice to have cherries again. Then the blueberries, Duke giving us the first taste of many, many more to come. And one must mention the rhubarb - the most reliable 'fruit' of the northwoods! And this is just in the garden. Outside the woods and fields are full of ripe and ripening fruit. Looks like a great year for wild black cherries.
Life is good in the berry realm, for both producers and consumers. Appreciation abounds!
---

July 19, 2019 -- Hot Summer Day, Happy Growing Garden
It's a bit on the warm side today, about 90 with no wind, quite unusual for us cool Yoopers, but being surrounded by growing green helps a lot. Even so I decided it's a good day to leave the garden and orchard to themselves (they probably don't mind that at all) and get caught up on inside chores, which tend to get neglected any days that are above freezing and no snow on the ground. Steve is out in the shop working on the boat and anticipating getting it in the water before summer is over.
One of my catch-ups was to update garden notes. For all my intentions those notes get really sparse mid season but the garden does just fine anyway. It's a wonderful time in the sequence - everything is mulched, we've had enough rain so no watering needed (only necessary on those really dry years), even the youngest plants are big enough to hold their own, and the older ones are well on their way to being all they can be. Strawberries are winding down but still producing, raspberries have started ripening for the enjoyment of both gardener and birds, tame blueberries are thinking about taking on their namesake color. Lettuce for lunch and spinach for supper, and now carrots. There is so much going on. It's all pretty amazing.
And in the orchard, too. The new grafts are growing, previous grafts looking settled in, fruit in the apples and pears are getting large enough to show up, cherries turning red, there may even be a handful of plums. Flowers, grasses and herbs both wild and tame make the area a wonderful place for all sizes and shapes of insects, and people, too. I love walking through and around it, it's just plain magic.
---

July 17, 2019 -- Carrot Adventures
Over the many years I've tried almost all the open-pollinated carrots available and none have compared to Kinko 6" (a chantenay type), which I started growing in 1980. It is sweet when young, still very good flavor when old, good in storage, good over-wintered, nicely shaped - a great all-round carrot. All this makes it rather frustrating that it was dropped from the industry - the seed no longer available. For years I hadn't noticed it was not available because it somewhat common 'back when', and I've grown my own seed several times since, keeping my own line alive, and hadn't needed to buy new. But my latest seed supply was running low so I started searching to buy seed, with no success.
So why not just grow my own. In a way, carrot seed is one of the easiest seeds to grow. It's biennial so one has to overwinter the roots, either inside storage or outside in the ground. Both work. But there is one very large challenge called Queen Anne's Lace, which we have in abundance. QAL is the wild version of our garden carrot. One can eat the roots but they tend to be thinner and longer, rougher, harder to dig, white (which isn't a problem) and quite strong flavored raw though they are sweeter cooked. Our garden carrots have been selected and bred over the years to be, generally, what we prefer. The problem in growing seed is that the garden carrot when grown for seed will cross readily with QAL resulting in future roots that tend to be strong toward the wild type.
When I grew my seed in the past I did my best to mow, cut, pick, pluck the QAL flowers in our surrounding fields to avoid crossing. This was no small endeavor, fussy and time consuming, in a way futile but fairly successful. I did my best and am OK with my crop of not pure Kinko's having occasional white roots (which though rougher are sweeter and more tender cooked than 'regular' carrots). But we have even more QAL now and I didn't want to go through that again, nor do I want even more wild genes in my tame seed.
The solution is to keep the pollinators from visiting and carrying pollen from the wild flowers to the tame flowers when they open. But, carrot flowers being as they are, do need to be cross pollinated - someone has to carry pollen from one flower to a different plant's flower, easily handled by the pollinators, clumsily handled by humans, at least this human. But I figured I could do that. Normally I would choose my best roots in the fall, replant them in the garden to grow the next year. But this time I didn't decide to do this till I was digging the very last of the overwintered roots this spring, and many of them had been a bit frozen on the tops and so, though good for eating wouldn't grow a seed stalk. But I managed to get seven roots to grow and flower and, like Queen Anne's lace, thankfully they do that readily.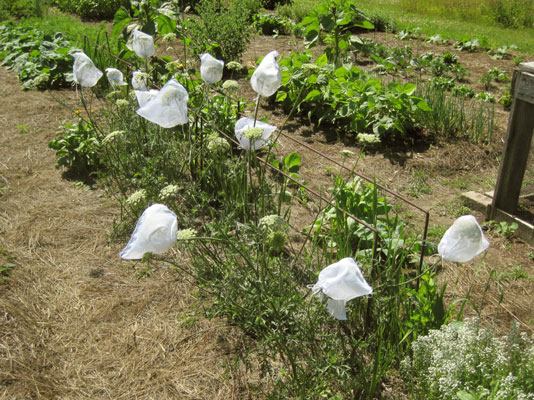 Carrot/QAL flowers are apparently well loved by a wide variety of and sizes of pollinators. Keeping them off the flowers is no small task. I made 8"x8" bags out of a light-weight fabric (maybe curtain sheers) found at the thrift store. Originally I thought I'd just uncover them all, taking my time, romantically and patiently hand cross pollinating the flowers with a soft artist paint brush, then gently rebagging them. I didn't figure it would be too hard to shoo off pollinators. Hah!! I had no idea there were so many different insects of all sizes intent with firm purpose on getting to those cute little carrot flowers. Many are waiting on the bags, others zero in the moment that bag is untied, some manage to get inside the bags. So in reality I quickly untie two or three bags at a time, pull the bags off, quickly run the brush around back and forth, flower to flower, around and back again, trying not to be too clumsy and damaging anything, quickly replace and tie them back on, all the while shooing off all comers and reminding myself that a bit of crossing with QAL isn't going to hurt, but hoping if the pollinators have just come from another flower it is a nearby carrot not a distant QAL. I did go around inside the fence pulling off all the QAL flowers I could find to aid this hope, but there are plenty more outside the fence.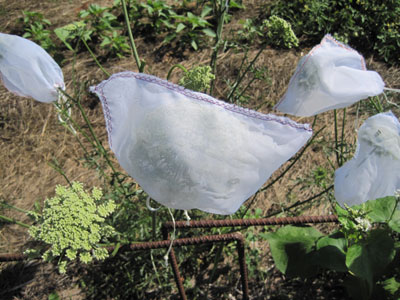 To help keep track of what flowers I'm cross pollinating I came up with the solution of sewing every two or three bags with a different color thread and just unbagging each color at a time. Almost all the bagged flowers are open now and I expect I'll be doing this every morning for another two or three weeks, until they (hopefully) start becoming seed heads. It is getting easier and rather fun in its own way. Since I only have 7 plants this year I'll do it again next year with more plants for greater genetic diversity in my seed. I'll know soon enough if I've been a successful pollinator - when the flowers do or don't set seed - but I won't know until I plant the seed next year if I've managed to keep more QAL genes out of my home grown seed. Another one of those little garden adventures I lay out for myself.
---

April 2, 2019 - 'Adventure Boat' project is moving along.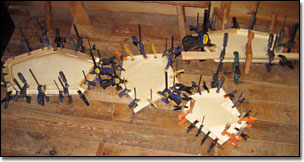 Up to this point in this project I have focused on a few of the 'extras' that one would usually do after the hull was built. Since it has been too cold to comfortably work out in the boat shop I have put together the sliding seat, electrical system, and built a navigation/anchoring light. Today I finished laminating the last of the frames so should be ready to set them up on the strongback (building form) tomorrow. The photo shows the first four frames being glued together from two layers of 1/4" Baltic Birch plywood. It took 68 clamps - but who's counting. That epoxy work was done in the house shop - not a good idea since it was a bit cold out to properly ventilate the house. The epoxy I'm using is 'low odor' but still not good to breathe. Click the image or here to be magically transported to the boatbuilding page.
---