---
February 1, 2016 -- Designing and knitting my first in-the-round cardigan sweater ...
---
February 1, 2020 -- Welcome to February and a Knitting Project
We're quite settled into winter with two feet of snow on the ground, plenty of wood in the woodshed, paths that are packed down well enough we don't have to use snowshoes, involved in numerous indoor projects, and enjoying playing a variety of tunes and songs, both new and old. I like this relaxing time of year. While Steve's been working on his bowl, planning additions to his most recent boat, and doing website work I've mostly had two main projects (and, of course, many little ones!) - creating a computer database for my expanding orchard, which will hopefully be easier to manage than sorting through likewise expanding folders and paper; and knitting.
Four years ago I knitted an "in the round" cardigan sweater of my own design. It was a bit of an ambitious project since I mostly knit socks and mittens, but it turned out (after a bit of fine tuning). I was happy with it and have worn it often. It had one feature, however, that I thought would be a good idea but turned out to be not so. The initial reasoning was fine but somewhat limiting. What really prompted me to make the sweater initially was the Manistique Farmers Market where we play music every week from May into September. Any place in the U.P. can be chilly any day of the year, summer included. But Manistique's location on Lake Michigan gives it an added bonus of some nice brisk cold winds. I can leave home in shorts and tshirt then have to change into longjohns and wool toque when we get to town. But there are some really warm days, too, so no complaints. After all, there's hardly ever any snow that time of year.
That's why I knitted myself a warm wool cardigan. And since my mind (rather narrowly) was focused on something that would work well with playing my guitar I decided I wanted fairly tight sleeves. Both to keep the material away from the strings and to fit comfortably under a windbreaker or another jacket. So that's the way I made it. It was comfortable for both those reasons. But, turns out, it didn't slip on or off so easily over a long sleeved shirt, which is also a common item of clothing worn. And when one is also wearing a guitar on a strap, and connected by one or two cords to various sound equipment, being easy-on-easy-off without having to take everything off (instrument and equipment, not clothes) is a real nice feature for changing weather and comfort. And I did wear it at other times, too.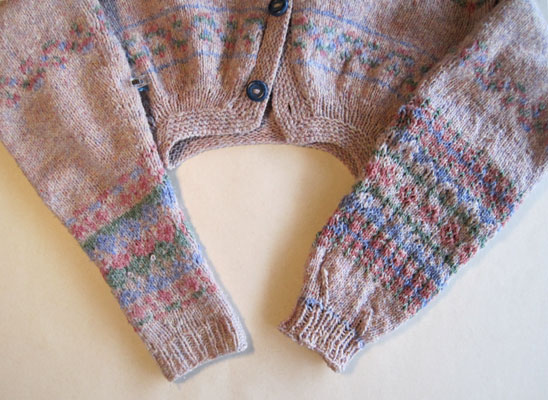 So I decided to redo the sleeves. Which gave me the opportunity to change the design, which for me is the most fun part of knitting. I love planning it out on paper then seeing how it turns out in the wool. One big consideration was that I didn't have any more of the main light heather yarn. The downstate sheep farm that raised and had spun the wool (and made really great yarn!) was no longer doing so. I did have plenty of the colored yarn though so I designed using more color. But it necessitated carefully unraveling (or is it raveling?) the current sleeves to save all the light heather that I could so the sleeves would still appropriately match the main body of the sweater.
And one sleeve is done! I'm happy with the design, and the new sleeve fits well. Tight enough and loose enough. Sigh of relief. The photo above right shows the initial tight sleeve and the redone looser sleeve. The pattern on the newly k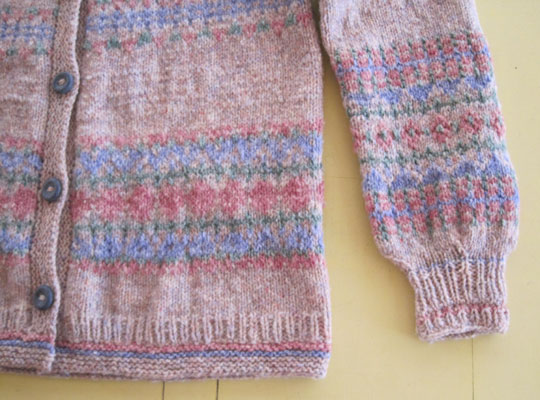 nitted part will show better when washed and blocked. Today I'm starting February by starting the second sleeve. I'll be happy to be wearing the sweater once again. This is definitely wool sweater time of year.
February 22 - Finally, the last stitch knitted, the last yarn end woven in, the patient project washed and dried, and my sweater is back in business. I added a bit more to the cuffs, another inch to the bottom, and ended with a nickel size ball of yarn leftover. It was a satisfying bit of knitting and I'm happy to have it available to wear once again.
---
Copyright by Susan Robishaw