Dance Shoe Bag #1 - April 4, 2017
We have stacks of the reusable sturdy cotton "shopping" bags which have a variety of uses. One of those had been to carry our dance shoes into a dance. It's a courtesy to change into clean soled shoes before going out onto the dance floor (keeps the grit off the floor which is good for the floor and the dancers). But it is also important for dancing (for fun, ease, and the knees!) to have clean, dry soles. And if you have suede leather soles (as I do) they're pretty much useless for dancing if they get wet. So even if they're everyday shoes other times, for a dance they get brushed clean and carried inside.
There's nothing wrong with a generic bag. It works and is what most people use in some form. But invariably it seemed my smaller, soft, light dance shoes would end up being squashed by Steve's larger (understandably) sturdy leather soled "dress" shoes, especially as water bottles and other odds and ends got added to the pile. Even that wasn't a real big problem, except that most of the dances we go to use "dance wax", which is great stuff when the floor is at all sticky. It makes twirling and turning as one polkas and waltzes and two-steps around the floor possible. But it does get on your shoes, which, when tumbled into a bag at the end of the dance, ends up all over everything. It easily rubs off shoes, but a shirt or sweater doesn't fare so well. And the jumble in the bag was just plain messy. What I wanted seemed always at the bottom. I envisioned something better.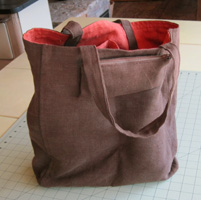 So for Christmas I decided to make Steve a Dance Shoe Bag. OK, it was for both of us, but our Christmas gifts are often like that. I thought about what I wanted--separate compartments for our shoes, small enough to keep them upright but large enough to easily slip the shoes in. A separate pocket for carrying a water bottle, upright. Another pocket for a shirt or tights or extra socks. Yet it needed to be of moderate size, easy to carry and stash in a corner at a dance, and the back of the car between times. I'd been designing it in my head for some time, now it was time to get down to work and make it.

I dug out some nice linen fabric left over from something, collected the shoes that had to go in, a few cotton bags for inspiration and sizing and test fitting ideas, pencil and paper for designing. Then waited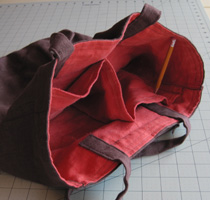 for Steve to be gone long enough to figure it all out. It took some time, I re-designed as I sewed. Iit was a bit of a challenge to decide what to sew first before sewing something else, so as to not "paint myself into a corner". But it was a fun project. It would have been easier with one layer of sturdy cotton and a simpler design, and I'm sure that would have worked and been plenty strong enough. Or I could have simply retro'd an existing bag. But the fun was in the making. I used the two layers of linen because I liked the fabric and the colors, and I had it on hand. And I liked coming up with something that specifically fit our needs and desires.

Basically it is a cloth bag with handles, with an inner piece sewn in to create a pocket halfway along one side, then across to divide the bag in two, then along the other side to create another pocket. It could be made much simpler than I made mine. The two sections are sized to fit our shoes (Steve's getting a larger space). The pockets are of a size to hold a water bottle. Sewing the bottoms of the panels to the bottom of the bag (which had an extra layer sewn on) was a challenge but it helped to make the bag sturdier and keeps things from migrating. It all worked out as I wanted, keeping things organized and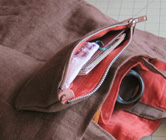 easier to manage.

But there was one more thing needed to make this the top banana of shoe bags for me -- a small zippered pouch for the small stuff. I'd planned on this being inside, just below the top of the bag but there really wasn't room So I sewed it to the outside and I like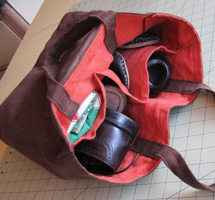 it there; it's easy to access.

So now our shoes have their own comfy mobile home, and get to travel to the dances in style. Humble though they may be, when you're dancing for 3 or 4 hrs you come to really appreciate a good pair of dance shoes. And even more a good polka band!
---
Update: After a year of use there are a few tweaks I'd make but overall it's been a great carry-all. I particularly like the pockets for water bottles. The bag, and dance shoes, stay in the car so we never get to a dance without these essential items. The biggest change, if you can call it that, is I plan is to make a second bag so we each have our own. We can stuff everything into this one bag but really need more room. Steve's shoes barely fit and I often like to carry two different pair of dance shoes. A larger pocket for a removed undershirt or tights would be nice, well away from the shoes and their accumulated dance wax dust. And room for each of us to have two water bottles (or in Steve's case water and coffee). The small zippered add-on turned out to be a bit too small as well.
So a second bag is in the works (well, in my mind). I'll use just one layer of sturdy fabric, cotton duck or something. And extra-stitch the four corner side seams to give some sturdiness to the bag. The brown linen one is very nice and comfortable but sturdy would work better to help keep it upright. Maybe shorter handles. Mmm, I think I'll go look for some material...
---
---
Dance Shoe Bag #2 - February 3, 2019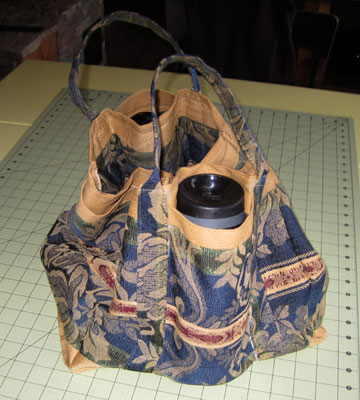 Some of the regular dances in the U.P. take the winter off and others get cancelled due to weather so the next best thing to keep the dancing spirit up (other than dancing around the house) is to do something dance related. I'd had this project in mind for awhile and it was fun to finally get to it. My first dance bag turned out to be quite nice but not quite enough room for both of us. We needed a second bag and a different style for Steve's shoes, one that would allow them to sit flat on the bottom. I designed and sized this one specifically to fit not only his dance shoes but his regular street shoes/boots so they would have a place to park during the dance. With two pockets sized to hold his favorite travel coffee mug and a water water upright, and two larger pockets for extra shirt and miscellaneous, this should be a handy addition to our dance routine.
When in the local St Vincent de Paul thrift store I spied the perfect scrap of material which was barely but large enough to work. It took a bit of figuring to lay it out just right but it was indeed just right! When done I had a scrap piece just big enough to sew an extra pocket for the old (now my) bag and not much else. I did spend needless time and effort figuring out how to fold and stitch the bottom to get the most layers of fabric with the fewest cuts, and sewn in the right order to not box myself in a corner I couldn't get out of. When finally getting to sewing the final bottom seam I realized I had been so involved in this process that I made the bottom way more difficult than necessary. Two more cuts, zigzag the edges, and it could well have been a very simple "cardboard box" overlap, and done hours earlier! Ah well, such is the way these one-off self designed projects go. But now we're ready to go, custom shoe bags in hand, and looking forward to the monthly dance at Rock next Sunday and another the week after in Ishpeming. We sure appreciate the folks who put these dance on, and the musicians who play for them.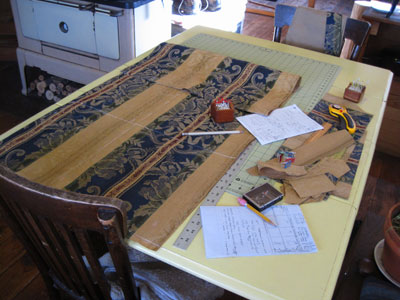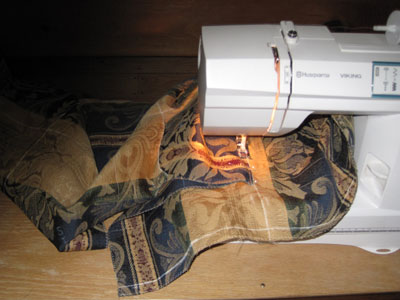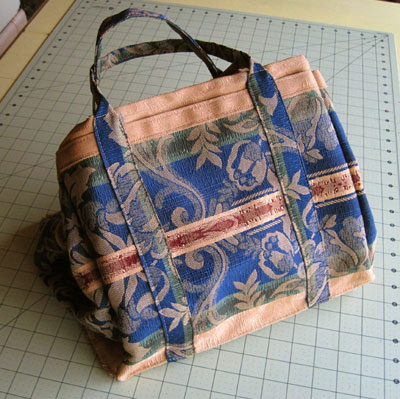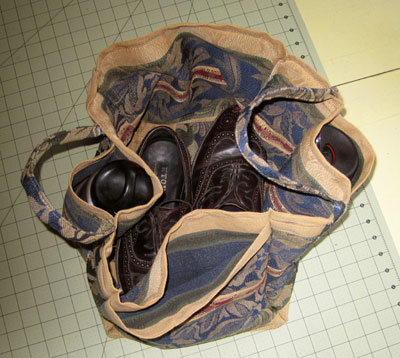 ---
---
Copyright by Susan Robishaw