---
March (2018) arrived mildly this year with beautiful sunny skies and moon filled nights. I continued working through my "saved for winter" sewing pile, enjoying both the long and short projects. This one was a quick one if one doesn't take into account the many weeks it took me to come up with my pattern! I just wanted to make some simple leggings. One pair (purple) for kayaking and one pair (black) for dance. With some nice sturdy but stretchy lycra fabric on hand I figured it wouldn't take long. Well, it didn't, in the end. But I sure put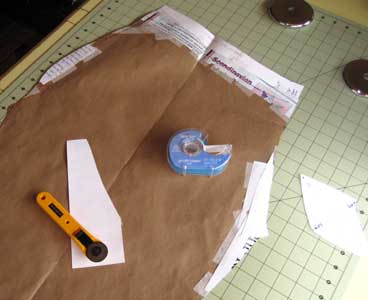 in the hours fitting and stitching and seam ripping, adding pieces here and there, putting it all back together, carefully making the adjustments each time on the paper pattern, over and over. Leggings ARE easy, but I'm rather picky about comfort and I wanted these to fit just right - just tight enough to look good but not so tight for comfort. Add a little here, subtract a little there, add more there, move the wrinkles around until eventually they (mostly) disappeared.

Of course, I should have had some 'scrap' fabric to make the trial pair, a proper 'muslin'. It would have been a lot easier as I wouldn't have fussed about the neatness and look of every change. But I didn't - I used the raspberry fabric that I had bought for my kayaking leggings, and only had enough for the one pair. So it took longer, but in the end I had a pair of acceptable leggings (even if they do have some extra pieces set in the calves and back end), and a workable pattern. In a few days I cut out and sewed up the black lycra fabric using my new pattern. It didn't take long, and to my relief, they fit. The pattern was good. I now have some nice, comfortable leggings to wear under my dance skirts when the hall is cool (until I warm up by dancing!). I had fabric leftover so I made a pair of lycra shorts, too. Unfortunately, I now have a good pattern but I really don't need any more stretch leggings or shorts. But that's the way it usually goes. I'll still have the pattern if ever I want another pair though.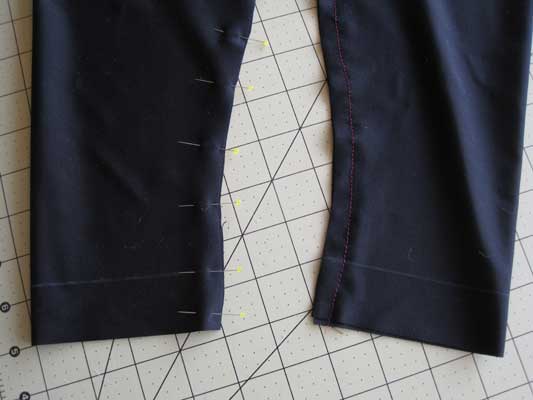 One-seam leggings are quite simple to sew up, once you get used to the stretchy fabric. If I'm not sure of the fit I use a wider seam allowance and sew the first seam stitches with slightly different color thread - just enough contrast that it'll be easy enough to see if you have to take the stitches out. But not such a contrast that it'll glare out loudly if the main stitches give out and this second row is on the line. (I know, seam stitches aren't supposed to show but with stretchy fabric they tend to show a bit where the fit is tight, and leggings usually fit tight.) When I've decided the fit is right I sew the second seam line just inside the first with thread that matches the fabric closely. I use a narrow .5 width zigzag stitch. Real nice, sharp, quality, silk pins are especially appreciated with this fabric. If I've used a 3/8" seam allowance I trim near to the stitching to reduce bulk. But if I'm sure of my pattern and fit I just use a 1/4" seam allowance to avoid having to trim and use matching thread for both lines of stitching.
If I'm not sure of the fit I also leave extra fabric at the top and cuffs so I have plenty to play with making them 'just right'. I should say, this is a good idea to do this which I didn't do on that first raspberry-purple pair. But they did just fine with an added piece around the top just below the elastic. Some pants are made with a yoke or added waistband anyway, but with stretch pants it seems the fewer seams the better. The black pair were cleaner with plenty to spare at the top (I did learn!), trimmed off after fitting with elastic where I wanted it.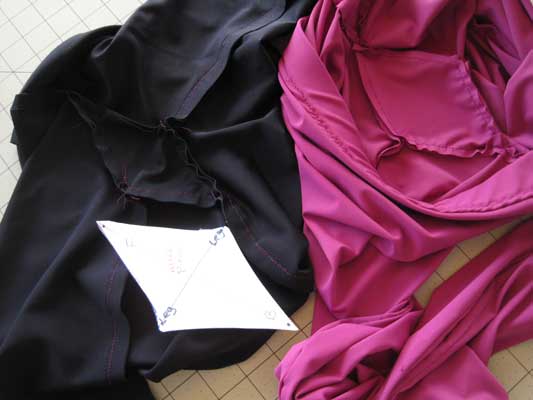 GUSSET - Leggins are simple to sew up - unless you decide to add a gusset in the crotch area - which I did. This is just a small diamond or oval shape piece of material that can give one a bit of fits sewing it in but it adds much to the comfort and eases greatly the stress on the seams in that area. I think it's worth it. There's no way to know just how big or what shape to make this little piece unless you already have something with a gusset to measure. So there's nothing for it but to just take a guess, make a piece, baste it in, try it on, guess what subtractions or additions will make it fit better, take it out, make adjustments, sew it back in... etc. Until it fits and looks to your satisfaction, or you decide you simply are not going to take it out again and it'll be fine just the way it is. And it likely will. I did some trimming to the gusset pattern after making the raspberry pair so I think the black fits better, but the raspberry is OK, too.

Here's what I did: Mark on your gusset the tip that goes towards the Front seam, the opposite tip that goes towards the Back seam, and the side tips that go at the leg seams. Also mark where the seam lines cross at the four tips (or where the 'tips' would be if you're using a rounded oval shape), and the inside of the fabric. It seems so simple when looking at that little diamond shape until you get sewing it in and can't decide which is up or down, or get it wrong side where. Marking the piece ahead of time helps.

Sew your leg seams. Then starting at one leg seam pin one side of the gusset up the front, then the back, attaching the gusset to one side. Stitch starting at the leg seam one way, then the other, again starting at the leg seam. Start and stop your stitching at the seam lines or where they cross. Take your time, go slowly and smooth the pieces before you sew. Use the sensitivity of your fingers to make sure you are never sewing through more than the two pieces of fabric you want to be sewing. And don't cross over another seam or seam marking, just right up to the spot. This avoids the gobby bulk that can happen at the points of the gusset if you're sloppy (I say this from experience). You'll have funny points of the gusset sticking up but that's OK - you'll trim them off later.

Now, you can either pin and stitch the other side of the gusset next, then sew the front and back seams. OR stitch the front and back seams next, then the rest of the gusset. Do what feels best to you. Either way I start stitching the gusset at the leg seams. If doing gusset first, sew the front and back seams starting from the gusset point. When all done take a break! And know that the next one will be easier.

If there is a little space at the gusset points then use a needle and thread to smoothly close them. You can run another line of stitching around the gusset seams. But on the gusset I like to top stitch, smoothing the seams out to make this area as flat as possible. You may also want to add a liner. I didn't but if I wanted to I'd glue stick the liner down and stitch it with the top stitching. Sew around the gusset on the inside making sure the seams stay flat under the stitching. I like to use a somewhat decorative stitch here.

Once you are on familiar terms with gussets and what they can do for ease of motion in clothing you might find other areas to use them. They work great put in at a lower armhole for easing an otherwise restrictive sleeve.

And now that your gusset is done you only have the top elastic and cuff hems to do to your liking and your leggins will be ready for wear!
---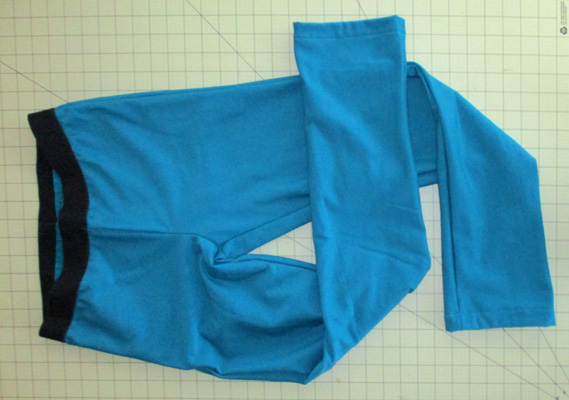 February 2021 - Sue's Fleece Tights which could be classified as leggings or stretch pants or long-johns or lounge wear or base layer or mid layer ... I'll call them tights here. We call them "fleeces". They don't seem to care one way or another.
I'd bought the Polartec 100S Single Sided polyester/lycra fabric five years ago but was just getting around to using it. I really had no need earlier but this fall we had started hiking more, right on into the winter months and I was considering my layering options much more seriously. First layer is almost always silk long-johns, the work-horse of my underlayers, worn year 'round. Next I had decades old fairly snug polypropylene long-johns and/or also snug thin 100% wool long-johns (now these would be called base or mid layers but they are old-school and not inclined to change). Over all go hiking pants. They all worked but I'm not very fond of tight and it always felt so good to get the long-johns off when we'd get home from hiking (though I never noticed it on the trail). I got to thinking about that light fleece fabric I had wondered if that might be good a substitute for the long-johns, or an addition when we went out in even colder weather.
I had a pretty clear idea of how I wanted them to fit -- form fitted but not too tight in the top half to help limit the many-layers-bulk, but looser in the legs so they would hang more easily and not be as snug as the above long-johns, but not as loose as over-pants. Something between tights and pants. They are a simple design so shouldn't take long to sew up (true). I had a "verified" pattern for one-seem stretch lycra leggings. I had a non-stretch, two seam, pants pattern that I knew fit. I just needed to make a new pattern for this in-between stretchy fleece. That shouldn't be too hard (not true). Oh well. I was getting pretty used to the finagling required when coming up with a new pattern.
I decided to go with a two seam design. One, because I could make them more form fitting without the loose-here/tight-there habit of single-seam stretch pants. Two, because it would make it easier to adjust and alter as I came up with the new pattern. Mostly I started with my regular pants pattern, making some initial adjustments knowing this would be a tighter fitting pant, mostly generously marking in the seams. But I also compared with my leggings pattern, particularly at the crotch though I decided not to add in a crotch gusset but simply draw the pattern including that piece in the main body. That worked well. If I make another pair of lycra leggings I think I'll try that on them, too.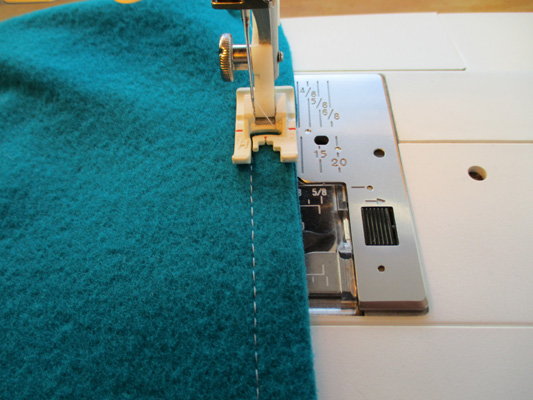 It did take some back and forth of fitting and adjusting but it really wasn't too bad. I'd begun with very generous seam allowances figuring that after I had my finished, confirmed fit I would trim the seams (and my pattern) to 1/4", which is often recommended for non-raveling fleece. But it turned out it was much easier to sew a half inch seam where the whole sewing foot could r
ide flat on the fabric, even with this fairly light fleece, than it was to sew a narrow 1/4" seam initially. With a rotary cutter trimming the excess seam allowance was easy. Tighter crotch curves were trimmed with small sharp shears. A plastic teflon coated foot helped with sewing this single sided stretchy fleece as did loosening the needle tension and the pressure foot, and using a stretch needle. When I altered Steve's fairly thin well-laundered double sided fleece pants a regular foot worked fine and and I only loosened the needle tension.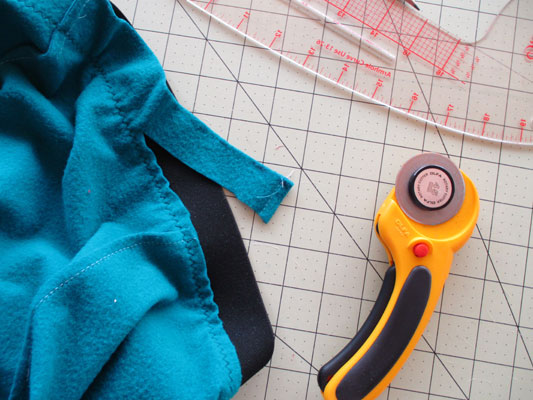 Instead of the usual fold-over casing for elastic at the top I used a single layer wide napped elastic, set slightly lower than I would pants, to ease the bulk problem of many layers at the waist. It didn't need to be real tight for these pants and turned out to be more comfortable than I thought. To make it simple I cut the fleece at what would be the top hemline plus a quarter inch. Pinning the elastic even with the top edge I sewed around the bottom edge of the elastic with a reasonably wide zigzag stitch, then trimmed the extra fleece off near the stitching. The cuffs are simple single fold, stitched. I chose to make the pants with the fleeced side of the fabric in and the smooth side out to help the slip between the fleece and the outer pants, and to have the comfy fleece against my skin then these were the bottom (or only) layer.
I'm really happy with the results. They went right into service. First time over silk long-johns, next time (as it was warmer) by themselves under nylon/poly hiking pants. They are warmer than expected and much more comfortable than expected. I'm a died-in-the-wool cotton devotee, except when hiking or on the water when synthetics rule for all the reasons synthetics are preferred. But when I came in from hiking I was in no hurry to change out of the fleece tights, though I admit the non-fleeced side of this fabric is synthetic feeling not cotton comfortable to the hand. I was so enthused about mine Steve asked me to alter a pair of loose fitting poly fleece pants he had to a similar under-layer fit, which I did. His reaction after the first wear was the same as mine - no hurry to take them off. These will also work well when backpacking to change into when at camp or at night if it's cold. I think I might have to make another pair.
---
Nomenclature is a funny thing sometimes. I know these things are properly called 'leggings' nowdays but I have trouble calling them that. For me, leggings (pronounced leg-ens) are wool pants you wore as a kid over pants or under skirts to play out in the snow. These are now known as 'snow pants', not just for kids and usually not wool. Tights were what we called the ones I just made. I've read though that properly termed 'tights' are light weight and have feet. I knew things of that sort as 'nylons' or 'pantyhose', or tights if they were heavier and worn for skating or dance or such. My current dance 'leggings' are black silk long-johns (also used for their intended purpose as long-johns). And our old 'bicycling tights' were poly long-johns. But whatever they're called, my recently made leggins will see multi use under skirts when dancing, under shorts (or not) when kayaking, under pants as long-johns, as camping night wear, and maybe evening lounge wear. No matter what you call them they're a pretty versatile piece of clothing. And now that I have my pattern, easy to make. Too bad a couple of pair are probably all I need!
---
---
Copyright by Susan Robishaw