Over the years, and many window quilts later, I've decided that a window quilt needs to be easy to use, both going up and coming down and it needs to be cheery when in place. Being inexpensive and easy to make doesn't hurt. And you can let your creativity run wild if you want.
TOPS - My first window quilts were rather heavier on the 'quick and get it done' side than the creative, but they worked. We had moved into our new underground house in the fall (not that it was 'finished' but it was livable) and the changing weather made it obvious I needed to get the window quilts done sooner than later. With fifteen windows to insulate I set to work with a cardboard template and scissors and cut out a million or so 4" squares out of whatever inexpensive material I could find. Maybe it was only a half a million, but it seemed like more. Sewing scraps and worn-out clothing made my original window quilt making a real "homemade" affair. Being in a hurry to get the quilts on the windows I'm afraid I didn't strain my creativity much.
I sewed the squares together to a size to fit generously into, or in front of, our window frames. When you tie the quilt it will "shrink" some so make it on the large size. You want them to cozy up tight to your window frames to keep the drafts out, or in. It's also good to make them long enough that the bottom can lay on the sill creating a good seal.

After these curtains were up I discovered that sticking to light colors or white would have been better than the colorful patchwork I had. But we lived just fine for many years with the colors and patterns - see photo at top of page. These quilts were more refined than others which were simply patchwork. Winter was arriving, I was working out full time in addition to building house and homestead, and well, you know how it is. Sometimes we forget that there truly is time for everything and what doesn't get done today will get done when it does. It took me many more years to learn that!
Later when I added a new layer of batting I covered the colorful tops with plain white material which, though not as splashy, suits much better. Yet when the light shines through when they are down during the day the old colorful quilt tops glow through with subtle color, rather like stained glass. If I ever get around to making new window quilts, I'll just use plain white cotton muslin.
Many years later - 2010: We had replaced our original homemade double pane windows with factory e-glass double pane glass (and did that ever make a positive difference!). I decided it was time to make new, more efficient window quilts to go with them. The basics were the same as the old ones but the materials were different. See notes in the paragraphs following.

OUTER LAYERS - For the front and back I used old white cotton sheets. We had quite a few around and got more from the thrift store. They turned out to be a good choice. The white allows the most light through in the mornings before you've raised the curtains after a cold night or anytime you have them down during the day. This is assuming you haven't put any opaque material in your quilt such as mylar. The simple white color looks nice from outside as well.
2010 quilts: 15 yards of 118" unbleached muslin; enough for new quilts for all of our windows. This turned out to be a good choice. It was easy to work with, easy to launder, and we really like the look. This was a long term, several year project making new window quilts for all of our windows. But when it was done it was well worth it.
BATTING - But it is the inner batting that, though not visible, is the most important part of the quilt. I used plain inexpensive cotton quilt batting for my first window quilts which worked fine -- until I washed them. Turns out the old style cotton batting is OK if the quilt is tied or quilted on a fine grid. But with only one tie every four inches (I wasn't into fancy quilting) the batting separated after being washed leaving sparse areas alternating with clumpy spots. Not exactly what I had in mind.

Some years later, after a reprint of the original article appeared in "Countryside" magazine, a quilter wrote to tell me of a new (then) thin cotton batting that is made in such a way that it needs only to be tied every 10" to stay together. I easily found the material locally and it was available in unbleached cotton which was nice. I took all my window quilts down (they needed to be washed anyway) and added a layer of this new batting, again with a backing of white cotton, thus making a much better insulating curtain than I had before. It has gone through many washings since and is still holding its shape.
Technology, options, and availability change all the time and I'd guess that with some research you can find better, more insulating, material available today.
2010: For the newest quilts I used a sandwich between the muslin of (starting with the window side):
Insul-Brite with the shiny side down
thin sil nylon, purchased as 2nds from a outdoor fabric company; the idea being to keep moisture from migrating through the quilt. I don't know if this really helps since almost all air exchange is around the edges. I probably wouldn't bother again. the Insul-brite likely is enough of a moisture barrier for this use.
Thinsulate 100 Ultra 3m (from an outdoor fabric company). The choice of a fairly thin insulation was to limit the size of the curtain roll.
I'm happy with the performance of the new window quilts.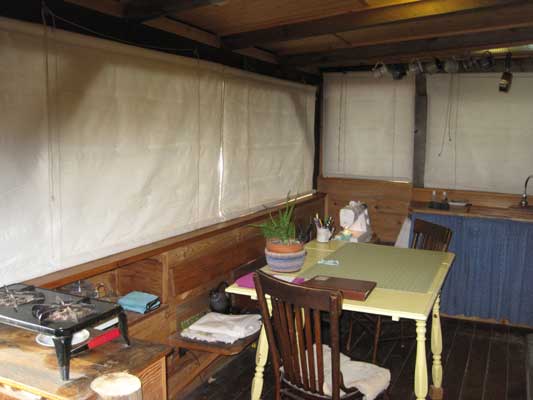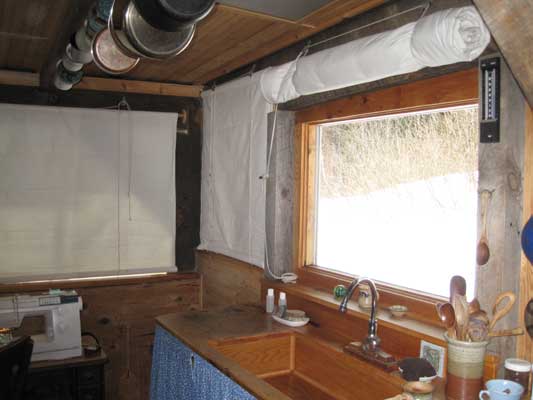 SEWING - Garnering your materials is only half the project, of course (actually, much less than half!). You have to sew it all together. Make the whole thing somewhat oversized to allow for the above mentioned 'quilting shrinkage'. I cut the back maybe four inches larger than the size I wanted, then folded it over onto the front for hem and border. Give yourself enough space, it's not easy to sew close to the edge on most sewing machines with this bulk. Go slow and use a lot of long quilting pins.
See below for later "stick pockets". I added these on or created them by taking out stitches and resewing to make pockets. I recommend you include this design feature from the beginning.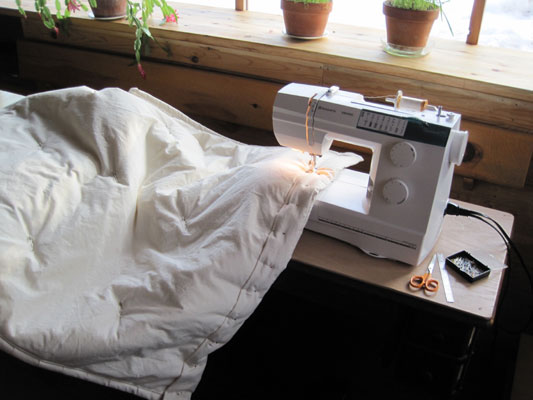 But before sewing that hem I hand tied the quilts about every four to ten inches, depending on the batting. Then it all stays together when sewing that border/hem. Plus it gives you a chance to fit the quilt to your window and adjust the size with your border.
For all of that, I have to admit that a plain old blanket works just fine, too. We've had a "temporary" light blue blanket window quilt on our entryway window for very many years. It really is time to come up with a more elegant replacement though.
Finally, in 2013 the newly upgraded entry window got its newly updated window quilt! Much better.
INSTALLATION - For the first window quilts we stapled and tacked two thin boards to the bottom of the quilt and two at the top, one strip on either side of the material. This was OK, but after many years of taking the curtains down, un-nailing, un-stapling, then re-nailing and re-stapling (the quilts do have to be washed) I decided that there had to be an easier way. There was, of course, and it wasn't even that hard to figure out (with one of those huffy "now why didn't I think of that before" impatient snorts). Simply sew an open hem top and bottom and slide in your stick. Drill holes in the top stick for attaching screws. Easy up, easy down. Simply slide the sticks out, wash your quilts, then slide the sticks back in when ready to reinstall. I have found that it works best if the hem is sized fairly snuggly to the stick so it can't rotate around, but not too tight that it's hard to get in and out. Make your bottom sticks narrower than the window opening so they don't jam between the frame and will easily roll up.
The bottom sticks allow the quilt to be rolled up with cord. The top ones allow easier installation in or in front of your window frame. How you put them up depends on your windows.
You need cording such as venetian blind or sash cording or something similar. Regular string or unwoven cord will likely ravel and break with use. We originally used sash cord, which worked well. But it did wear out over time and when it came time to replace it (maybe 20 years later), we couldn't find any. There isn't a lot of call for sash cord anymore I guess, or venetian blind cord. We did finally find some woven cord in the local hardware that works, though it is a bit bulkier.
Two small pulleys and several large fencing type staples are also required. And you will need something to wrap your cord around to keep the curtain rolled up or open. A nail will work but a small dowel is nicer.
A little creative adjustment may have to be done around your window frames to make these curtains work well. The pulleys need to hang above or on the room side of the curtain. Ideally the curtains are attached far enough above the window that they don't block the view when rolled up (either flat in the same plane or above if the window is inset). Follow the drawing to see how to string the cording. It is easier done than said I think. A knot or large bead in the end of the cord will keep it from pulling through the pulley. You can tie the ends together but if you have a lively cat in the house you may want to keep them separate to prevent the feline from hanging his or herself on the cord. One of our cats could care less about such things as dangling cords, the other couldn't ignore it if she tried. Which she doesn't of course.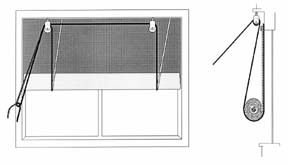 * * * * *
RIGID INSULATING PANELS - Another technique I've used for inexpensive window insulation in our greenhouse is a rigid insulated panel. Make a frame of 3/4" or 1" x 1" wood to fit inside your window opening (or against it). Cut a piece of rigid foam (styrofoam or beadboard) to fit within the frame. Cut two pieces of polyethylene plastic for either side. Staple it to the frame. I used regular wood glue between the frame and plastic as a sort of caulking or sealant. The plastic keeps the rigid foam from outgassing into the room. This is important on sunny days when you aren't there to take the panels down.

Cut two pieces of large cardboard to go on either side of the panel. Staple it on. It helps to hammer the cardboard flat around the edges first. Tack on small boards (3/4" x 1/8" or so) over the staples. Paint the panels well with an oil paint (it will take several coats). A light color (white is best) is recommended to reflect the light and heat, both in and out.

How you keep the panels up depends on your window frame and sills. I've used both simple toggles and small elastic bungee cording as well as simple friction fit. You have to find a place to store the panels when they're down, but they are more moisture resistant than the window quilts, and have a higher insulating value. I do use fabric window quilts on the sloped overhead glass and they do OK but are prone to damp and mildew spots.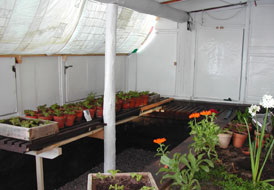 Window insulation can be an easy and inexpensive way to cut down your winter energy use and keep your dwelling cozier, as well as brighter. It can be fun and creative too!
~ ~ ~ ~ ~ ~
Copyright © 1993-2018 by Susan Robishaw