We got our old (small, squarish, gray type) Maytag some forty years ago (about 1979) from a friend in exchange for the use of our van and trailer for a hauling project. It steadily and reliably took care of our laundry needs for more than 30 years. As a water saver it can't be beat. You can wash two to four loads in a row in the wash water, drain, fill with fresh water, then rinse the two to four loads. Or use the rinse water to wash to next (darker, dirtier) batch(es). It is also easy to adjust the amount of water to the size of your loads. The flexibility made up for the bit of longer time it takes to run the laundry through the wringer (which I still find kind of fun).

When we lived in the cabin it resided on the porch. We ran it with a gasoline engine Steve set up just outside the porch. A proper sized hole in the wall allowed a long v-belt to connect washer to engine. It was a nice setup, though we had to haul laundry to town in the depth of winter, when it got too cold on the unheated porch.

When we moved to the house in 1985 it found its place in the much better insulated porch/entryway, and was run off a 12 volt motor made from a truck generator. Since it ran directly off of our 12 volt battery system, powered by solar panels, the speed of the washer depended on the voltage of our batteries. So I washed when it was sunny and the batteries charging. Which, while rather quirky, fit in well since our dryer is the sun. In the winter I ran a clothesline inside the house (still do), and since we heat with wood we much appreciate the added humidity from the drying clothes.

After much experience in replacing buttons popped off by the wringer, I came up with a technique of grabbing shirts by the shoulders and folding the buttonhole side of the front over the buttons before running, flat, through the wringer, keeping an eye as the cuffs went through to make sure those buttons also run through flat (easier done than said).

The destruction of zippers on jeans took me longer to resolve, unfortunately. But after living with pinned up zippers for too long, I finally came up with a simple solution: zip up and button/snap the pants (and anything else that has a zipper) before washing, then run through the wringer flat, waistband first, folding over one edge on the large sizes. The wearers of jeans in our family are much happier now that the zippers stay zipped without pins.
p.s. It's 2009 now and the washer is still running fine. But now, thanks to a better and larger inverter, it now has a 120v motor and I don't have to wait for a sunny day to do laundry, though I often do.
If you want to use your graywater from the washer for watering greenhouse or outside plants, be sure to use a non-sodium based, no boron laundry cleaner, ideally one made for that use.
2019 - Change is inevitable! And keeps life going. About six years ago friends who had a state of the art, top load horizontal-axis clothes washer, made in the USA, Staber washing machine decided to forgo settled life and took to the road with their four children in a large motor home to experience a different way of living (which has turned out very well). Material possessions were sorted out with only the most important making the move to their new mobile life. One of those items left behind was their Staber, which they really liked but it just didn't fit in. So they generously passed it on to us.
At the time we had been looking at front loading options to replace the old Maytag. I had decided it was time to upgrade. But we had several criteria that made it difficult to find an appropriate washer:
(1) low water pressure (our water is gravity fed from the storage tank up by the windmill, about a 25 foot drop; enough for our needs but not for most washers);
(2) the need to conserve water in the winter since we can only pump water when it is above freezing, and it is windy. Some winters the days that this happens are few and far between, so the water in the 1200 gal tank has to last until warmer weather. I was used to having and using the 'washtub system', where I could run rinse water into a tub to be used for washing the next load. It just made sense and I wasn't happy with the 'modern' alternative of starting each load with fresh water.
(3) our battery-inverter power system; we weren't sure on many modern appliances how they would run on this system; and
(4) power consumption. Days are short and cloudy in the winter. Our PV system has grown but no matter how big it is the panels still need sun to produce power into the batteries to run whatever we want to run on electricity on the homestead. So any electrical powered appliance needed to fit in and not be an energy hog.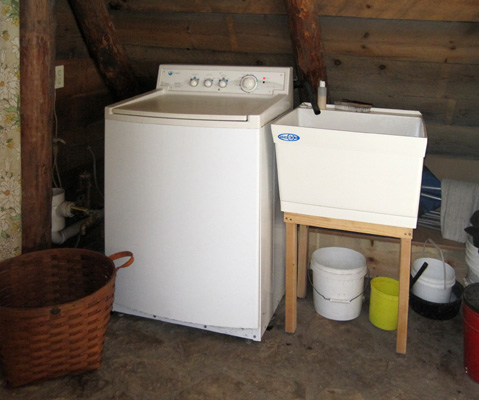 We hadn't had any luck finding a washer to fit our needs. Until we got the Staber. It worked well on all accounts. We set it up, plugged it in, and off it went. Well, maybe it did take a bit more than that to get it all together, including adding a washtub, but it went right back to work doing what it was made to do - doing a very good job of cleaning our laundry, simply and efficiently. To say I appreciate this appliance, and, of course, our friends who put it into our lives, is an understatement. I hadn't realized what many homemakers had found out decades ago - the old wringer washers take up a lot of your time and attention. Now this may sound funny to those of roughly my generation (and newer) who grew up with automatic washers but the release from having to regularly attend to the washer was invigorating! I laughed about it for some time as I got used to being able to 'load and go'. But I wouldn't be able to fully appreciate the differences and contrast had I not spent those many years with the venerable old Maytag. Both old and new fulfilled, and fill, their nitch in our homestead life with grace that they can be proud of.
* * * * * *
Copyright © 1999 - 2019 by Susan Robishaw