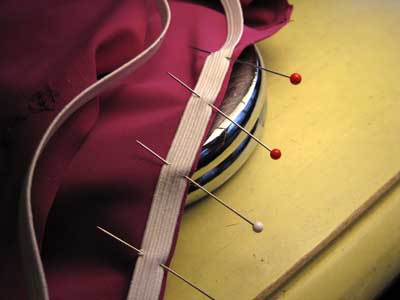 Pinning Elastic - This is a dilemma, especially when working with fine or slippery fabric and small elastic, such as around the legs of a bathing suit. You want to use fairly fine quality pins to slip through both elastic and material smoothly, easily and without catching. Putting the pin in is fine, but to bring that nice little pin back up through the stiffer elastic, especially if the elastic is narrow, often ends up going beyond the elastic, or bending the pin. If you use heftier pins they don't slide through very well. So, I put the fabric and elastic up onto something, at the edge, so I can gently push that pin down and bring it up within that narrow width. Here I'm using a couple of my smooth weights. Makes the fussy job of pinning the elastic much smoother. But it also helps when pinning any narrow piece.
---
Craft Clips - There are situations and fabrics where pins don't work very well. The small, inexpensive craft clips can come in handy as a pin substitute. They come in handy else where in the house and shop as well so you may want to keep some in your sewing drawer for "sewing only" use and a box of them elsewhere for general use.
---
BOOKS - A few I've found particularly interesting and helpful
"Sewing Outdoor Gear" by Rochelle Harper, published by Taunton Press (the "Threads" magazine folks). Highly Recommended!! The whole book is full of information, tips, ideas, techniques.
---
Copyright by Susan Robishaw