Blueberries are a common, and for many a big part of our world here in the Upper Peninsula. They grow wild, lowbush inland, highbush along Lake Superior. I vaguely remember picking the low growing bushes as a young child. I liked the berries OK, though mostly I just loved being out in the woods. When Steve and I moved to our northwoods homestead we had wild blueberries all around us. For many, blueberry season is serious business. People were generous with berry locations, where to go pick, there are many favored spots. But as much as we both liked blueberries life was very full and time to go berry picking simply didn't arise.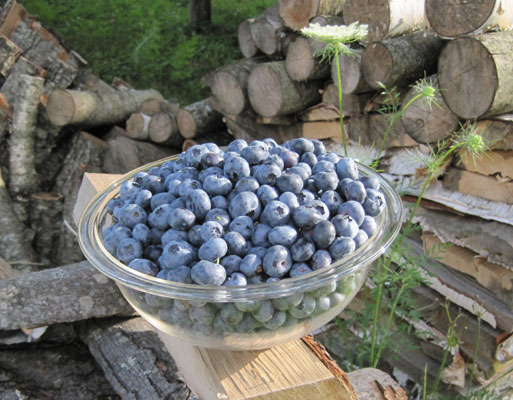 For sure we picked some, and still do. We wouldn't knowingly walk by a bush with ripe berries without sampling, maybe taking home a bag or pocket full. There are wild berries all around us, and delicious they certainly are. But it was more than 30 years before we settled in to really having blueberries. And that was when I finally added tame berries to my growing garden/orchard. Mostly tame berries don't have the high flavor of wild, or they maybe do have as much flavor it is just spread over a larger berry. Which is what makes them easier, and more fun, to pick. And having bushes right there in my garden certainly makes harvesting easier. Though to be sure they take care and maintenance. It's a trade off and one I'm happy to make. I like my blueberry plot, a lot, and it responds by feeding us generously with its wonderfully delicious blue fruits.
Since I wrote an extensive chapter in my "Growing Berries for Food and Fun" book on growing blueberries I'm not going to repeat all that here. So I'll just continue on where the book left off in 2016.
---
---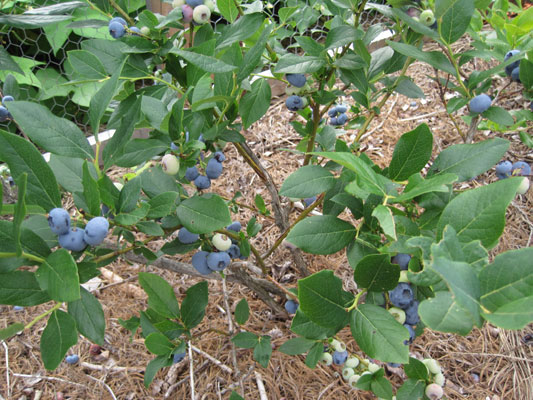 2019 - The big story for this year was the lack of birds. This certainly didn't make me happy but it meant I didn't bother to put the cage on the blueberries, first time since we made and starting using it in 2014. It was a good harvest and so nice to be able to easily browse all season. Both BlueRay and one of the Patriot bushes had some fruit well into September. Along with lack of bird pressure was the much more welcome lack of SWD. There were a few mushy berries but not many. The SWDs pretty much stuck to the raspberries this year.
Most of the bushes are healthy and doing well. But two at the east end of the plot are looking a bit poorish, , a Northland and a Patriot, and I don't know why. The other bushes of those varieties are good (as these have been in the past). I'm hoping they perk next year. I might root some low branches of the better bushes as replacements just in case.
And the poor little Bluecrop I think is going to go by the wayside next year. Time to let it go. It did its best, putting out new growth and some fruit, but there was again a lot of winterkill and the berries small. I don't blame the variety, it may or may not be suitable for our cold orchard. But I will likely buy something else, there are many new and good sounding varieties to consider.
---
---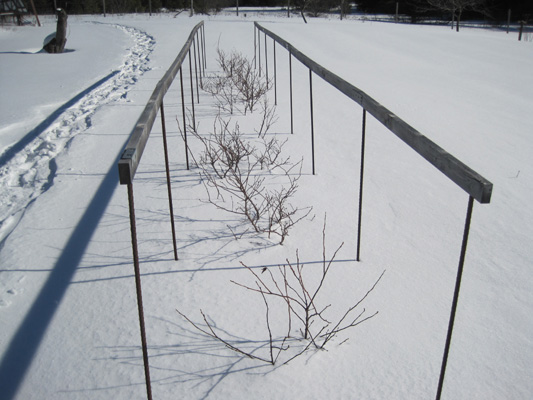 2018 - Each year is unique. This year I didn't prune until early June, working to get the low growers up and the high growers wider. They are all (except Chippewa) old enough now to be pruning out some of the oldest wood, encouraging new growth. There was little winterkill and all the bushes grew hale and hearty, except the struggling Bluecrop though it picked up steam later. It was a moderate crop this year; the majority were picked, eaten, and sauced by mid August. The last picking, except for some Northland, was August 20 when the cage came off.
Blueray was the winner for recovery from its early difficult start (it was a "rescue" from a local grower, potbound, neglected - it took ten years to catch up with its "healthy from the start" neighbors). It has turned into the tallest bush, tying with Northland for the largest and fullest overall, both needing pruning to keep them open, and within the cage. The medium-large berries have good flavor. Bluecrop, another poor purchase, is still struggling a bit but it's showing signs of improvement. It had a decent year and a light crop in spite of quite a bit of winterkill. It's definitely worth it to buy good plants from a reputable dealer, which thankfully most of my bushes were.
Three year old Chippewa had a small harvest this year but is still a rather small plant. It ripens its dark berries early with Duke (first ripe July 21). The berries on one of the three Northlands, the largest bush, were interesting in that the fruit on the south half were significantly large than those on the north side. Usually I don't see any such differences.
---
---
2017 - Bushes look great this year, growing well, fruiting well. I did some pruning early May, about bud swell. When I got to picking I made a note to prune off the lower branches and get the bushes growing more upright. Some do naturally more than others but they all could use some encouragement in that direction.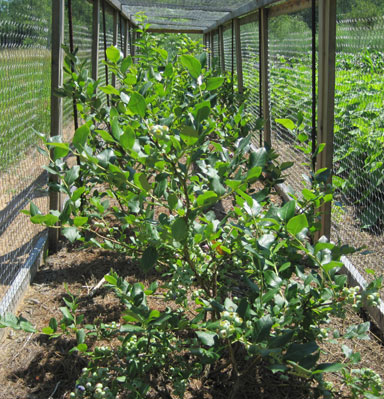 Berries were turning blue July 21 so we put the cage on. Started picking some the end of July but the main harvest was during August, and it was a very good one. Though there was some difference in timing, Dukes and Northland first, the plants as a whole ripened together. From August 8 to 18 I picked about 15# mostly from 7 bushes.
Chippewa plant is slow to get going but it is only 2 yrs old. It had a small amount of fruit, darker than all the others and thankfully better tasting than the few fruits I got last year. Bluecrop is still having issues and had quite a lot of winterkill. I still debate with myself whether or not to remove it and plant something else. After so long I hate to give up.
By the end of August Northlands and Duke were done, they had done well. Blueray and Patriot still had fruit but Patriot in particular was showing the unfortunate mushy berry signs of SWD (Spotted Wing Drosophila). Darn. Mostly it was just the raspberries that had been affected up to now. But I'm glad it was this late. I took off the cage and went to picking the plants more often, picking them clean earlier than usual. No late berries to snack on this year.
---
---