---
---

The Corn is Secure! - August 13, 2017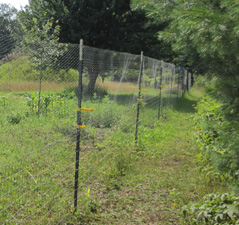 We had finished a significant part of the new fence -- posts and fencing -- the end of May, securing the garden and orchard from deer intrusions and anything else that might wander by but not be of the climbing sort. Off and on over the next months we worked on other odds and ends of finish work, removing the old fence posts, filling in the holes, tying poultry wire to field fence, eliminating gaps, finishing the gates. But we hadn't yet done the big, important last part -- the electric wire. From long and painful experience we knew that without it there was little chance of us harvesting our corn, or cherries (when we once again have cherries), and maybe other fruit. Thankfully the raccoons hadn't shown up to go after the strawberries or blueberries or raspberries. They must have been busy elsewhere. But the corn was ripening, so we went to work.
We sorted through the old insulators for those still in good shape, bought new ones. Went back to get the RIGHT new ones. Went back again for yet another bag. Screwed insulators to wooden posts, finagled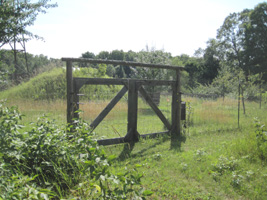 appropriate ones through the poultry fencing onto the metal posts, untangled and strung out miles (it seemed) of electric fence wire, went around again and again and again making sure the electric wires weren't touching the poultry fencing which had a tendency to bulge out at the wrong places, tying it back to the sturdier field fence or a stake where necessary. Around and around the fence pulling tall grass and weeds out away from the wires. Figuring out how to electrify the gates without electrifying us whenever we went in or out. Turn on the fencer, find out why it wasn't working, what was shorting out where. Pound in extra rebar 'staples' to make sure the fence was well grounded, and make sure there were no gaps for someone to slip under. A few days of intense long hours but in the end - hurray, five bright lights on the fencer tester! We slept well last night, and are looking forward to the first ripe corn soon.
---
---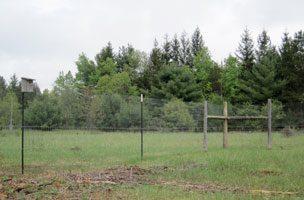 ORCHARD - New Garden/Orchard Area Enclosed! - May 15, 2017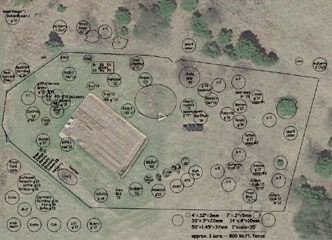 There is still a lot of work to be done on the new fence (and removing old fence posts) but the new area is now enclosed, and it feels good! We've been working on it over several weeks but the big day was when we had to take down old fence and re-install it in the new form. Once we started it had to get done that day to keep the old garden/orchard secure from interested deer. These things seem to always take longer than one thinks, but it was done before dark. And we're satisfied with that.
---
---

ORCHARD - New Fence Stage 1 - April 30, 2017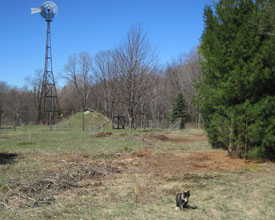 Buds are swelling, daffodils and Spring Beauties are blooming, wood ticks have arrived, and in a few weeks it will likely be warm enough to graft all those seedlings and trees waiting for new varieties. There's still snow in the air sometimes, frosts at night, many cold north winds, and many beautiful days. Spring comes slowly up here, but that's just the way I like it. And now Stage One of our new orchard fence is complete. This has been one of the big projects for both of us this month -- clearing the fence-line. A lot of large chainsaw work, small lopper work, and a fair amount of chopping and digging; cutting down/out trees, shrubs and brush, hauling it off to create yet another new brush pile, just in time for the sparrows and other small birds (and other creatures) to claim as new home territory. Pre mosquito and black fly time is great for this type of work.
At the north end I had to move an old brush pile that was in the line and discovered a gold mine (if one is a grower of plants and trees) of well rotted stuff at the bottom. Well worth the work! At the south end I found (unfortunately with the lawn mower!) a nice rock, maybe 10" sticking above a raised area. Since we're collecting rocks for our someday pond this was a good find. It was mostly buried, and I had to flatten that area anyway, so I got the shovel to dig it out. Surprise! Turns out it is maybe 3 feet across, and who knows how deep -- I didn't go that far! So I dug out around it and we have a nice "point of interest" along that part of the fence. Thankfully the chosen fenceline runs just north of it. The large rock is a companion to our old "snake rock" about 100 ft away. This one is mostly above ground (actually, we don't know how much is below ground). In our early years here we saw a garter snake sunning itself on this large rock and henceforth it has been Snake Rock.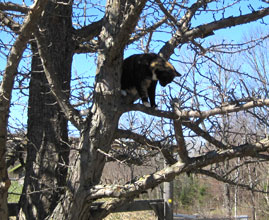 This new area adds about 30% to the size of our current garden/orchard, making it about one acre total. I think this will be a nice size and we'll certainly be eating well when all the new fruit trees start producing! The next step now is to move some of the old fence and install new fence posts and fencing. Steve's had to fit this work into the building of his kayak so it's been a busy month. It'll be nice to have it completed before the weather warms up, the kayak is finished, and we'll be wanting to get out on the water. Plus the swallows and blue birds returned to find their old nest boxes moved in anticipation of taking down part of the old fence. So It'll be good to get the fence done and the boxes put back up before they get too serious about their nest building work. It sure was great to see and hear these old friends again.
Photos - Every project needs a friendly supervisor. Lilli enjoyed the job for a short time. But what I was doing just wasn't that interesting for very long.