Another Fedco of Maine find and they champion and have distributed widely this wonderfully hardy, vigorous, prolific pear. It is an old variety. Small to medium size fruit are not only attractive but tasty as well. I bought the tree in 2003 then moved it in 2005. It put out a few fruits from 2007 to 2014 when we got a big harvest of 22 little pears! It was a good start, and it grew from there. It has certainly proven to be hardy and a really nice pear tree.
---
---
2019
After last year's big harvest Stacey took this year off. Though I missed the fruit it was a big apple year so we were well fruited. I did some light major pruning and weighting of branches, opening up the center and bringing the top down. I got a new 6 ft aluminum ladder, much lighter than my 8 ft fiberglass, so I'm working toward bringing all my trees down in height to the new ladder's reach (about 12 ft tall), making my orchard life easier.
Stacey did get some new grafts, extra Gifford, Flemish Beauty and Hudar scions, to join last year's Nova, Sierra, and Southworth. All the grafts, and the mother tree as well, had a good year. There are several reasons I've chosen to graft other varieties onto Stacey's branches. One is to see how the varieties fruit on different rootstocks (all are also grafted onto the venerable seedling chokepear, Usseriensis rootstock, and some on Summercrisp). It's also to discover more quickly what the grafted fruit is like. Being grafted on a mature producing tree the scions will fruit much earlier than when grafted onto a juvenile seedling rootstock. And part is that as much as I like the Stacey pears, they are small and, based on last year prolific harvest, more than I care for all at once at that time of year, and they don't store very long. Once they fruit I can decide whether to keep the variety on the tree, expand it to more branches, or remove it. Trees are so accommodating to our many, and to them probably quite odd, whims and ideas.
---
2018 - Pears and Pears and Pears!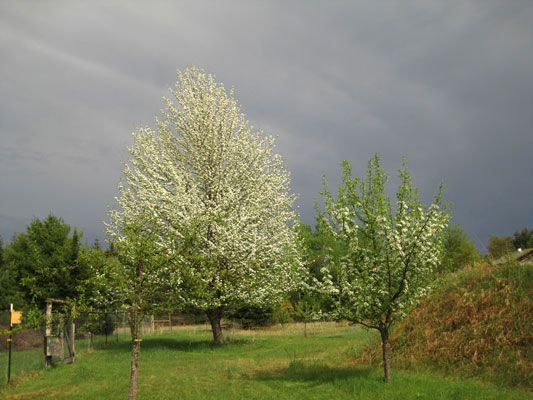 Beautiful blossoms the end of May, and with the help of our large prolific old seedling pear for pollination the sturdy little Stacy showered us the end of August with an amazingly crop of little pears.
I had done some thinning and mid August early damaged fruit was dropping. Two week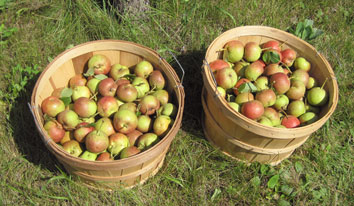 s later some good fruit dropped so it was time to pick. It's easy to leave the fruit on too long (gets mushy fast). Our first real harvest, mixed small to "large" (2 - 2 1/2"), round fruit. Half were damaged in some way (insect likely), half real nice and firm - two half bushels - 40#! It was a real treat to pick.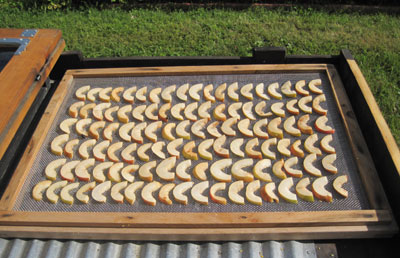 Fruit was stored in the root cellar wh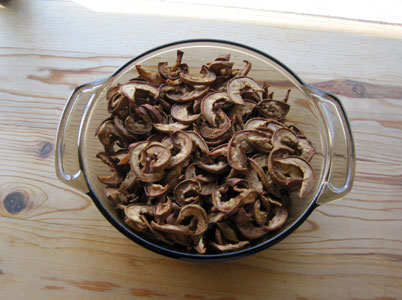 ich at this time of year is fairly warm, 60 degrees. Five days later most were ripe and ready, they wouldn't last long. We ate some fresh - very good, sweeter when soft but good at the early crunchy stage, too. So the first week of September I processed them all, making sauce of the softest half, made some juice (very good!), and dried the best (to make into sauce later). Now I know why I continue to plant more pears.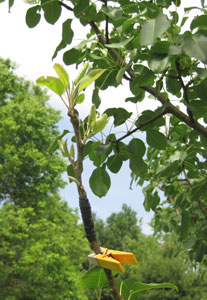 The Stacey tree is a real gem, healthy, nice shape, moderate growth. When we grafted this year there were extra scions when done so we put 4 varieties onto shoots on Stacey - one each of Nova, Sierra, Southworth, and a local unknown variety. They all grew well and should give fruit well before the regular grafts on small rootstock are ready. I hope the tree doesn't mind being a nursery.
---
2017 September 15 - Surprise!

I have a beautiful healthy moderate sized 14 year old Stacey pear that has given me a few small fruit since age six. The last two years it's had a bumper harvest of 22 to 36 pears! That's individuals, not pounds. The fruit have all been small, more or less "pear" shaped. This year the tree had just a handful of blossoms and at some point I noticed 2 "usual shaped" small pears. I picked them too early the end of August but appreciated the little fruits nonetheless. Then a few weeks later I happened to see one more fruit. But this one was larger, and to my surprise, round. I picked it September 9 - a very nice 2" x 2 1/4" fruit. I looked online at the few photos I could fine of Stacey pears. Some showed the small 'pear' shape I'd gotten before, but a f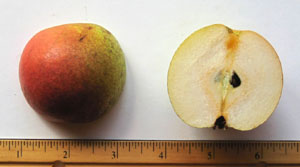 ew showed round fruit like my latest (including Fedco which is where I'd purchased the tree).

I don't know if it's usual to have the two shapes on a tree but I'm hoping my tree decides to continue with the larger (relatively speaking) round fruit, and in the future a larger harvest. We ate the pear today and it was very good. This is what keeps me planting and caring for my fruit trees, these delicious surprises.
---