"Late Summer/Fall. The best-quality large very hardy pear available. Very good fresh eating with sweet 'high flavor'. Fine-grained soft flesh has minimal grit cells. Good canning pear.
---
---
2021

- Both main and root-grafts growing well, healthy. Root-grafted understandably smaller, main #1 quite large for just 2 years.
---
2020 - #1 - grew well, vigorous, healthy. No FB strikes in spite of massive FB in chokepear & Stacey. Lost all grafts except L'Anse in chokepear including Patten #3. #2 Root-graft '19 healthy, good growth.
---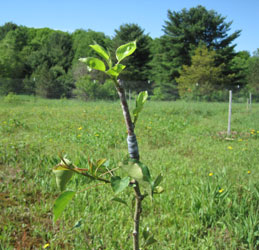 2019 - scion from Bob Purvis. (#1) usser2 rootstock that died down last summer and regrew. Grafted 5/28 @~12". Healthy, grew to 36" + 2 vigorous sides. Will cut off low side shoots next year for more grafts.

(#2) low bench-graft to seedling chokepear (from nursery), small root hairs on stout short root, buried graft, se corner. 2 buds, small growth, healthy.
(#3) chokepear '17 graft OK.
---
2018

- Main graft and usseriensis rootstock died down overwinter. Very disappointing! RS regrew from base, healthy branched 4 ft. May get another scion and re-graft next year. Do want a Patten on own tree. Graft on chokepear had 3" growth, not enough to cut for scion.
---
2017 - One graft on ussuriensis rootstock, central east area. Good growth, healthy, strong, 2 shoots 24" each. Total height 4 1/2 ft . Second graft on chokepear west branch. Light growth but healthy, 3" shoot.
---
---
Online Notes: Tree is extremely adaptable. Long willowy very flexible branches won't break even under the weight of its heavy crops. Extremely hardy and highly recommended for coldest districts. A good pollinator for other varieties. Scab resistant. Z3. ... Should be picked about one week before ripening and then allow to ripen. ... Susc to FB. (ziggro-MT) I harvested near the end of September, and let it finish inside for I think about 2 weeks. .Very good eating...I was worried that they wouldn't do well, since we are in a short-summer area. But I just picked them late in Sept., before a hard freeze hit, and they ripened up just fine inside. ... One of the latest-ripening pears. Extremely hardy. Ripens mid Oct. (UMinn) poor z3, very good z4.
---
---
Copyright © Susan Robishaw