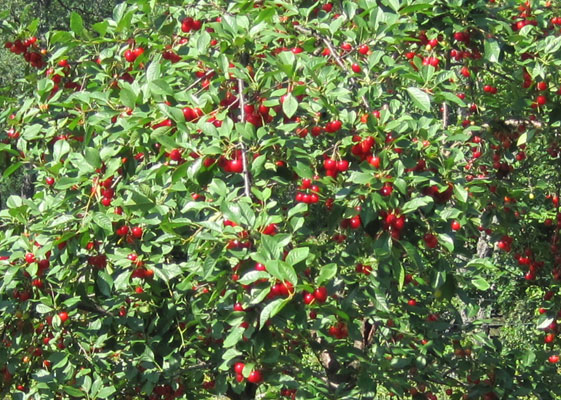 My original grafted Evans was planted in 2004. Purchased from Fedco, grafted onto standard Mazzard rootstock, the tree grew well, fruiting in 2007. I thoroughly enjoyed the five years when I had moderate to heavy crops, making wonderful fruit sauce. It didn't take me long to go searching for a cherry pitter after that first good crop, which was pitted by hand.
Two events did the healthy, sturdy Evans tree in -- raccoons and a heavy crop. Both resulted in badly broken branches two different years. Cherries don't handle such treatment well. Canker set in and in 2015 the tree was done. I was bummed as I'd gotten a taste of fresh home grown cherries and definitely wanted them back. I had cut a scion and tried grafting on a sucker but it didn't take.

After much reading I decided a tree on its own roots, not grafted on Mazzard, was the way to go. The new Evans, planted in 2017, from HoneyberryUSA, Minnesota, is an own-roots plant, reported to be much hardier than grafted, and a smaller tree. It is doing well, fruiting in 2022.
---
---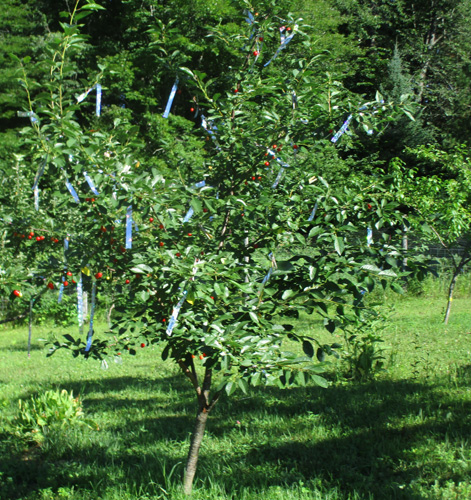 2022 - May 27 blossoms about half open, possibly missing the May 23, 24 freezes. June 10 noticed little fruitlets. Also had some blossom blight (it was a year for it, in apples and plums also). Pulled off all affected, continuing through July. Some gummy spots, too. Sprayed with comfrey/spinach now and then. Quite a few black aphids - managed mostly by hand, some soap. It was having a bit of a rough year. But it ripened a light crop of cherries, about three cereal bowls. Lost fair amount to rot, some to birds. When started ripening last week of July I tied reflective tape all over the tree to discourage birds. I think it helped. It was certainly festive! Cherries made a real nice sauce with blueberries; appreciated having cherries once again. The tree had some yellowed leaves but overall it finished the season looking healthy in spite of the blossom blight and other issues.
---
2021

- Another hard year for fruit. Mild, dry winter, very warm early spring, everything growing and blossoming early. May 22 the cherries were blossoming - Evans had a decent bloom. Then came four freezing night of 22-28 degrees May 27. Sigh... Maybe next year. Summer continued very hot, fall was mild with no frost until the third week of October.
---
2020 - May 29 a 25 degree freeze with cherry bloom just starting. 6/2 handful of blossom on young Evans but no fruit. I assume there was some freeze damage though Carmine managed a slight crop. A record long hot summer. Some yellowing of leaves but not major. Put on good growth.
---
2019 - In April cut off long 2 yr bottom branch, too close to another. Put spreaders on three bottom branches to get less upright.
---
2018

- Some leaf issues (that kind of year) but vigorous growth, 6 ft tall, 7 branches 12-32". Looks good.
---
2017

- Small 10" whip from HoneyberryUSA, own roots (not grafted). Good healthy growth, only light leaf holes in a very wet year. Grew 3 shoots, ~30" tall.
---
---
Online Notes: Named after the plant pathologist who discovered it in Edmonton, AB. * Grows 12-14 feet tall and up to 10 feet wide. * Bright red fruit, long pits, translucent yellow flesh. * Ripens in late July in zone 3. * Self-pollinating. * ** (konrad2011) pretty vigorous, perhaps it can make a good dwarfing tree or shrub, --Evans on its own root when left alone as I do look like a shrub. (UnivSask) A noticeable exception is the Evan's Cherry which may be among the more cold tolerant of its species and shorter than other sour cherries. (other) on its own roots (tissue-cultured) that is about 10 years old, and still going strong. Left to its own devices, it will sucker, throwing up new sprouts as far as 10-15 ft away from the main trunk, which can be dug and transplanted, to grow into new Evans trees. (edmonton) I'm pruning my Evans to be a "tree", not a bush. Its about 10 ft. tall after 5 years from tissue culture, and looking very much like a "tree" with a single trunk and nice lateral branches. Left without pruning Evans looks like a Nanking cherry bush, with multi stems. I thin the fruit only because Evans seems to want to produce huge quantities of cherries, even in my tough climate, at the expense of tree growth. The taste this year is particularly excellent, the best "tart" cherry I have ever tasted. When frozen whole they lose much of the tartness and are almost like a true sweet cherry, but I like them just fine fresh off the tree. If you live in a northern climate, zone 3 or 4, and want a very hardy, reliable, very productive, excellent tasting tart cherry, get Evans. Nothing comes remotely close from what I've seen. It MUST be on its own roots however. It may be okay to have it grafted on Mahaleb or Mazzard. That hasn't been tried up here as those two rootstocks would not normally be considered hardy in zone 3. We just get tissue cultured plants or dig up root suckers. Evans grafts readily, but seems to invariably die over the winter unless it's on its own roots. It seems to do best with grass competition right up to the trunk, and no or very little fertilizer. It virtually seems to thrive best on neglect, quite an unusual trait for a cherry tree."
---
---
Copyright © Susan Robishaw