---
December 17, 2020 -- Still No Snow
It's like anything - the more you give your attention to it (no matter what it is) the more it comes into your life. For us right now it's happening with hiking. Need to go to Escanaba to get some boards at Menards? Sure, there's some kind of trail right nearby. We'd have time for a short hike. We'd passed the small trail-head turn-out numerous times and knew it headed off into a big tag-elder (or something similar) lowlands which didn't look too inviting but one never knows. So we decided to check out the Escanaba Recreational Non-motorized Pathway in person, starting at the south-east end off the back of the Comfort Suites parking lot. Now they say it is for cross-country ski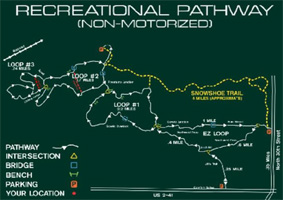 ing and snowshoeing in the winter; and hiking, biking, running in the summer. With a couple feet of snow I'm sure it will be a nice cross country ski trail. But the hiking, biking, running is a bit overstated, at least at the south section..
The trail IS generously wide, well marked, with some nice conifer woods and a nice ridge. But one has to first get through about 20 minutes worth of wetlands, really wet lands, which are thankfully well frozen right now. It is also full of frozen swamp grass hummocks and stumps sticking up through the ice and a generous covering of recently mowed thick dried (but very pretty) grass/sedge/reeds, with occasional stubble, all of which we traversed like drunken sailors, sliding a bit, walking and bouncing on and off the hummocks. We now know we both have very good ankles! This was the "EZ Loop". But one does get through that to Loop #1 and up onto the ridge and woods. It really was quite a nice trail at that point, especially being somewhat warmer (than recent outings) at about 30 deg and only a mild breeze. Loop#1 heads down and back out of the wetlands now and then but not hummocky like the beginning (and ending) trek. But considering what they had to work with the folks who built, and maintain, this trail through difficult terrain have done an admirable job and I think it might be a popular local ski trail. There are a couple of northwest loops that look more promising for hiking, however, with a north-west trail head which we'll check out on a future trip to Esky.
---
February 3, 2021 -- Return to the Pathway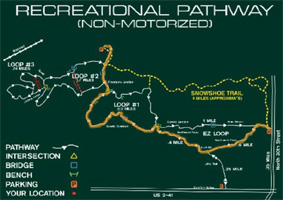 Our third day of beautiful sunny skies and calm. It was also the last day before the forecasted big snow storm. Well, maybe not big but at least it included snow which there has been very little of thus far. A lot of snow lovers are pinning high hopes on this one. For us it meant get out hiking before we have to don snow shoes. It was a perfect day, cold to begin with but promise of low thirties. We decided to try out the snowshoe trail (yellow dashes) at the Escanaba Pathway which we hadn't been on. The map said 4 miles and the track looked curvy enough to be interesting. And interesting it was! Though it's really only 2 miles long (4 miles out and back).
Of course, one had to find that elusive north trail head, nicely marked on the map with no roads or directions to it. The only directions we found was 19th Ave N behind the Great Lakes Sports, which didn't ring a bell. Turns out we'd been by it many times. The Great Lakes Sports was the gun/shooting club before you get to the Delta County Landfill where we take our recyclables. So, US2 to Danforth Rd, turn onto 19th Ave N by the big sign for the Landfill and a faded Great Lakes Sports sign. Across on 19th and sure enough the road to the trailhead was right beside the gun club building. Take a left at the Y to a large parking lot which is also the trailhead for an ATV trail. There was a large map-sign for the Recreational Pathway. And they nicely had a clean Porta-John as well as multiple benches. One appreciates such amenities. There were several pickups and well packed snow all around with a number of trails to choose from. The big question was, which might be the designated snowshoe trail?
The map was upside down to and not aimed in the direction of the trails so was a little hard to decipher. But while we were looking at the various options, all packed hard with vehicle and foot tracks, we heard an ATV heading toward the parking lot. Someone to ask! Not just a random someone, but a friendly volunteer on a nice tracked ATV he uses to groom and maintain the trails. We got complete directions which was good because the "snowshoe" trail was not obvious heading up over a bare mound between close spaced trees. But it did have a blue diamond, there and along the trail, which with his directions we were able to follow. There were a set of recent tracks (the only other tracks). Real recent, it turned out, as it was a fellow who was doing a GPS route of the Pathway that day. Plus there was heavy equipment noise coming from the trails area as they were working on making a new route to avoid some wet spots. This was why all the trucks in the parking lot. The volunteer directed us around those, closed, sections. We were the only recreationist which certainly didn't bother us.
On to the "snowshoe" trail. It started off nicely though narrowly down between trees, curving along the edge of the ridge -- down into the wetlands. This seems to be the fate of snowshoe trails. But the first part of the trail was rather fun to walk as it wriggled through a dense cedar swamp, up and over roots, hummocks and brush, between and under leaning close spaced cedars. It was really quite pretty with the sun coming through here and there and this was the best time to be in there, when it was well frozen but with enough snow for traction. One most definitely wouldn't want to try this on showshoes! But you would find that out pretty quickly. Not only would they catch on the debris they wouldn't fit between the trees unless they were quite small.
Soon the cedars gave way to an expanse of wetland shrubs (unfortunately mostly dead and dying) and vegetation, much like we'd encountered on our December walk from the south entrance, though this track wasn't quite as ankle turning. The trail-makers had done their best to make a long trail out of a small amount of land and it snaked tightly through the vegetation, finally getting into an area with some cedars and a scattering of other trees. This was certainly not a fast hike! But then we weren't in a hurry. Back through more shrubs and marsh grasses, finally ending up near busy North 30th Street on a bit of higher ground and a very welcome small red pine plantation with dry ground covered in soft pine needles. We enjoyed a small break here for drinks, snacks, and to adjust layers (it was getting warmer, probably 32 degrees and sunny).
Not being inclined to reverse our walk back through the wetlands we headed across along North 30th Street to the original east trailhead where we knew we could get on the ski trail for the hike back. Here we found a wide, straight, nicely flattened track straight through the wetlands to some woods up ahead where the trail started curving and the traffic noise was blocked by the trees. The trail was well trod with footprints here. Not surprising, this was where folks walked. But we were happy we'd checked out the mostly ignored no-snowshoes trail. And now we were happy for better walking on the ski (once there is more snow) track. After a half mile of flat lowland we came to the section we had walked before, and knew where it headed -- up onto high ground.
This is a real nice trail, from EZ Loop to Loop 1 as it winds up and through a pretty hemlock and fir woods. It was getting time to stop for lunch but we decided to wait until be got to the top of the ridge which went up in several stages. A bit of wind now then and the shade from the trees kept us from over-heating and we appreciated the sun that made it through to us. And it was a nice sunny spot that we came up upon the enticed us to stop before we got to the highest spot. It was just too nice to pass by and we soon settled into that spot of sun, sitting on the low trail-side bank, eating our macaroni and cheese lunch, enjoying the view.
Up higher on the ridge and around Loop 1, then north back to the parking lot. Only one truck was left and our car, and it was earlier than we usually ended our hikes. So we headed out towards home but first we stopped by the Days River Pathway for a quick, easy, very pleasant walk around the first loop, ending as the sun was heading for the horizon and it was cooling off. It was the perfect finish to a day of hiking, and now we could look forward to winter finally arriving with (possibly) a good snowfall.
---
---
* * * * * *
Copyright © 2021 by Susan Robishaw and Stephen Schmeck