---
December 13, 2020 -- Pine Marten Run
About 20 miles north of us is a Forest Service recreation area called Pine Marten Run. It's mostly a horse trail system with multiple loops through pine and hardwood forests. With several camping areas it's very popular and well used in the no-snow season by the equestrian crowd. You can hike then, too, but it's really best to leave it to the horses. They're happier and a trail well trod by horse hooves is not that great for walking. However, horse season ends Nov. 30 and with this year's extended hiking season we decided to check out these trails. So last week we went up and hiked not quite half way around Triangle Loop, which goes around and sometimes beside Triangle Lake, which isn't triangle shaped but is a pretty lake. It was a real nice couple hours walk through some beautiful pine and hardwood forest.
We hadn't planned to go hiking today since yesterday we had walked a couple of hours going north off our own property, keeping to the woods since there was a brisk north wind and it was only 25 degrees out. But when I checked the forecast this morning I saw 31 degrees (which would likely mean upper 20's in reality), calm wind, cloudy and no precipitation. With colder temperatures forecast after that with lots of wind, maybe snow (though not likely), it seemed today might be a good day to go. Of course, it was only 22 degrees and we'd gotten a half inch of snow but compared to what might be coming 'round the bend, this was great conditions. And we could still go in walking shoes (with warm socks!). We decided to put away the lists of all the things we were going to do at home today and headed back out.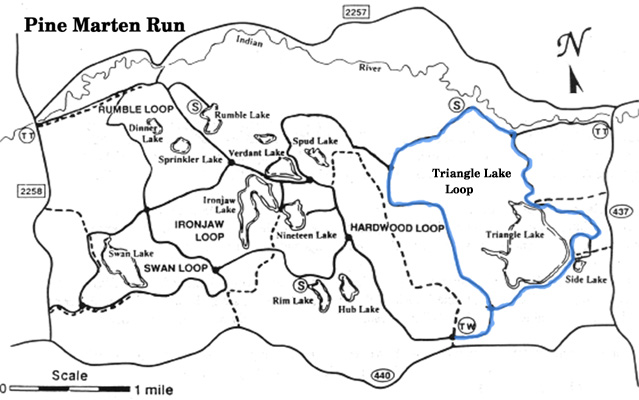 Of course, it wasn't an instant walk-out-the-door. We had to decide where to go - there are so many options. Then there is gathering food & snacks, warm drink, deciding what to wear, organizing our packs. But that's a good part of the fun of hiking. We decided to go back to Pine Marten and hike the entire Triangle Lake Loop, going the opposite way around this time. It's a 6.8 mile trail but we figured we had enough time. Days are so much shorter now (maybe you've noticed!) it's something to consider if one wants to get back to the car while still plenty of light to see the trail in a forest setting. We could simply get on the trail earlier but there's always the hope that the day will warm up and the sun appear later. Well, it did get up to 27 degrees and not only was it calm there was absolutely no wind. Quite a change from yesterday's blustery north wind. The sun didn't make an appearance but it was cheery enough. We both were warm and comfortable with our chosen layers of clothing. And with plenty of food and snacks, and enough warm drink, it was a real nice 3 hr walk.
These trails go through some beautiful mixed woods. There's been some logging but not overly where we were. This worst part was seeing the extensive blow-downs that happened in some very strong storms several years ago. This along with the die-off and subsequent toppling of large dead beeches made for some rough looking woods in areas. It was some real heroes who cleared the trails, not only here but across the U.P. The Triangle Loop still has numerous step-overs which just made for interest when walking but I doubt would be so nice for horses. I doubt anyone would want to ski this section but it should be interesting snowshoeing when the snows come. The terrain is very up-and-down, rolling ridges and valleys, a diversity of woods. I think you'd be hard pressed to find a flat spot large enough for even a small tent! A pleasant surprise on the trail was coming to a small bridge over a small creek, very peaceful and gentle as it disappeared into the woods (and under numerous fallen trees) in either direction. Creeks are a big draw for both of us. When I got home and looked at Google Earth you could just barely make out its very winding route from Triangle Lake north to the Indian River.
So all-in-all, another enjoyable hike.
---
---
---
* * * * * *
Copyright © 2021 by Susan Robishaw and Stephen Schmeck