---
March 9, 2021 - Revisiting "our" section of the North Country Trail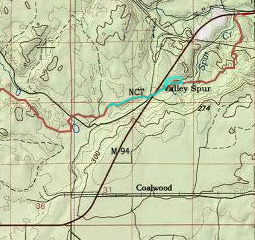 The second day of our first real Spring Melt, with temps in the 40's and a stretch of sunny days. The snow was soft and melting and especially in the southern half of the U.P. snow sports season was over (unless there comes a good snowfall, which could easily happen). Even up north things were getting iffy. But on a trip to Marquette we tossed in our snowshoes in case we might be able to get a walk in somewhere. We could have just walked in town but decided to stop at Valley Spur on our way home. Even at home we had enough snow (we had snowshoed all our home trails in the soft snow yesterday to flatten them and with our wide snowshoes it was good walking) so knew the snow-belt VS would.
There was indeed plenty of snow with a nice soft layer on top for traction. We had an enjoyable hour snowshoe walk around the 2.6 mile Valley Spur Snowman snowshoe trail. We still had some time and leg energy left so we slogged on through the wet slush of the parking lot, crossing the road to check out the NCT.
Right next to the where this section of the trail starts is a Forest Service road that is a snowmobile trail in the winter. Snow from the entrance to that road had been plowed up blocking the NCT trail. But there was a clear fresh NCT marker visible beyond and we knew the trail was there, or at least had been. It had been ten or fifteen years since we'd been on that trail. We clumsily (in snowshoes) climbed up and over the bank and were disappointed to find no one had walked this beautiful trail section. We had an attachment here as we had spent many hours, many miles, and many muscles those many years ago clearing trail. We couldn't keep up with the work that was needed (it was far too long of a section for two people) but we had marked the trail from Munising to Rock River Road west of AuTrain and felt good about that. Well, we certainly knew this trail and didn't need tracks to follow, so off we went, making new tracks in the snow.
We immediately felt contentedly at home. We recognized places on the trail. Some of our old trail markers were still there. New ones had been added, filling in just enough. This section of the NCT is simply beautiful through mixed hardwoods and spruce/fir/red pine forest. The snow was settled enough that it was fairly easy walking (given we were on snowshoes in soft snow). After a short distance the trail crosses the Forest Service Road/snowmobile trail then heads down into a low area (which we remembered well). And we happily discovered snowshoe tracks. Folks had apparently been walking down the easy snowmobile trail to get on the NCT here. The tracks were slightly narrower than our bearpaw shoes but the snow was soft enough on the edge to not be a problem. And there had been enough traffic for easy traveling but not so much to make the trail icy-packed. With the top layer of warm-softened snow it was a joy to snowshoe. We walked through the marsh and carefully crossed two small bridges with even narrower snow tops, hoping not to slip off into the water (successfully). The little plank bridges were nice as I'm pretty sure there were just logs across before. Then back up onto higher ground.
This trail was made by and for hikers. Up and down and around through the hilly terrain and mixed forest, nothing too steep yet well varied and ever-interesting. We snowshoed farther than we had planned, and if we had had more time and less tired legs we would have kept going. But at the half hour mark we turned back and made our way along the now even better packed trail to the road as the sun went lower into the trees, enjoying the back track as much as the initial. This trail most definitely gets five stars and more. When the snow is gone we will be back to re-acquaint ourselves with this special section from here to AuTrain area. Meantime, there is enough snow that there may be some more good snowshoeing opportunities still for folks, depending on what the coming rain and more above freezing days does. We did our bit of trail work, too. Or rather Steve did. We had a metal shovel in the car so Steve came back and chopped and lowered that plowbank so the next snowshoers can easily get on and see the trail entrance here.
For being a town day with just a bit of walking planned to stretch our legs we ended up with a two good hikes and ready for a rainy day off tomorrow.
---
---
---
* * * * * *
Copyright © 2021 by Susan Robishaw and Stephen Schmeck