---
March 19, 2021 -- Going South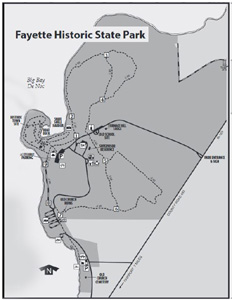 Going south to avoid the snow is a normal part of life for many in the U.P. so we decided to give it a try. We like winter and wouldn't choose to live where there was no snow but this in-between time is challenging for hiking. The snow is melting (very fast this year) but the packed paths are still pretty much covered with hard to walk slush, ice, or packed snow. So we headed south (about 26 miles) to Fayette State Park on the Garden Peninsula. We were pretty sure the snow would be gone there and (for the most part) it was. What a wonderful treat to simply walk on bare ground. A bit muddy in places (the snow melt was recent) but one could quite easily walk the dryer edges. Or not. A little mud was a small price to pay for easy footing.
We'd been to Fayette numerous times but mostly for the annual Heritage Day in August. In the early years, for many years, we set up our temporary shop on the site of the old Carpenter Shop next to the Blacksmith building and demonstrated using traditional tools, making spoons and other items. The blacksmith would be working on the other side of the building. There was music and other events and demonstrations and it was a great time. But funding cuts came until only the blacksmith was left. We did play traditional music there for several years, also enjoying that. And Steve has an even longer history having visited and explored the town-site with his sister, Nancy, in the early 50's back before much renovation had been done.
Our non-working trips have always been with company, enjoying the town-site with them but nothing more. Today however, was our
day to discover the entire park. They have made is a very nice layout of trails throughout the Park for skiing and snowshoeing in the winter and walking in the summer for a total of about 5 miles. That was our focus this trip and we enjoyed all of the various loops and sections, starting on the upper cliff trail along the harbor, from thick cedar to thin hardwoods, then thicker woods inland. The forest is naturally fairly sparse, especially near the cliff face, due to the very shallow soil atop limestone which can only support so much vegetation. It is common to see trees tipped over with their wide but shallow root system pulled out of the soil. The tree types are quite different than our maple dominated woods with mostly oak here and some nice, live beech which is always a happy occurrence. Maybe they have survived because they are a scattered species here.
With a good breeze coming across the still frozen water it was rather cool until we got inland. Then with clear sunshine coming through the leafless hardwoods we relished warmth! For lunch we found a nice large old birch log for very comfortable seating, in the sun, near a beautiful live large beech. It was hard to get moving when we were done! But there was more to explore. We walked the north trails and the south trails, all on high ground, reveling in the beauty and the hiking, until finally heading down to the campground by the water.
South of the campground is a very nice and well maintained park-within-the-Park, with a pavilion and playground equipment, picnic tables and restrooms. And one of the restrooms was open! This is a rare occurrence not only this time of year but this unusual "everything closed" year. The DNR gets extra stars for that. We sat in the sun on a picnic table and finished our picnic lunch. Then continued on south to the small picturesque old "Fisherman's Cemetery", Fayette's catholic cemetery. A lot of local names on those crosses and headstones.
Back through the campsite, along the road into the town, we walked around the familiar paths, remembering highlights of our past visits, seeing new renovation work, admiring the modern dock complex (nicely done), and to our surprise found an impressive new trash and recycling area. Having picked up a number of beer cans and pop bottles at the south park we deposited them in the appropriate bins, with appreciation, and headed back up to the car. It had been a very enjoyable and relaxing afternoon, with plenty of walking yet at a quite different pace than the usual trail hiking. An additional smile came with a sticky note on our windshield from friends who had pulled in after we had and saw us heading off and down the trail. Unfortunately we didn't meet up with them but it was a friendly greeting to get.
Not feeling like heading for home yet we drove on down to check out the small Sac Bay Park. Since Steve is thinking of taking a trip along the Peninsula in his expedition rowboat this summer he wants to know about good pull-out sites. Back home again we agreed it was a very enjoyable day.
---
March 23, 2021 -- Town Hikes Can be Nice, too - and Finding Little Gems
Last week we walked for a couple of hours around Escanaba with hiking friends, enjoying spending time together and walking their home paths, talking about hikes past and those to come. One doesn't need to be on a woods trail to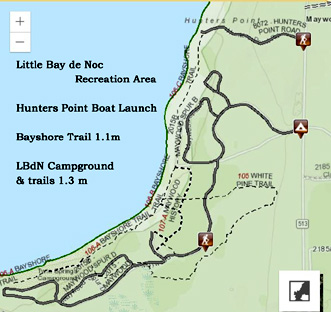 enjoy a hike, though all of us generally prefer the countryside. On our way home we added to the day by heading down Stonington Peninsula to check out the mile long Bayshore Trail along Little Bay de Noc as part of the Little Bay de Noc Recreation Area. A long name for a small area but it is very nice, including a boat launch and small campground with plenty of large trees and a series of footpaths between. The Bay was still frozen so with a breeze off the water it was rather cool and the trail was still snow/ice covered but we enjoyed an hour down there walking along the shore trail, which nicely separates the wooded camp sites from the marshy shore of the Lake, then around the loops of paths, stopping to read the many historical signs. It was fun to stop and visit this little gem which we'd passed so many times going down 513 to visit friends over the years.
Today we found ourselves in Escanaba again and while our car was getting an oil change we went for a longer hike around town. Although starting on pavement, having a need to stop by Stones deli downtown to get a scone for Steve (and they only had one left! whew, that was close...) and a cup of soup for non-scone-lover me, we soon were down by lakeside Ludington Park and off the sidewalks. For several more hours we walked mostly on ground, enjoying the pleasantly warm (for a cool March day), sunshine, and no snow. Along the park, out and back on the man-made nicely wooded Aronson Island, exploring the docks at the marina, greeting people also enjoying being out and about. We got back to pick up our trusty Prius before they closed having enjoyed a nice long town hike, making the trip a day's highlight instead of just a necessary chore.
---
---
---
* * * * * *
Copyright © 2021 by Susan Robishaw and Stephen Schmeck