---
December 4, 2020 -- Enjoying Bare Ground
We continue to have dry and relatively mild weather. No snow on the ground and outdoor chores done (at least those that don't require warmer temperatures) so we've often been putting walking/hiking into our days. It's been great. Now that regular deer hunting season is over we're back to walking in the woods, especially nice when it's windy. We feel so fortunate to be able to just walk out our door and into the woods for as long as we want. But during deer season we simply took to the road, a'foot (and in requisite neon orange). We're enjoying doing what we talk so often of all summer but seldom take the time to do.
Trips to town gives us reason to hike different paths and makes the drive worthwhile. Without snow the cross-country ski trails make wonderful walking trails. Tuesday we stopped by Valley Spur near Munising. With a vast network of trails through wooded terrain it's interesting with a lot of options. However, you definitely want to print off and take maps with you! Their signage is marginal at best and geared strictly for the skiers who simply follow the groomed trails in one direction. In a 2 1/2 hr walk we mostly only really knew where we were when in the parking lot! And we're somewhat familiar with the place. Next time we'll take the maps. But we did make it back before dark and it was a nice side trip on the way home from Marquette.
We found the opposite, signage wise, two days later when we checked out the smaller DNR Days River Pathway, north of Gladstone-Rapid River. A very nice park it was easily navigatable whether skiing, biking, or walking, and they welcome all three. With seven well laid out loops it is accessible to most everyone no matter skill or time. Their signs at crossroads/trails were exceptional and easily understood. Just enough signage without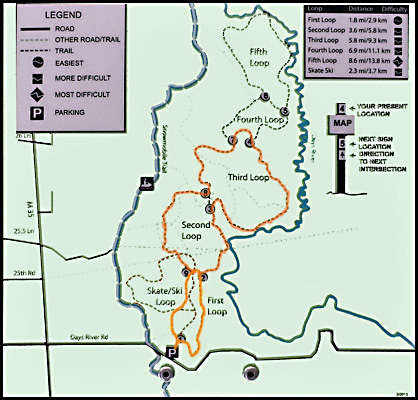 overdoing it. Though the first loops were through recently logged and thoroughly trimmed Red Pine plantation, farther out was some very nice woods, appropriately hilly with a squiggly winding narrow creek coming in and out of view as it followed its own unique path, often quite far below in cuts and valleys. It was easy to see why this is a very popular local destination, with or without snow. It was fun to see a number of people on the trail, with or without dogs, on a bike or afoot, together or single, each going their own speed, every one with smiles as we passed. We enjoyed our two hours there, walking up and around Loop3, and look forward to returning.
---
12-22-2020 -- Longer Days!
The first of the longer days made a good reason to celebrate - with a hike! And the Days River Pathway seemed an appropriate destination (convenient since we we had to be in Gladstone today). I know we'll continue to have beautiful days but today was likely the last of this warm dry stretch and, depending on whether or not there is any real snow accumulation with the forecasted storm, may be the end of walking on the ski trails.
The day was calm, cloudy, and warmer (34 degrees) with a few inches of new snow on the trail, which made for good traction, nice for the steeper ski hills and fun tracking. We came across fox, coyote, rabbit, squirrel, mouse, deer and grouse tracks, in addition to a large variety of human, dog, and bicycle as the trail wound its way through the mostly young woods. The recent snow in the conifers added a special touch, and thankfully it didn't warm up enough to get them to the drop-wet-snow-on-the-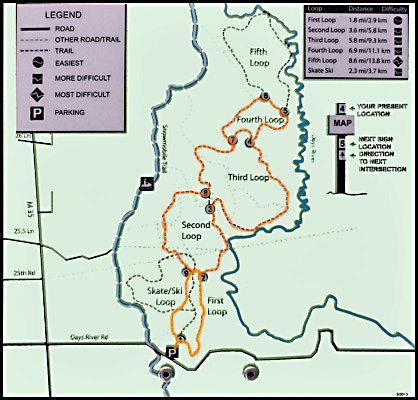 humans state. In spite of all the traffic (which got lighter the farther away from the trailhead we got) we only came across people and dogs back at the parking lot.
Today we added the Fourth Loop to our last Three Loop trek (the trail loops are consecutive starting at the bottom at the south trailhead). With an added short diversion at the top (where the signage is a bit lacking) we went about 7.2 miles, a bit more than 3 hrs, with lunch on the trail and necessary stops to admire the creeks, leaving the Fifth Loop for another time. A very good way to start Winter, with or without snow.
---
January 9, 2021 -- Is it a Hike or a Walk
The new year begins, and the hiking continues. No new snow so we're still in boots, the snowshoes left hanging on the wall, waiting. But it will come. Maybe. It's quite a change from the last two Januarys with 3-4 feet of snow! We enjoy it all, and this year are enjoying still walking on almost bare ground. We go out daily, together or separate, do a few chores, go to the mailbox, go for at least a short walk, sometimes longer. So I got to thinking - when is a walk a hike? Sometimes we'll head out for a short walk down the road but keep on going and end up coming home 2 hours later. But that's still a walk. It's from home, it's casual. We may or not have taken backpacks, or water. Certainly not snacks or sandwiches. But if we're going to the "big city" (Gladstone or Escanaba or Marquette) we usually plan to include a hike on one of the trails, so we head out with appropriate gear and clothing, water, snacks, sandwiches, for a 2 or 3 hour hike. Manistique is just "going to town", it doesn't get such planning though we often walk the boardwalk along the Lake. It's funny how we categorize things, and how we think of them. But hike or walk, we're enjoying this can-do-just-about-anywhere activity.
Though we haven't much snow there is just enough in this area for the skiiers, and the groomers, to get out on the ski trails so the cross-country ski trails are now off limits for hiking. But both Days River and Rapid River have short snowshoe trails so on a trip over that direction earlier in the week we decided to check out the Days River Pathway Snowshoe Track. It was a mild, barely freezing (so not slushy), calm day - beautiful weather for a hike. The ski trails did indeed have snow so no walking there. So we took to the designated 1.8 mile "snowshoe" trail which was definitely not appropriate for snowshoes! But they did make an effort to provide a track in an effort to keep walkers off the ski trails. It was lumpy, bumpy, stump and brush strewn and well beat down. But it was there and so were we so off we went, figuring we'd stop at Rapid River on the way home and check out their snowshoe trail. Between them getting in a little hike.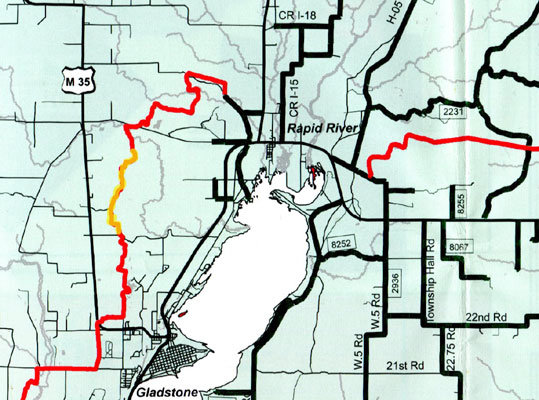 But to our surprise, halfway around the hiking/snowshoe trail, it crossed an ORV/snowmobile trail at the bridge. A wide, snow-covered, groomed, trail! A delightful place to walk and we could go as far and long as we wanted (ORV/snowmobile trails by nature cover a lot of ground). We weren't the first hikers to discover this windfall - the boot track
s were more numerous than the snowmobile tracks, though they petered out as we went on. We walked north for an hour (yellow section on the map), sticking to the main route, no traffic, snaking through the vast pine plantation of this area. Then we turned around and backtracked to finish the rest of the official snowshoe trail back to the parking lot. A very nice walk. And it reminded us that the U.P. is covered with ORV and snowmobile trails, many of which are good for hiking, especially right now with the lack of snow. We have no lack of options that's for sure, near, far, or in-between. What a great abundance for fun.
[Later we realized we could easily access the snowmobile trail directly from the parking lot and forgo the snowshoe trail, which is what we did from then on. See the ORV-Snowmobile page for those hikes.]
---
February 3, 2021 -- Sun Today, Snow Tomorrow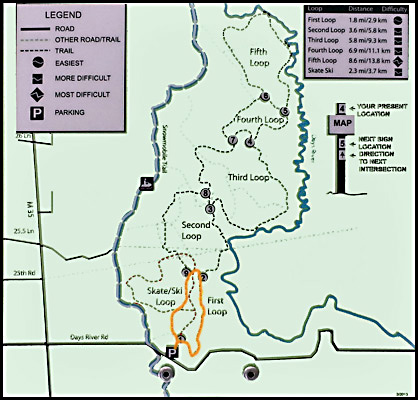 Since this was possibly the last chance for awhile to walk the trails without snowshoes (depending on what really happens with the forecasted storm) we, of course, took advantage of the beautiful sunny calm 28-32 degree day to hike. Having spent 3 hrs at the Escanaba Pathway we didn't have a lot of time left in the day but we wanted to take at least a short hike at Days River on the way home. We figured we'd head out on the snowmobile trail but when we got in the Pathway parking lot and looked down the first loop of the "cross-country ski" trail we realized we could walk there. Not having enough snow for skiing the trail was well packed with foot and snow-bike tracks. The trail had been groomed earlier and was nice and flat, very easy and pleasing for a quick hike. The paths are wide enough for walking side by side, or for stepping aside for a bike or other hikers, yet not so wide you felt you were walking on a road. There was time to get around Loop 1 (a little less than 2 miles) before sundown so off we went.
With snow on the ground and the sun shining low through the red pines the feel of the Pathway was quite different than when it was bare ground, though we certainly enjoyed that earlier walk, too. It felt more like you were walking through the woods than on a thoroughly managed (and admittedly well appreciated) groomed and maintained path through a tree plantation. Either way we certainly aren't the only ones who appreciate this trail. Though we were the only car in the parking lot when we arrived we met another couple heading out when we came back and a bicyclist's pickup was in the far corner where we'd seen it before. And if it really does snow I'm sure the trails will soon be full of ski tracks.
For us this short hike was beautiful frosting on a very good day of hiking. Of course, we always end with the best of the best after we pull into our garage at the end of our road, with the half mile walk down our own beautiful trail to home.
---
March 4, 2021 -- A Quick Walk at Days River Pathway, that was the Plan
Since we we'd had a good work-out with yesterday's hike this was a no-hike day. But it was so beautiful out, clear blue, sunny, almost warm and Days River was right on our way home from a trip to Esky. We'd just stop and see how the trails looked. And maybe a quick loop around the snowshoe path would be nice to stretch our legs.
Pulling into the parking lot we got an instant hint at the conditions -- solid ice. We walked (carefully) over to the trail-head and were sure glad we hadn't planned on skiing. The trail was packed smooth and icy. We could easily walk on the ski trails without causing any problems, if we wanted to go skating. The snowshoe trail wasn't much better but at least it was bumpy and there were those stumps here and there to give you an occasional footing. It was just too nice weather to not go for a walk. There was still that cold north wind so we put on our layers and our packs and made our way along the snowshoe trail. I often took to the edges, preferring to hole it in the snow (it wasn't nearly as deep here as up north at Bruno's Run), and I wasn't the first to go that route, but Steve skated and slipped along the trail. It did seem much longer than it used to be! But we decided to make it to the snowmobile trail and maybe that would be better walking.
We did, and it was. We crossed the bridge and headed north up the road-wide trail. Ahhhh. Well, maybe it wasn't quite that good but it was much easier. There had been just enough snowmobile and ATV traffic to leave tracks for reasonable traction. And we were in shoes today instead of firmer boots so it was even more pleasing. It sure wasn't ideal snowmobile conditions but fine for us, and we weren't the first hiker to make use of this wide trail. Just before we got to the trail we saw a fat-tire bike go by (with its rider). The temperature was near to 32 and where the sun hit the packed snow it was just slightly thawed. This made for great walking. We had to slow down for a bit more care in the shade because it was icier but over all it was great. It felt so good to just walk along with normal stride. With the clear blue sky and in and out of the sun, well, we just kept going. And there was enough of that cold north wind to keep us alert. We admitted it would be a little longer than a quick walk.
We came to the first of two small bridges over the winding creek, this one with a small pool of open water on either side as it ran under the roadbed through a large culvert, coming and going beneath the ice and snow covered creek. Stopping to admire it we admitted it was hard to take a good photo though it is such a beautiful sight, the dark water against the white snow. We had taken several photos before. But a great deal of the beauty and attraction was in the sound of the water and that just doesn't come through in a photo. So Steve did a short video, free-hand to see if we could share a bit of that with you. Click on the photo at left (and turn your volume up) to see and hear it. Use your back arrow to return here.
Walking on we crossed the second small creek (this one was completely frozen) and a ways farther it was an hour out and time to turn back. In a way we felt like continuing since the days have gotten longer and more time before dark. But this was already a lot farther than we'd planned so we turned back, enjoying the return trip. Though the sun was often in our eyes the wind was now at our back and it was much warmer. When we got to the turn-off to go back via the Days River Snowshoe path we took a quick glance at that icy trail and continued on down the snowmobile track which conveniently goes right by the parking lot. A quick rough walk to the ice-rink parking lot, carefully stepping to the sun warmed car, and we settled in for the ride home, happy and satisfied with our "little" two hour walk.
---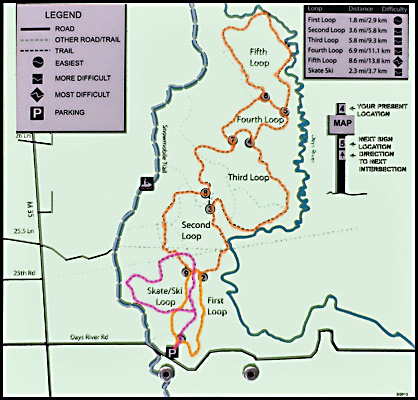 March 25, 2021 -- Bare Ground!
What a difference a few weeks can make. We had stopped by Days River a a week ago on our way home from Escanaba (and a nice walk around town with friends) to see how the trails were looking - melting but still pretty muddy and quite a bit of ice and packed snow, so not yet. Two days ago, also returning from Esky and a nice long hike around town and through the parks, we stopped to check. Bare ground, though still some icy/snow patches showing. It's quite interesting how our criteria changes with the weather patterns. Today was cloudy, 28 degrees with a light NW wind, but no snow or rain or high winds in the forecast. Great weather for a hike, considering. Surely Days River would be clear enough now and we wanted to "finish" that trail, going all around including the Fifth Loop that we hadn't gotten to in December. The days being much longer now we would have plenty of time. And we felt like going on a longer hike.
After having an unusual stretch of warm weather in the 40's it took a bit of thinking to dress and plan once again for cold. I made and packed a lunch of hot spaghettiettes and we took hot drinks. It did get up above freezing but remained cloudy with that moderate north wind, which we were mostly protected from by the trees. We did get to take off a layer or two now and then but mostly it was pleasantly cool and we thoroughly enjoyed this wonderful pre-bug post-snow season. It was such a treat to walk the trail again with only occasional patches of icy snow. Thanks to the sandy soil the mud was minimal. We had the entire Pathway to ourselves except for a group of boys/young men we passed, carrying fishing poles and gear, obviously disappointed, heading back to the parking lot. When Steve asked how they did he got a mumbled "didn't even make it to the river", at least that's what we think the fellow said. I imagine the trek looked shorter on the map than in reality, and they didn't appear to be into hiking. Hopefully they found an easier accessed site to fish.
This is such an easy trail, just right for a longer stretch but with plenty of interesting ups and downs. As one heads north the woods get more pleasing, from the thoroughly managed, logged, and pruned red pine plantation of the first loop into progressively less logging, older, and more varied woods. It seemed that we kept heading up and up and up, with some downs, of course, looping along ridges through pines, then hardwoods, then mixed conifers, then more mixed woods. The crows pretty much kept us company throughout and we saw one squirrel. We stopped fairly early in the hike for lunch, being hungry and it being quite a while since breakfast, finding a nice downed log seat just off the path. Our spaghettiettes (spaghetti broken up into easier managed small pieces before cooking) were still hot. Re-fueled we hiked on.
The beautiful looping Days River comes close to the trail at several spots in the 2nd and 3rd Loops, running briskly down below, even though there is minimal snow melt to help it along this year. And the bridges over the creeks, now without their mufflers of snow and ice, are always a stop-and-admire highlight. Toward the upper part of Loop 3 we headed down and down into a magical world of bog and swamp with numerous small culverts and fill to keep one above the wet. The water was mostly frozen and the moss an eye catching bright green in a muted brown and gray world. We agreed now was the peak time to admire this section and it shone as a special gem, the moss very much alive.
The trail didn't stay low for long. Soon we were climbing once again, onto and through the really nice woods of the high ground Fourth Loop and onto the farthest north Fifth Loop. This northern part is well worth the walk to get to with such a beautiful woods, impressive large trees, and equally impressive high ground. The east and north part of the section follows the Days River and you can often look down (and it is very much "down") onto the brisk flowing, often fairly wide, incredibly loopy dark river and the narrow flood plain on either side. There are small rapids here and there so the audio adds to the joy of following along the River, especially where it turns in near to the trail. This Fifth Loop makes the Days River Pathway, for us, a particularly specail trail.
After we made the turn around the tip and headed away from the River and starting back down the west side of the Pathway we stopped for a break and to finish our lunch. It was so nice to have mild enough temperature (and mild wind) that it was comfortable to take a longer sit-down break, instead of the quick snacks of winter. The spot we chose was
apparently a particular crow's chosen territory. He let us know in an admirable array of voices and calls that this was his area and, I think, he (or she) would much prefer we just move on down the trail. So we did.
The west side was as enjoyable as the east. We once again ran into (or I should say, through) the bog area of Loop 3 and that beautiful moss, and another photo op. The photo just doesn't do it justice but we did our best to admire it thoroughly.
Towards the end of the Second Loop the "Skate-Ski Loop" crosses and since we both felt good, though this was our longest walk yet, decided to add this extra couple miles to the hike. Now the entire trail is well marked (with appreciated new additional markers and signs at the previously confusing Fourth/Fifth Loop intersection). But I don't think they planned on hikers walking the Skate Loop, which in the non-snow months is a sandy two-track road through the plantation. It has few markers or signs and has a number of other roads crossing which makes it a bit challenging. Steve had to dig out the compass and get us going back in the right direction. We aren't real sure just where we went off but I'm pretty sure we added some extra steps to that "extra" loop. But we made it back onto the First Loop, back along the beautiful creek, over the bridge and to the parking lot, feeling good and happy for spending a wonderful afternoon, a little less than five hours and 10 to 11 miles, on the Pathway.
---
April 16, 2021 -- A Hiking Day
This past week has seen quite a bit of rain and cold and wind, with a few weather breaks to get us outside now and then. But mostly it's been a good week of working on indoor projects. Steve has made good progress on his redesigned rudder system on his boat and I've enjoyed finishing a number of small projects. And life in the spring greenhouse has begun which is always fun.
But after more than a week without a long walk we were ready to take a day off to hit the trail, and since today was expected to be warmer (mid 40's), almost partly sunny, no rain, and less than gale force winds it was a day for a hike. There was that brisk north wind to contend with so we'd walk in the woods. The previous week of unusually warm weather had spoiled us a bit but we did still remember how to dress for the cold, and we did.
We didn't feel very adventurous and Steve needed a bolt from town so we went for an easy hike at Days River Pathway, this time skipping the extra Skating Loop. The north wind kept us from overheating and the sky cleared to a beautiful clear blue for a time giving us some nice sunshine. It was a beautiful day, with a lot of adding and removing layers with the changes in sun and wind exposure,
though nothing too extreme. The wetlands were indeed wet, and no longer f
rozen. The creeks and river were running a good pace thanks to the recent rains. But the trail was surprisingly dry thanks to the sandy soil, and the snow was gone. We stopped at the small bridge to admire and enjoy a small falls in the creek made by fallen trees and branches. In the summer I imagined how good it would feel to cool one's feet in the clear water. Today our feet were happy to be in warm socks and shoes!
We walked the whole Pathway again but this time in reverse. It's surprising how different things looked just by going in the opposite direction. Plus one can see the bicyclists (of which there were several) in order to quickly step out of their way rather than having them surprise us from behind. There seemed to be more steeper "ups" going this way which I'm sure the skiers and bicyclists enjoy since it would be "downs" for them. Though I guess the ups and downs all have to even out. We met several other hikers, too. It was nice to see others obviously enjoying the day as much as we were.
We had a lunch in the woods near a pleasant quiet bog, then later took a break by a noisy rush of water over a short dam across Days River where the path goes near, with calm water on one side and rushing swirls of water on the other. We wondered at the history and the reasons for this small cement barrier. [Looked it up when we got home and it was built in 1978 to prevent sea lampreys from heading up river.] This spot is the only large opening on the trail as it crosses a wide power-line clearing and we enjoyed warming up sitting out in the sun amidst rock fill on the hill by the River.
It felt good to be back on the trail and we enjoyed our four hour walk.
---
---
* * * * * *
Copyright © 2021 by Susan Robishaw and Stephen Schmeck