---
January 9, 2021 -- Is it a Hike or a Walk
The new year begins, and the hiking continues. No new snow so we're still in boots, the snowshoes left hanging on the wall, waiting. But it will come. Maybe. It's quite a change from the last two Januarys with 3-4 feet of snow! We enjoy it all, and this year are enjoying still walking on almost bare ground. We go out daily, together or separate, do a few chores, go to the mailbox, go for at least a short walk, sometimes longer. So I got to thinking - when is a walk a hike? Sometimes we'll head out for a short walk down the road but keep on going and end up coming home 2 hours later. But that's still a walk. It's from home, it's casual. We may or not have taken backpacks, or water. Certainly not snacks or sandwiches. But if we're going to the "big city" (Gladstone or Escanaba or Marquette) we usually plan to include a hike on one of the trails, so we head out with appropriate gear and clothing, water, snacks, sandwiches, for a 2 or 3 hour hike. Manistique is just "going to town", it doesn't get such planning though we often walk the boardwalk along the Lake. It's funny how we categorize things, and how we think of them. But hike or walk, we're enjoying this can-do-just-about-anywhere activity.
Though we haven't much snow there is just enough in this area for the skiiers, and the groomers, to get out on the ski trails so the cross-country ski trails are now off limits for hiking. But both Days River and Rapid River have short snowshoe trails so on a trip over that direction earlier in the week we decided to check out the Days River Pathway Snowshoe Track. It was a mild, barely freezing (so not slushy), calm day - beautiful weather for a hike. The ski trails did indeed have snow so no walking there. So we took to the designated 1.8 mile "snowshoe" trail which was definitely not appropriate for snowshoes! But they did make an effort to provide a track in an effort to keep walkers off the ski trails. It was lumpy, bumpy, stump and brush strewn and well beat down. But it was there and so were we so off we went, figuring we'd stop at Rapid River on the way home and check out their snowshoe trail. Between them getting in a little hike.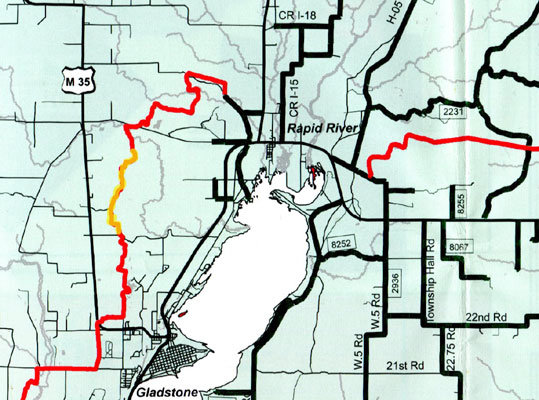 But to our surprise, halfway around the hiking/snowshoe trail, it crossed an ORV/snowmobile trail at the bridge. A wide, snow-covered, groomed, trail! A delightful place to walk and we could go as far and long as we wanted (ORV/snowmobile trails by nature cover a lot of ground). We weren't the first hikers to discover this windfall - the boot track
s were more numerous than the snowmobile tracks, though they petered out as we went on. We walked north for an hour (yellow section on the map), sticking to the main route, no traffic, snaking through the vast pine plantation of this area. Then we turned around and backtracked to finish the rest of the official snowshoe trail back to the parking lot. A very nice walk. And it reminded us that the U.P. is covered with ORV and snowmobile trails, many of which are good for hiking, especially right now with the lack of snow. We have no lack of options that's for sure, near, far, or in-between. What a great abundance for fun.
---
January 10, 2021 -- Back to Days River to the Snowmobile Trail
This time we knew where we were headed -- the short Days River Pathway hike/snowshoe trail to the ORV/ snowmobile trail where we turned south instead of north over the bridge as we'd done last week. A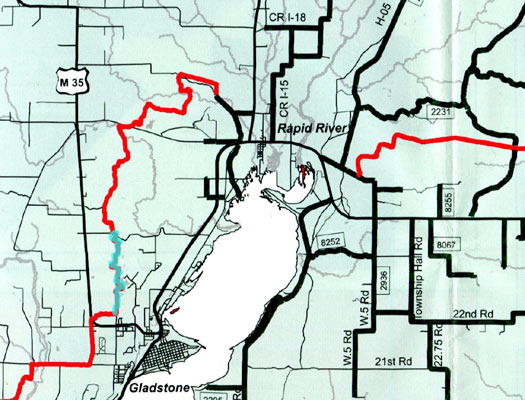 nother mild cloudy day, no new snow, calm, about 32 degrees - like a film strip stuck in rewind/replay, same weather we'd been having for quite some time now. But we're fine with that, we'll let the PNW taking care of all the wild weather! We just keep hiking. And a nice one it was. The trail going south (blue section on the map) heads through some real nice woods, young growth but with a decent scattering of bearing age oak trees, left when the area was last logged. Though the trees in general blend in with the other growth one could see them easily by the churned up leaves spread all around underneath each tree as the deer dug through the snow and leaves for acorns. I don't know how the acorn harvest was but it appears there are plenty of deer and by the looks of things I doubt there are any acorns left. I'm sure the squirrels and chipmunks took care of their share, too.
There were snowmobile and ATV tracks, though there wasn't enough snow for the former and too much for the latter, but they flattened the trail nicely. Quite a bit of foot traffic and a few bicycles, along with the many deer and usual coyote/fox/dog. As usual it was quiet on most of the trail. The farther south we went there were more houses and we were walking near back yards. Not as "off-in-the-woods" feel as other trails, and the track was pretty rough with ruts and not very flat at this end. But we had a bicyclist come along who stopped to chat which was nice. He had a beautiful fat tired bike with studs and an electric assist to help him up the hills. It wasn't the best conditions for biking but he lives somewhere near the trail and said he goes out nearly every day for exercise. Just as we were parting along came another regular fat tired bike going at a pretty good speed considering the conditions, but he wasn't having any trouble. We quickly stepped off the trail and he nodded as he sped by. Two different styles but both enjoying the trail their own way, as were we. We didn't see anyone else on the trail.
We soon arrived at a "rough" area with piles of dirt, some dumped furniture -- the beginning of the industrial park. Quite a contrast to the beautiful woods we'd been walking through. Though we'd planned to walk longer we decided to turn around there, and had a very nice walk back. When we got to the cut off to go back to the snowshoe trail we decided we weren't ready for the hike to end so instead headed on north for a ways. So it was about 3 hours when we got back to the parking lot, sun heading down and starting to cool off, to find a fairly large group gathered and chatting, with fat tired bikes sticking out of pick-ups and SUV's. I don't know if they were heading out or had already been but it was good to see folks enjoying the day and each other's company. There is a separate bike trail at the Pathway which is apparently quite popular.
---
January 23, 2021 -- Sunshine and a New Trail Section - Rapid River Snowmobile2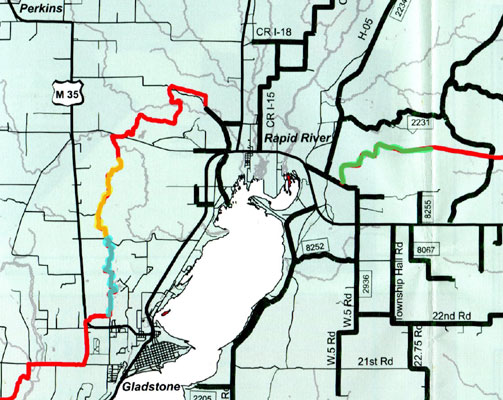 With the promise of sunshine and calm winds we decided to head out for a hike this afternoon. Very little new snow in the south-central U.P. which meant the snowmobile trails would still be OK to walk. It was a bit cool in the low 20's but we had plenty of layers and I had my recently finished cold-weather hiking pants to try out. So with a hot lunch in our small Thermoses and hot drink in our double insulated travel mugs, dressed appropriately, we packed up and headed out. Having looked at the snowmobile trails map, and having had such nice walks on the trail that went beside the Days River Pathway (the yellow and blue sections), we decided on a different part of that same #2 trail (the green section) starting at a convenient parking spot near Rapid River. Though a promise of a beautiful day we didn't think there would be any snowmobile traffic - they would all be up north where there was more snow.
When we drove into the rough and rutted parking lot it was indeed empty, but with a fair amount of ATV and truck tracks. It was still overcast but there were hints of blue sky. So on with our packs and off up the trail. The ORV's don't make nearly as nice of a track to walk on as a groomed snowmobile trail or one packed down by snowmachines, but we appreciated the packed trail none-the less.
The beginning wasn't the most aesthetic as it started out through old jack pine plantation, then some red pine, more jack pine. It was obvious this would be an ankle-exercise walk over the frozen tracks and ruts but there was enough snow and it was a nice day. And
soon the track rose into hillier terrain, curving through a young mixed hardwood area. The day became partly, then mostly, sunny and we relished walking through sun where it filtered easily through the leafless trees. We were heading north-east so the sun was often behind us but it felt good and though in the low 20's it was a comfortable temperature with just an occasional breeze. A beautiful day to be out walking.
The woods changed from hardwoods to evergreens to a very young poplar regrowth area, back to hemlock/pine, occasional cedar, a scattering of oak. The track was plenty wide as it's a Forest Service two-track road. Though we often enjoy single track hiking trails through the woods, today we appreciated more space for the sun to reach us, and walking side by side. It would have been well worthwhile with no other highlights. But there was...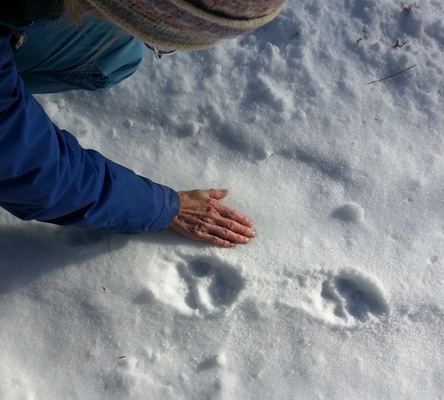 We had started out seeing five deer cross the path and, not surprising, there were deer tracks off and on the whole way. Along with fox tracks, and periodic mouse crossings. Someone had walked, up and back, this section of the trail a few days ago. It was nice to have (distant) company. But the highlight was recent tracks of a pair of wolves, off and on trail, likely appreciating the easy traveling as much as we did. They kept us company until we left the road track.
After about an hour the trail turned east along a pipeline, more open, higher terrain, but still through high and low growth and some wet (when not frozen) areas. We lost the wolves as well as the person tracks, but soon picked up a fox that we followed the whole way. Not too many curves here but enough light roller coaster, and a bit of icy tracks, to keep us occupied. The sky had cleared and the sun , though low in the sky, was shining and we soaked up as much as we could. The woods to the south did block it some but thankfully there was often deciduous trees with patches of lower growth. After a half hour along the pipeline we came to a marsh with cattails and rushes and small bushes - beautiful in the snow, and wonderfully clear for sun seekers. Perfect timing and perfect place for our "turn-around" lunch.
But no nicely positioned nice sized downed trees to sit on here. That was OK, there was plenty of soft snow. Since Steve had a larger sit pad he just tossed it on the snow and sat down (which was maybe easier said than done since the sit pad had nicely waterproof but very slippery sil-nylon material on the underside). But he soon arrived, comfortable for lunch. I apologized to a little clump of rushes and low bush nearby and set my small (but nicely insulating) foam pad against/on the little island. Soon I too was comfortably eating a surprisingly hot lunch, having this time preheated the Thermos containers with hot water.
After that beautiful break in the sun we gathered ourselves and our gear and headed back along the trail, following our own tracks, picking up the wolves as we turned south. We were now facing the sun, soaking up as much vitamin D and rosy cheeks as we could, always stopping for a drink in a patch of sun. We arrived home before cat dinner time and just in time to get the fire rekindled as the sun dropped behind the trees, having warmed the house and filled our batteries all afternoon. We felt good after a very nice three hours on the trail. Next time maybe we'll check out the snowmobile trail near home. It doesn't look like much new snow in the forecast. And in-between the longer walks we make good use of our own home trails for shorter forays
---
January 29, 2021 -- Clear Blue Sky and Beautiful Sunshine -- Revisiting SnoMo2
True 100% sun this time, right from the get-go. What a boost. Of course, we had to go hiking. It was a bit cool at 15 degrees when we left home but it was heading up and was in the low 20's for the hike, with hardly any wind. What a beautiful day! We'd planned to check out the west Gladstone snowmobile trail from the Brampton cut-across road, hoping there might be a small trailhead to park, then we'd walk south toward and over the (yellow) section we'd hiked before. But we had a last minute need to go the Escanaba and it was getting late to get on the trail so decided to just go to the Days River Pathway parking lot, get right on the SnoMo2 trail there and walk north again, which we did.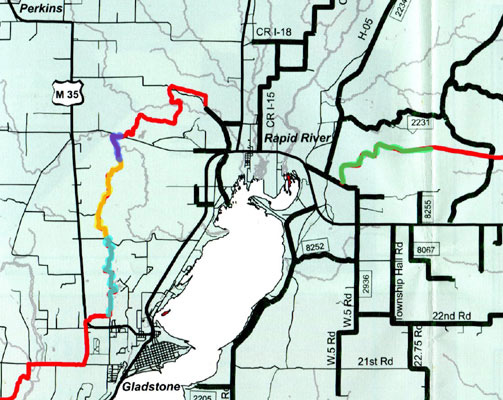 Though still very little snow the snowmobile groomers had made a pass and nicely packed the trail, though it appeared only one snowmobile had tried it out (there really isn't enough snow yet for snowmobiling here). But there were quite a few ORV tracks, a fat tire bike and a couple of hikers. It was great walking, considering the snow and tracks, but this is a flat road with few if any ruts so pretty easy going. Though more evergreens than deciduous trees quite a bit of it is thinned plantations and regrowth so the sun was able to shine through enough to keep us warm and happy. Since we didn't walk the Pathway's rough snowshoe trail first to get to the snowmobile trail, and we hiked along at a pretty good pace, we were able to walk farther north than we'd been before (the purple section on the map). We made it not only to where the Days River crosses but also to and over the Brampton cut-across road where we could see that there was no place to park unless one had a 4wd pickup and could park off in the snow, which wasn't for our venerable Prius, at least not until the snow is gone. So we'll leave the rest of that north (red) section for then.
We had a comfortable break and lunch sitting on the snow along side the trail, then headed back, without seeing anyone or any ORVs. What a wonderful day for a walk. A little more than 3 hours later, as the sun was dropping behind the trees and it was cooling off, we were back at the car. There were more cars in the Pathway parking lot so others were likewise enjoying the day outside.
---
---
---
* * * * * *
Copyright © 2021 by Susan Robishaw and Stephen Schmeck