Koit Kulper's Homebuilt Recumbent Trike - 12/2009 & Aluminum Trike - 10/2012
Update
Koit Kulper, who is from Estonia, built this unique side-by-side recumbent trike. I have been wanting to build a trike like this for years. Check out the drive train!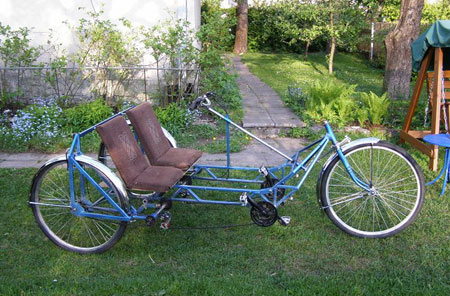 Here is what Koit had to say about this cool trike.
"Here's my recumbent tandem. What's maybe different from lots of others is that it has a so called center shaft which riders are pedaling and from what are the rear wheels are powered. In that case one or two riders power both rear wheels equally so bike doesn't want to turn if one pedals harder than other plus riders can choose different gears in witch they choose to drive, so they are independent from each other. The second thing is the rear triangle is opposite to conventional bicycle - in that way I managed to shrink down the bikes overall length by half meter. The frame is made so it can be taken apart from pedals if you look closely - the idea was I could bolt on rig with a "standard connection" and I could hook it behind a car like a trailer, but I had some legal problems with it. Steering is made with linkages and rod end bearings. It has 28" wheels."
Here are some more photos of the frame during construction.
---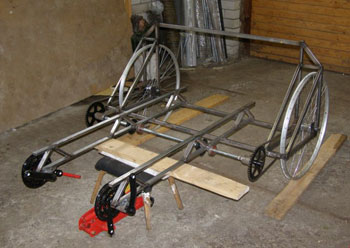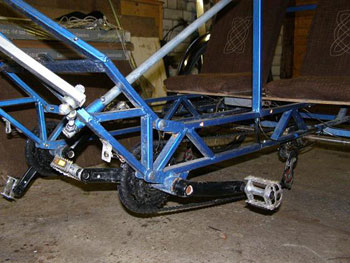 Some additional comments ...

"Here you can see the solution for bolting off front end and between two seats, under the plywood platform you can see the battery box, where I have battery's and schematics for controlling the led lights, I have 3 different units there - Red lights on back, orange LEDs on the sides and whites put into the frame in the front of the bike. I have tried to do wiring as much as I can inside the frame tubes, brake lines as well to keep it clean.
You can see a video of this cool trike in action on U-Tube:
http://www.youtube.com/watch?v=U940TAR3kT0
---
October, 2012 - Koit's latest Recumbent Trike
Here's what Koit had to say about his new trike:
"Some years have passed, since I sent you my blue tandem trike...
When you've got bike-building in your blood, you can't really sit by and do nothing;) So, I've put together a new, bit lighter aluminum bike for my girl, of course it has to have three wheels, 28" like the old one, both rear wheels are driving, this time I put on some nice hydraulic disc brakes,
cause the old one just didn't cope with long cables. Had some time to think of a good front wheel turning mechanism, put one picture for you
and I can give you the YouTube link for how it works: http://www.youtube.com/watch?v=bNOZo21Ag6I
Wanted to have a little wider hubs, so had to cut them out myself and of course this kind of bike needs hubcaps!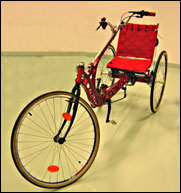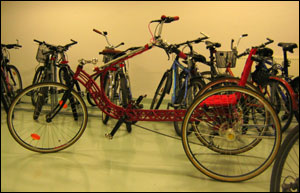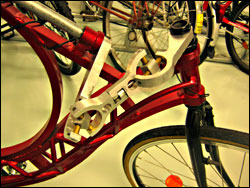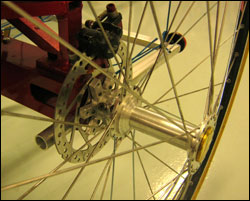 Steering Linkage Custom Hub




Frame before painting