Michael Jordan's Homebuilt Recumbent Trike - 10/2009
This is Michael's first homebuilt recumbent trike. I hope mine turns out half as nice!
Here's what Michael had to say:

"I made it all out of aluminum and designs and built my spindles uses two small bearing one on top and one on bottom, smooth, smooth steering. I love it, it ride great. It took me about 6 months to build, already thinking about my next one to build."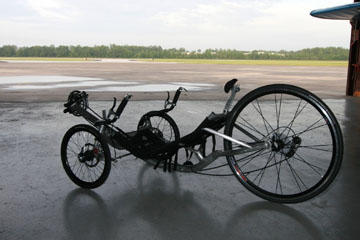 "The Bike weighs 38lb. All heat treated alum. I did all the work myself."