John M. Rankin's Homebuilt Short-Wheelbase Recumbent - 12/2007
In July, 2007 John sent in this photo of this bike he built with his Grandson.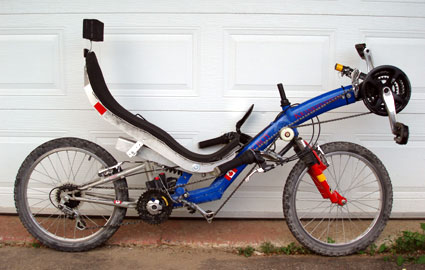 Then in December John sent this updated photo, saying:

"I have lowered the seat angle, new gears, new shock, new seat cushion, heart monitor bracket and monitor / speedo, new tires, peddle clips, water bottle cages etc. Sent a pic (on the garage door in the photo below) of it in front of the mountain bike for some perspective as to the size. Rode it a great deal this year. Longest ride 98kilometers. It handles great.
Weight turns out to be 44 lbs with 25 on the front wheel 19 on the back wheel. With rider it has 100 lbs on the front wheel and 119 on the rear wheel. Close to my mountain bike as it has 110 to 135 on the rear and 60 to 95 on the front wheel depending on rider position. It is heavy uphill so----I have started a carbon "Krankinstien light" almost the same design. No suspension and a 27" rear wheel 20" front.

I did a ride on the snow and ice last week. The front wheel slides out on the ice at times but the bike straightens up with a bit of body movement in the opposite direction to the slide. Tons of fun."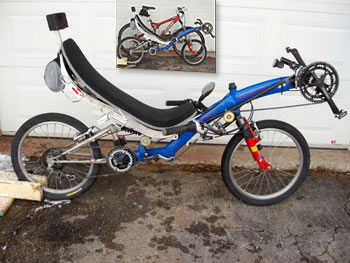 ---
Back in July I asked him if this was his first homebuilt and to give us a little more information on the bike and the building process:
"Yes it is my first. I was inspired out of an interest in recumbents that I never acted on until a friend bought an E bike and I took it out for a ride. I then started browsing the net to see what was out there. The Challenge recumbents took my breath away. I do a lot of mountain biking and just bought a new (read) expensive MB so did not want to spend the same $ on a recumbent. My friend suggested I build one and at first I bulked at the idea. But I read everything on the net about building including the Georgian Bents site. I live in their area. The information was very helpful.

"I also had my grandson's (Johnathan) childhood mountain bike hanging in the garage. One day I glanced at it and the light bulb went on. I used the Challenge Hurricane as a model and followed every recommendation I found on the net. Johnathan and I built it as a project. We received a great deal of help with bike parts and a second identical children's bike frame for $5 from the local bike dealer.

"As to weight I think it is 40lbs but have yet to weigh it, afraid to find out. I did not try to make it light. Just up graded the gearing to 7 in the back and a larger gear in the front. Still need to go higher in the front. Total cost was seat $250, sand blasting $45, powder coating $120 tune up $50, parts about $40, welding $40. I had a welding shop tig weld the steering post and changed the angle of the front wheel. (Not sure that made a difference.) I bronzed the frame but will never do that again the oxygen for the small bottles is about $10 and does not go very far. My own welding cost about $100. So total was not cheap but a lot cheaper that buying.

"I tried above handle bars and then the ones below and landed on below steering due to the comfort. I love riding it as does Johnathan. He thought he would never be able to ride it but it took him only less then 10 min to ride it well. My friends love it and also learn to ride it after only a few tries. Learning on a grassy slope seems to work best. I ride it at least two lunch hours a week on Base Borden and then several evenings a week in Barrie. I have ridden it on some back trails and it handles very well. My legs are adjusting and getting stronger so that my speeds are picking up. My riding buddy has both a mountain bike and road bike. He cannot keep up on the mountain bike on the flats but my legs do not yet have the strength to beat him on the hills. We have yet to test the road bike against it. Perhaps in a few weeks.

"Cornering is so much fun I look for winding bike paths. I have fallen a few times but no big deal as the seat is only 18 inch above the ground. Only one high speed fall my fault thought the front wheel was wobbling and looking at it lost control. Skidded on the pavement but no real damage at all. Falling off my mountain bike hurts a lot more. Traffic seems to give me a wider berth and that's great. I have learned not to speed too fast in town as intersections come up very fast and drivers just do not expect a bike to be screaming along. Currently drawing a carbon recumbent along the same lines. Undecided if I will make it but leaning that way."