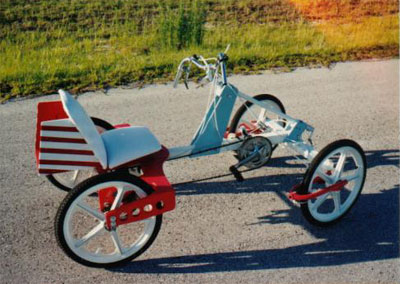 Woody 4-Wheeler Specs:
Main chassis, 2 inch square, expoxied laminated ply, front axle trimmed 2 X 4, wheel base 46 inches, 20 inch bike wheels, front suspension from 20 inch bikes, 4 wheel brakes, 10+ speeds .

This 4 wheeler was fun but way to heavy..over 60 lbs. I used plain ordinary soft pine and if this worked out I was then going into an intense design for using aircraft ply and made as light as possible. But after a lot of calculations I could see any 4 wheeler with 4 wheel brakes and at least 10 speeds plus a very comfortable seat
was not going to make the weight limit. under 35 lbs and even that is heavy.

MY uncle Joe was in WW2 as a mechanic in the Italian Air Force and he told me about all their bombers were made of wood, both the SM-79's and Cant Z's plus the light weight fighter the SAI 207. So I got into the study these craft and found they led in the design of wood construction plus adhesives for these projects

The red one is expoxied glass over foam and the white is luan (5mm door skin material) over a wood frame. White is a single speed red has 10+...

16 inch fronts and 20 rears. Just basic bikes that were a lot more successful then my 4 wheels. But still a bit heavy at 25 pounds. I did these in the early 90's and will have to look ( if I can find, moved a lot) more details specs etc if needed. Also have sold all bike stuff, concentrating on cars and planes.