Stephen Smith's Homebuilt Short-Wheelbase Recumbent - 9/2008
Looking at the upper photo below one doesn't get much of a feel for this bike's size and proportions but, take a look at the shot of Stephen Smith riding his new recumbent and you can see that the bike is pretty small, or should I say compact. The bike was still in 'build and finish' mode when Stephen sent in these photos. I'll post updated graphics and possibly a ride report, as they are received.
This photo is an update from an early December, 2009 shot. Here is what Stephen had to say about the most recent changes.
"Updated frame and cranks from a deal on craigslist. Rode a mile today seat is gonna need work"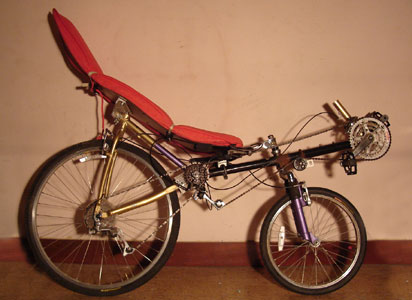 Updated photo - December 28, 2009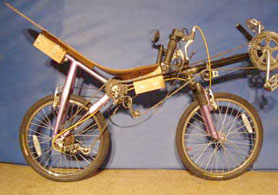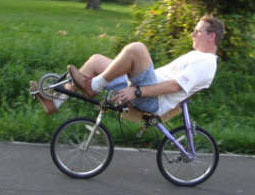 These photos show the bike at an earlier stage of development.
Note rear wheel size change and refinement of the rear triangle and drive train.