Timothy Wooi's Recumbent Trike - 2/2010
Timothy Wooi, who lives in Malasia, uses this bike and some of his other creative projects to promote simple, green living.
Check out his electric-assist version below.
---
This is what Timmothy had to say about his "...dual power assisted Electric tricycle from outgrown bicycle and houshold parts."
"This is my lean dual powered tricycle, made of parts available at home right from used computer chair to a salvaged kid's outgrown bicycle.
"It is designed with a choice of 3 power modes,human, combination of human & Electric power and ful Electrical, all can be individually selected to suit personal preference. 1.Manual mode:Pedal cycling for muscles toning up & burning of waste colestrol! (2 motors switched off). 2.Electric assisted mode: For light exer-cycling & climbing hills or low speed cruising (1 motor switch on ). 3.Full Electric power for high speed riding at 24 km/hr! (both motors switched on). This Tricycle is equiped with Amp meter,Volt meter and protected by a resettable 15Amp NFB(no fuse breaker that also acts as a switch). The Amp & Volt meter shows current battery condition and available power.
"A solar panel can be built into the fairing to charge the 3 units 12 volts,7AH Computer UPS gel battery! while parked in the daylight as an upgrade modification. Sorry Im unable to attached the free plans & detail progress photos as it was all destroyed through a flood that hit my place in 2006!"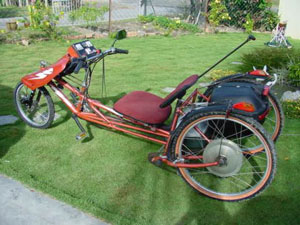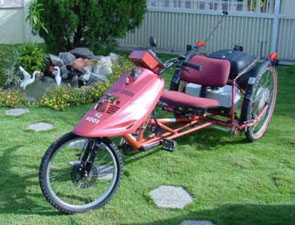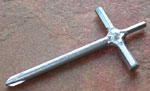 This one Timothy's custom-made tools...
a Phillips screwdriver with three allen wrenches.