Canaan's long wheelbase homebuilt recumbent - April, 2006
Here is a new long-wheelbase bike with under-seat steering, built recently by Canaan. Good conversion of a mountain bike!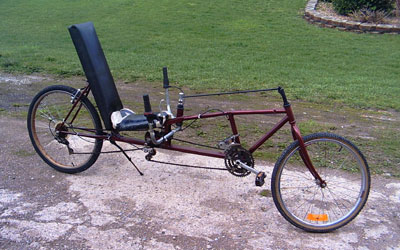 Canaan wrote:
"A buddy and I built this Bent out of and old mountain bike. I have about 15 more frames so we will be making some more. My wife wants a 3 wheel bent so that will be the next project. I really like the three wheel bike on your page by Amador Francisco from Portugal built. I have been looking into building one. I've heard them called banana bikes before."