---
(F & G) Cabin Hatch Supports: After a bit of fiddling the cabin hatch support hardware is working as planned. I also added a couple of diagonal latches at the bow end of the hatches to stabilize them so they could better support a cover for the cabin. I mounted three of those little pad eyes just below the outer rub rail along each side of the cabin. The cabin cover/tent is secured to them with small custom bungees. And here's how the cabin tent turned out: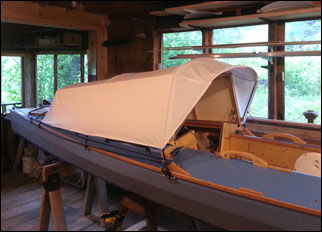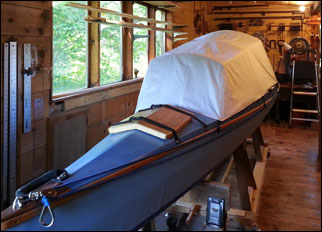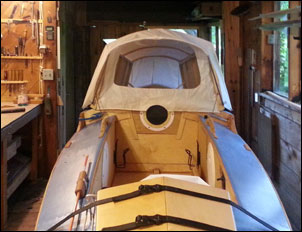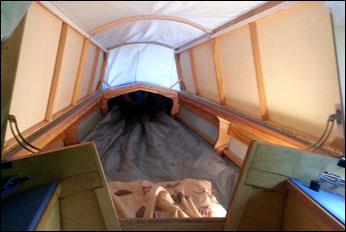 I have timed setup and it takes less than two minutes to set up the cabin tent and another minute or so to put in the screened and solid end panels. I have taken a few naps in there and it is very comfortable. I have a Therm-a-rest RidgeRest pad, a light camping quilt and small pillow. Very roomy feeling and quite bug-proof. The tent packs up into a small football-sized bag; the three wood bows nest together in a compact bundle and fit along one side of the cabin when not in use.



---
NOTES FROM THE TO DO LIST:
- Slim down and balance oars:
I spent most of a day working my oars down to lighten them and then balanced them by adding some lead weights inside the hand-grips. They went from 65 oz. each down to 51 oz. and because they are balanced feel much lighter in your hand. (Hand weight went down significantly from 48 oz. to 35 oz.) In the process, I decided to narrow the blade width down to about 4". I tested them out on the dory and they feel much nicer. I was a bit concerned that I'd loose power with the narrower blades but that doesn't seem to have happened.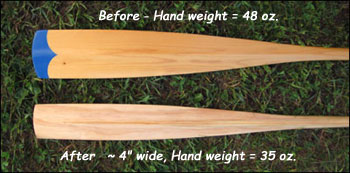 ---
- Tablet mount:
It turned out that there just isn't room for a large tablet in the area I had planned on mounting it. I have an older Samsung cell phone with a fairly large screen that does mount nicely out of the way down by my left foot. I have used it a few times in speed tests but like most phones bright sunlight kind of washes out the screen. It is better, and more usable, on cloudy days. The mount is a purchased unit intended to attach a cell phone to a camera tripod.

- Test long kayak paddle:
As an experiment I reconfigured a couple of old kayak paddles into a 3-piece breakdown paddle about 8' long. I got a chance to try it out when attempting to enter a creek that was too narrow to row in. There was a medium headwind and maybe a 3 mph flow to work against. Test result: no go. The paddle went together quickly and easily but even though the boat is only 35" wide, it was difficult to get a long enough stroke to make good headway. It didn't help that the oar rigger wings limited the length of the stroke. The whole point of the paddle was to have backup propulsion in case there was a problem like broken or lost oar. I'm not sure the long paddle is the answer but I don't have another plan right now so I'll probably keep it stashed on one side of the cabin for now.
---
- To-Do's yet to be Done (Prioritized):
1) Capsize & re-entry Test - Long overdue!
2) Light for Compass
3) Design Bimini/Sun Shade
---
And yet another diversion:
I bought a nice Neil Pryde 45 sq. ft. tanbark sail from Duckworks. I also have been watching some great videos of West Mersea Duck Punts. These small, flat-bottomed, center-board-less and rudderless boats have a shape very similar to my rowboat and have inspired me to experiment a bit. I'll be working out sail placement and all that fun stuff. We'll see ...
That's about it as of mid-summer, 2021. Hope to see you on the water.
---