"Seedling of Mount Royal, tree is precocious, very productive, self-fertile, and a natural semi-dwarf. Fruit is blue-black, small to medium sized, round, and tasty."
---
---
2021 - Hot, dry spring. 5/18-21 all plums in full bloom, including a few blossoms on Mont Royal. 5/27 four nights of freezes 24-30 deg. No fruit. Strong summer growth, looking more in balance with bottom tier rootstock branches. Lots of fruit buds in winter!
---
2020 - 5/26 some fruit buds on graft (more on rootstock). No fruit. Growing well, healthy. Root stock (lower tier branches) vigorous - need to prune more.
---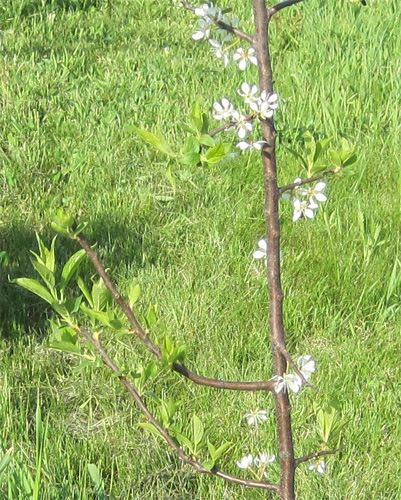 2019 - scion from Bob Purvis - grafted to central branch of Plum1 (north-most plum of three) (see main photo of graft, above). Grew well, 14" tip +2 sides, healthy.
Let rootstock grow and produce before deciding how much to leave or remove. Keep Northblue as central leader.
First blooms on rootstock Plum1! (no fruit but happy to have blossoms for pollination).
---
2016 - rootstock Plum1 - transplanted sucker from garden, maybe ameriplum sucker but possible it could be from old Bricker plum, planted 1993, cut down 2000 (tree split from overload of fruit and too vigorous growth). Sucker was from near where that original tree was (and still has live roots!).
---
---
Online Notes: Ripens by early August in SW Idaho. Fruit must be thinned for better size. (grandpas) very hardy, self-fertile European plum similar to Mount Royal. It ripens in mid-season in early September. Self-fertile and precocious. (st lawr) open pollinated Cheynne WY. The best of 6000 Mt Royal seedlings in crosses made by Gene Howard. Tree is precocious, self-fertile and a natural semi-dwarf."
---
---
Copyright © Susan Robishaw