---
---
October 2, 2018 - Lots of Orange!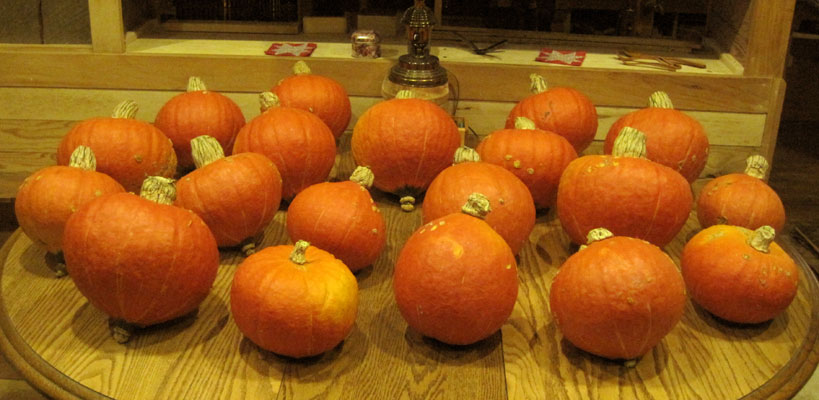 The winter squash (and most heat loving crops) made the most of this long hot summer by going all out to mature a record number of fruit - 90# / 20 squash from 4 plants. I'm usually happy to get a half dozen ripe fruit before frost but these were all ripe long before then. What fun to have plenty to eat and plenty to give away.
This variety started from a gift squash from one of the Farmers Market vendors, a delicious small round orange squash he thought might be Moongold. It was likely grown with other varieties and crossed but I decided to save the seed anyway and see what grew. I did and it did and we got several nice small orange squashes of equally good flavor. But I also grew my usual green buttercup squash that year and knew there was a good chance of crossing between the two. This year I planted seed from the second generation orange squash and it grew and produced with great vigor. It had indeed crossed with the buttercup based on size, shape, & stems of many. But almost all had this cute corky tipped green bottom sort of like an old fashioned toy top. No buttercup type cups on any. Shapes varied from squat buttercup shape to very round or almost teardrop on a few. Mmm. I looked at photos online and it appears likely there is a strong Golden Nugget gene in the mix! I'm hoping they will taste as good as they look. (see below)
Later Oct. note: So far they have! The first one had a drier nutty flavor/texture of a good buttercup; the second was more moist and sweeter, more like the original. Both were delicious and got high marks from us both. I'm saving the seed (equal number from each good squash) as we eat them and will continue planting this line.
Months later: February begins and we have only two small orange squash left (and four medium small buttercups), having been enjoying eating squash almost daily with lunch. Though slight differences in flavor, every one of the orange squash have been delicious, no extra butter or spices needed, and very much appreciated. They haven't the best storage temperatures (low 40's) but have held up well. I'm glad because we don't seem to have the 'ideal' 50 degree spot in our house so they do the best they can in the cool winter pantry.
---
---