Here you can se the general shape with the outside roughly shaped and four kind of blocky appendages for the legs.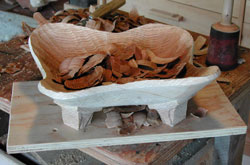 The bowl is beginning to look more bowl-like but there is a lot of wood yet to be removed to get it down to a thickness of 3/16".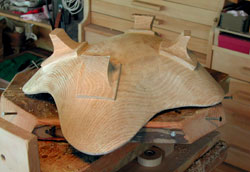 Though the bowl is still quite thick the bottom and feet are taking shape. I ground the edges off a couple of rasps to create tools for shaping and cleaning up those areas where the feet meet the bowl. (9/18/04)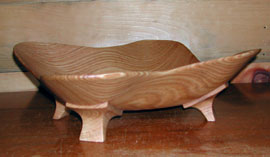 You can see here that the bowl is pretty much completed. Another week or two to finish it (Tried-and-True Varnish Oil then bee's wax and carnauba wax) and it will be really done.