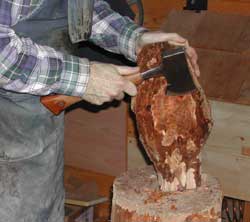 Roughing out with a single-bevel hatchet.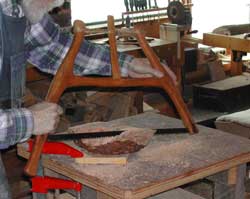 Sawing the blank to rough shape.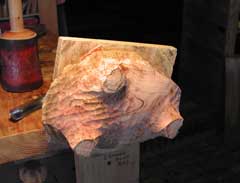 I usually use a shop-made carver's screw to secure the piece. Here I've roughed out the basic shape for the bottom of the bowl.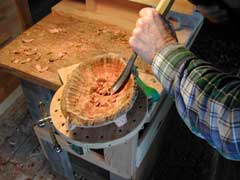 Now I've flipped the bowl over and secured it to a plywood disk which is in turn bolted to the bench. I used several curved gouges to clean out the inside of the bowl.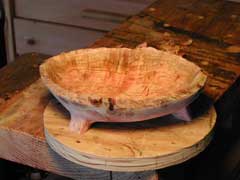 Still getting quite a bit of tear-out so I switched from the mallet to fine slicing cuts by hand to thin and smooth the inside of the bowl. Sanding is next... (1/23/2005)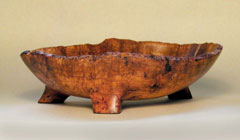 Well, here it is! The bowl sanded up nicely and the color deepened with the application of the oil finish. As usual, I've let this bowl rest in the sun for a couple of weeks to be sure it is stable and won't give me or its future owner any surprises. Over all this was a fun bowl to carve because of the great grain and color. (2/18/2005)