Bulero - in front of shop, west one of two (names after our wonderful Lillibulero, who is named after the tune of that name) (the east tree of the two is named Lilli). Medium size tree with small dark red fruit, originally poor quality, rather dry, lumpy but sweet. Started pruning ~2016. In 2015 cut out a lot of large trees south, probably shading. Fruit got better, reminds me of a small Black Oxford. Realized (Lilli, too) could be a seedling from a tossed apple core of ours.
Norkent - A very hardy juicy orange striped yellow medium-big size apple. Tastes similar to an apple-pear. Skin moderately thick and sometimes russet. great juices, an excellent apple to eat fresh and to cook with. Must mature on the tree to develop its full flavors. keep for approx 3 months in storage. ..tree very sturdy, with a strong framework. .. bears at a young age...cross between the Haralson and Rescue...appears to be a seedling from tens of thousands sent across the Prairies from an AgCanada program in the 1960's. See also Norkent page.

---
---
2021 - Moderate pruning of uprights, took off some top. Took some off Norkent, too, pulling some limbs down. More open now and looking good. Bulero full of blossoms in May; no fruit due to freeze. No sign of fireblight.
---
2020 - 5/5 pruned one large top limb + a lot of other, pulled some down. Shape is better now. Medium-light bloom. 8/31 picked ~ peck of decent fruit into sauce mix. Late fall noticed quite a few fireblight strikes ends of branches (we usually don't have fireblight but this year there was a lot, particularly in the pears, with some strikes in a few of the apples) - will winter prune.
Norkent grew very well - pruned off top, pulled down branches. Healthy, vigorous.
---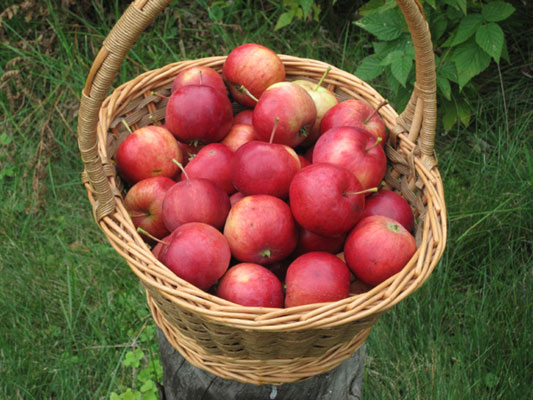 2019 - 4/30 cut significant top out + some lesser. Norkent graft vigorous healthy growth.
9/11 ripe fruit, good flavor, jucier than last year, seeds light brown
9/16 dropped most of fruit (w/ some shaking of tree!), basketful of nice, sweet 2 1/4" red fruit - 6#. very good sauce w/ Front Yard yellow apples.
Decided to prune to leave half original tree and half Norkent.
---
2018 - Early cut off med-lg limb above graft. End July pruned out quite a lot around graft & uprights. Good growth. Light fruit crop, so-so quality. Leaving bottom limbs and over next years cut out top to allow Norkent graft to replace original? See Norkent notes (vigorous growth!). Tree looking good.
---
2017 - Thinning prune lightly, esp. top. Doing well. Blossoms 5/28 with Sasha, large crab - first to bloom. Light crop small dark red apples, end Aug/early Sept. Better than last year. Dry skin but juicy enough flesh, rather sweet, mild, pleasant. Somewhat similar to BlOx. 9/22 last ones drop, still good. Leaves some curl, blight, aphids (rough year for all).
Grafted Norkent above lower branch. Good growth though leaves rough. Plan to replace most of tree with Norkent it it continues growing well, but leave lower branches original.
---
2016 - Light pruning for shape. Cut out more trees around, now more in sun. Moderate blossom, small fruit. Nice shape tree. Dropped 1st fruit 9/2, moderate crop. Tree looks good, some growth. Graft onto later.
---
---