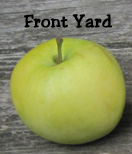 Large tree in low area between house and maple woods. Years earlier had cut off 2nd trunk, growing almost parallel to ground. Usually has light crop of good looking large tart yellow apples. Few early notes but made use of fruit when needed and when there were apples. Didn't do much but admire it.
Started pruning ~2010 or so. Yellow fruit is late summer/early fall ripening. Not prolific but no disease or insect damage. Rather sour but edible if left to mature well, makes OK sauce with sugar. Adds to cider. Not a keeper (goes soft early). Beautiful healthy tree but decided to bring it down in size to care for and harvest.
---
---
2021 - Prune a lot, many uprights and crosses. Lowered top some. Looking more open. Some blossoms on east and west sides, but no fruit (end of May freeze). Looking good, healthy.
---
2020 - 5/6 major pruning, some large including one big top. More on west. Next year start on east side.
End Aug. quite a few apples, some over-ripe & split on ground already. Steve cleared under tree. Picked up apples as they dropped over about a week, plus some off of tree, mixed with other for sauce. Nice, clean fruit as usual.
---
2019 - 5/13 Pruned lot of waterspts, crossing, tangles. Trying to keep height down & more open. Lots growth. One lg limb has white funi growing but branches still look OK. Really need annual prune.
7/31 noticed many apples sw side & quite a few e, in bunches of 3-5. Thinned to 1 ea.
9/21 most dropped or picked quite ripe, ~basket full. Nice, clean tho many split (very wet Sept). Made sauce w/ Buleros, quite good. Left quite a few for wildlife.
---
2018 - Pruned some more and thinned; took out some med lg limbs, going for wide shape. Good growth. Harvested a few good apples early to add to sauce, usual rather sour but clean. Then Sept 6 noticed more ripe, deeper yellow. Picked 8 large very tasty good apples! Turns out been picking too early. Probably too much shade and cold (it is in very bottom of valley) for a large crop but nice to have.
---
2017 - Continue working on top, balancing, wider focus. Sorry now I pruned it down! Miss its wild shape. Will strive to let it recover its grandeur. Healthy, just a touch of blight in a very rough year. A few blossoms, two apples.
---
2016 - Cut back more large top branches & thin out some tangle. Aiming for an open center spreading tree. Last tree to prune 5/6, rather late due to tender buds & shoots. Full blossoms. Small crop, start dropping mid August. Picked up as dropped for sauce. Everything early this year.
---
2015 - pruned rest of large branches down to height, shaping and thinning. Looking good. Scatter of blossoms. Harv 5 nice apples end Sept. Nice shape.
---
2014 - a few blossoms. Topped some large south branches. 9/11 picked 8 nice apples.
---
2013 - Looking good. Start cutting back large limbs. Not many but some apples. Picked as dropped for sauce.
---
---
Copyright © Susan Robishaw
---