This small apple variety from the University of Minnesota breeding farm has the unique history of being one the breeders didn't think was worth releasing, even though it had proven to be very hardy, saying "it doesn't even taste like an apple". A chance seedling that would have gone by the wayside had it not been for apple guru John Bunker of Fedco Seeds & Trees fame. He managed to get cuttings and grafted onto a tree. When it fruited he he thought it was a great and unusual tasting apple that deserved to live. He finally convinced Univ. Minn. to release it in 2008, which they did under the name Frostbite. It sounded intriguing so in 2015 I purchased a tree from Fedco in Maine.
---
---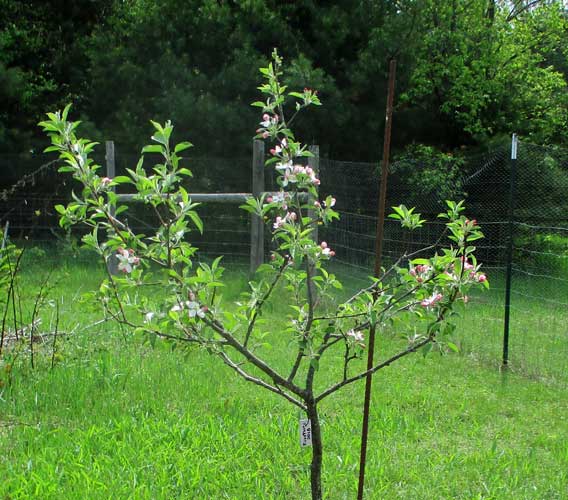 2022 - Frostbite again decided it wants to fruit, with a full set of blossoms. Though it is now 7 years old and finally looking more like a tree, albeit a small one, that is too many apples. So I decided to let it keep a half dozen, nipping off the rest. It's a balance and I still need to encourage growth of wood. But it looks healthy and I'm happy for that. Earlier I noticed some scale. Scraped off most and sprayed with Neem Oil before growth started. Looks fine now though later the leaves were a bit rough. It was a year with a lot of scab in the apple trees with a lot of rough leaves. But no scab on the Frostbite fruit, happily.
Later when the fruit was growing I realized I'd missed a couple when thinning and there were 8. Fair enough, they were well scattered, growing well and the tree also put on some growth though still minimal. I hadn't paid much attention to the fruit but towards the end of Sept. I realized the Bluejays were making good progress at eating chunks out of many apples so I harvested some and put tulle bags on a few other "special" fruits. But I forgot about Frostbite. Actually, I didn't think they'd bother those smaller apples (silly since I know they also eat much small crabapples). By the time I walked by the little tree and looked the birds had eaten half of half the apples. Drat! I really had wanted the fruit to hang longer into the cold fall. But I harvested them, putting the four intact ones in the root cellar. The others did have brown seeds but they didn't taste mature and had little flavor. Mid Nov. I ate one from the cellar and though it was firm and did have some flavor now it wasn't particularly special. They went into the sauce batch. I think this fruit really does need to hang longer.
In December, once the leaves were all gone, I saw that it had again oysterscale, now more than last winter. So on a nice mild day I spent a good while patiently scrubbing (with a nylon scrub pad) and scratching with thumbnail, each branch, and feel I did a pretty good job of removing the scale. Not all I'm sure but I will spray with Neem in the Spring and will keep a closer eye on it next season.
---
2021 - Not much to do except let it grow, which it is still doing slowly. It set two small 2" apples. One dropped end of August and I picked the other, but they weren't mature. They were pretty though.
---
2019 - Thankfully the tree finally decided to cease from from trying to produce fruit and spent the year growing instead so I didn't have to decide if it was OK to leave some blossoms. Still small and very moderate growth but it is healthy. In March I cut off the lowest branch that was being pulled down as the record snow settled, something I should have done earlier (it's so hard to cut any growth off a young tree!). In May I noticed the graft union was very low on the trunk so I mounded up some sawdust/chips/mulch up around the tree burying the graft with the idea that maybe the tree would put out roots above the graft, and protect the graft from the unsettled winter weather.
---
2018 - The tree is still quite small and of an 'independent' form. And it again wanted to set a lot of fruit! I left three, planning to leave them well into fall to really mature. But they developed small cracks around the stem that deepened when our long hot summer suddenly turned rainy the end of August. So I picked them a bit early, not wanting to take the chance of them developing rot. They were OK but hadn't had a chance to develop their full flavor. Mostly I want the tree to put its energy into growing and developing a good root system instead of focusing on fruiting. It was a good season for growth and it did well.
---
2017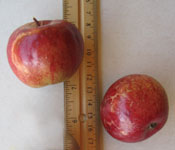 This spring we had to move the small tree to make way for the new orchard fence. To my great surprise the little tree blossomed! It really was too early for such a young tree to fruit and I expected the blossoms to abort anyway, but just in case I removed all but 3. I just couldn't take them all off. Then the end of June I walked by and noticed three tiny fruitlets. Usually I have to wait 5-10 years for new trees to fruit but this little two year old was living up to its reputation as hardy, productive, reliable and most certainly precocious.
As the fruits grew I put a plastic apple decoy in the top to discourage bird tasting. Every time I walked into the orchard I looked to that far corner to make sure the apples were still there. Two were quite small and dropped early; not unexpected, and not ripe (but that didn't stop me from eating them!). Frostbite is a small apple, lunchbox or snacking size, and I really wanted the lone apple to get to a ripe mature age. But I didn't know when that would be. All of my trees get a lot of attention but probably none as much as this apple this year. Then one day, Sept. 24, I looked. No apple. Hopefully, I made my way through the orchard to the tree, and there it was, safe and sound on the ground. A beautiful small orb.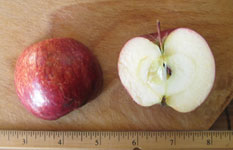 Maybe one has to grow their own fruit to know and understand the excitement of a "first fruit". After all, I had two other trees fully loaded with nice apples. But I had read so much about the uniqueness of this one I was anxious to taste it. But this is a storage type apple and often they need to set awhile before being at their best. I put it on the counter and admired it for almost 2 weeks. I couldn't wait any longer. October 11, I cut it, took my pictures, and had my first taste (saving some for Steve, of course). Mmmm. It is a very good apple. We both like it. Crisp, juicy, firm skin. It doesn't have the intense flavor others have reported but it definitely has a unique 'grape juice' touch to it. Left to mellow longer it likely would have had more flavor but that's rather hard to do with just one apple. It has been said it sometimes takes a tree up to five bearing years to settle in to its best taste. If that's the case we have some very good years ahead! Can't wait for this tree to grow and produce more.
---
2016 - Did fine, moderate growth, rib high. Possible scaffolds, though maybe too low. Move next spring -- decided too low ground, move to better spot plus it is in the way of the new fence run.
---
2015 - Planted in south most point of garden/orchard fenced area. Good shoot growth, with fruit bud (nicked out).
---
---
Copyright © Susan Robishaw