The ManyTracks Orchard

Fresh Apple Cider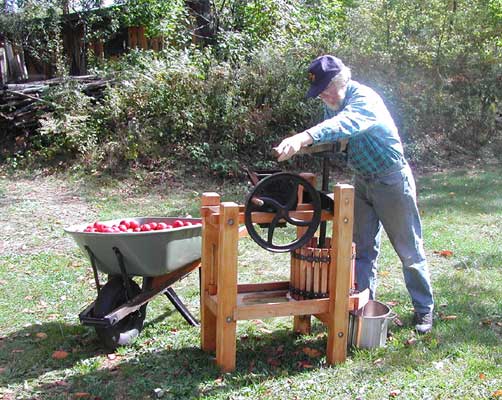 Fresh from the press, or lightly fermented, or canned for later enjoyment, homemade apple cider is a deceptively simple beverage that has no need of fancy labels, advertising or marketing. Once tasted, forever loyal.

---
Four decades of Growing Good Food in the Northwoods of Michigan's Upper Peninsula
Down to Earth Information, Experiences, Thoughts
---
2017, October 9 - Cider Time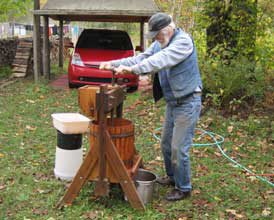 It's been quite a few years since we've had extra apples to make cider but finally this year our Dudley tree came through with a great harvest. We ate them fresh, I dried them, I made sauce, and I saved out the smalls and damaged ones for cider. Today was the perfect cool fall day for pressing. We didn't have a lot compared to previous years of many bushels of apples to press but were very happy to get what we did. And it was very good - sweet and thick. Much sweeter than I expected from the Dudley's as they are more tart than sweet eaten fresh. We drank some and I canned the rest. We prefer sweet over fermented cider, though I usually will let it go for a few days to get a bit of a zing to it before canning. Next time though I'm going to save out more apples for cider. I had forgotten how good it is.
---
1995 - 2015 - Twenty years since we had made our first batch of apple cider. Not many notes from that first entry into cider making, except that we made 14 gallons and gave 4 away. Another year it was 15 gallons and I made some of it into cider vinegar (really nice cider vinegar!). We were borrowing friends' large, antique, very heavy hand cranked cider chopper/press those first years. It did a great job, but it took more than a little muscle, several people and a sturdy trailer or truck to move the unit. One had to be serious about making cider, and plenty of apples to make it worth while to bother getting and returning this old, very well built, machine. So we didn't do it very often. But that cider was wonderful!
Finally in 2003 Steve noticed an ad in the paper for a 'kit' press. A press of our own sure would be handy, so we went to see it. It was a much smaller unit, 2x4 frame, small chopper. The folks had used it off and on but now that their kids were gone decided they didn't need it any more. I was a bit skeptical. Compared to the hunky unit we'd been using this was definitely light-weight. But it had a nice sturdy basket and screw press. And being light weight did have its advantages - we could move it without worrying about putting our backs out. It became ours. It was a hand cranked unit and I think that lasted only that first season before it soon sported an electric motor for the chopper. It took some fiddling and trial and error with different sized pulleys before Steve got the combination right so it didn't throw the apples right back at you if you didn't get the lid on really fast when putting apples into the chopper.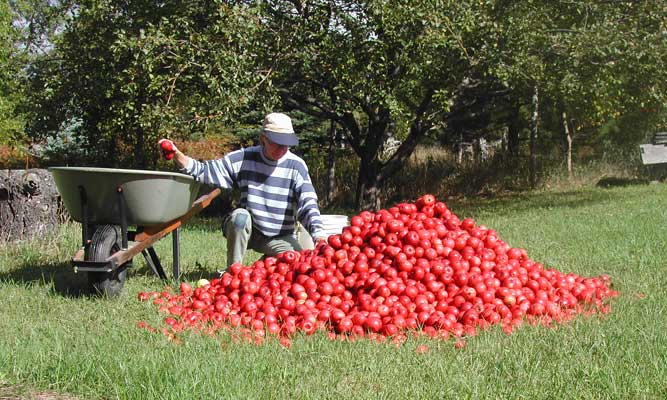 It was a poor apple year that year but this is where the press really shined. Making cider made use of the scabby, mis-formed, small, culls - and that's all we had, a mix of fruit from our wild trees and tame. Definitely an 'off' year. But we got 4 delicious gallons of cider, and found out that this small chopper/press was well suited to the job. Easy to clean, easy to store, and up to the big harvests as well. The next year we made 25 gallons! That was a good apple year. The nice thing was we could do small batches or large, and easily fit it into our schedule. Plus we could, and did, lend this easily moved unit to friends to use.
The apple mix changes every year so the cider has a flavor unique to that year, but it has always been good. We found that we like it just slightly fermented, about four days, then I can it. The apples are easiest to chop, and press best, when somewhere between fresh crisp and too soft. The flavor is better when the apples have aged some. A half bushel makes about 3 quarts of cider, though this varies depending on what apples we have. The only time I've added sweetening is one year when all we had was wild sour apples and some mild Wolf Rivers. But with a bit of brown sugar even this 'not best' mix of apples made a good beverage.