Per reports: A very hardy and juicy orange striped yellow medium-big size apple. Tastes similar to an apple-pear, often compared to the Golden Delicious. Skin is moderately thick and sometimes russet. great juices, it is an excellent apple to eat fresh and to cook with. Must mature on the tree to develop its full flavors. Keeps for approx 3 months in storage. ..tree very sturdy, with a strong framework. .. bears at a young age...cross between the Haralson and Rescue...appears to be a seedling from tens of thousands sent across the Prairies from an AgCanada program in the 1960's.
---
---
2021
---
2020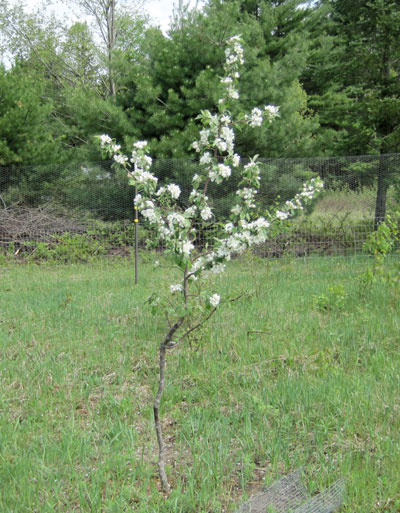 May 31 -- The pear and plum blossoms came and went at a record rate this year, likely due to the unusual heat. Thankfully the pollinators were busy during peak time. And the first tree to blossom was an unexpected surprise. In all of th grandeur of spring I suddenly realized there was a small apple tree in the new section that was in full bloom, and fully clothed, too. What a surprise. This apple, grafted only 3 years ago, didn't start out with just the usual few blooms of a young tree, it decided to go all out and no question about it! Not only that, it was the very first apple to bloom, with only a scattering of other trees starting. He was making sure he got the full attention. And he certainly did. Now normally a 3 year old is too young to let bear fruit. But the wild rootstock is strong and vigorous, and the variety grafted on is strong and vigorous (a great combination). It's a hardy Canadian bred variety named Norkent that I've read great reviews of though have never tasted - maybe this year! If the blossoms produce fruit then I'll let it keep some, maybe 4 or 6. I really should nip off some of the blossoms but I'm still in amazement, and admiring, this precocious young tree. I've been pointing him out as an example to some of my other, older, larger, and yet to bloom trees. See what you could do?! Oh well, they each have their own timeline, and my urging isn't going to change that.
October 30, 2020 -- Apples!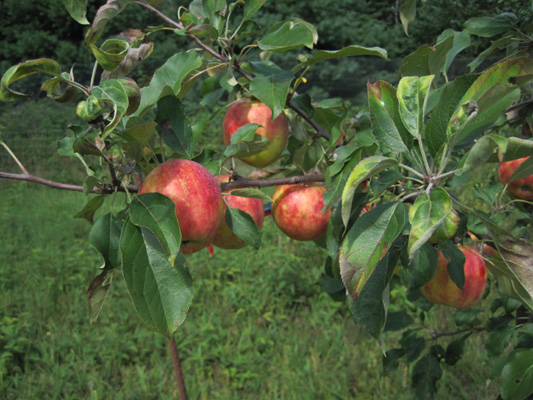 It's crispy fall, a full moon and Halloween tomorrow, and winding down of peak apple season. Apple crisp, apple bread, applesauce, apple cookies - I've had apples on my mind, and in my life, a lot lately! I mentioned the new (to me) Norkent apple earlier, when it first bloomed. It ended up with a great crop of beautiful apples. I harvested them Sept. 7 and found them to be cris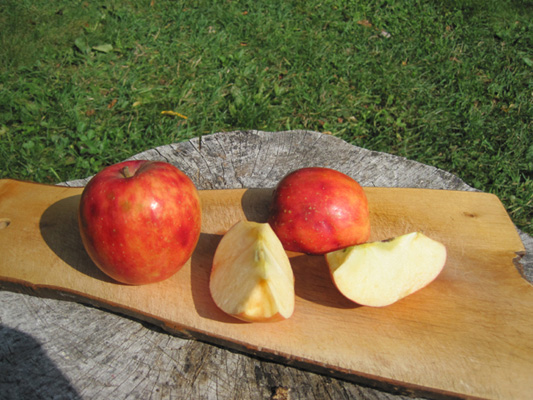 p, juicy and delicious. We both really liked this apple. Now each apple variety has its peak time period for the best fresh eating and Norkent was great for a good month. I was hoping for longer (and it may be longer as the tree matures and in a not-so-hot year). But in early October I realized it was losing its special flavor zing, though still firm and juicy. And by the 25th it was tasting a bit blah though still sweet and firm and juicy. But it was time to make sauce of the last of the crop which, mixed with some damaged Haralsons, it did quite well.
---
2019 - Very good growth on both. #2 - Liking Bulero fruit more so will go toward half/half Norkent and original.
---
2018 - (1) Vigorous growth, 14-19", heavy ant/aphids so tanglefooted. Form is good. Scaffolds already. Have left one bottom rootstock branch - looks like crab. Rough looking leaves but overall good.
(2) Vigorous growth, 10-16", many branches. Slowly cutting out top of Bulero to let Norkent replace at least half of tree. Bottom branches original to (hopefully) satisfy deer.
---
2017 - (#1) grafted to a sturdy, older 3 yr old seedling, probably crab. Vigorous growth (5-9-16") but had significant leaf damage (a lot on many trees), insect related I think. Scion from Bob Purvis.
(#2) grafted to Bulero wild (fruiting) tree, above bottom limbs (to eventually replace top of tree). Very good growth.
---
---