2016-- Grafted with scions from Fedco, Maine. #1 on nw branch of wild 'Splitter' tree east of shop. #2 on low south branch of Honeycrisp2 grafted seedling tree by outhouse. Not sure now why I chose this one, as Duchess types are common around here, but I don't think I realized that then. But being a hardy variety did sound good.
---
---
2021 - #1 (splitter) good, healthy growth; #2 (HC2) fine though slower growing.
---
2020 - 8/28 single apple on Splitter graft dropped. Doesn't look quite mature, included in sauce.
---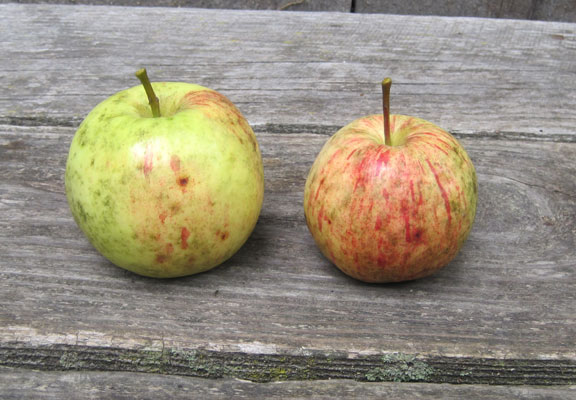 2019 - 6/13 graft on Splitter, from 2016, has 2 blossoms! 9/16 dropped larger apple, touched 2nd & it fell (3rd missing). Looks and tastes a lot like Splitter fruit, but larger, earlier. Slight difference in skin color/pattern but tastes like common "Duchess type" (Nutting IS a Duchess seedling). Ate smaller one, saved larger. 10/1 cellared apple getting soft; included in sauce; nothing special taste, but it's an edible apple.
---
2018 - (1) Looking good; nice 2-10" growth. (2) Slow but steady, 1-3" growth on three branches/tip.
---
2017 - (#1 on Splitter) Good growth, healthy, light leaf damage. (#2 on Honeycrisp2) 8" growth. somewhat rough leaves but not bad.
---
2016 - Fedco scion. Grafts took and grew well.
---
---
Online notes:

Late Summer. Introduced by James Nutting (1839-1893), orchardist, printer and state legislator, dedicated to developing apples that would thrive in northern Maine. Medium-large roundish-conic fruit, striped and blushed with red. Similar to Duchess. Juicy mildly subacid fine-grained yellow-white flesh for fresh eating and cooking. Mild sweet subacid taste. Z3-5.