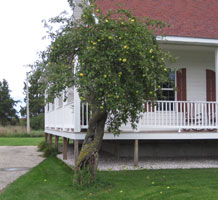 In the fall of 2013 friends who live about 10 miles from us called. They were on the road south to winter on their boat in the Bahamas and they had forgotten a specially picked bucket of apples. If we wanted them we could go get them. The apples were from an old tree growing by their house. It had survived the fire that burned the original farmhouse down (now rebuilt). We agreed readily. The apples were very good tasting, green/yellow, good keepers.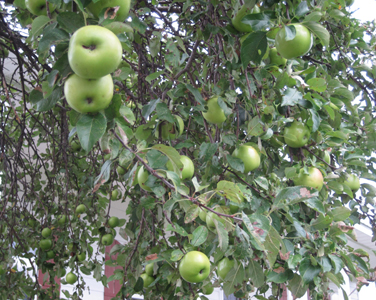 The next spring we cut a few scions from that tree to graft in our orchard, one on own rootstock, one on a branch of a seedling tree.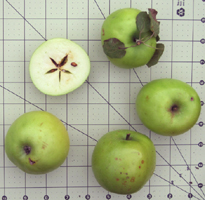 The farm was an early one of a local family. A nephew of the original farmer said the tree was old when he was a child, and he was born in 1924. We figure it is over 100 years old. Unfortunately, the tree tipped over in 2019 so they had to cut it down. We don't know if it was a named variety or a seedling. It seems similar to a Golden Delicious, but there is no way to really know. I decided to name my grafted trees after the original family -- Hoholik.

---
---
2021 - (#1 main) - little pruning, good growth, healthy, no fruit. Looks good.
---
2020 - (#1 main) - Mid April cut off 3 lowest branches, plus a little other crosses. Looking good, great form, looks like spurs so maybe next year for fruit!
(#2 Splitter) -- Limb healthy, good growth. 1 apple. Picked Oct.20 (after many 20 deg nights). Wasn't anxious to come off. Lot of red splash and stripes (~3/4) on light green. Healthy, nice size 6 oz. Doesn't look at all like original. Ate 10/26 - Moderately crisp, mod. juicy, mod. mild sweet-tart flavor, reasonable fresh eating.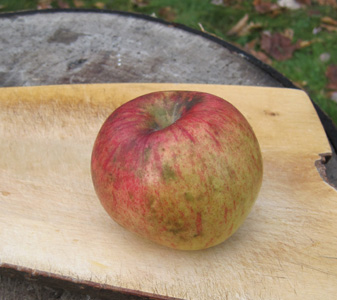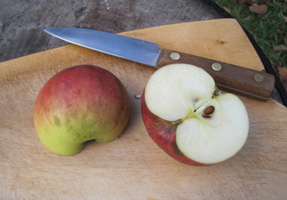 ---
2019 - (1) -- 4/15 cut out large mid-ctr limb + one low one. Looking good, healthy, good growth.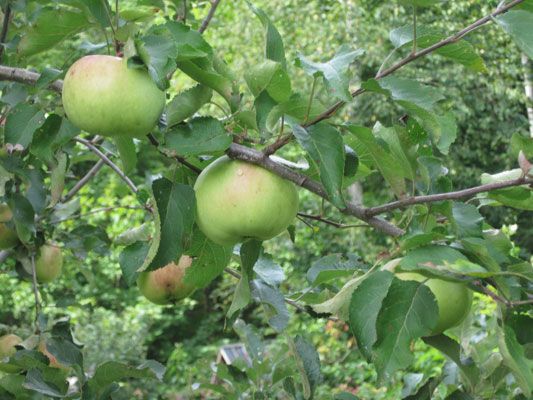 (2) (Splitter graft) -- 6/13 has 5 blossoms! Set 3 apples. 9/23 gently tested one & it came off. Quite green. Put in root cellar. "Protected" other2 w/ ladder and branch placement. Picked 10/17 (before freeze). Good shape, firm, noticeably ribbed with some red. Doesn't look like Joe & Tammy's, though earlier they did (photo).
12/1 Ate larger/redder one. White flesh, seeds brown, juicy, tender-crisp, tart but reasonably good fresh eating, not sweet but flavorful, turns brown after cutting. Left greener one in rt cellar.
12/31 Ate last green one - blah. Think it was not mature.
---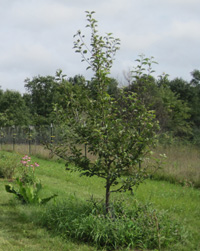 2018 - (#1 main) Great form; good growth, vigorous 12-24"! Maybe fruit spurs??

(#2 Splitter) Good growth, side branch & new 4-10" + one longer. Maybe fruit spurs?? Healthy.
---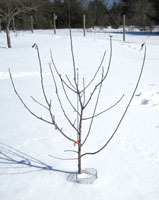 2017 - (#1) Tied some lower branches down. Moderate to a lot leaf blight/insect but growing well. 7 1/2" h. Some good waist high scaffolds; looks like some fruit buds forming. Next year start taking off some lower branches.

(#2-Splitter) Good growth, healthy green leaves (much better than tree inside fence).
---
2016 - (#1) Pruned off some low branches, cut back top ones (lowest scaffolds) to shorter than leader. Good growth. Maybe have 3 scaffolds. Tied 2 down more horizontal (later in summer). Some browning/yellowing of leaves but overall looking good.

(#2) Good growth, pruned end and tied down more horizontal. Healthy leaves. Cut out some original tree growth around graft.
---
2014 - May 25 grafted 1st scion onto an old Fedco Antonovka rootstock (from died Charotte tree, pltd 2005). Moved it to south of garden, se of water hydrant.
Grafted 2nd scion onto an east small branch of Splitter wild tree.
---
---